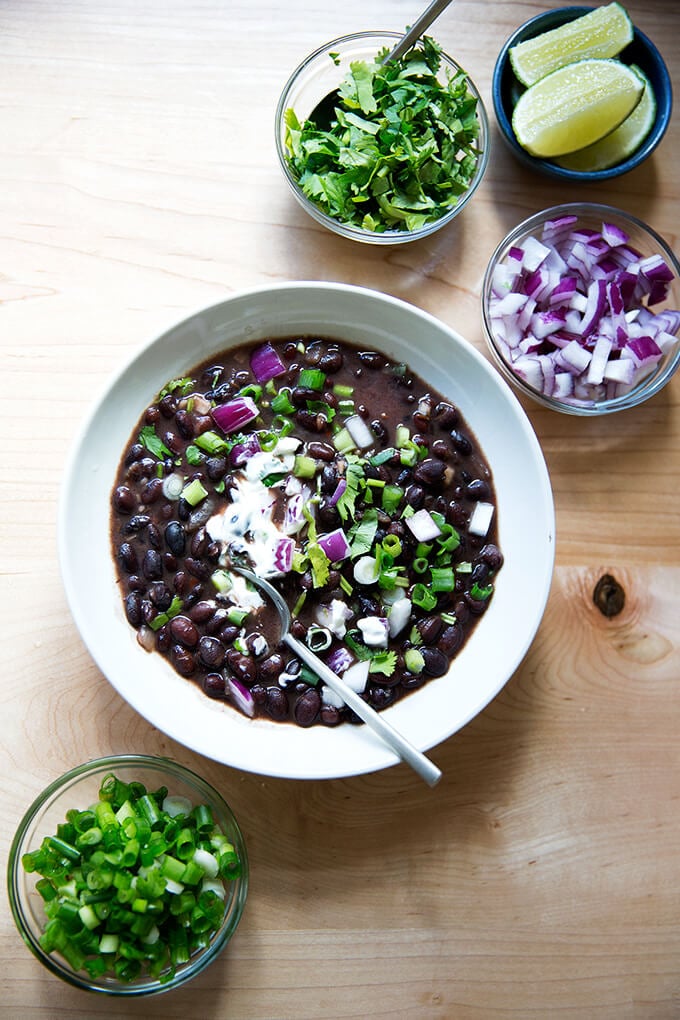 Several years ago, while cooking my way through the soup chapter of Twelve Recipes, I discovered Cal Peternell's black bean soup.
What I loved about the recipe was the simplicity of the flavors: sautéed onion and garlic, toasted cumin seed and crushed red pepper flakes. But there was an element of surprise, too, lent by the zest of an orange. Somehow, through all of the bold, beany flavors, the citrusy brightness prevailed.
I made it again very recently, using my Duromatic pressure cooker to cook a pound of un-soaked black beans, and the whole thing came together relatively quickly.
Friends, if you've been reading for awhile, you know I'm a briner and a soaker. But I recently learned that with black beans, brining and soaking is not necessary. And in fact, it might be preferable both taste and texture-wise not to soak/brine.
Works for me. This soup season, I'm going to use this information to my advantage—no longer will I allow un-soaked beans to stand in the way of the soup or chili of my immediate dreams. Black bean soup tonight? Yes. We. Can.
The Duromatic pressure cooker in action: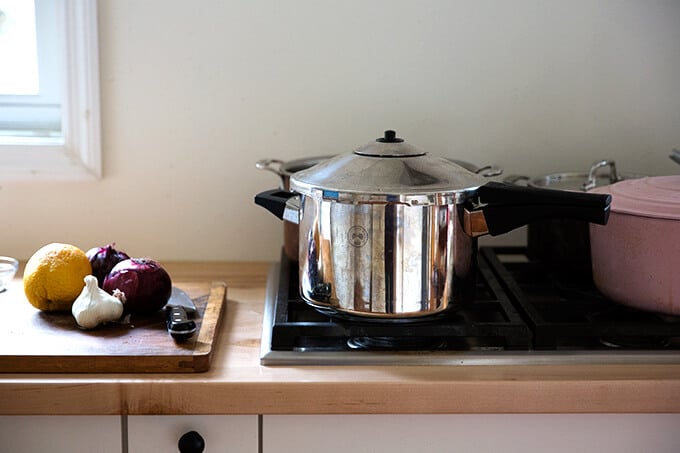 Cooked black beans: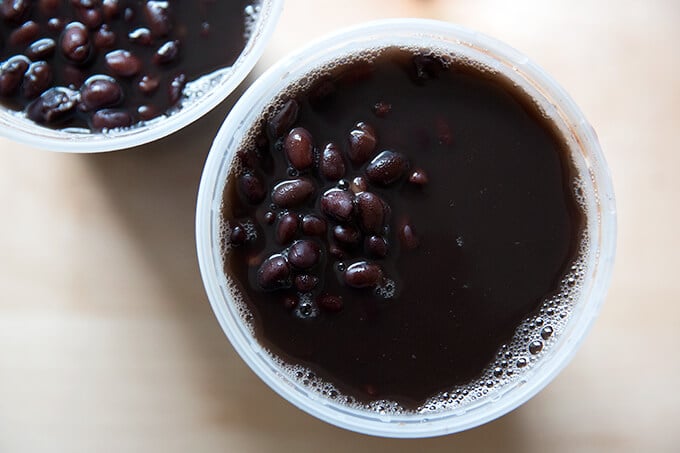 Black bean soup ingredients: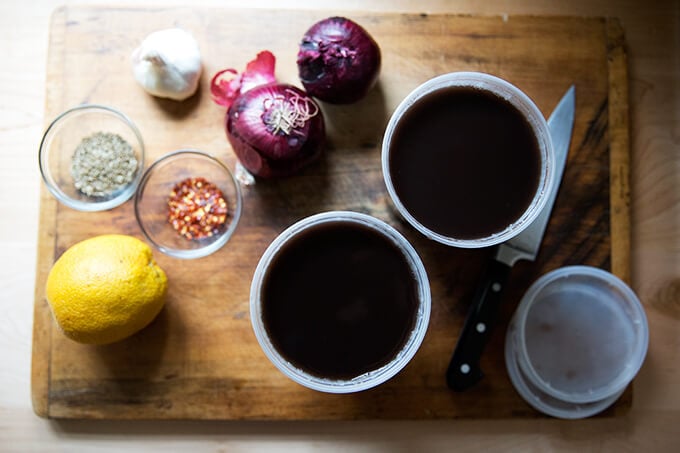 Dice some onion for the soup; reserve some for garnishing: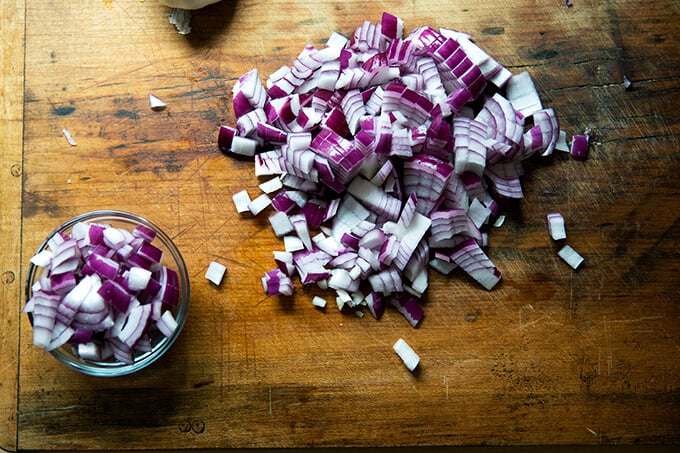 Start by sweating onion with toasted cumin seed and crushed red pepper flakes.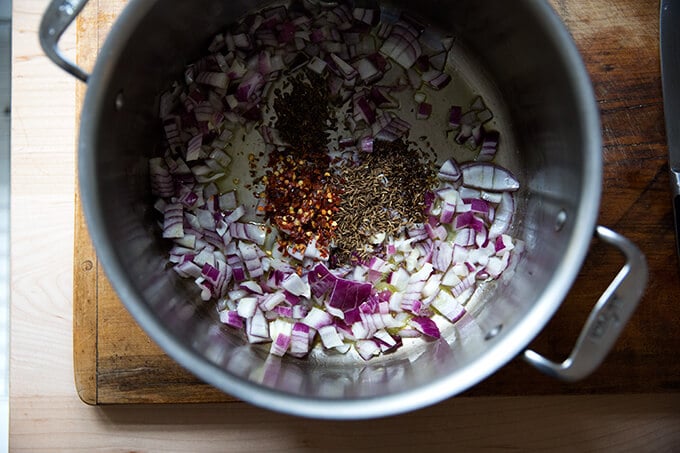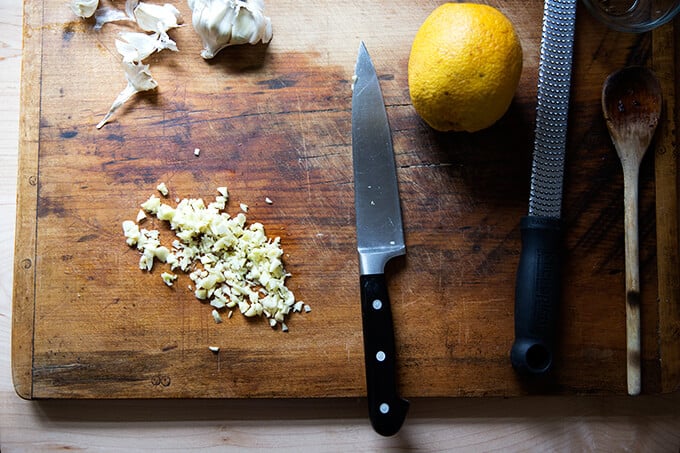 Then add minced garlic and the zest of an orange.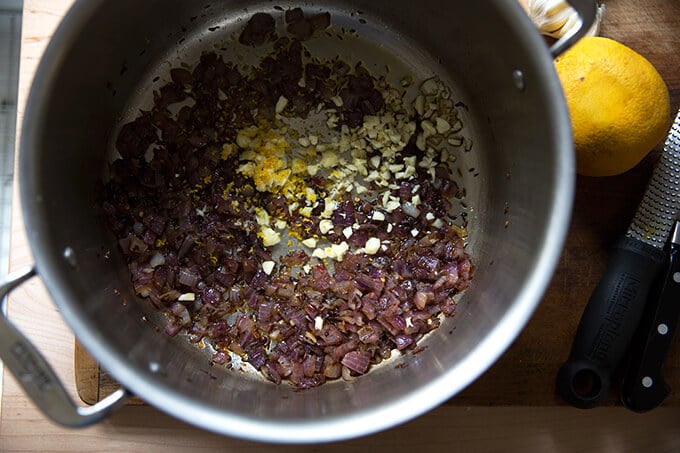 Add 6 cups cooked black beans and a quart of water or stock.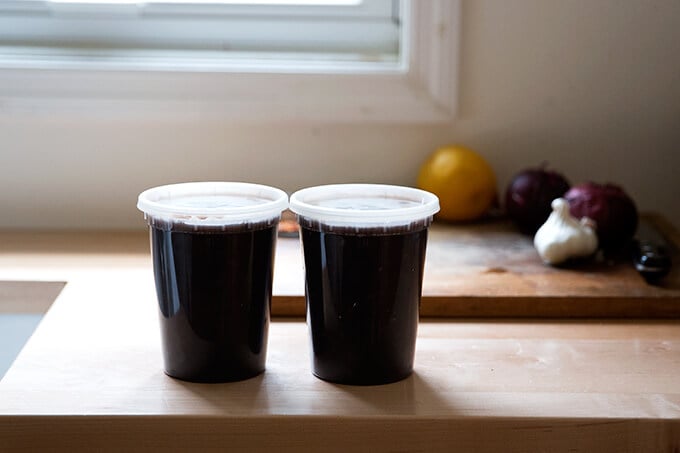 Add some crushed oregano, then simmer 30 minutes.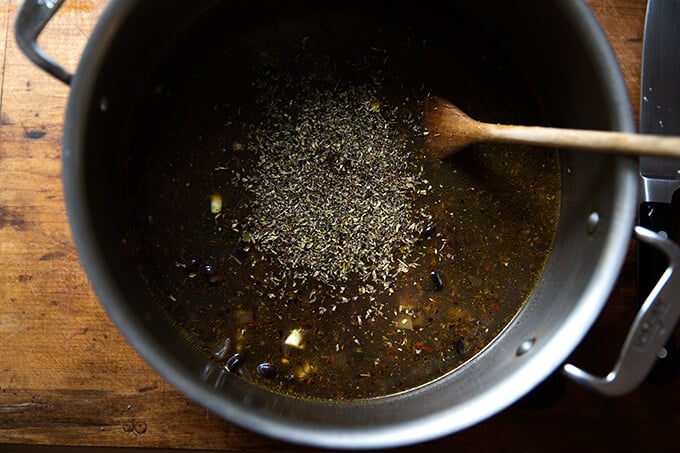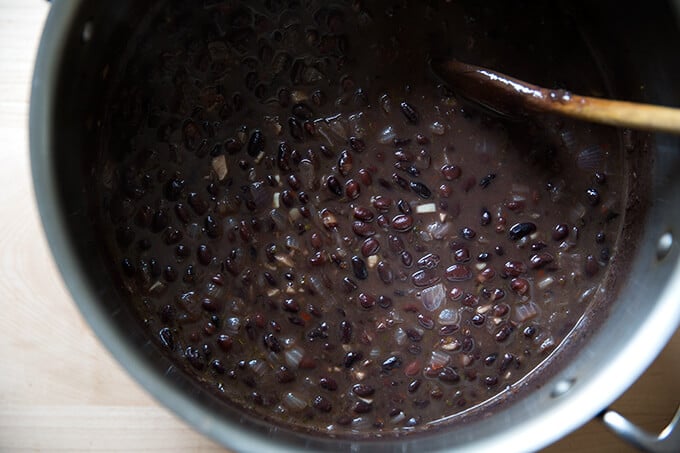 Gather your condiments.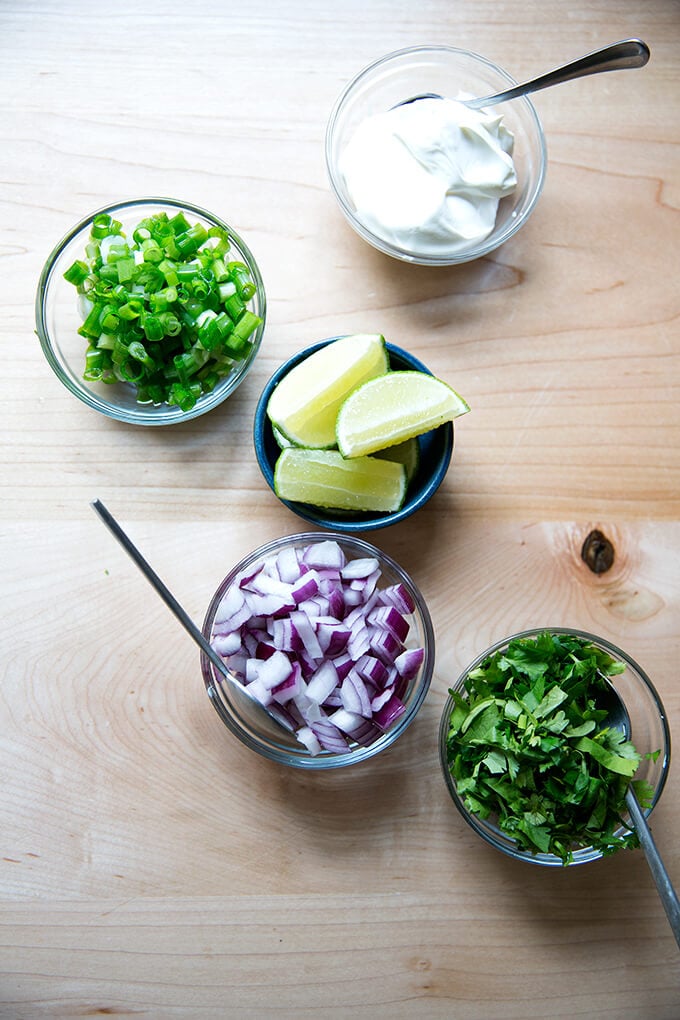 Garnish soup as desired.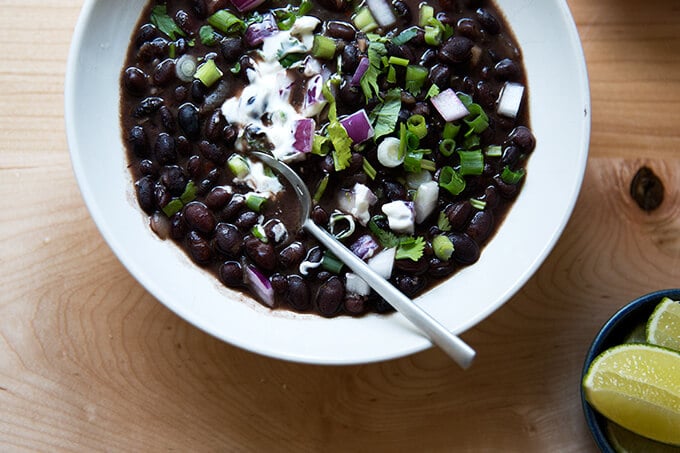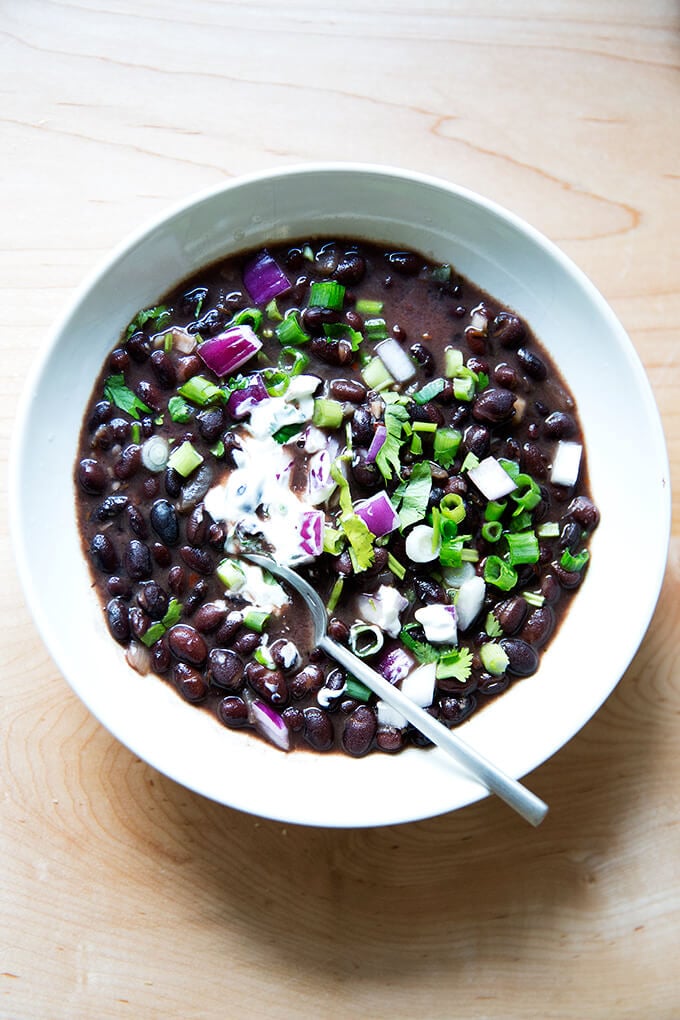 Print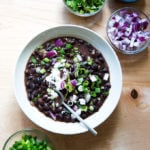 Cal Peternell's Black Bean Soup
---
Author:

Alexandra Stafford

Prep Time:

20 minutes

Cook Time:

1 hour

Total Time:

1 hour 20 minutes

Yield:

2.5 quarts
Description
From Cal Peternell's Twelve Recipes
Notes: After reading an article on Serious Eats about soaking vs. not soaking black beans, I've stopped soaking them, and I've really taken to cooking them in my stovetop pressure cooker — they cook up so nicely and relatively quickly. Once the pot gets up to pressure, the beans cook for 25 minutes, and it probably takes about as long for the valve to release naturally.
To cook the black beans using a stovetop pressure cooker: Place 2.5 cups dried black beans in the pressure cooker pot with 8 cups water and 2 teaspoons salt. Bring up to pressure over high heat. Reduce heat to low and allow beans to cook for 25 minutes. Remove pot from heat and allow the valve to release naturally.
To cook the black beans using an Instant Pot: Place 2.5 cups dried beans, 2 teaspoons kosher salt, and 8 cups water in the inner pot of your Instant Pot. Secure lid in place. Turn valve to Sealing.  Select manual, high pressure, and adjust the time to 25 minutes. When the time has lapsed, allow the pressure to release naturally, which is when the silver button on the lid drops.
You, of course, can simply simmer the beans stovetop or use your slow cooker.
2.5 cups (about a pound) dried beans will yield 6 cups cooked beans.
If using canned beans, drain and rinse them.
---
Ingredients
3 tablespoons

olive oil

1

large red onion diced

1/2 teaspoon

kosher salt, plus more to taste

1 tablespoon

toasted cumin seeds

1/2 teaspoon

crushed red pepper flakes

4

garlic cloves, sliced or minced

1

strip orange peel (removed with a peeler) or the zest of an orange (grated with a microplane)

6 cups

cooked black beans (

2.5 cups

dried), see notes above, liquid reserved

1 quart

water or chicken stock

1/4 teaspoon

dried oregano
for serving: 
sour cream
chopped cilantro
thinly sliced scallions
lime wedges
---
Instructions
Heat a large pot over high heat. Add the oil and all but a couple of tablespoons of the diced red onion (for garnish). Add the salt, cumin seed, red pepper flakes, and immediately turn the heat to low. Cover, and cook for 15 minutes, checking and stirring periodically to ensure the onion isn't browning.
Add the garlic and orange peel or zest. Raise the heat to high and stir for half a minute more. Add the beans, the water, and enough reserved been cooking liquid to ensure the beans are submerged. Crumble in the oregano. Bring to a simmer. Adjust the heat to allow the soup to simmer gently for 30 minutes.
Taste. Add more salt, cumin, garlic, red pepper flakes, and/or oregano to taste. If you prefer a thicker texture, purée some of the soup in a blender or food processor. Personally, I love the texture of the soup as it is.
Serve with all the fixins': scallions, reserved onions, cilantro, sour cream, and fresh lime to taste.
---
Category:

Soup

Method:

Stovetop

Cuisine:

Mexican
Keywords: black bean soup, black beans, Cal Peternell, cumin, orange, pressure cooker, instant pot