Cream of Celery Soup with Walnut-Currant Salsa
This post may contain affiliate links. Please read my disclosure policy.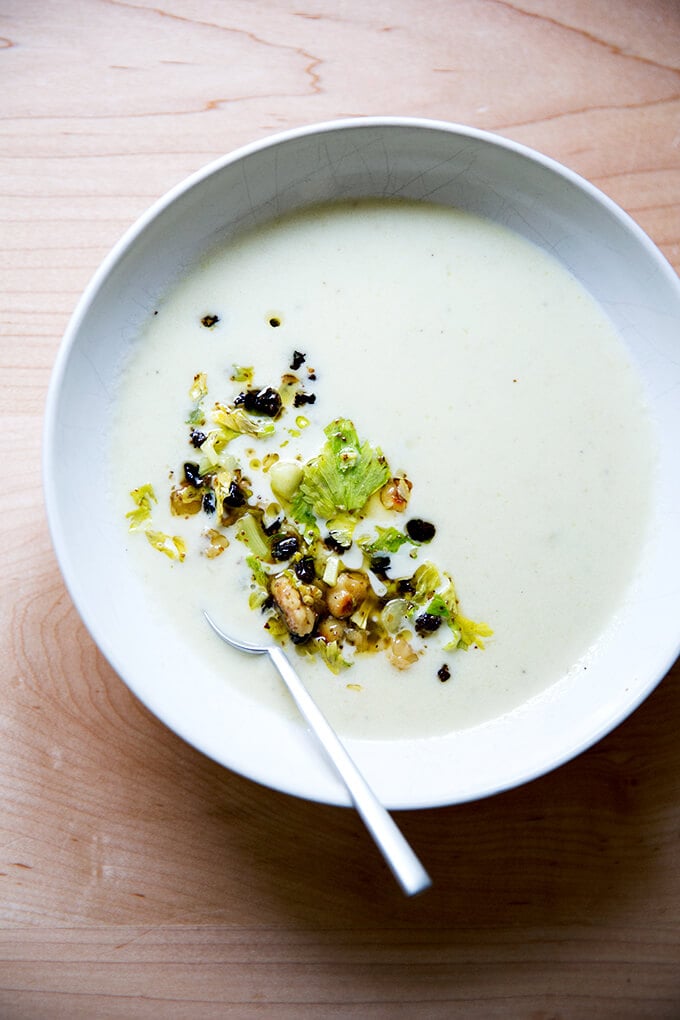 One reason I love sharing cookbooks with my friends and family is that I know, through sharing, I'll discover something I wouldn't have otherwise.
Take, for example, this cream of celery soup from Joshua McFadden's Six Seasons. If you have been reading for awhile, you know I love the book—nearly every recipe in it has some sort of mental flag on it, but if it were not for my mother, who made the creamy soup for a dinner party, where it was met with rave reviews, I likely would have never made it.
I mean, I love celery, and I think it's an under-appreciated vegetable, but in a book where there are distractions at every turn, this sort of soup could easily slip under the radar.
But it deserves all the attention my mother has suggested it should. For one, making it is an exercise in simplicity at its best: sweat butter with onions and celery until soft; add water (or stock) and simmer 30 minutes; purée; add some cream, and simmer further briefly.
But here's where it gets exciting: While the soup simmers away, you make a salsa using reserved celery hearts and any leafy tops along with some toasted walnuts, raisins, and olive oil. Borrowing once again a move from The Zuni Café roast chicken and bread salad recipe, I used currants in place of the raisins and soaked them in a mix of warm water and vinegar. The addition of acid adds a subtle but nice sharpness, and while the salsa is delectable on its own, it really shines floating atop the creamy purée.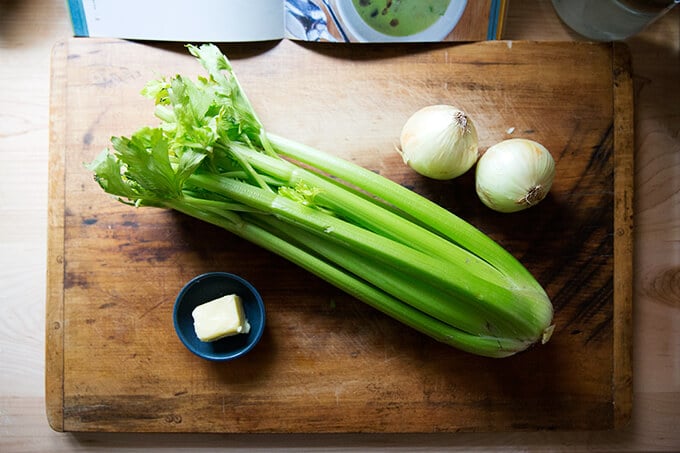 Here's what you need the soup: butter, celery, onion. Chop. Sweat. Purée.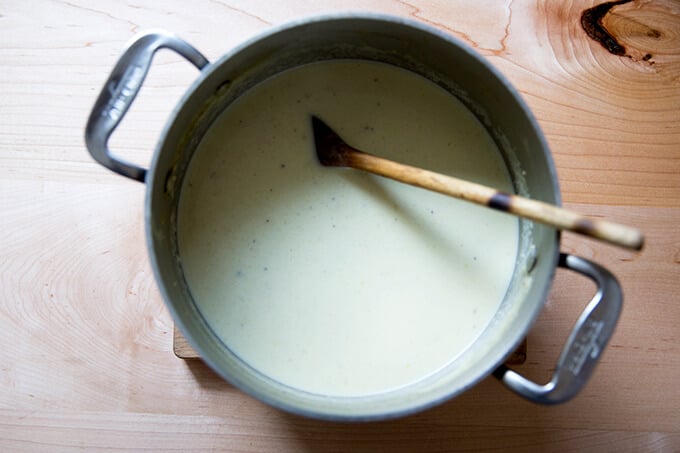 Ta da!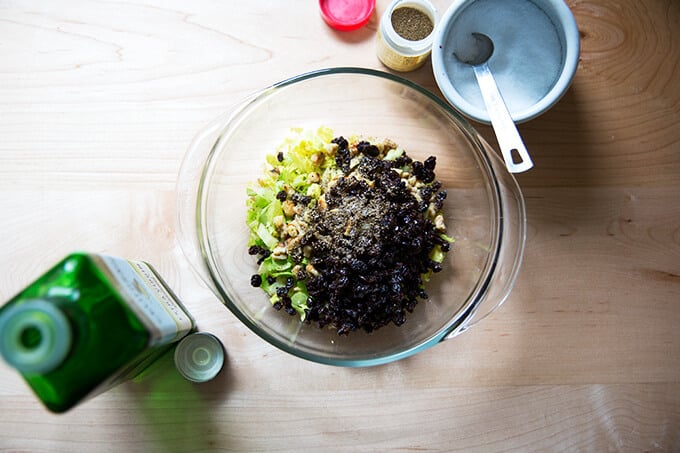 Walnut salsa ingredients: toasted walnuts, chopped celery hearts, currants soaked in vinegar and water, celery seed, olive oil.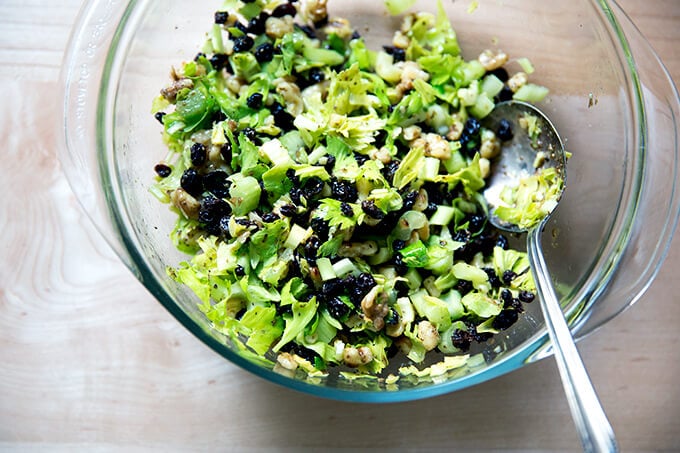 Salsa, all tossed: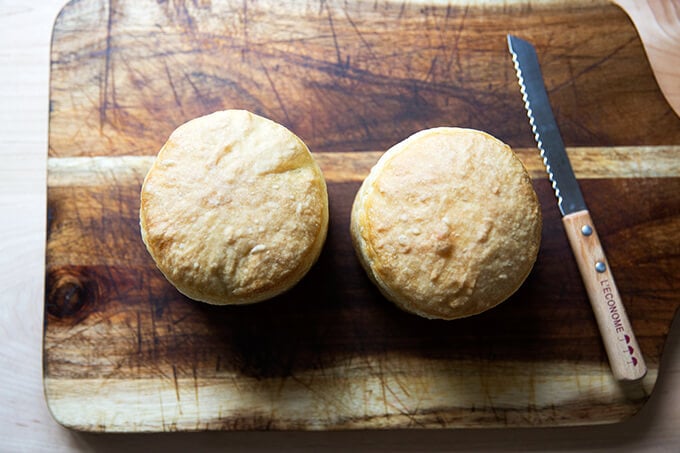 For fun, I made the bread bowls from Bread Toast Crumbs using my mini spring form pans: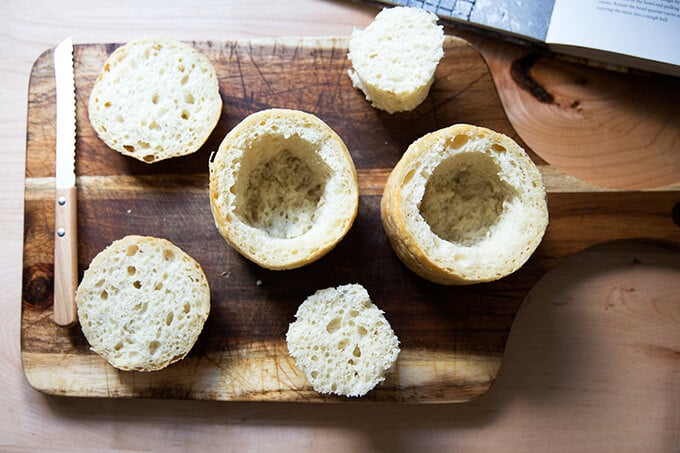 If you'd like video guidance, I made the bread bowls on Instagram stories, too.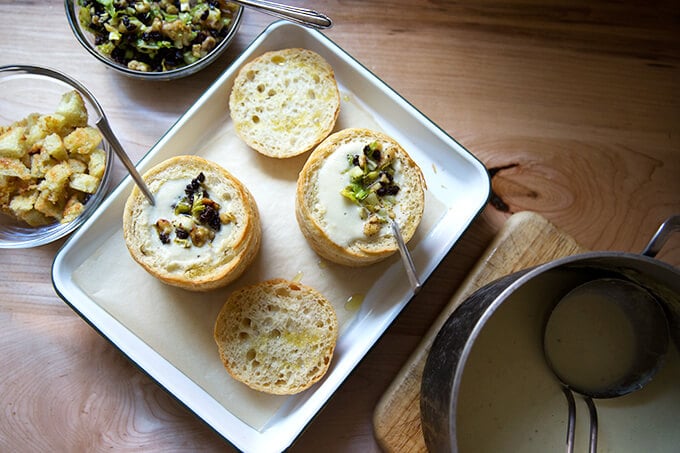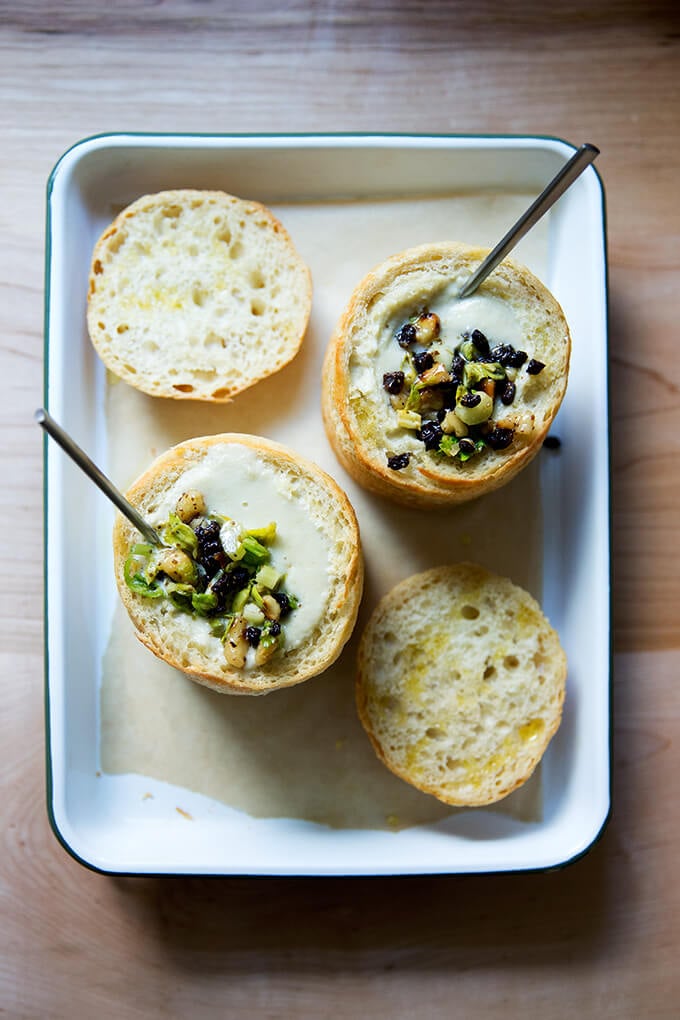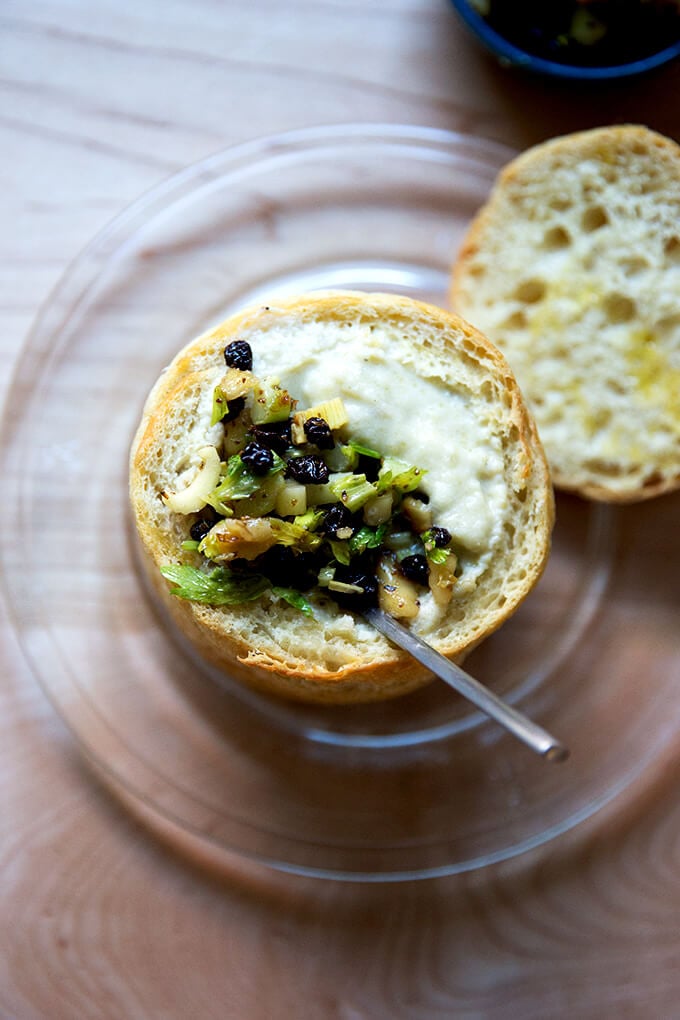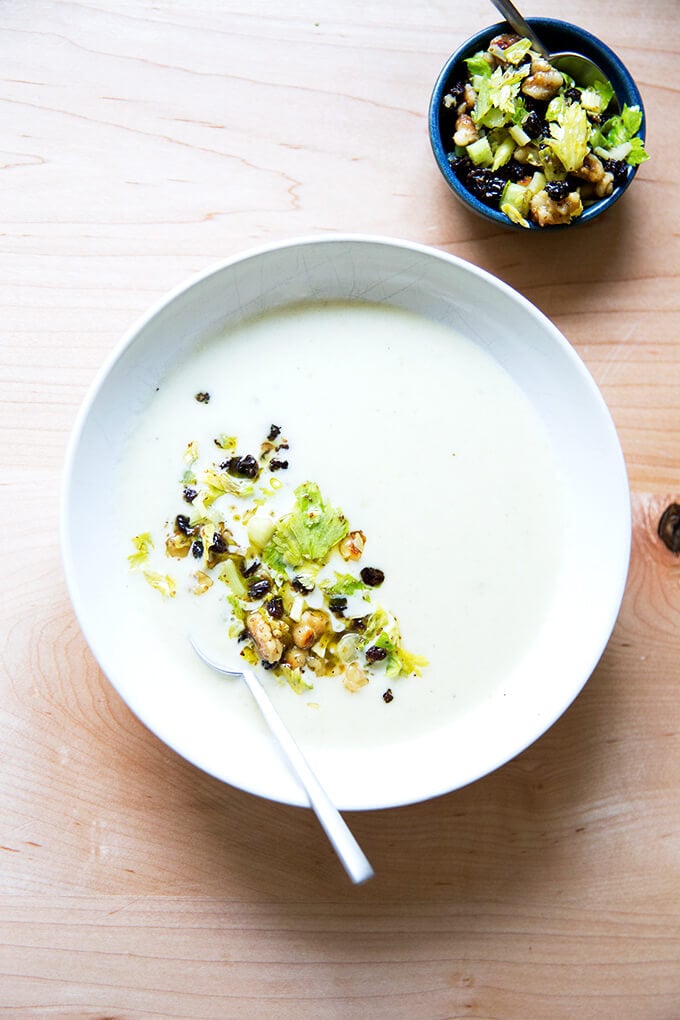 No bread bowl, no problem.

Print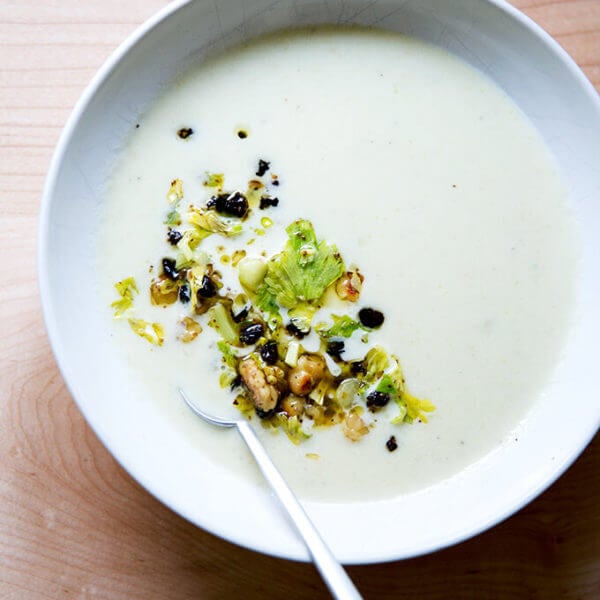 Cream of Celery Soup with Walnut-Currant Salsa
---
Description
From Joshua McFadden's Six Seasons
To toast walnuts: Preheat the oven to 350ºF. Spread the walnuts on a sheet pan. Transfer to the oven and cook for about 9 minutes or until the nuts are golden and smelling toasty. Remove, let cool, then, if you're up for it, transfer to a tea towel and rub away the skins. Then transfer nuts to a sieve and shake to remove the papery skins. Alternatively, toast in a skillet over medium heat until golden—watch closely.
---
2 tablespoons

unsalted butter

1

head celery (about

1.5

lbs.), cut into 1-inch pieces, leafy tops and centers chopped and reserved

1

to

2

small onions, diced to yield 2 cups
Kosher salt and freshly ground black pepper

6 cups

vegetable stock or water

1

/2 to 1 cup heavy cream
For the garnish:
1/2 cup

raisins or dried currants

1/4 cup

white balsamic vinegar

1/2 cup

roughly chopped, lightly toasted walnuts, see notes above

1 teaspoon

celery seed
Extra-virgin olive oil
flaky sea salt such as Maldon, if you have it, or kosher salt
---
Instructions
Put the butter, celery and onion in a large pot over medium heat. Season lightly with salt and pepper and cook the vegetables slowly until they have begun to soften and release their juices, about 8 minutes. Don't let the vegetables brown at all.
Add the stock or water, 2 teaspoons kosher salt, adjust the heat to a simmer, and cook until the celery and onion are completely tender, about 30 minutes. Let the soup cool a bit, then process in a blender or food processor to make a smooth puree. You might need to do this in batches. Alternatively, use an immersion blender.
Meanwhile, place the currants in a small bowl and cover with the 1/4 cup white balsamic vinegar and 1/4 cup hot tap water. Let stand 15 minutes. Drain.
Toss together the reserved chopped celery leaves, the toasted walnuts, plumped raisins or currants and celery seed in a bowl and moisten with a few tablespoons of olive oil. Season with salt to taste. Toss. Taste. Adjust seasoning as necessary.
Return the puree to the pot, add the cream, starting with 1/2 cup, and bring everything to a low simmer. Cook for about 5 minutes to soften the raw cream flavor. Taste and adjust with salt and pepper as desired. Add the remaining 1/2 cup cream if you wish, and simmer further. Divide into serving bowls and top with the walnut-raisin mixture.
Prep Time:

30 minutes

Cook Time:

30 minutes

Category:

Soup

Method:

Stovetop

Cuisine:

American
Keywords: cream, celery, soup, simple, walnut, salsa, currants, winter
This post may contain affiliate links. Please read my disclosure policy.