10+ Easy Vegetarian Dinner Recipes
This post may contain affiliate links. Please read my disclosure policy.
I am not a vegetarian, but as I get older, I find myself drawn more and more to vegetarian meals. Below are twelve of my favorite vegetarian dinner recipes, delicious regardless of the season.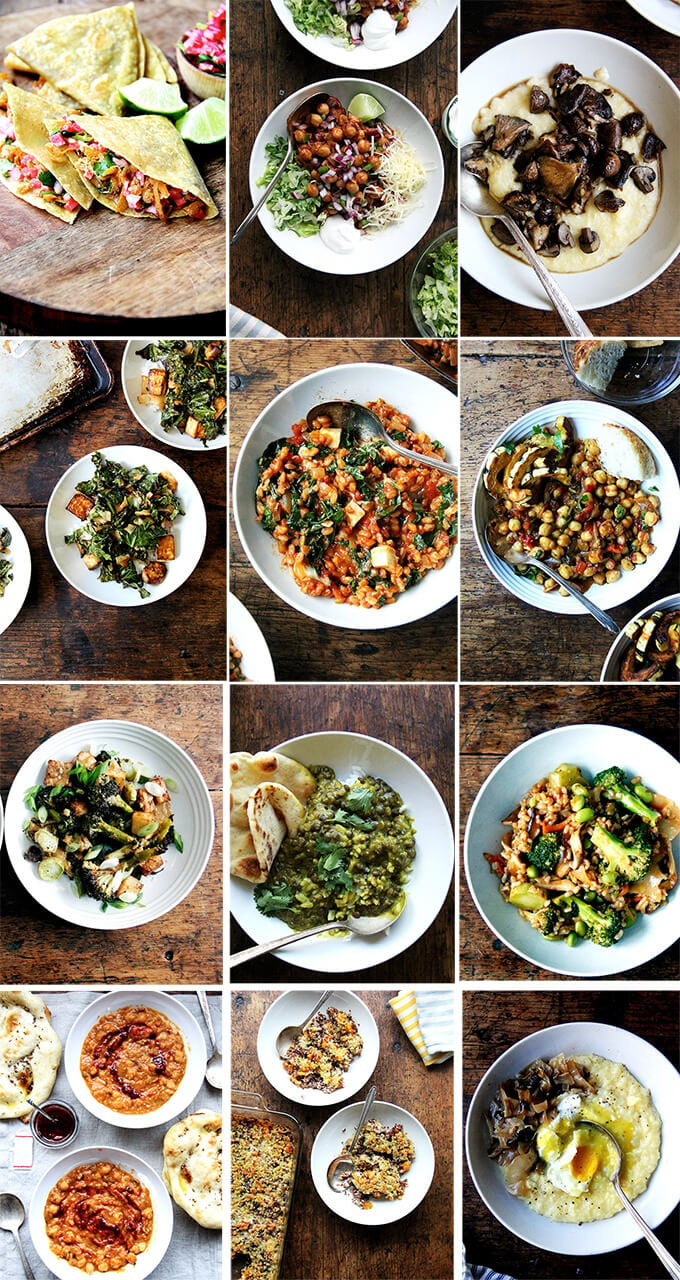 As you know, I am not a vegetarian, but more and more, I find myself drawn to vegetarian meals. At the end of the night, I love nothing more than a big chopped salad, a mug of lentil soup, or a bowl of polenta topped with roasted ratatouille or sautéed greens. Below are twelve of my favorite easy vegetarian recipes to make year-round.
1. Sweet potato quesadillas: A friend of my aunt Marcy sent me this recipe, and it has been a favorite ever since.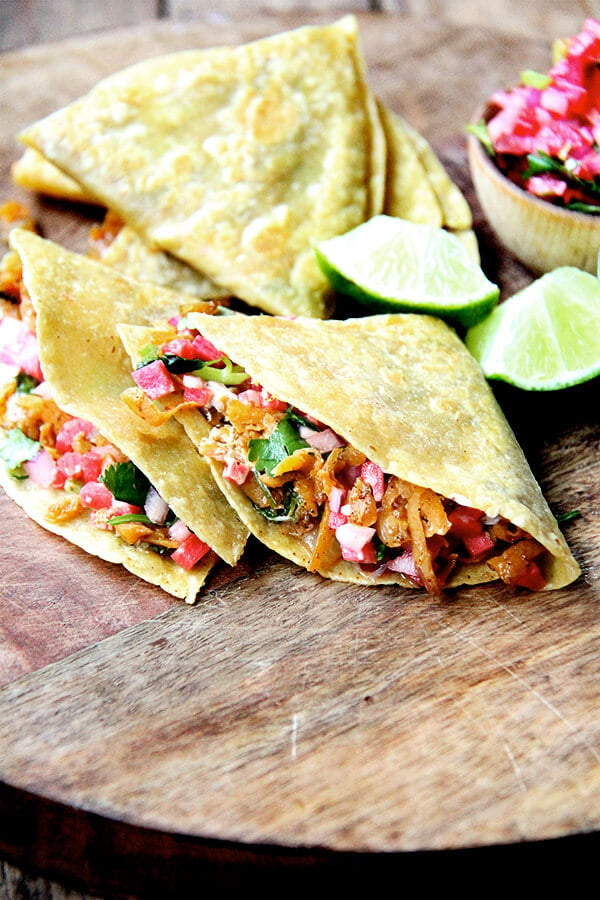 2. Polenta with Sally Schneider's roasted mushrooms: I love this method for roasting mushrooms; it yields a good amount of brothy sauce as well as crisp, flavorful mushrooms.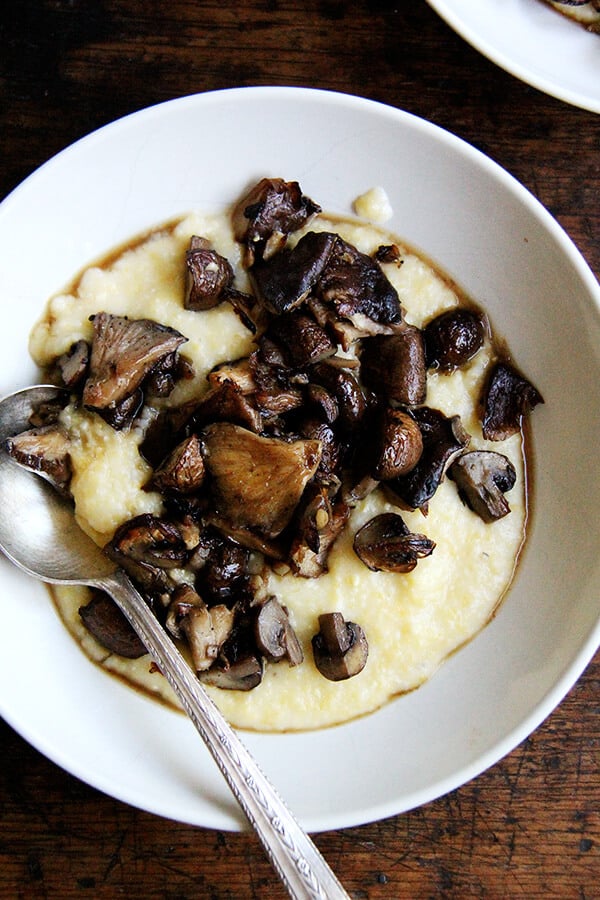 3. Chickpea tagine with tomato jam: This dish is inspired by a tagine served at a local Moroccan restaurant, Tara Kitchen.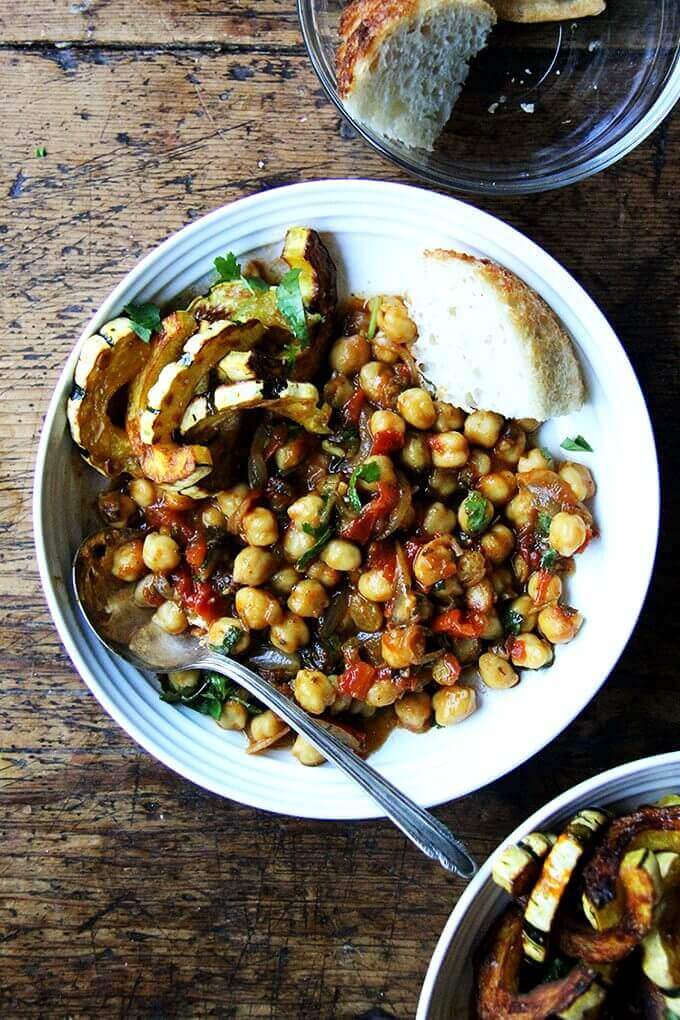 4. Quinoa bake with roasted butternut squash and onions: This quinoa bake combines ALL the Thanksgiving herbs (sage, rosemary, and thyme) with roasted onions, butternut squash, and a mix of Gruyère and parmesan.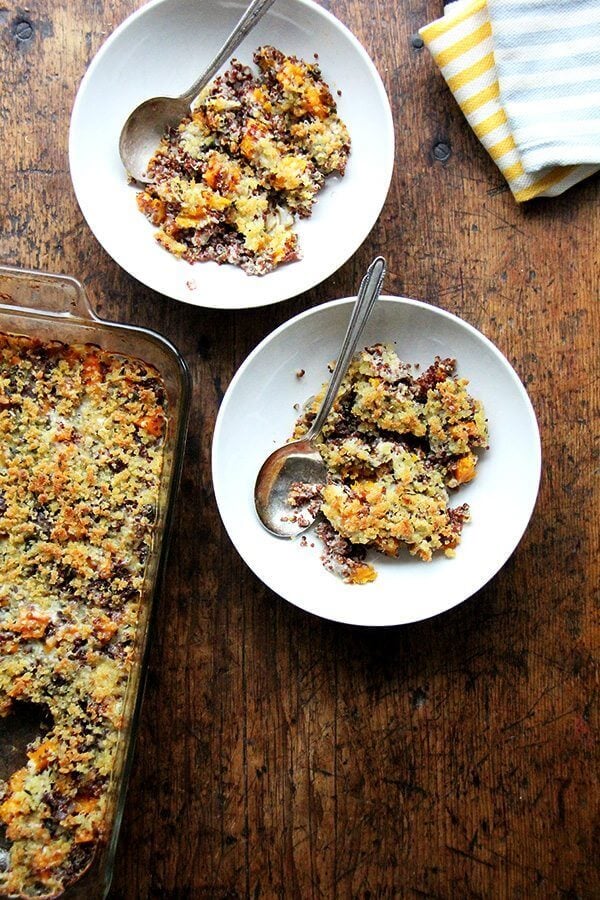 5. Curried lentils with coconut milk: From Julia Turshen's Small Victories, this one, seasoned with turmeric, cumin, coriander, and ginger, has been another favorite since I first made it.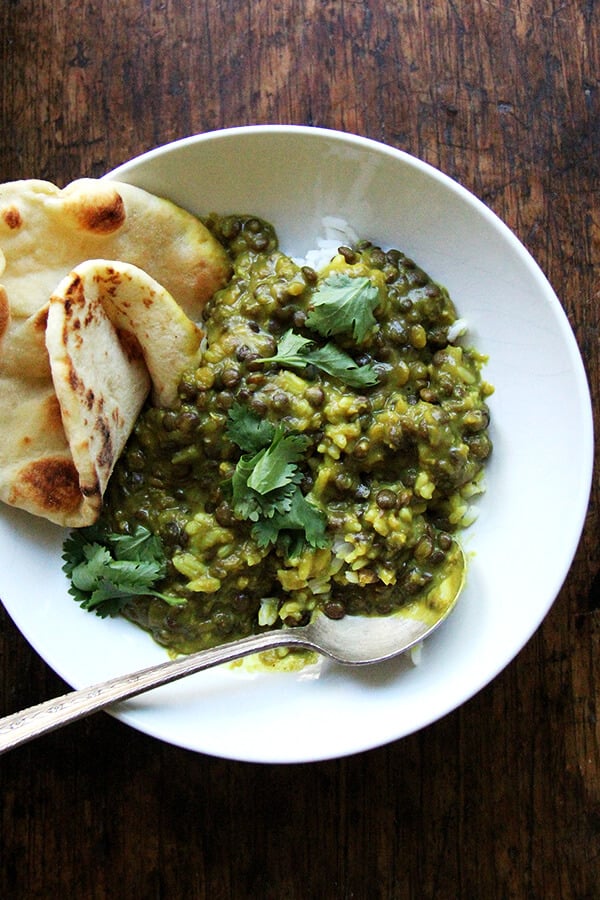 6. Crispy tofu and broccoli with sesame-peanut pesto: From Deb Perelman's latest, Smitten Kitchen Every Day, this one calls for roasting tofu and broccoli, then topping with a sesame-peanut pesto, a sauce modeled after the ones dressing Deb's favorite "deliciously inauthentic" take-out noodles.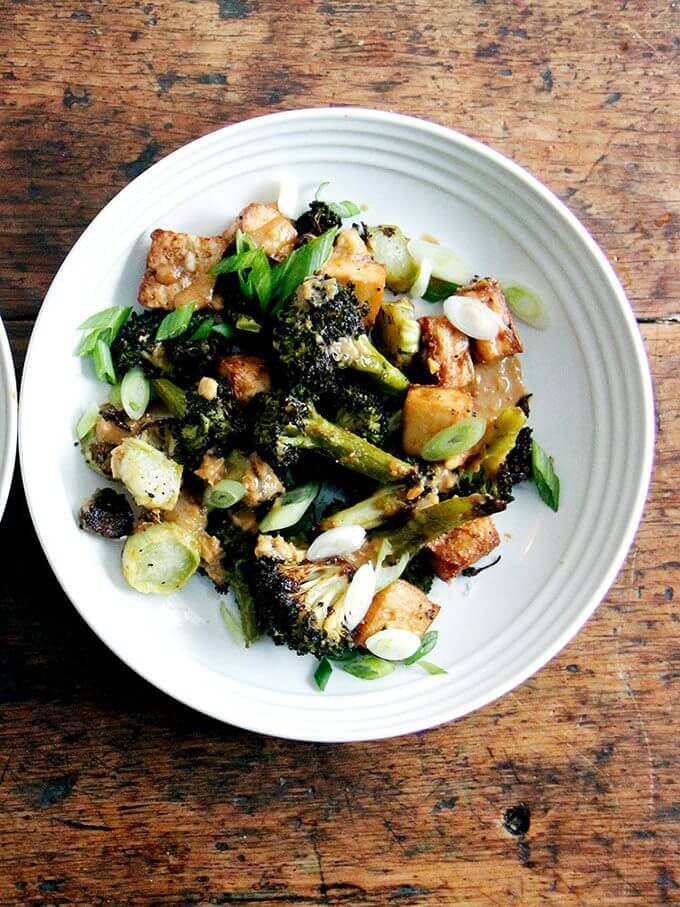 7. Oven-baked polenta (a miracle!) with poached eggs: If you've never baked polenta, it's time!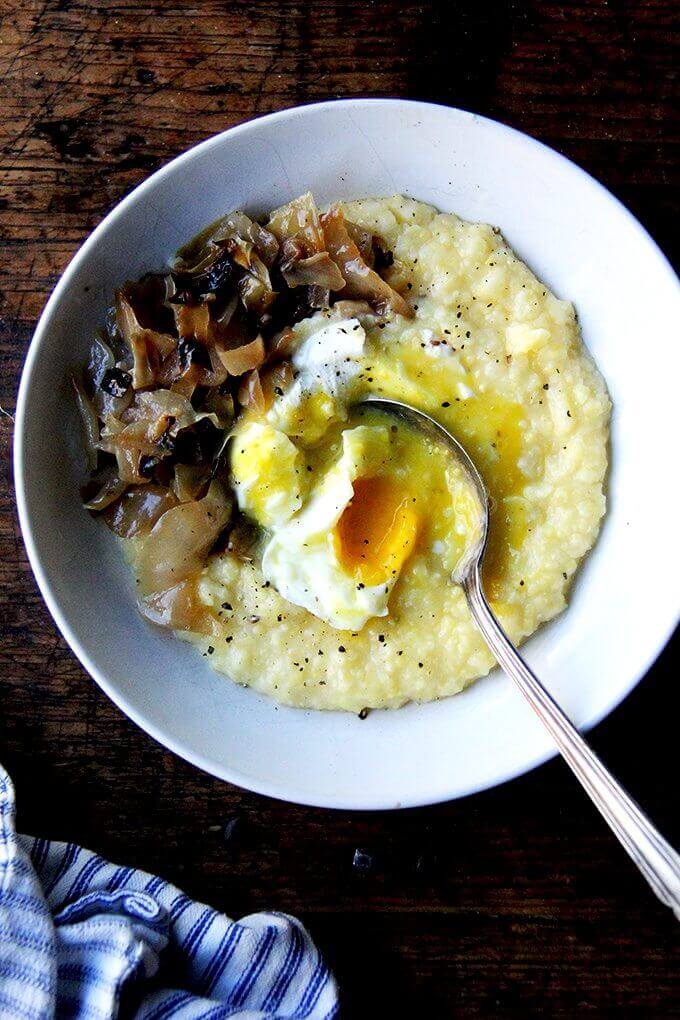 8. Chickpea taco bowls: Adapted from my favorite taco recipe, this one, for me, is just as (if not more) satisfying.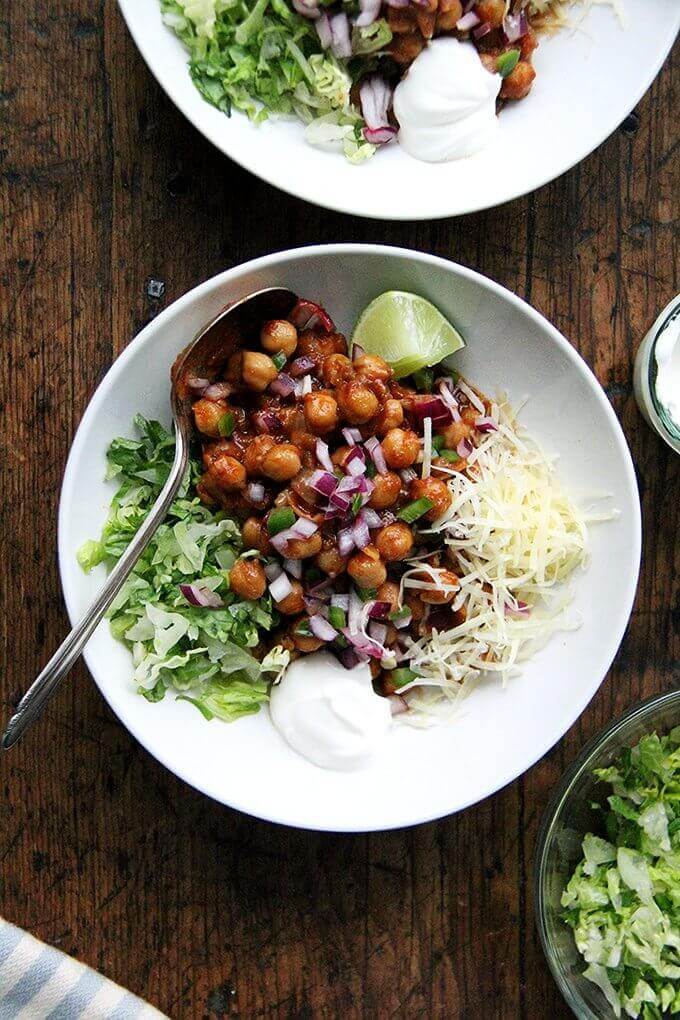 9. Farro risotto with kale and feta: A favorite Ottolenghi recipe … simplified.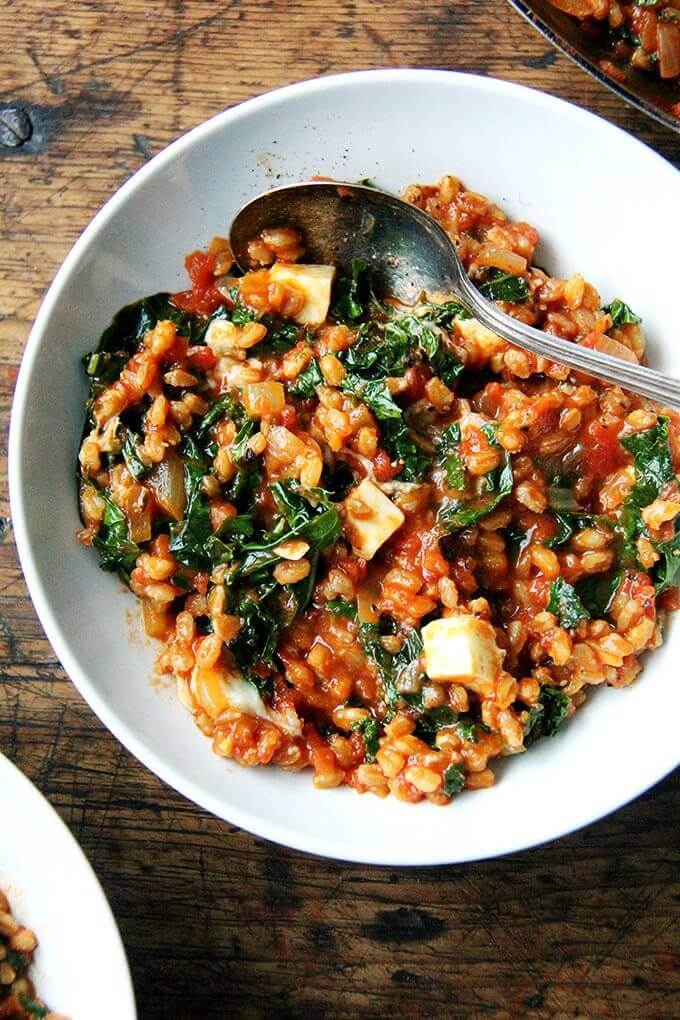 10. Crispy tofu and kale with coconut: If you haven't discovered the joys of baking tofu — no pressing, no marinating, no sticking — it's time!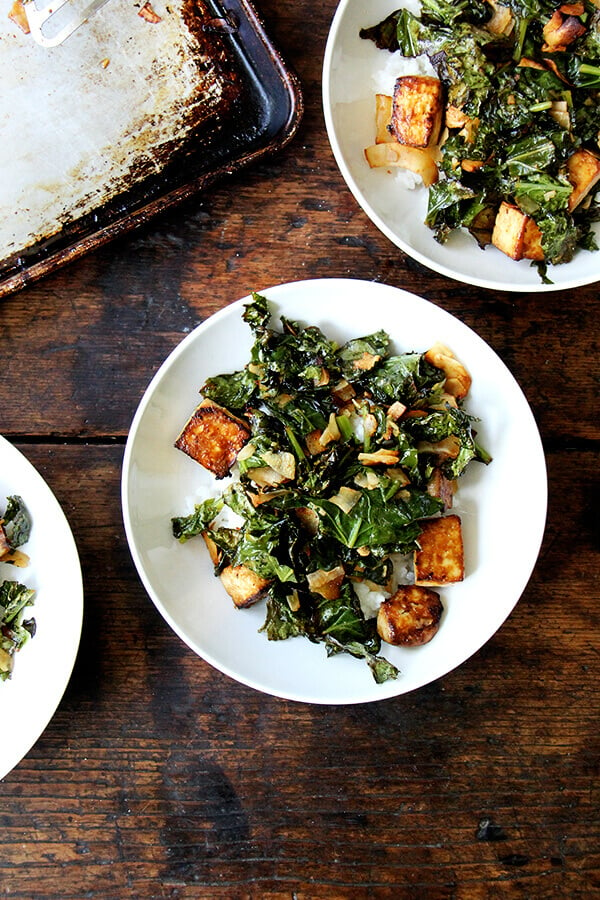 11. Kimchi fried rice: With cooked rice on hand, this recipe is especially weeknight friendly, but because it comes together so quickly, it's important to have all your ingredients prepped before cooking.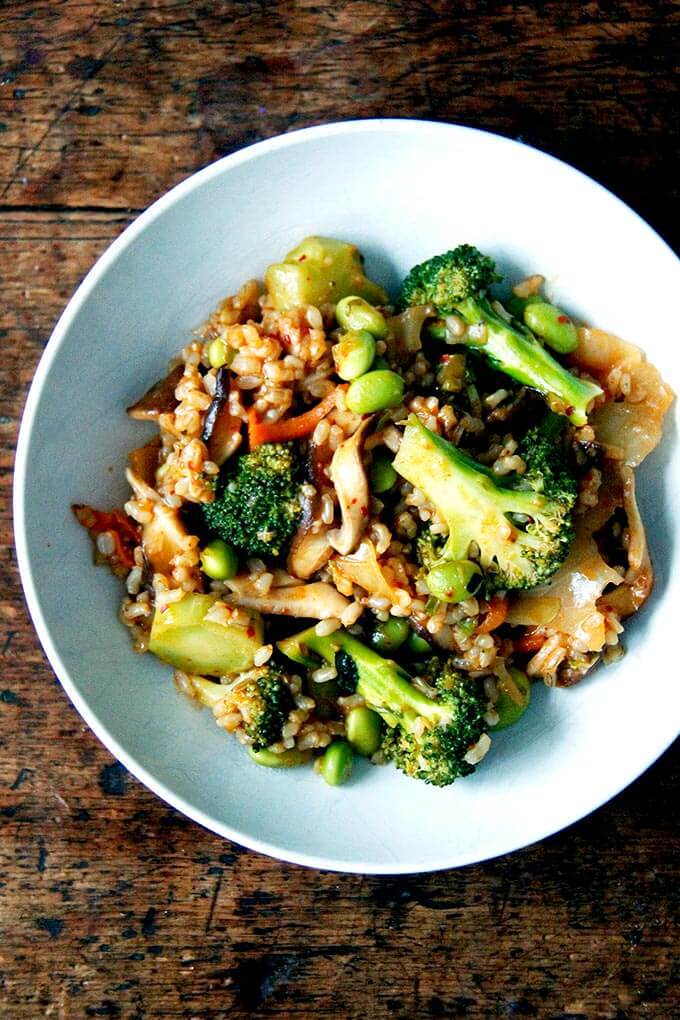 12. Leblebi: Moroccan chickpea stew: Leblebi originates in Tunisia, and is typically served at breakfast with various garnishes: poached or hard-boiled eggs, a sprinkling of cumin or capers, a drizzle of olive oil or harissa, toasted bread, preserved lemon, tinned fish, or pickled vegetables. I like it for dinner with harissa and bread. Yum.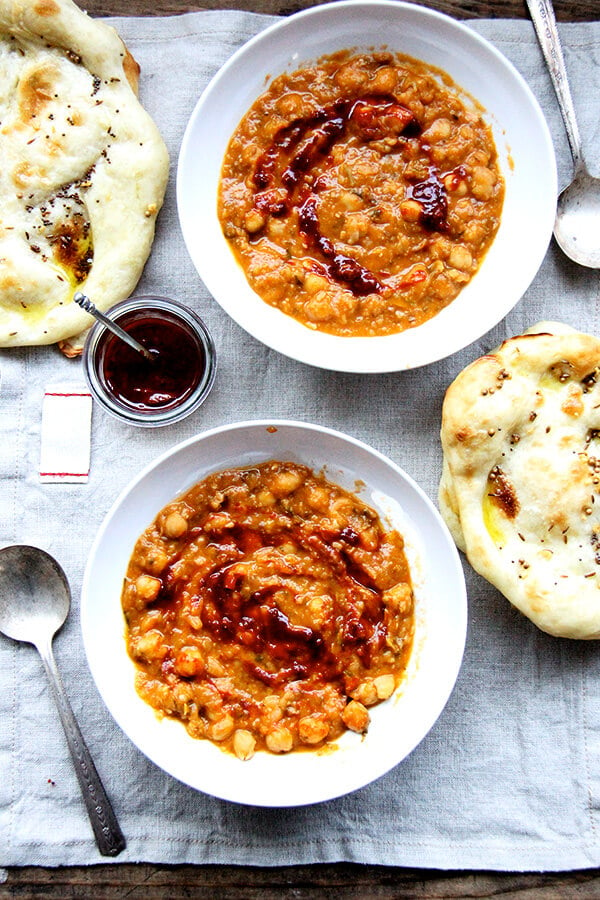 Print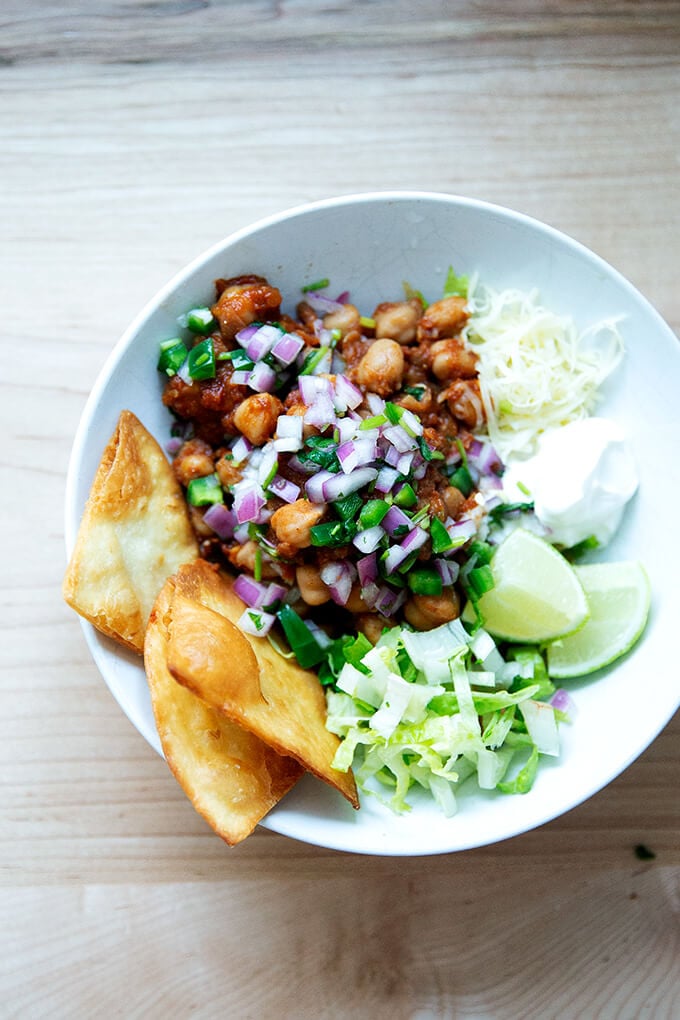 10+ Easy Vegetarian Dinner Recipes: Chickpea Taco Bowl
---
Description
Perfect for busy weeknights, this chickpea taco bowl is easy to prepare and so flavorful. Plus, 11 more easy vegetarian dinner recipes that I know you'll love.
---
For cooking the chickpeas:
1

pound dried chickpeas, see notes above

3 tablespoons

plus 1 teaspoon kosher salt
For the chickpea taco bowls:
2 tablespoons

oil, grapeseed or olive

2 cups

diced onions
Kosher salt, to taste

2

cloves garlic, minced

1 tablespoon

chili powder, see notes above

2 teaspoons

cumin

1 cup

crushed tomatoes, see notes above

1 tablespoon

cider (or other) vinegar

1 teaspoon

sugar

4 cups

cooked chickpeas, from above, or

two

15-oz cans, drained and rinsed

1/2

lime, for juicing, plus more for serving
For serving: grated cheese, sour cream, finely shredded romaine lettuce, quick-pickled onions (see notes above)
---
Instructions
If using dried chickpeas: Dissolve the 3 tablespoons of salt into a large bowl of water (your largest mixing bowl, or about 4 quarts water). Add the chickpeas and soak for 8 to 24 hours. Drain, and place in a pot with the remaining teaspoon of salt. Cover with water by three inches. Bring to a boil, then lower heat and cook at the gentlest simmer for about an hour or until the chickpeas are cooked through. Let chickpeas cool in their cooking liquid. Store chickpeas in their cooking liquid.
Set a large, wide skillet over high heat. Add the oil. When it shimmers, add the onions, stir to distribute evenly, season with a pinch of salt, cover the pan, and turn heat to low. Cook, covered, for 15 minutes. Uncover, letting the water from the lid drip down into the pan. Add the garlic, 1 tablespoon (or less, see notes above) chili powder, and cumin, and cook for 1 minute, stirring until the onions are coated in the spices. Taste. If you want a little more heat, add an additional tablespoon of chile powder, and cook for another minute.
Add the crushed tomatoes, 1 cup water, vinegar, sugar, and 4 cups of the cooked chickpeas (not the liquid). Adjust heat so the mixture simmers. Season with a pinch of salt. Simmer for 15 to 20 minutes (the longer the better) stirring occasionally to ensure chickpeas are not sticking to bottom of pan. Taste. Squeeze half a lime over top if desired along with more salt to taste—chickpeas can handle/need salt, so don't be afraid here.
To serve: Spoon chickpeas into bowls. Top with grated cheese, sour cream, quick-pickled onions, lettuce, and lime wedges.
Prep Time:

15 minutes

Cook Time:

30 minutes

Category:

Dinner

Method:

Stovetop

Cuisine:

Mexican, American
Keywords: chickpeas, taco, bowls, cumin, cilantro
This post may contain affiliate links. Please read my disclosure policy.