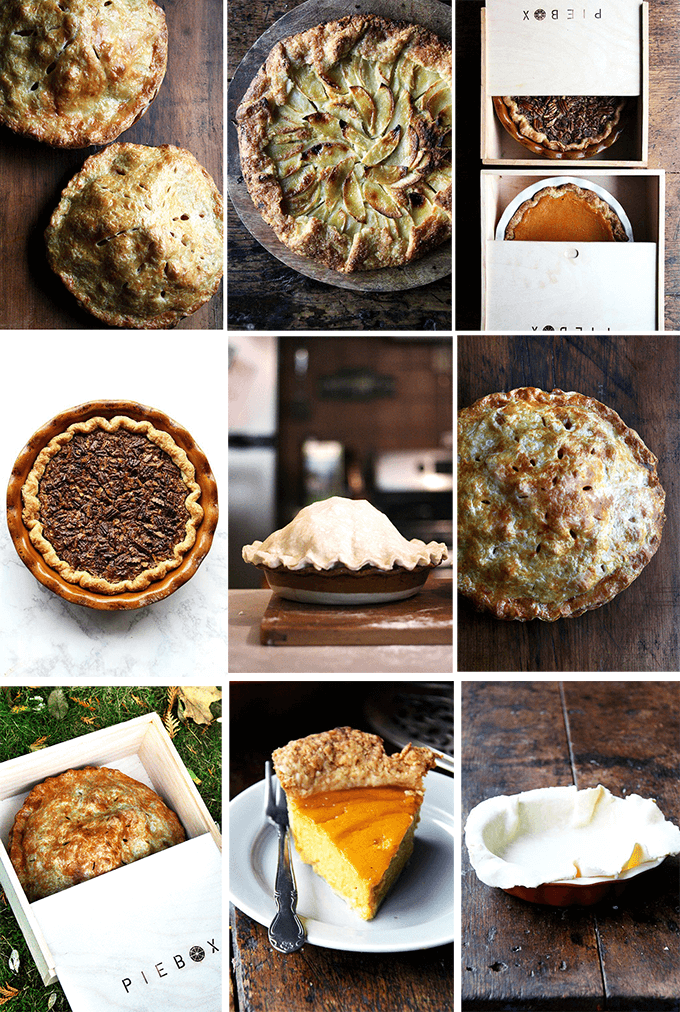 No matter which pie dough recipe you use, the principles of making it will be the same: keep the ingredients cold, cold, cold. Let's review:
Homemade Pie Dough
Purists will say that making a pie dough in the food processor is a no-no, but I find it works very well—so does Martha Stewart!—and if you are making a lot of dough, using a processor will save you a lot of time. (If you don't have one, don't worry: there are instructions below for making it without.)
The French Trick to Foolproof Pie Dough
Ten years ago I took a cooking class at Antoine's Cafe in San Clemente, California during which the French instructor, Caroline Cazaumayou, wowed the audience with a tea towel.
After pulsing a few ingredients together in the food processor, she dumped the crumbly dough into the center of a tea towel. She then pulled up the corners of the towel and twisted it into a beggar's purse. When she opened it up, the audience gasped: the crumbles had united to form a perfect round of dough.
This tea towel trick achieves two things:
A tender crust, because the crumbly dough ensures it has not been over worked.
A perfectly round shape, the ideal starting point for many a pie and/or tart.
This video demonstrates the process:

A few things to keep in mind:
To start the pie-dough making process, cut your butter into smallish slices or cubes, place them in a bowl, and stick them in the fridge. Fill a large liquid measuring cup with ice and water. Set aside.
If you want to make several batches of dough, rather than multiply the recipe and load up your food processor, make separate batches consecutively. No need to clean the processor in between batches.
When I make the dough and plan on using it shortly thereafter, I prefer rolling it out immediately, fitting it into the pie plate, then chilling the dough-fitted pie plate in the freezer for at least 30 minutes.
When you are rolling out your dough, try to keep tools and ingredients cold — my aunt uses a marble rolling pin that she keeps in the freezer. (I never remember to freeze my rolling pins, but it's something to keep in mind.)
This video shows how to roll out pie dough and make a simple fluted edge:

How to Make Foolproof Pie Dough
Measure your ingredients.

First pulse the flour, sugar and salt together.

Add the butter and pulse 10 times (about).

The butter should be the size of peas (about).

Add ice water.

Pulse again about 10 to 15 times or until the dough is still crumbly, but holds together when pinched.

Divide dough between two clean tea towels. I love these tea towels by Now Designs.

Gather towel into a beggar's purse, and squeeze to form a round.

Transfer one to the freezer for a future use.

On a lightly floured surface, roll out the remaining round into a circle about 12- to 13-inches in diameter.


Fold dough into quarters to easily transfer to a pie plate or tart pan. Freeze for at least 30 minutes.
This 1-minute video sums up the above process:
5 Recipes to Use Foolproof Pie Dough In
Bourbon Pecan Pie (No Corn Syrup)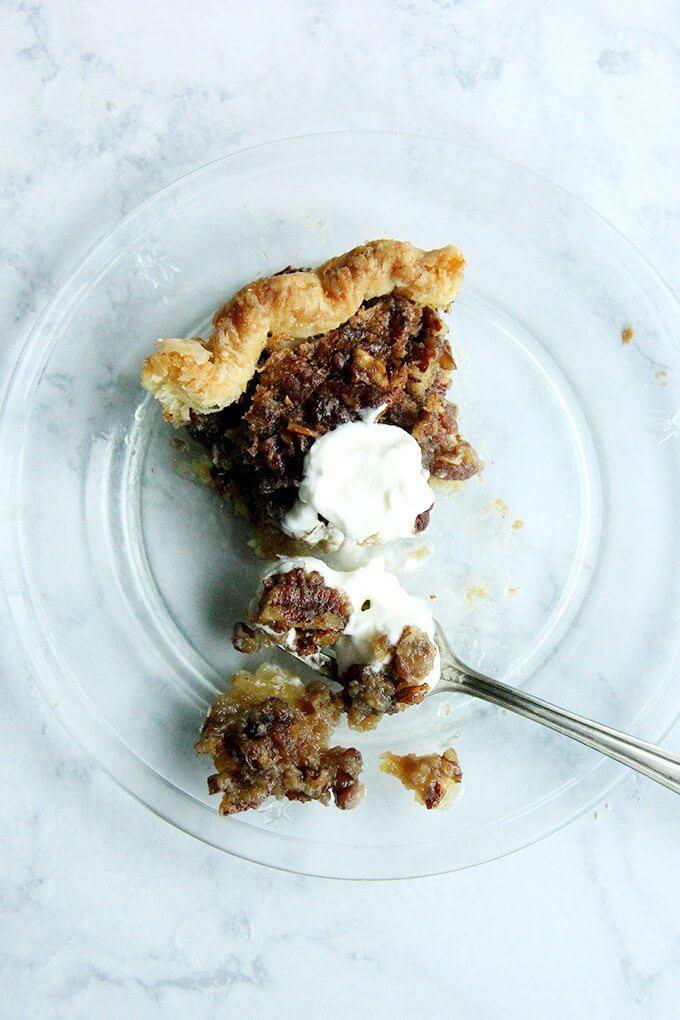 Ronnie Hollingsworth's Most Excellent Squash Pie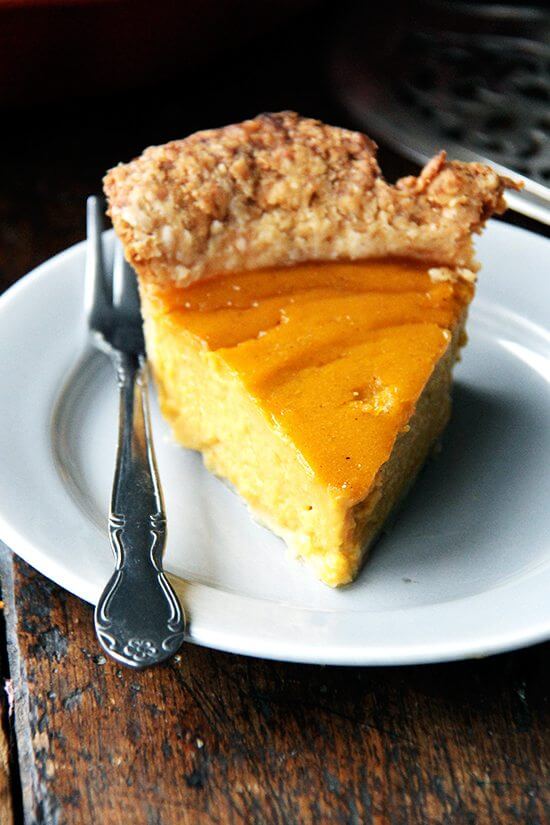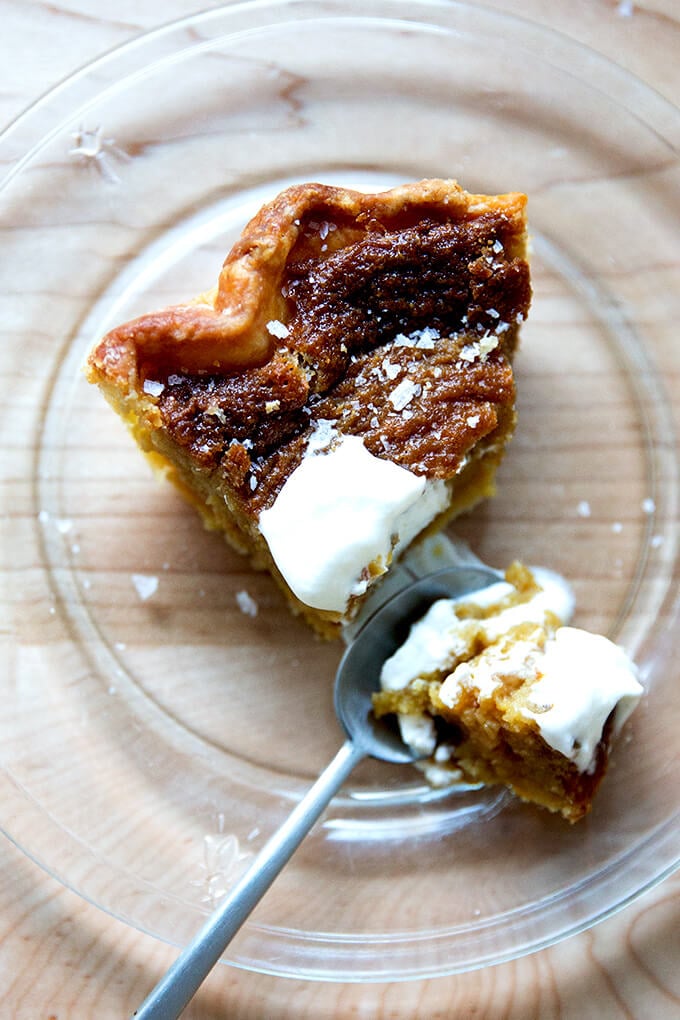 Print
Foolproof All-Purpose Pie Dough
---
Author:

Alexandra Stafford

Prep Time:

20 minutes

Total Time:

20 minutes

Yield:

2 nine-inch rounds
Description
This is the pie dough I use for everything: galettes, tarts, etc.
Dough can be made up to three days in advance and stored in the fridge or made weeks in advance and stored in the freezer. To thaw, place dough in the fridge overnight before baking. 
To make a double batch: do not load your food processor with double quantities. Make the dough in separate batches — no need to wash the food processor in between batches.
---
Ingredients
2½ cups

(

320g

) all-purpose flour

2 tablespoons

sugar

½ teaspoon

kosher salt

16 tablespoons

(

227g

) unsalted butter, cut into small pieces and chilled

½ cup

+ 2 tablespoons (

142g

) ice water
---
Instructions
In the bowl of a food processor, pulse the flour, sugar and salt together. Add the chilled, cubed butter. Pulse at 1-second intervals until butter is the size of peas — should be about 10 quick pulses. Add the ice water and pulse again about 10 times until the mixture is crumbly but holds together when pinched. (To make without a food processor: In a large bowl, whisk flour, sugar and salt together. Add the butter to the flour mixture, and using the back of a fork or a pastry cutter, incorporate it until it is in small pieces. Add ice water and continue to stir with fork until mixture it crumbly but holds together when pinched.)
Lay two clean tea towels on a work surface. Dump half of the crumbly dough mixture into the center of each. Grab the four corners of the towel together and twist to create a beggar's purse, pressing the dough into a round. Use your hands to pack and flatten the round. Wrap in plastic wrap or parchment paper, place in ziplock or other airtight bag/vessel, and stash in the fridge for 3 days or in the freezer for months.
Category:

Dessert

Method:

Food Processor

Cuisine:

American
Keywords: pastry, foolproof, dessert, food processor