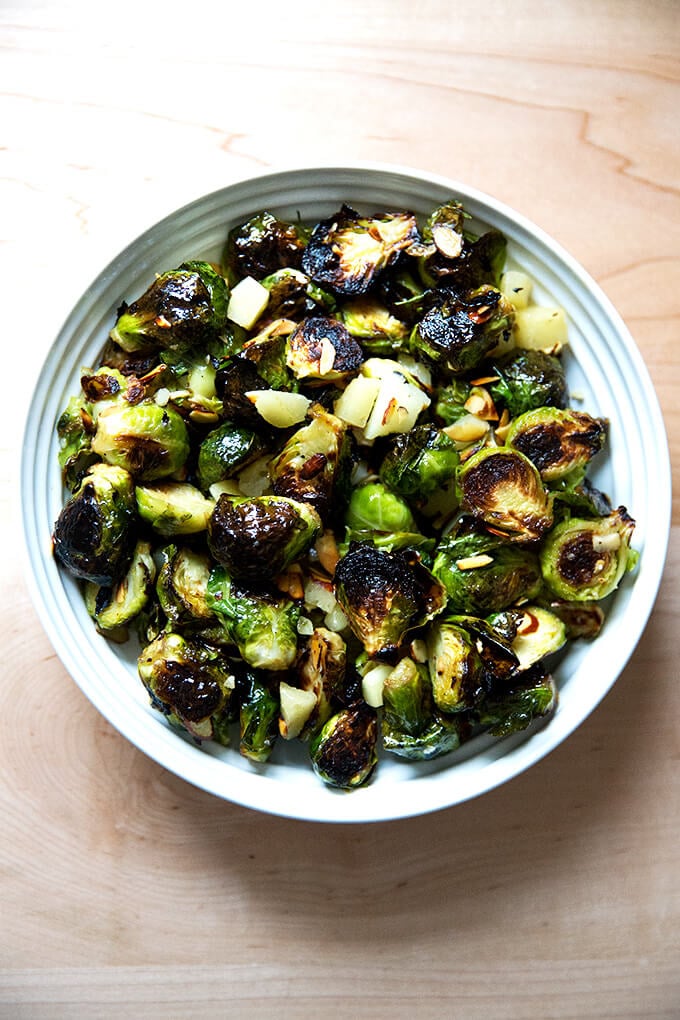 A few weeks ago, I found myself at the library with Ella looking for yet another Calvin and Hobbes book. Once I found it, I ducked around the corner to the cookbook section for a quick peek and spotted Franny's, a cookbook I did not know existed.
I learned about Franny's, a restaurant in Brooklyn, via Joshua McFadden's Six Seasons, which includes a recipe for the "kale salad that started it all," which Joshua created while working at Franny's. Most recently, I made Melissa Clark's seared broccoli and potato soup, which was based on a soup made at Franny's and which, as it turns out, is also included in Franny's the cookbook. There's a recipe for the zucchini version of the soup, too.
A quick flip through the book convinced me I needed to take it home, and I no doubt will be adding it to my permanent collection once the library demands it back. It's so good! Friends, if you are fans of Six Seasons, I think you'll really love this one, too. The subtitle is "Simple. Seasonal. Italian." — what's not to love? — but what I've been enjoying most is seeing glimpses of Joshua McFadden's food in the pages. It's not the same, but similar.
OK, about these Brussels sprouts. The first time I made this, I used a fancy white balsamic vinegar that a friend had given me as a gift. When I made it a second time, I used lemon, as the original recipe called for, but in the end I found myself missing the sweetness of the vinegar. The next I made it, I decided to reduce half a cup of white balsamic — something I've done with traditional balsamic, but not white — and use that in place of the lemon. I loved it. Reducing the vinegar is an extra step, yes, but not too much of a hassle all in all.
Also, in the recipe notes, I learned something about Pecorino, which simply means "sheep's milk cheese," but which many people associate with Pecorino Romano, as do I. Andrew Feinberg, the chef of Franny's, recommends using something like Pecorino Ginepro, an Italian cheese flavored with balsamic vinegar and juniper, or Manchego, but not Pecorino Romano, which he says would overwhelm this dish. The first time I made this, I used a Pecorino I found at Honest Weight Food Co-op in Albany, which I loved, but every time I've made the dish since, I've used Manchego, which I can find everywhere and which works beautifully here.
Friends, your Thanksgiving menus are likely set, but if you're still looking for ideas, this might be a good one to consider.
PS: Ina Garten's Balsamic Roasted Brussels Sprouts with Pancetta
Here's the play-by-play: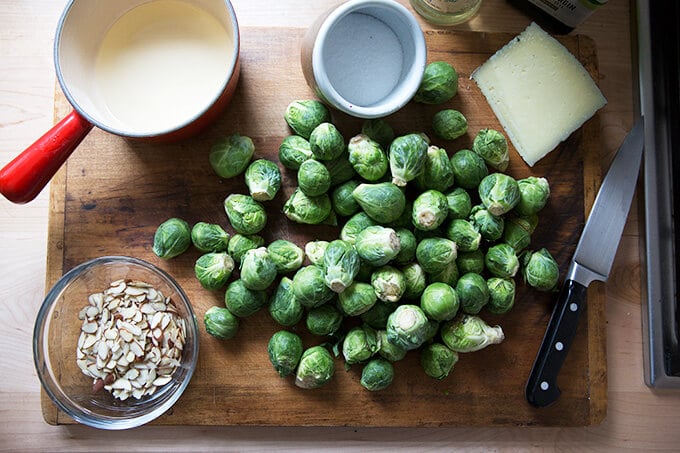 Halve 1.5 pounds Brussels sprouts.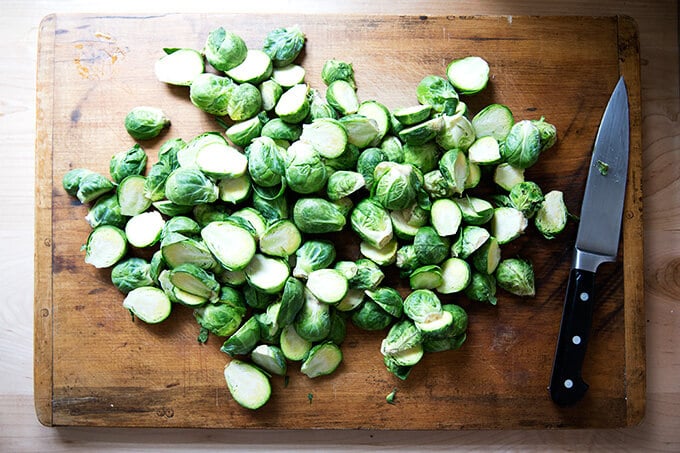 Toss with olive oil and salt.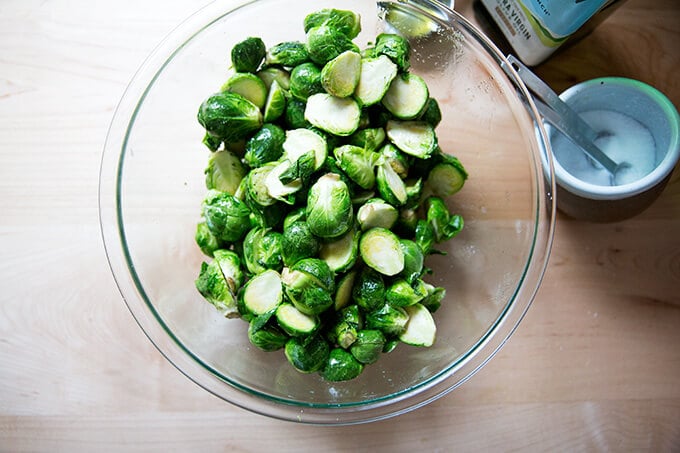 Spread onto a sheet pan — this is a large sheet pan.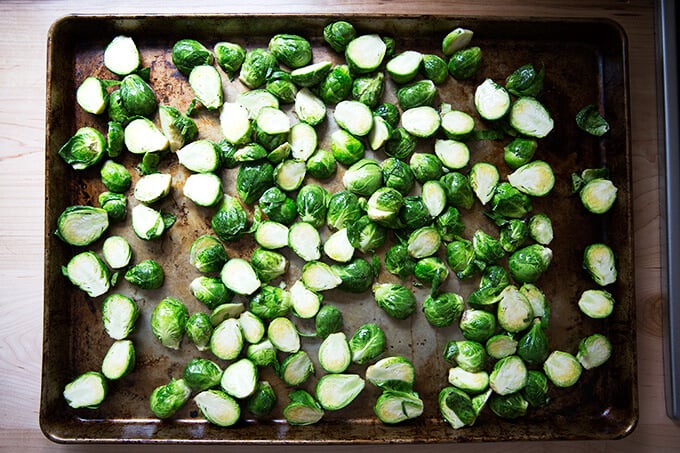 Gather the components: Roasted Brussels sprouts, toasted almonds, cubed Manchego, reduced white balsamic.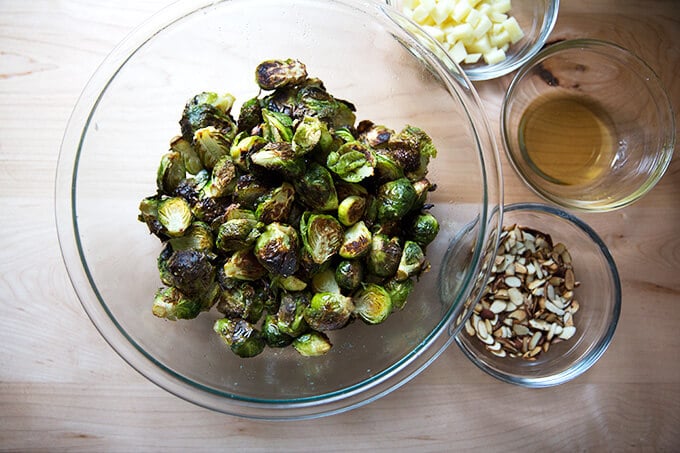 Combine.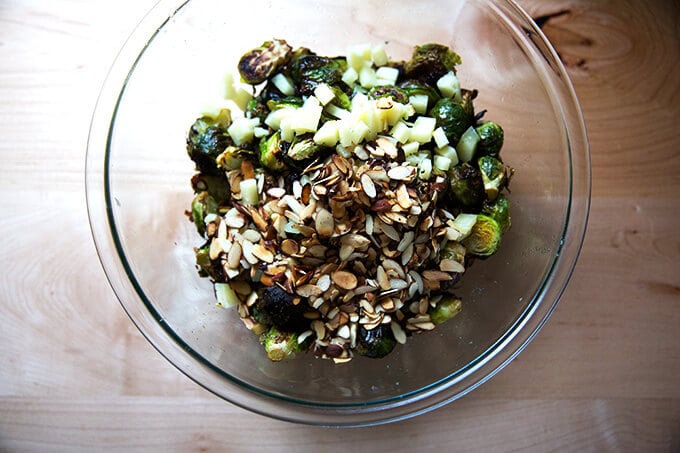 Toss. Adjust flavor as needed with salt, pepper, vinegar, lemon, etc.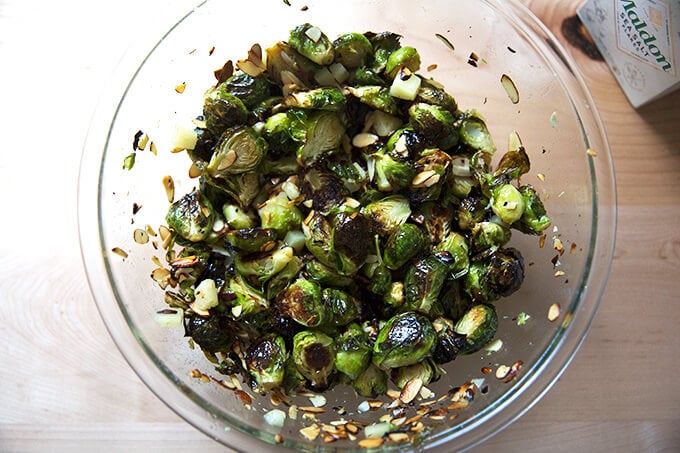 Eat.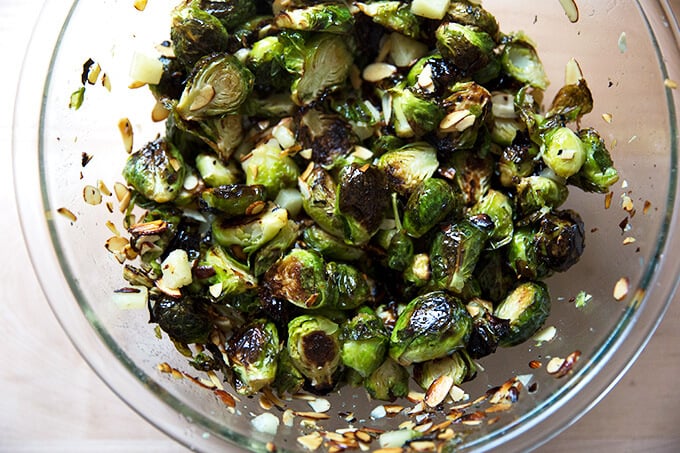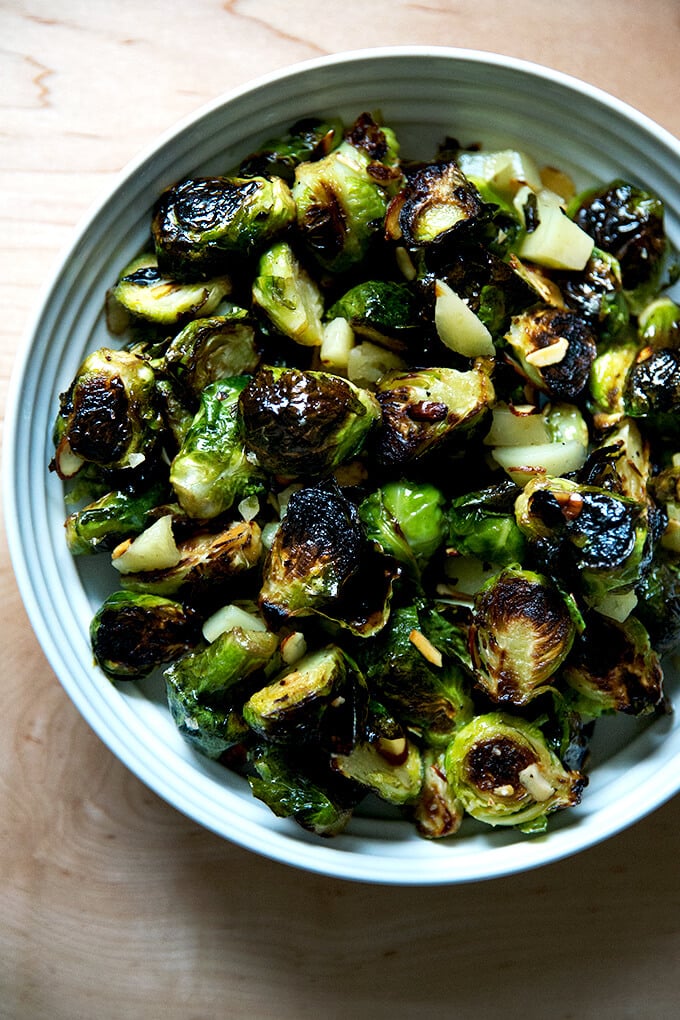 Print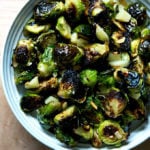 Franny's Roasted Brussels Sprouts with Manchego & Toasted Almonds
---
Author:

alexandra

Prep Time:

20 minutes

Cook Time:

15 minutes

Total Time:

35 minutes

Yield:

Serves 4 as a side dish
Description
Adapted from Franny's: Simple Seasonal Italian by Andrew Feinberg, Francine Stephens, and Melissa Clark
Notes: I made some changes to the recipe, so if you want to follow the original recipe, omit the vinegar, and use 2 tablespoons fresh lemon juice or more to taste. As noted in the post, the first time I made this, I used a fancy white balsamic vinegar that a friend had given me as a gift. When I made it a second time, I used lemon, but I found myself missing the sweetness of the vinegar, so the next I made it, I reduced half a cup of white balsamic vinegar by half, and used that in place of the lemon. I loved it.
Also, the original recipe calls for roasting the Brussels sprouts at 500ºF for 20-25 minutes. I've reduced the heat to 450ºF, which I find still gives the sprouts a nice char, while allowing them to cook all the way through.Original recipe also calls for whole almonds, which you toast and chop. I used sliced almonds for simplicity. (Lazy me.)
For video guidance, check out Instagram Stories.
---
Ingredients
1/2 cup

white balsamic vinegar (or

2 tablespoon

s fresh lemon, see notes above)

1 1/2

pounds Brussels sprouts, trimmed and halved through the stem

1/4 cup

  +

2 tablespoon

s olive oil

1 1/2 teaspoon

s kosher salt
Freshly ground black pepper

1/2 cup

sliced almonds

1/2 cup

Pecorino Ginepro or Manchego cheese (but not Pecorino Romano), broken into jagged 1/4-inch pieces or cubed
Nice flaky sea salt for finishing, optional
lemon for finishing, optional
---
Instructions
Heat the oven to 450°F and arrange a rack in the middle.
In a small saucepan, heat the vinegar to a simmer. Adjust the temperature so the vinegar stays at a gentle simmer and cook until it reduces by half. You'll know it's done when it coats the back of the spoon—err on the side of under-reducing. As it sits in the hot pan, it will continue to reduce.
Place the Brussels sprouts, 1/4 cup of the olive oil, the salt and pepper to taste in a large bowl. Toss to evenly coat. Arrange the Brussels sprouts in a single layer on the roasting pan. Reserve the bowl. Roast for 15 minutes or until the sprouts begin to bronze and char in places. Transfer the Brussels sprouts to the reserved bowl and set them aside to cool for 5 minutes.
Meanwhile, place the almonds in a medium skillet and toast over low heat, until golden. If you can give them your full attention,  you can crank up the heat, but watch closely—they'll burn quickly. Transfer to a bowl to cool.
Add the toasted almonds, cheese, remaining 2 tablespoons olive oil, and reduced balsamic to the bowl with the Brussels Sprouts and toss to combine. Taste and adjust seasoning with sea salt (if you have it) and pepper. If desired, add a squeeze of lemon, too.
---