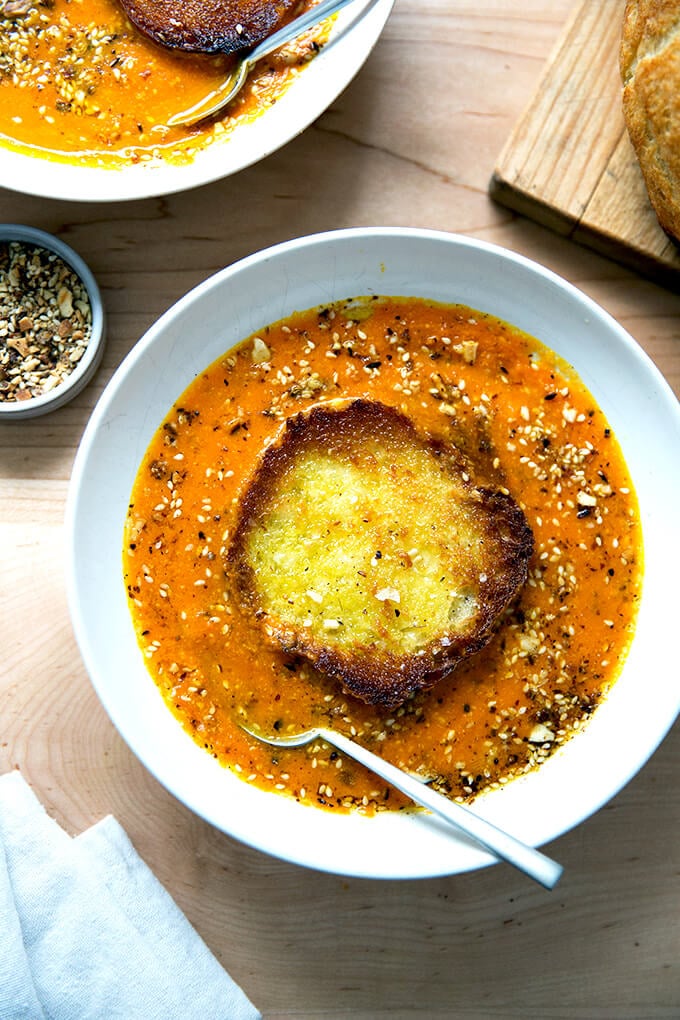 In preparation for my chat with Margaret Roach last week, I made as many dishes as I could from as many of the fall 2018 cookbooks I could get my hands on. One of the first recipes I tested came from the almond chapter of Cal Peternell's Almonds, Anchovies, and Pancetta, and I must say, in the wake of the Thanksgiving feast and its many indulgences, nothing tasted better.
It's made with all good things and it's simple to make, to boot: sweat onions in olive oil with a pinch of saffron; add chopped carrots, toasted almonds, and water. Simmer for 30 minutes, add a splash of vinegar, then purée until smooth.
It sounds austere, but if we learned anything from the Moroccan carrot salad with harissa, it's that a little spice and finesse can make less-than-exciting vegetables shine. Here, the intrigue comes by way of saffron and almonds, which offer subtle floral and nutty notes, respectively. The almonds, too, give the soup body and richness and a bit of texture, too—this soup isn't silky smooth like other soups of its nature.
As a garnish, I made the dukkah recipe from the same chapter. Dukkah is a North African spice blend often containing cumin, coriander, sesame seeds, and some sort of toasted nut or nuts. Here it's toasted almonds, the flavor of which along with the spices so nicely complements those of the soup. I found myself sprinkling dukkah into my bowl to accompany every bite—it's so good; so good with bread and olive oil on the side, too.
Incidentally, when the carrot soup ran out and I made a coconut-butternut squash soup (more on this soon) to fill the void, it, too, got the dukkah treatment. I know making a garnish for soup can feel too much like hard work, but if you're up for it, I have no doubt you will approve.
PS: A few more Cal Peternell Soups: Leblebi (Moroccan Chickpea Soup with Harissa) | Black Bean Soup with Cumin and Orange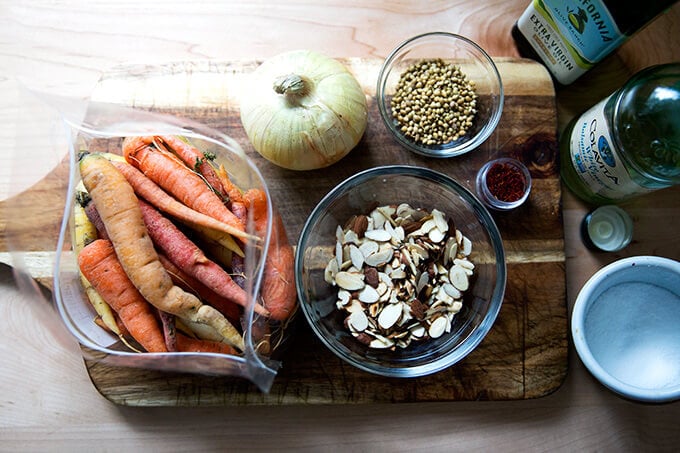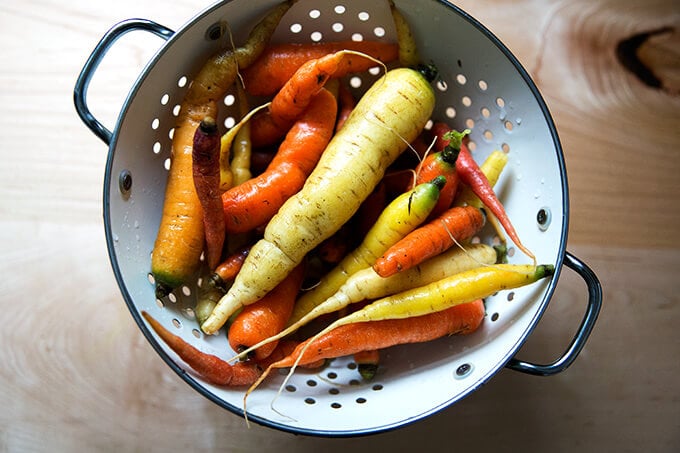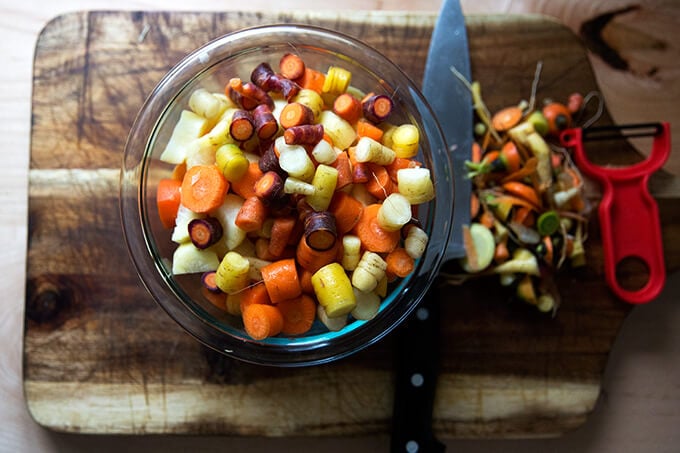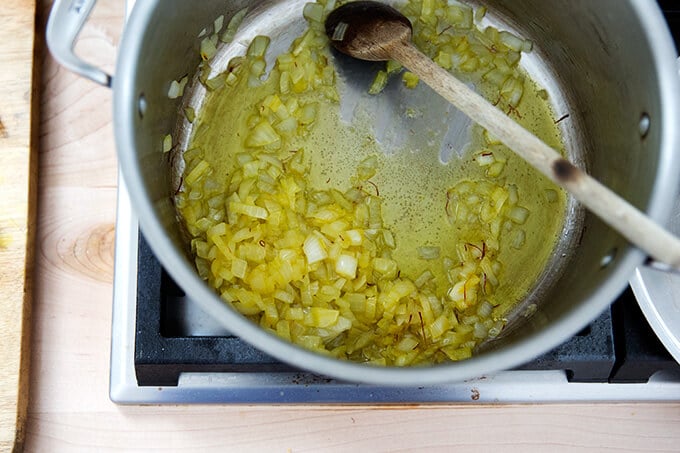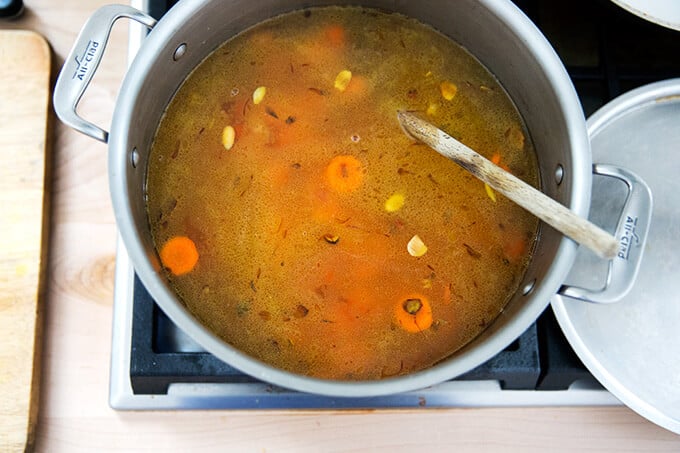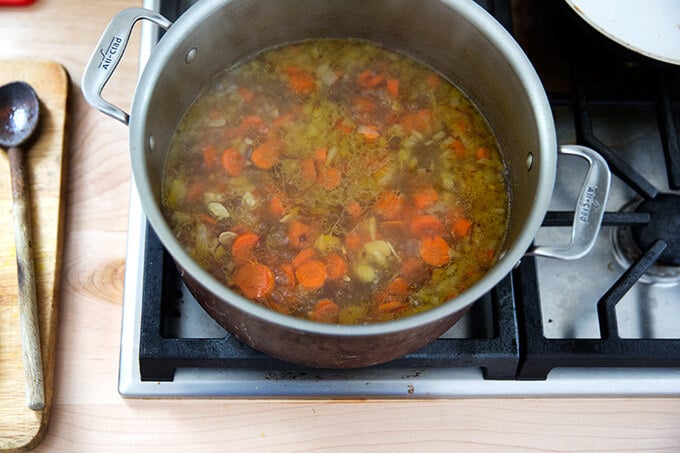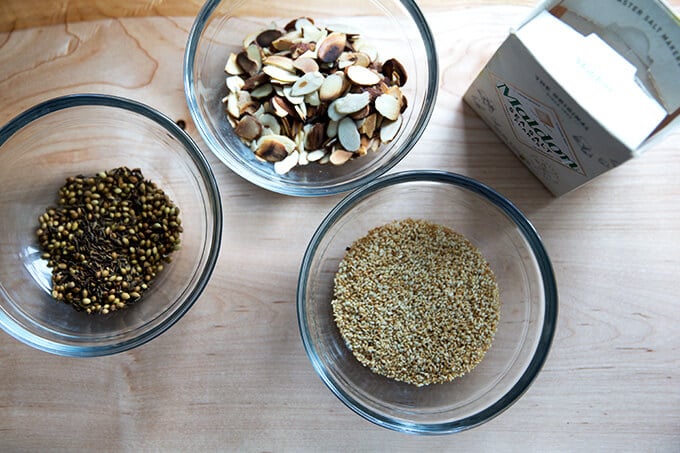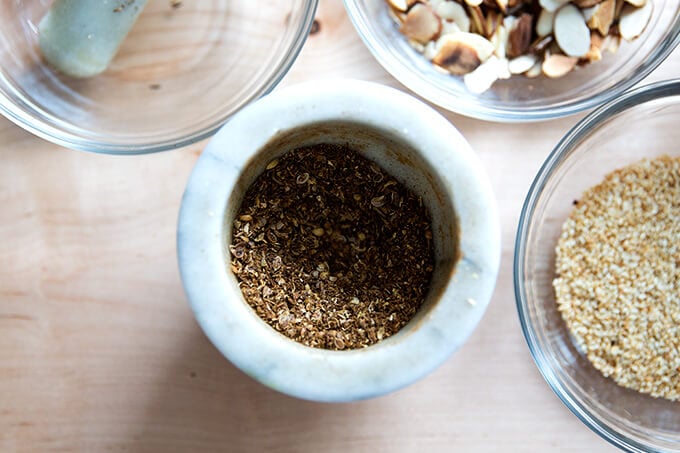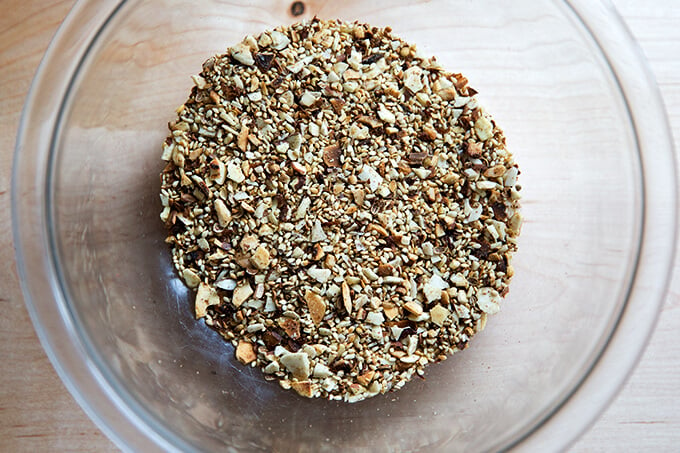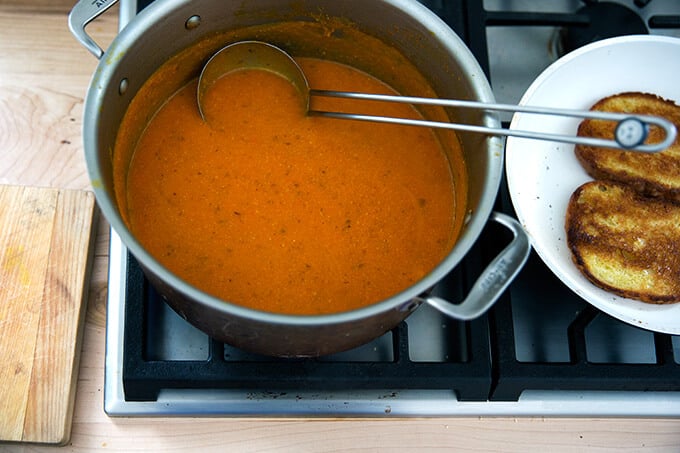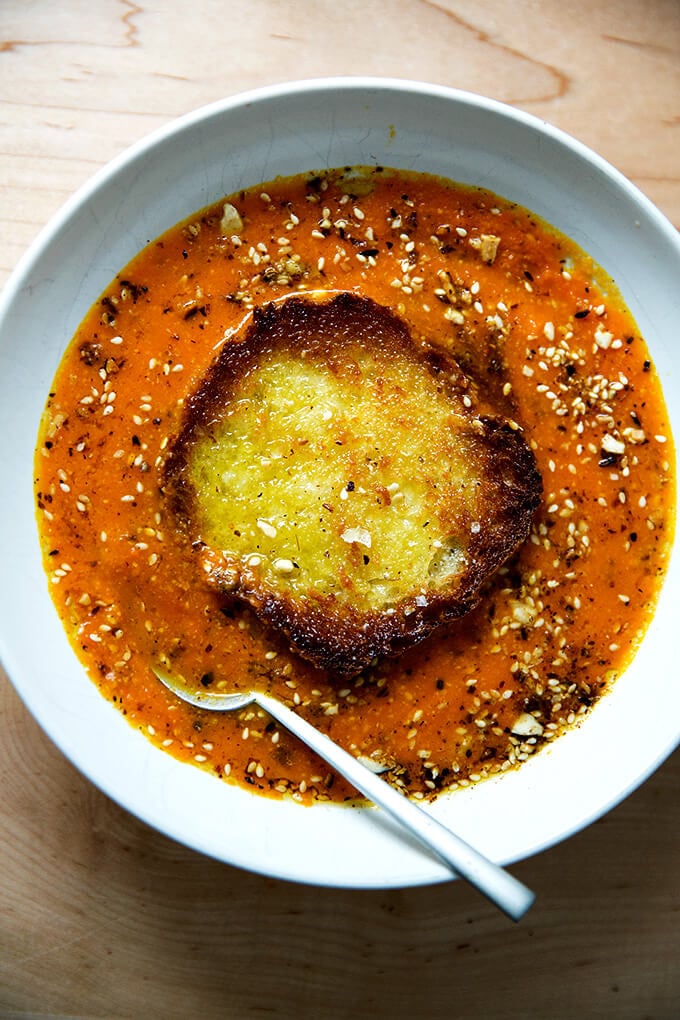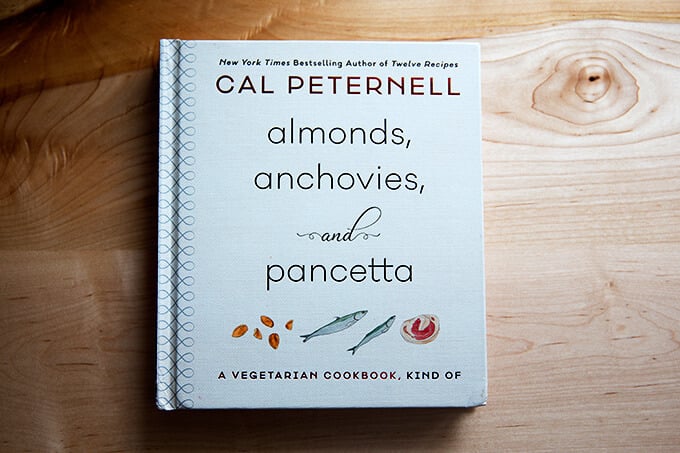 Print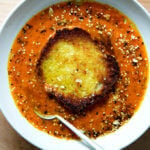 Saffron-Carrot Soup (Vegan) with Toasted Almond Dukkah
---
Description
From Cal Peternell's Almonds, Anchovies, and Pancetta.
I made one small change: I used sliced almonds as opposed to whole, which Cal toasts in the oven and then peels. I toasted the almonds stovetop in a skillet until golden, but feel free to oven toast the almonds if you wish.
Also, in place of the suggested coriander oil garnish, I made dukkah, which I love and highly recommend making—I'm discovering it's nice on all sorts of soups. One tip: make a trip to your local Asian market to stock up on coriander, cumin, sesame seeds, and other spices—you'll save so much money.
---
Ingredients
for the soup:
1/4 cup

olive or vegetable oil

1

medium onion thinly sliced or finely diced
kosher salt
pinch saffron, about 10 threads

1.5

lbs carrots, peeled and cut into

1/2

-inch chunks

1/2 cup

sliced almonds

1 1/2 teaspoons

white wine or white balsamic vinegar
for the dukkah:
1 tablespoon

coriander seeds

2 teaspoons

cumin seeds

1/4 cup

sesame seeds

1/2 cup

almonds

2 teaspoons

ground sumac, optional
pinch crushed red pepper flakes

1/4 teaspoon

sea salt
---
Instructions
Heat a large pot over high heat. Add the oil and the onion, 1/2 teaspoon salt, and the saffron. Stir, lower the heat, and cover the pot. Check and stir after a few minutes, letting water from the lid drip back into the pot to keep things steamy. Lower the heat if there is any browning going on, re-cover, and cook like this, stirring occasionally, until very tender, about 15 minutes.
Meanwhile, toast the almonds in a large skillet over medium heat, watching the entire time, until golden brown, about 7 to 10 minutes. (Reserve the skillet; if you make the dukkah, you'll use it again to toast another 1/2 cup of almonds.)
Add the carrots, toasted almonds, another 1/2 teaspoon salt and enough water to cover the carrots by about an inch. You can always thin the soup later if it's too thick, so add just enough water to allow the carrots to bob around a bit.
Bring to a boil over high heat, then lower to an easy simmer, stirring occasionally to prevent sticking. Cook until the carrots are very tender, about 30 minutes—you should be able spoon crush a carrot chunk against the side of the pot.
Let the soup cool briefly, stir in the vinegar, then purée in batches either in a blender or food processor. Alternatively, use an immersion blender and purée until smooth.
Taste and adjust the soup for salt and acidity. Adjust the texture with water—it should be pleasantly thick, but with flow. A spoon should leave no enduring sign of its passing, and remember that the soup will thicken as it cools.
To make the dukkah: Toast the almonds in the reserved large skillet over medium heat, watching the entire time, until golden brown, about 7 to 10 minutes. Transfer to a plate to cool. Add the coriander and cumin seeds to the skillet and toast until golden and fragrant, 30 seconds to a minute. Transfer to a plate to cool. Add the sesame seeds to the same skillet and toast until they are lightly browned and starting to pop, about 1 minute. Transfer to a medium bowl.
Crush the coriander and cumin seeds with a mortar and pestle until nearly powdered. Add the almonds and crush to medium fine—depending on the size of your mortar, you may need to do this in batches. Transfer the spices and almonds to the bowl with the sesame seeds. Add the sumac, if using, and a pinch of crushed red pepper flakes. Add the sea salt. Taste, add more seas by the 1/4 teaspoon till it tastes good to you.
---