15 Savory Homemade Treats to Gift All Season
This post may contain affiliate links. Please read my disclosure policy.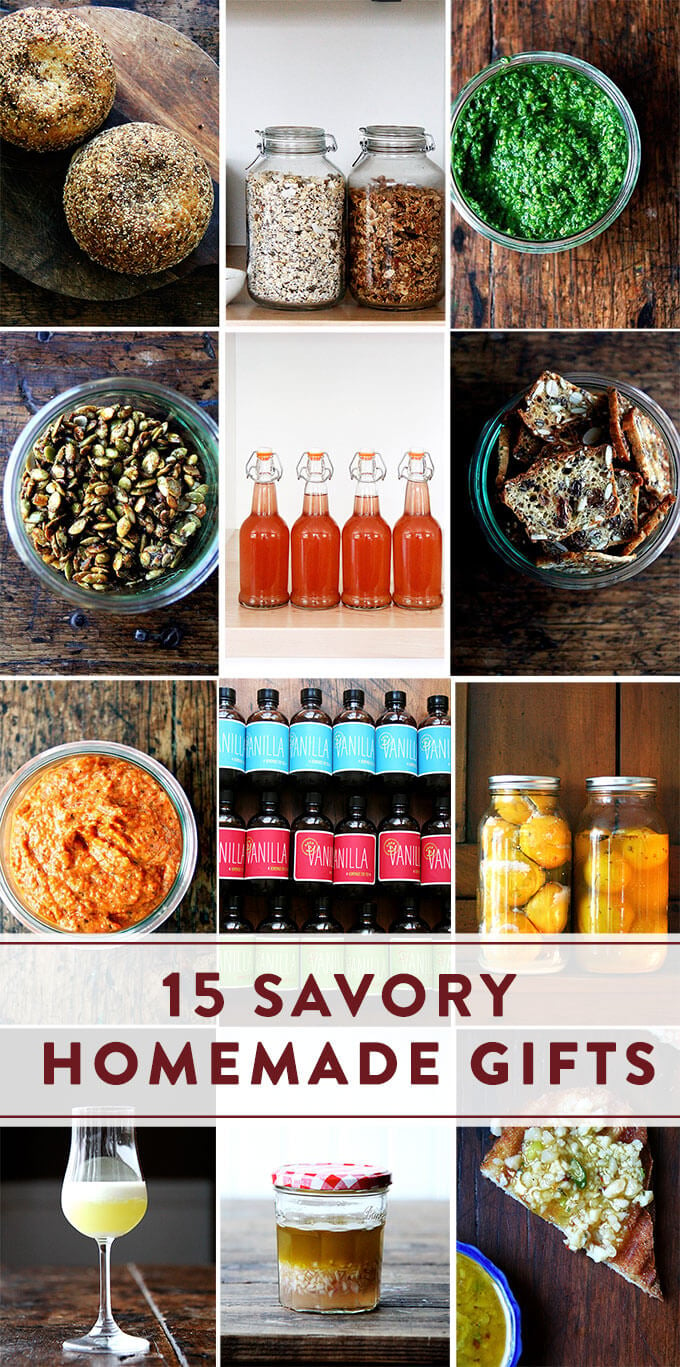 Down to the wire, Friends. Fortunately, there's still time to give the gift of something homemade.
Cookies, truffles, fudge—you can never have too many sweet treats around this time of year. BUT! I don't know a single person who wouldn't rejoice over receiving a homemade savory gift. This weekend, I'm making a trip to Asian Supermarket in Albany to stock up on cumin, coriander, and sesame seeds, which I'll toast upon returning home, season with a little salt, sugar and crushed red pepper flakes, then divvy into jars to give as gifts. Dukkah! It was my favorite discovery of 2017, and I continue to find new ways to use it — avocado toast namely (so good!) — and I love nothing more than introducing others to this addictive, smoky, spice blend.
Friends, do you make savory gifts? I'd love to know your go-to homemade savory gift.
PS: 25 Homemade Gifts To Make Today (This list includes sweet treats such as  Chocolate-Studded Panettone, Vanilla-Almond Biscotti, Brown Butter Blondies with Sea Salt and more.)
15 Ideas for Savory Homemade Gifts:
1. $0.54 Loaf of Peasant Bread: No baked good is friendlier on the wallet than a loaf of bread. Yes, making bread takes time, but most of the time is hands off. Last year, I priced out the cost of 1 loaf of peasant bread and estimated it to be, at the most, 54 cents. Fifty. Four. Cents. And yet to the receiver, a loaf of homemade bread may as well be gold.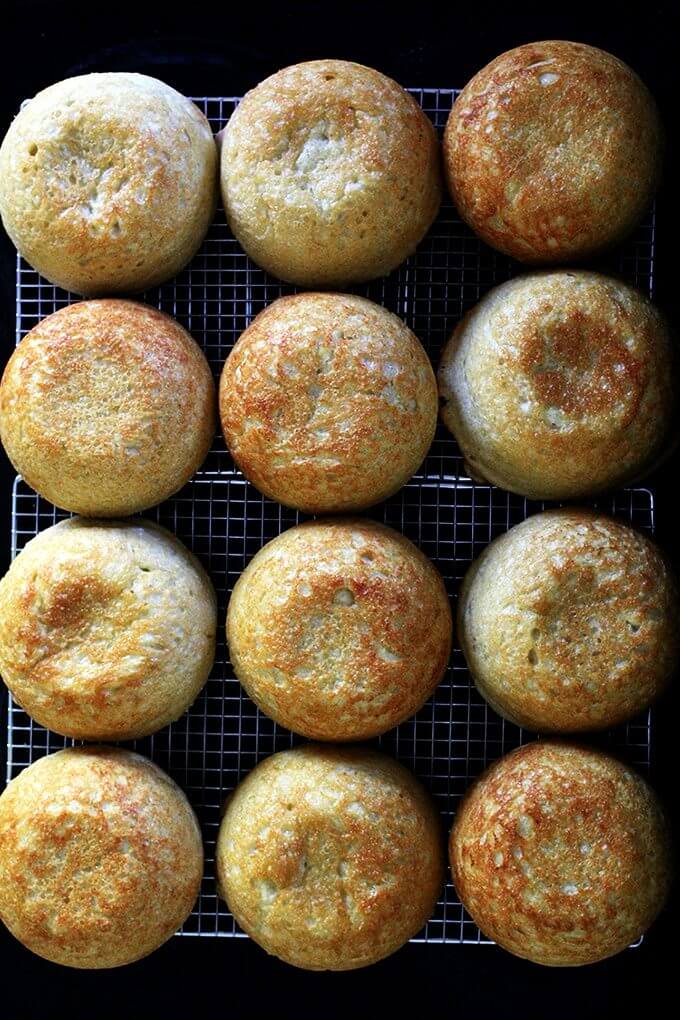 2. Three seed crackers: These are surprisingly simple to make, and one recipe yields many, many crackers—perfect for divvying up into jars and passing along to friends and family.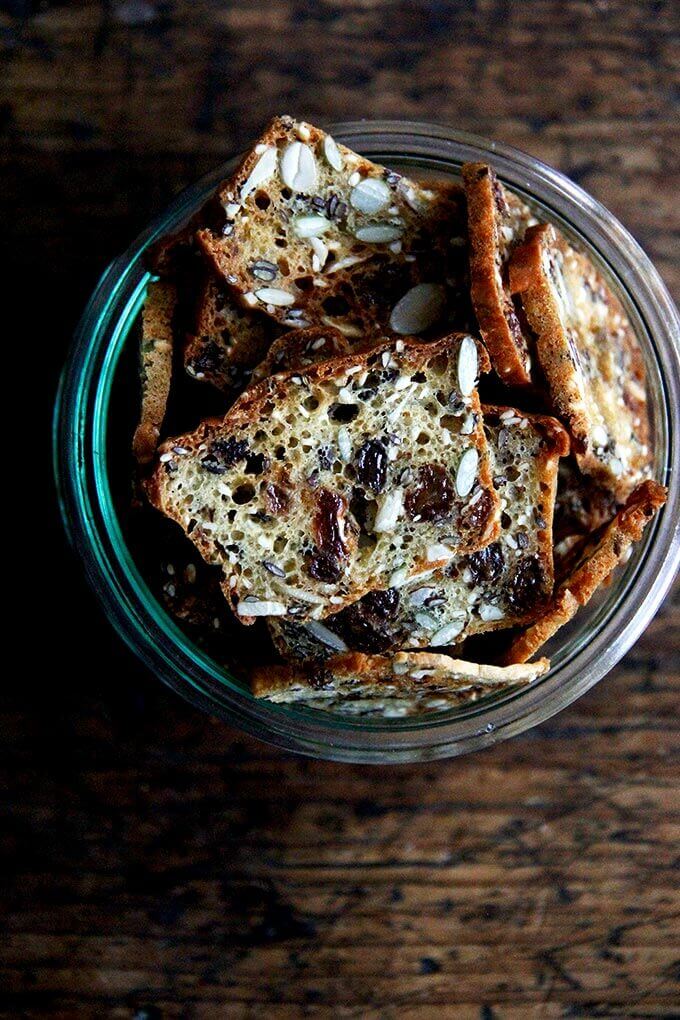 Don't they look pretty on a cheese board?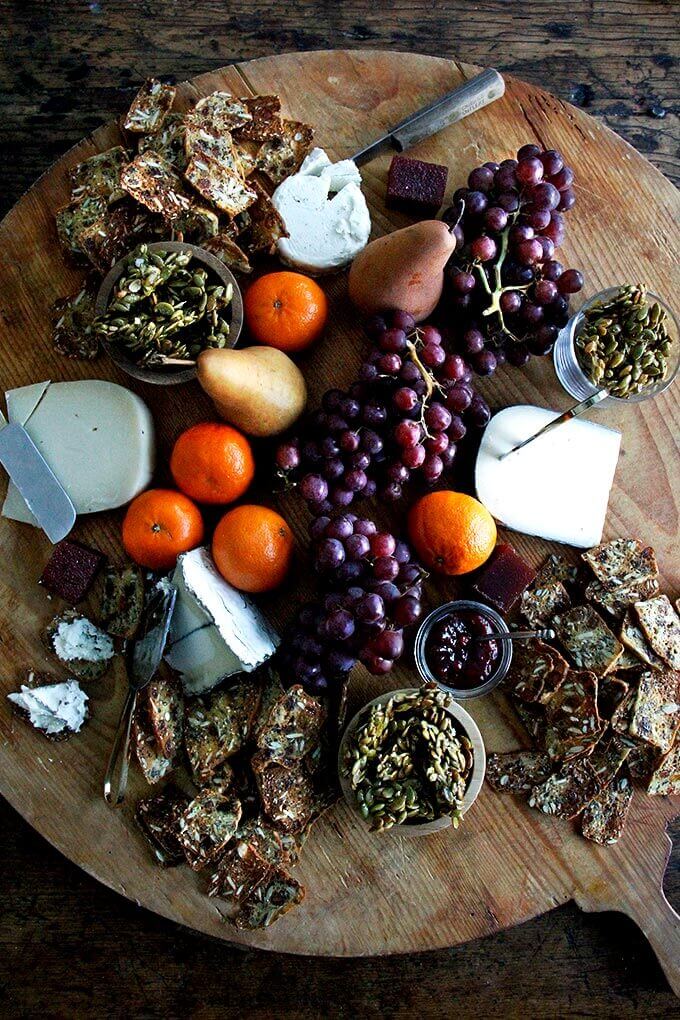 3. Sweet and Salty Candied Pepitas: These three-ingredient candied pepitas, also pictured on the cheese board above, are addictive and very simple and fast to make. They are so nice to have on hand to sprinkle into salads or to nibble on before or after dinner with cheese.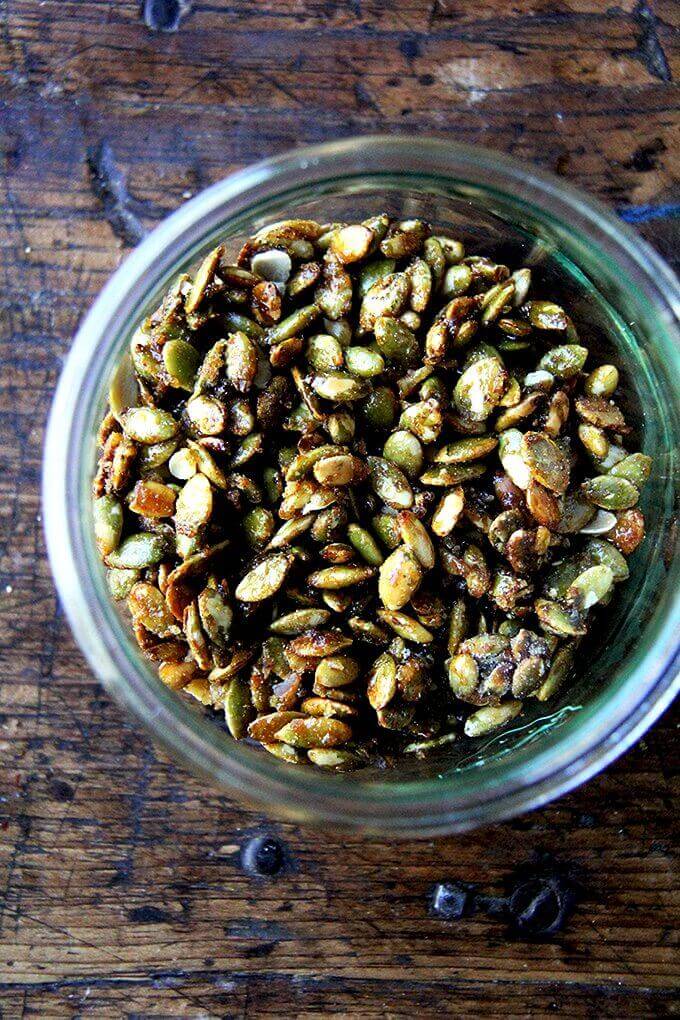 4. Salsa di Parmigiano: An old Michael Chiarello recipe, this salsa comes together very quickly in the food processor and is incredibly delicious. It's good on bread but also delicious tossed with pasta or spooned over roasted vegetables.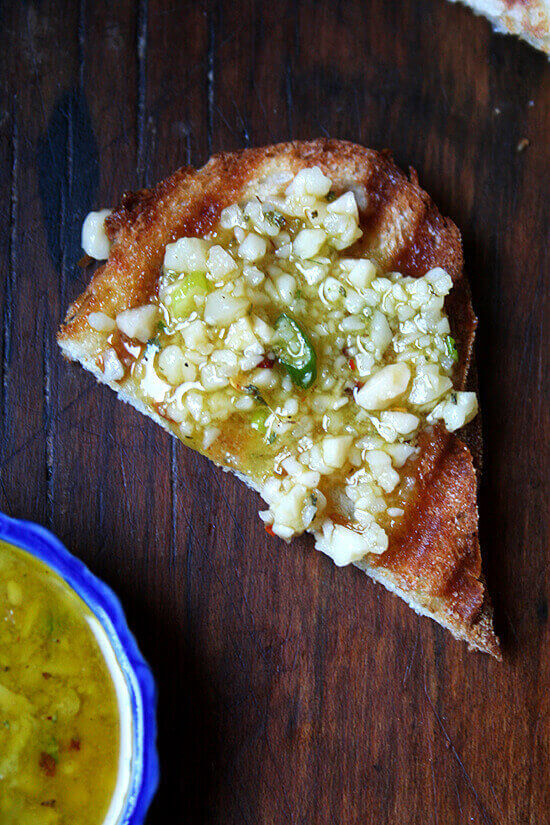 5. Harissa: Do you have a friend who loves Moroccan food? A jar of harissa, a brilliantly hued, fiery condiment, carrying the flavors of smoky, toasted cumin and coriander, would make a perfect gift. Send your loved one on a Moroccan-cooking-at-home journey.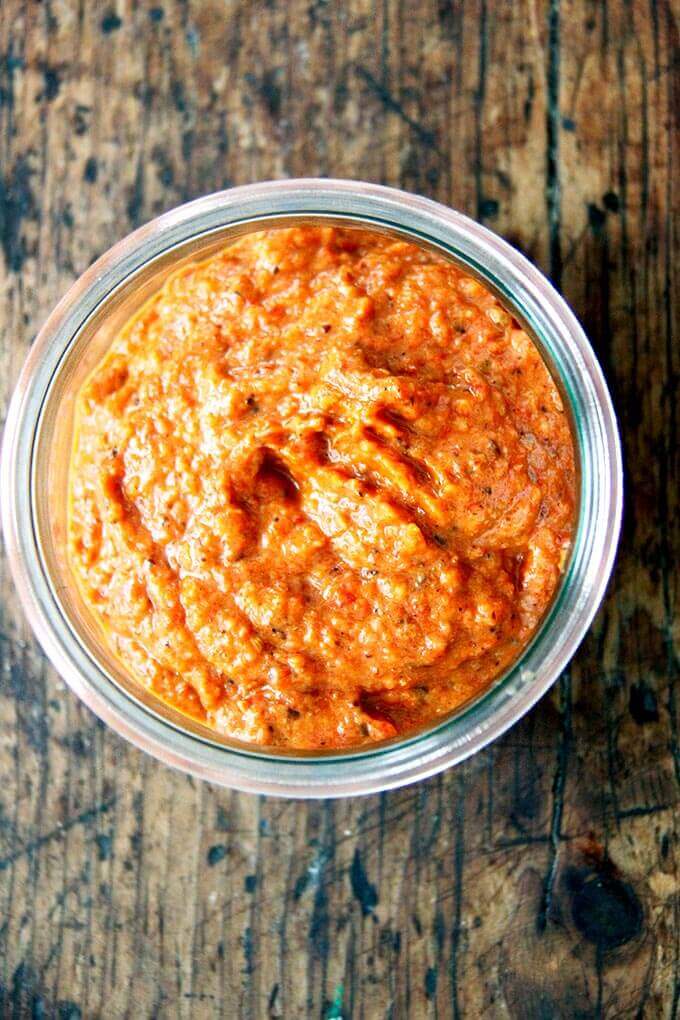 6. While the spirit moves you, you may as well whip up a batch of preserved lemons. They won't be ready in time for Christmas, but you'll jumpstart the process for that friend who has never found time to make his/her own. You can include instructions for finishing the process.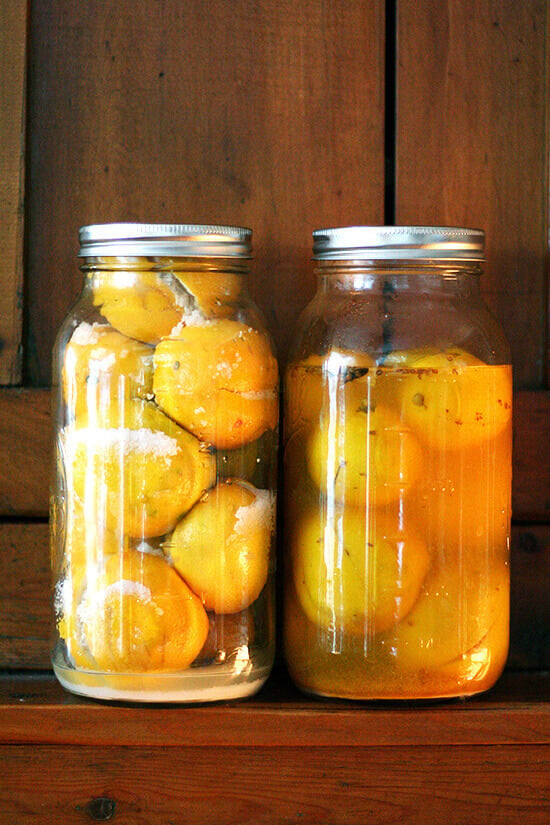 7. And you may also consider making a batch of skhug, which in essence is a green harissa. Skhug is easier to make than harissa, because there are no peppers to roast or onions to sauté — everything goes into the food processor uncooked. I love spooning it over roasted cauliflower with lemony yogurt sauce.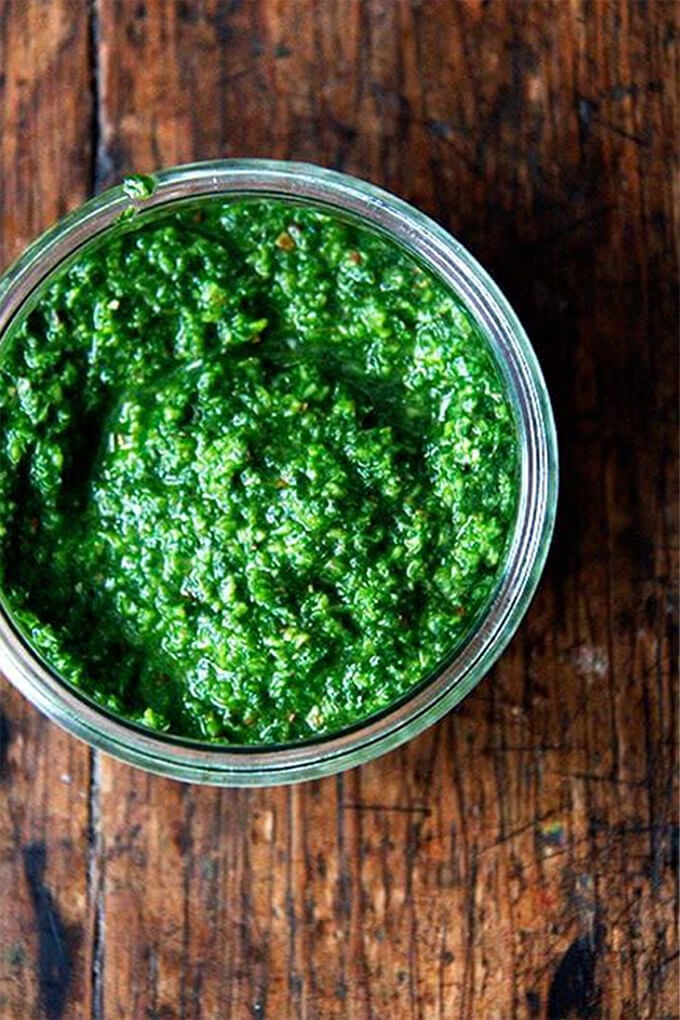 8. Dukkah (My favorite!), an Egyptian spice blend, can be made in countless ways, but typically it contains toasted seeds such as cumin, coriander, and sesame as well as a mix of nuts. I first tasted an untraditional preparation made without nuts, which I loved, but I recently made a batch with toasted almonds, which I also loved. Here's how you use it: serve it as an appetizer with olive oil and bread; garnish any number of soups with it (—it complements the family of squash soups particularly well); sprinkle if over avocado toast (the best!).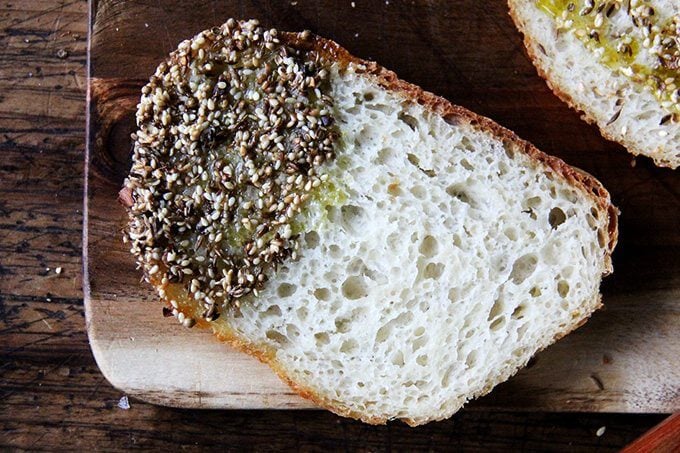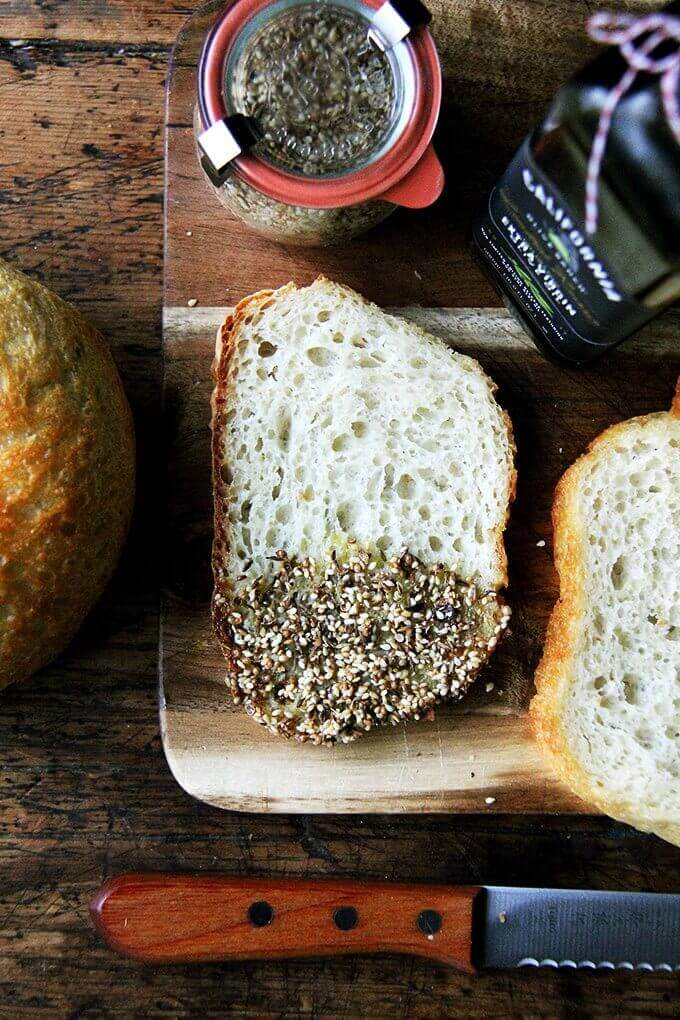 If you make the peasant bread, you can also coat the inside of your buttered Pyrex bowls with dukkah, plop your dough over top, and bake the loaves as usual, which will leave you with two beautiful dukkah-coated loaves of bread.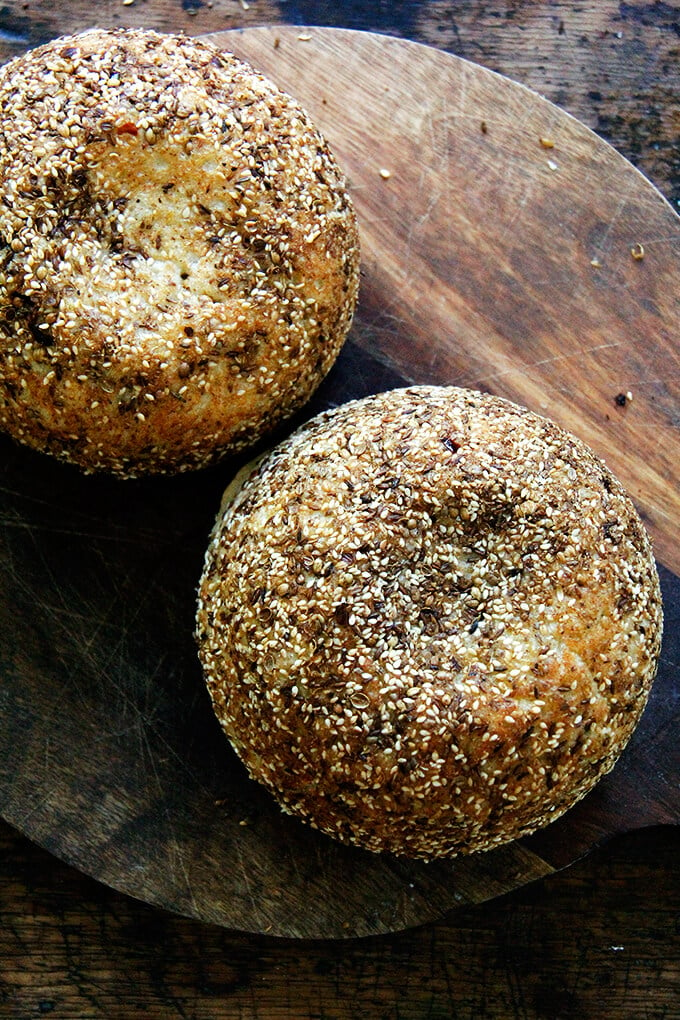 9. A big jar of muesli or coconut oil granola. These two cereals are staples in our house. A jar of either would make a great gift.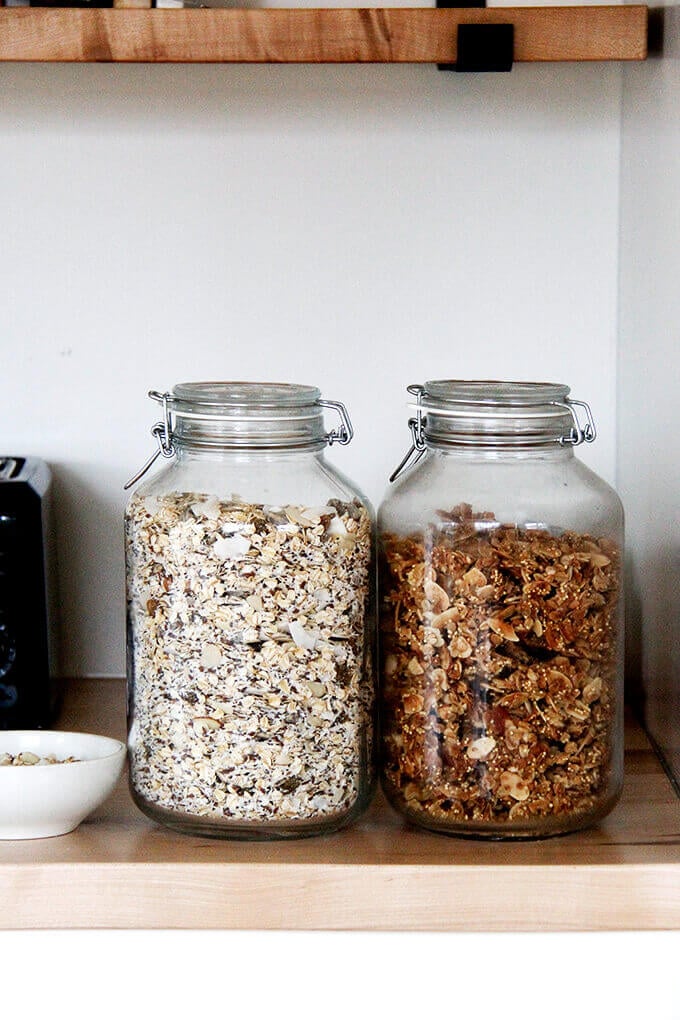 Coconut Oil Granola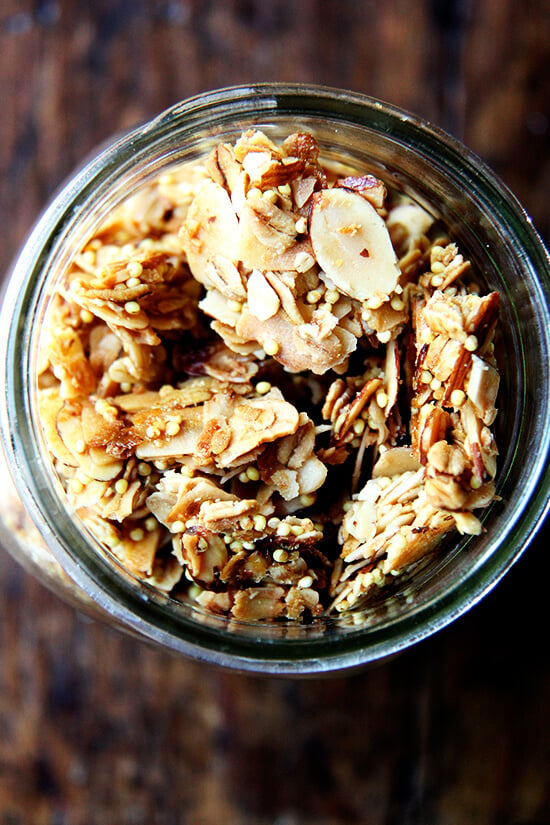 10. Limoncello: So festive this time of year. This is the recipe of Antonietta Fazzone, the Italian mother of a friend of my husband, who also taught us how to make wine, prosciutto, and soppressata, to name a few. She's the best. I like to drink limoncello with a little cream on top.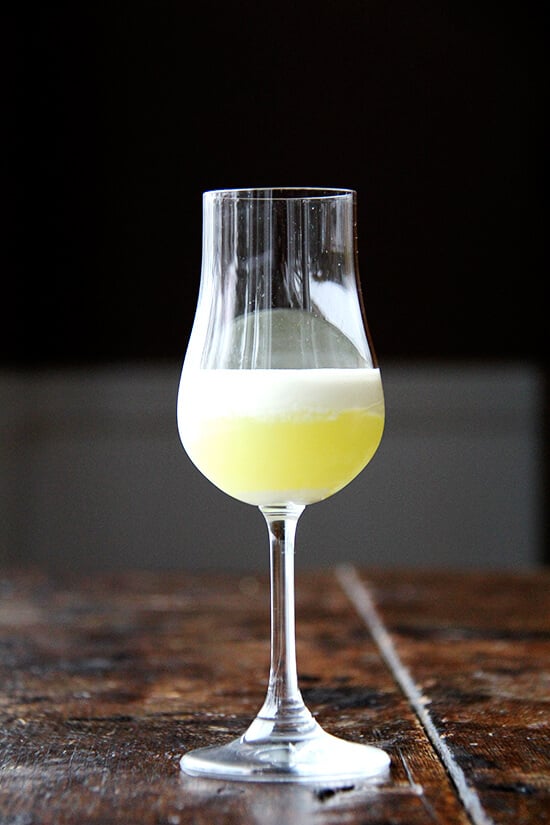 11. Homemade Vanilla Extract: Give the gift of future vanilla extract! For vanilla beans to produce extract, they must steep in alcohol for about 6-8 weeks. Stuff a bean or two into a bottle, pour some just-boiled alcohol over top, twist it closed and gift with a "do-not-open-till-March" disclaimer.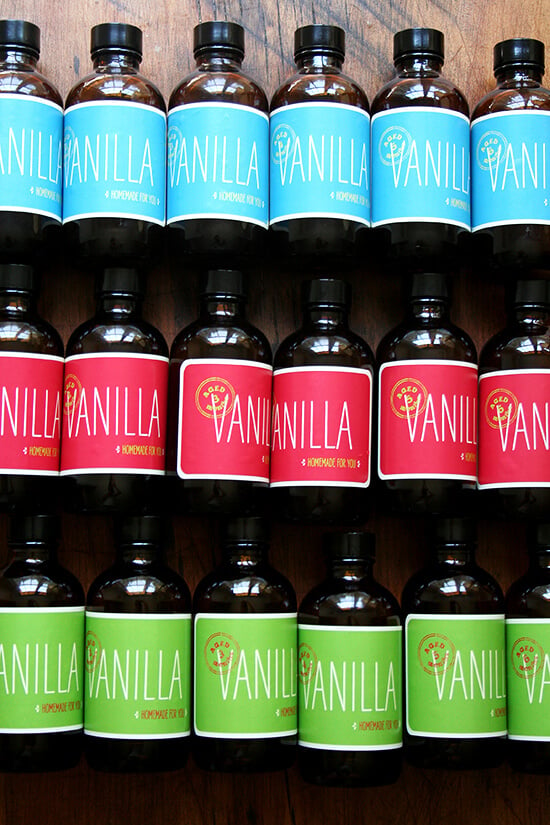 12. Homemade Salad Dressing. Who wouldn't love, this time of year especially, to receive a jar of homemade salad dressing? Make a batch of this Large Batch Shallot Vinaigrette, divide it among a few small jam jars, tie a ribbon around it, and wish your friends, "Happy Salading!"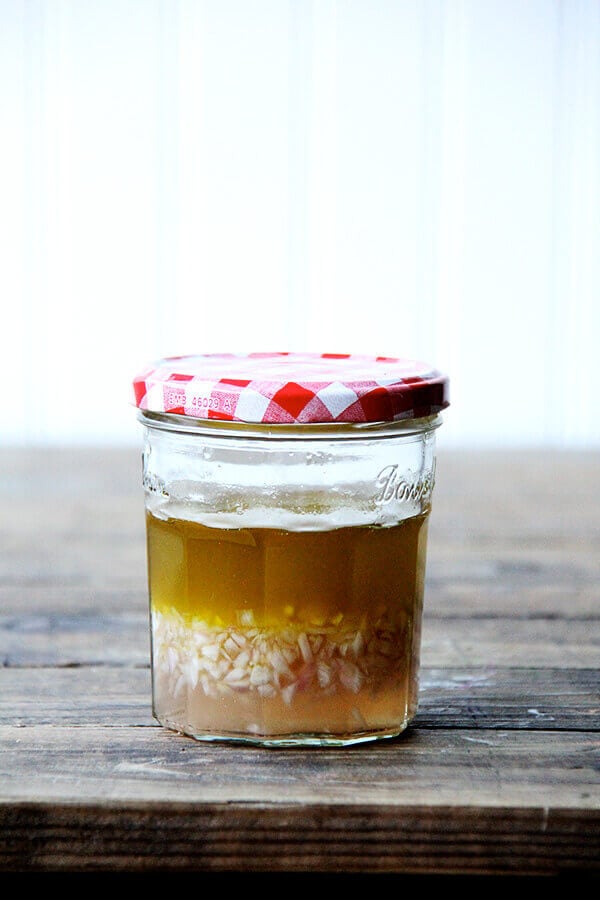 13. A big batch of Soup. As with the dressing above, who, especially this time of year, doesn't need a quart of soup stashed in the fridge or freezer, ready to be heated up for an easy dinner or lunch? This lentil soup is still one of my absolute favorites. The recipe multiplies very well. The soup is always well received. It's vegan, one pot, and completely delicious. More soups here.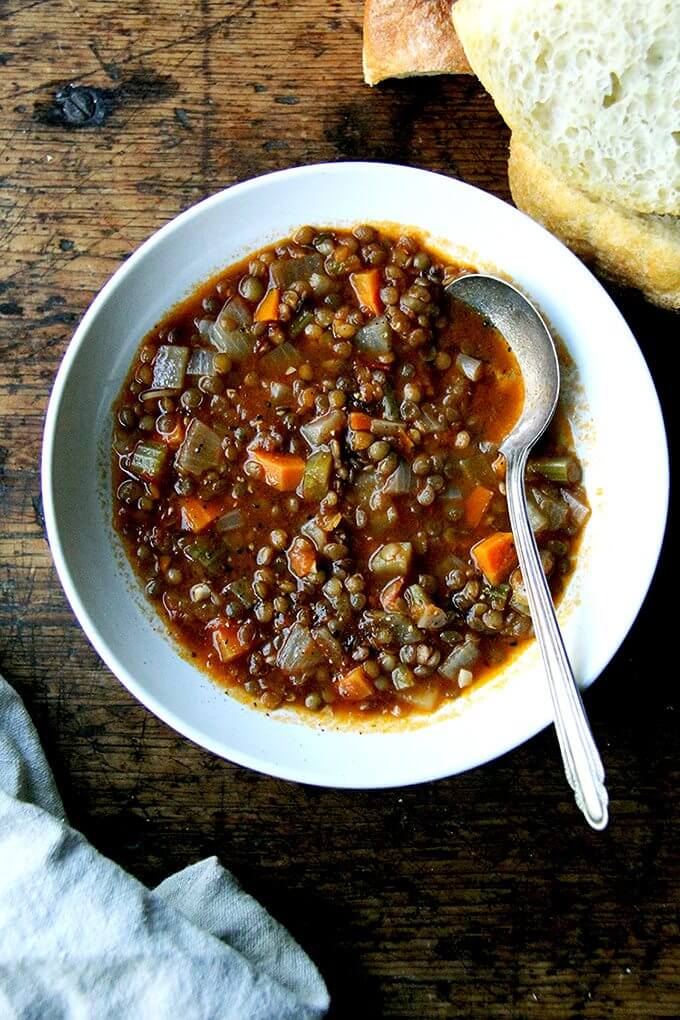 You have a stash of these quart containers on hand, right? They make gifting soup so easy.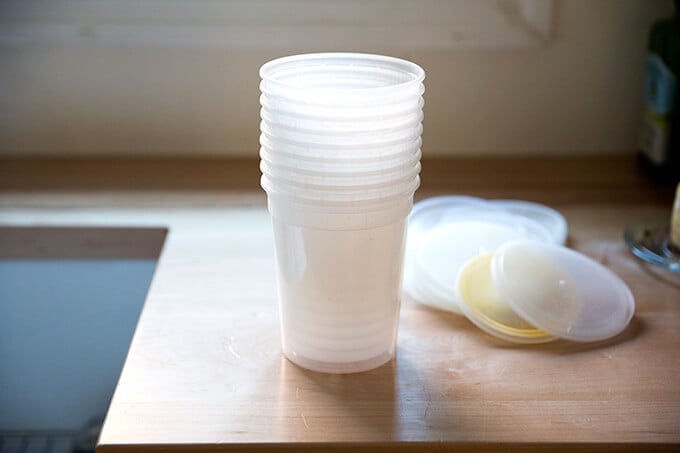 14. Homemade Quince Paste (Membrillo). If you can get your hands on some quince, this is a really fun one, though it does take some time (though much of the time is hands off). Gift your homemade quince paste with a wedge of Zamorano, Idiazabal, Roncal or Manchego (readily available nearly everywhere).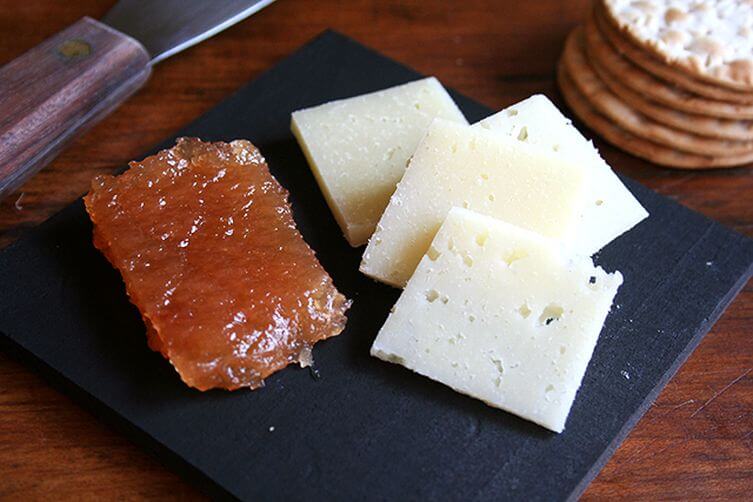 15. Rhubarb Schnapps: Should you be so lucky to find some rhubarb this time of year, you could give the gift of future cheer. This schnapps recipe calls for soaking cut rhubarb in vodka in sugar for 3 to 4 weeks. No rhubarb? You could gift the bottles + vodka + sugar with the recipe—something to look forward to next spring?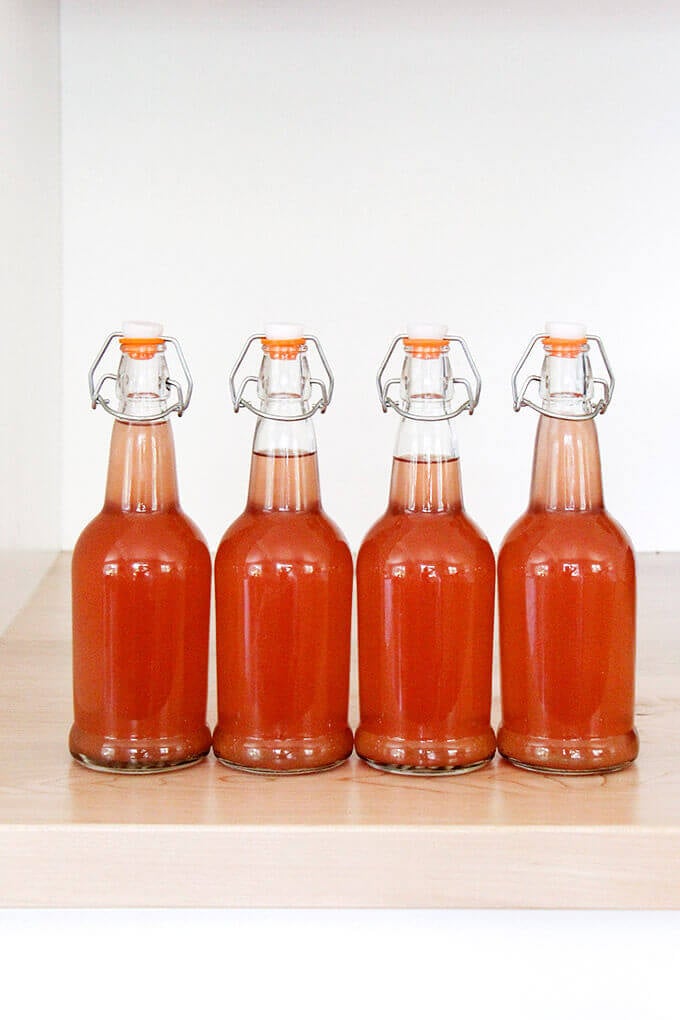 This post may contain affiliate links. Please read my disclosure policy.