Maydan's Beet-Labneh Dip
This post may contain affiliate links. Please read my disclosure policy.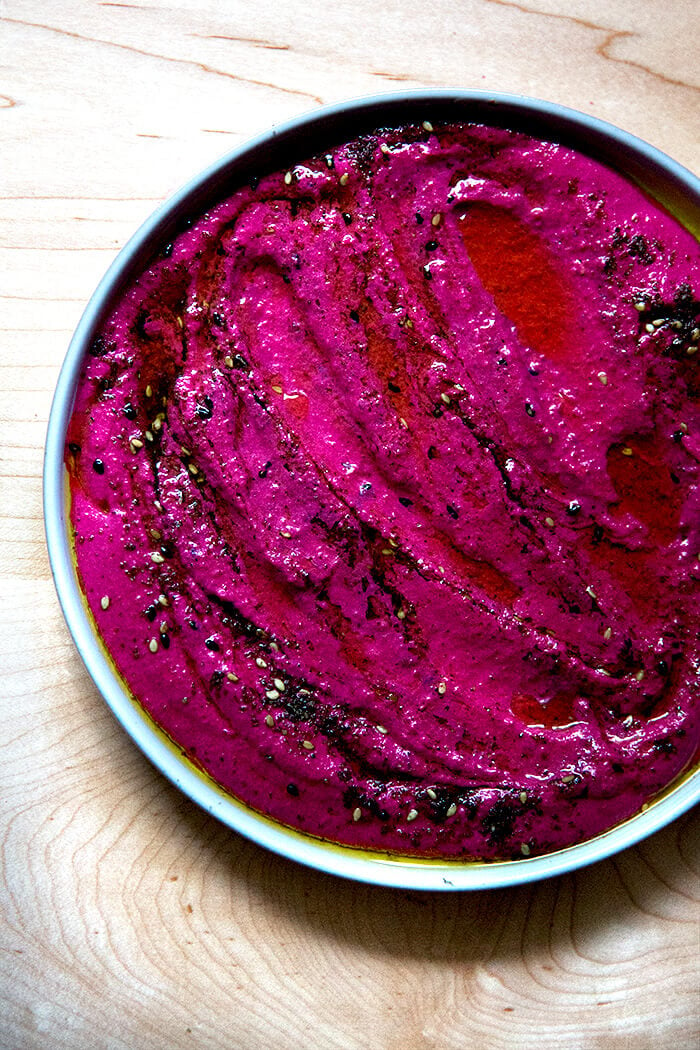 In early October, a friend sent me the recipe for the beet-labneh dip served at Washington D.C.'s Maydan. One look at the photo had me searching all over town for labneh, which I found at Honest Weight, then roasting the boodle of beets that had just arrived in my CSA.
About an hour later, when the beets were knife-tender and ready to be blended with the garlic, fresh lemon, and labneh, the dip emerged, a striking magenta purée, as vibrant in hue as in flavor.
I've since made the dip several times replacing the labneh with strained Greek yogurt, which works just as well. Maydan garnishes their beet "borani" with fresh dill and sesame seeds; I've been using a splash of olive oil and a pinch of za'atar.
If you're looking for something a little different to serve to any guests who may be convening at your house for a New Year's gathering, this is a fun one. And though I can't say for sure, I suspect this could win over any beet skeptics in the crowd. Here's to positive (wishful?) thinking in 2019!
Print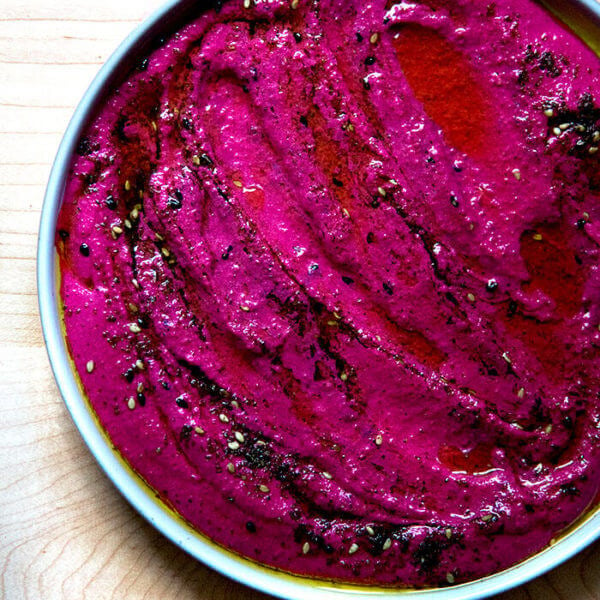 Maydan's Beet-Labneh Dip
---
Description
Adapted from The Washingtonian
A few notes:
Beets: You can cook beets in countless ways: salt-roasted, Instant Pot, or steam roasted, as here. No matter the method, the key is to peel them when they are warm—rub them with your hands or using paper towels. If you don't peel them when they are warm, you will likely need to use a paring knife to remove the skin.
Labneh: Labneh is a soft cheese made from strained yogurt that has been consumed in Lebanon, Syria, Palestine, Jordan and Israel for thousands of years. It is very hard to find — I found some at Honest Weight in Albany — but I find using Greek yogurt works just as well. Be sure to plan ahead if using Greek yogurt—it should strain overnight to allow it to thicken.
If you like video guidance, I made this in Instagram Stories.
---
1 cup

full-fat Greek yogurt or labneh

2

to

3

medium red beets (

8

to

12

oz)

1

clove garlic, peeled and minced
Salt to taste

1½ teaspoons

lemon juice, if using Greek yogurt, plus more to taste
Optional garnishes: fresh dill, black sesame and or white sesame seeds, olive oil, za'atar
Serve with: crackers (I love these) or pita bread, raw or pickled vegetables—I like serving it with pickled cauliflower and carrots, endive spears, Little Gems or Romaine hearts
---
Instructions
If you're using Greek yogurt, line a sieve with a coffee filter, and set it over a bowl. Place the yogurt in the coffee filter and place the whole set up (bowl, sieve, filter) in the fridge to drain overnight.
Preheat oven to 400ºF. Place the beets in a small baking dish like a pie plate or 8-inch baking dish. Add water to reach halfway up the pan. Cover pan with foil. Transfer pan to the oven and cook until the beets until very tender, about an hour. Let cool briefly, then peel the beets by rubbing off the skins. Using paper towels might help. Roughly chop the beets.
In a food processor or blender, add the garlic, 1/2 teaspoon kosher salt, and a quarter of the cooked beets. Purée until very smooth— you'll have to use a spatula to scrape down the sides in between periods of puréeing. Add 1/8 cup of the strained yogurt or labneh and purée until smooth. Add the remaining beets and repeat the puréeing-scraping process until the beets are very smooth. Add the remaining labneh or yogurt and lemon juice, and purée one more time until smooth. Taste. Add more salt and lemon to taste.
Garnish as desired. Maydan uses dill and sesame seeds. I've been using olive oil and za'atar.
Prep Time:

15 minutes

Cook Time:

1 hour

Category:

Appetizer

Method:

Bake

Cuisine:

Middle Eastern
Keywords: beets, labneh, maydan, middle eastern, dip, appetizer
This post may contain affiliate links. Please read my disclosure policy.