Perfect Poached Eggs
This post may contain affiliate links. Please read my disclosure policy.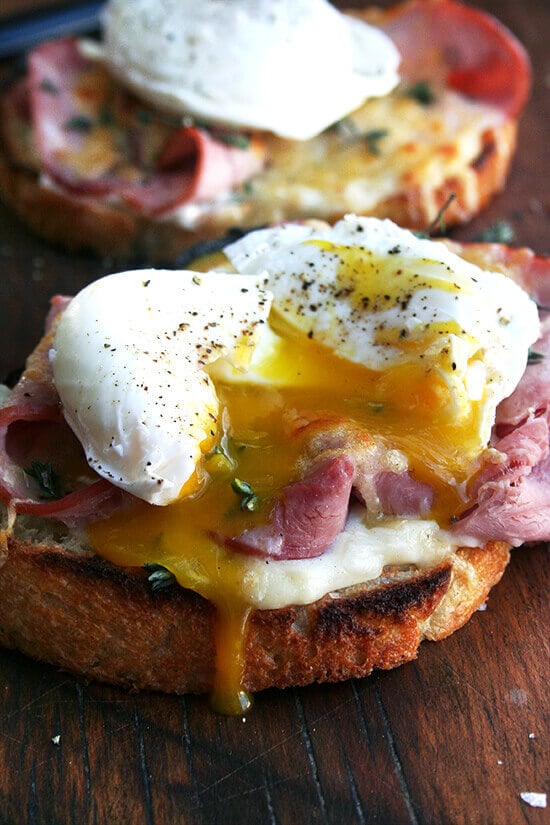 Knowing how to poach eggs allows simple, healthy meals to materialize in no time. I love poached eggs over toast, of course, but I also love them over pasta, greens, polenta, rice, tortillas, soup, and more — very few savory dishes do not welcome an egg on top.
The keys, I've found, for making perfect poached eggs could be summarized as follows:
Be organized. Before you start poaching, gather your equipment: slotted spoon, wooden spoon, ramekins, paper-towel lined plate, etc.
Gentle Gentle Simmer. The water should be barely moving when you lower the eggs into it. Bring the water to a simmer; then lower the heat so that the water is just below a simmer.
Practice. The timing of a poached egg will vary depending on what size pot you use and how much water you put in it. Knowing how long to poach an egg will take some trial and error. After you make one or two, you'll learn the visual cues: when you jiggle the egg after 3 or 4 minutes, and the whites are set to your liking, and the yolk, when pressed gently, feels soft but not too soft. The timing, moreover, is based on personal preference and how soft you like your yolks.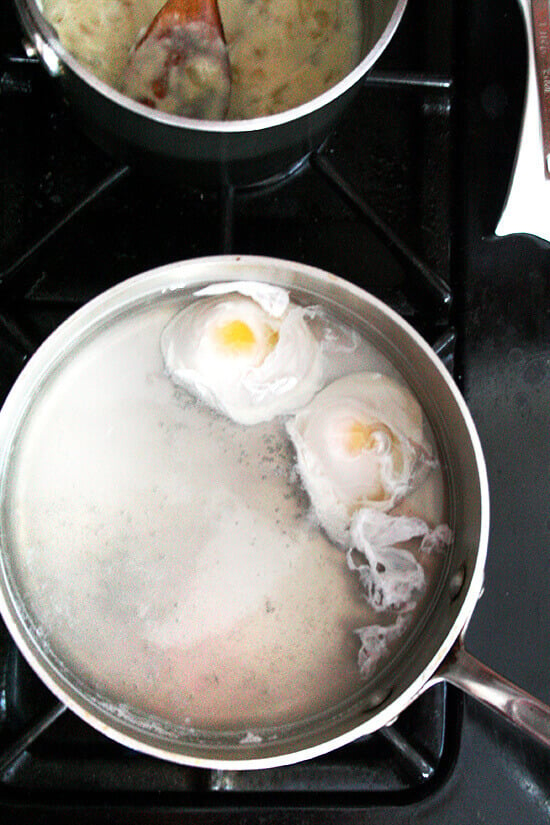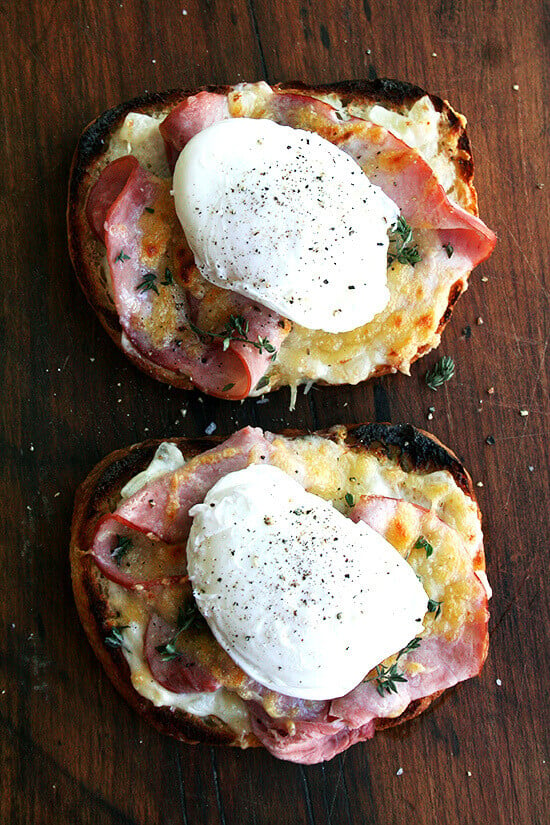 A Few Delicious Nests For Your Perfect Poached Eggs:
Quinoa and Flax Toasting Bread: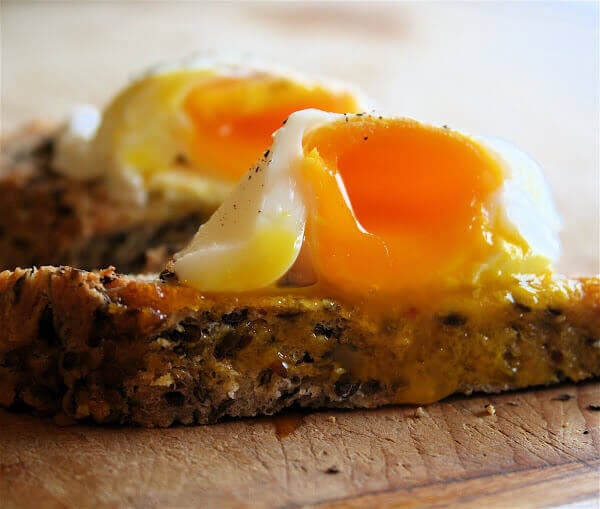 Oven-Baked Polenta (A Miracle!)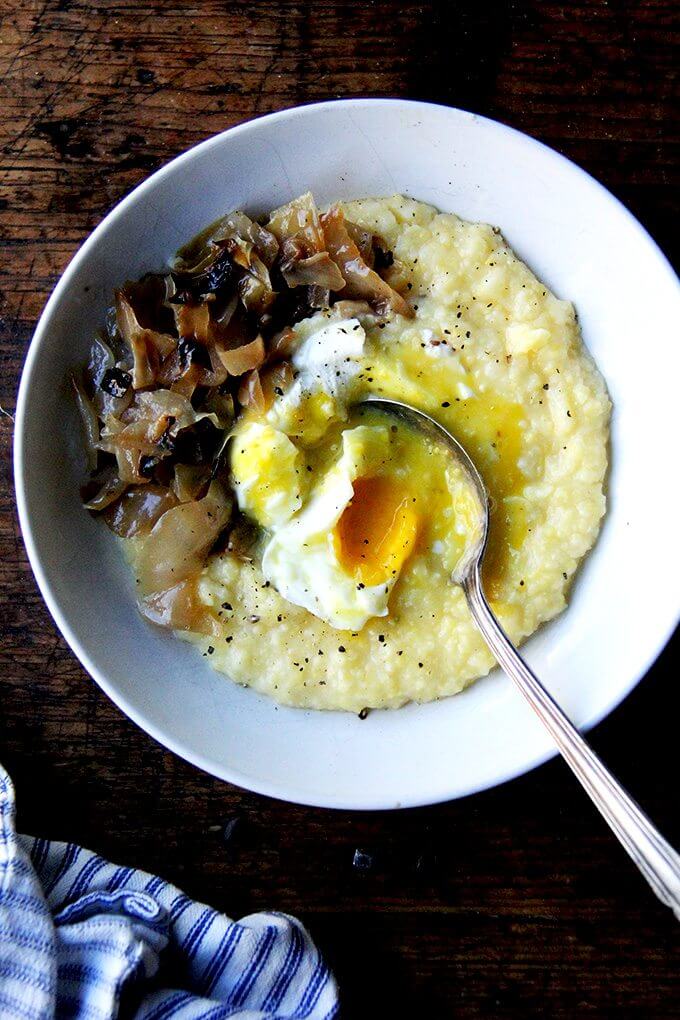 Huevos Rancheros with Blistered Salsa Roja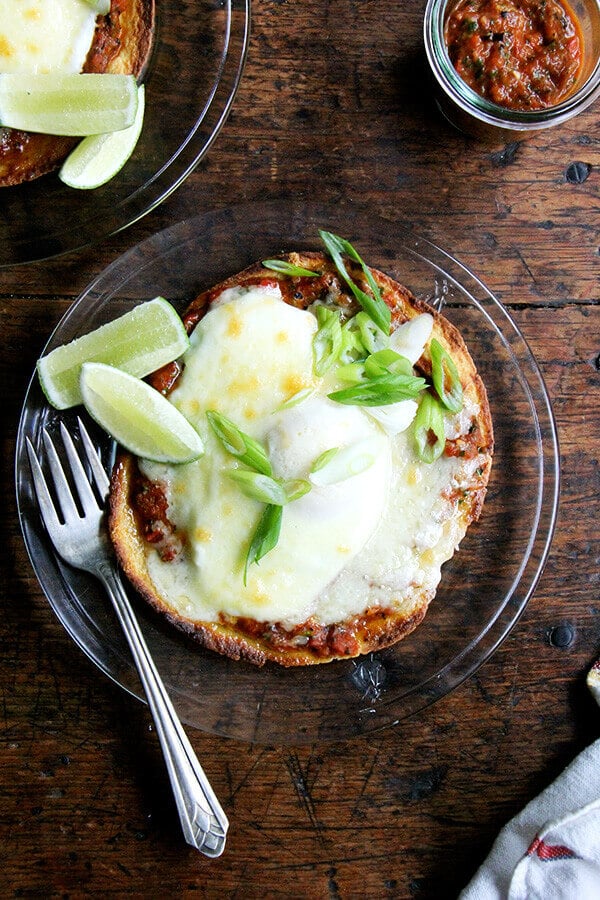 Print
Perfect Poached Eggs
---
eggs, however many you'd like

1 tablespoon

vinegar, such as white or apple cider
---
Instructions
First, get prepared: Fill a shallow saucepan with two to three inches water and bring to a simmer. Line a plate with paper towels. Grab a wooden spoon and a slotted spoon or a spider.
Crack each egg into a small bowl or ramekin. Pour the vinegar into the pot of simmering shallow water. Adjust the heat so that the water is barely simmering — get the water to a simmer, then turn it down so you don't see any bubbles. Use the handle of a wooden spoon to make a whirlpool in the water, then drop one egg into the center of the whirlpool. Repeat with other egg. Adjust the heat to keep the water just below a simmer—it should barely be moving. Set the timer for 3 minutes.
Using a slotted spoon, lift one egg up from the water and shake it. The yolk should jiggle a little bit, but shouldn't look too loose. The whites should look set. You'll likely have to cook the eggs for a minute longer. Note: Knowing when poached eggs are done is just a matter of practice and preference — personally I don't like the yolk to taste raw, but I still like it runny, and for this consistency, I usually have to cook the eggs for about 4 to 5 minutes.
When the eggs look cooked to your liking, remove them with a slotted spoon and transfer to the prepared paper towel-lined plate.
Prep Time:

5 minutes

Cook Time:

4 to 5 minutes

Category:

Breakfast

Method:

Stovetop

Cuisine:

American
Keywords: poached, eggs, breakfast, brunch
This post may contain affiliate links. Please read my disclosure policy.