Lightning Fast Sichuan Noodles with Chilies and Scallions
This post may contain affiliate links. Please read my disclosure policy.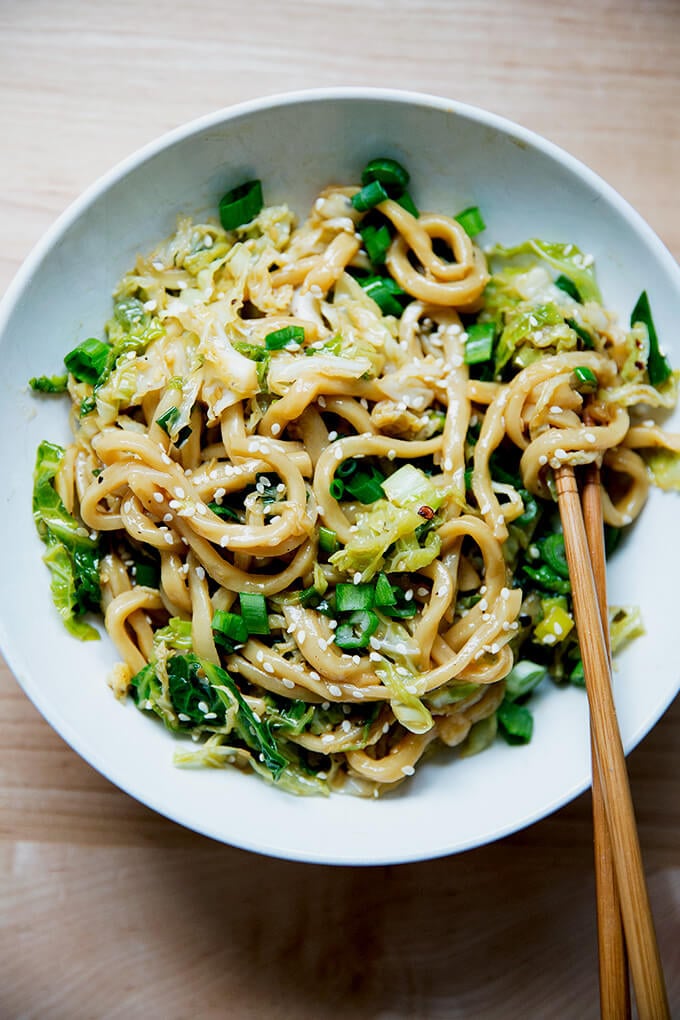 A few weeks ago, upon exiting Christopher Kimball's Milk Street website, a pop-up email capture caught my attention: If I subscribed, I would get "12 recipes That [Would] Change The Way I Cook."
What was there to lose? I subscribed, downloaded my PDF, began reading, and soon came across an article titled "Quick and Easy Sichuan Noodles" with a stunning photo captioned: "Scallions, sesame oil and seeds, plus pantry staples, flavor this simple, addictively good noodle dish."
Incredibly, I had everything on hand to make the dish, which came together as quickly as promised. The first time I made it, I used fresh Chinese noodles that I had on hand, which worked well but I've since made the recipe with dried Japanese udon noodles, Milk Street's recommendation, which worked even better.
The recipe, I learned, was inspired by Fuchsia Dunlop's "emergency midnight noodles" from her cookbook Every Grain of Rice. Fuchsia makes the noodles with chili oil, which Milk Street has you make from scratch by heating grapeseed oil with red pepper flakes (and sesame seeds). It takes just a few minutes.
To bulk it up a bit, I've added thinly shredded cabbage and carrots, which I drain the hot noodles over to help soften them. I like the inclusion of vegetables, and though some sort protein would be a nice addition, too, I haven't been missing it. Milk Street tops each serving with a fried egg, which they fry in the same skillet used to make the infused oil. Yum.
Here's the play-by-play: Gather your ingredients. Milk Street recommends dried Japanese udon noodles for this dish.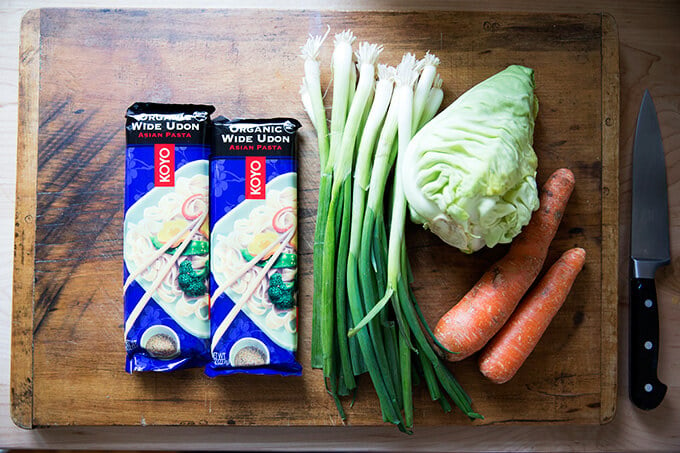 For the sauce, you'll need: soy sauce, rice vinegar, sesame oil, pepper flakes, sesame seeds, brown sugar and grapeseed oil or other neutral oil.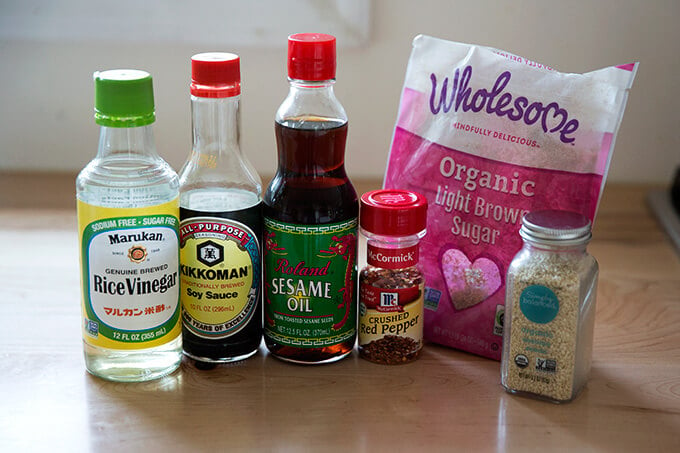 If you're adding vegetables, prep them before you boil the noodles. I use my food processor to shred the carrots and my knife to slice the cabbage. The scallions need to be sliced and the whites and greens separated.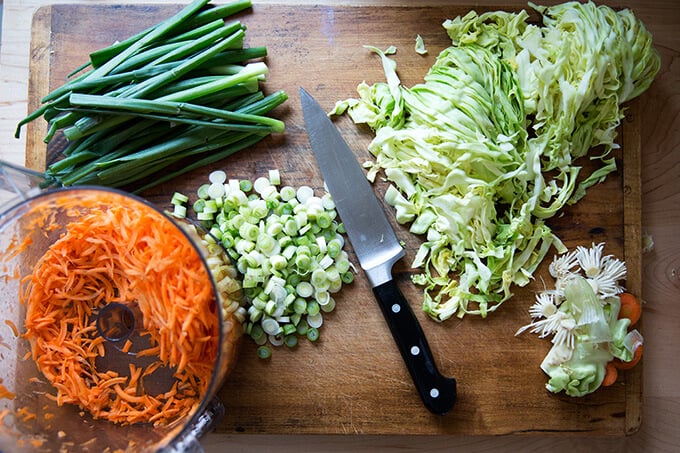 Boil the noodles in salted water (left), while you infuse the grapeseed oil with chilies and sesame seeds (right).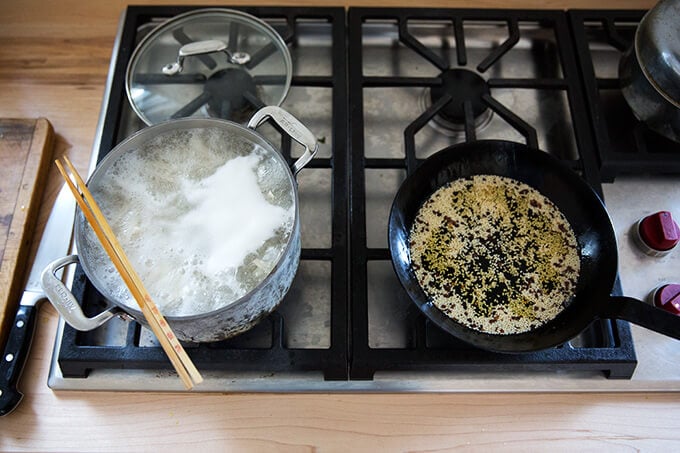 Adding the scallion whites to the sauce, heat now turned off.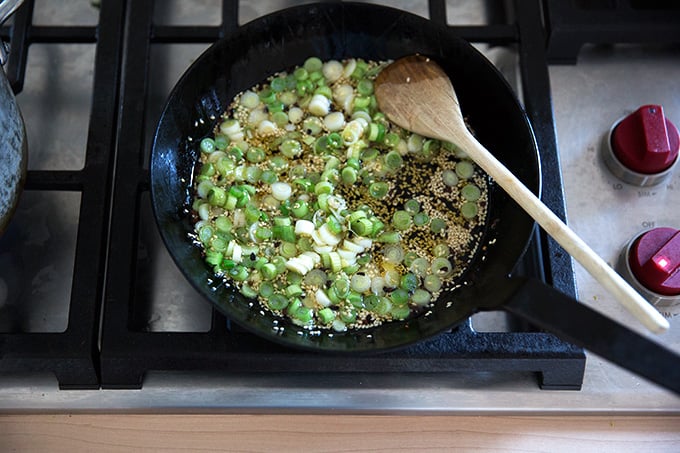 Finish the sauce by stirring in the mix of soy sauce, brown sugar, sesame oil, and rice vinegar.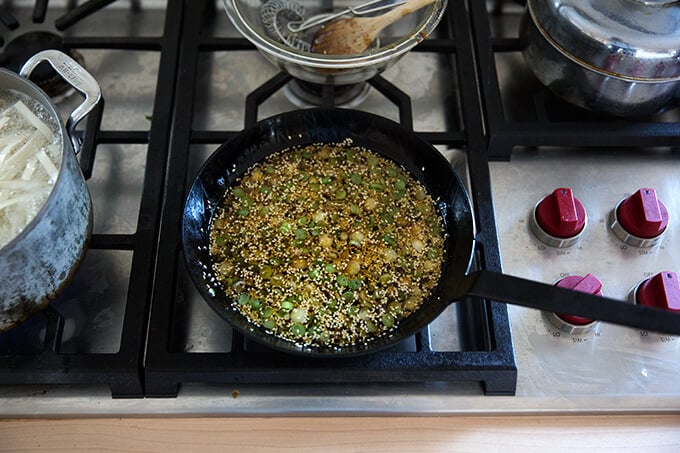 When the noodles have boiled…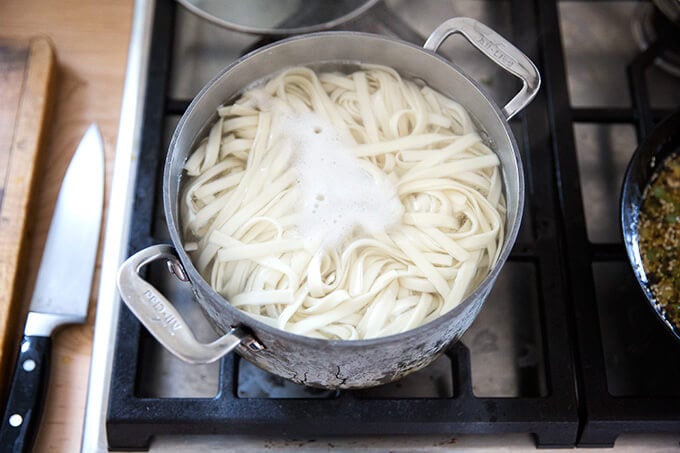 … drain them over the vegetables in a colander.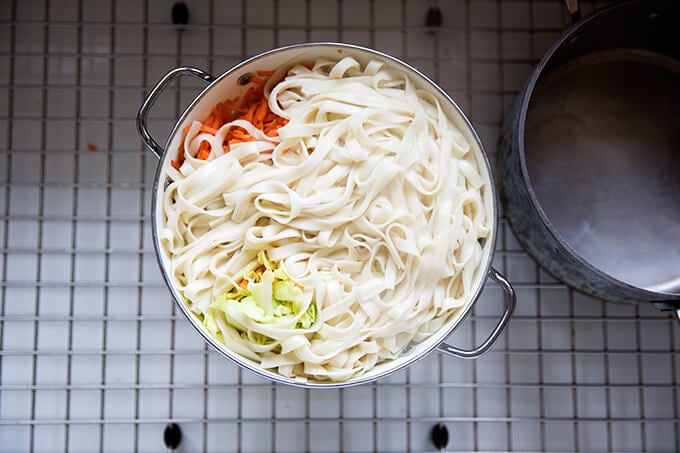 Careful of the curious kitty!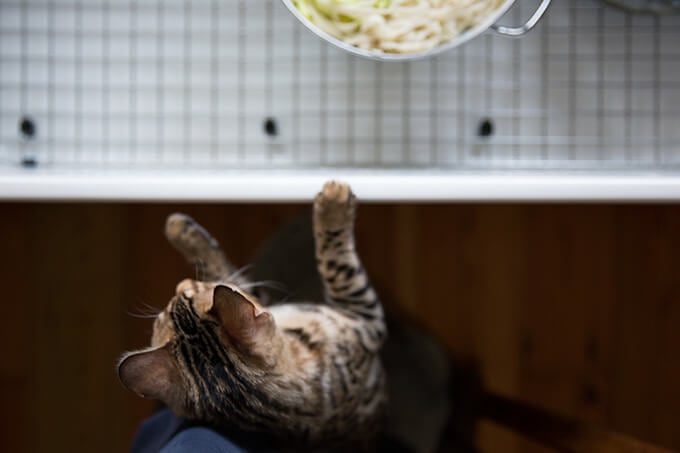 Transfer vegetables and noodles to bowl and add the scallion greens.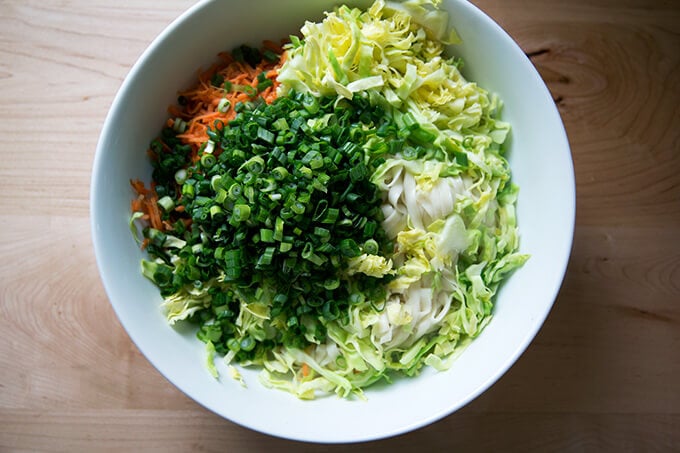 Add the sauce.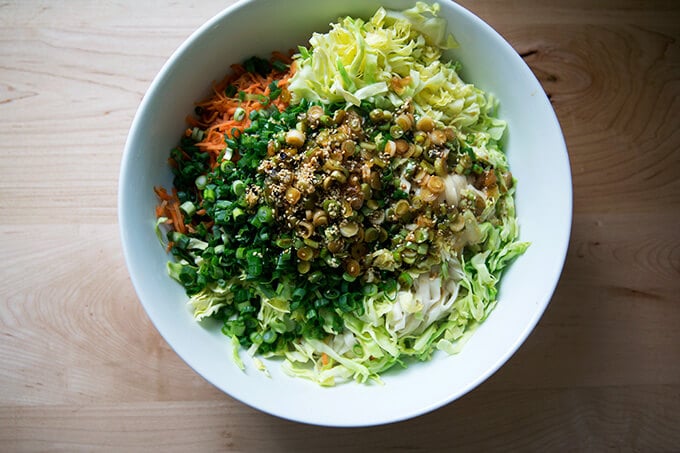 Toss.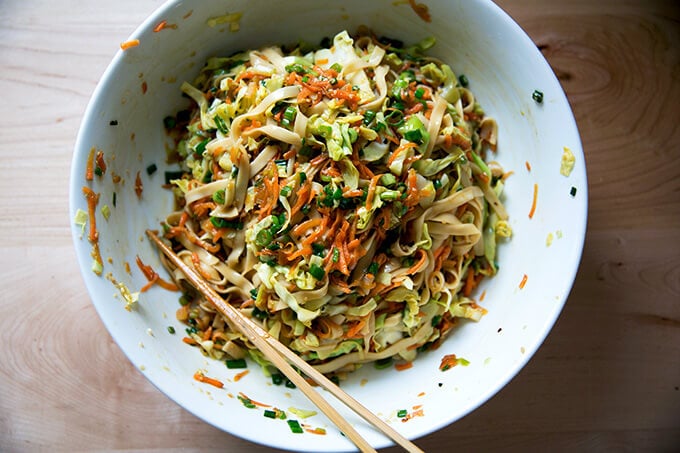 Eat.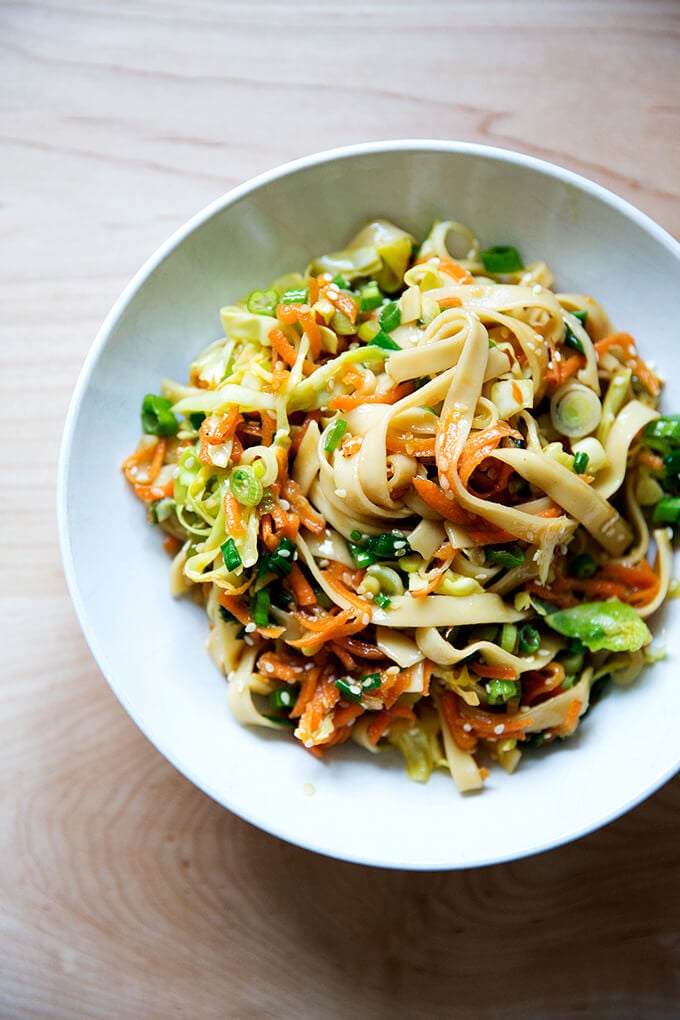 These are also really delicious with the fresh udon noodles. I used the Nasoya brand here. Really yummy. No carrots in this version.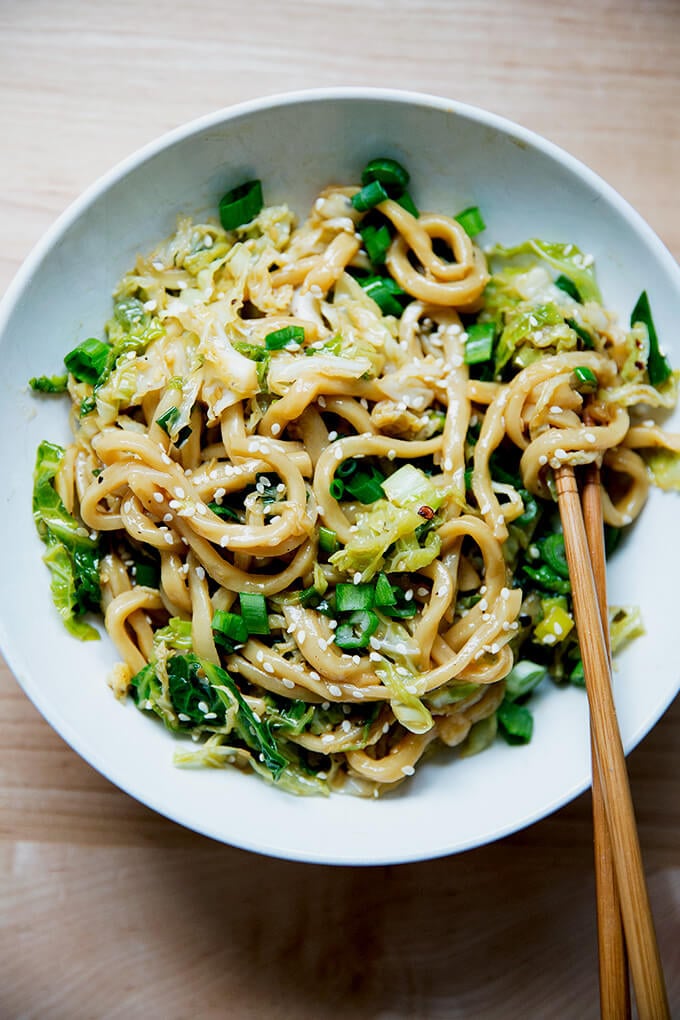 Print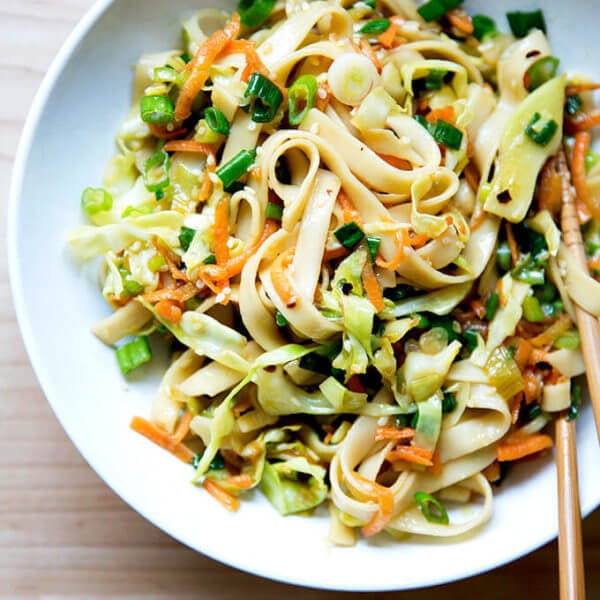 Sichuan Noodles with Chilies and Scallions
---
Description
Adapted from Milk Street (If you subscribe to their newsletter, you'll get this recipe along with this curried lentil recipe and 10 other enticing ones for free.)
I've made a few changes:
I add vegetables: cabbage and carrots. If you wish to add vegetables, too, be sure to choose vegetables that will soften under the heat of boiling water poured over them. Finely chopping or shredding the vegetables will help. I think Romaine lettuce would work nicely here, too.
I use 2 tablespoons of sugar, and I find it to be sweet enough, but use the full 3 if you wish.
I have yet to top each serving with a fried egg, but if you wish to do so, fry it directly in the skillet you use to infuse the oil with the chilies, sesame seeds, and scallions.
Next time, I may try infusing the grapeseed oil with crushed Sichuan peppercorns. I love the numbing mala sensation. I'll keep you posted.
---
kosher salt

5 tablespoons

soy sauce

3 tablespoons

unseasoned rice vinegar

2

to

3

tablespoons packed dark brown sugar (I use 2; original recipe calls for 3)

1 tablespoon

toasted sesame oil

¼ cup

grapeseed or other neutral oil

5 teaspoons

sesame seeds

1

to

1¼

teaspoons red pepper flakes

12

scallions, white and green parts thinly sliced on the bias, reserved separately

1

small cabbage, finely sliced, optional

1

to

2

large carrots, grated using the shredder attachment of a food processor, optional

12 ounces

dried udon noodles, lo mein or spaghetti or fresh udon noodles (fresh udon, such as the Nasoya brand, are my favorite)
---
Instructions
Bring a large pot of salted water (I use 1 tablespoon kosher salt) to a boil. In a small bowl, whisk together the soy sauce, vinegar, sugar and sesame oil.
In a 12-inch skillet over medium, heat the grapeseed oil, sesame seeds and pepper flakes (use 1 teaspoon or less if you are sensitive to heat) until the pepper flakes are fragrant and the seeds begin to brown, 3 to 5 minutes. Off heat, stir in the scallion whites, then add the soy sauce mixture. Set aside.
If you haven't prepped the vegetables, do so now: Finely slice the cabbage. Shred the carrots in a food processor using the shedder attachment. Place them in a large colander in the sink.
Cook the noodles until al dente—my dried Udon noodles take 7 minutes, but be sure to check the package of the noodles you are using—then drain the noodles directly over the vegetables in the colander.
Transfer the noodles and vegetables to a large serving bowl. Add the scallion greens. Bring the sauce in the skillet on the stovetop just up to a simmer (if it has cooled down), then pour over the noodles and vegetables. Toss to combine. Serve.
Prep Time:

15 minutes

Cook Time:

5 minutes

Category:

Dinner

Method:

Boil, Sauté

Cuisine:

Chinese
Keywords: sichuan, noodles, chinese, cabbage
This post may contain affiliate links. Please read my disclosure policy.