Cauliflower Steaks with Walnut-Caper Salsa
This post may contain affiliate links. Please read my disclosure policy.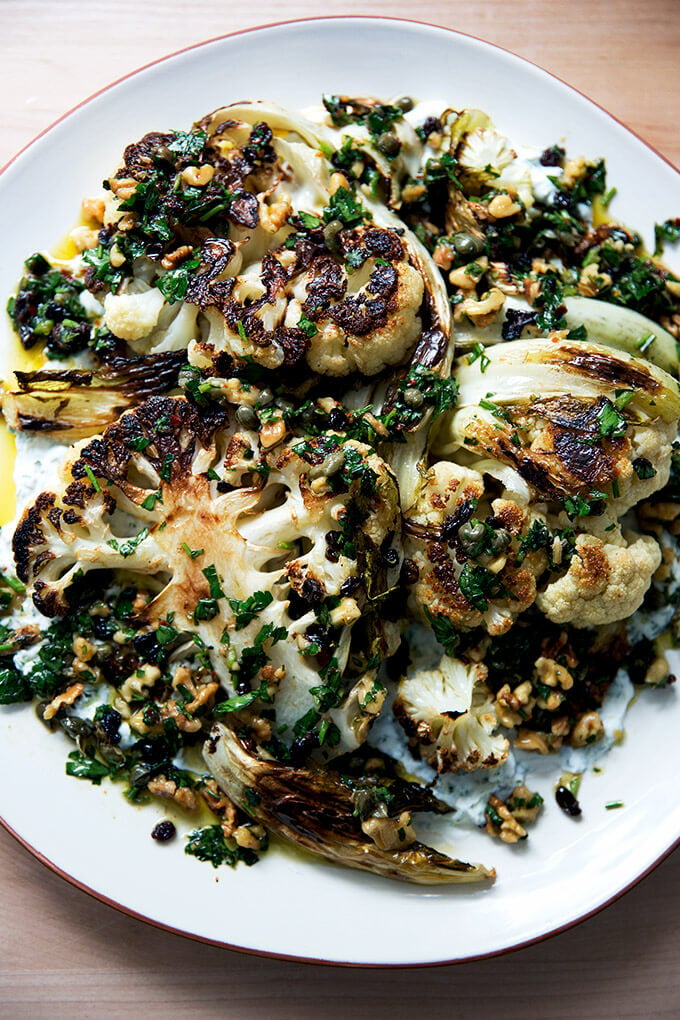 In Joshua McFadden's Six Seasons, potato chips are used as a metaphor for how a dish should taste — Joshua's goal when creating dishes is to make them so tasty you can't help but take one more bite. And then another.
This is how I feel about this dish, which is not a Joshua McFadden creation, but which very much reminds me of his bright, vegetable-centric style of cooking. This one comes from another whiz in that genre, Yotam Ottolenghi, and I find it irresistible: slabs of cauliflower sear stovetop before finishing in the oven while capers sizzle in a pan with olive oil, before mixing with walnuts, currants, and parsley to form a salsa. If you wish, you can stir together Greek yogurt with fresh lemon and any remaining parsley to form an herby schmear to spread across the serving dish, a bed for the burnished steaks to nestle into, a creamy base to balance the sharpness of the salsa.
I first made this recipe about this time last year, when I found myself really feeling the heaviness of winter, as the soup, stew, and braise fatigue neared its peak. It was such a welcomed change to the nightly sheet pan of roasted vegetables and whatever bubbled away in the crock stovetop. I'm finding it equally uplifting and tasty right now, as addictive as a tin of Pringles — once you pop, you can't stop … or something like that?
PS: All the Cauliflower recipes right here: Cauliflower
Here's the play by play: Gather your ingredients.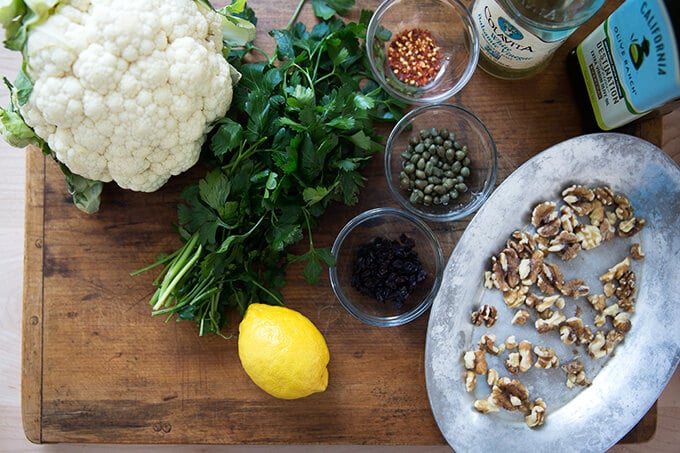 Heat capers in olive oil till they begin to sizzle, about 5 minutes.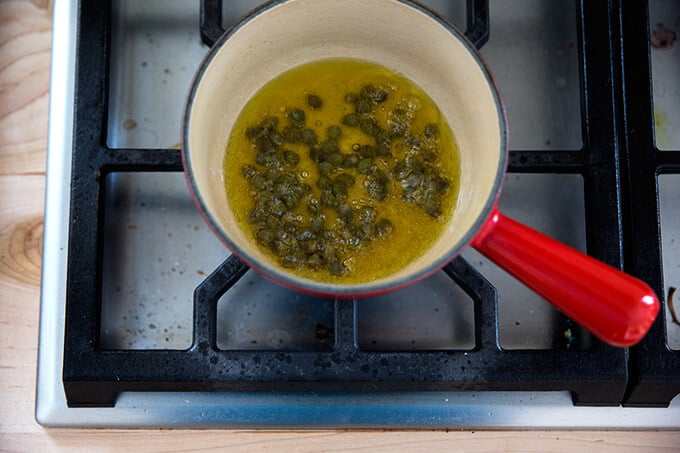 Off the heat, stir in crushed red pepper flakes, toasted walnuts, parsley, vinegar, currants, and lemon zest.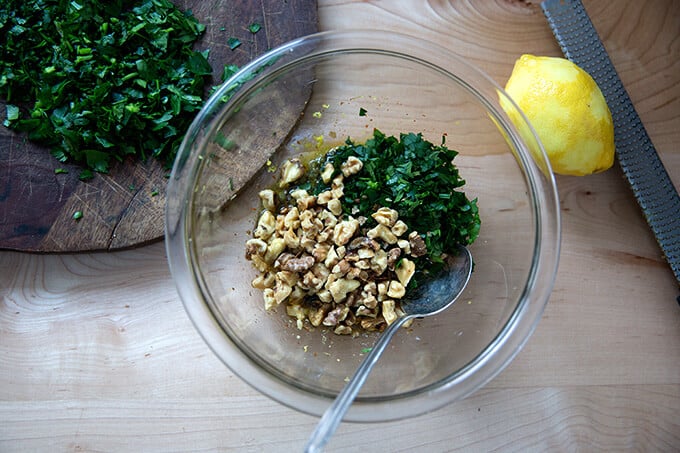 Caper-walnut salsa! This stuff is soooo good.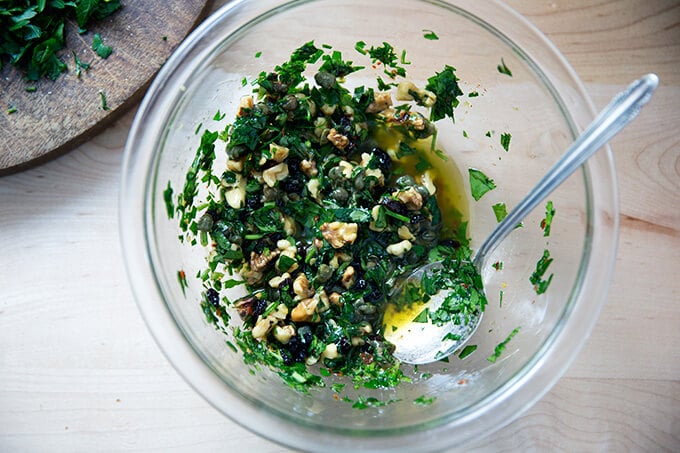 Cut cauliflower into steaks — you can get about threes slabs per head (depending on the size).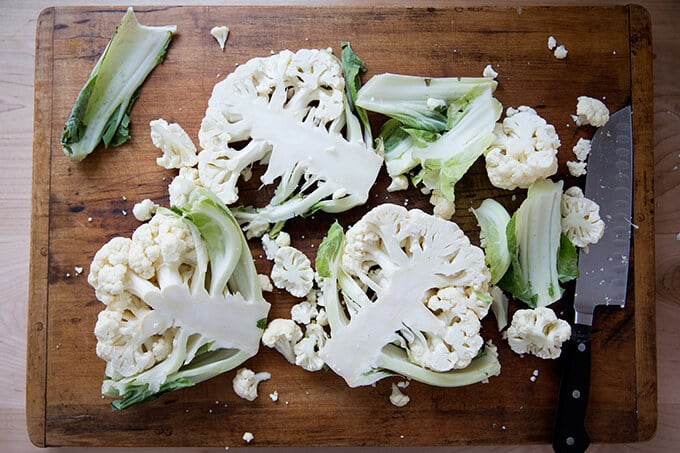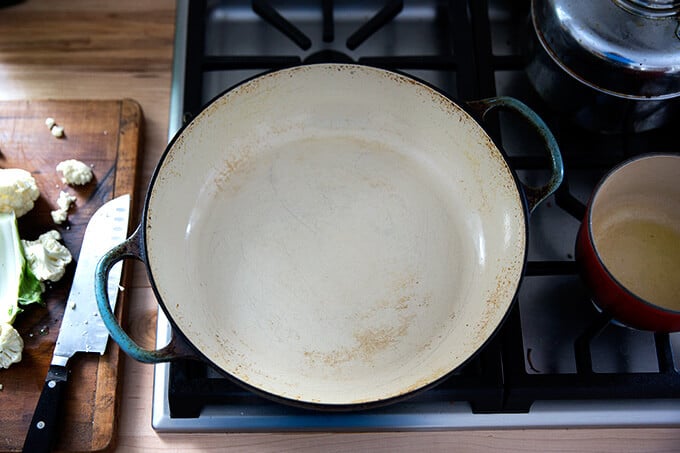 Sear the cauliflower steaks in a little bit of oil — if the cauliflower isn't laying flat, use two pans. (I normally do; I should have here.)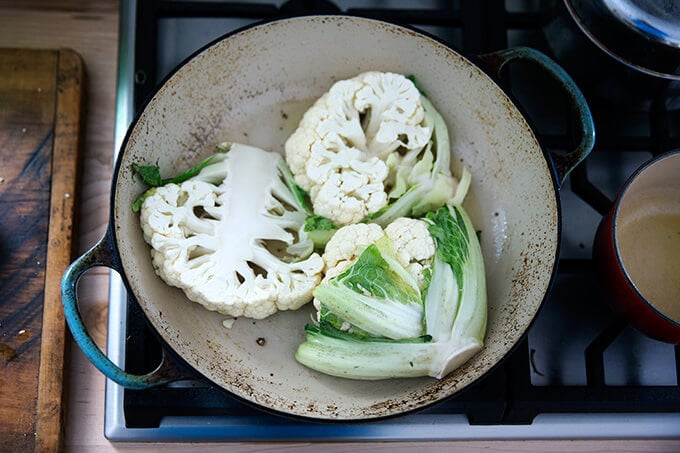 Flip the steaks.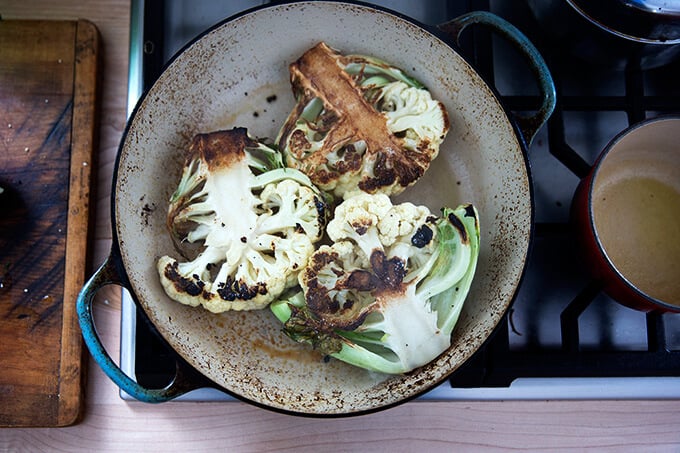 Transfer pan to the oven — I add all the little bits of cauliflower and greens that fall off during the cutting.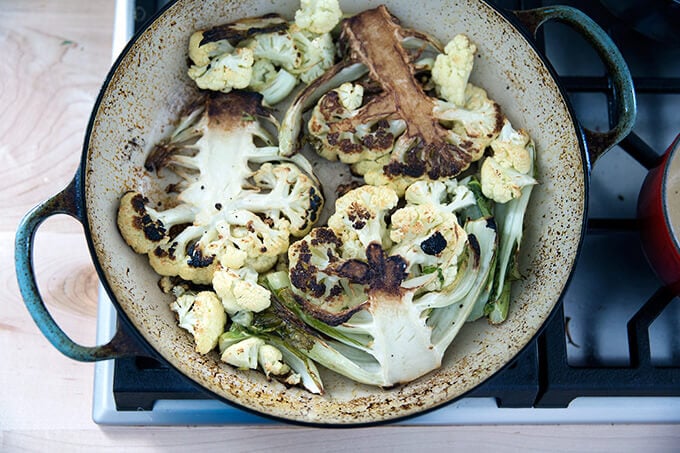 Meanwhile, make a lemony-yogurt sauce.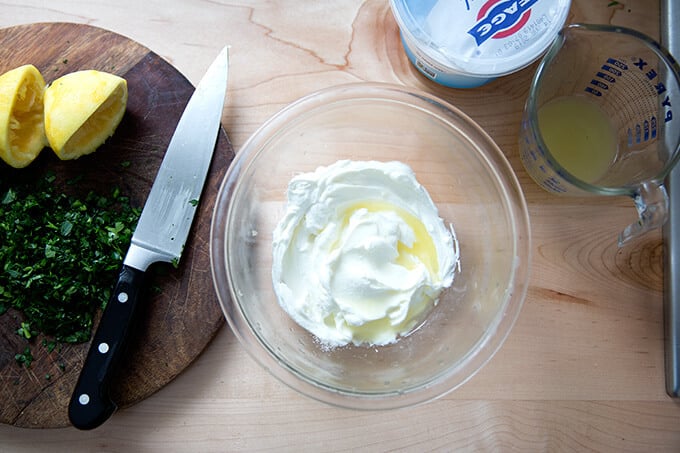 If you don't think you'll use the rest of that bunch of parsley you bought for the salsa any time soon, you can chop it all up and stir it into the yogurt sauce.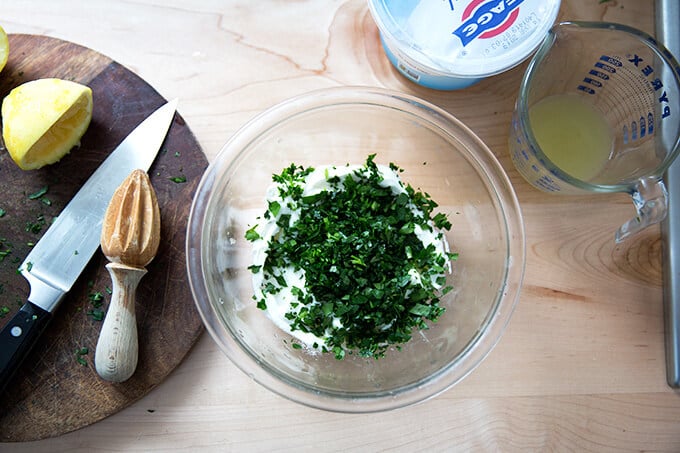 Sauce, done.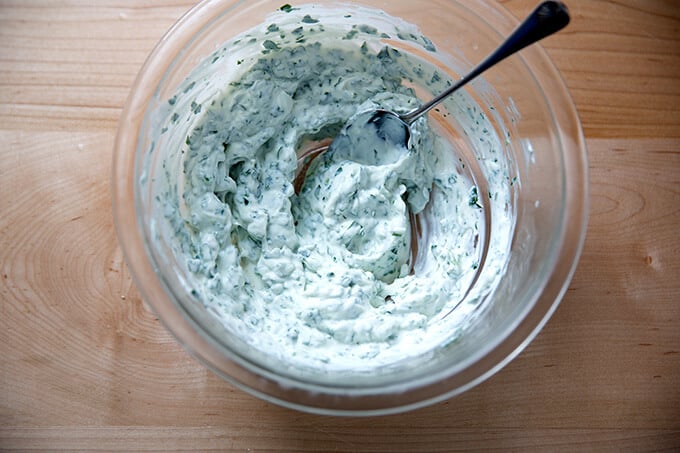 Smear sauce across the plate.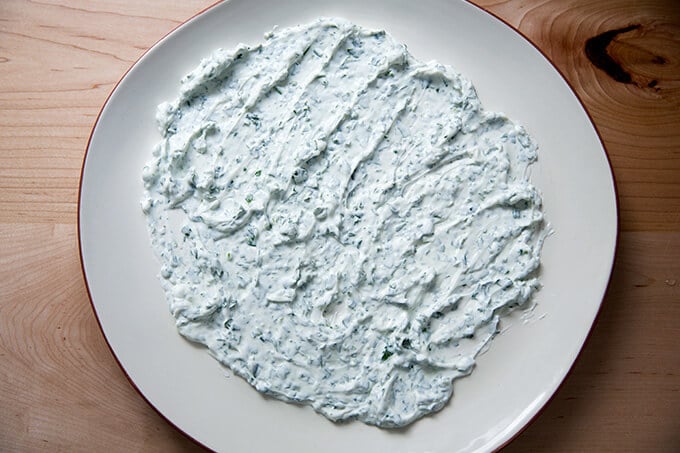 Top with the seared cauliflower.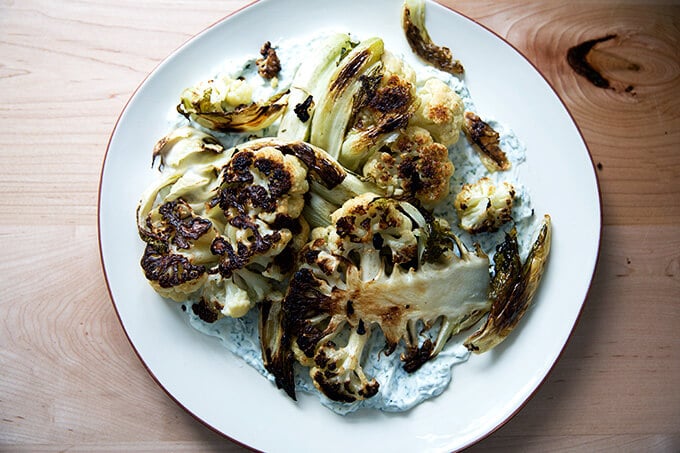 Spoon the caper-walnut salsa over top.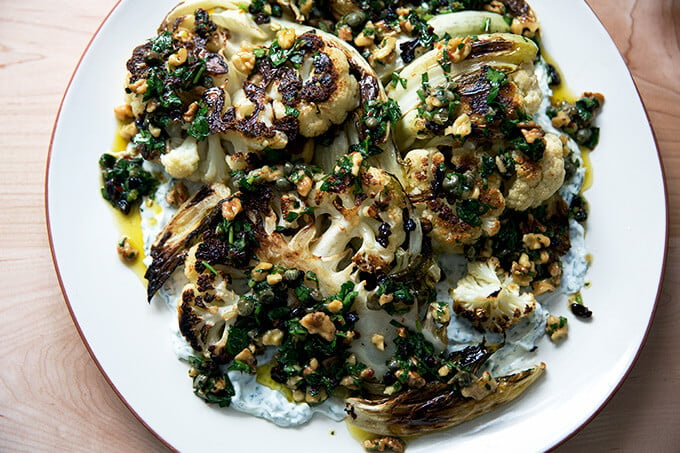 From last time… see how the steaks are more evenly brown? That's thanks to using two pans.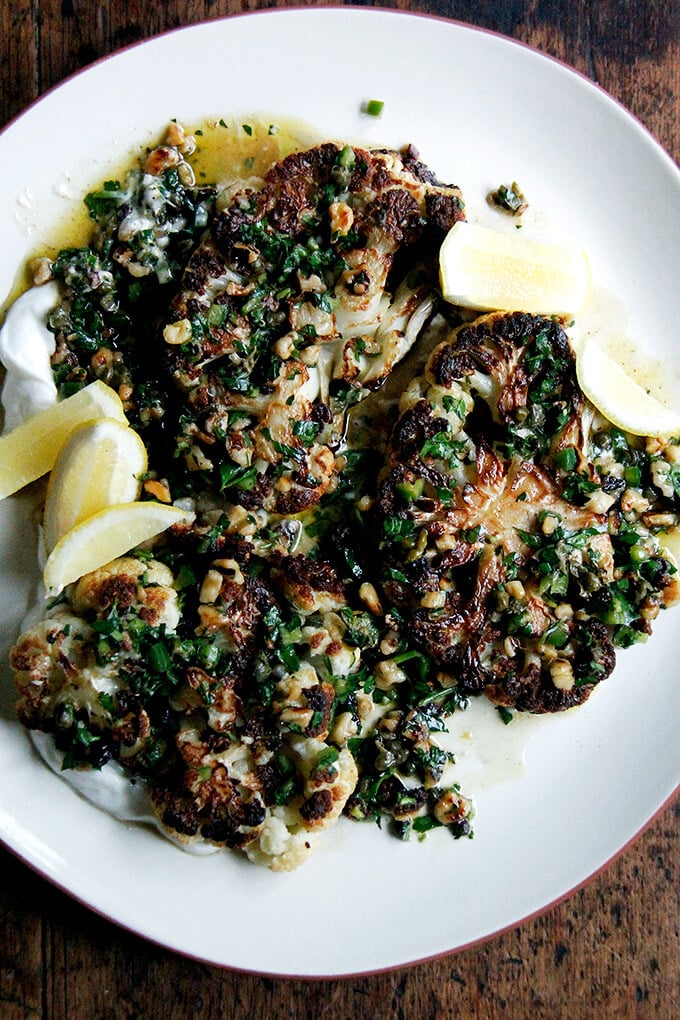 Print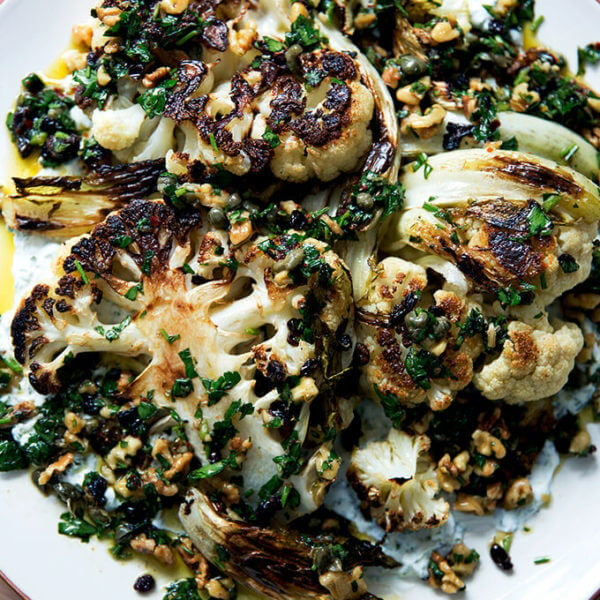 Cauliflower Steaks with Walnut-Caper Salsa
---
---
For the salsa:
1/2 cup walnuts

¼ cup olive oil, plus more to taste

2 tablespoons drained capers, patted dry

1/4 teaspoon crushed red pepper flakes, or more to taste

1/3 cup coarsely chopped parsley

1 tablespoon dried currants

1 tablespoon vinegar, such as white balsamic, sherry or red wine, plus more to taste

zest of 1 lemon

Kosher salt to taste
For the cauliflower:
1 small head of cauliflower

2

to

3

tablespoons grapeseed or olive oil

Kosher salt
For the yogurt sauce:
 1 cup Greek yogurt, I like Fage 5%

1 tablespoon

fresh lemon, from about

1/2

a lemon

1/4 teaspoon

kosher salt
parsley, optional
---
Instructions
Make the salsa. Preheat oven to 350°F. Toast walnuts on a small pan or rimmed baking sheet, until golden brown, 10 to 12 minutes. Let cool, then use your hands to break the walnuts into small-ish pieces. Set aside. Increase oven temperature to 425° for roasting cauliflower.
Heat oil and capers in a small saucepan over medium, swirling often, until capers burst and are golden brown and crisp, about 5 minutes. Carefully pour oil and capers into a small heatproof bowl. Add the crushed red pepper flakes and currants. Let cool. Then, stir in the walnuts (leaving as much papery skin behind), parsley, vinegar, and lemon zest; season with salt. Taste. If it tastes too sharp, add more olive oil by the tablespoon. (I almost always add 2 more tablespoons of oil.) If it needs more salt, add to taste.
Make the steaks. Trim cauliflower stem on the bottom to create a flat base. When I first made this, I trimmed away the greens (see video here), but now I like to keep the outer greens attached — they taste good roasted. Remove them if you wish. Cut straight down through the center, then make another cut 1.5 inches away from the center on each side — you'll likely get 2-3 steaks total. I used to save the cauliflower pieces that broke away for another day, and you definitely can do this, too, or you can sear and roast them right along with the steaks in the pan.
Heat oil in one or two large skillets over medium-high. Add cauliflower steaks and any florets/greens that broke away, if you wish. (If the steaks don't fit in a single layer, you should use two pans or you won't get a nice sear.) Cook, gently lifting up cauliflower occasionally to let hot fat run underneath, until steaks are deep golden brown, about 3 to 5 minutes. Turn steaks and season with salt. Transfer skillet to oven and roast until cauliflower stems are fork-tender, 15-20 minutes.
Make the yogurt sauce: Stir together the yogurt, 1 tablespoon lemon juice, and 1/4 teaspoon kosher salt. If you have leftover parsley from the bunch you purchased, and you think you might not use it anytime soon, chop it up finely and stir it in. Taste. Adjust seasoning to taste.
To finish: smear the yogurt sauce over a large platter. Top with the cauliflower steaks. Spoon the caper-yogurt sauce over top. Serve immediately or at room temperature.
Prep Time:

20 minutes

Cook Time:

20 minutes

Category:

Dinner

Method:

Stovetop/Oven

Cuisine:

Vegetarian
Keywords: cauliflower, cauliflower steak, vegetarian, caper, walnut, salsa, parsley, yogurt
This post may contain affiliate links. Please read my disclosure policy.