How to Clean Your Le Creuset Pots and Pans
This post may contain affiliate links. Please read my disclosure policy.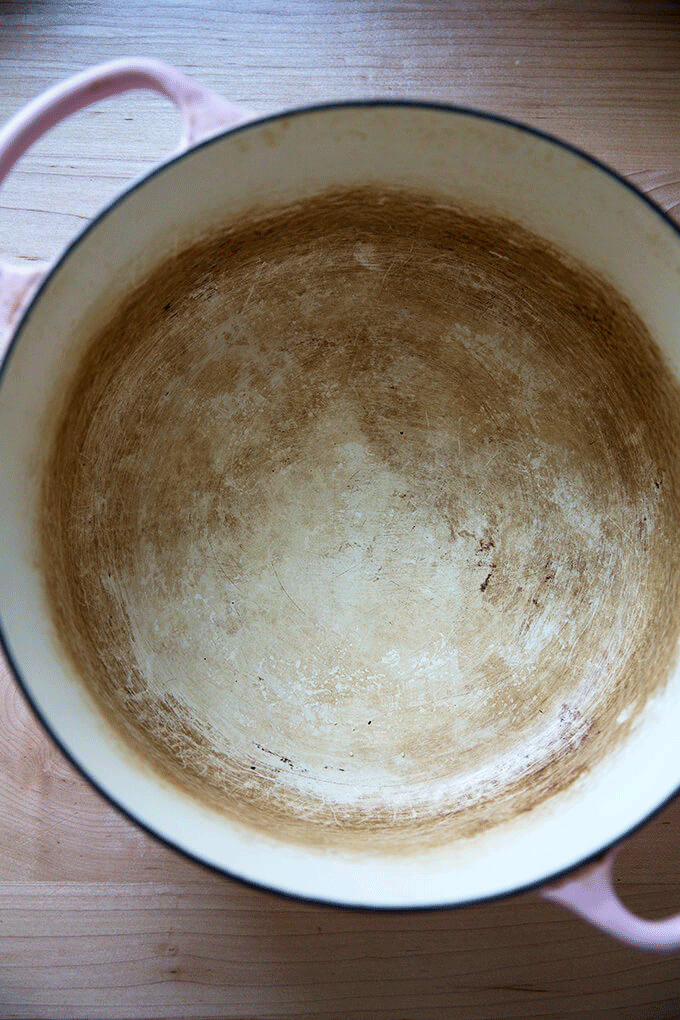 ** UPDATE: April 2019 **
In March of 2019, I mentioned that a Reader had passed along a magical cleaning solution that would make your Le Creuset pots and pans sparkle like new. I included the formula in the post but when I thought it deserved its own space, I created this post.
BUT THEN: Upon posting the entry, I immediately received a comment and a link to an article that gave me pause.
For both my Le Creuset Dutch oven and braiser, I had been dumping 1/2 cup bleach and 1/2 cup white vinegar into the pot, then pouring water up to the very tip top of the vessel and bringing it to a gentle simmer for about 5 minutes. It worked like a charm.
To clean the exterior, I plugged my sink and, using pot holders, carefully transferred the pot from the stovetop to the sink, dumped the solution into the sink, and filled it up with more hot water. With the sink full, I scrubbed both the exterior and interior of the pot with a slightly abrasive sponge, until my pans beamed.
What I learned from that article is that combing bleach and vinegar "produces chlorine gas, which even at low levels, can cause coughing, breathing problems, and burning, watery eyes."
To be sure, I called poison control to confer.
They, too, despite my pleading — Really? I can't use a teensy tiny bit? Even if I've never experienced the adverse side effects? Is a small amount of chlorine gas so terrible? — agreed that bleach and vinegar should not be mixed.
"Ma'am," they told me. "Don't do it."
Ugh. OK. Fine.
How to Clean Your Le Creuset Pots and Pans (Safely)
There are several non-toxic methods for cleaning your Le Creuset cookware. I have had success with numbers 1 and 2 below. The remaining suggestions come from readers who have had success with these methods.
A solution from Le Creuset itself: Cast Iron Cookware Cleaner. It costs $25, which may feel pricey, but you need a small amount for each job — this bottle will last a long time.
Water + Bleach: Fill your pot with water and bleach: for every liter of water, use 1 cup of bleach. Bring to a boil for 10 minutes. Be sure to use regular chlorine bleach as opposed to chlorine-free bleach.
Magic Eraser.
Warm Water + Baking Soda + Vinegar or Lemon.
Warm Water + Baking Soda + Hydrogen Peroxide: Bring it to a boil with lid covered; it comes out pristine once you wipe it with a paper towel.
Easy-Off Oven Cleaner: You can spray the pot, put it in the oven, and shut the door. You can also spray the oven. All the baked-on gunk wipes off. Clean as usual and you're on your way!
Friends, how do you clean your enameled cast iron cookware? I'd love to know.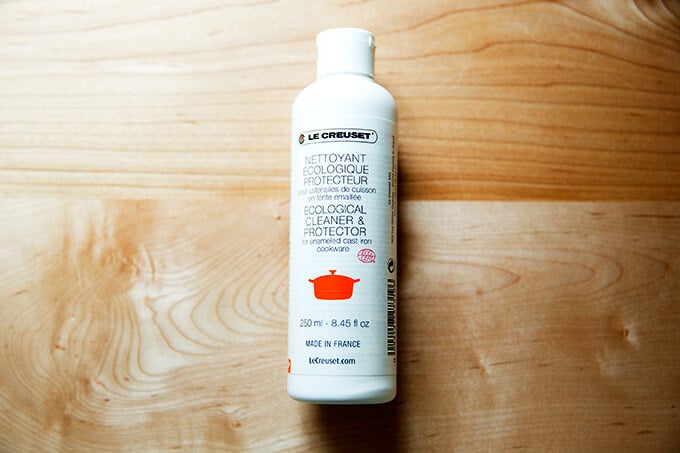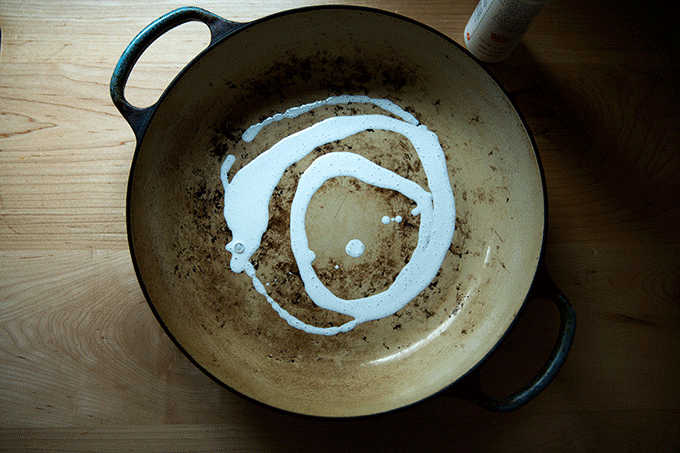 Here's what is NOT RECOMMENDED: Combining bleach and vinegar.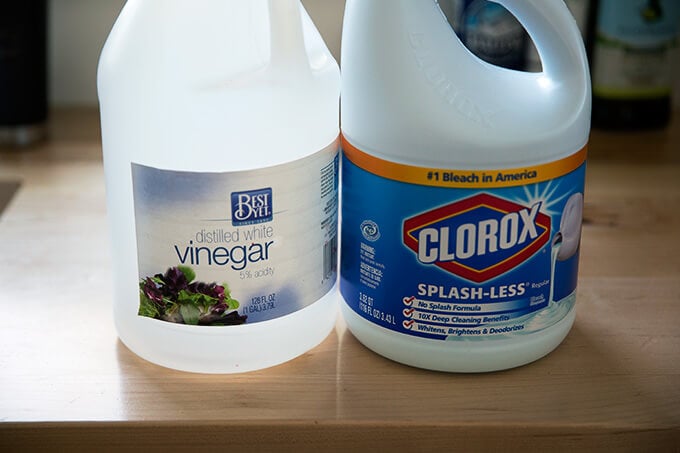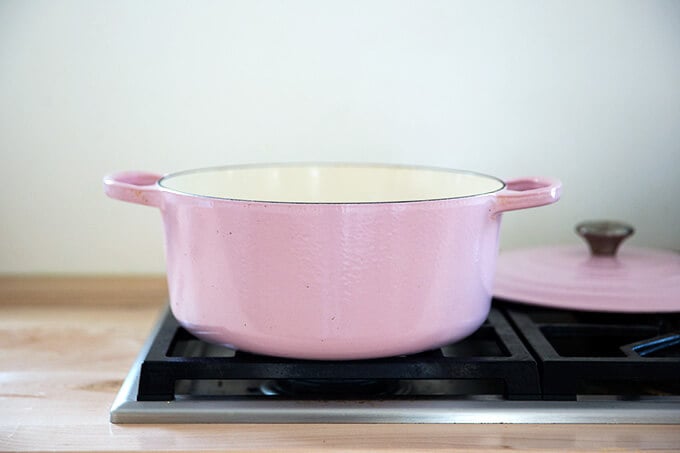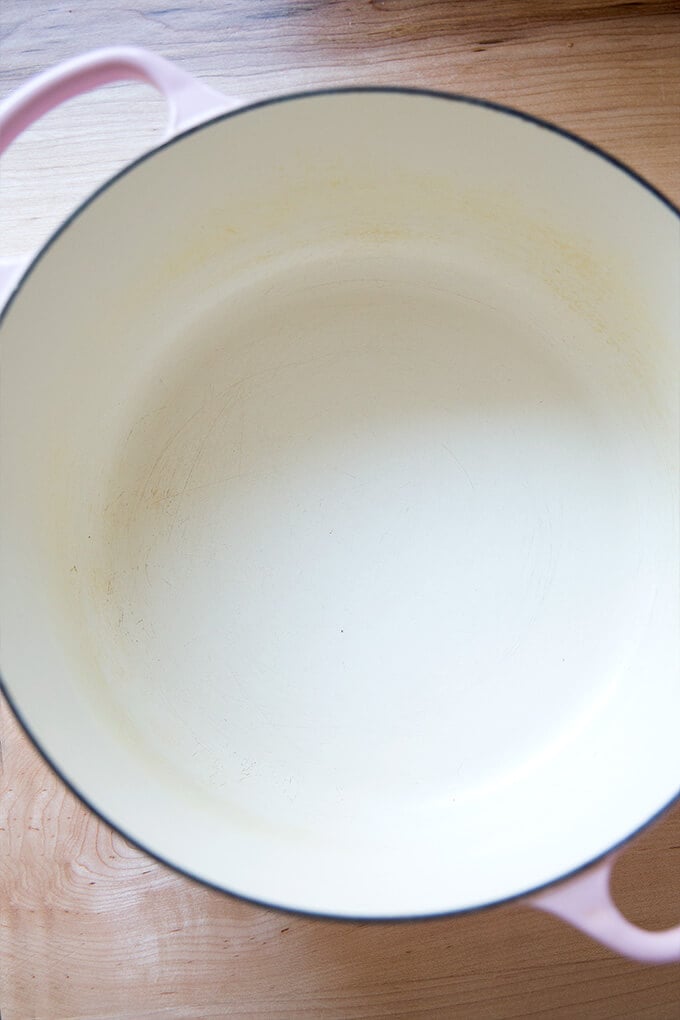 This post may contain affiliate links. Please read my disclosure policy.