Chinese-Style Steamed Whole Fish with Ginger and Scallions
This post may contain affiliate links. Please read my disclosure policy.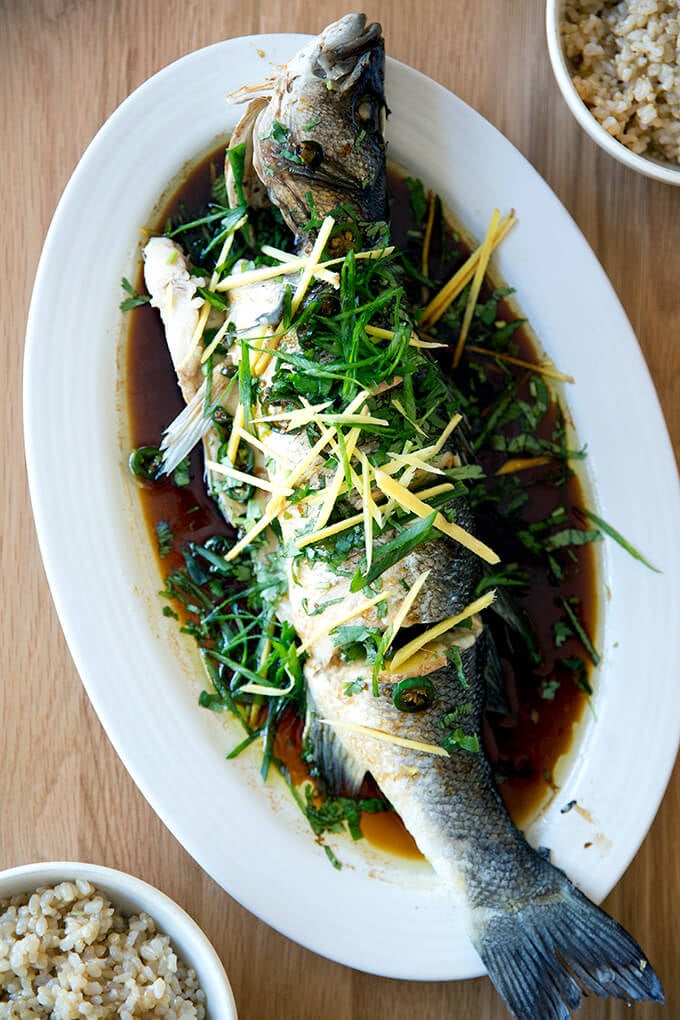 Whole fish, even for many fish lovers, can be a hard sell. The head, the tail, the fins — I suppose it's just a little too much?
If this perhaps describes you, I'm hoping I can convince you to give whole-fish cooking a go, because I think you'll fall in love with the method, this Chinese-style preparation in particular.
The recipe, from Alana Kysar's Aloha Kitchen, can be broken down as follows:
Steaming the fish — I've been using Branzino — on a bed of aromatics (ginger, scallions, and cilantro) with a splash of sake.
Making a sauce, a simple mixture of soy sauce, sesame oil, sugar and hot chilies (if you wish).
Dressing the steamed fish with a few tablespoons of hot oil and the soy sauce mixture, which you heat up briefly as well. The sauce will sizzle upon meeting the steamed fish.
Showering the steamed fish with a final garnish of cilantro, scallions, and ginger.
It's really fun to make and truly one of the most delicious recipes for fish I have every made. As suggested, I've been serving it with rice, which tastes especially good with the sauce.
Before opening Aloha Kitchen, I would never have thought to make this dish at home. Steamed whole fish is something I often order out, because it's consistently good. It's also something I've always feared would never taste as good at home, one of those Chinese dishes that just tastes better, for whatever reason, in a restaurant.
But Alana's recipe has proven otherwise: it's simple and delicious. I hope you give it a go.
Incidentally, Aloha Kitchen is all about local Hawaiian food, which Alana describes as: "Creole cuisine built on the many influences of Hawai'i's early immigrants." These influencers include Hawaiians, Westerners, Chinese, Japanese, Portuguese, Koreans, and Filipinos. The foods of these various cultures are reflected in the recipes in Aloha Kitchen, all of which will make you want to jump on an airplane immediately, hightail it to the first drive-in in sight, and order a plate lunch of loco moco, steamed rice, and mac salad. Meet you there?
Perfect. Can't wait. OK, back to the whole fish.
Why Cook Fish Whole?
Texture. For one, cooking fish whole, regardless of the medium, is more forgiving. If you overcook a filet in the oven or on the stovetop or grill by a minute or two, it likely will be dry; a whole fish won't. Steaming in particular keeps the flesh very moist. (That said, I will absolutely try the hot oil and sauce trick over grilled whole fish come summer.)
Heat retention. Like another favorite fish-cooking method, en papillote, the fish retains its heat. This method, which, as noted above, calls for pouring hot oil and sauce over the fish, gives the hot fish another blast of heat.
Ease. Cooking filets of fish on a grill or stovetop takes a bit of finesse and there's always the risk of sticking. With steaming, there's no such worry — no flipping, no sticking.
Are you convinced? Will you give whole-fish cooking a go? Or are you already an adopter?
PS: ALL the Fish Recipes right here.
Here's the play-by-play: Gather ginger, cilantro, scallions, and a hot chili, if you wish.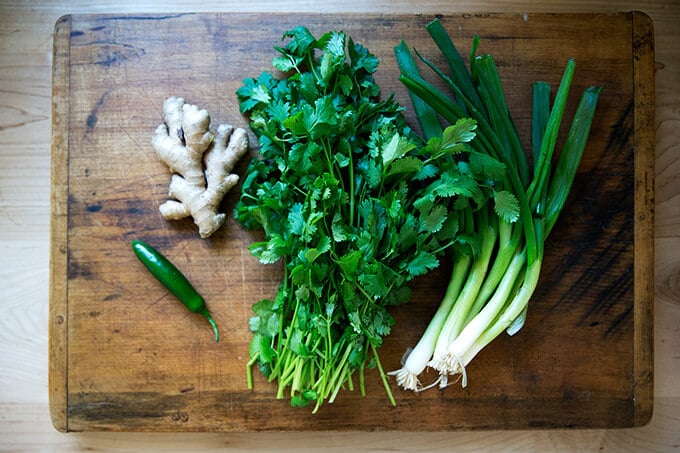 Cut some of them coarsely for steaming…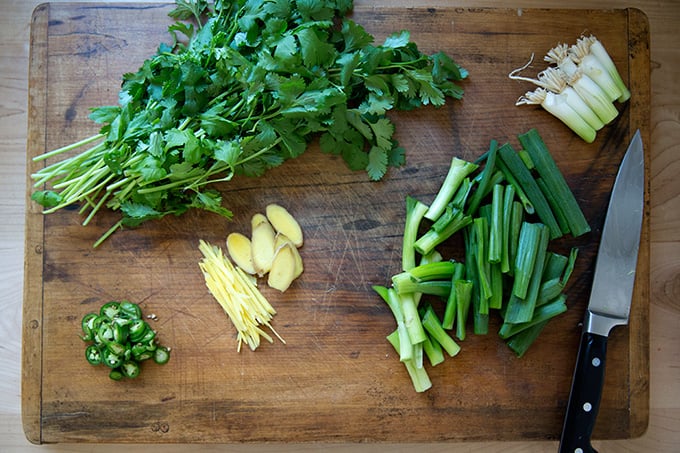 … and some finely for garnish.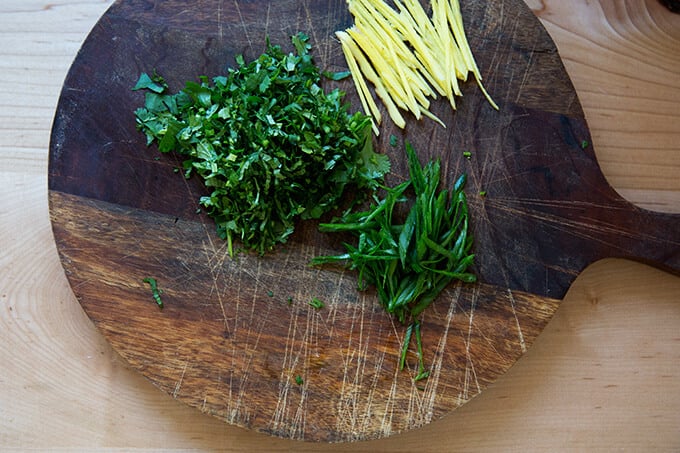 Stir together a simple sauce: soy sauce, sesame oil, sugar, hot chili.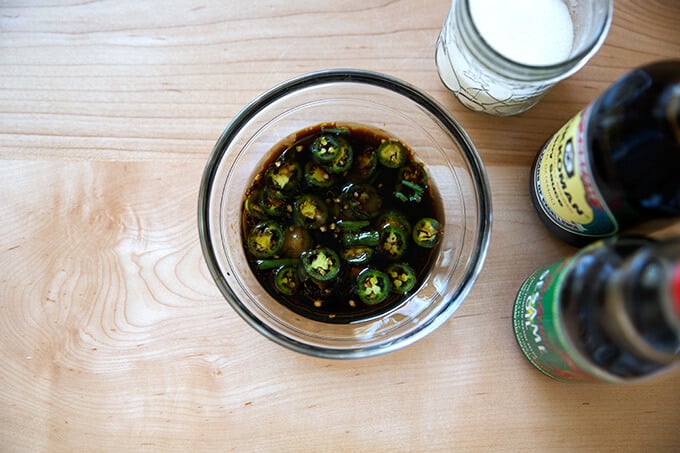 For this recipe, a mild, white-fleshed fish is nice. I'm using Branzino.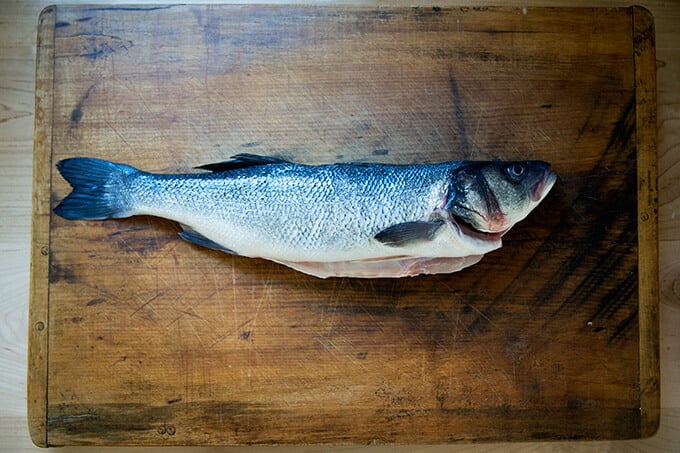 Make slits in the Branzino and stuff each with a coin of ginger and a slice of scallion.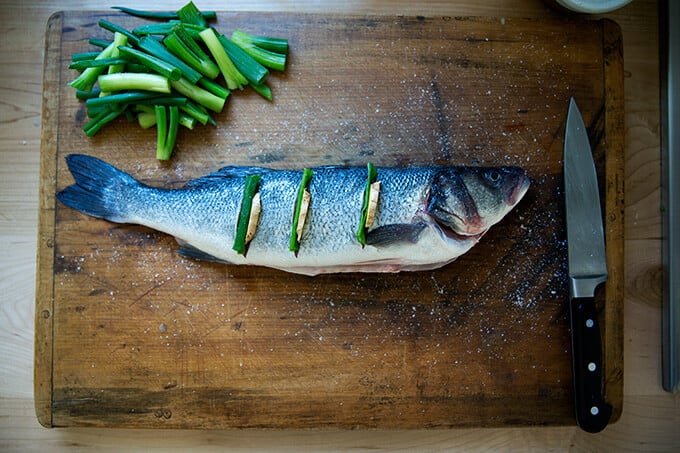 Prepare a steamer basket — I'm using a cooling rack — with cilantro, ginger, and scallions; lay the fish on top.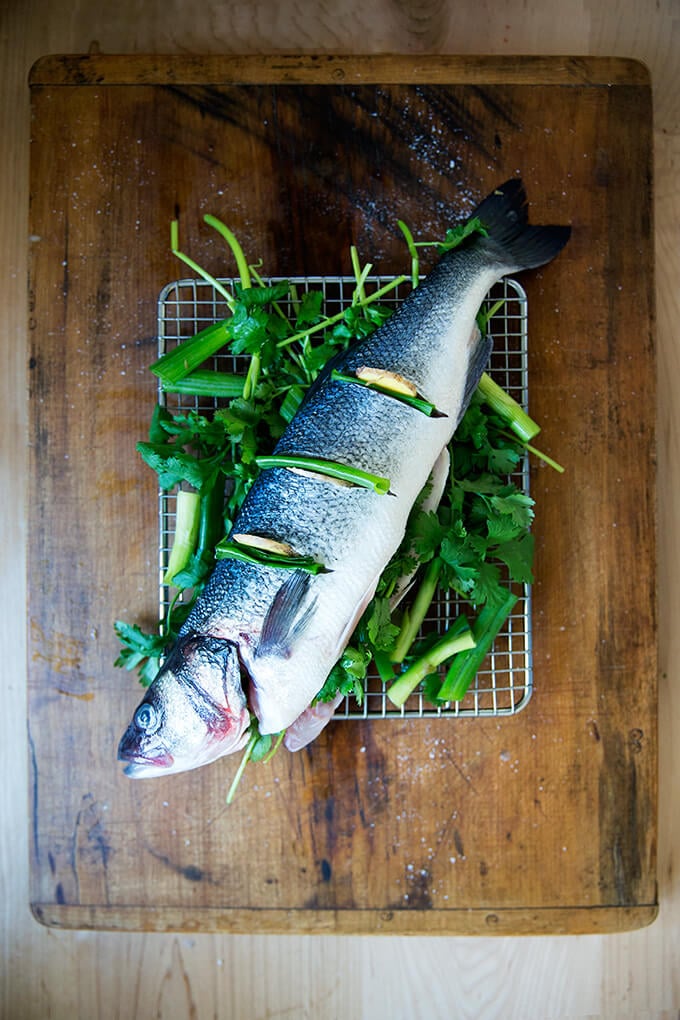 Bring water to boil in a wok or other wide vessel.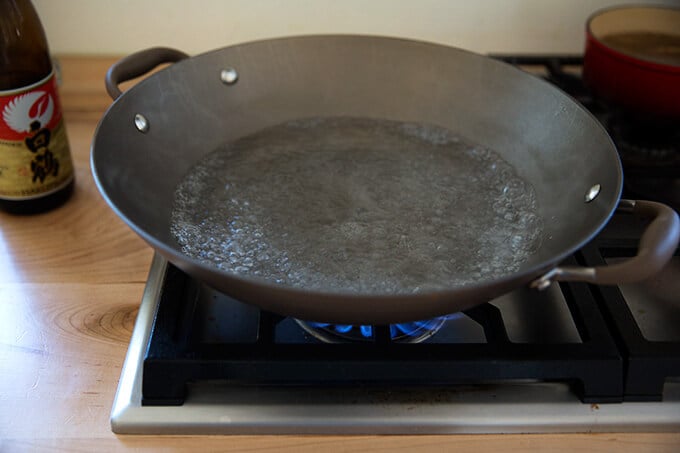 Lower in the fish.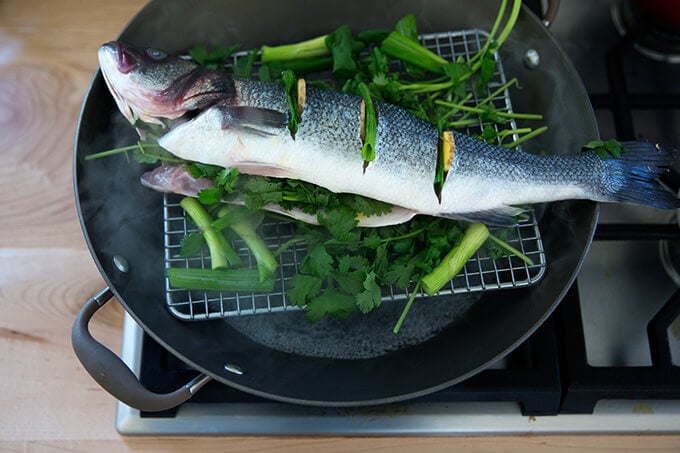 Pour 2 tablespoons of sake over top, then close the lid.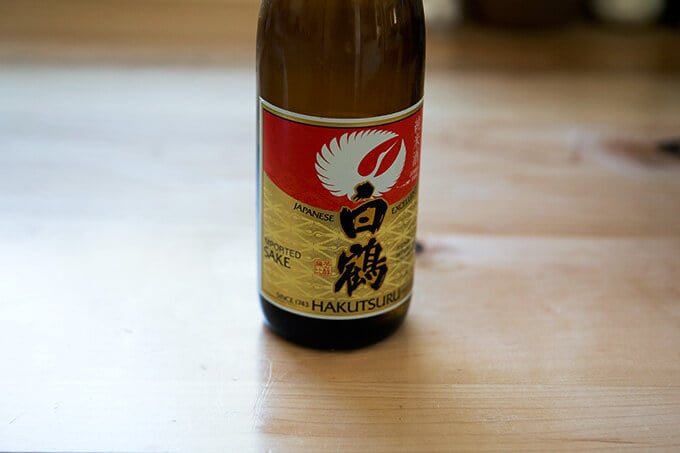 Steam for about 10 minutes. Near the end of cooking, heat 2 tablespoons of olive oil in a small pot until it shimmers.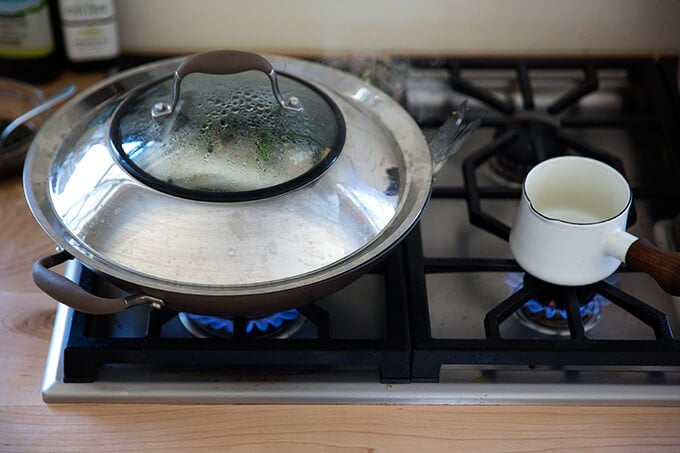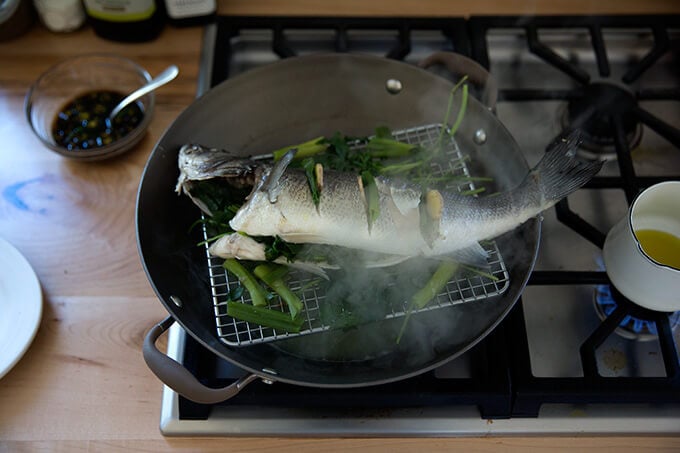 Transfer fish to a platter, and pour the hot oil over top first. Heat the soy sauce mixture in the now empty pot, and pour that over top, too.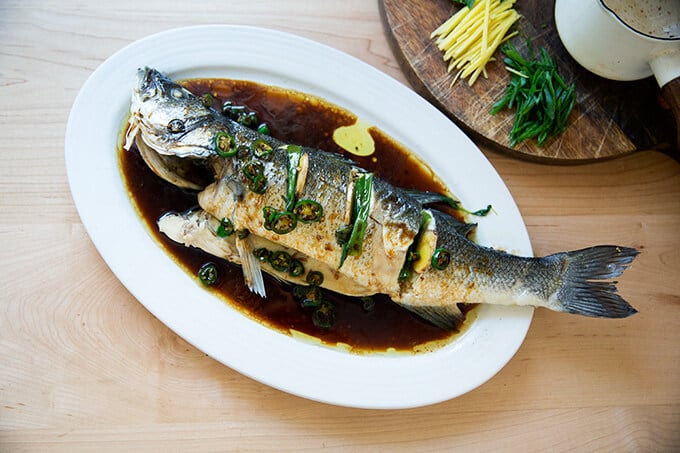 Garnish with slivered ginger and herbs.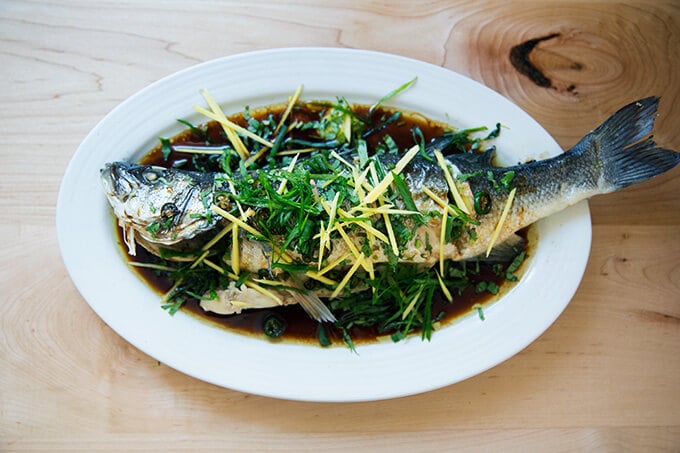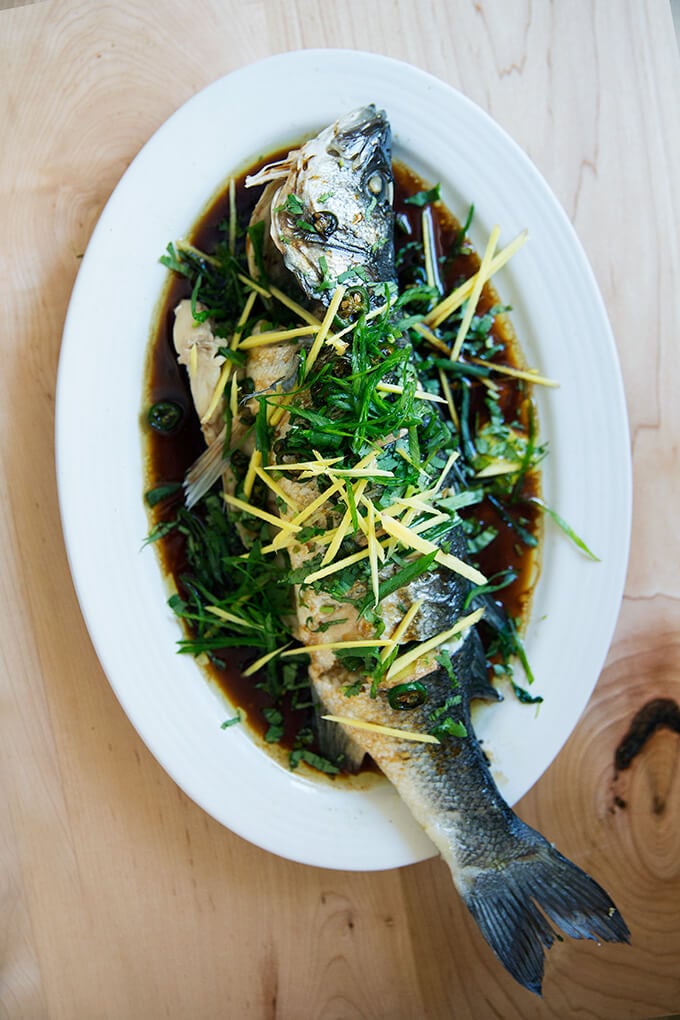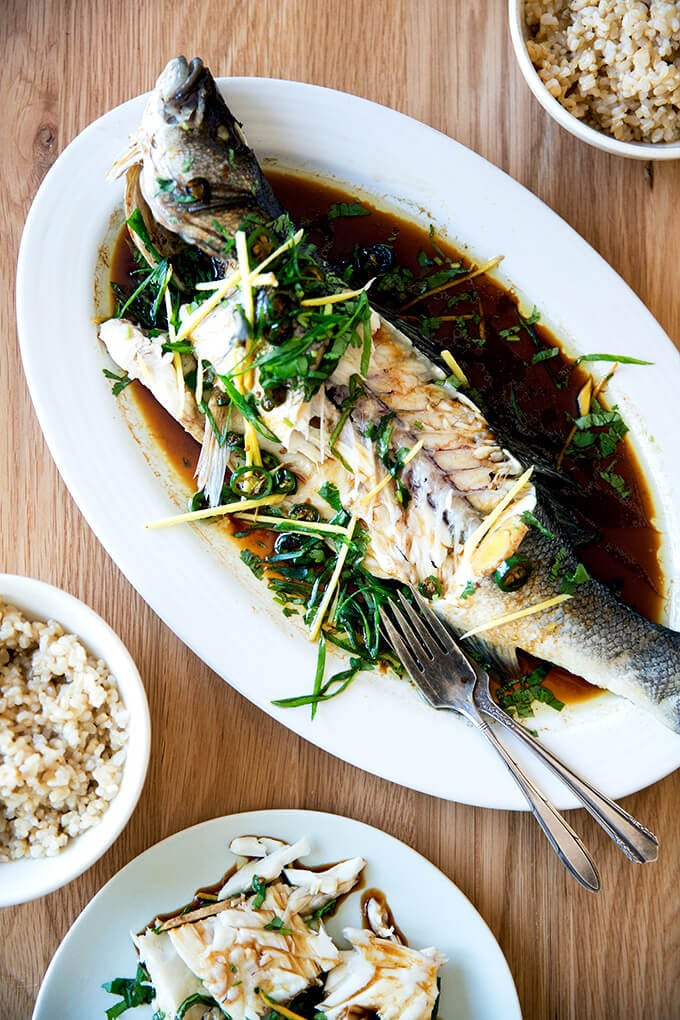 So good with rice.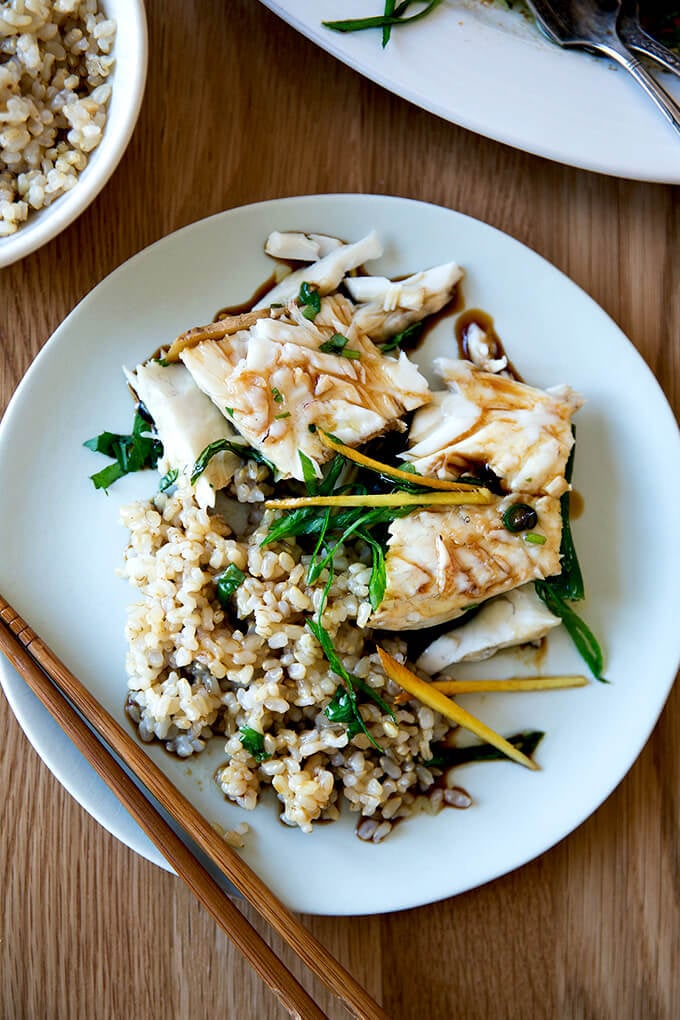 This is the recipe I use: Perfect Instant Pot Brown Rice.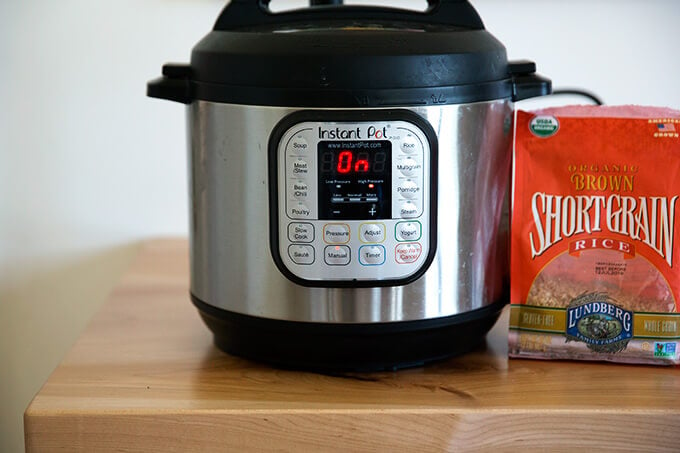 Print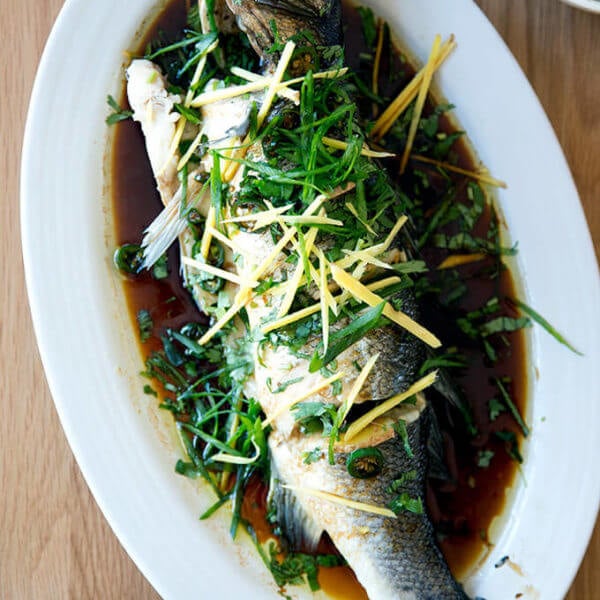 Chinese-Style Steamed Whole Fish with Ginger and Scallions
---
Description
Source: Alana Kysar's Aloha Kitchen
A few notes:
If you serve this with rice, get that going first. I've been making Perfect Instant Pot Brown Rice; just the rice part, not the dressing.
You need a wide pot or pan with a lid for this recipe. The wide shape of the wok is nice because the cooling rack can rest higher up in the pan, allowing water to simmer beneath it without hitting the fish. A whole fish fits nicely inside it, too.
Depending on the size of your fish, you will need to adjust the timing. I've been using Branzino, and each Branzino has weighed about 1.25-1.5 lbs. For this size fish, 9 to 1o minutes steaming is about right. For a 2-lb fish, cook for about 16-20 minutes. Alana calls for Moi or other mild, white-fleshed fish.
---
For the sauce: 
1 tablespoon

sesame oil

1/4 cup

soy sauce

2 teaspoons

sugar

1

hot chili, thinly sliced, optional
For steaming the fish:
1

whole fish, such as Branzino, about

1

–

1.5

lbs
kosher salt and pepper

6

scallions, greens part only, cut into

2

-inch lengths
one

3

-inch piece ginger, sliced crosswise into coins
a few small handfuls of cilantro

2 tablespoons

sake
For finishing: 
2 tablespoons

olive oil (or macadamia nut oil, if you can find it)

1

scallion, green part only, thinly sliced on the bias
one

2

-inch piece ginger, peeled and julienned
small handful of cilantro, finely chopped
---
Instructions
Make the sauce. In a small bowl, whisk together the sesame oil, soy sauce, sugar, and chili, if using. Set aside.
Prepare the fish. Using a paring knife or chef's knife, cut three or four 1-inch slits on each side of the fish through the skin to the bone. Pat the fish dry with paper towels. Season generously all over, inside and out, with salt and pepper to taste. Insert 1 piece of scallion and 1 coin of ginger in each slit. Stuff the fish with half of the remaining scallions and ginger. Stuff some cilantro into the cavity of the fish, too.
Prepare the steamer bed. Lay the remaining cilantro, scallions and ginger on top of a steamer basket — I use a cooling rack. Place the fish on the bed of aromatics.
Steam the fish. In a large wide pot, such as a wok with a lid, bring 2 inches of water to a boil over high heat. Carefully set the steamer basket inside. Pour the sake over the fish. Cover the pan. Reduce heat to medium or low, keeping the water at a simmer. Steam for 9-10 minutes (see notes above), until the flesh is opaque and easily flakes. Transfer the fish to a platter. Discard the aromatics.
Finish the dish. Heat the oil in a small sauce pan over high heat until it starts to fizzle. Pour the oil over the fish. Return pan to burner and pour in the soy sauce mixture. Heat the sauce until it bubbles up — this will happen nearly instantaneously. Pour the sauce over the fish. Scatter the scallions, ginger, and cilantro over top. Note: When I made this on Instagram Stories, a number of people suggested I put the herbs on first, then pour the hot oil and sauce over them — will try this next time and report back. Serve with bowls of steamed rice.
Prep Time:

20 minutes

Cook Time:

10 minutes

Category:

Dinner

Method:

Steaming

Cuisine:

Chinese
Keywords: whole fish, steaming, steamed, Chinese, ginger, scallions
This post may contain affiliate links. Please read my disclosure policy.