Chopped Thai Satay Salad with Peanut-Ginger Dressing
This post may contain affiliate links. Please read my disclosure policy.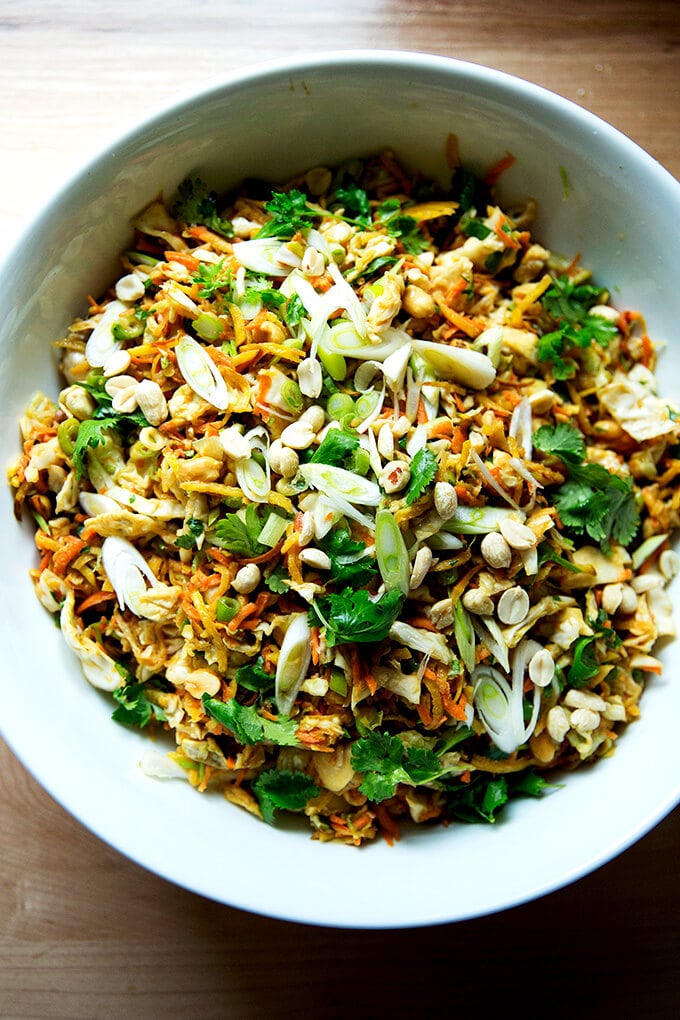 If you love Thai chicken satay or the peanut sauce that accompanies it, you will love this "chopped satay salad." It's essentially chopped vegetables + flavorful dressing + herbs + toasted nuts. It comes together relatively quickly (especially if you have a food processor) and is infinitely customizable given the produce you have access to at the moment as well as to your tastes and preferences.
I've been using cabbage, carrots, and raw beets*, but as the year moves on, I look forward to swapping in bell peppers, cucumbers, snap peas and other seasonal produce. I also could see bulking this up with noodles or leftover roast (or poached) chicken or crispy tofu, as here.
This salad comes from Liz Moody's recently released cookbook, Healthier Together, which is all about, as the title suggests, cooking healthy meals together. But it's not about cooking for a crowd or gathering the masses around the dinner table. Each recipes serves two: you and your cooking pal.
Why cooking for two?
Let's back up. As a wellness blogger and editor, Liz often receives questions about what she eats. And while she is always happy to share the tips and tricks that have helped her on her wellness journey, she also always emphasizes the most important thing she has learned over the years: food is only one piece of the wellness puzzle.
She writes: "Oftentimes those who struggle on their wellness journey have failed to consider the missing piece: the people with whom they choose to journey. Once this piece slides into place, a healthy, satisfying picture emerges."
From her own experience and through her observations, she has seen time and again that someone is more likely to set goals and stick to them when paired with someone else — a spouse, friend, partner, co-worker, or anybody else you love and trust. Makes sense, right?
So who is this book for?
Anyone interested in plant-based cooking. This book does contain meat, but very little, and the recipes that do contain meat are easily adaptable to vegetarian cooking. It is filled with bright, fresh plant-based recipes.
Anyone interested in making healthier choices in a holistic way — this is not a trendy diet book; it's not about sacrifice. The book has already inspired me to add a few handfuls of spinach and a tablespoon of chia seeds to my favorite morning smoothie.
Anyone in need of gluten-free and dairy-free recipes — every recipe in the book falls into each of these categories.
Anyone in need of recipes for two.
All of this said, I would recommend this book to anyone who likes to cook in general but especially for someone interested in plant-based cooking. I didn't know the recipes were gluten-free and dairy-free till I read the back cover, and all of the recipes are easily scalable for those looking to make larger quantities. I have my eye on a number of other recipes: Moroccan-ish Sunset Salad, General Tso's Cauliflower, and Mexican Street Corn and Quinoa Bowl. As always, I'll keep you posted.
How to Make Any Cabbage Salad Better
Salt + massage. Unless you are using a really soft cabbage, such as Napa and sometimes Savoy, cabbage can be very tough and stubborn, and as a result it will not absorb the dressing. If you salt it, briefly massage it, and set it aside for 10 minutes, it will be primed to receive any dressing you wish to toss it with. Here, for half a head of cabbage (roughly 1.5 pounds), I'm using 1/2 teaspoon kosher salt.
*Raw beets are a newish discovery for me, and I love them. They must be thinly sliced, either with a mandoline, as here, or with a box grater or food processor.
Here's the play by play: Gather your ingredients.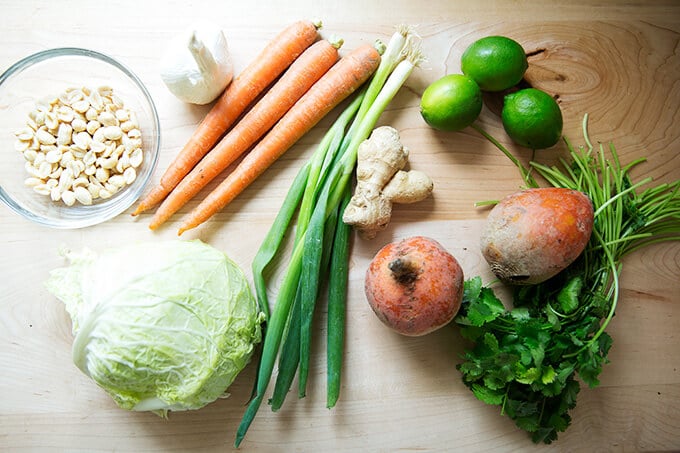 If your cabbage is tough, sprinkle it with salt, gently massage it, and set it aside for 10 minutes or so.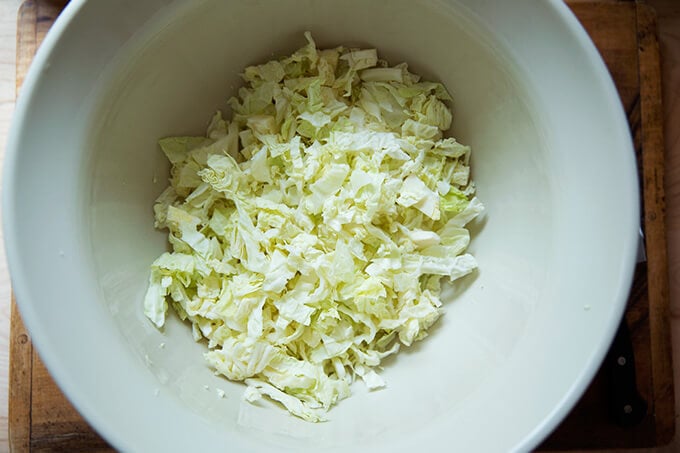 Whisk up the peanut dressing, a mix of fresh lime juice, soy sauce, peanut butter, sesame oil, maple syrup, ginger, and garlic.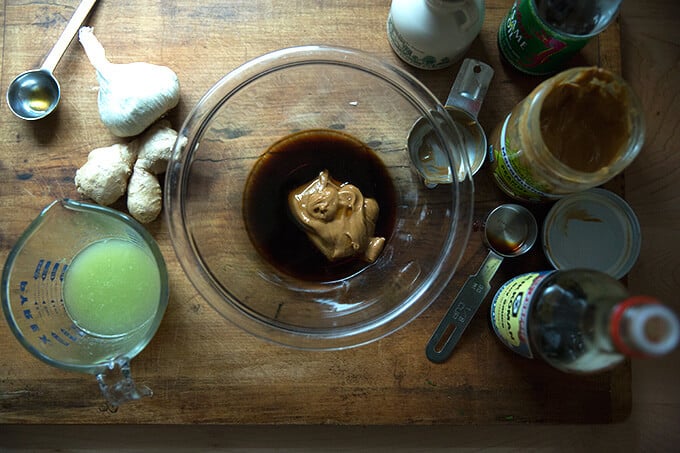 I've been loving this peanut butter. I also really love all of the Maranatha almond butters.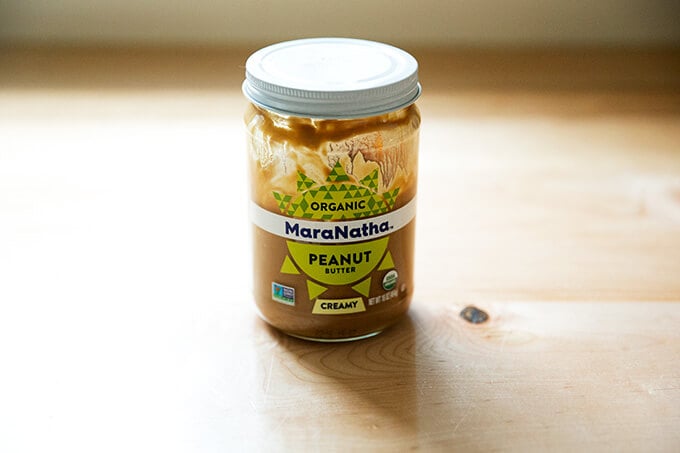 Thai peanut dressing. I get asked about this whisk a lot. It was a gift. This large whipper is similar.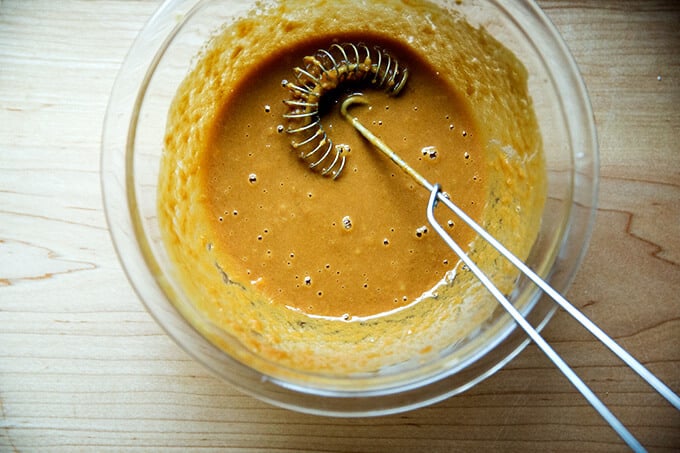 Shred the carrots and beets and any other tougher vegetable in the food processor fitted with the shredder attachment. I love my 14-cup Cuisinart.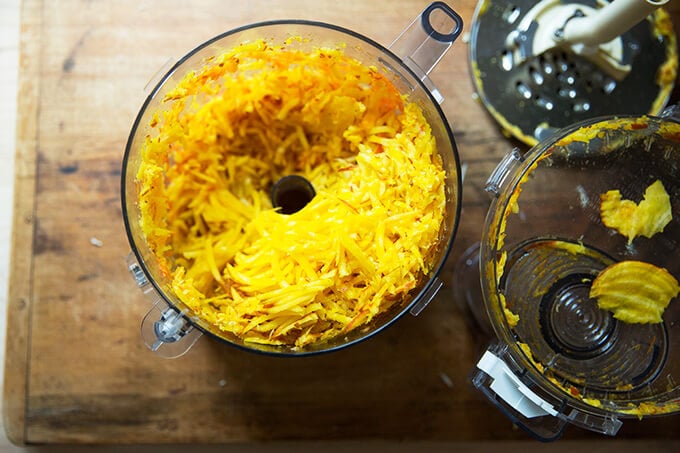 Toss with the dressing.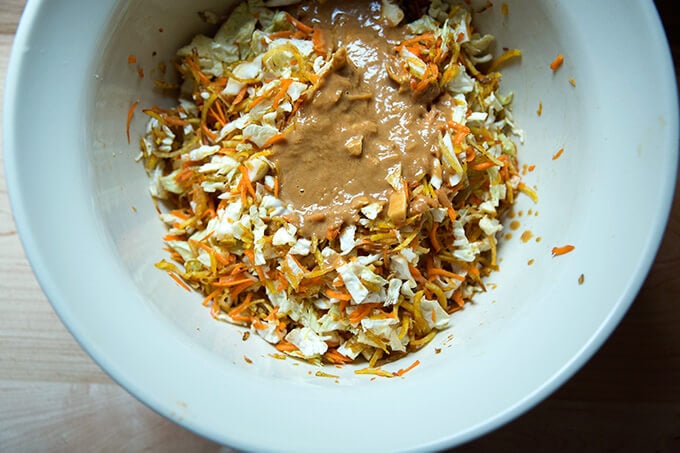 Add toasted peanuts, scallions, and cilantro.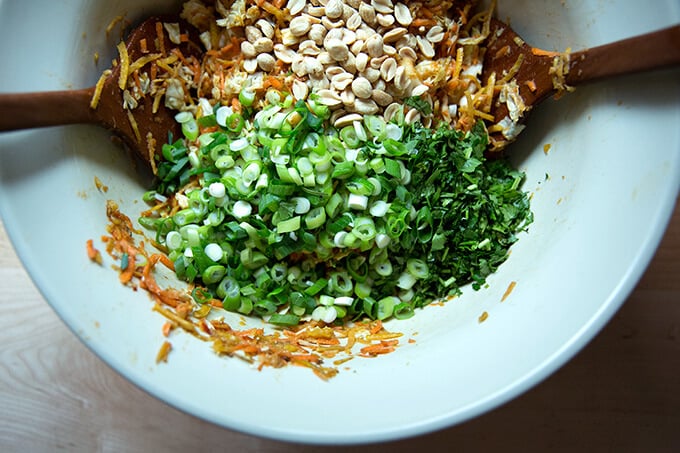 Toss again.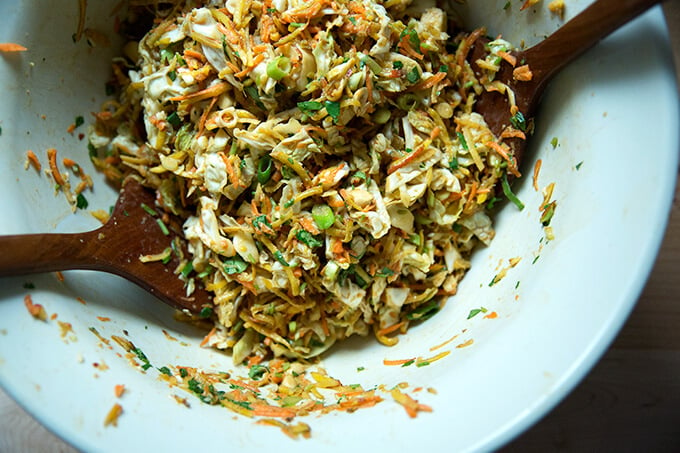 Serve with hot sauce on the side, if you wish.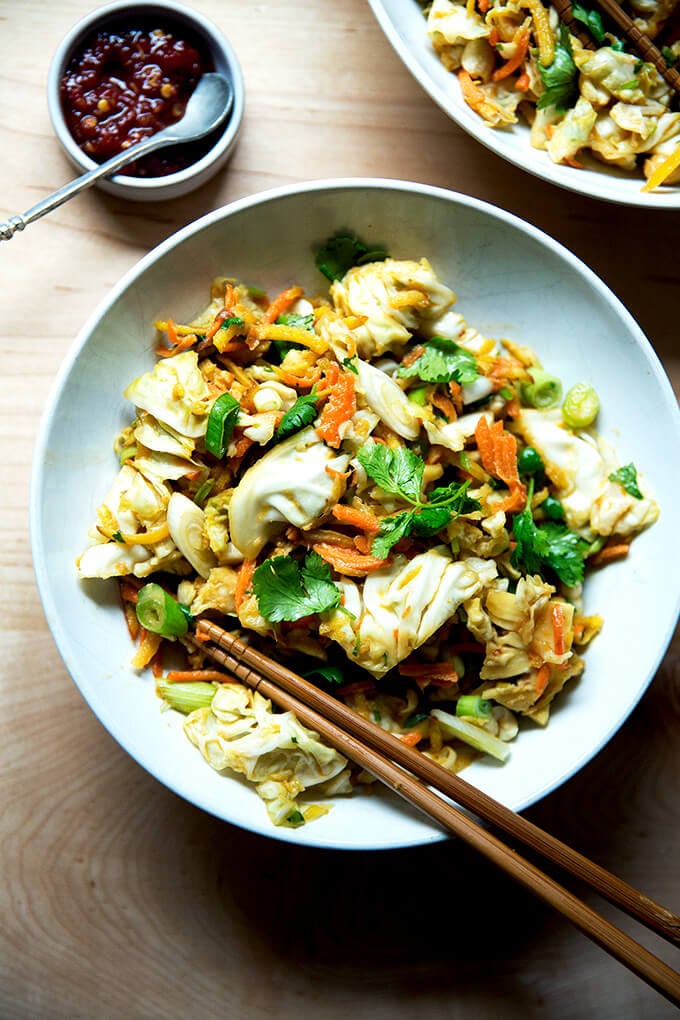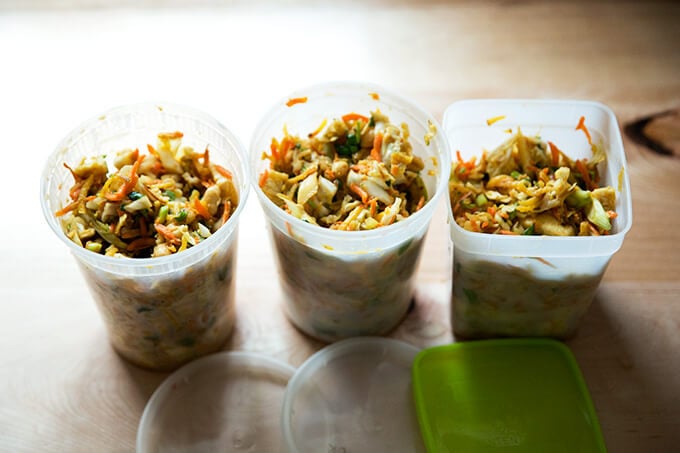 Liz Moody's Healthier Together.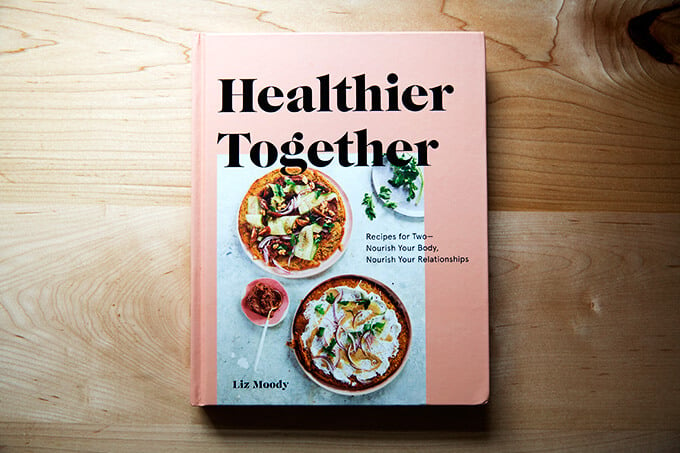 Print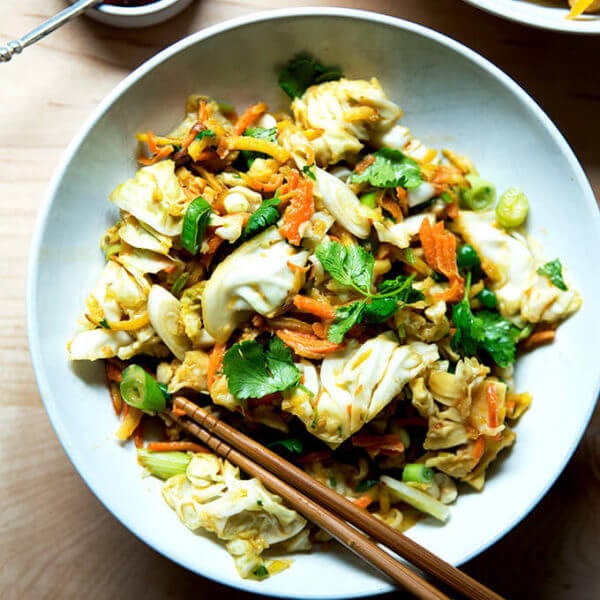 Chopped Thai Satay Salad with Peanut-Ginger Dressing
---
Description
Adapted from Healthier Together
A few notes:
Original recipe calls for red bell pepper, which I will absolutely use come summer time. I've used 2 raw golden beets here instead. I made this once with a couple of small red beets as well, and they work just as well as the golden beets, but if you use them, just know that the entire salad will be stained red.
Use the salad ingredient list as a guide — the dressing is so tasty and would complement so many different vegetables. If you don't like cilantro, you can use parsley instead.
This salad could be bulked up with noodles or a shredded, cooked chicken breast, but you may need to double the dressing.
I love the Maranatha brand of peanut butter, and though I haven't tried, I imagine the dressing would be just as good with almond butter or other nut butter. On that note, if you can't eat peanuts, almonds or cashews would work well in their place.
---
For the salad:
1/2 cup

raw, unsalted peanuts (or other nut)

1/2

head ( about

1.5

lbs.) green or red cabbage

1/2 teaspoon

kosher salt, optional

2

–

3

carrots (about

1/2

lb.), unpeeled, ends trimmed

2

small beets (about

1

lb.), unpeeled, ends trimmed, see notes above

3

to

6

scallions, thinly sliced

1 cup

fresh cilantro, roughly chopped
For the dressing:
1/4 cup

peanut butter or other nut butter

3 tablespoons

fresh lime juice

2

garlic cloves, finely minced or grated

2 teaspoons

grated (or finely minced) fresh ginger

2 tablespoons

soy sauce or tamari

1 tablespoon

sesame oil

1 tablespoon

maple syrup
pinch cayenne, optional
Flaky sea salt such as Maldon
---
Instructions
Make the salad: Heat the oven to 350ºF. Spread the peanuts out in a single layer on a small baking dish. Transfer pan to oven and toast till lightly golden, about 10 minutes.
Shred the cabbage finely and transfer to a large bowl. If your cabbage is a little tough, sprinkle it with the 1/2 teaspoon salt. Toss. Briefly massage. Set aside.
Fix your food processor with the shredder attachment. Send the carrots down the food chute and shred. Transfer to bowl with cabbage. Repeat with beets, transferring beets to the bowl as well.
Make the dressing. In a medium bowl, stir together the peanut butter, lime juice, ginger, garlic, soy sauce, sesame oil, and maple syrup. Season with a pinch of sea salt. Stir until smooth. If necessary, thin with water a tablespoon at a time. Consistently, I've been adding 2 tablespoons of water.
Add dressing to the bowl with the cabbage, carrots and beets. Toss to coat. Add the scallions, cilantro, and peanuts, and toss again. Serve or transfer to storage containers and store in fridge.
Prep Time:

25 minutes

Category:

Salad

Method:

Chopped

Cuisine:

Asian
Keywords: Thai, chopped, salad, satay, peanuts, ginger, soy, garlic, sesame oil, scallions, cabbage
This post may contain affiliate links. Please read my disclosure policy.