The Only Green (Herby, Avocado) Sauce You Need
This post may contain affiliate links. Please read my disclosure policy.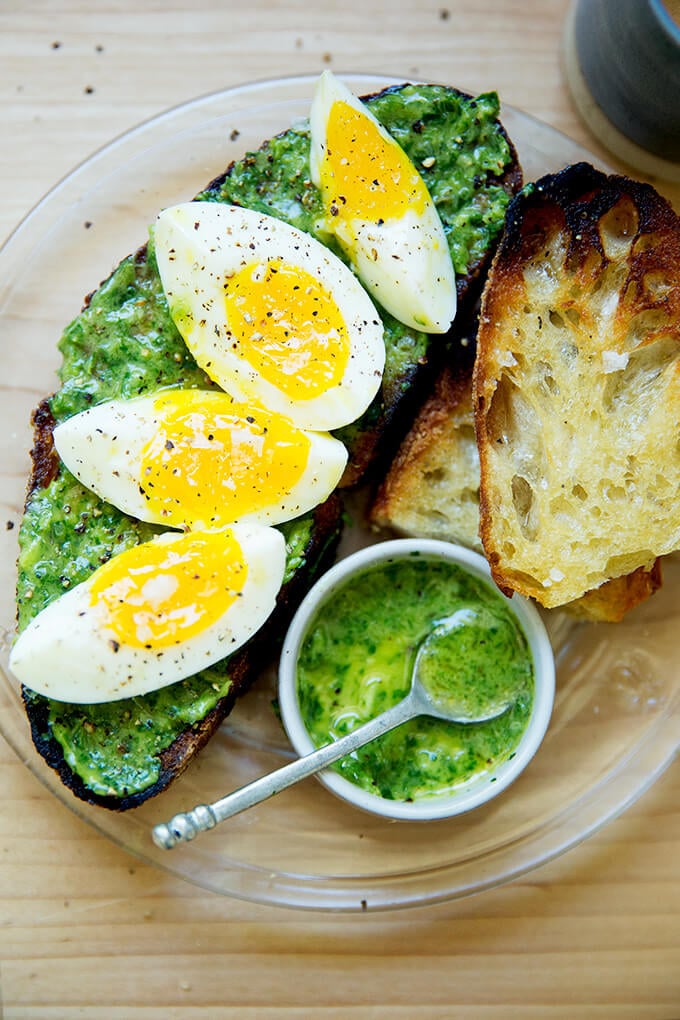 Sarah Copeland, author of The Newly Wed Cookbook and Feast, has a new book out: Every Day is Saturday. It's filled with recipes and strategies for cooking every day of the week, the goal being to keep that weekend-cook mentality going strong all week long.
I have made one and only one recipe, but it's a good one: The Only Green Sauce You Need.
It's a mix of herbs, olive oil, lemon juice, garlic, and something with body: avocado, miso, nuts or tahini. I went the avocado route and took Sarah's suggestion to smear if over toast, which I then topped with a 7-minute egg and sea salt. No regrets.
I've since used it another toast with sliced, mashed avocado — avocado on avocado is never a bad thing, right? I've also smeared it over — wait for it — more toast, which I then topped with salted cucumber ribbons and dukkah (see below).
But the uses for this sauce extend far beyond toast ..
How To Use This All-Purpose Green Sauce
Use this green sauce as…
… a dip for veggies.
… a spread in sandwiches.
… a sauce for grilled fish or shrimp.
… a condiment for fried eggs.
… a flavor swirl (that's a thing, right?) in savory yogurt bowls.
… a dressing for roasted vegetables or chicken.
… and, of course, a smear for toast.
There is nothing you won't want to slather this sauce on all summer long.
Here's the three-step play-by-play: 1. Gather your ingredients. Roughly chop the herbs, juice the lemon, peel the garlic, scoop out some avocado flesh.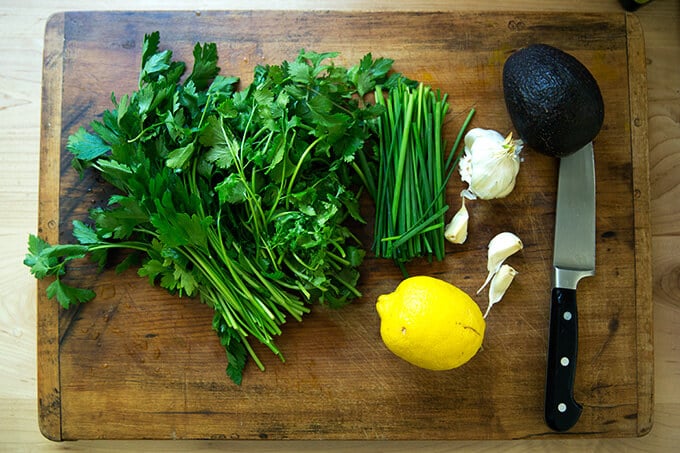 2. Throw the ingredients in a food processor or blender.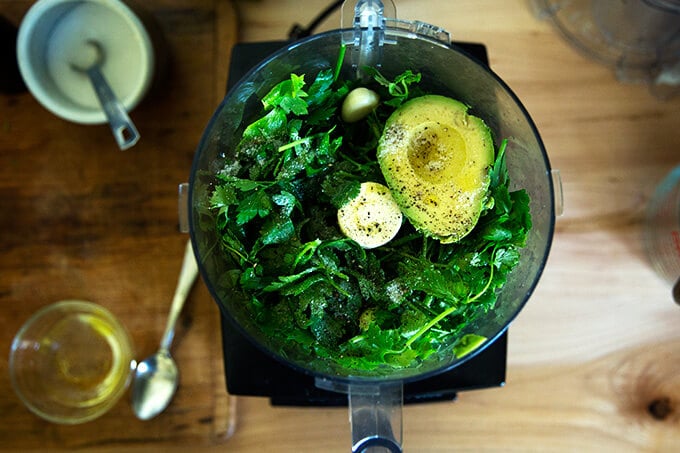 3. Pulse till blended but with a bit of texture. Adjust flavor as needed.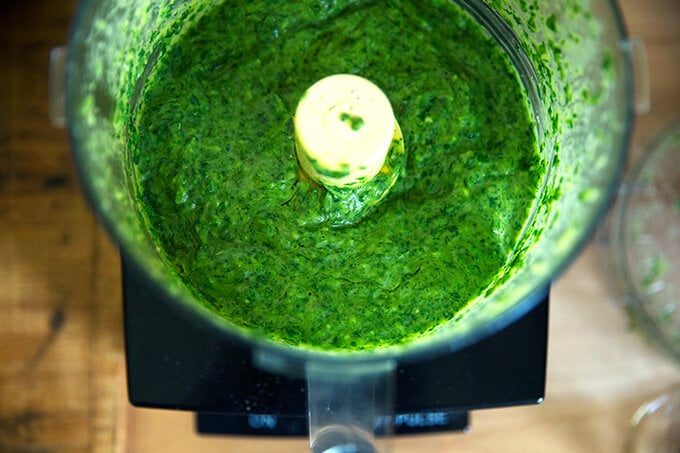 How to use it? The possibilities are endless, but I highly recommend you start here: olive oil toast + jammy eggs.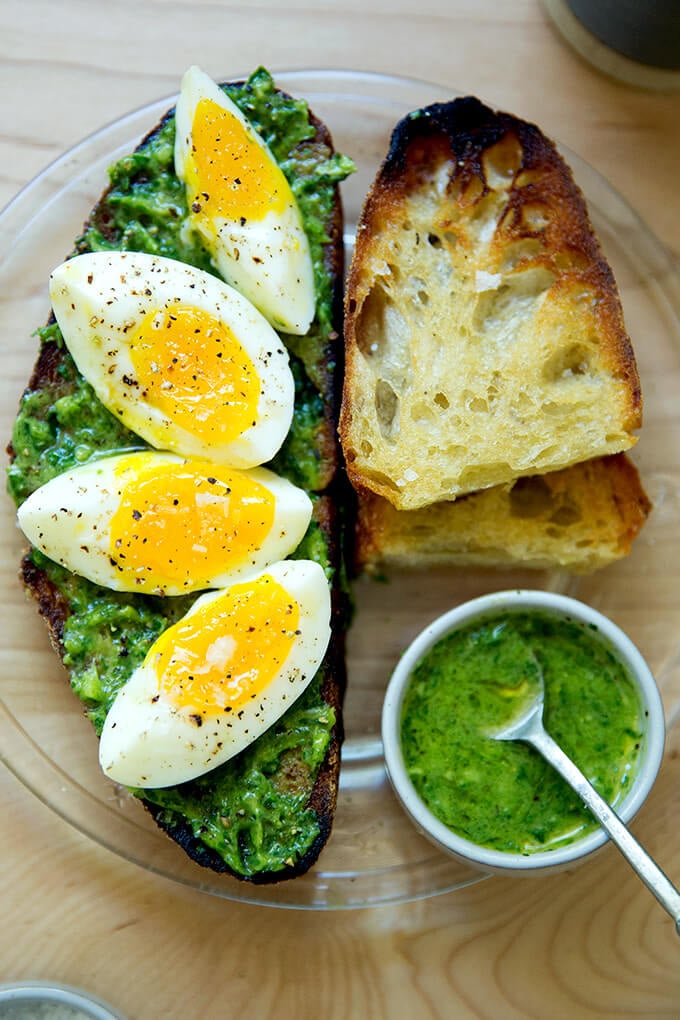 Then here: Olive oil toast + salted cucumber ribbons + dukkah.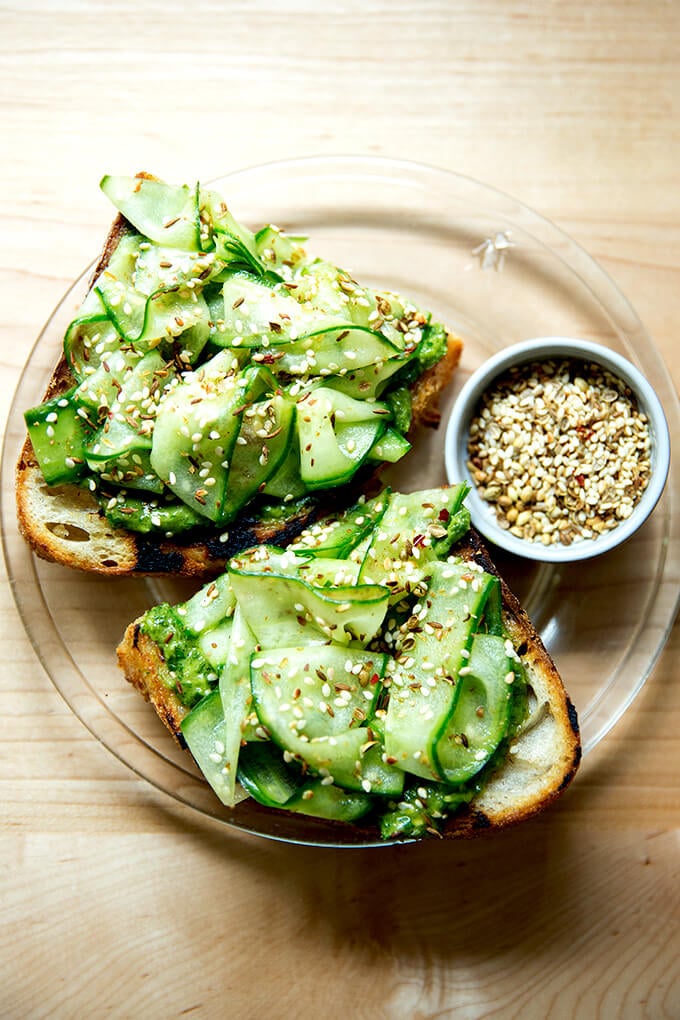 Sarah Copeland's Every Day is Saturday: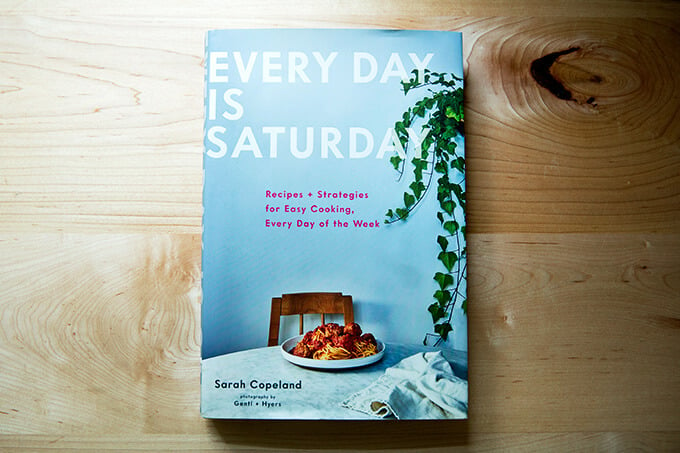 Print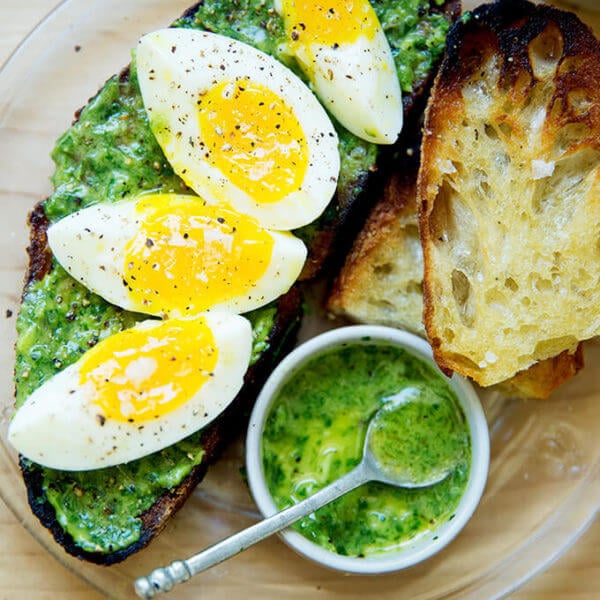 The Only Green Sauce You Need
---
Description
From Sarah Copeland's: Every Day is Saturday.
I love the versatility of this sauce — I find myself dipping carrots into it when I need a snack to slathering it over toast for lunch to tossing it with grilled shrimp for dinner.
Avocado: I love the creaminess the avocado lends here, but in place of it you could use something, as Sarah says, "with body." She offers miso, nuts, and tahini as alternatives to the avocado. I've been cutting 1 avocado in half and using the smaller half for this recipe.
---
For the green sauce:
1

bunch (about

3 cups

, 3 ounces) fresh parsley, cilantro, arugula, mustard greens or a mix, roughly chopped

1

small bunch chives (about

1 ounce

), roughly chopped
Juice of

1

lemon or lime (about

2 tablespoons

), plus more to taste

1

clove garlic, peeled

1/4 cup

olive oil, plus more to taste

1/4 cup

avocado (see notes above)

3/4 teaspoon

sea salt

1/2 teaspoon

freshly cracked black pepper
For the eggs + toast:
eggs, however many you need
extra-virgin olive oil
good bread, sliced thickly
flaky sea salt
---
Instructions
To make the sauce: Add the greens (stems and all), chives, lemon juice, garlic, olive oil, avocado, salt, and pepper to a blender or food processor. Pulse until broken down — add water by the tablespoon as needed to thin and get the blade whirring. Scrape down and pulse again until the sauce is broken down and easy to dollop with a spoon. Taste. Adjust taste as needed with more lemon, olive oil, salt, and pepper. Adjust consistency with more water or olive oil by the tablespoon.
To make the toast: bring a small (or large depending on how many eggs you are cooking) pot of water to a boil. Prepare an ice bath. Carefully lower the eggs into the pot of boiling water. Adjust heat so water is gently simmering. Cook 7 minutes. Transfer eggs to ice bath.
Meanwhile, heat a skillet over medium-high heat. Add a tablespoon (or more depending on how many slices of bread you are toasting) of olive oil. Toast bread on each side for 1-2 minutes, checking often to ensure the slices are browning evenly. Remove toast when the slices are golden and crisped to your liking.
Smear green sauce over a slice of toast. Peel an egg. Cut it directly over the slice of toast into quarters. Sprinkle with sea salt. Repeat with any remaining slices of toast and eggs.
Prep Time:

5 minutes

Category:

Sauce

Method:

Food Processor

Cuisine:

American
Keywords: sauce, green, herbs, avocado
This post may contain affiliate links. Please read my disclosure policy.