16 Spring Recipes to Make Right Now
This post may contain affiliate links. Please read my disclosure policy.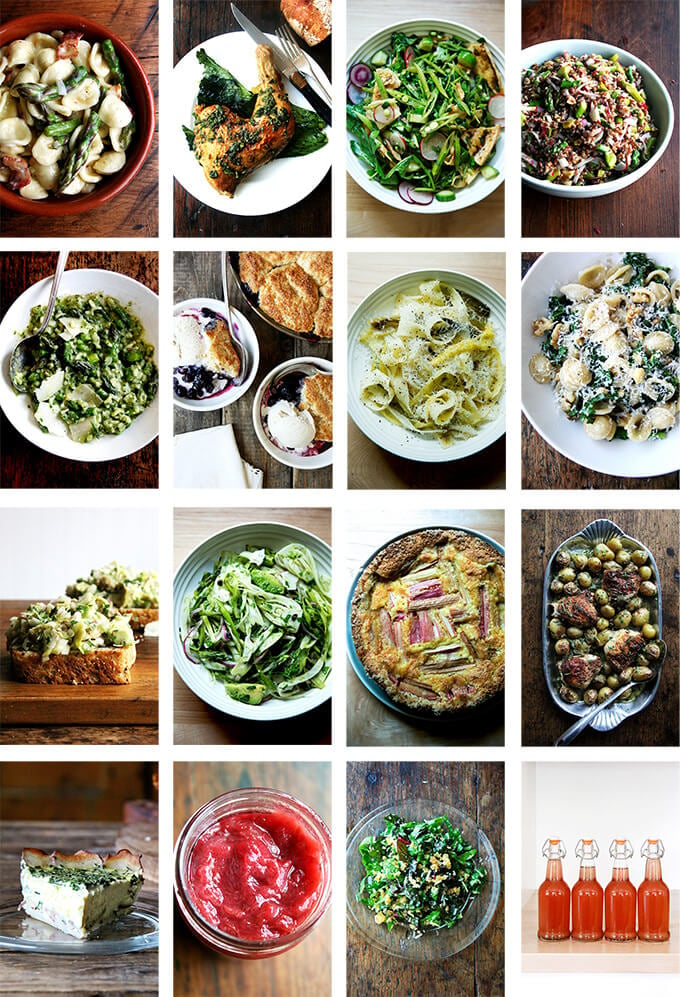 Asparagus and ramps. Blueberries and rhubarb. Fennel and radishes. Baby chard and snap peas: Spring! I love you. The warmth is slowly but surely arriving upstate. Here are 16 favorite spring recipes to make right now.
Bottle it up. Preserve it. Pickle it. Don't let spring pass without giving these recipes a try!
The Crispiest Spring Chicken The herby sauce for this chicken is SO delicious.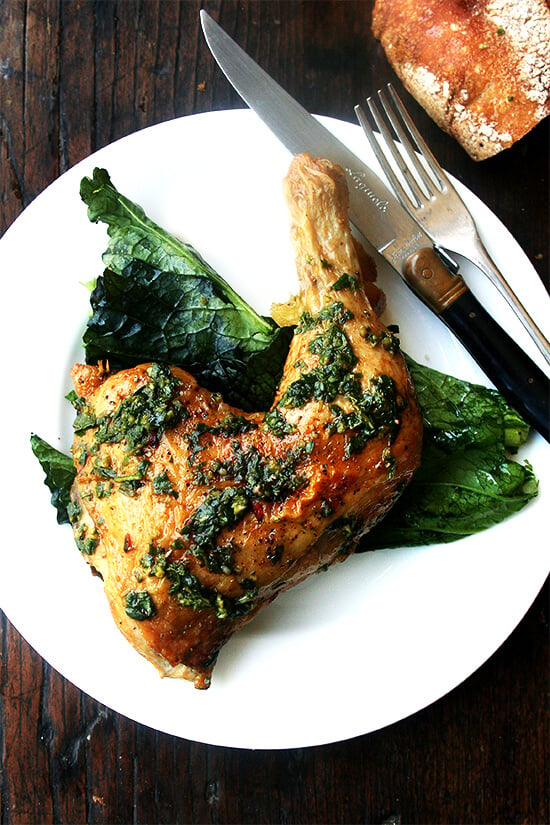 Spring Fattoush Salad This dressing is seasoned with both pomegranate molasses and sumac, and the whole combination with the crisp spring vegetables and toasty pita chips is just so refreshing and good.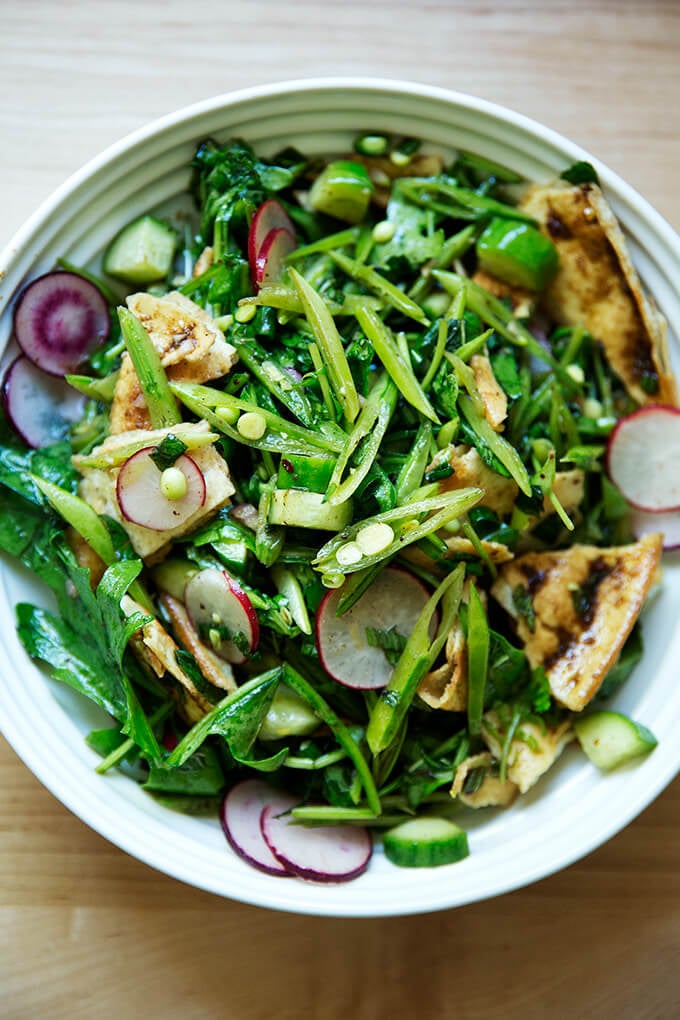 Mark Bittman's Super Asparagus-y Risotto Here asparagus get incorporated into the risotto in two ways: as both a purée and in whole form (cut up, of course), which gives the risotto a nice variety of textures as well as a super-asparagus-y flavor.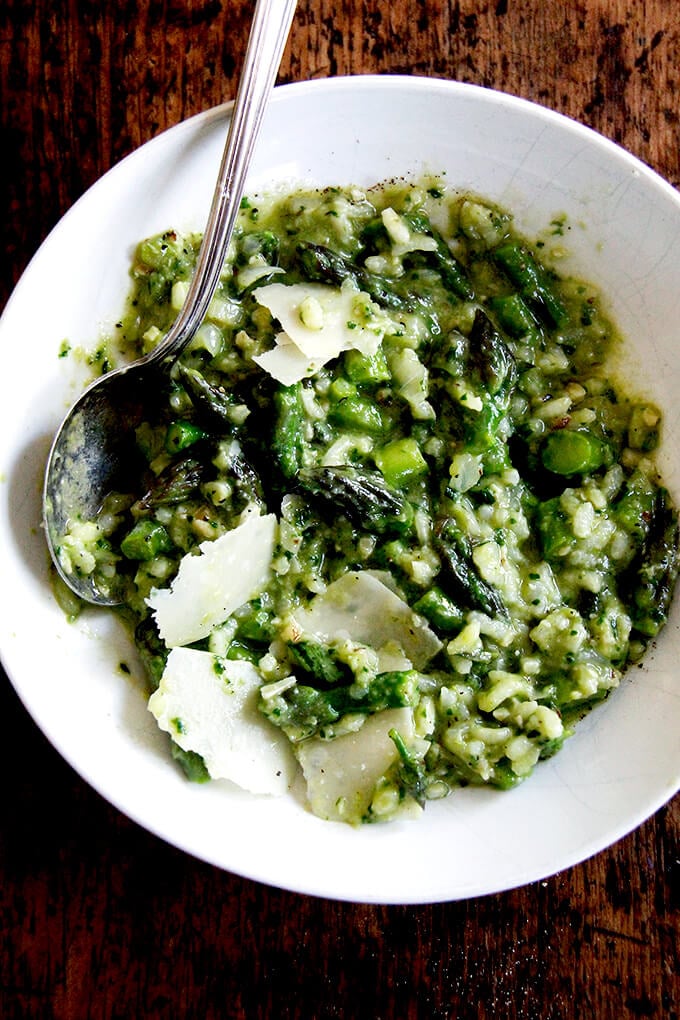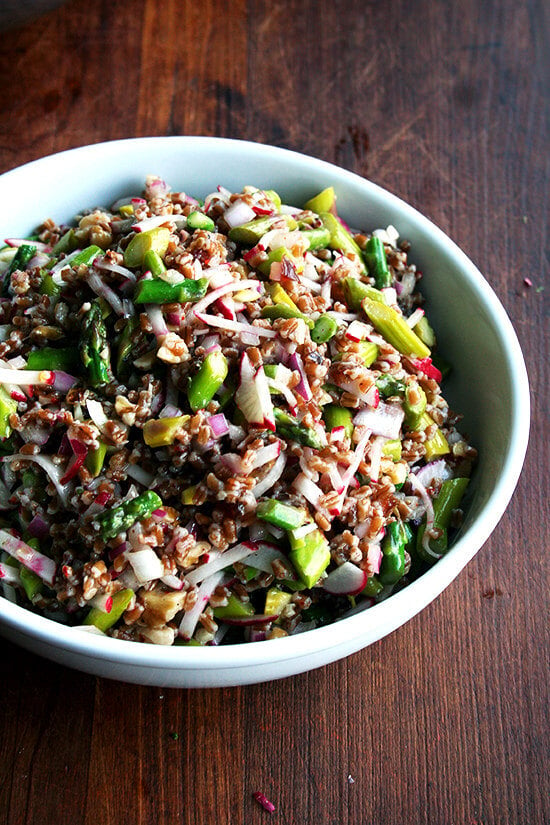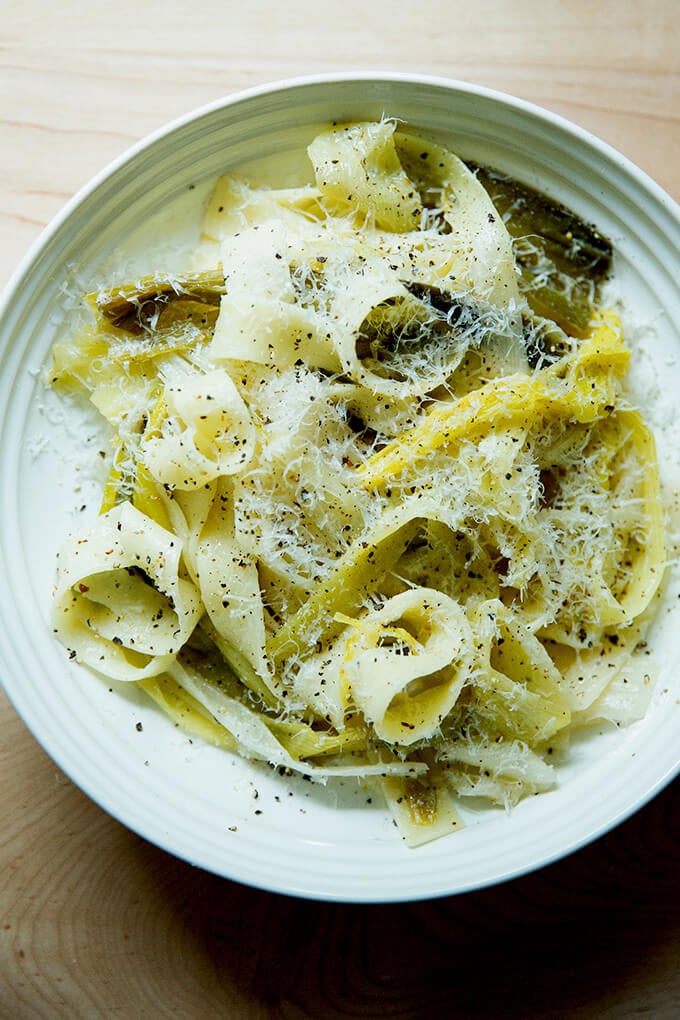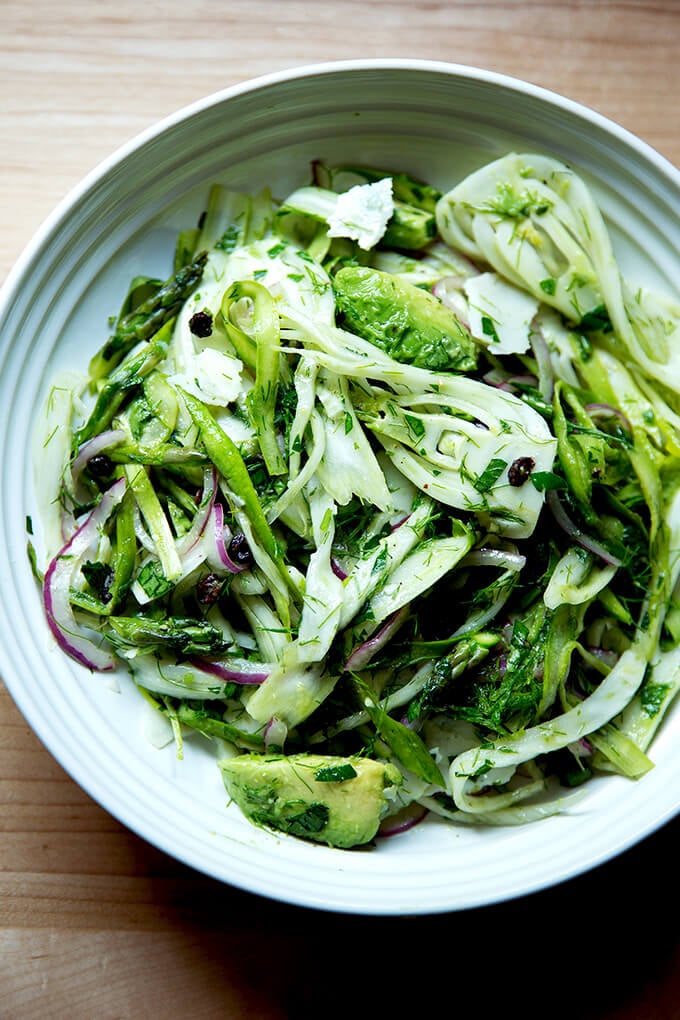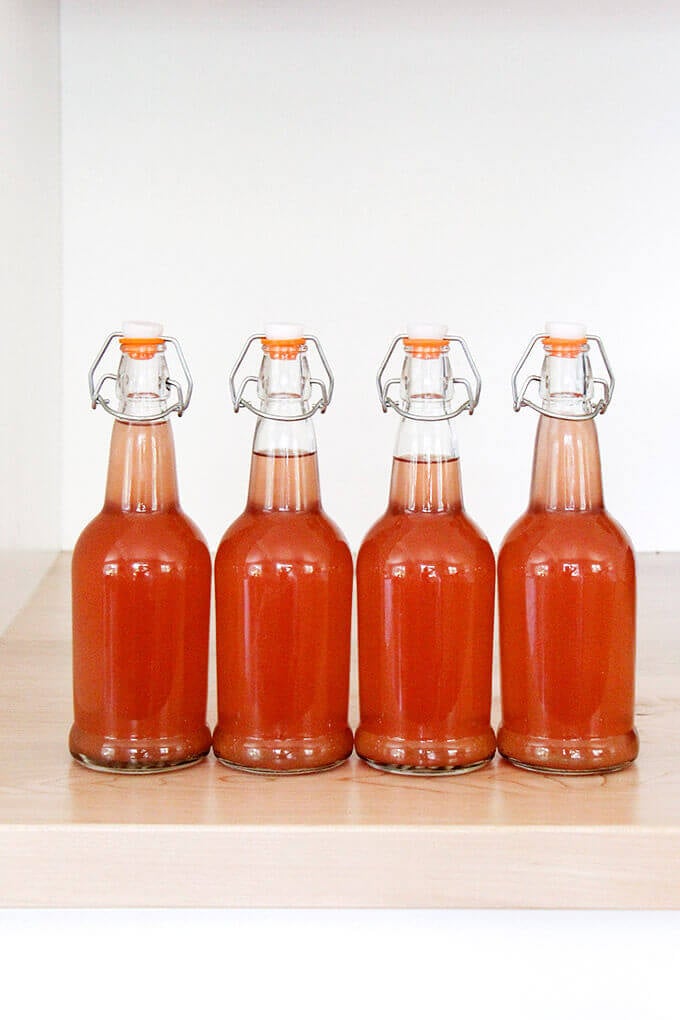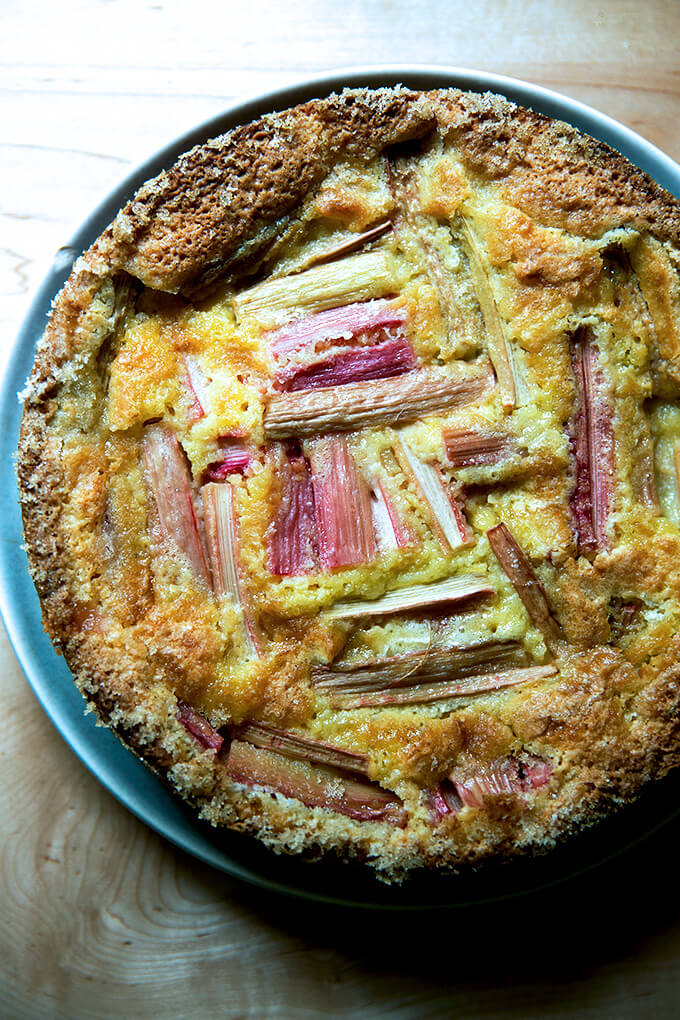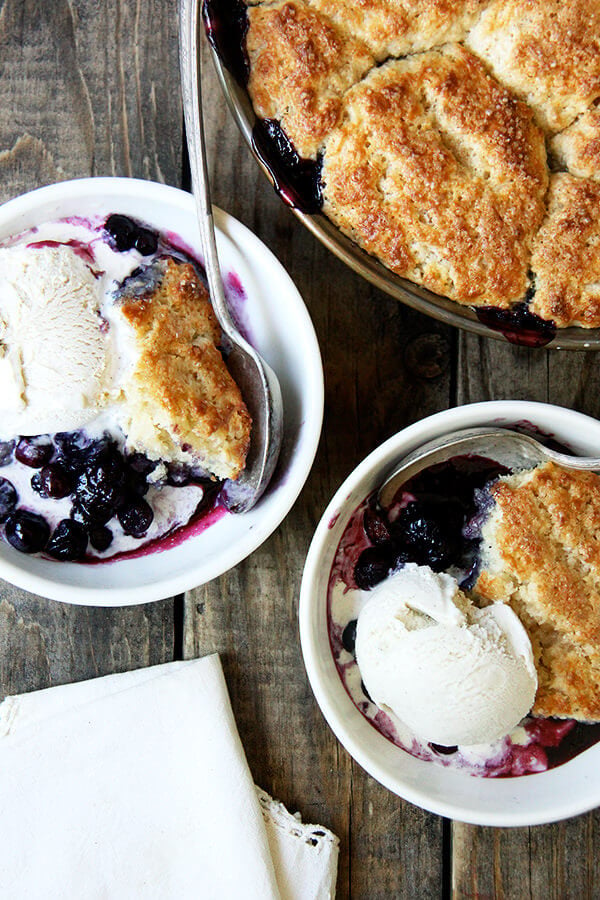 One Pan Chicken with Potatoes & Tarragon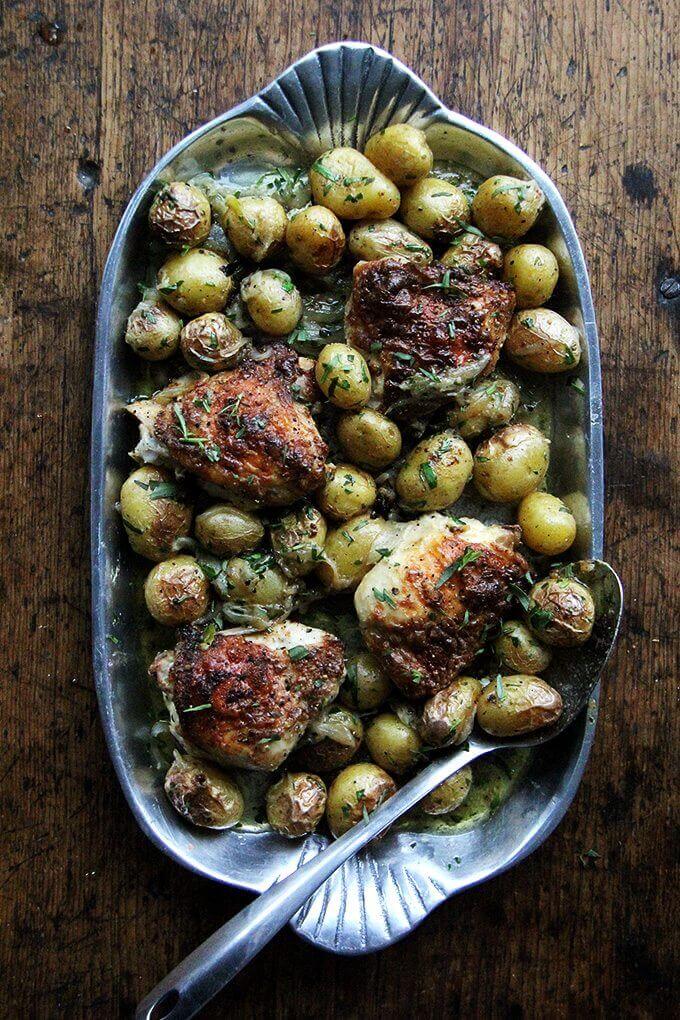 Orecchiette with Swiss Chard, Brown Butter, & Walnuts In this simple pasta recipe, you drain the pasta over Swiss chard, which wilts it slightly. Toasted walnuts + brown butter bring it all together.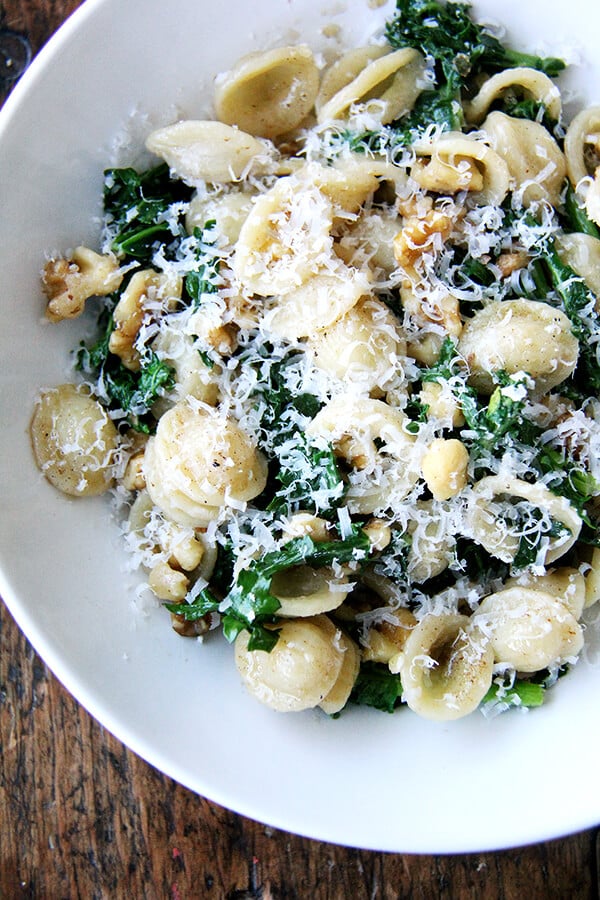 Rhubarb Jam Flecked vanilla, this rhubarb jam is a perfect way to preserve spring for months to come.
Swiss Chard Salad with Lemon and Bread Crumbs You've likely made a raw kale salad, but have you given Swiss chard the same treatment? You'll be hooked.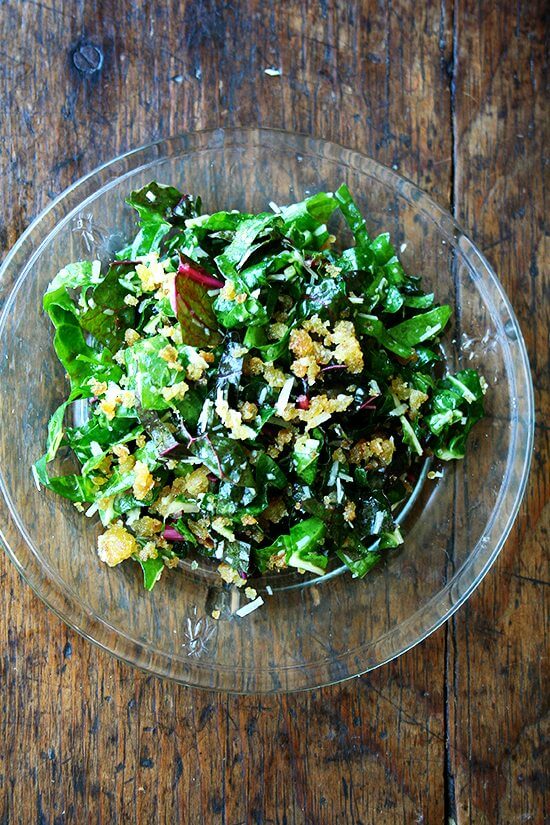 Tartine's Quiche, Potato Crusted The custard for Tartine's quiche is the best I've ever tasted. Here, thinly sliced potatoes replace a traditional buttery pastry crust.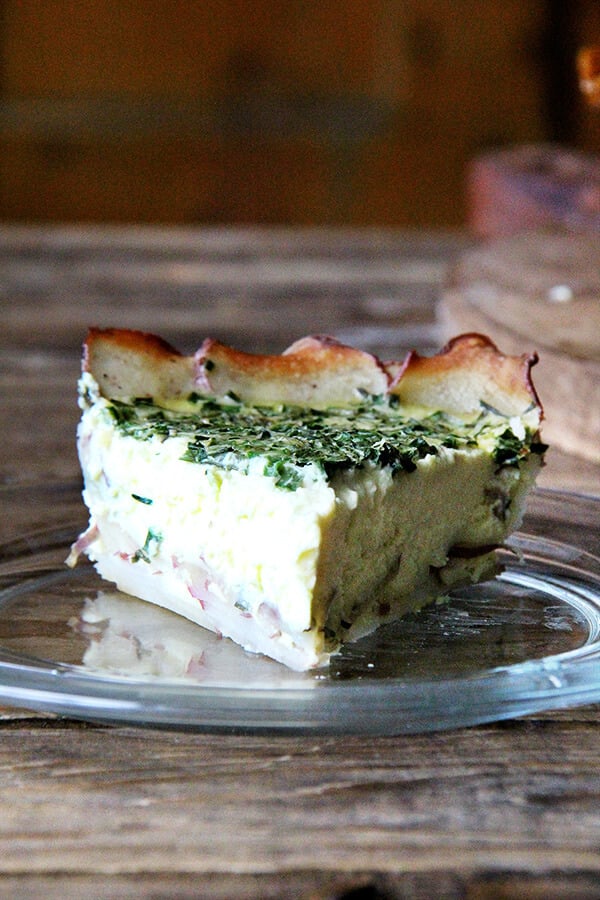 Smoked Trout and Avocado Salad Toasts This simple salads is the reason I always stock Trader Joe's smoked trout — with a good avocado on hand, dinner can be ready in a flash.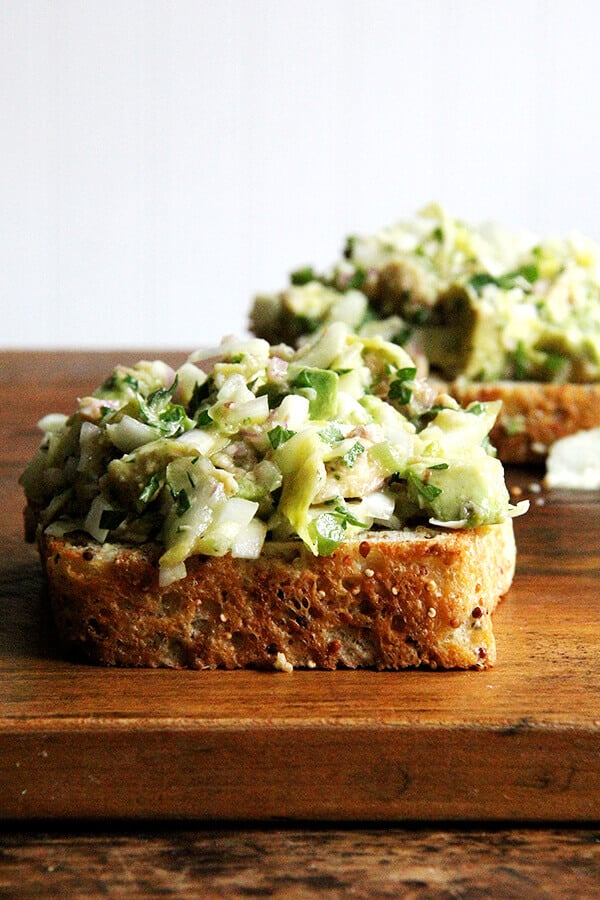 Pasta Carbonara with Leeks & Asparagus Here asparagus blanch with the pasta during the last minute of cooking, which is a simple trick you can use with all of your favorite springtime pasta recipes.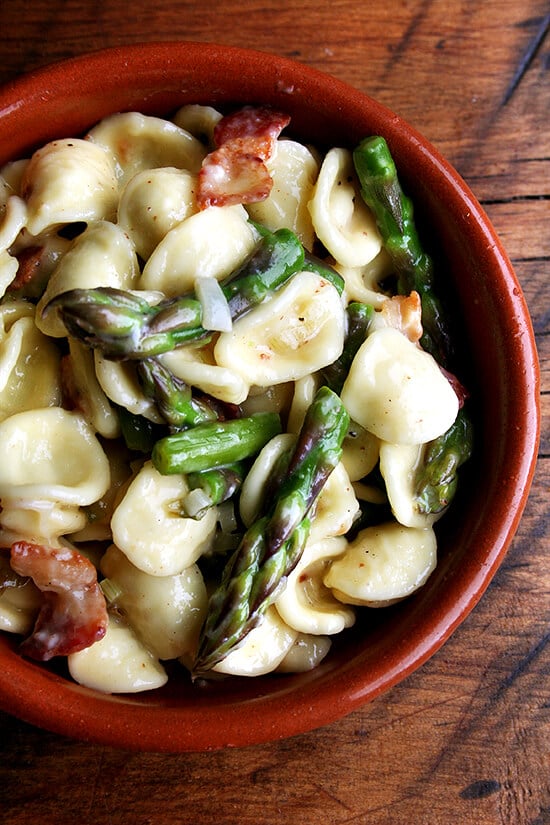 Print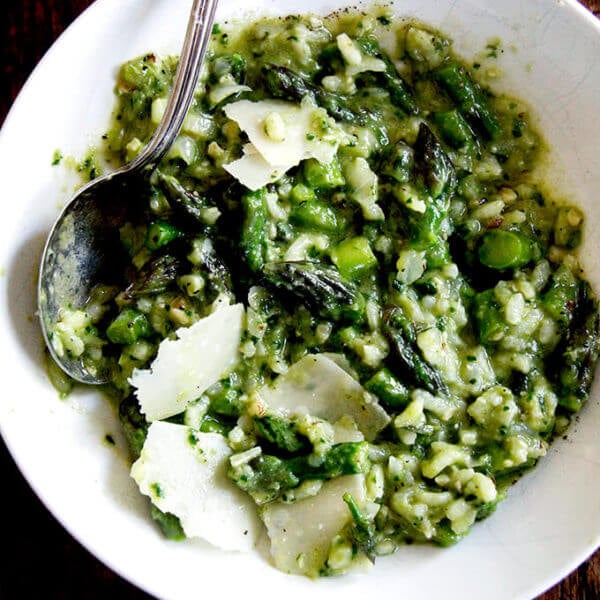 16 Spring Recipes + Asparagus Risotto
---
Description
Adapted from Gourmet and Mark Bittman's recipe in The New York Times
I use the asparagus-cooking water as the water for the risotto, and it works nicely, so don't feel you have to raid your freezer for stock. Water works great, too.
---
2

lbs. asparagus

4

to

6

cups water or vegetable stock, see notes above

2 tablespoons

butter or extra virgin olive oil

1

onion, diced finely to yield a cup

1 cup

semi-pearled farro or arborio or carnaroli rice

½ cup

dry white wine or prosecco

1

heaping tsp. kosher salt

½

to

¾

cup (or more or less to taste) grated Parmigiano Reggiano

½ cup

toasted, coarsely crushed hazelnuts, optional

¼

to

1/2

cup finely chopped parsley, optional
---
Instructions
Prep the asparagus. Bring a pot of water to a boil. Add 1 tablespoon kosher salt. Trim off the asparagus tips and set aside. Divide the stalks into two equal portions. Coarsely chop one portion—this is going to get boiled and puréed. Chop the remaining portion into 1/4- to 1/2-inch slices and set aside with the tips. Boil the coarsely chopped asparagus stalks until soft, about five minutes. Use a spider or slotted spoon to remove the stalks from the pot and transfer to a colander. Rinse quickly under cold water or put in ice water; then drain and transfer the asparagus to a blender or food processor. Purée until smooth. Set aside. Boil the asparagus tips and thinly sliced stalks for 2 minutes more; then use a spider or slotted spoon to remove the asparagus pieces from the pot and transfer to a colander. Rinse quickly under cold water or put in ice water. You can use the pot of asparagus-cooking water as your risotto making liquid if you wish.
Make the risotto: Put stock or water in a medium saucepan over low heat. (If you are using the asparagus water, there's no need to do this.) Put butter in a large, deep skillet or pot over medium heat. When it is hot, add onion, turn heat to low, and cook, stirring occasionally until it softens, 5 to 7 minutes.
Add farro or rice and cook, stirring occasionally, until it is glossy, about 2 to 3 minutes. Add white wine or prosecco, stir, and let liquid bubble away. Add the salt. Add warmed stock (or asparagus water) ½ cup or so at a time, stirring occasionally. Each time stock has just about evaporated, add more.
After 30 minutes, begin tasting the risotto. You want the grains to be tender but with a bit of crunch; it could take as long as 45 minutes total to reach this stage. When it does, stir in the asparagus purée and the remaining pieces of asparagus, being sure to drain the asparagus pieces first.
Stir to combine. Remove skillet from heat, add cheese, hazelnuts (if using), and parsley (if using). Stir. Taste and adjust seasoning if necessary. Serve immediately.
Prep Time:

20 minutes

Cook Time:

1 hour

Category:

Dinner

Method:

Stovetop

Cuisine:

American, Italian
Keywords: risotto, asparagus, spring
This post may contain affiliate links. Please read my disclosure policy.