Addictive Black Lentils with Spinach
This post may contain affiliate links. Please read my disclosure policy.
This recipe for black lentils with lightly caramelized onions and spinach is super simple and delicious. The key? A hefty splash of balsamic vinegar that reduces in the pan, offering both sweetness and acidity. Served over a schmear of lemony Greek yogurt sauce or labneh, this has become a favorite weeknight meal.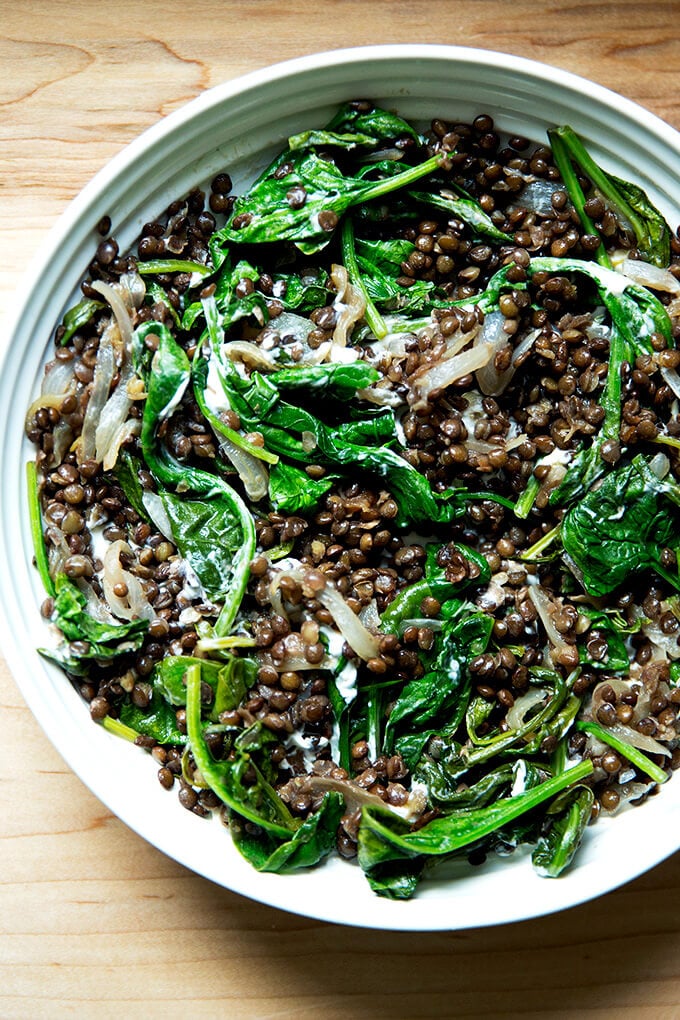 Black lentils cook quickly, hold their shape, and have a nice texture and flavor. They behave very similarly to French green lentils but cook more quickly. Friends, do you know about black lentils?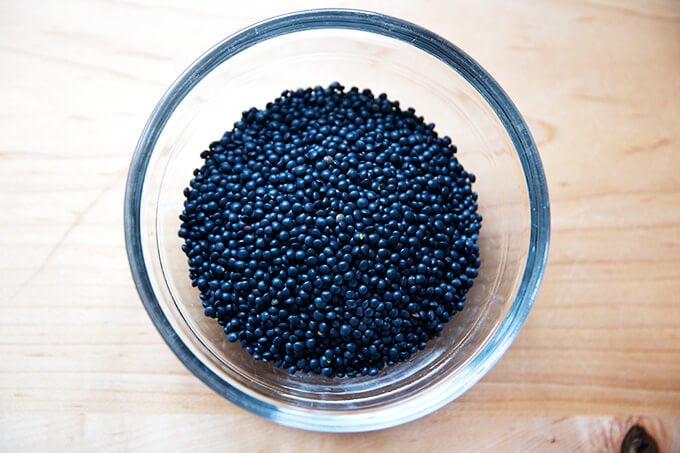 I bought them on a whim, and then immediately made this spinach recipe from Stacy Adimando's Piatti, which calls for garnishing the lentils with a plump ball of burrata. As Ina says: How bad can that be?
I first made the lentils for my parents who were visiting, and in place of the burrata, I served them atop creamy, tangy labneh (also known as labnah or labne: essentially strained yogurt or yogurt "cheese").
This has become one of my favorite weeknight meals, another great one to add to your repertoire of lightning fast lentil recipes.
How to Cook Black Lentils
Place black lentils in a pot. Cover with water by at least an inch.
Add a teaspoon of salt.
Bring to a boil; lower heat and simmer 23-25 minutes.
Drain, and use as desired.
Make Them Ahead
This dish comes together super quickly, but here are a few things I have been doing to get ahead:
Put the lentils in a pot, bring it to a simmer, cover the pot and slide the pot off the heat. I'll do this before we head out to afternoon activities with the kids. When I get home, the lentils are nearly cooked; I just need to bring to a simmer and cook briefly.
Sauté the onion ahead of time and just leave it in its pan on the stovetop.
Make the entire recipe up until the point when you add the spinach. Hold the spinach till you are ready to reheat the lentils. Once they are warm, fold in the spinach.
Change it Up
I've mostly been using, as the recipe suggests, tender baby spinach, but I've also used beet greens (and roasted beets). I think any number of greens could work here: Swiss chard, turnip greens, mustard greens, etc.
Stacy prefers to serve these lentils with burrata, which makes sense — the texture and sharpness of the lentils balances out the creaminess of the burrata. I image fresh ricotta or whipped goat cheese would also work well here. When I can't find labneh, I'll stir together a simple yogurt sauce made with Greek yogurt, fresh lemon, and salt. It works beautifully.
Once you make this dish once, you'll find countless ways to adapt it with various greens, vegetables, and creamy schmears. I hope you love it as much as I do.
Here's the play-by-play: Gather your ingredients.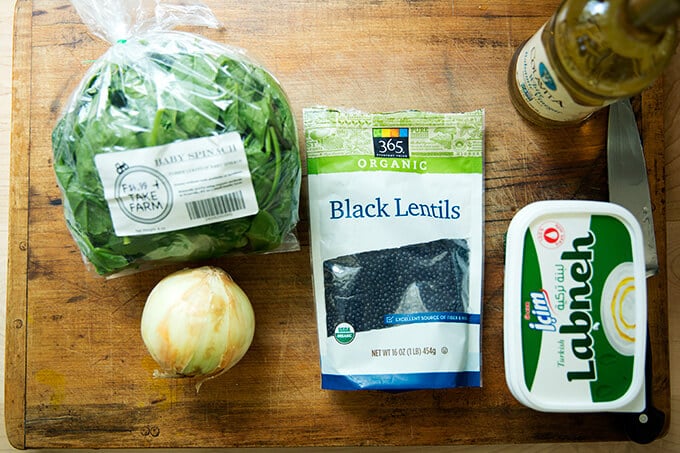 Simmer the lentils in one pot; sauté an onion in another.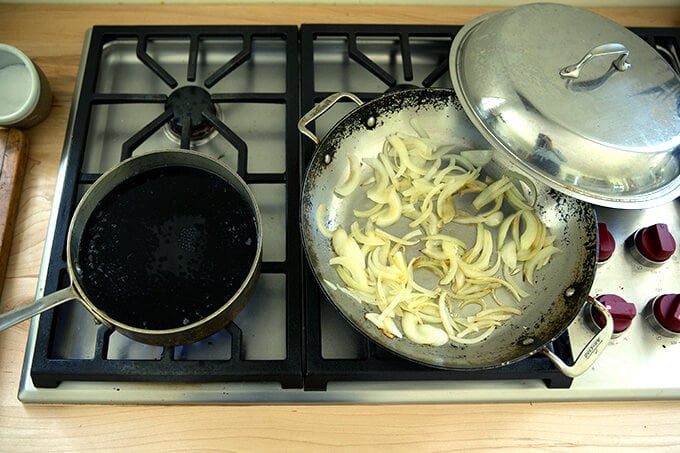 When the lentils are finished, add some vinegar to the onions and let it reduce.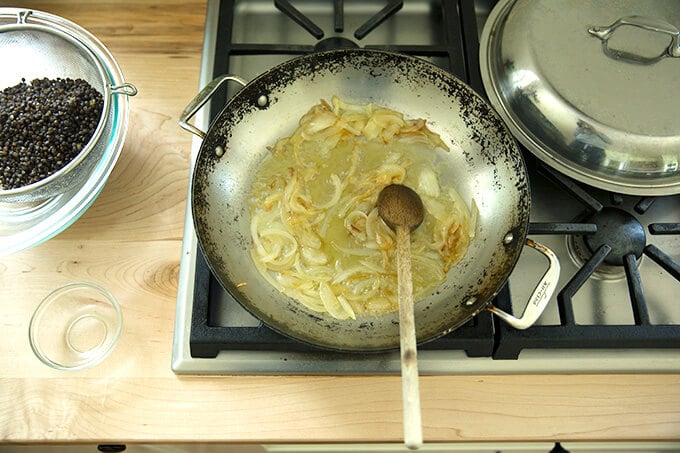 Combine the lentils and onions.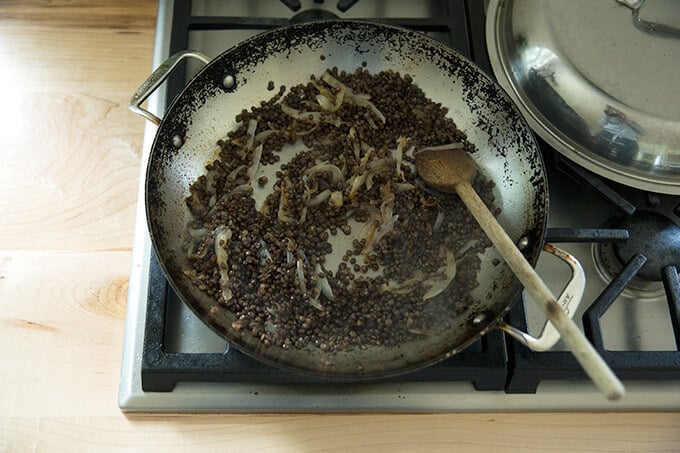 Add spinach.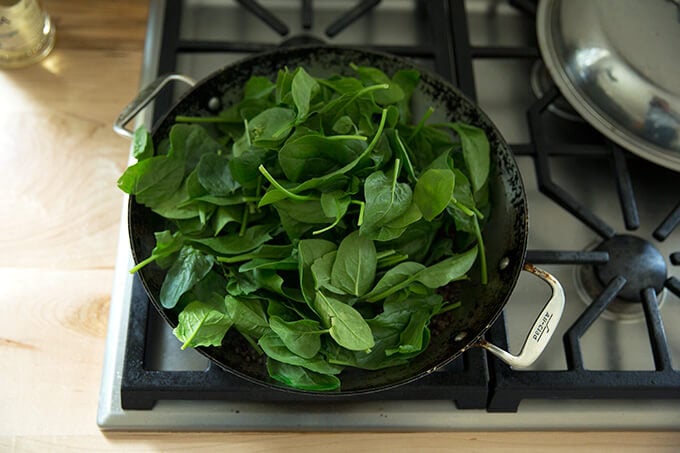 Fold it in.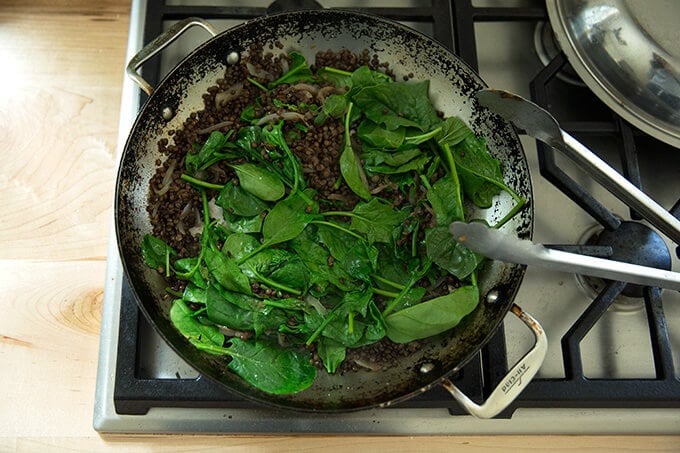 Get ready to serve.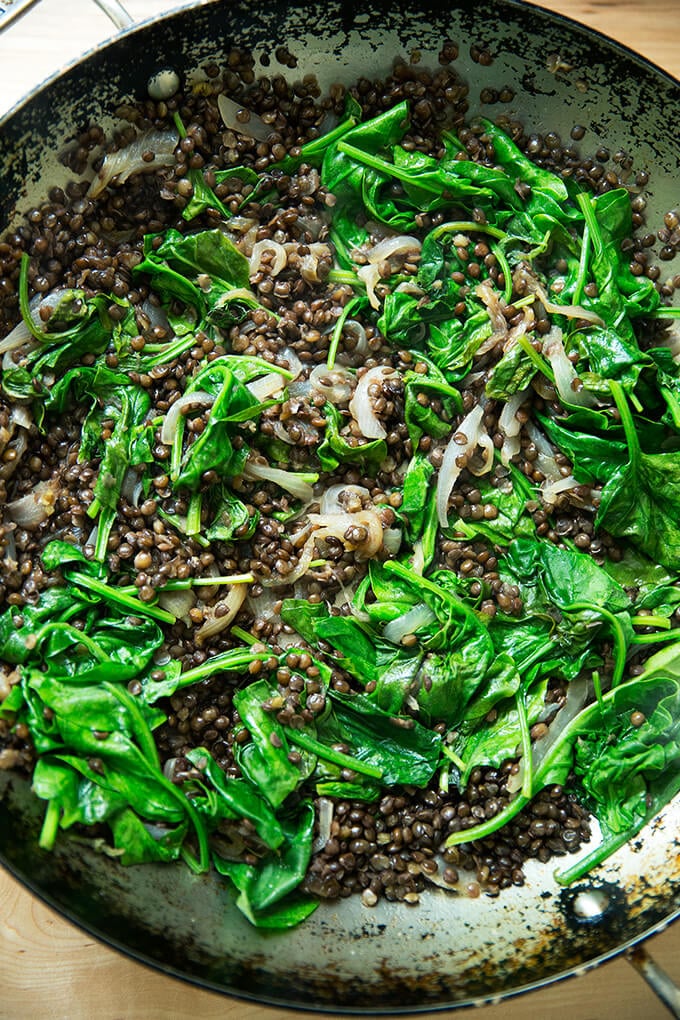 Smear some labneh across a plate. If you can't find labneh, you can stir together a lemony yogurt sauce, which works well here: Greek yogurt + fresh lemon + salt.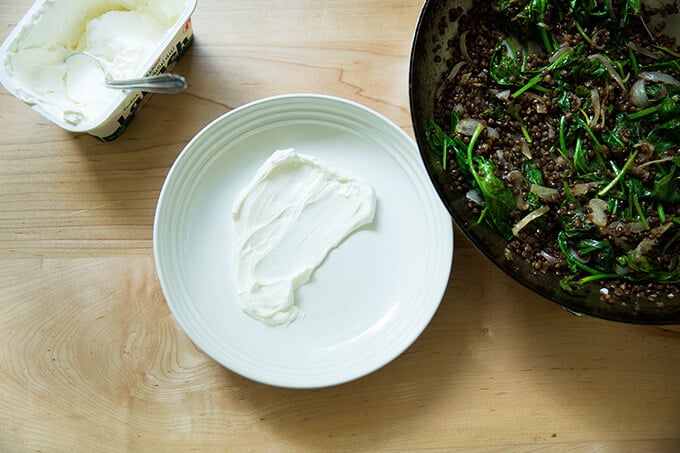 Spoon lentils over top. I could eat this every night.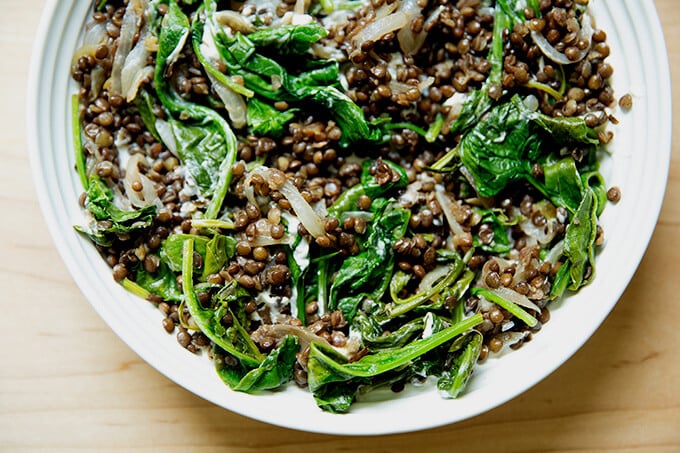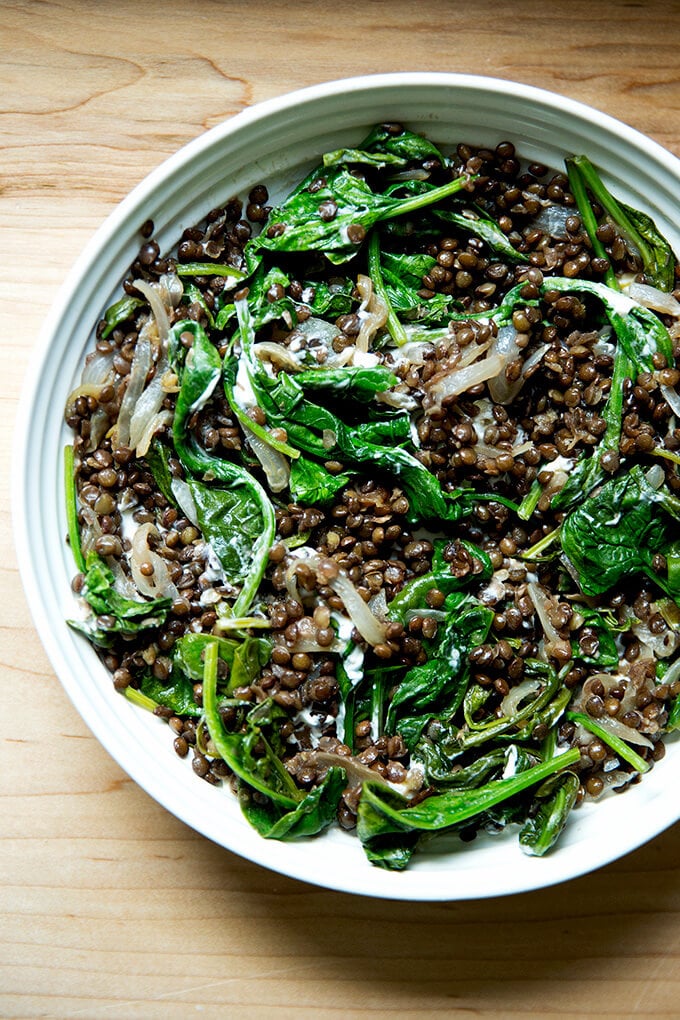 Print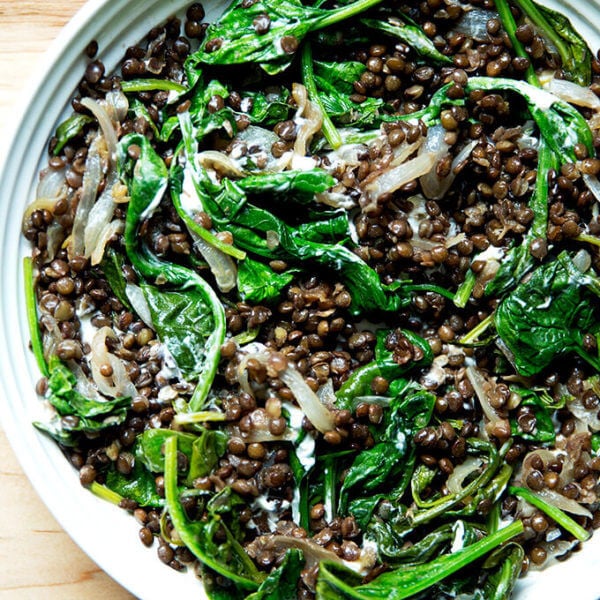 Addictive Black Lentils with Spinach
---
Description
Adapted from Stacy Adimando's Piatti.
Scale this recipe up as needed. I find a half cup of lentils feeds two of us and leaves us with a teensy bit of leftovers. One cup of lentils would feed 4 people comfortably.
Labneh or burrata or Greek yogurt: The original recipe calls for burrata, which of course is delicious. I am loving using labneh here, but if you can't find it, you could use this lemony Greek yogurt spread: 1 cup Greek yogurt + 1 tablespoon fresh lemon juice + 1/2 teaspoon kosher salt — this is how I've been making it most recently as I haven't been able to get my hands on labneh. 
You could also use homemade ricotta, or even goat cheese whipped with some milk to thin to a spreadable consistency.
---
For the lentils:
1/2 cup

black lentils (or French green lentils)
kosher salt

2 tablespoons

olive oil

1

onion, thinly sliced

1/4 cup

white balsamic vinegar

5 ounces

baby spinach
labneh or burrata (one 8-oz ball) or lemony-yogurt sauce (recipe below)
flaky sea salt, such as Maldon, for finishing
For the lemony-yogurt sauce: 
1 cup

Greek yogurt

1 tablespoon

fresh lemon juice

1/2 teaspoon

kosher salt
---
Instructions
Place the lentils in a small pot and cover with water by at least an inch. Add a teaspoon of kosher salt. Bring to a simmer. Simmer till done. Times will vary considerably. My black lentils have been cooking consistently in about 23-25 minutes. If you are using French Green lentils, they'll likely need a little more time. Taste before draining them. 
Meanwhile, in a large skillet, heat the oil over high heat. Add the onions and a pinch of salt. Stir. Cover the pan and immediately turn the heat to low. I like to cook the onions super slowly for the entire time the lentils are cooking. Open the lid to check on the onions periodically, allowing any water trapped in the lid to drip back into the pan.
When the lentils are done, remove the lid from the onion pan and turn heat to medium. Add the vinegar and cook until it reduces and becomes almost syrupy. Add the lentils and stir to combine. Add the spinach and a pinch of salt, then turn off the heat. Leave the spinach alone for a minute or two, then use tongs or a large spoon to incorporate the leaves into the lentils. Taste. Adjust with sea salt as needed or a splash more vinegar if necessary.
To serve, smear some labneh across a plate. Spoon the warm spinach and lentils over top. Alternatively, if using burrata, break up the ball of burrata and drop spoonfuls of the creamy cheese over top. Or, if you are making the lemony yogurt sauce, stir together the yogurt, lemon, and 1/2 teaspoon salt until smooth; then smear that over a serving platter, before topping it with the spinach and lentils. 
Prep Time:

5 minutes

Cook Time:

30 minutes

Category:

Dinner

Method:

Stovetop

Cuisine:

Italian
Keywords: lentils, black, labneh, burrata, onions, vinegar
This post may contain affiliate links. Please read my disclosure policy.