Fish En Papillote
This post may contain affiliate links. Please read my disclosure policy.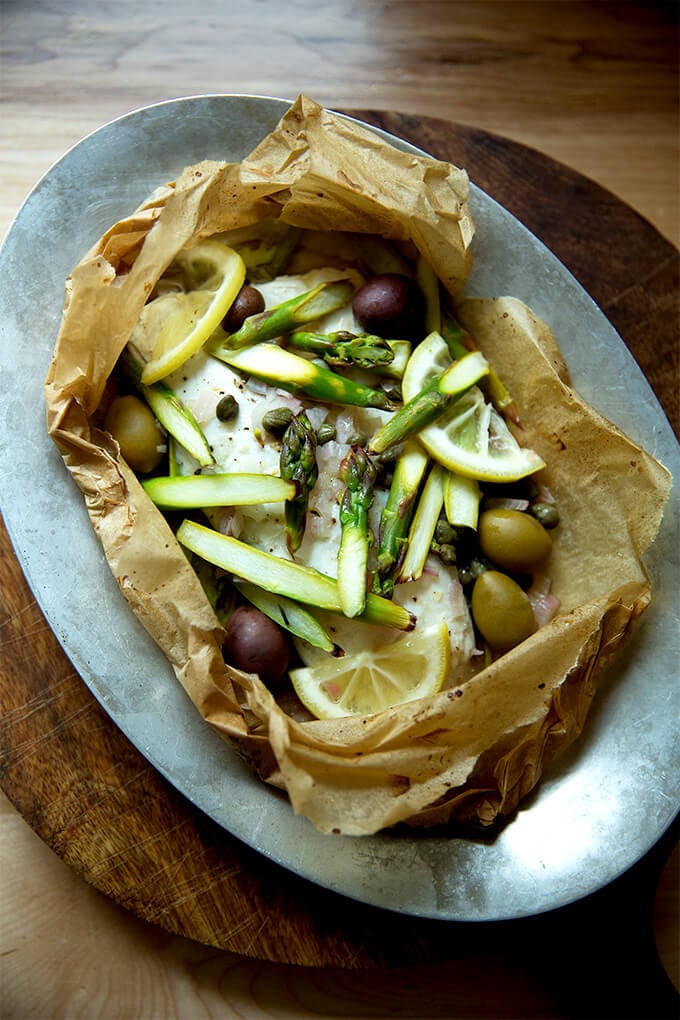 ** I originally posted this recipe in July of 2008 but I'm republishing it today with a few notes added. **
I love fish, but it can be tricky to cook — so easily overcooked — and it cools down quickly. Cooking fish en papillote solves both of these problems.
If you've never given it a go, rest assured it is a nearly foolproof way of cooking fish and super easy, too: I added a video above of the parchment paper folding method, and if you want more video guidance, I recently made fish en papillote on Instagram Stories.
The Beauty of Cooking Fish En Papillote
Heat Retention. When cooked en papillote, a fish fillet retains its heat remarkably well.  These packages somehow manage to keep the fish fillets hot without drying them out one bit.
Ability to Make Ahead. The packets can be prepared ahead of time — perfect for entertaining. Note: Because of the lemon juice and the salt, these packets should not be assembled for more than two or three hours ahead of time.
Versatility. Fill the packages with whatever you like: squash, tomatoes, mushrooms, onions, scallions, herbs, etc. Be sure to slice vegetables thinly to ensure they cook during the 10 minutes of oven time. Use any number of fish — branzino, trout, striped bass, red snapper are all good options. A good rule of them is: 10 minutes at 500ºF for every 1/2-inch of filet thickness.
Healthy. You can load these packages with vegetables, and season everything lightly with olive oil, lemon, salt and pepper. The package keeps all of the juices released by the fish and vegetables inside, creating a steaming hot, tender, flaky package of goodness.
Fast. These little parcels are quick to assemble and are nearly one-pouch wonders.
Foolproof: I am always amazed by how well fish cooks when given the en papillote treatment — it's never overcooked.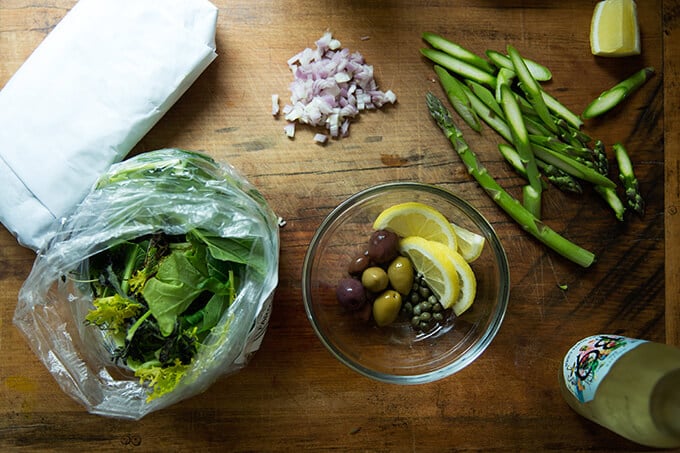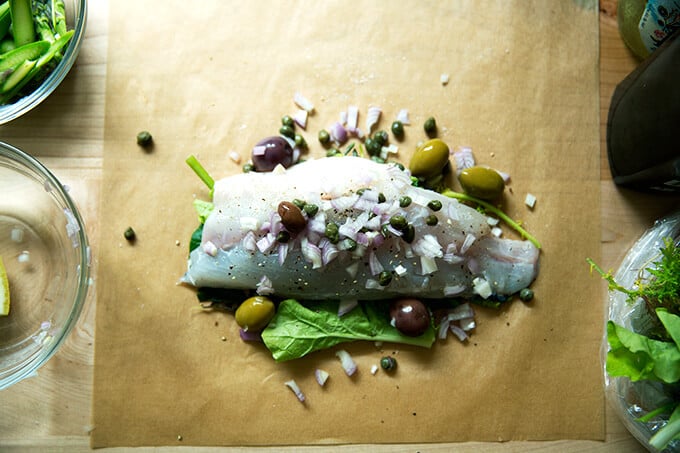 Note: I should have sliced the asparagus much more thinly or used my peeler to shave the spears. I've used finely slivered snow peas with success, too.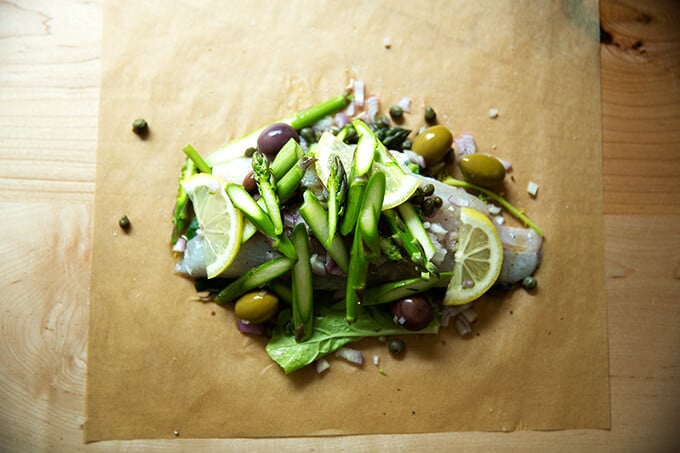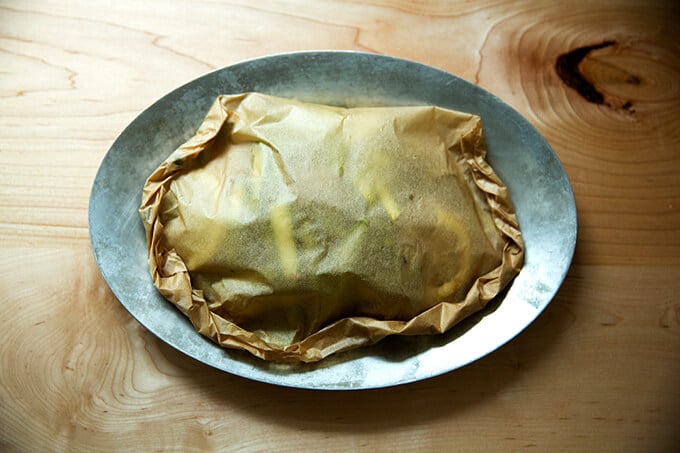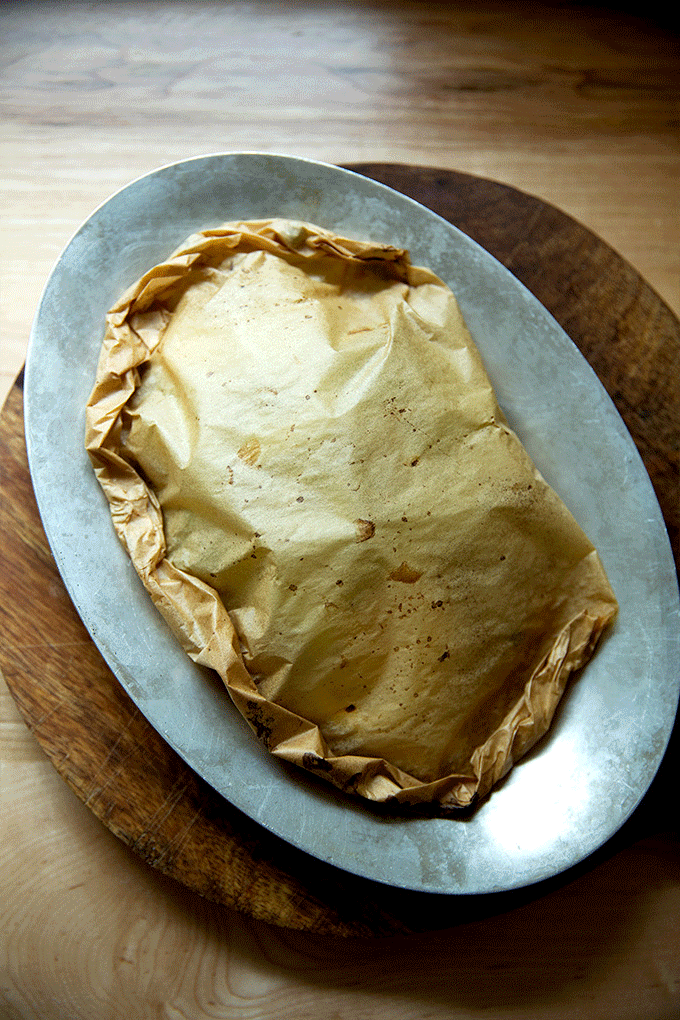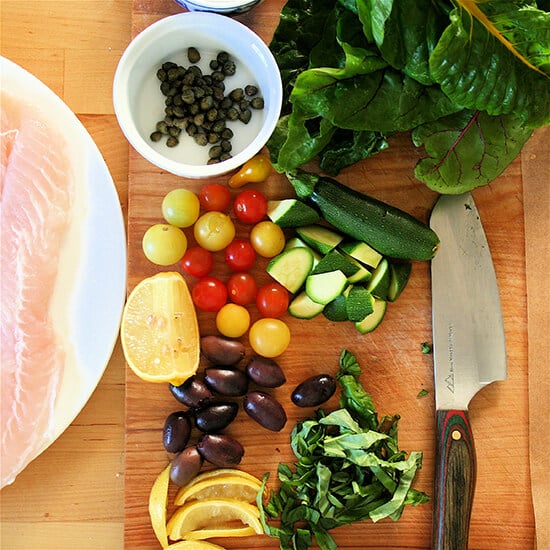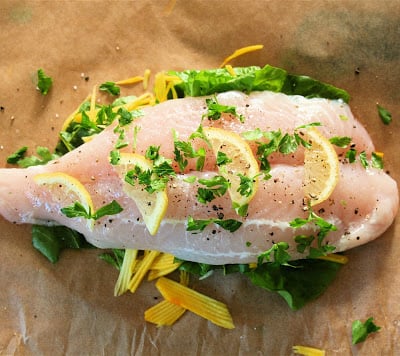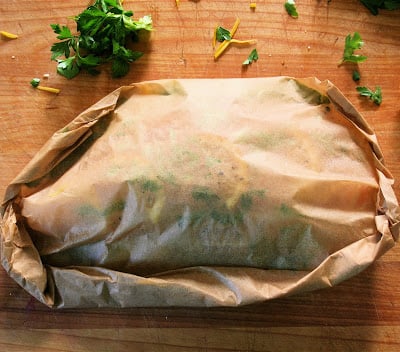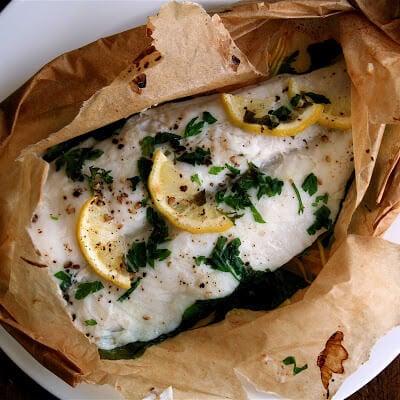 *From July 2008*

Print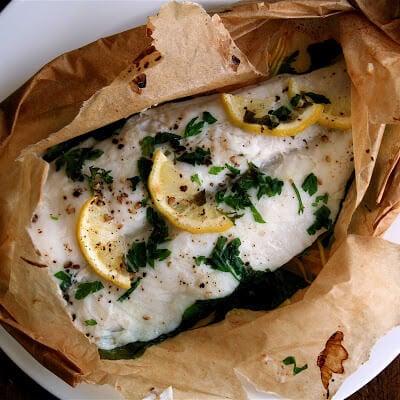 Fish En Papillote
---
Description
What's nice about these packages is that you can assemble them ahead of time. Note: Because of the salt and lemon, I wouldn't assemble much more than 2 hours ahead of time.
Use the recipe below as a guide. I always include: some sort of green like Swiss chard or spinach, shallots, olives, capers, olive oil, lemon, white wine, salt, and pepper. Vegetables change depending on the season: cherry tomatoes are nice as is summer squash. Be sure to cut vegetables thinly to ensure they cook properly. If you include asparagus, I recommend shaving it with a peeler as opposed to slicing it (as I did in this Instagram Story.)
---
4

18×13-inch (approximately) pieces parchment paper
about

16

leaves Swiss chard or Spinach, washed and dried

4

6-oz fish fillets of white fish such as Bronzino or Striped Bass
kosher salt and freshly ground black pepper to taste

4 tablespoons

thinly sliced shallots

2 tablespoons

capers

2

to

3

lemons: you'll need 12 thin slices, plus more for squeezing

½ cup

Nicoise or Kalamata olives, pitted, optional

1 cup

cherry tomatoes, optional

1 cup

sliced zucchini, optional

4 tablespoons

olive oil

4 tablespoons

white wine or Prosecco
sliced basil, parsley or tarragon, optional
---
Instructions
Preheat the oven to 500ºF.
Lay one sheet of parchment paper on the counter and fold it in half lengthwise just to make a crease. Open the parchment paper. Place about four leaves of Swiss chard or spinach in the center of the parchment paper just below the centerfold. Top with fish fillet. Season with salt and pepper to taste. Top with about a tablespoon of shallots and 1.5 teaspoons capers. Squeeze some lemon over the fish. Nestle three slices of lemon on the sides of the fish. Sprinkle some olives, tomatoes, and zucchini (if using) around the fish. Top with 1 tablespoon olive oil and 1 tablespoon white wine.
Fold top half of paper over bottom half and begin folding tightly from the center to one of the sides. Go back to the center and fold tightly in the opposite direction. (See video for more assistance.)
Repeat with each fish. Place packages on a cookie sheet and cook for 10 minutes. (Estimate about 10 minutes per inch — if the fillets are a little bit thicker than one inch, add 1 or 2 minutes.)
Prep Time:

10 minutes

Cook Time:

10 minutes

Category:

Fish

Method:

En Papillote

Cuisine:

French
Keywords: fish, en papillote, parchment
This post may contain affiliate links. Please read my disclosure policy.