Olive Oil & Vinegar Toasts + Soft-Boiled Eggs
This post may contain affiliate links. Please read my disclosure policy.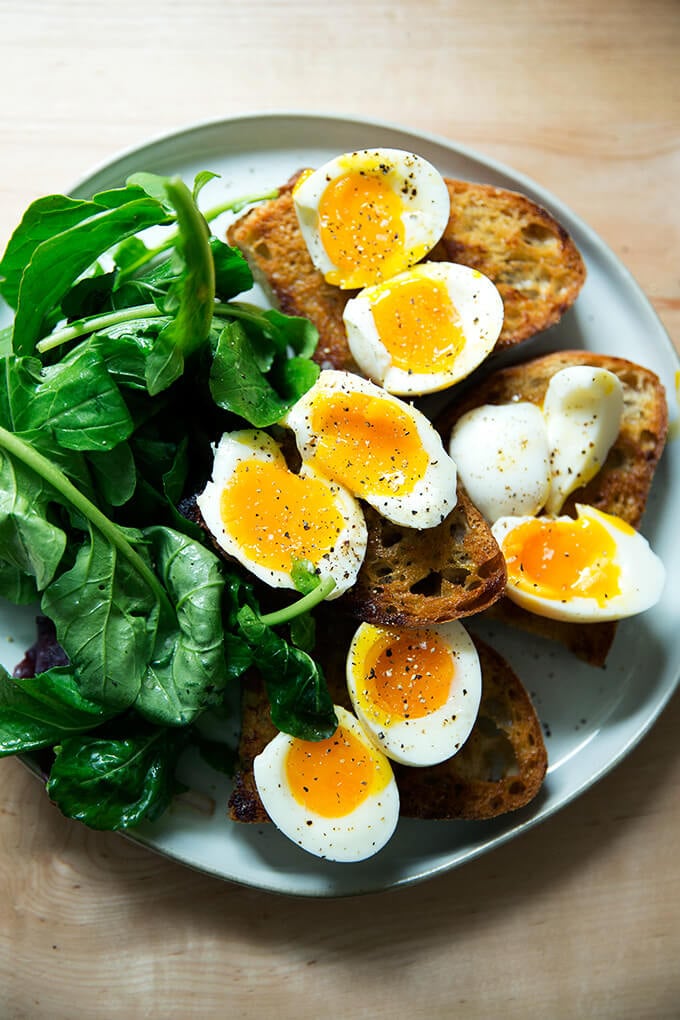 Kate Shultz, of the Dinner Sisters podcast, recently asked me if there were any recipes in Bread Toast Crumbs I wished had gotten a little more love. These vinaigrette toasts with soft-boiled eggs immediately came to mind. I'm not sure I've heard from anyone who has made them — maybe no one has! — but I'm hoping this post might encourage someone to give them a go.
In short, you soak slices of bread in both olive oil AND vinegar before toasting them in a skillet and finishing them in the oven. While the slices of bread bronze away, you boil some eggs, and, if you're up for it, dress some greens to serve on the side. It's fast and tasty and feels complete.
Friends, have you ever soaked your bread in both olive oil and vinegar before toasting it? Every time I do I think: Why don't we always soak bread in both oil and vinegar before toasting? The vinegar adds a subtle sweetness and sharpness, and the slices of bread toast so beautifully. I hope you love them as much as I do.
The Dinner Sisters Podcast
Two sisters, Kate Shultz and Betsy Wallace, believe in "less stress, better food," and every Monday on their podcast, The Dinner Sisters, they review easy-to-make recipes they've unearthed from food blogs around the web.
Their goal? To find and share recipes that might make it into their regular dinner rotations. For instance, they raved about the orecchiette with corn, greens, and ricotta in this Easy Cooking Summer episode and the bbq chicken naan pizza in this Rotisserie Chicken episode. I'm dying to make both.
Friends, do you listen to The Dinner Sisters? They're really fun. Every ten episodes they throw a podcast "dinner party" and cook up a full party menu, including dessert. In their mini-episode series, "Pro Tips," they quickly cover topics such as roasting chickens or meal planning or their favorite freezer jam.
And they also occasionally review cookbooks, like Bread Toast Crumbs. After their review, Kate and I chat about early baking memories, these vinaigrette toasts, future projects, sourdough, and more. You can check out their full archives here. Let me know if you discover any gems!
Here's the vinaigrette toast play-by-play. Slice up a loaf of bread (more on this sourdough loaf soon):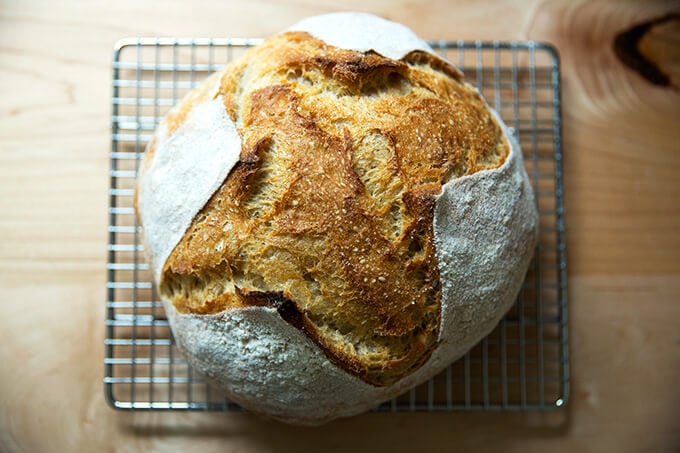 Whisk together 3 tablespoon olive oil and 2 tablespoons vinegar in a baking dish.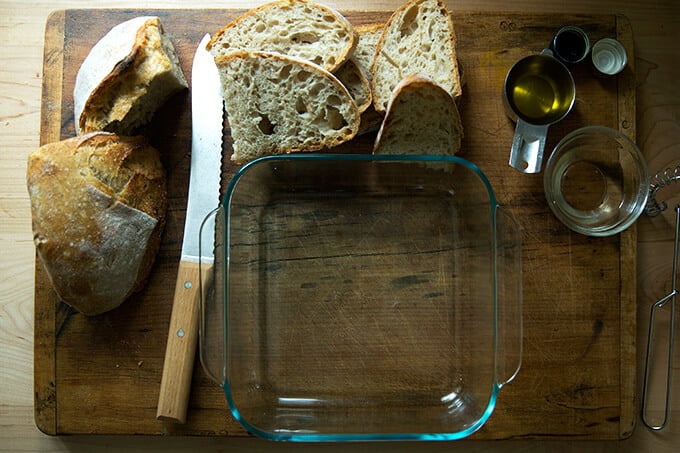 Soak your bread slices for one minute per side.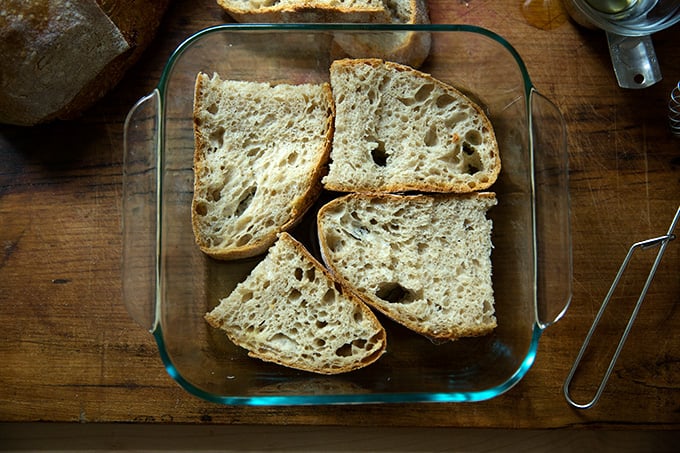 Toast the slices of bread in an oven-safe skillet.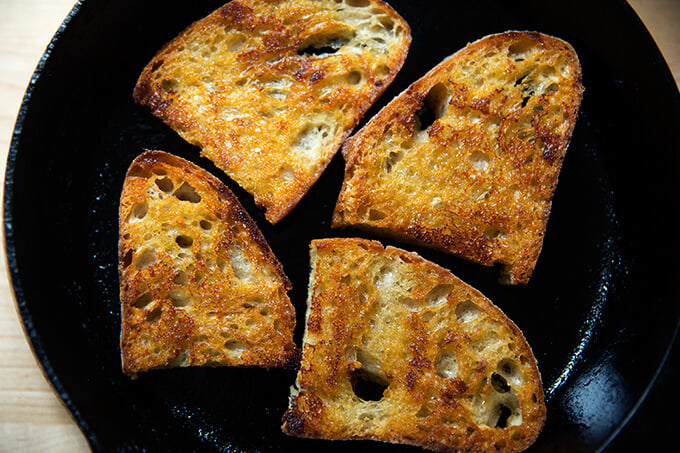 Transfer toast to a plate.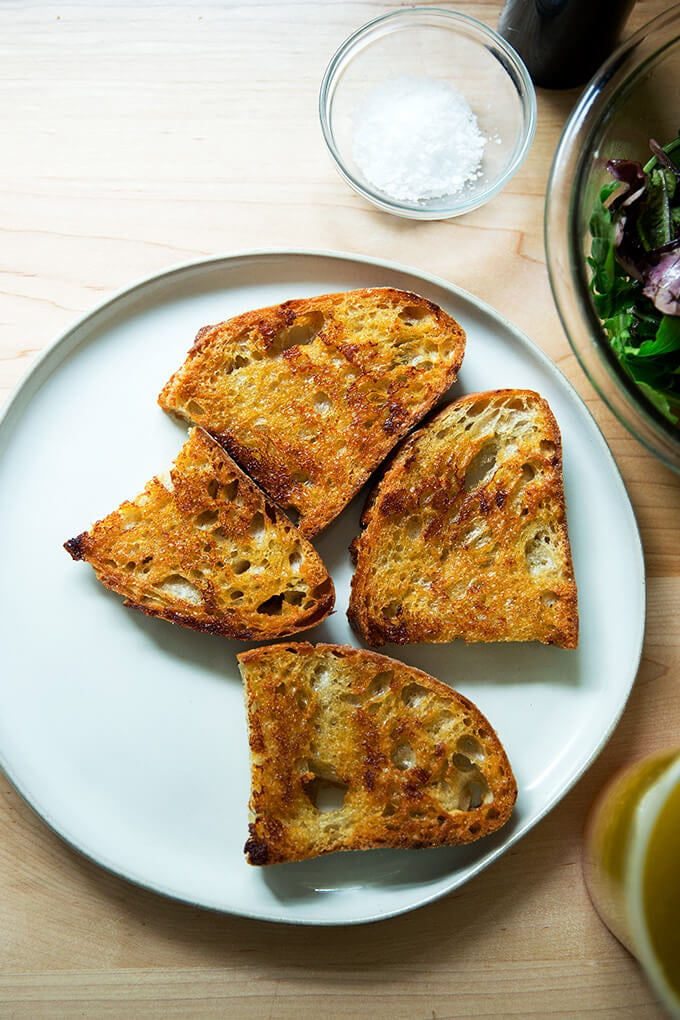 Top each with a soft-boiled egg (6 minutes for super runny yolks).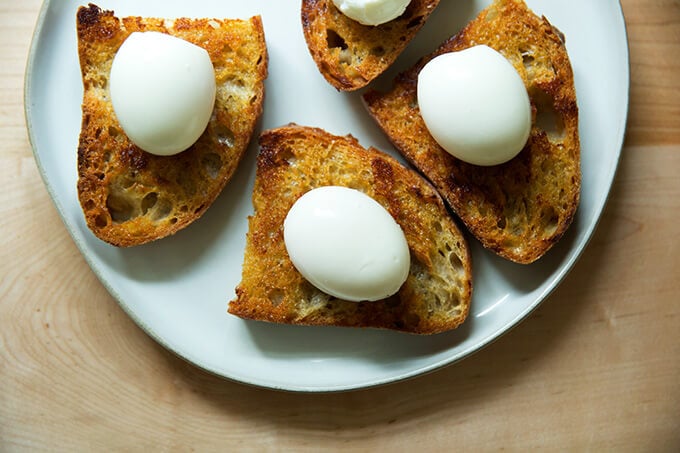 Cut each egg in half.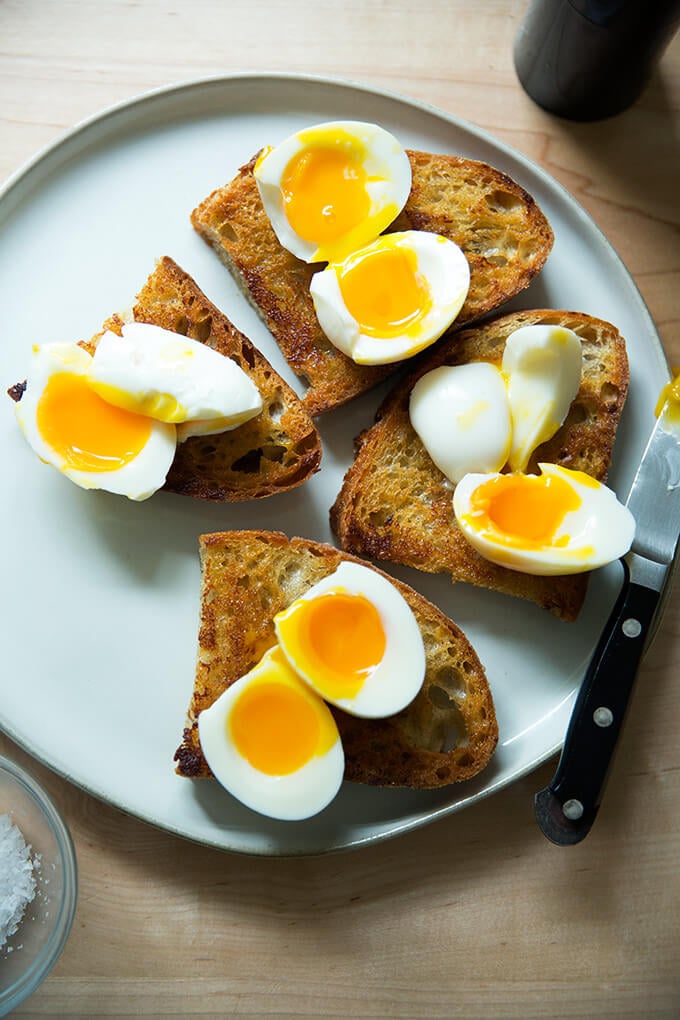 Season with salt and pepper.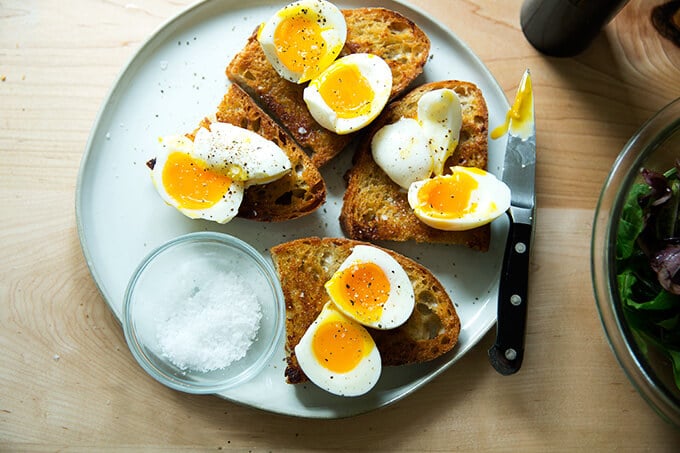 Serve with a simple salad: greens + shallot vinaigrette.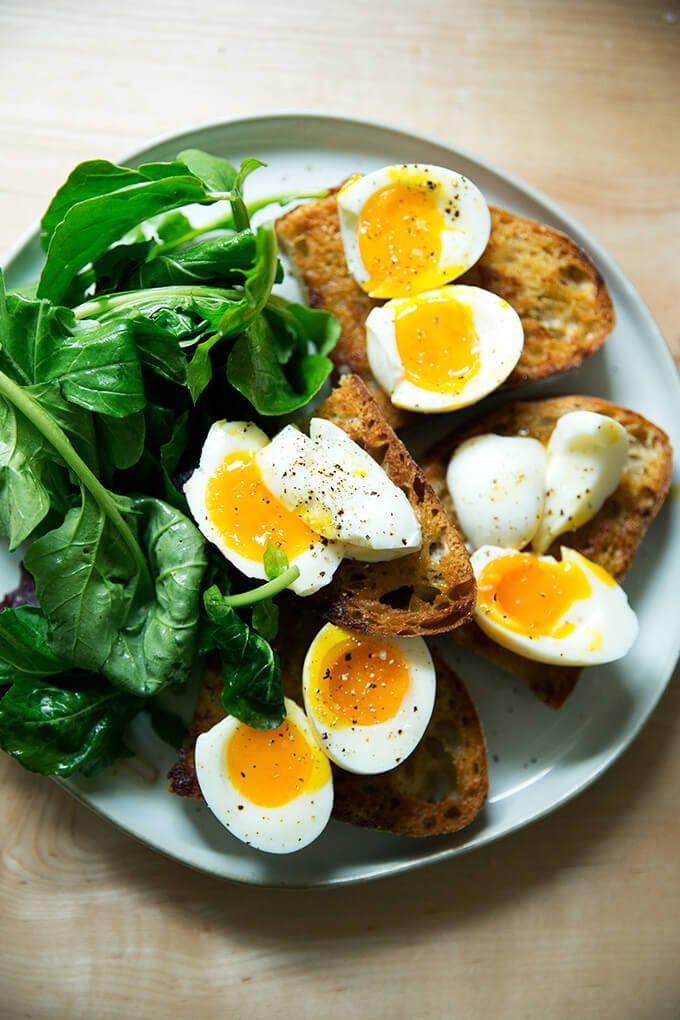 Print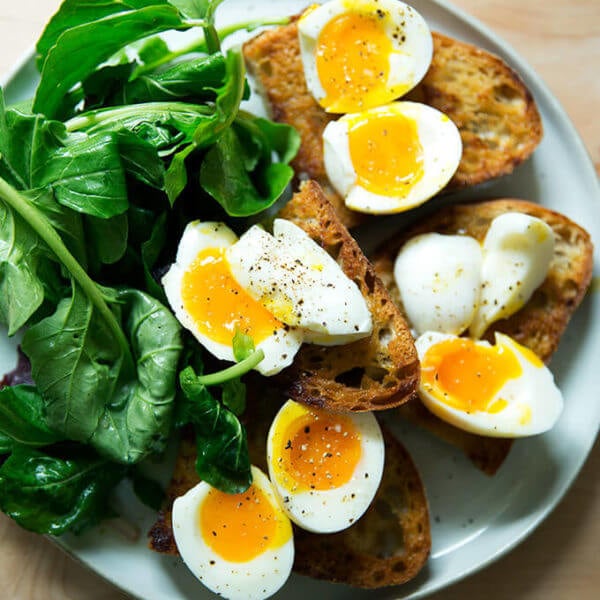 Olive Oil & Vinegar Toast + Soft-Boiled Eggs
---
---
4 tablespoons

olive oil, divided

2 tablespoons

white balsamic (or other) vinegar

4

slices good bread, ¾-inch thick

4

eggs
sea salt and freshly cracked pepper to taste
---
Instructions
Preheat the oven to 425ºF. Bring a small saucepan filled with water to a boil over high heat. In a 9×13-inch (or similar) baking dish, whisk together 3 tablespoons of the olive oil with the vinegar. Lay the slices of bread in the pan, let them sit for one minute, then flip and let them sit for another minute or until the oil and vinegar are absorbed.
Meanwhile, heat the remaining tablespoon olive oil in a large ovenproof sauté pan over medium heat. When it shimmers, carefully lower the bread into pan — adjust heat so that toasts cook on medium to medium-low … err on the side of cooking the toasts more slowly than quickly.  Cook, checking occasionally, until the underside of the bread is golden, about 5 minutes. Flip the slices and immediately transfer the pan to the oven for five minutes or until the slices are evenly golden.
Meanwhile, carefully lower the eggs into the boiling water and reduce the heat to low so that the water is gently simmering. Cook for 6 minutes, or according to your preference — 6 minutes is for runny yolks as pictured above. Remove the eggs with slotted spoon and transfer to a bowl of cold water.
To serve, set toast on individual plates or a serving platter. Peel eggs and place one on top of each piece of toast. Cut each in half. Season with salt and pepper to taste.
Prep Time:

10 minutes

Cook Time:

10 minutes

Category:

Breakfast

Method:

Stovetop/Oven

Cuisine:

American
Keywords: bread, toast, crumbs, vinaigrette, eggs, soft-boiled
This post may contain affiliate links. Please read my disclosure policy.