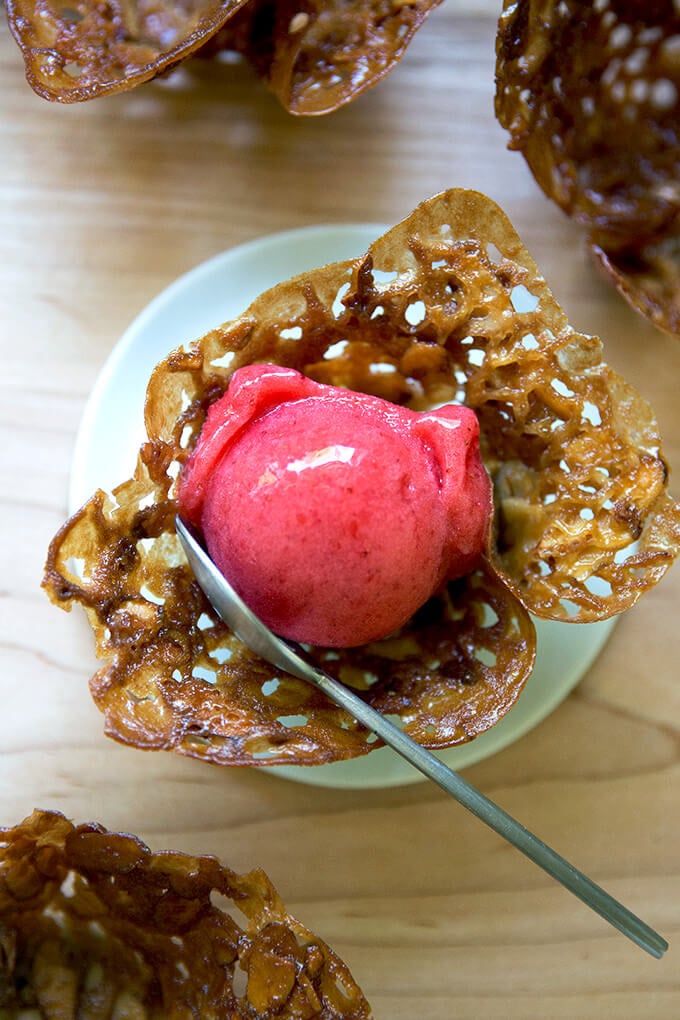 Do you have friends who text you recipes that cause you to at once drop everything, head to the store, and obliterate any cooking plans you had on the horizon?
Many of you do this to me. (Thank you.) My friend Michelle does so as well. She's pointed me to so many good recipes over the years, most notably to Ruth Reichl's roasted balsamic-eggplant sandwiches and most recently to David Lebovitz's strawberry sorbet.
The recipe comes from The Perfect Scoop, which I've owned and loved for years. Every summer, I open it to find new inspiration, something I've missed in previous years, but somehow this one has escaped me, which is such a shame because, like homemade 3-ingredient real frozen yogurt, it's so simple: toss strawberries with sugar, let them sit for an hour, purée with fresh lemon juice and sea salt, chill, churn, freeze.
I worried the sorbet would taste great on day one or immediately after churning, but then harden to a block of ice crystals the next day, which has been my experience with homemade ice creams and sorbets in the past. This didn't happen. The longest I've stored this particular sorbet has been three days, and as long as it sits at room temperature for a good chunk of time — sometimes for as long as 20 minutes — before serving, it scoops up beautifully, with a texture as smooth and as creamy as when freshly churned.
Hooray!
This sorbet tastes like pure summer to me, and what I've loved about it the few times I've made it is that it's found purpose for past-prime strawberries, which would have otherwise ended up in the freezer destined for a smoothie somewhere down the line. Not a terrible way to salvage the local berries, but when their season is so fleeting, and when they taste SO good, it's nice to put them to use in a recipe in which they really shine. This one fits the bill. (As does this one.)
Almond Butterscotch Cookie Cups + A Lesson!
First: the lesson.
I made these almond-butterscotch cookie cups, another recipe from The Perfect Scoop, a million years ago to serve with this crème fraîche sorbet, then didn't make them for years. While flipping through the TPS most recently, I saw a recipe for lemon-poppyseed cookie cups that I thought would pair so nicely with the strawberry sorbet.
I mixed up the batter, dropped it onto a parchment-lined baking sheet, baked them for 10 minutes, and then … disaster! I couldn't get the cookies to release from the parchment paper. I chalked it up to the recipe being a flop. But when I attempted to make these almond-butterscotch cookie cups — tried and true! — to replace the others, and they too stuck to the paper, I realized I was mistaken.
It was the parchment paper! My recent bread experiments had been sticking as well.
I started over using a different brand of parchment paper and had no issue, which makes me want to revisit the lemon poppyseed cookie cup recipe immediately, because doesn't that sound so good: strawberry sorbet + lemon poppyseed cookies?
I will keep you posted.
In sum:
Almond butterscotch cookie cups are easy to make.
They look fancy — so lacy and delicate — but they require no skill. They are delicious, too.
Parchment or a silicon baking mat is essential.
Not all parchment paper is created equally.
This is such a festive summer dessert.
I hope you'll give it a go.
Here's the play-by-play: Hull 1 -1.5 lbs. strawberries.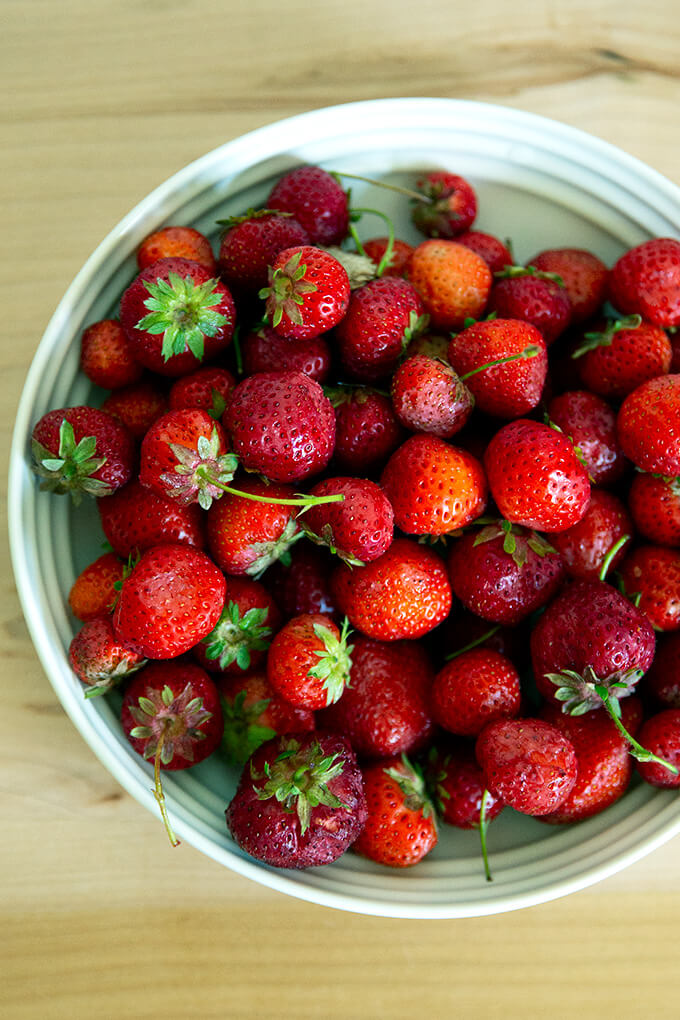 These weighed about 1.25 lbs. post hulling.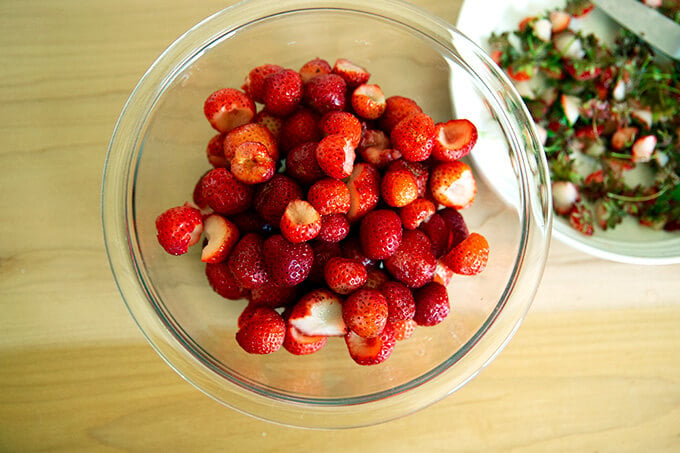 Toss with sugar until the sugar …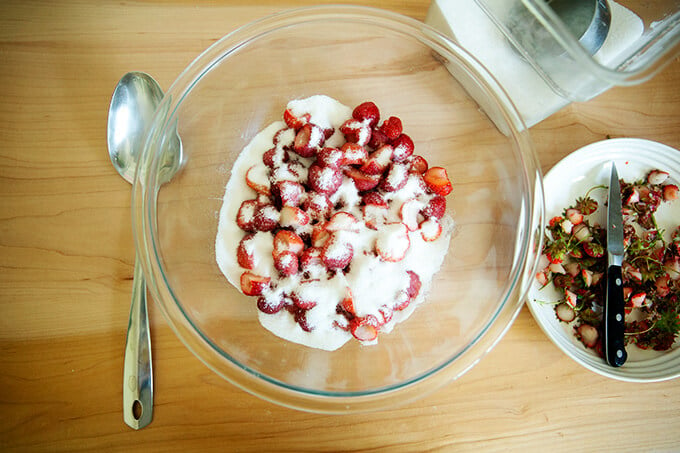 … becomes liquidy. Let sit for 1 hour, stirring occasionally.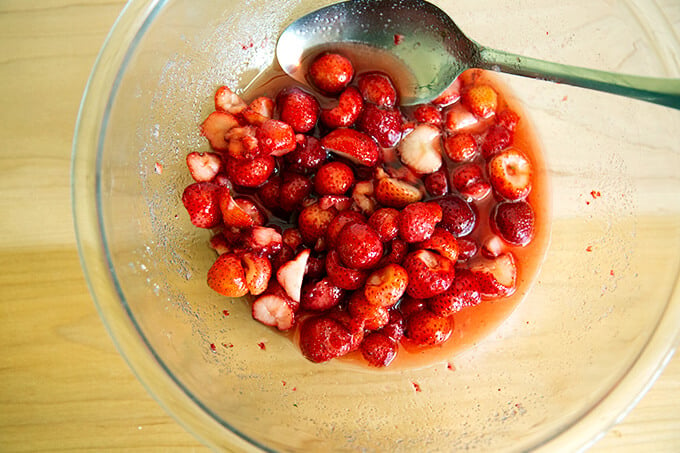 Transfer mixture to a food processor.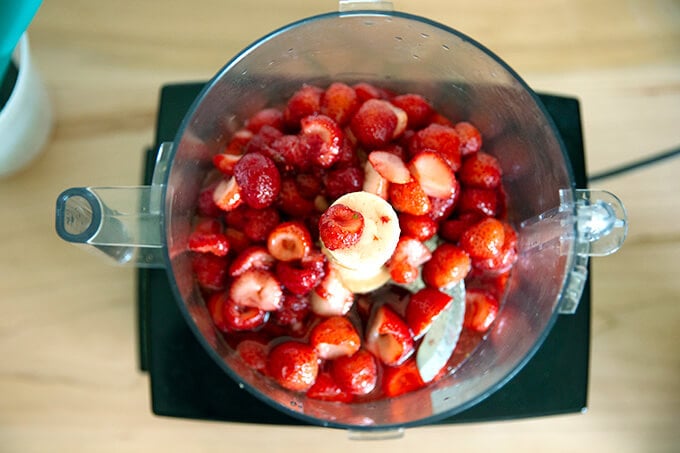 Purée until smooth, then add fresh lemon and sea salt.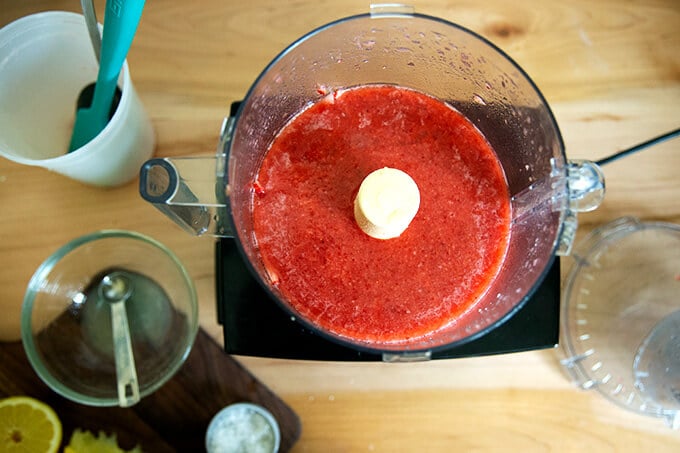 Transfer to a storage container (love these … so versatile) and chill until cold, at least one hour.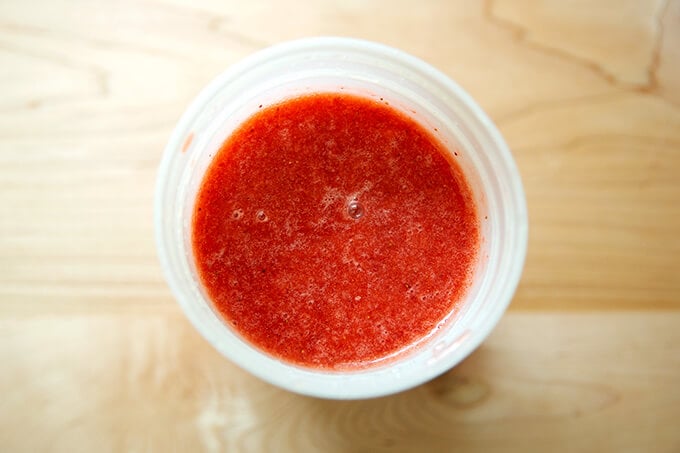 Churn in an ice cream maker. (I have the Kitchen Aid ice cream maker attachment.) Then freeze for at least another hour before serving.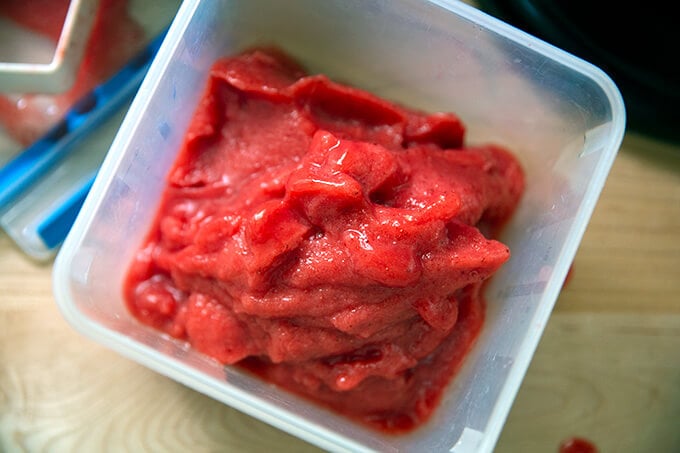 Bring to room temperature before serving … this may take as long as 20 minutes.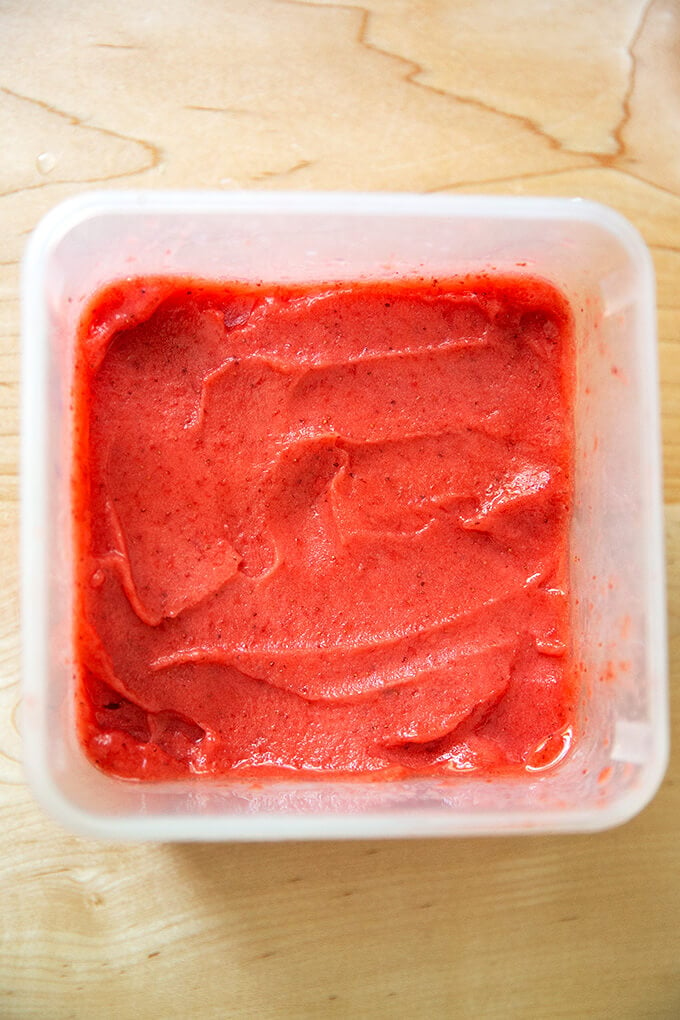 You can serve it straight up, or …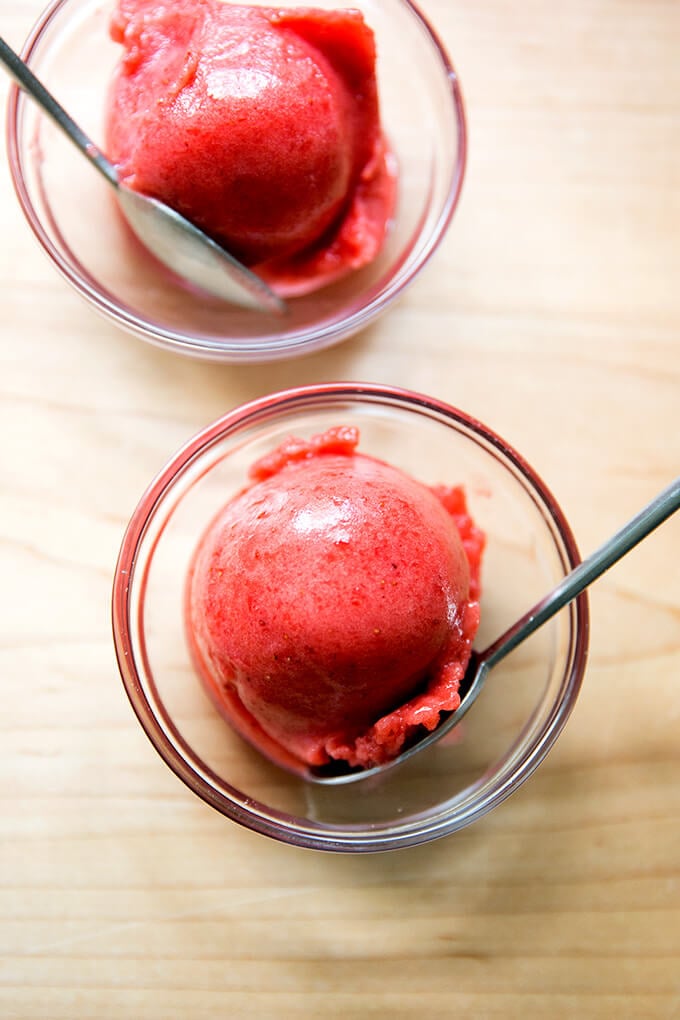 … make these almond butterscotch-cookie cups.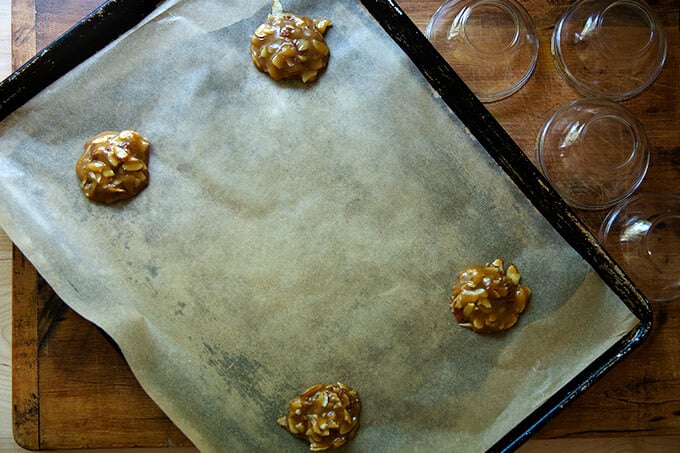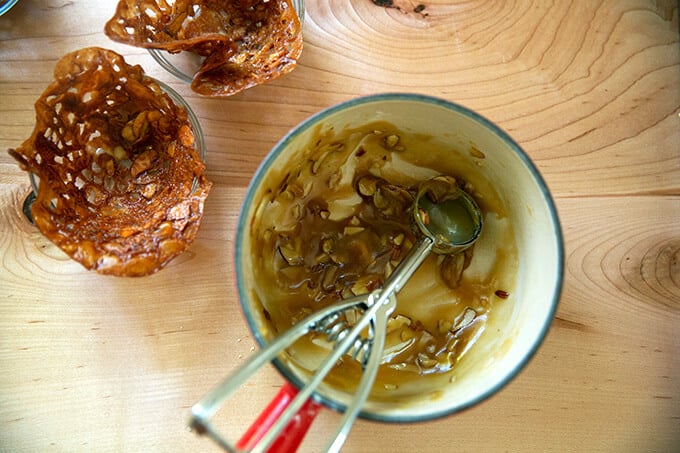 So festive.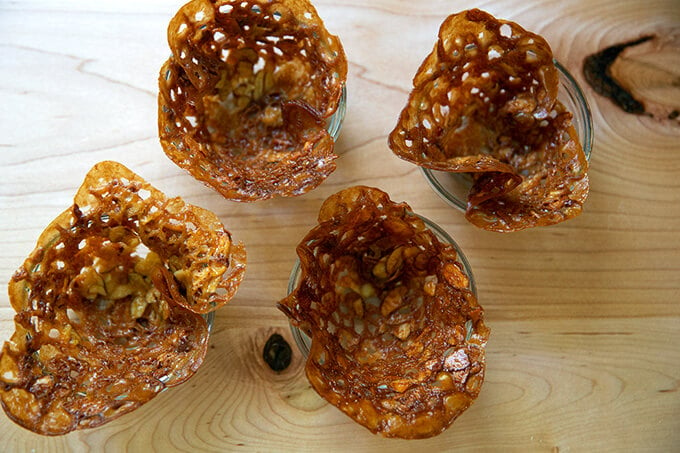 And delicious.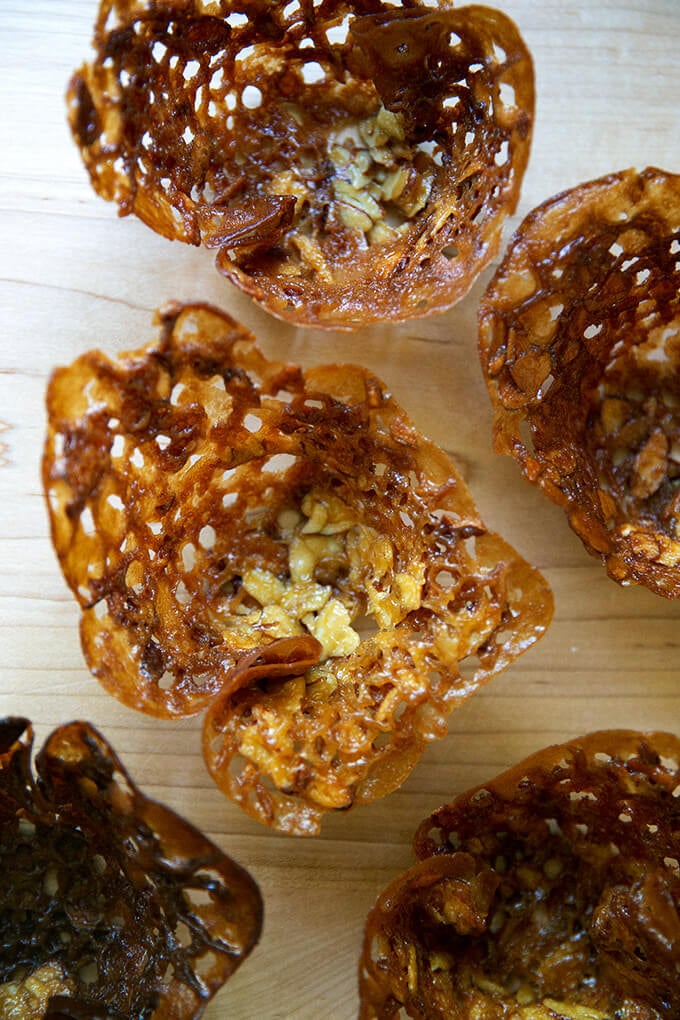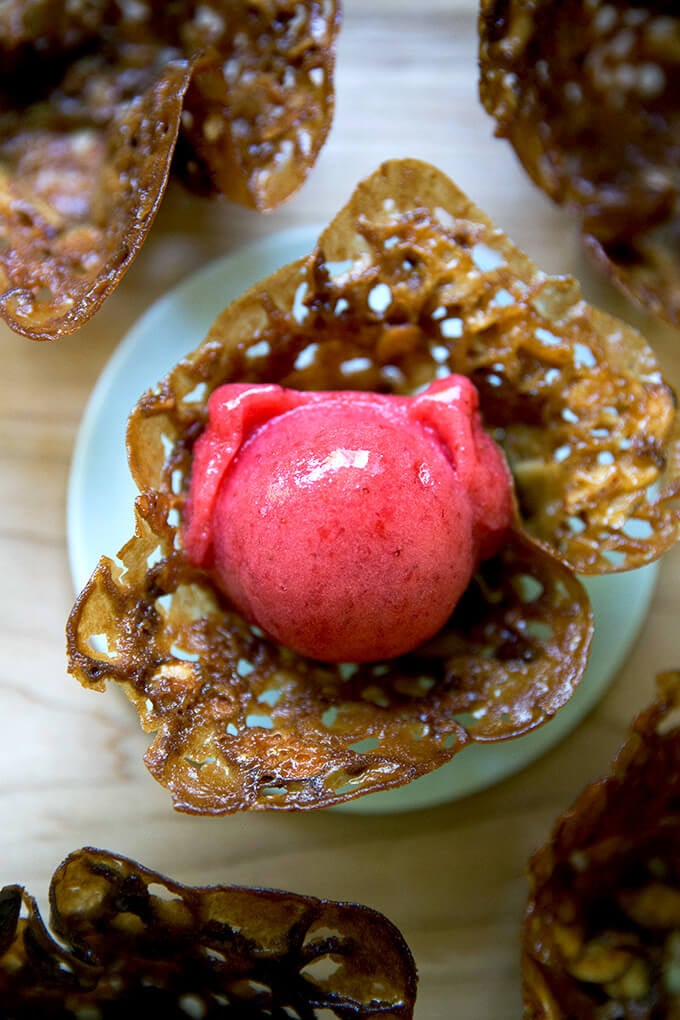 Print
Strawberry Sorbet in Almond Butterscotch Cookie Cups
---
Description
From David Lebovitz's The Perfect Scoop
A few notes:
Recipe calls for a pound of strawberries. I think you can definitely use a range here. Most recently, I weighed my strawberries post hulling, it was about 1.25 lbs., so I likely started with something closer to 1.5 lbs.
I like to use about a tablespoon of fresh lemon juice, but add to taste.
I like to a few big pinches of sea salt — add to taste.
Almond Butterscotch Cookie Cup recipe is below.
I think the key with so many homemade ice creams and sorbets is allowing them to come to room temperature for a good chunk of time before serving. Don't be afraid to let this sorbet sit for 20 minutes (checking often, depending on where you live) before serving.
---
Ingredients
1 – 1.5 lbs. strawberries, washed, hulled, and chopped
3/4 c. sugar
1 to 3 teaspoons fresh lemon juice
Pinch of sea salt, such as Maldon
---
Instructions
Combine sugar with chopped strawberries and stir until sugar begins to dissolve. Allow to stand for about an hour, covered, stirring frequently. Blend strawberries in your blender or food processor until smooth. Add lemon juice and salt to taste (see notes above), blend again, and adjust with more salt or lemon to taste. Transfer to a storage container, and chill for at least an hour or until cold.
Freeze according to your ice cream manufacturer's instructions. Transfer to a storage vessel and freeze again for 1 – 2 more hours.
Before serving, let sit at room temperature for 10 minutes or until it begins to soften. I find this can take as long as 20 minutes. I like to stir/swoosh the sorbet with a back of a spoon to help soften it before serving.
---
Category:

Ice Cream

Method:

Freeze

Cuisine:

American
Keywords: strawberry, sorbet, dairy free, gluten free
Print
Almond-Butterscotch Cookie Cups
---
Author:

Alexandra Stafford

Prep Time:

10 minutes

Cook Time:

20 minutes

Total Time:

40 minutes

Yield:

12 cookie cups
Description
From David Lebovitz's The Perfect Scoop
I recently made these with maple syrup as opposed to corn syrup, and it worked beautifully, so I've adjusted the recipe accordingly.
---
Ingredients
4 tablespoons

butter, unsalted or salted

1/4 cup

maple syrup

1/4 cup

packed light brown sugar

1/2 cup

sliced almonds

6 tablespoons

(

60 g

) flour
pinch sea salt, such as Maldon
---
Instructions
Preheat the oven to 350ºF. Line a baking sheet with parchment paper. Have ready 4 teacups or custard cups or small bowls.
Melt the butter in a small saucepan with the maple syrup and brown sugar. Stir in the almonds, flour, and salt.
Drop 4 slightly rounded tablespoons of batter (don't be tempted to use more batter), evenly spaced, on the baking sheet. Bake the cookies for 9 to 12 minutes, until they're golden brown. Let rest for 30 to 45 seconds, then lift each cookie off the baking sheet with a flexible metal spatula and flip it into your teacup or bowl. (If the cookies get too firm to shape, return the pan to the oven for 30 seconds to soften them.) Let the baking sheet cool, then repeat with the remaining batter.
---
Category:

Cookie

Method:

Oven

Cuisine:

American
Keywords: cookie, cups, almonds