Corn Fritters with Cheddar & Scallions
This post may contain affiliate links. Please read my disclosure policy.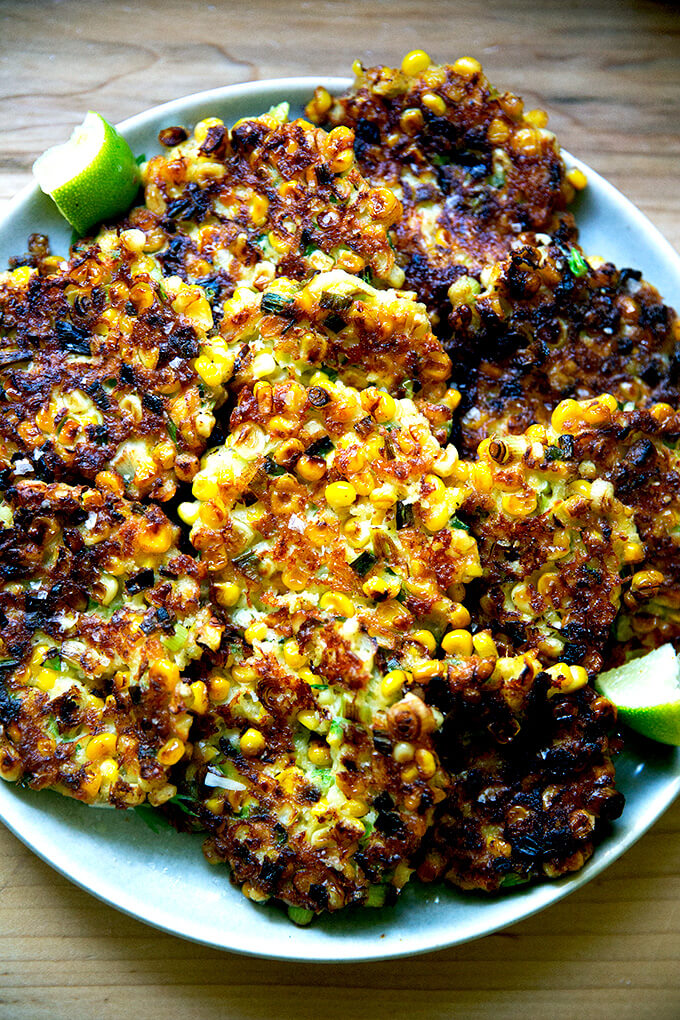 Every summer we spend a week in Lake George with Ben's parents. We stay at place called Stepping Stones, an idyllic spot equipped with fully stocked cottages, but even so, I always arrive with the essentials: a chef's knife, a peeler, a salad bowl, and … a dozen cookbooks, half of which I never open, but which I feel I must bring anyway.
What can I say? Cookbooks = my security blanket.
A few summer's ago, I brought Deborah Madison's Local Flavors, which immediately inspired me to make her corn fritters with aged Cheddar, which I then wrote about on Food52. I made them again recently and was reminded by how much I love them: they are loaded with corn!
As Deborah Madison says, these fritters are "all corn, not just a few kernels suspended in batter." And though Cheddar may sound ordinary here, its sharpness complements the sweet corn so nicely, and it browns beautifully, too, creating a crisp, golden exterior.
A Few Corn Fritter-Making Tips:
Make a test fritter. A test fritter enables you to adjust the seasonings and consistency before you fry up the entire amount of batter.
Adapt the recipe as you wish. I love Cheddar in this recipe, but Madison recommends a number of others, including goat, feta, and Gouda. For herbs, if you don't like cilantro, use parsley or chives.
Make them gluten-free. To make these gluten-free, use oat flour or other gluten-free flour in place of the all-purpose flour.
Spice it up. As written, these fritters are flavored pretty minimally with scallions, herbs and cheese. If you like heat, a diced hot chili, splash of hot sauce, or pinch of crushed red pepper flakes would all be welcomed here.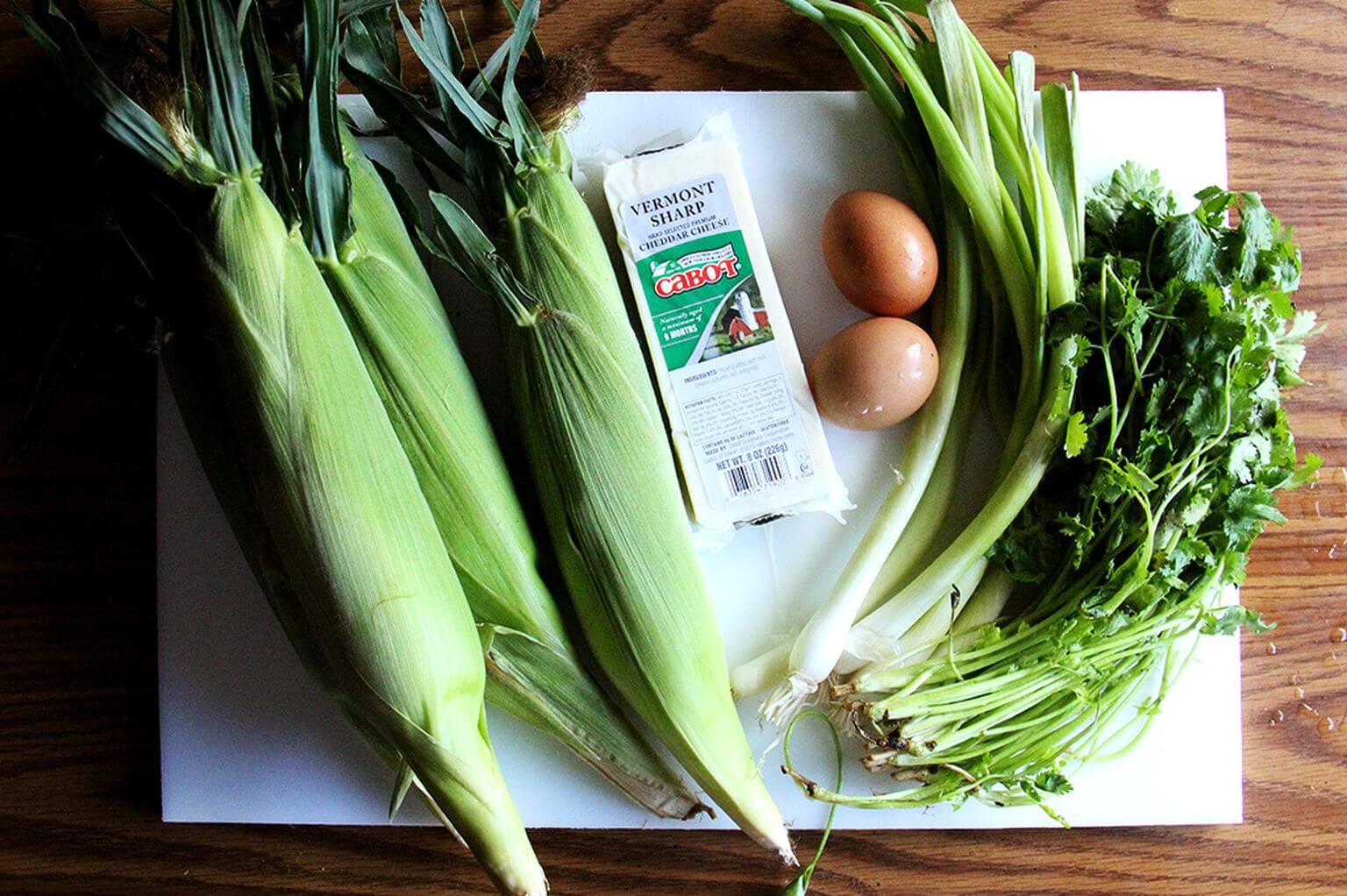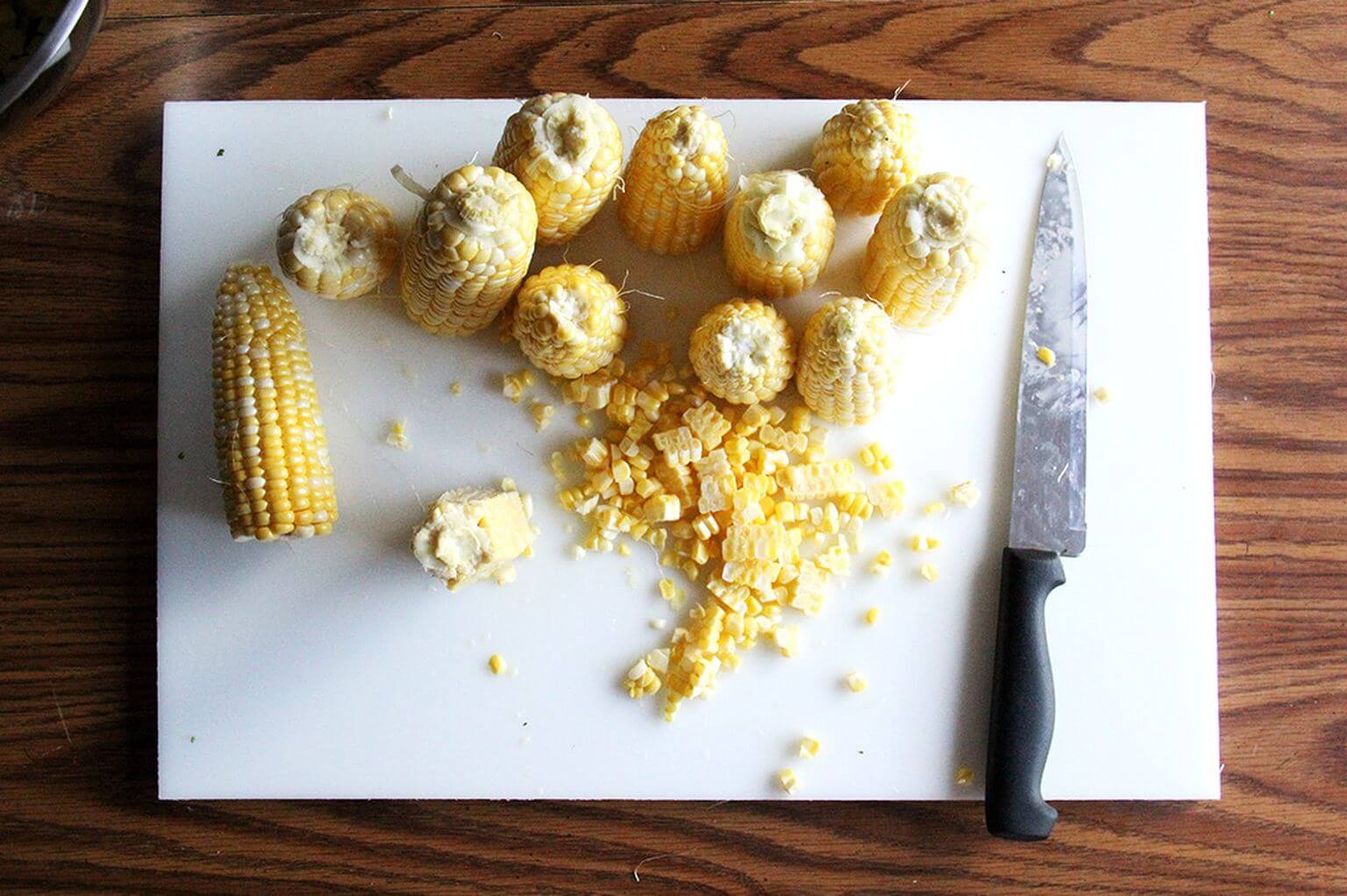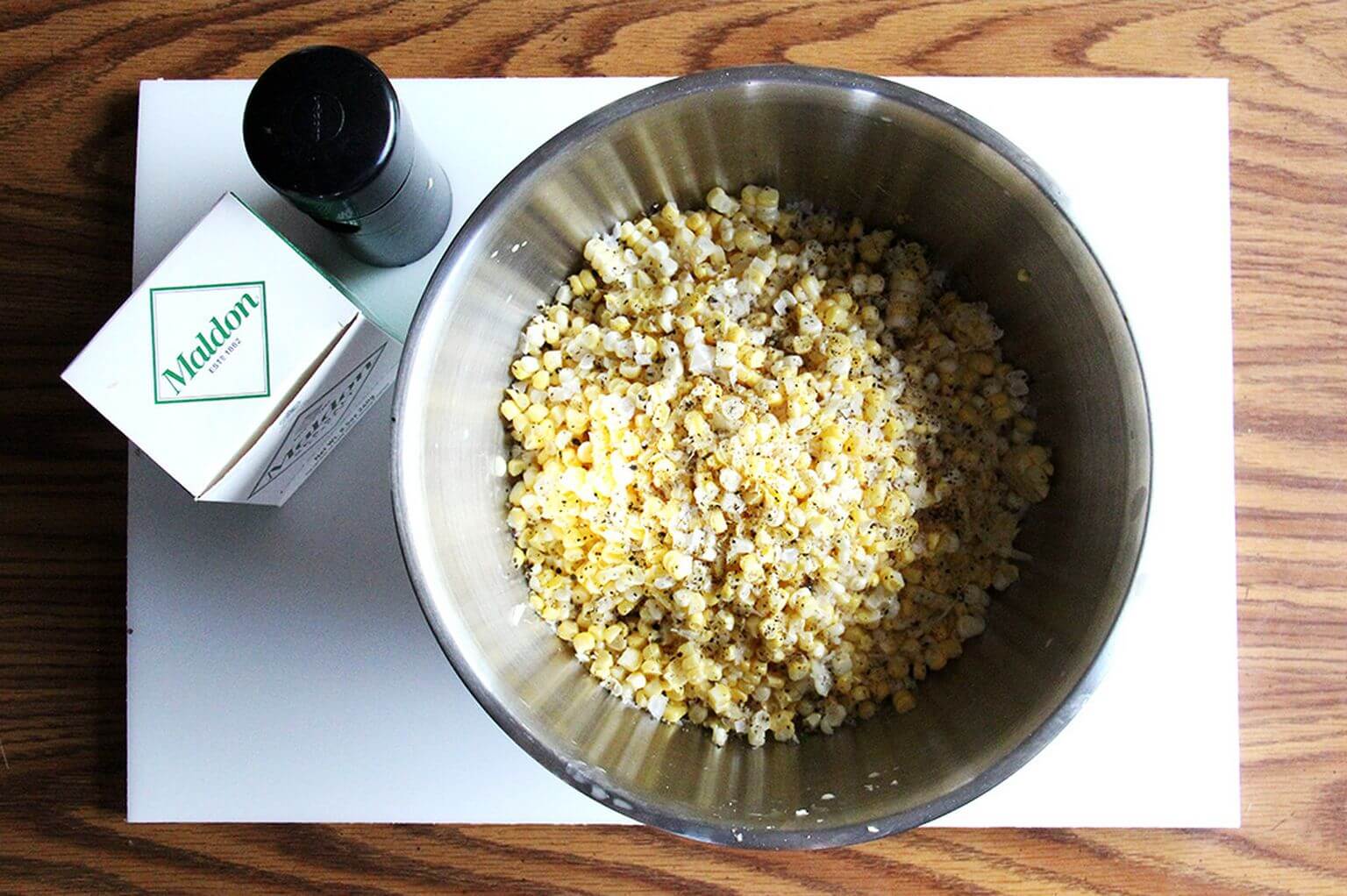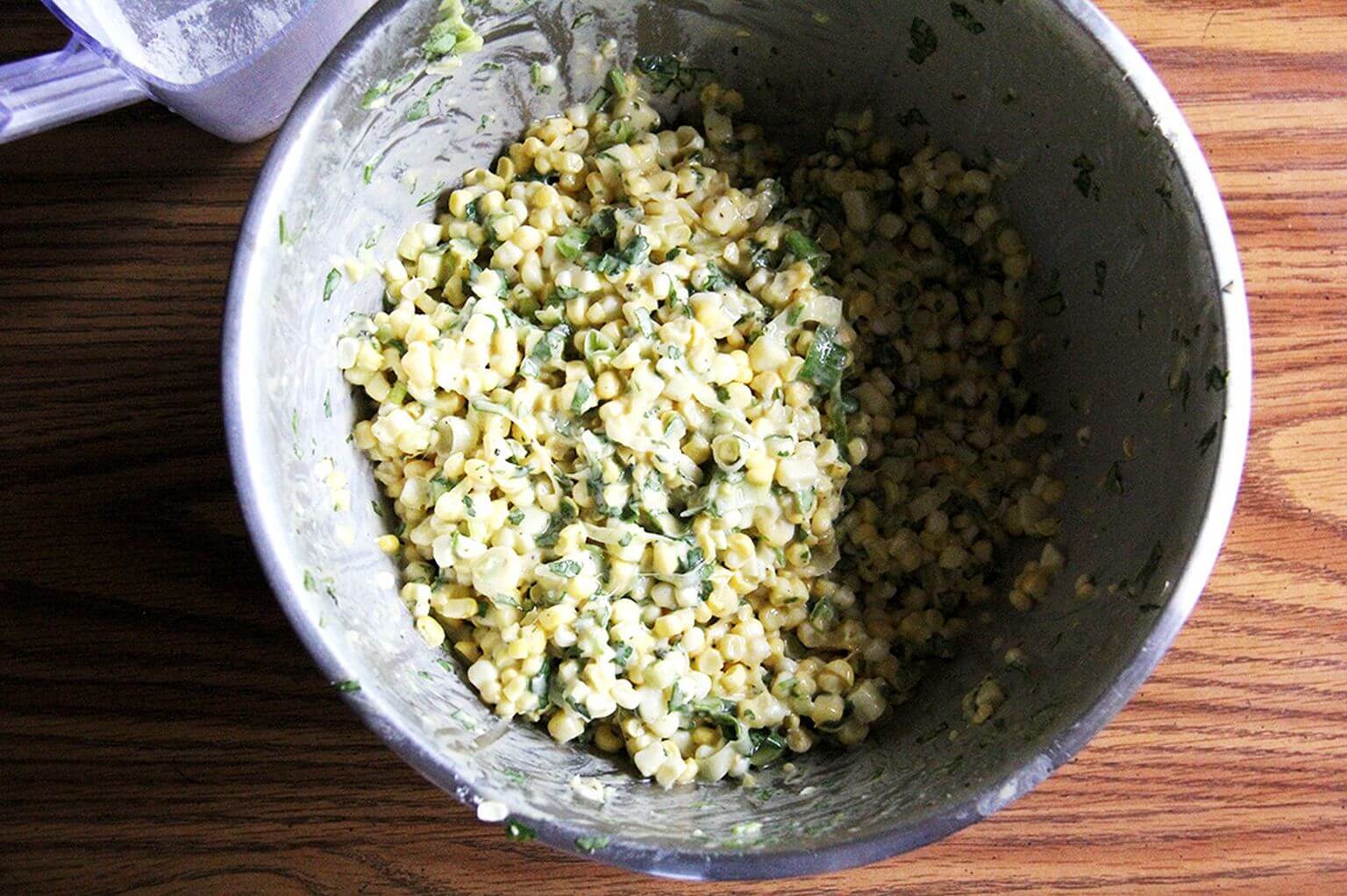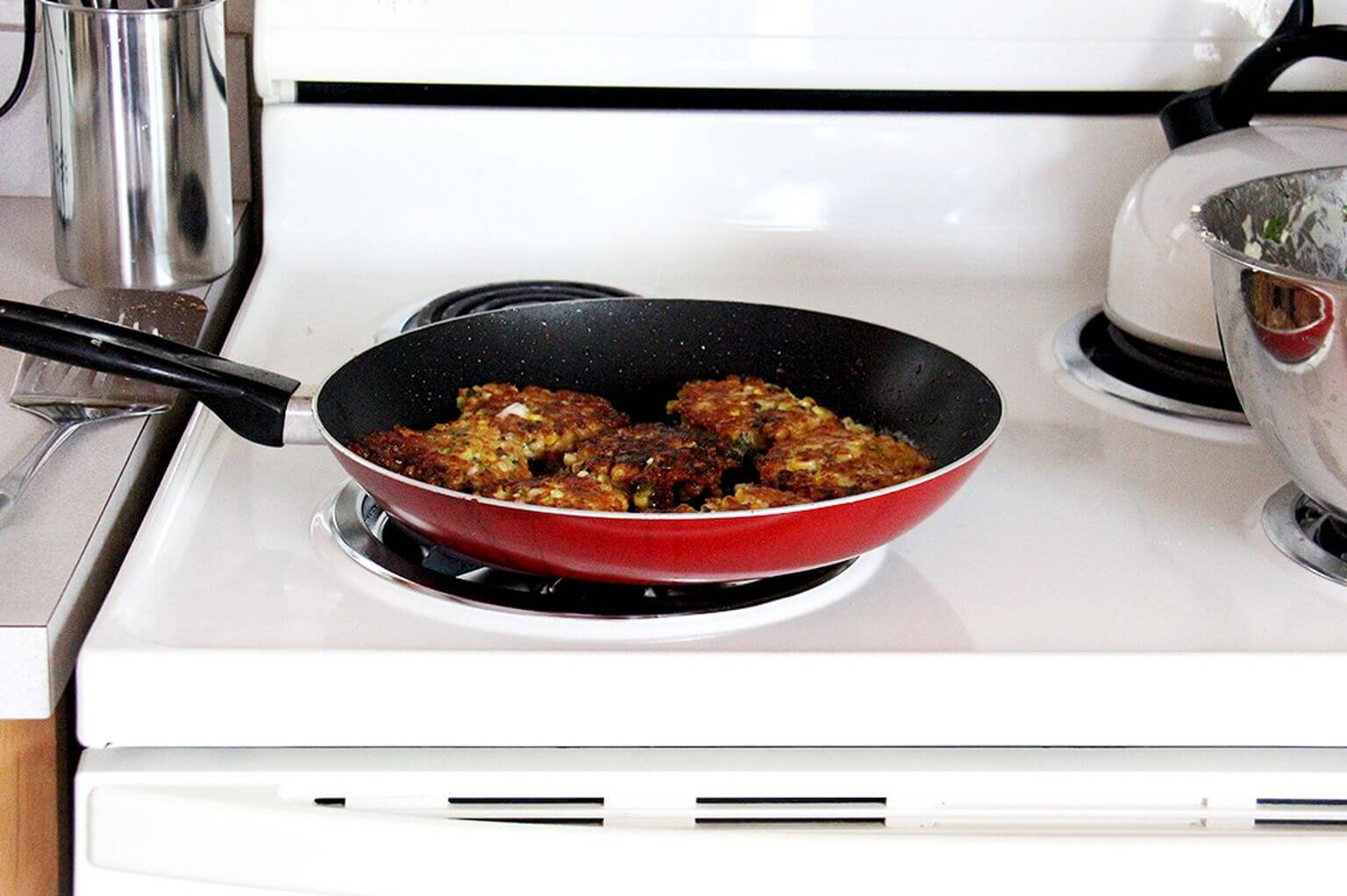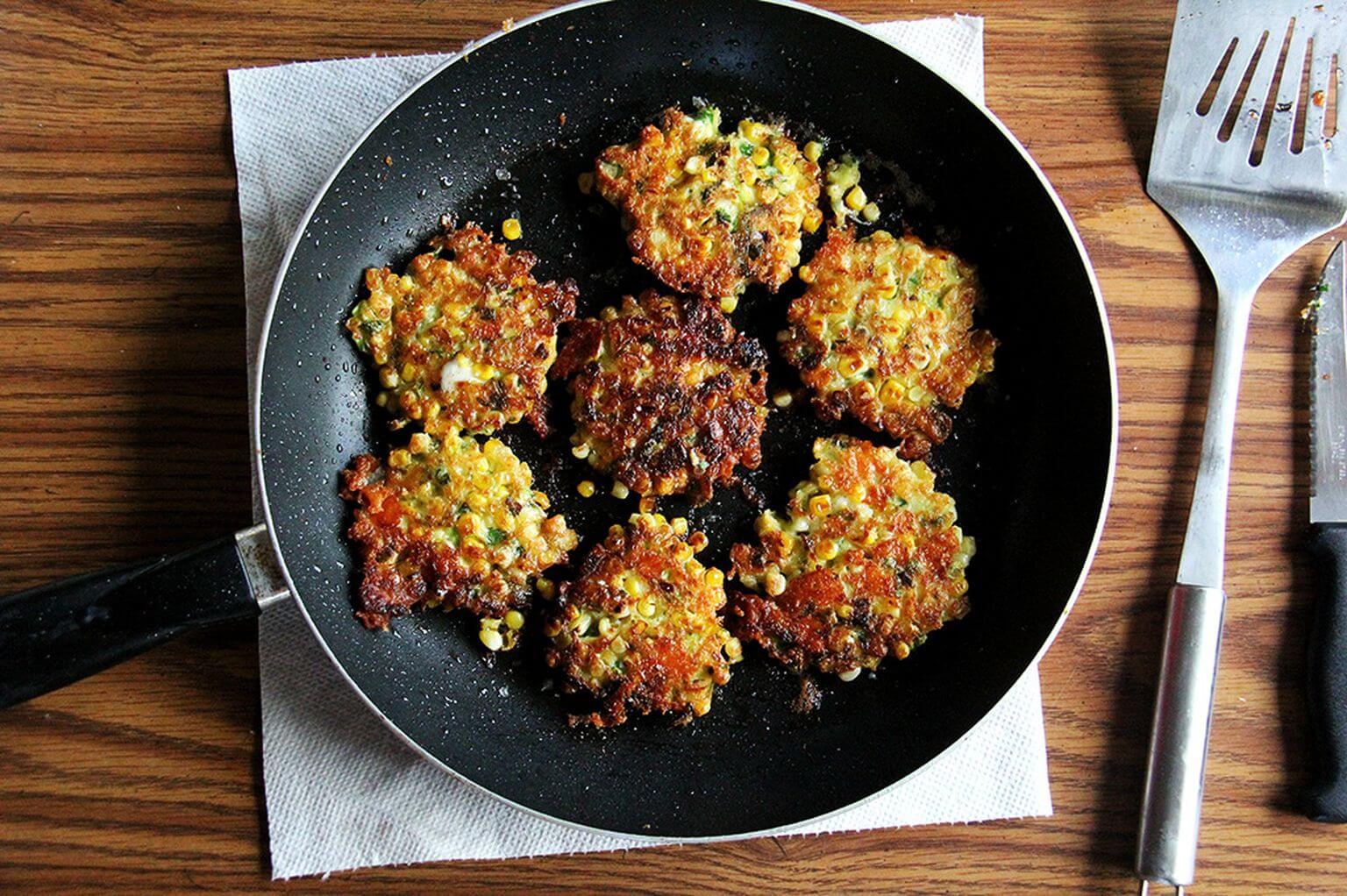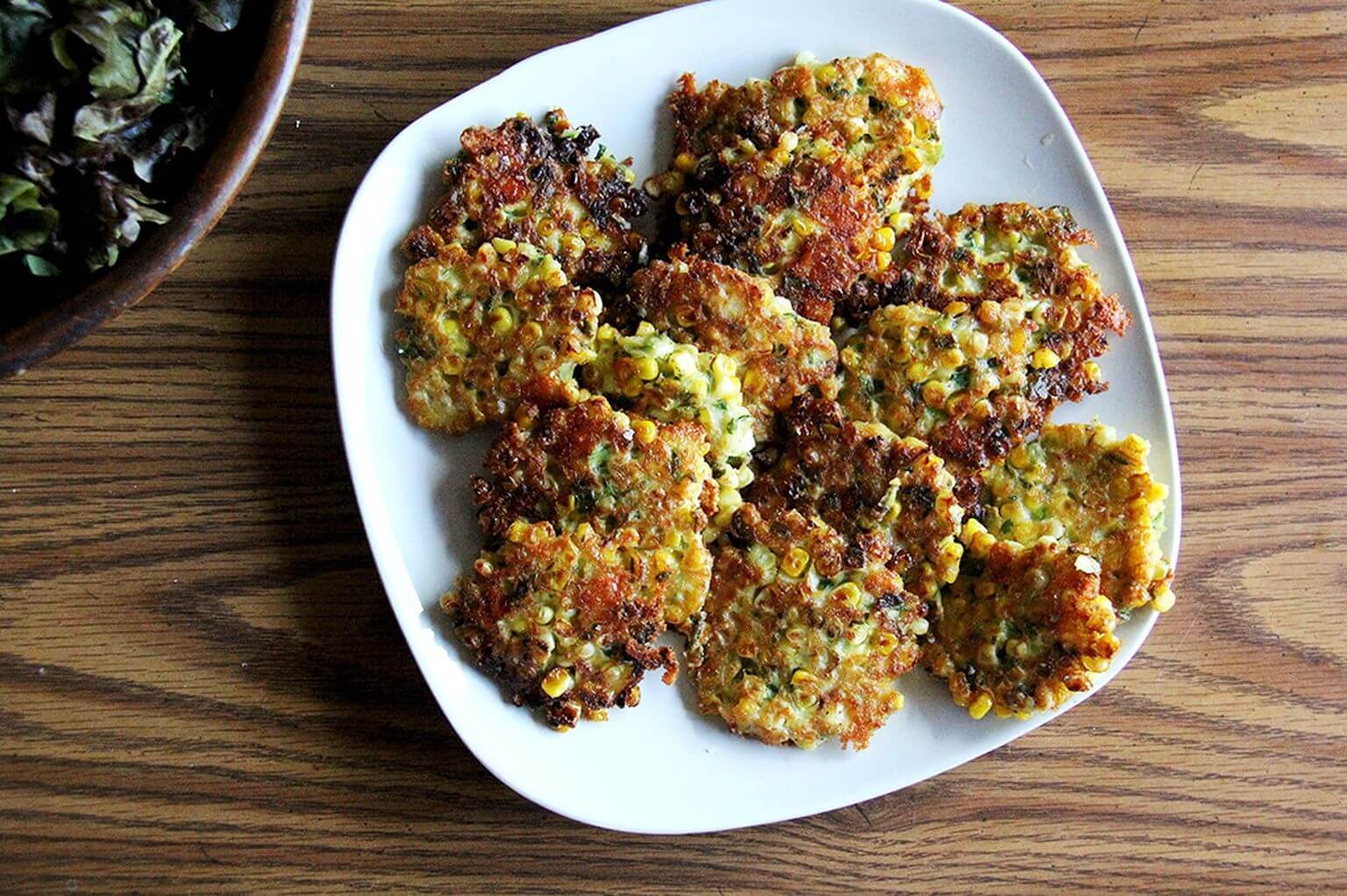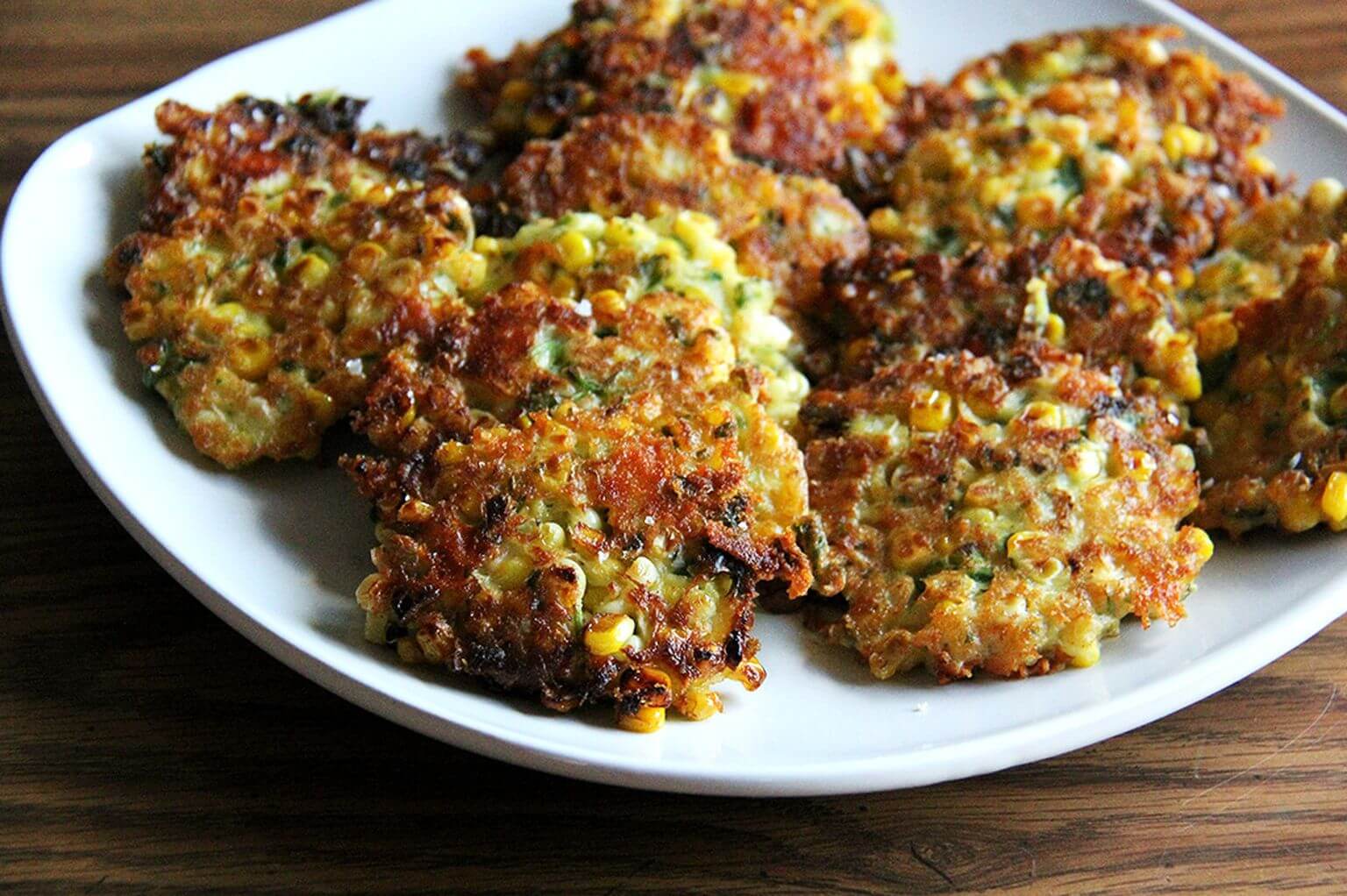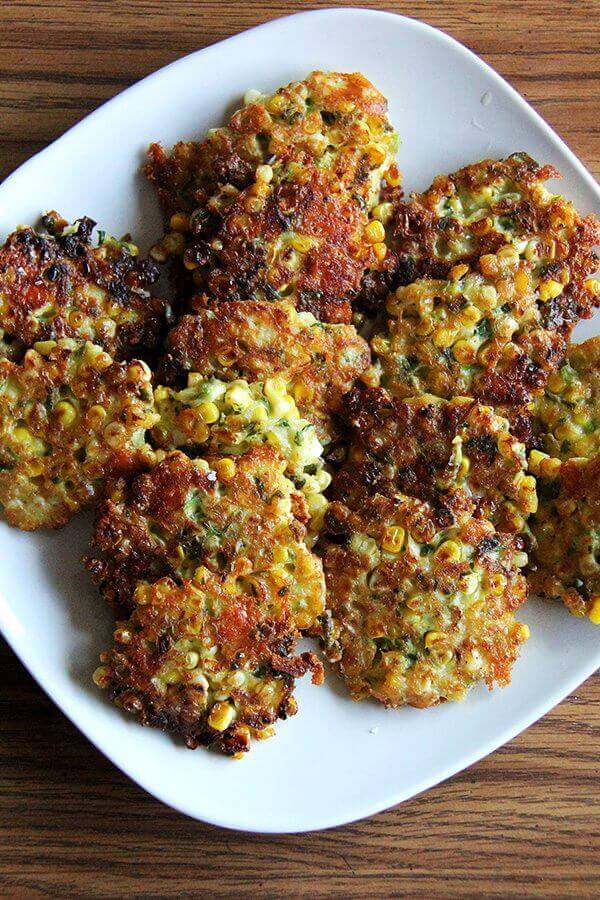 Print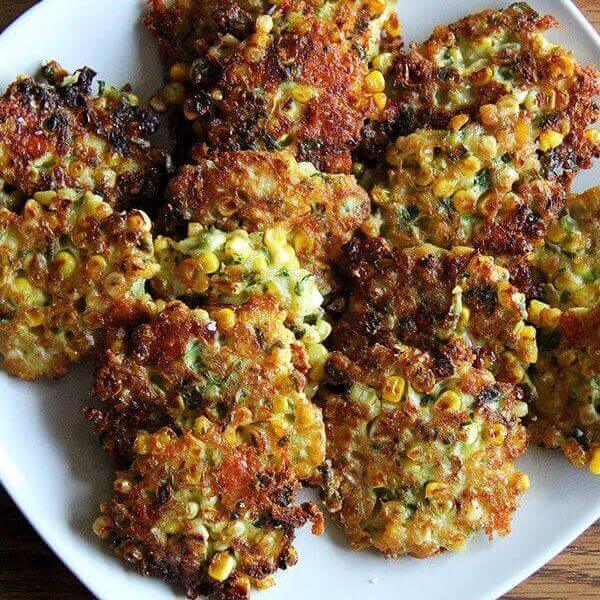 Corn Fritters with Cheddar & Scallions
---
Description
Adapted from Deborah Madison's Local Flavors
The batter can be made ahead and chilled in the fridge. Be sure to give it a good stir before frying.
If you don't like cilantro, feel free to omit or to use another herb or more scallions. Most recently I made a half batch with 8 scallions and no cilantro — it was delicious.
Recipe halves well. For a half recipe, I find 1/2 cup of flour to work well. 
---
6

 ears of corn, shucked

4

eggs, lightly beaten

4

 scallions, white and green parts, thinly sliced
1/2 cup chopped cilantro or more to taste, see notes above

1

 cup grated sharp Cheddar cheese or Monterey Jack (about

6 ounces

)

2/3 cup

all-purpose flour, plus more as needed
kosher salt
freshly cracked black pepper, to taste
neutral oil, such as grapeseed, for frying
fresh lime, sour cream, or hot sauce for serving, optional
Sea salt, such as Maldon, for finishing
---
Instructions
Make the batter. Slice the tops of the kernels off the corn, then reverse your knife and press out the milk. (You should have about 3 cups of kernels.)
Transfer the kernels and milk to a large bowl. Add the eggs. Add the scallions, cilantro, or other herbs, cheese, corn kernels and, and the flour. Season with at least 1/2 teaspoon kosher salt and pepper to taste. Use your hands to mix everything together very well. Grab a golfball-sized amount of batter and squeeze it in your hands. If it barely holds together, sprinkle some more flour into the bowl. Mix well, and test again—batter will not hold together the way a meatball will; it will be kind of pasty, and the only way to know if it's ready for frying is to make a test fritter.
Make a test fritter: In a large sauté pan, heat 1 tablespoon of the oil over medium-high heat. Lightly oil your hands. When the oil in the pan begins shimmering, pinch a golfball-sized amount of batter out of the bowl and carefully drop it into the oil. Reduce the heat to medium. The mound of batter will look pyramidal or gumdrop-like in shape. Gently flatten with a spatula or a fork. After about a minute, check the underside to ensure it is lightly browned. Flip the fritter, and cook for 1 to 2 minutes more or until evenly golden. Transfer to a paper towel-lined plate, season with sea salt, and let cool briefly. Taste. If fritter needs more salt or pepper, add more to the bowl. If the fritter did not stay together at all, sprinkle in some more flour. Mix well.
Fry the fritters: When fritter batter is cooperating, fry up the remaining batter in the same manner as the tester fritter, adding a thin layer of oil to the pan with each batch. Warning: Please be careful while frying. Keep your heat at medium to medium-high and beware of exploding corn kernels—every so often, one comes flying out of the pan—and splattering oil. If you have one of those spatter guards, use it. 
Serve with fresh lime, sour cream, and/or hot sauce if you wish.
Prep Time:

30 minutes

Cook Time:

10 minutes

Category:

Side Dish

Method:

Stovetop

Cuisine:

American
Keywords: fritters, corn, cheddar, scallions, deborah, madison
This post may contain affiliate links. Please read my disclosure policy.