Blistered Green Beans
This post may contain affiliate links. Please read my disclosure policy.
This easy recipe calls for fresh green beans and just 5 minutes under your oven's broiler. Tossed with a garlic, chili, and caper oil, the blistered beans are irresistible! This is one of the simplest and most delicious ways to prepare fresh green beans.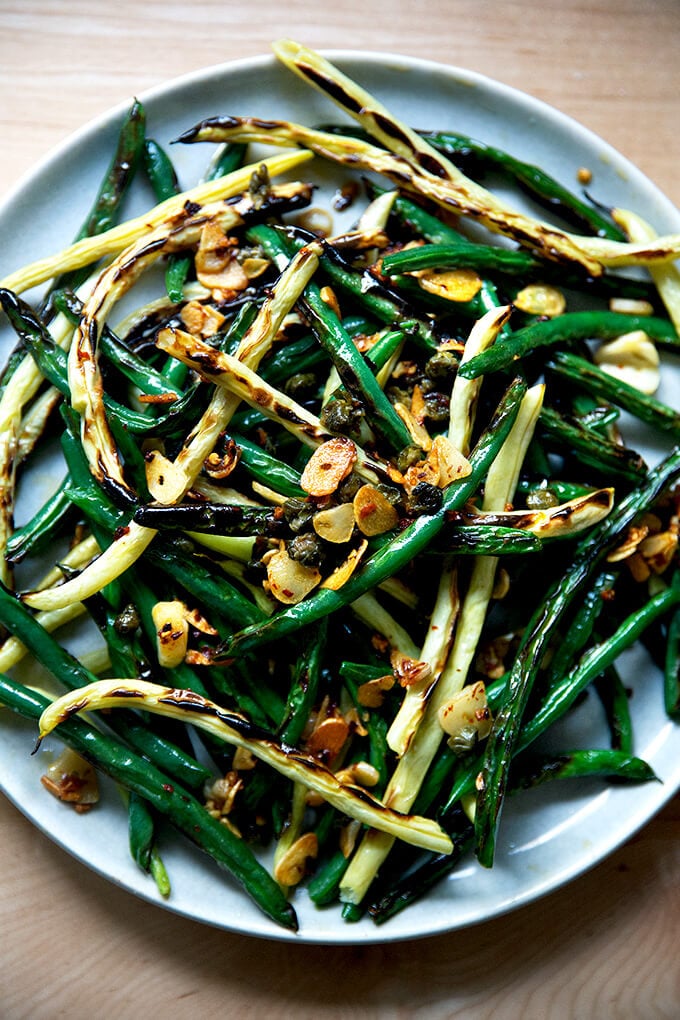 When the first fresh green beans arrived in our CSA, I immediately pulled up an old Bon Appetit recipe, but took a different path: instead of deep-frying the beans in oil stovetop, I broiled them; and while the beans cooked, I infused a few tablespoons of oil in a small skillet with garlic, capers, and crushed red pepper flakes.
In just about 5 minutes, when the green beans looked blistered to my liking, I piled them onto a platter and poured the spicy, garlicky oil overtop. No joke: I ate the entire pound of green beans standing at the counter hovered over the platter.
Friends! These beans are so good. And they couldn't be faster to prepare: don't take an eye off your broiler — 2 minutes aside and the beans are done! For both its ease in preparation as well as its deliciousness, this is one of my to-go vegetable side dishes this time of year.
I hope you give it a go. The method has me wondering if it might work with broiled asparagus? broccoli? cauliflower? peppers? I can't imagine a charred vegetable that wouldn't welcome a sizzle of salty, fragrant, fiery oil.
Five More Favorite Vegetable Side Dishes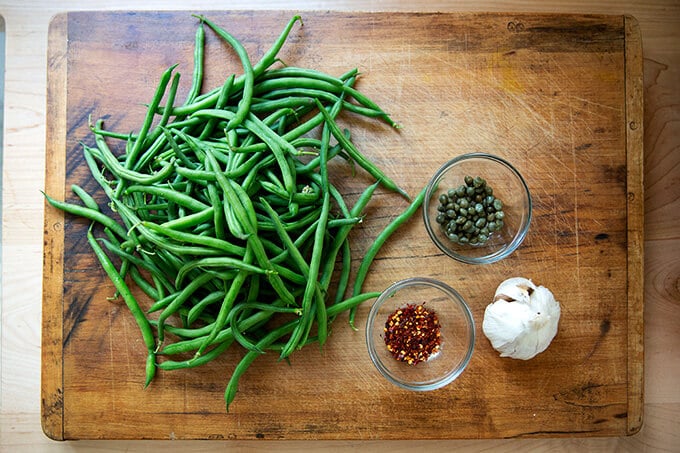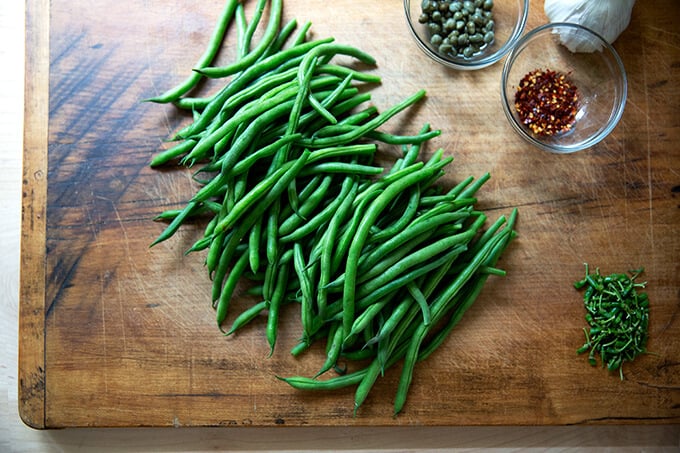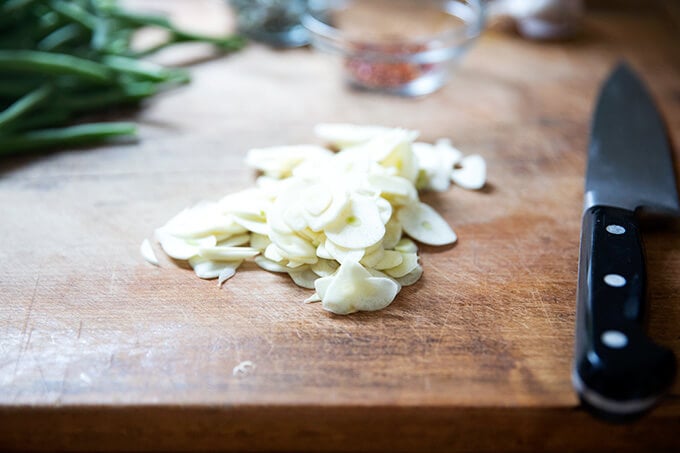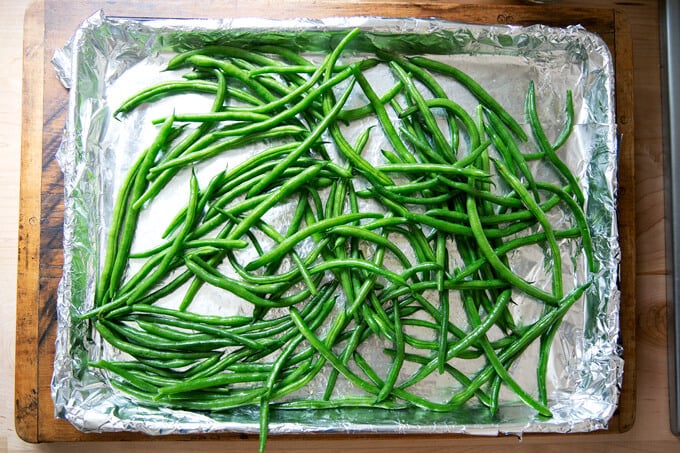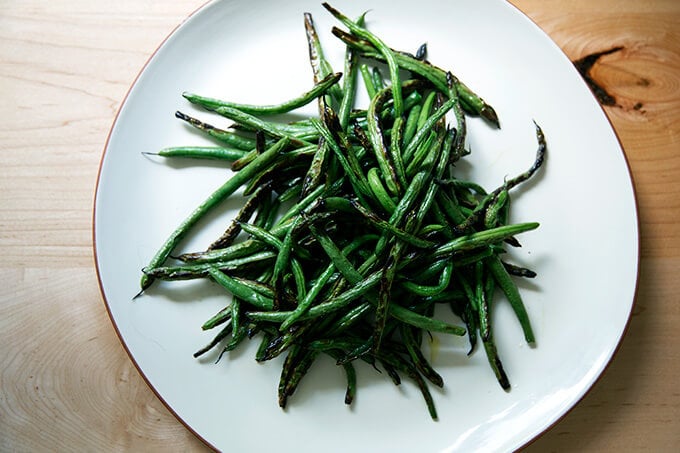 Starting the oil, garlic, pepper flakes, and capers in a cold pan ensures you won't burn the garlic. Just be patient: there's a fine line between garlic that's crispy and caramelized and burnt and bitter.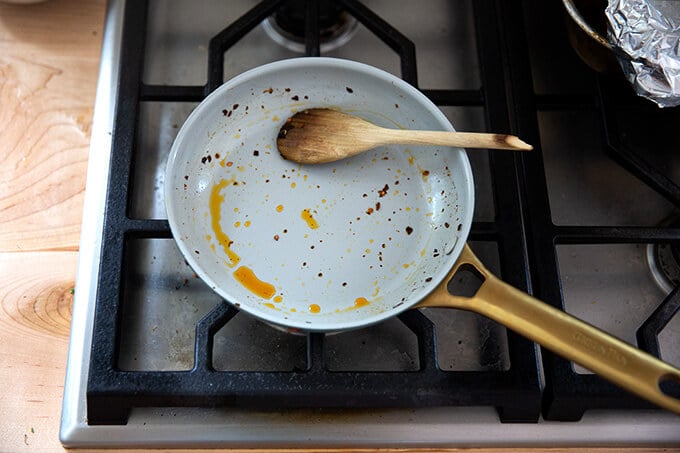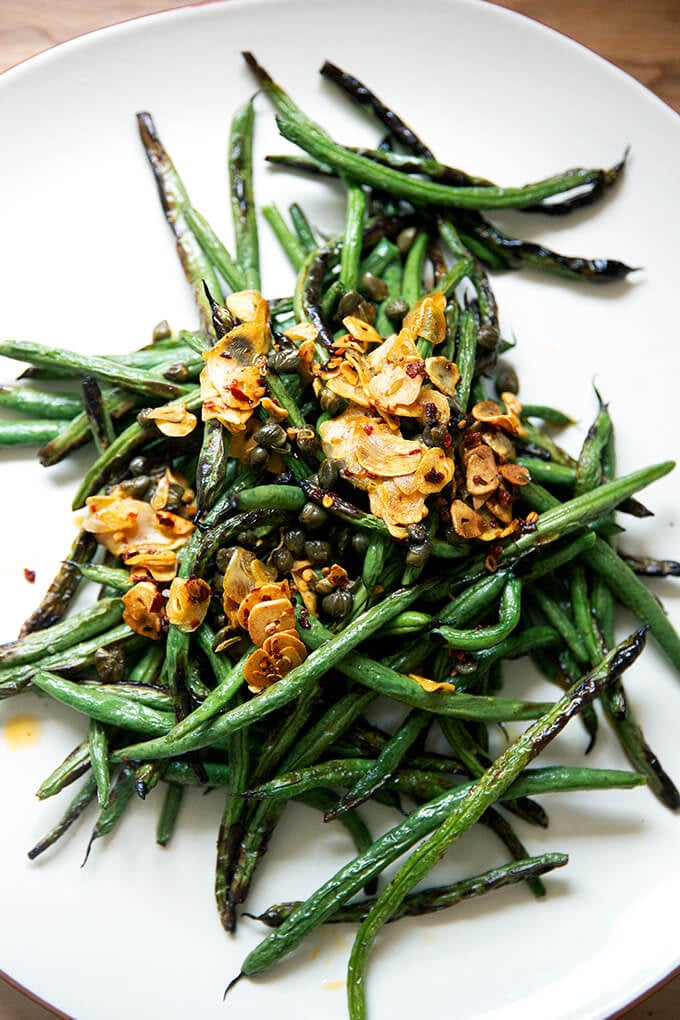 Print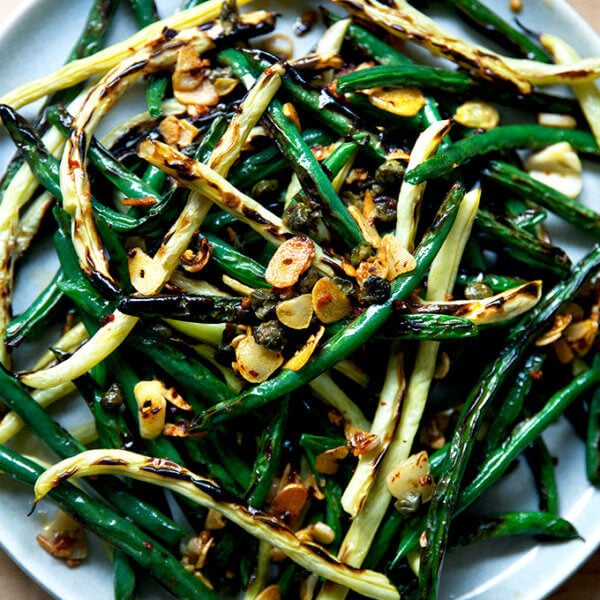 Blistered Green Beans
---
4 tablespoons

olive oil, divided

6

cloves garlic, thinly sliced

1/2 teaspoon

crushed red pepper flakes (or less if you are sensitive to heat)

1 tablespoon

capers

1

lb. green beans, stemmed
kosher salt to taste
---
Instructions
Heat the broiler to high for at least 15 minutes. Line a rimmed sheet pan with aluminum foil.
In a small skillet, place 2 tablespoons of the oil, the garlic, crushed red pepper flakes (start with a quarter teaspoon if you are sensitive to heat), and capers. Turn the heat to low and let the oil slowly infuse.
Meanwhile, toss the green beans on the prepared sheet pan with the remaining 2 tablespoons olive oil and kosher salt to taste. Taste a green bean raw — it should taste nicely seasoned. Transfer pan to broiler and cook 2 minutes. Check. If the beans aren't beginning to char, return for another 1 to 2 minutes. If they are charring, toss, and return to the broiler for another 2 minutes. Check again. Remove from oven if the beans are blistered to your liking, otherwise, cook for another minute or so. (Note: When my broiler has preheated sufficiently, my beans consistently blister in 5 minutes, with one toss halfway through. Every oven is different, however, so be vigilant!)
Transfer blistered green beans to a serving platter.
Meanwhile, your olive oil should be gently shimmering with the garlic, capers, and pepper flakes. Turn the heat up to medium or high and keep a close watch. Stir occasionally and as soon as you see the garlic beginning to brown at the edges and crisp up, remove the pan from the burner and pour the oil over the beans.
Gently toss. Taste. Season with more salt if desired. Serve immediately.
Prep Time:

10 minutes

Cook Time:

10 minutes

Category:

Side Dish

Method:

Broiler/Stovetop

Cuisine:

American
Keywords: blistered, broiled, green beans, garlic, spicy, capers, chilies, crushed red pepper flakes
This post may contain affiliate links. Please read my disclosure policy.