Breakfast Tacos with Roasted Poblano and Corn Salsa + Excellent Mail-Order Flour Tortillas
This post may contain affiliate links. Please read my disclosure policy.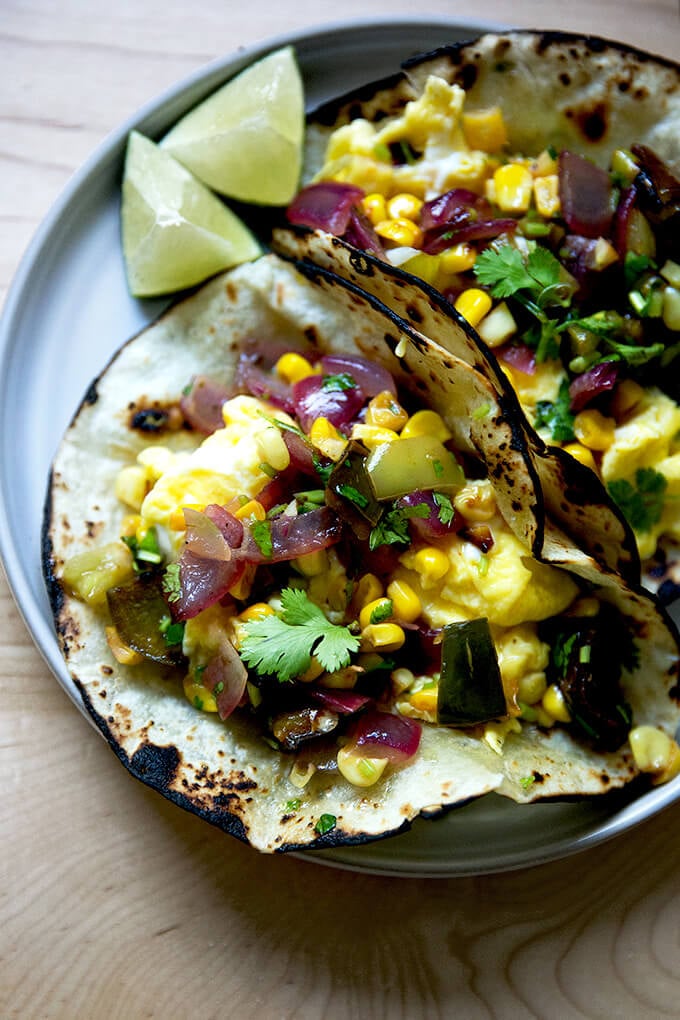 Good tortillas are hard to find.
Flour tortillas can be gummy; corn tortillas often taste like sawdust.
The corn-flour hybrids, I think, are the best. A few years ago, I discovered one from Whole Foods, which I loved: it had a soft texture and nice corn flavor. But the formula, as far as I can tell, has changed, and I don't love it as much.
For really good tortillas, flour or corn, it's best to make them at home. But, confession: I think the last time I pulled out my tortilla press was pre-children, (which is nearing a decade…yikes).
So you can imagine my excitement when I read about Caramelo flour tortillas in the Bon Appetit newsletter.
Caramelo describes their tortillas as "Sonoran-style," and they use high-quality ingredients including fat from humanely raised animals. I immediately ordered one of each of the three varieties — pork fat, duck fat, and avocado oil — they sell, and I have to say, they are spectacular.
Not only are they thin and tasty, but they char up so beautifully, blistering at the edges and in surface pockets throughout, not unlike how the crust of a wood-fired pizza "leopards" in a blazing hot oven. Caramelo suggests heating the tortillas directly over a flame — fun! — or in a dry skillet — still fun!
Since the arrival of the tortillas, I've been on a little taco bender. Most recently, it's been breakfast-tacos-for-dinner — so fast! so good! — topped with a roasted poblano-and-corn salsa, a variation of a salsa I made a few years ago that called for grilling everything: the red onions, the corn, and the poblanos, which then required peeling.
Here, the vegetables are chopped into small-ish bits and roasted at high heat with olive oil and salt for about 15 minutes or until they begin to char. Out of the oven once cool, they are tossed with fresh lime juice and cilantro. This variation is just a little simpler — no firing up the grill, no peeling, no chopping post cooking — and it's nearly as tasty.
Works for me. Hope it works for you.
PS: The tacos I make once a week for my children.
PPS: My favorite tacos.
PPPS: Sourdough Flour Tortillas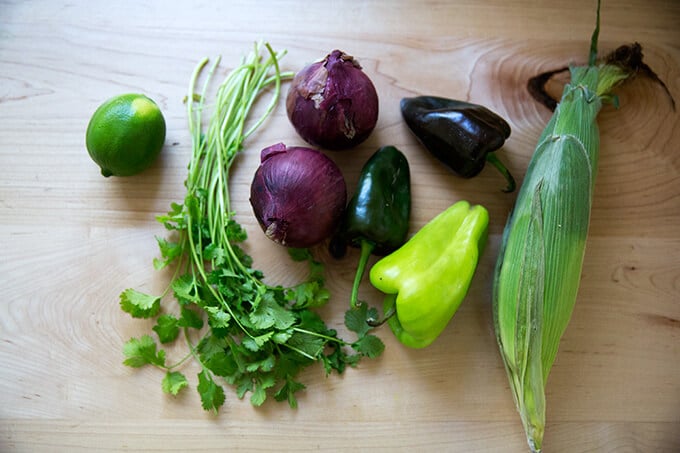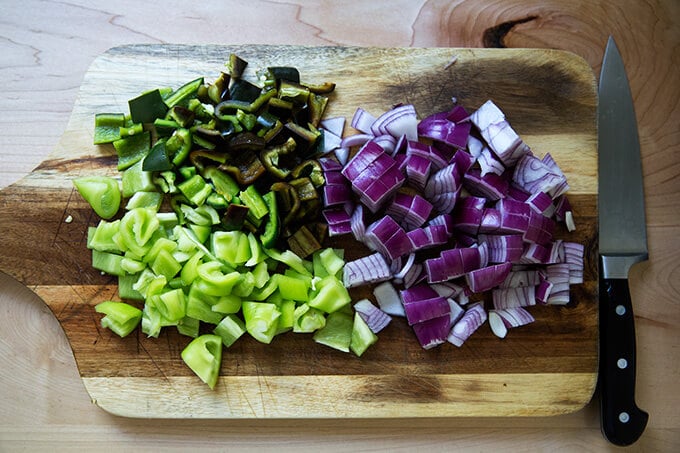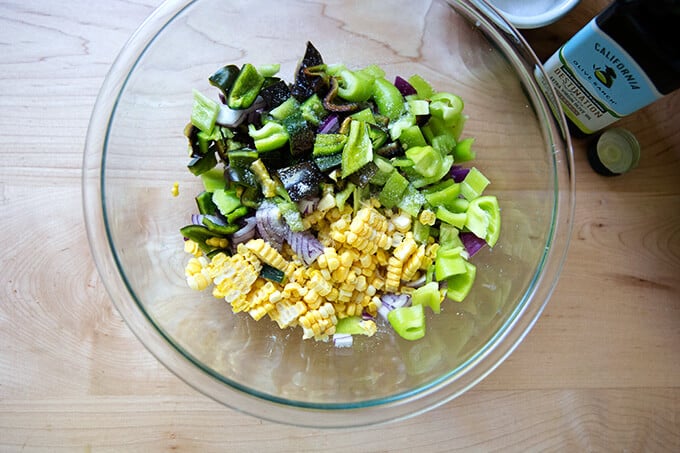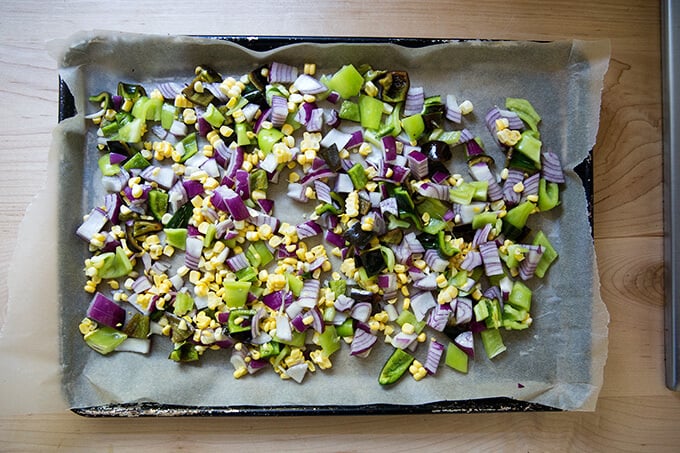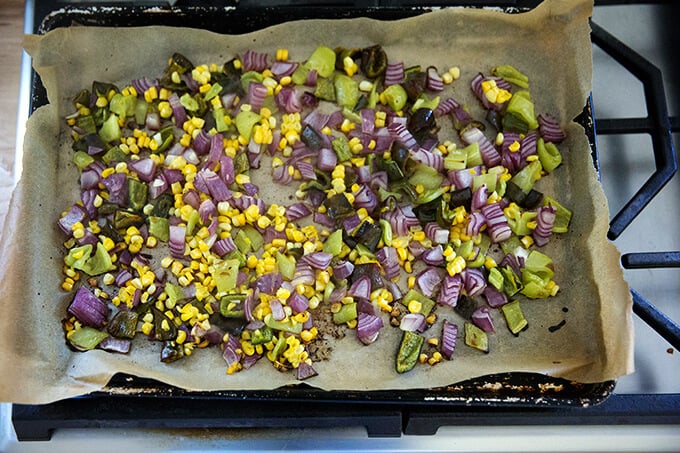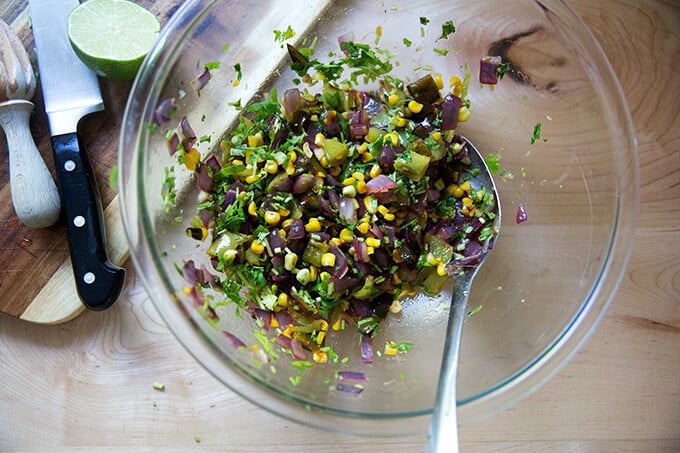 Caramelo tortillas: get some!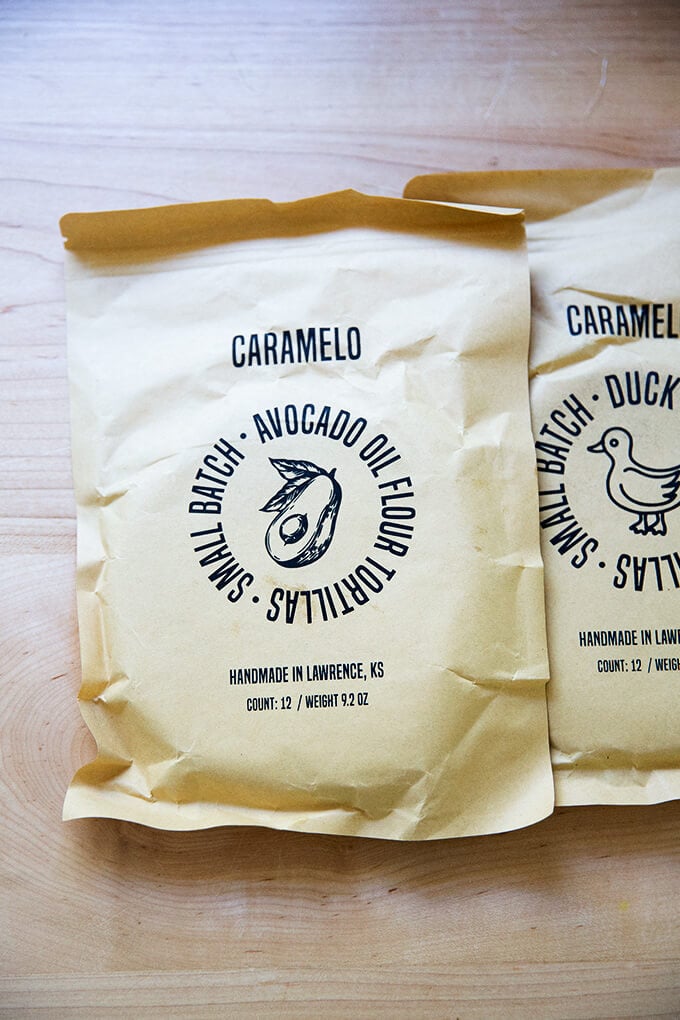 A perfectly charred tortilla is a beautiful thing.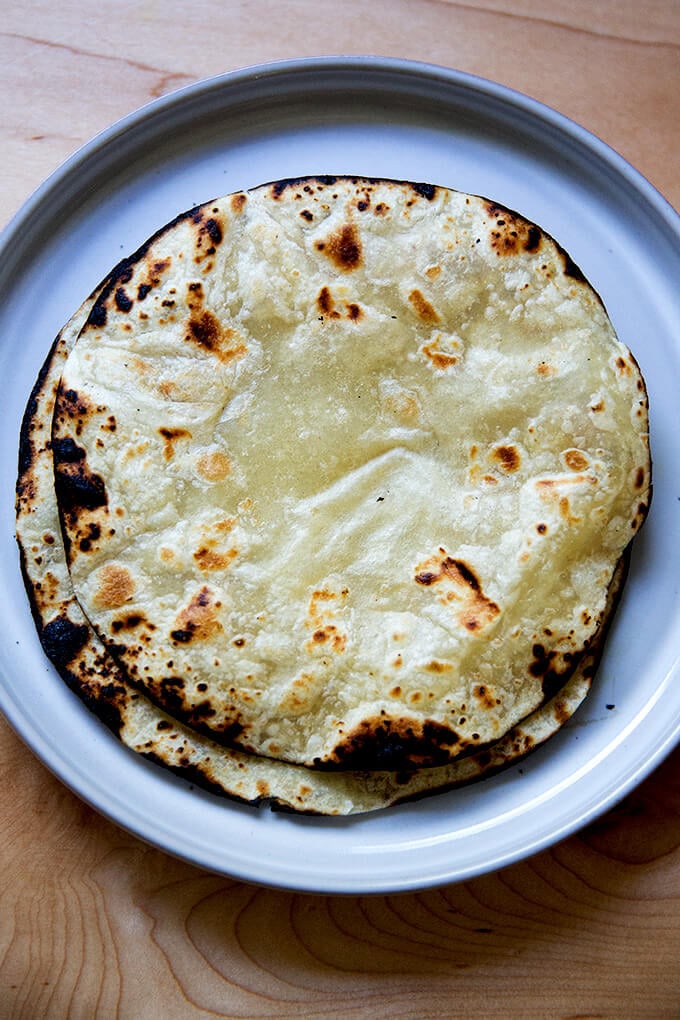 Love my Food52 x GreenPan nonstick pan.: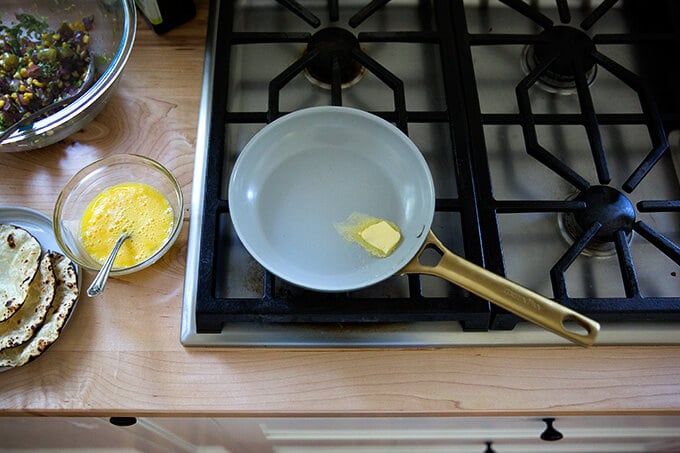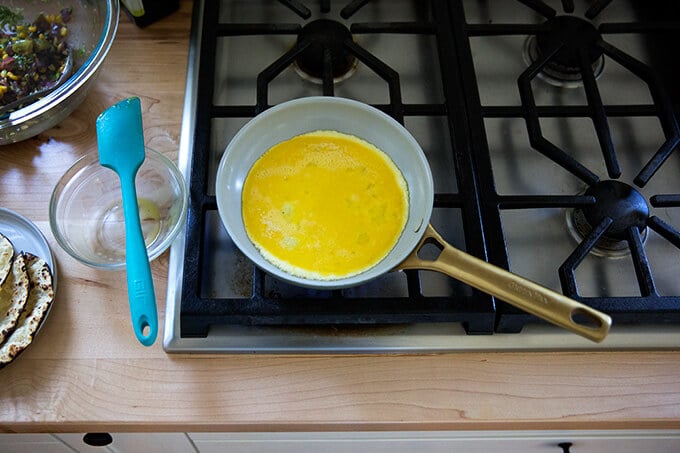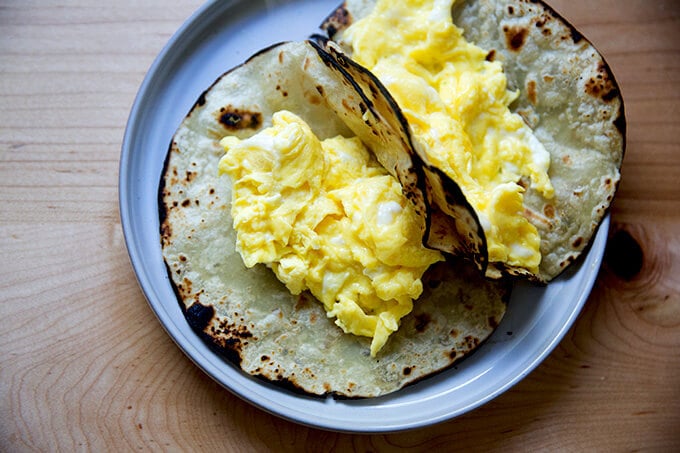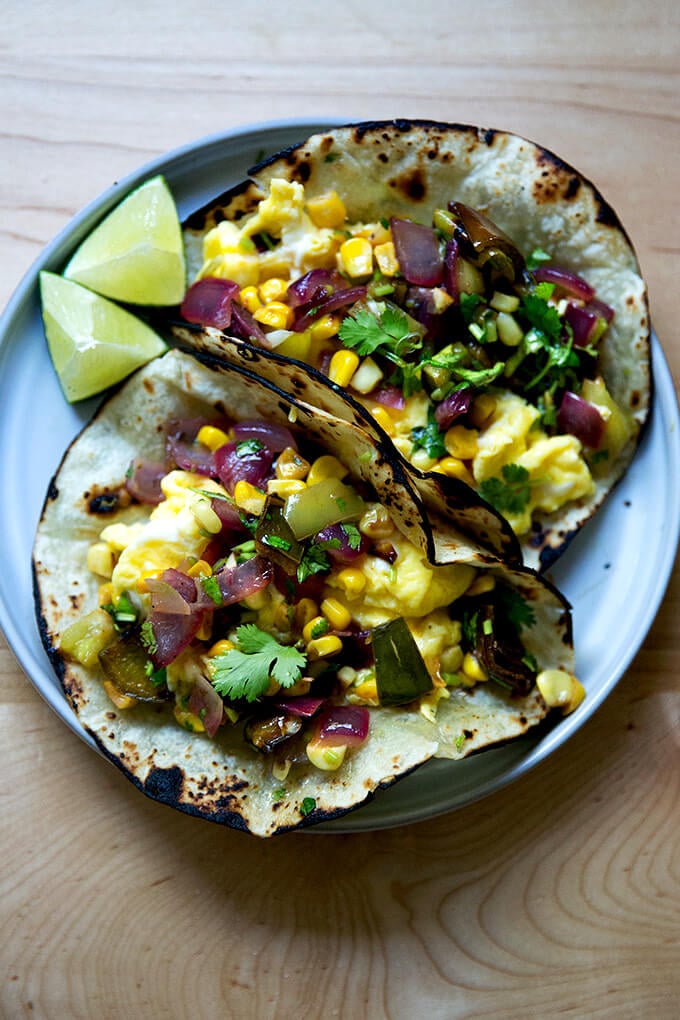 With queso fresco: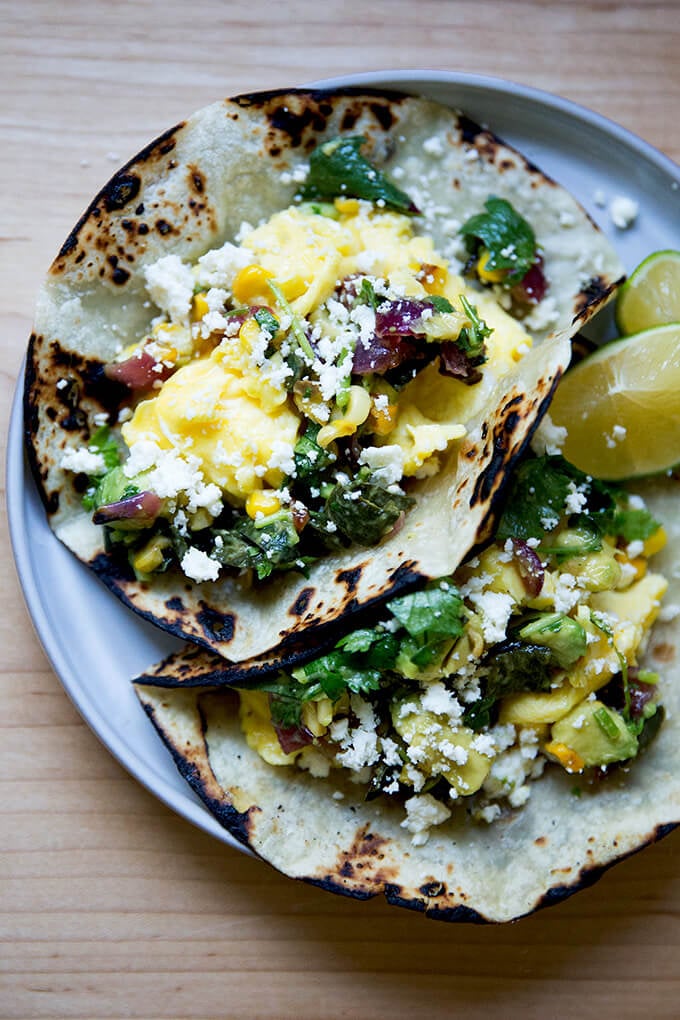 Print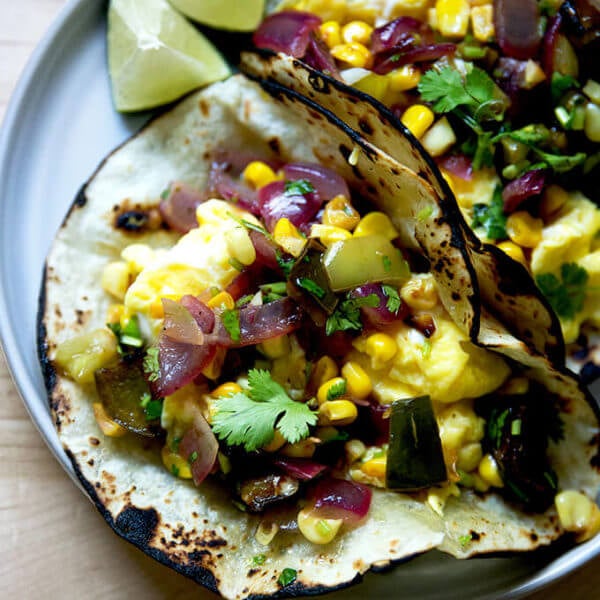 Breakfast Tacos with Roasted Poblano, Onion, and Corn Salsa
---
Description
Notes:
The salsa: Use the recipe as a guide. In this version I was clearing out the fridge and found 1 ear of corn, 2 red onions, and 3 poblanos. If you have other peppers or onions or more corn, use them!
In addition to eggs, this salsa pairs well with any number of grilled or roasted meats: chicken, steak, pork, etc.  It can be made into a lovely grain salad, too, by stirring it into a cup of cooked farro or quinoa or bulgur, etc. You will need to add more olive oil/lime or vinegar to taste.
Tortillas: These Caramelo tortillas are fantastic. As noted in the post above, Caramelo recommends heating the tortillas over an open flame, but you warm them as you wish: in a dry pan, griddle, or grill on high heat for about 8-10 seconds on each side or until they puff up. Keep warm in a tea towel till you are ready to serve.
8-inch Nonstick Pan: Love this Food52 x GreenPan nonstick pan.
---
For the salsa:
2

to

3

poblano peppers, halved, cored, and chopped

2

red onions, peeled and chopped

1

ear of corn, shucked, kernels stripped from cob

1 tablespoon

olive oil
kosher salt to taste

1

lime, halved

1/2 cup

cilantro, roughly chopped, or more to taste
hot sauce or red pepper flakes, optional

1

avocado, diced, optional
For the egg tacos (for 2 small tacos):
2

small tortillas
dab of butter

2

eggs, well beaten
queso fresco, crumbled, or other cheese, optional
---
Instructions
Preheat the oven to 450ºF. (Use convection roast is you wish.)
Place diced poblanos, red onions, and corn in a large bowl. Drizzle in the tablespoon of olive oil. Season generously with kosher salt. Toss to combine then spread on a large sheet pan, lined with parchment for easy cleaning. (Reserve the bowl.) Roast until vegetables are beginning to char, 15 to 20 minutes. Let the vegetables cool briefly, then transfer to the reserved bowl.
Squeeze a little lime over the vegetables. Add in the cilantro, and toss. Taste. Adjust with more lime, salt, and cilantro to taste. Add the avocado, if using. If you want some heat, add a splash of hot sauce or a pinch of pepper flakes. Mix and taste again: I often adjust with a splash more olive oil, lime, salt, and sometimes a splash of vinegar, too. Set salsa aside.
Warm tortillas as you wish (see notes above.) Set on a plate.
Heat an 8-inch nonstick pan over medium-high heat. Add the dab of butter and immediately pour the eggs into it as it melts. Season with a pinch of salt. Let eggs set for 15 seconds or so, then turn heat to low, and, using a spatula, stir the eggs constantly till they're done — they will likely be cooked in less than a minute. I often remove the pan from the heat, while continuing to stir with my spatula till they looked cooked to my liking.
Immediately divide the scrambled eggs among the two tortillas. Spoon salsa over top. Top with cheese if desired.
Prep Time:

15 minutes

Cook Time:

25 minutes

Category:

Breakfast

Method:

Skillet, Oven

Cuisine:

Mexican
Keywords: roasted, poblano, corn, onion, salsa, eggs, taco, tortillas, Carmelo
This post may contain affiliate links. Please read my disclosure policy.