Raw Collard Green Salad with Roasted Delicata Squash, Almonds, & Parmesan
This post may contain affiliate links. Please read my disclosure policy.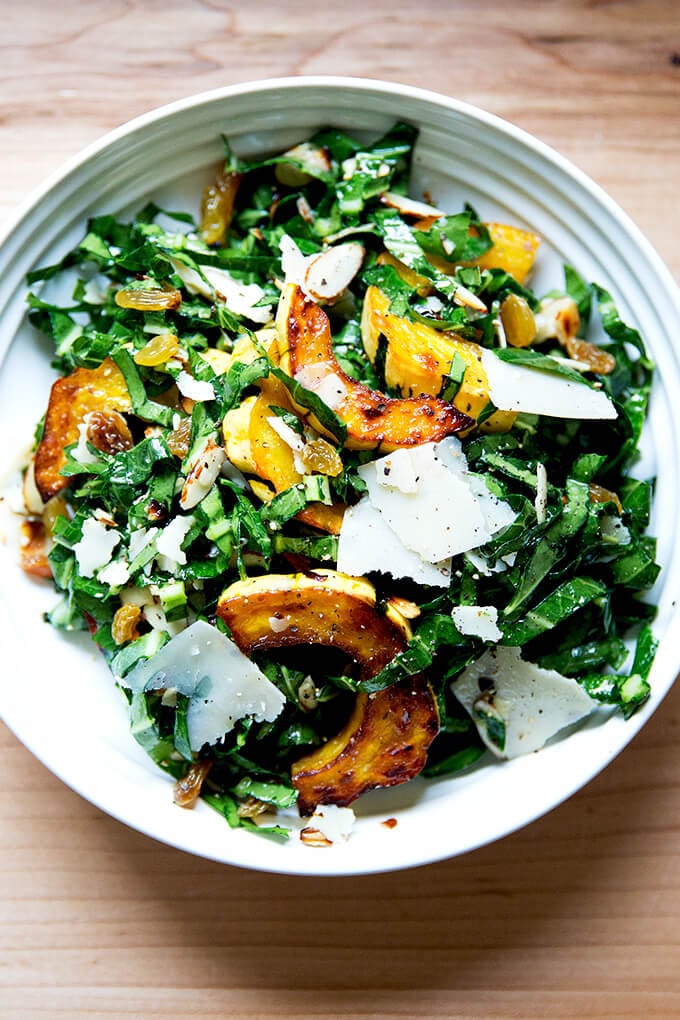 Last week, my friend Deb sent me a recipe for a kale salad she had made for Rosh Hashanah. Everyone, she wrote, raved.
I made it promptly and was reminded:
Roasted garlic = complete goodness.
Delicata squash = so pretty, so tasty, so low maintenance.
In some ways, it's no surprise the salad was so delicious: it's got toasted almonds, shaved parmesan, and golden raisins, that dried fruit-nut-and-cheese trifecta that wins every time.
Plus: there's thinly shaved kale and roasted delicata squash. As Ina says: How bad can that be?
But what was surprising was the dressing, a mix of vinegar and fresh lemon juice, honey, olive oil, and a whole head of smashed roasted garlic cloves. It's equal parts acid to fat, which means it's very sharp, which is partly why, I think, it works so well here.
A few days after making it, I found myself craving it again, but didn't have an hour to roast a head of garlic, so I didn't — rebel! — and guess what? It was still delicious. Without the roasted garlic, this salad comes together in just about 30 minutes, and thanks to the squash mostly but also the nuts, dried fruit, and cheese, it feels very substantial.
We've been treating it as the main course with — you guessed it! — a nice hunk of bread on the side.
Ready for a plot twist?
I first made the salad with kale, but I've since been using thinly shaved collard greens and a technique I learned from Ronna Welsh's The Nimble Cook. Instead of massaging the greens, Ronna has you toss the thinly shaved leaves with a little bit of salt AND sugar, then let them stand for 15 minutes before tossing with the dressing.
Salt has long been used to draw out moisture and soften vegetables that can be a little tough (cabbage, turnips, kohlrabi), but the inclusion of sugar surprised me. I emailed Ronna to learn more. Here's what she wrote:
"I use a pinch of sugar with collards, because they tend to lean a bit bitter. Other greens, like kale, can be bitter, too, but because collards are thicker (and more to chew), the bitterness hangs around longer in your mouth."
This technique serves another purpose, too, however. Whereas massaged raw greens soften as they would under heat, "a light toss," Ronna says, "leaves them crisp."
It's true. I actually tried massaging the collards — rebel! — and I did not like the extra-wilted texture at all.
Ronna suggests dressing the greens with a sharp vinaigrette to ensure the salad will not taste at all sweet. The lemony dressing here is a perfect match for collards.
I always associate collard greens with braising — with hours and hours of cooking — so this salt-sugar toss followed by a brief rest followed by a sharp dressing has been a revelation. Collard greens in 15 minutes? Sign me up!
Note: I rarely see collard greens at the store, but I can always count on getting them in my farmshare a few times a year, so I'm always on the lookout for new ways to prepare them. But since learning Ronna's technique, I seek them out. Depending where you live, you may have more or less trouble finding them, but you very likely will be able to find Tuscan kale, which works beautifully in this salad as well.
Here's the play-by-play: Find yourself a nice bundle of collard greens or Tuscan kale.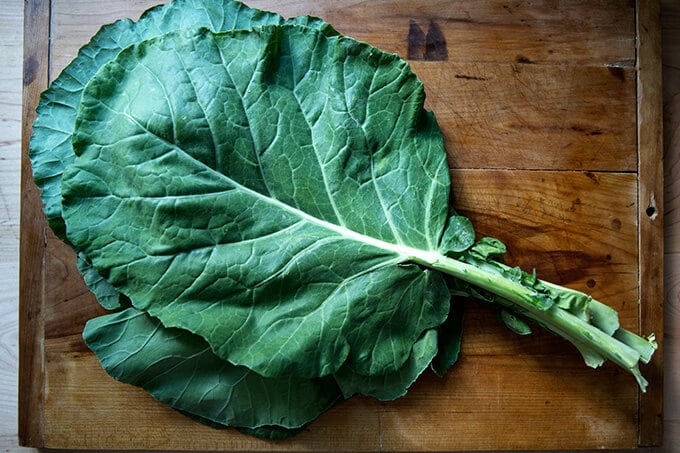 Remove the stems.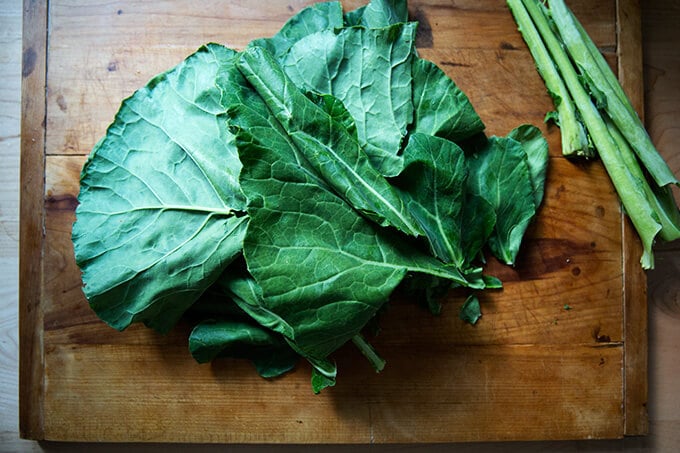 Slice the leaves very finely.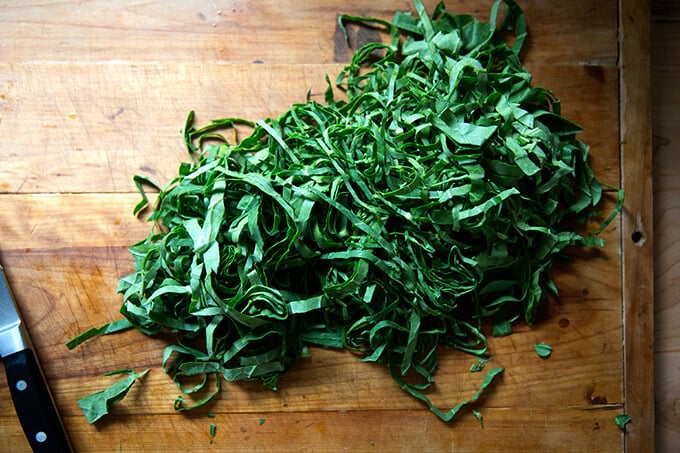 Toss the greens with a little bit of salt and sugar (if using collards), and let them stand 15 minutes.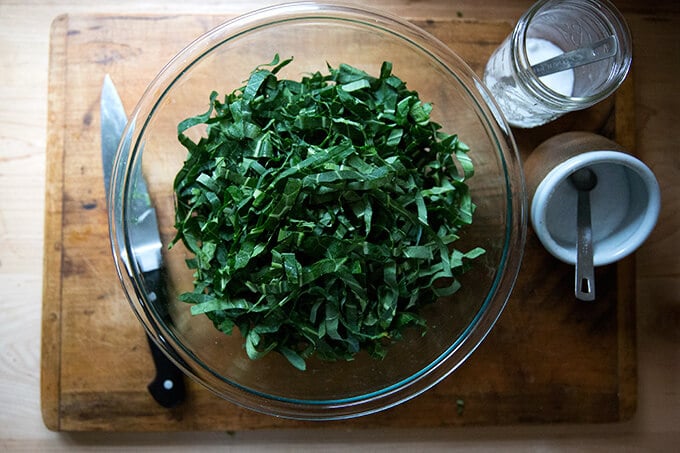 Meanwhile, roast slices of delicata squash with olive oil and salt.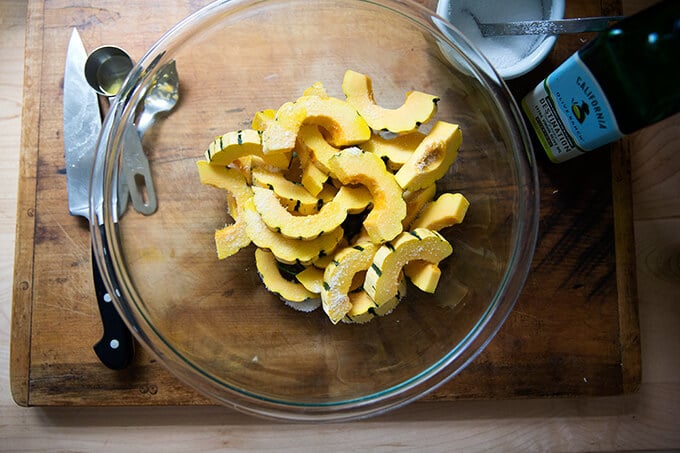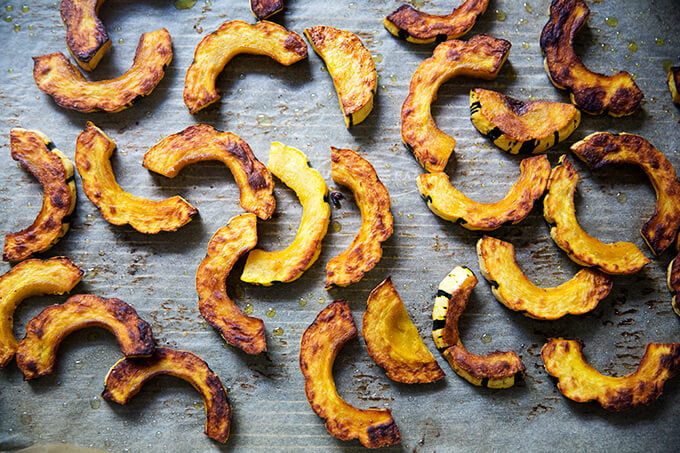 Meanwhile, whisk up a sharp dressing of vinegar, lemon, honey, and olive oil.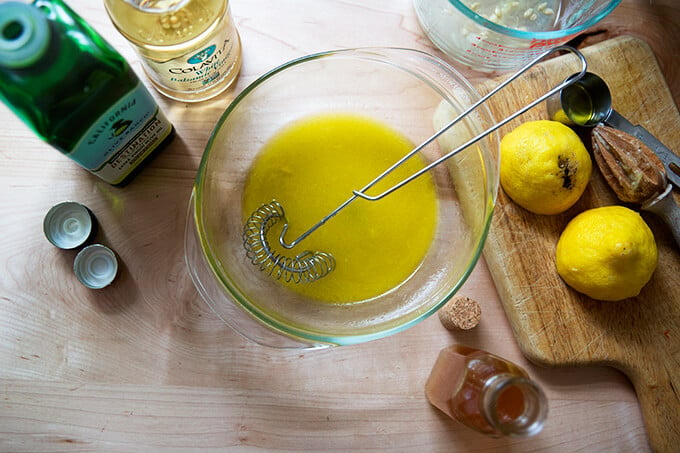 Toss the greens with shaved parmesan, toasted almonds, golden raisins, and the dressing.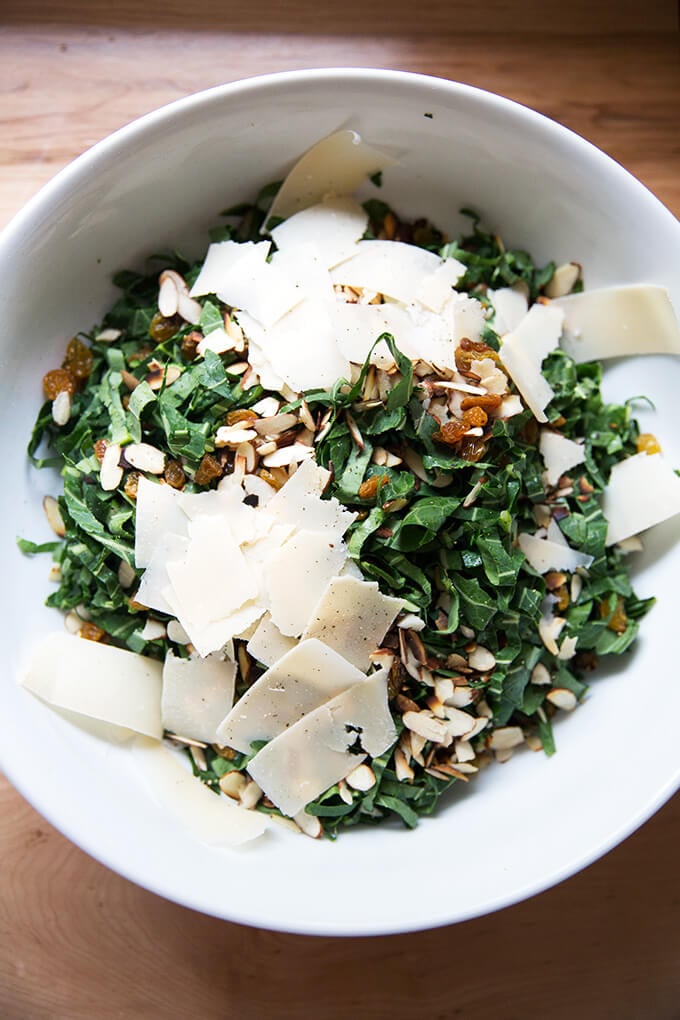 Add the squash and toss again.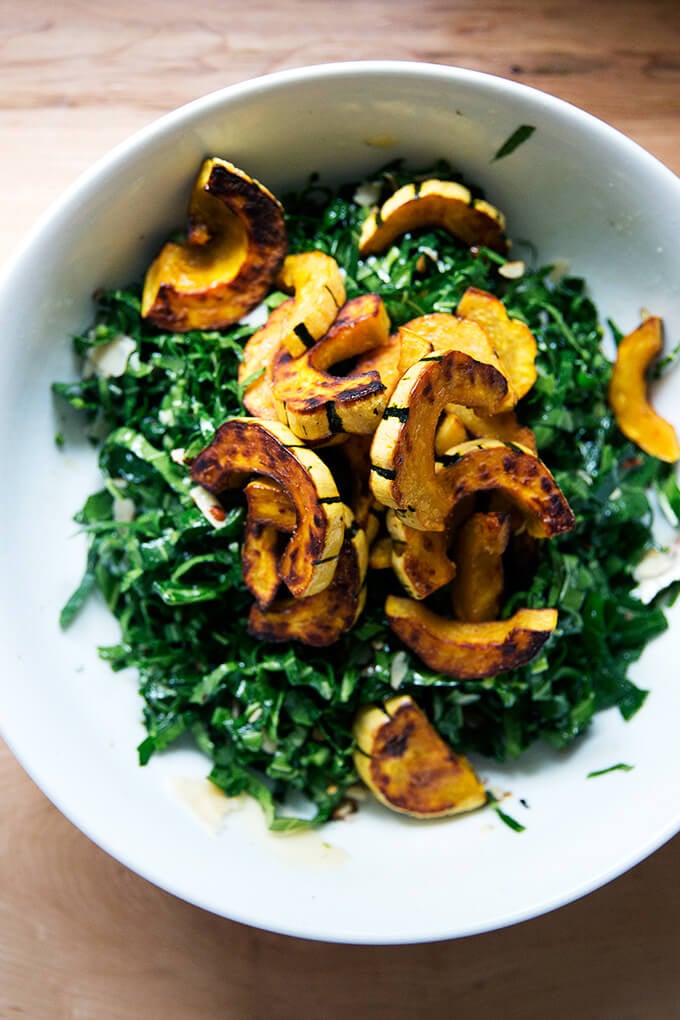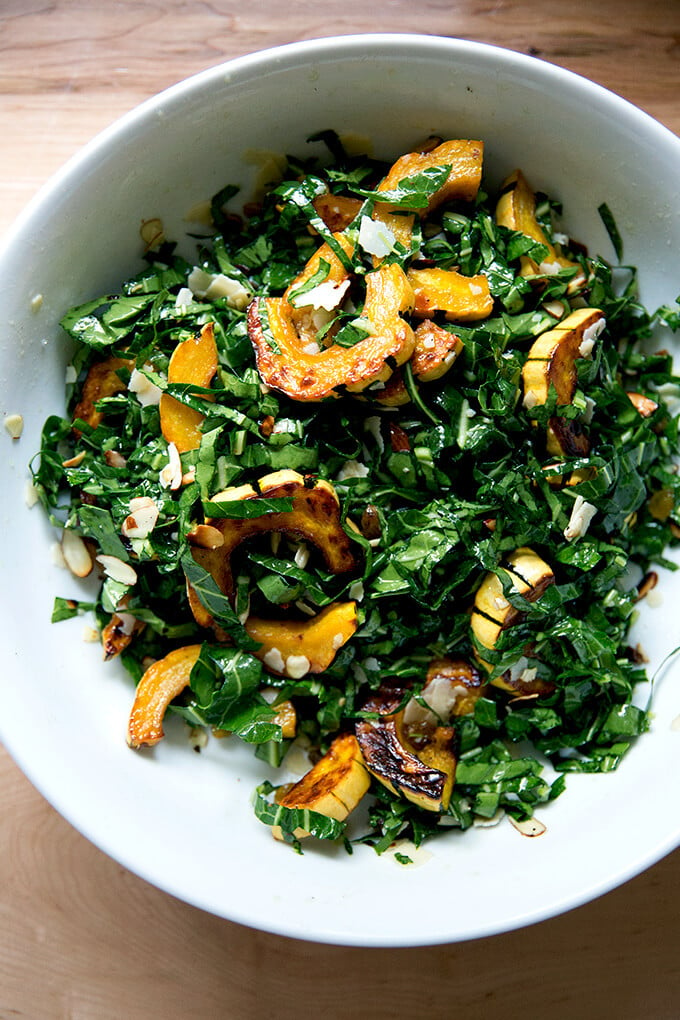 Shave more parmesan over top and serve.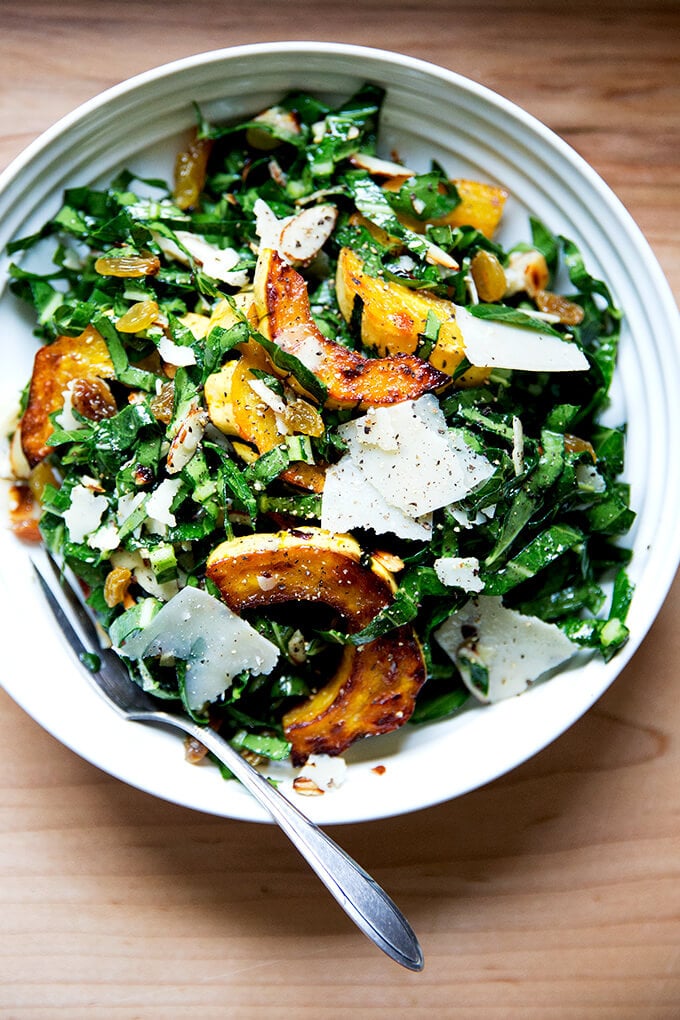 Print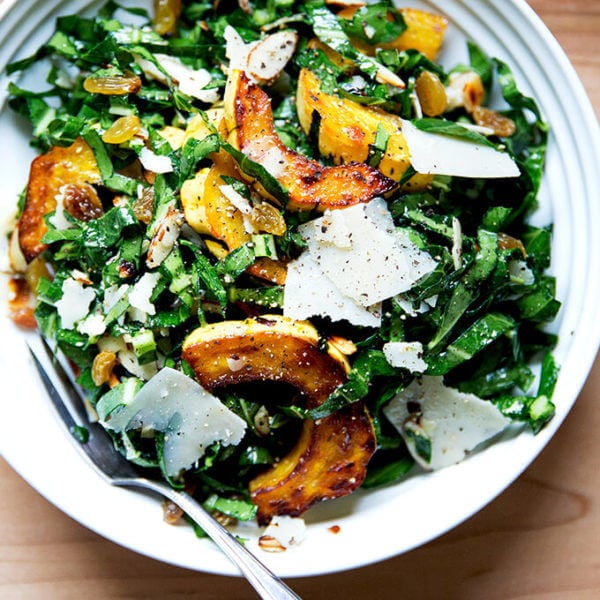 Raw Collard Green Salad with Roasted Delicata Squash, Almonds, And Parmesan
---
Description
Collard greens salt-and-sugar toss trick adapted from Ronna Welsh's The Nimble Cook. Read more about it in the post above.
Salad recipe adapted from Epicurious. Original recipe calls for roasting a head of garlic, smashing the cloves, and whisking them into the dressing. It's delicious. To save time, I've omitted that step.
Salt: I always use Diamond Crystal kosher salt. If you are using Morton's kosher salt, you may want to cut back a teensy bit on the quantities listed below. Morton's is saltier.
This is such a festive, pretty, hearty fall salad. When the pomegranates begin arriving, I think I'll add those here, too.
---
6 tablespoons

extra-virgin olive oil

1

large or

2

small delicata squash, halved, seeds removed, and sliced into

1/2

-inch thick pieces

1

large head (roughly

10 ounces

) collard greens or lacinato kale, thickest ribs removed to yield about 8 ounces
kosher salt

1/4 teaspoon

sugar

2 tablespoons

white balsamic (or cider or other white) vinegar

2 tablespoons

fresh lemon juice

1 teaspoon

honey

1/2 cup

sliced almonds

1/2 cup

golden raisins or dried fruit of choice
shaved Parmigiano Reggiano or Manchego, to taste
freshly ground black pepper, to taste
---
Instructions
Heat the oven to 400ºF. Place the squash pieces in a large bowl and coat with 2 tablespoons of the oil and 1 teaspoon kosher salt. Spread out the squash, reserving the bowl, on a large baking sheet and roast for 15 minutes. Flip, and roast for another 10 to 15 minutes. Check. Continue to roast if necessary until slices are golden on both sides. Set aside to cool to room temperature.
Thinly slice the greens the way you would chiffonade basil: stack a few leaves on top of one another, roll into a tight coil, then cut straight down to create thin ribbons. Place the greens (you should have about 8 ounces) in the reserved bowl and toss with a scant 1/2 teaspoon kosher salt and 1/4 teaspoon sugar (if using collards). Toss gently — no need to massage. Set aside for 15 minutes.
In a small bowl, stir together 2 tablespoons oil, vinegar, lemon juice, honey, and 1/4 teaspoon kosher salt. Taste. Add the remaining 2 tablespoons oil, if it tastes too sharp for your liking. (Note: Dressing should taste sharp. You can also always add 2 more tablespoons of oil to the salad once it's all tossed together if you think it still tastes too sharp.)
Set a small skillet on the stove over low heat. Add the almonds and toast until golden, checking often.
 Add the raisins, toasted nuts, and some shaved parmesan to the bowl of greens. Toss with the dressing. Add the squash pieces and toss again. Shave more parmesan over top and crack fresh pepper over top to taste, as well.
Serve the salad at room temperature.
Prep Time:

15 minutes

Cook Time:

25 minutes

Category:

Salad

Method:

Toss

Cuisine:

American
Keywords: raw, shaved, collard, greens, salad, delicata, squash, fall
This post may contain affiliate links. Please read my disclosure policy.