Winter Tabbouleh with Roasted Delicata Squash
This post may contain affiliate links. Please read my disclosure policy.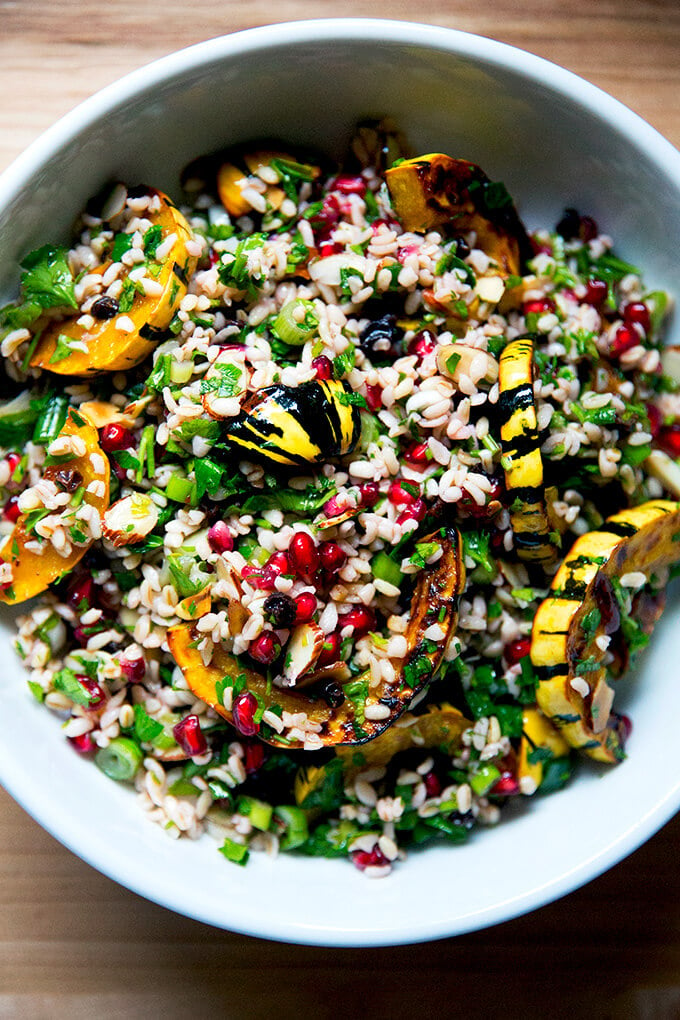 Last week, while chatting about our Thanksgiving menus, a friend reminded me of a moment in Salt Fat Acid Heat in which Samin Nosrat laments the absence of acid, with the exception of cranberry sauce, on the Thanksgiving table.
In the scene, Samin recounts one Thanksgiving, during which she found herself spooning cranberry sauce over EVERYTHING to get that much needed bite she was so accustomed to and which she found herself craving.
(Incidentally, whether it's for the acid or the sugar, my sister's behavior at the Thanksgiving table is no different …)
But in any case, Samin's observation made me realize I had never given too much thought about balance in regard to the Thanksgiving menu. Thanksgiving, in my experience, has never, in fact, been about balance, but rather a mix of tradition plus excess.
And if I were to really scrutinize my family's menu, acid is definitely under-represented. Cranberry sauce certainly provides some sharpness, and when my in-laws host, their braised red cabbage, made with a generous amount of vinegar and red currant jelly, provides that much needed acidic counterpoint.
I hung up the phone with my friend and thought: Maybe it's time to change up the Thanksgiving menu?
I think this winter tabbouleh, loaded with herbs, punctuated by pomegranate arils, currants, and toasted almonds, and dressed in a bright, very sharp dressing is a good place to start.
If you already have too many starchy items on your Thanksgiving menu, you can definitely leave out the roasted delicata squash, though its inclusion makes for an especially festive and pretty dish.
3 Tips for Excellent Tabbouleh
It is worth seeking out extra-coarse bulgur to make this tabbouleh. Greek and other international markets typically sell it, as does Amazon. The texture is so nice — light but chewy — and it holds up well in the fridge.
Use a 2:1 ratio of acid-to-fat. Here it's 1/4 cup fresh lemon juice + 1/4 cup white balsamic vinegar to 1/4 cup olive oil. I like using a mix of vinegar and fresh juice, but use what you have. As always, adjust to taste.
Dress the salad without the squash and let it sit for at least 10 minutes before tasting, then taste and adjust the flavors to your liking. Once you get the seasoning right, add the squash at the very end and toss gently.
Here's the play-by-play: You need a cup of bulgur.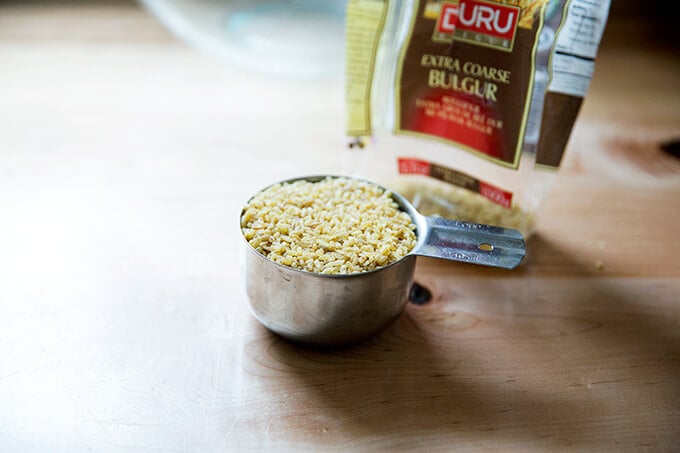 Soak in a large bowl of cold water for about an hour.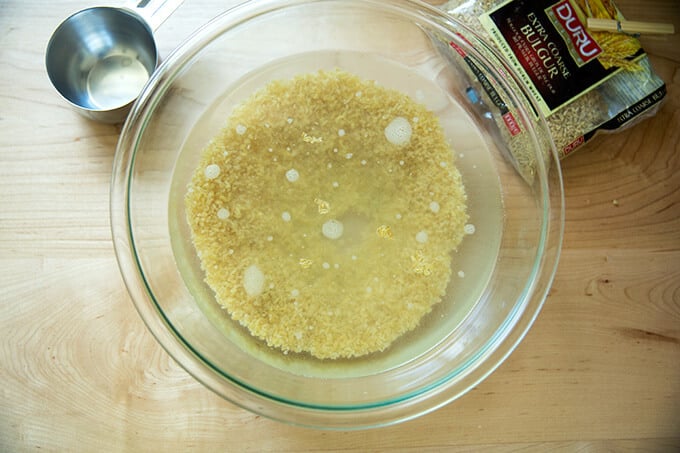 Gather the remaining ingredients. Start by soaking a quarter cup of currants in white balsamic vinegar and slowly toasting the almonds over low heat while you prep everything else.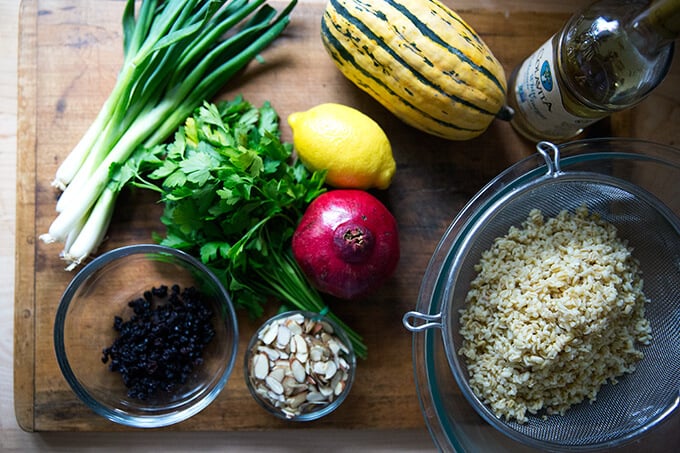 Roast the squash: dress it with olive oil and salt, then …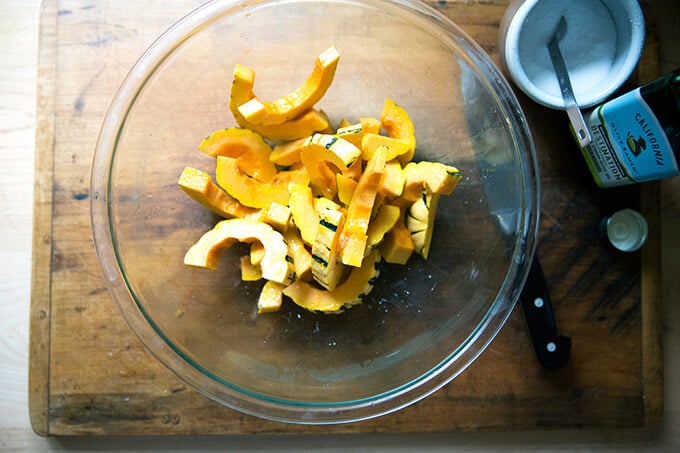 … transfer to a rimmed sheet pan and place in the oven.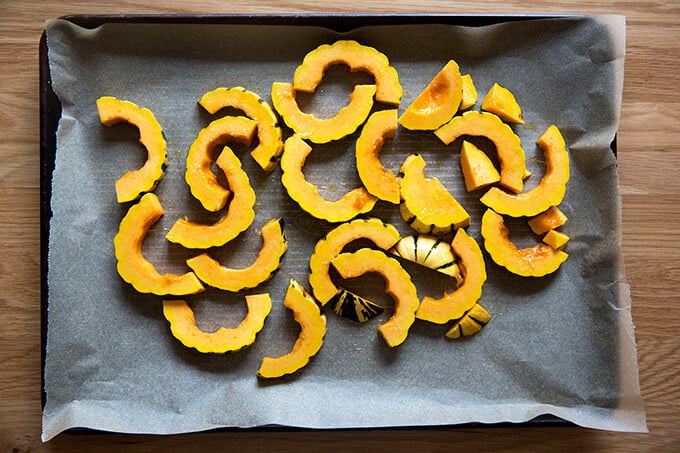 In the meantime, chop up some parsley and scallions.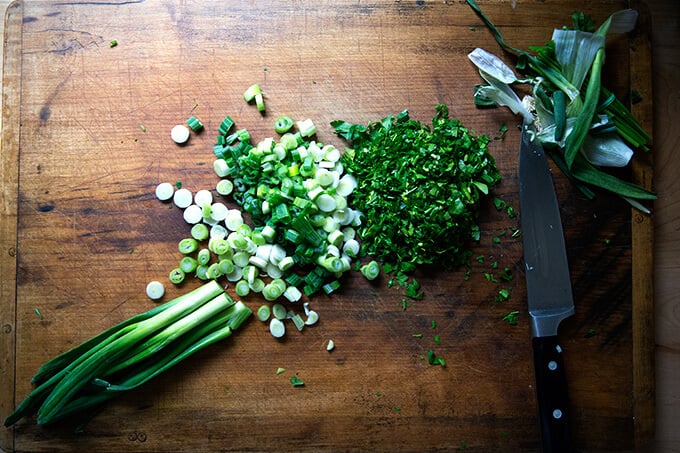 Cut a pomegranate in half, then whack the back of it with a spoon to release the arils.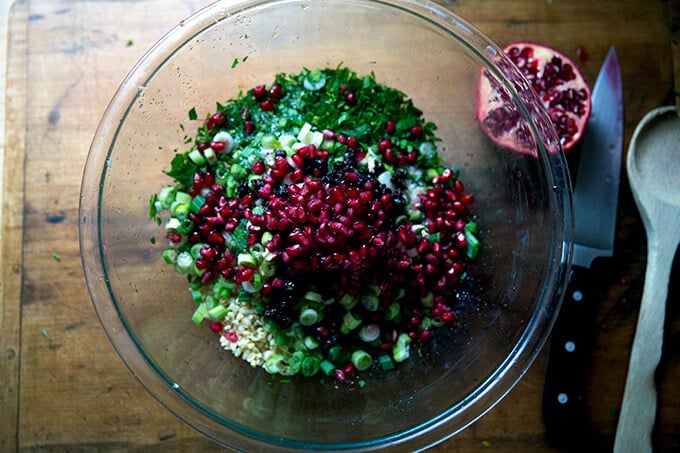 Season the bulgur with salt, lemon, and olive oil; and toss to combine. You truly can stop here …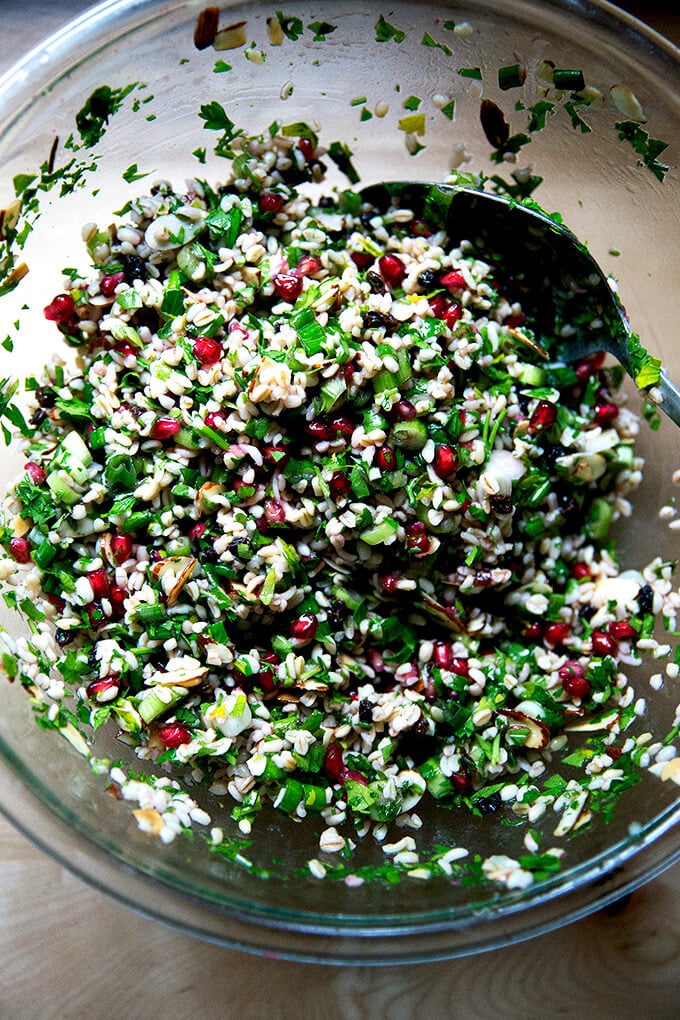 … but the roasted delicata squash is a nice touch.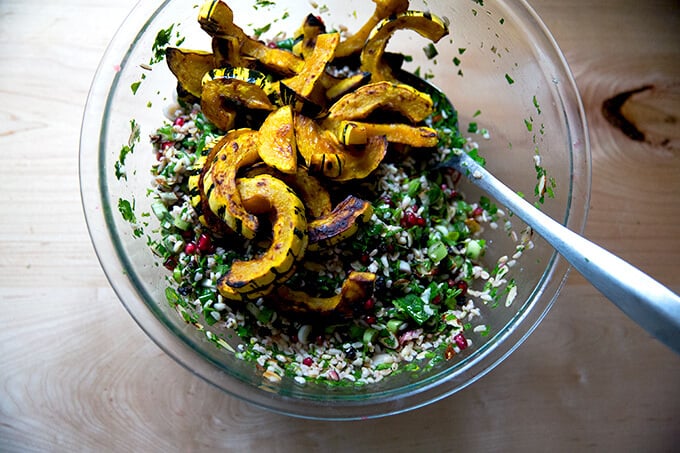 Toss!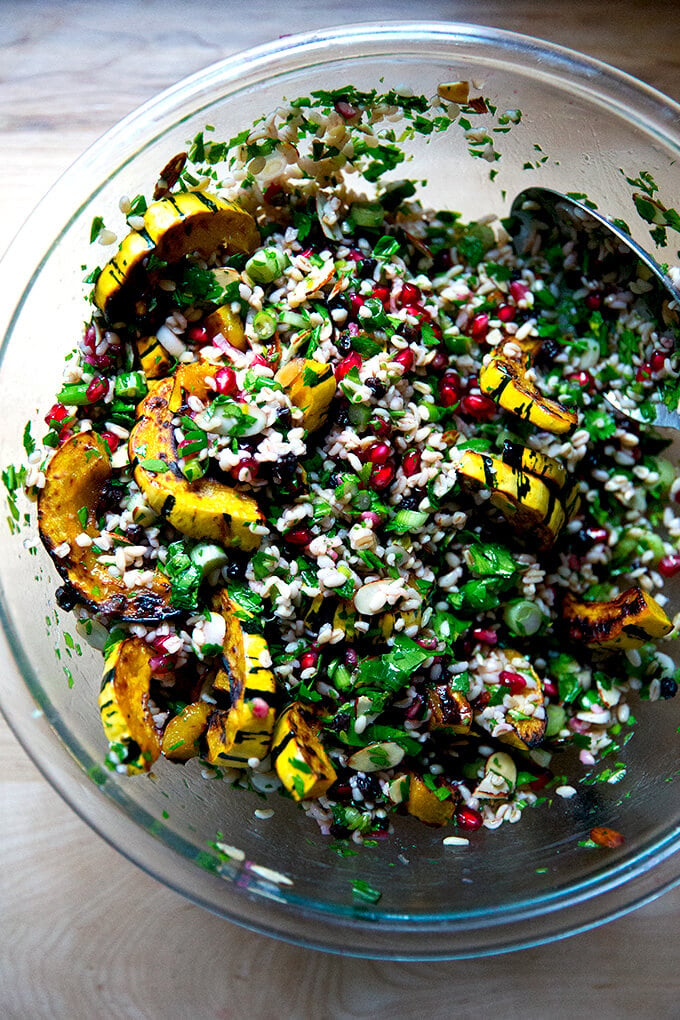 Serve! Revel in your new favorite acidic Thanksgiving side dish.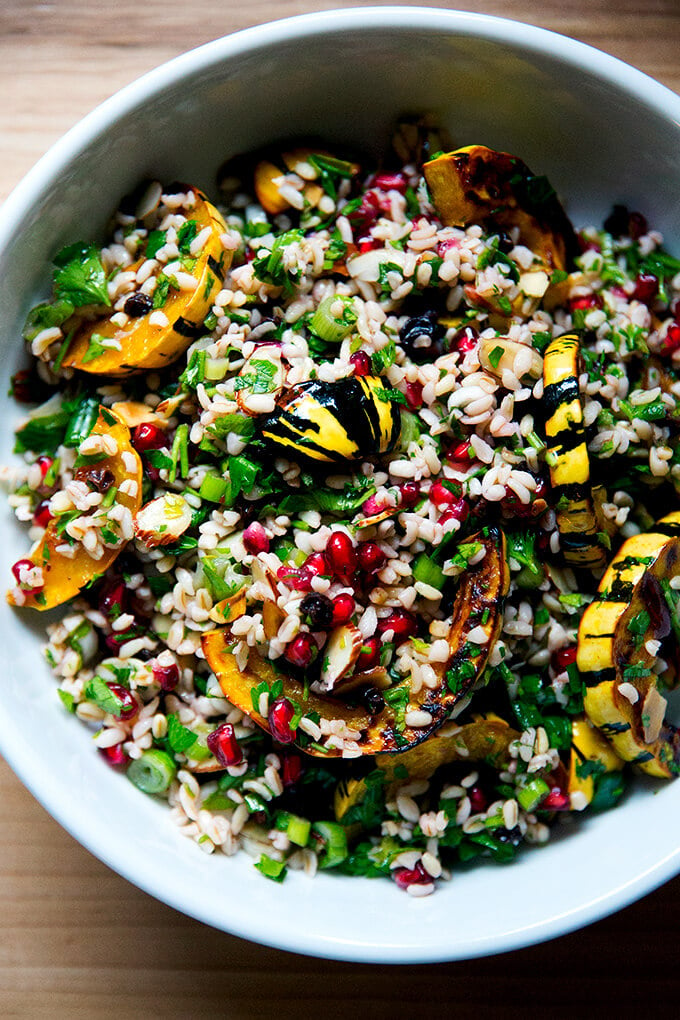 Print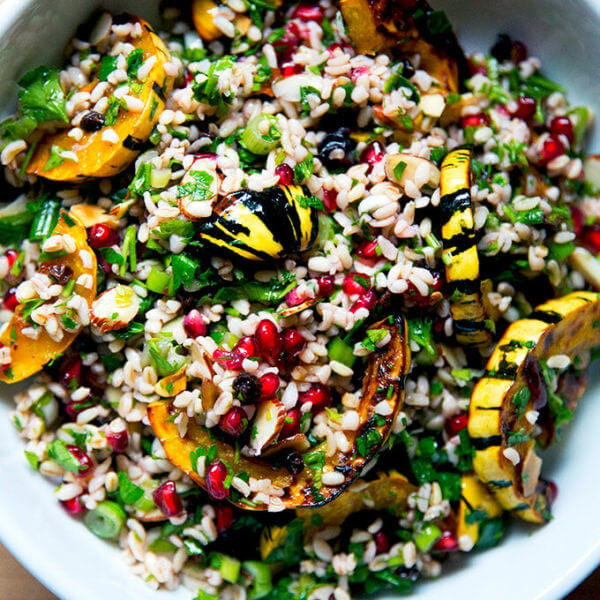 Winter Tabbouleh with Roasted Squash
---
Description
Bulgur: If you have never tried extra-coarse bulgur, I encourage you to make the effort to get your hands on some — the texture is so nice. You can find it at Greek and other international markets. I almost always order it (Duru Extra-Coarse Bulgur) because I have a hard time finding it.
Use the recipe as a guide: The nuts, the herbs, the squash, even the bulgur can be swapped out for what you like — farro, barley, Israeli couscous, would all be nice here. If you're looking for a gluten-free option, quinoa might work as well.
Make it ahead. This dish can absolutely be prepared a day in advance — it tastes delicious on subsequent days. If, however, you want to make it ahead for the purpose of serving for company, I suggest holding the parsley and the pomegranates till the day you serve it — both lose a bit of vibrancy on day 2. I also would hold on folding in the squash. You can roast the squash ahead of time, but let it cool, then store in the fridge. Fold it in just before serving. I love this salad cold from the fridge, but if  I were to make it ahead with the intention of serving to company, I would bring it to room temperature before serving.
---
1 cup

 bulgur, extra-coarse if possible

¼ cup

currants

¼ cup

white balsamic vinegar

1

large delicata squash, halved, seeds removed, and sliced into

1/2

-inch thick pieces

2 teaspoons

kosher salt, plus more to taste

3

 to 6 scallions, thinly sliced, white and light green parts

1

 bunch parsley, finely minced to yield a heaping cup

¼ cup

fresh lemon juice

1/4 cup

extra-virgin olive oil, plus 2 tablespoons for the squash

1

pomegranate, seeded

½ cup

almonds, toasted
---
Instructions
Heat oven to 400ºF. Place bulgur in a large bowl. Cover with cold water. Let stand for one to two hours.
Place the currants in a small bowl and cover with the vinegar. Set aside for at least 15 minutes.
Place the squash pieces in a large bowl and toss with 2 tablespoons olive oil and 1 teaspoon kosher salt. Spread out the squash on a large baking sheet (parchment-lined for easy cleaning), reserving the bowl, and roast for 15 to 20 minutes. Check. When the underside of the squash is golden, transfer to the broiler. Broil 2 to 3 minutes or until golden — check often! Set aside to cool to room temperature.
Drain bulgur through a fine-meshed sieve, then transfer to reserved bowl. Add the scallions and parsley. Add the 1/4 cup lemon juice, 1/4 cup olive oil, pomegranate seeds, almonds, currants with vinegar, and remaining teaspoon of salt, and toss.
Let sit for 10 minutes before adjusting the flavor. Taste and adjust seasoning as necessary with more salt, olive oil, lemon, or vinegar as needed. Add the squash, and toss gently. Serve.
Prep Time:

1 hour

Cook Time:

25 minutes

Category:

Side Dish

Method:

No-Cook

Cuisine:

Greek
Keywords: tabbouleh, winter, squash, pomegranate, Greek, fresh, Thanksgiving
This post may contain affiliate links. Please read my disclosure policy.