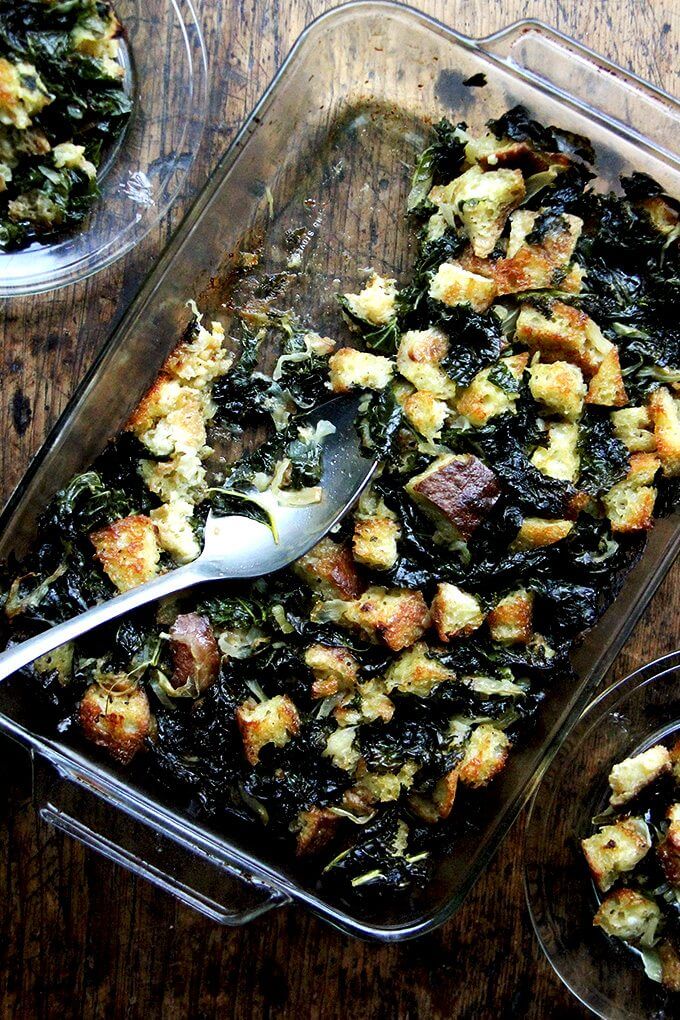 A great way to get a jumpstart on Thanksgiving preparations is to make stuffing and freeze it.
Below is the recipe I love, an adaptation of the stuffing in my cookbook, Bread Toast Crumbs, and includes kale and caramelized onions. After 45 minutes in the oven, it emerges with a crisp golden exterior and a creamy center, flavorful enough to eat on its own, but welcoming to many a relish, sauce, gravy, or anything else the Thanksgiving plate has to offer.
Know you can customize the seasonings and add-ins to your liking.
These are the steps I always follow:
Remove any super-thick crusts from the loaf of bread. If you are using the peasant bread, you can leave the crust on.
Tear the bread into pieces or cut into cubes, toss with a generous amount of olive oil and a good pinch of salt, and toast until golden.
Add mix-ins of choice. Sautéed onions are essential for me, and I love greens, like chard or kale. I also prefer to keep stuffing meatless, but if you like sausage or oyster or whatever (a little bacon or pancetta never hurts), go for it.
Taste and make sure the mixture of bread and mix-ins is well seasoned. Whisk a good amount of stock with 1 egg, which helps bind the stuffing, toss with your stuffing mix, then bake until golden.
How to Make Freezable Stuffing
Gather your ingredients: I love my mother's peasant bread for stuffing, The crust is crisp and buttery, but not super thick. If you are using an extra-crusty loaf, remove the crust. For this recipe, you'll need kale, onions, an egg, chicken stock, butter, and olive oil.

Tear or cube up the bread, toss with olive oil, and bake until golden.3. Meanwhile, prepare the onions: Slice the onions and sauté them until they are somewhat caramelized:
Remove the tough stems from the kale leaves; cut the kale leaves into small pieces or ribbons.
Pile the onions on top of the kale and toss to combine.4. Toss kale and onions with bread, stock, salt, and pepper: If you want to keep this vegetarian, use vegetable stock. Otherwise, use chicken stock or turkey stock. Once the kale, onions, bread, stock, salt and pepper are all tossed together, taste it. This is when it's important to get the seasoning right: the mixture should taste well seasoned, almost like a panzanella salad—it should taste so good, in fact, you wouldn't mind stopping right then and there, calling the dish done. But keep going!
Whisk together an egg with a little bit more stock, then add to the bowl of greens/bread. The addition of an egg helps bind the stuffing together.
Transfer mixture to a 9×13-inch pan.
Cover with foil. At this point, you can either freeze the pan or transfer to the oven.
The stuffing bakes covered for 30 minutes, then uncovered for 15 to 20 minutes.
Ta-da!
Print
Freezable Stuffing with Kale and Caramelized Onions
---
Author:

Alexandra Stafford

Prep Time:

30 minutes

Cook Time:

50 minutes

Total Time:

1 hour 20 minutes

Yield:

8 to 10
Description
This is adapted from the stuffing recipe in my cookbook, Bread Toast Crumbs. 
Notes:
When I use the peasant bread, I do not remove the crust, because it is not super thick. If you are using a store-bought or homemade bread with a super-thick crust, remove it.
Kale: Tuscan or curly kale is fine.
Freezing/Baking Instructions: I like to freeze stuffing uncooked. To do so, after you transfer the stuffing to the 9×13-inch pan, cover it with foil, then transfer to the freezer for up to 3 months. To bake: Preheat the oven to 350°F. Bake stuffing covered directly from the freezer for 1 hour. Increase the temperature to 400°F and bake uncovered for 15 to 20 minutes.
---
Ingredients
1

 pound loaf of bread, crusts removed, see notes above, torn into 1- to 2-inch pieces (8 to

10 cups

)
1/2 cup extra-virgin olive oil
kosher salt and pepper to taste

4

 tablespoons unsalted butter

2

 cups sliced onions (from

1

to

2

onions)

8

 ounces kale, see notes above, rough stems discarded, leaves sliced into

½

-inch ribbons

1.5

 cups homemade chicken stock or store-bought

1

 egg
softened butter
---
Instructions
Preheat the oven to 400° F. In a large bowl, toss the bread with 1/4 cup of the oil; the bread will feel saturated. Season with salt and pepper to taste. Taste a cube of bread—it should be nicely seasoned. Spread bread onto a sheet pan in a single layer, reserving the bowl. Transfer to the oven and toast for 15 to 17 minutes, until golden. Set aside to cool briefly.
Meanwhile, in a large sauté pan, melt the butter with the remaining 1/4 cup oil over medium heat. Add the onions, season with a pinch of salt, and cook, stirring, for 15 to 20 minutes, or until the onions are soft and beginning to caramelize.
Meanwhile, place the kale in the reserved bowl, and when the onions have finished cooking, scrape them into the bowl over the kale, and toss to combine. Add the bread, and toss again. Add 1 cup of the chicken stock, 1/2 teaspoon salt, and fresh cracked pepper to taste. Toss to combine. Taste. This is when it's important to get the seasoning right — this should taste well seasoned, so adjust with more salt and pepper as needed. In a small bowl, whisk the remaining 1/2 cup of stock with the egg and add to the bowl. Toss to combine.
Grease a 9×13-inch baking pan with the softened butter and spread the mixture into it. Cover the pan with foil, transfer it to the oven (or see notes above for freezing), and bake the stuffing for 30 minutes. Uncover the pan and bake the stuffing for 15 to 20 minutes more, until the bread is golden and the kale is beginning to crisp. Remove the pan from the oven and let the stuffing stand for 10 minutes before serving it.
---
Category:

Stuffing

Method:

Oven

Cuisine:

American
Keywords: freezable, stuffing, kale, caramelized, onions, Thanksgiving