No-Knead Buttermilk Pull-Apart Rolls
This post may contain affiliate links. Please read my disclosure policy.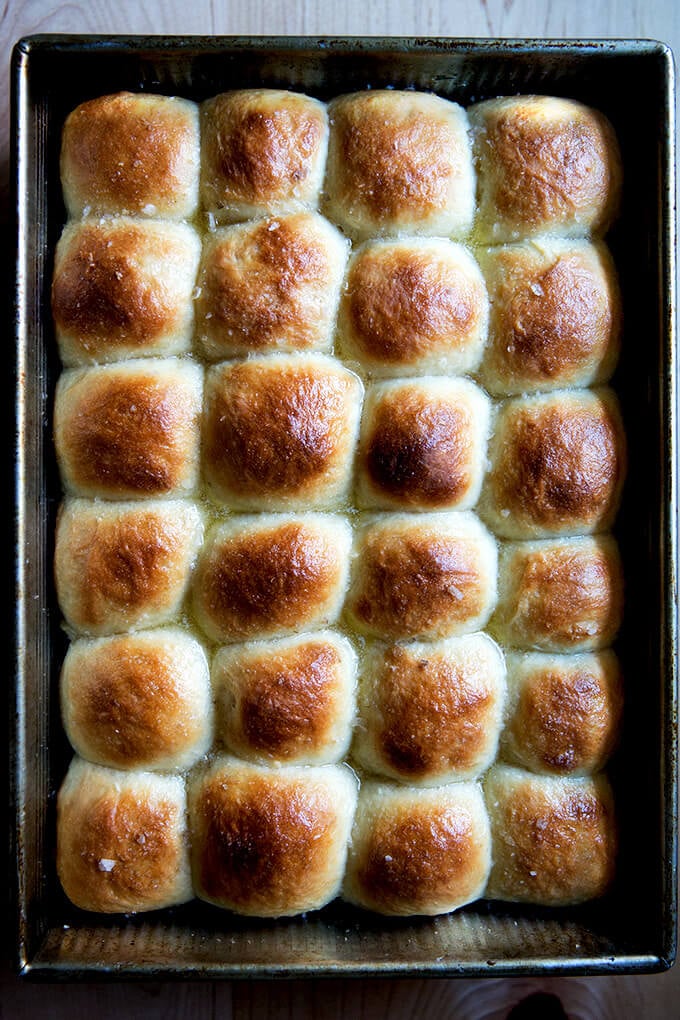 If you like to make bread for holiday gatherings or dinner parties, a great way to get a jumpstart on preparations is to make the dough a day in advance.
Know this: any bread recipe you love can be mixed a day ahead of time and stashed in the fridge to rise. Or, if you like making rolls, you can make your recipe up to the point where you shape the rolls and stick them in the baking pan, at which point you can stick the pan in the fridge.
As I said, you can do this with any bread recipe you love, but if you don't have one in mind, I have a thought: buttermilk pull-apart rolls. This is a recipe from Bread Toast Crumbs, my cookbook, and I made it recently with one small change: instead of splitting the dough and baking the rolls in two pans, I fit all 24 rolls in one 9×13-inch baking pan.
It's fun seeing a whole mess of rolls all squished together, and my children enjoyed pulling the mass to pieces. Slightly sweet, soft and squishy, these pull-apart rolls resemble Parker House rolls in both taste and texture and are such a festive bread to serve at Thanksgiving or really any holiday gathering. Easy peasy, too. (There's both video and photo guidance below.)
I've said it before, and I'll say it again: Homemade Bread: Yes. You. Can. 🍞🍞🍞 Everyone will rave. (There's nothing to it!)
Happy Thanksgiving, My Friends! I hope all of your preparations are going well. Happy to answer any bread (or other) questions you might have.
PS: No-Knead Thyme Dinner Rolls
Buttermilk Pull-Apart Rolls How-To:
Video Guidance in Three Parts:
Part 1: Mixing the Dough.
Part 2: Shaping the Rolls.
Part 3: Baking the Rolls.
How to Make Buttermilk Pull-Apart Rolls, Step by Step
Mix together the dry ingredients: 4 cups all-purpose flour, 2 teaspoons instant yeast, 2 teaspoons kosher salt, 2 tablespoons sugar. (Metric measurements offered below.)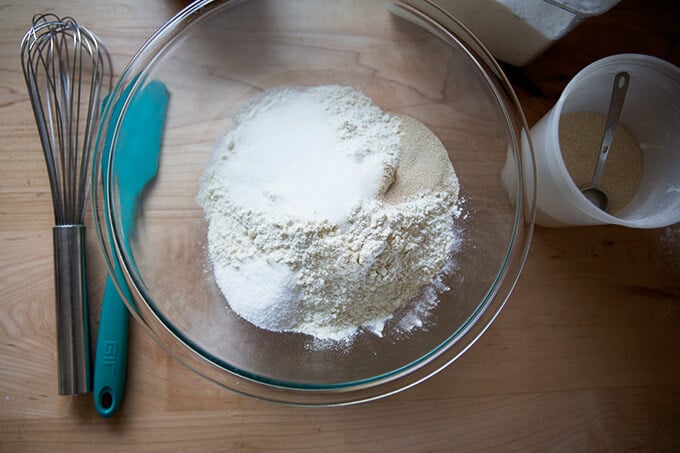 Pour 1 cup boiling water over 1 cup buttermilk and let stand for 10 minutes.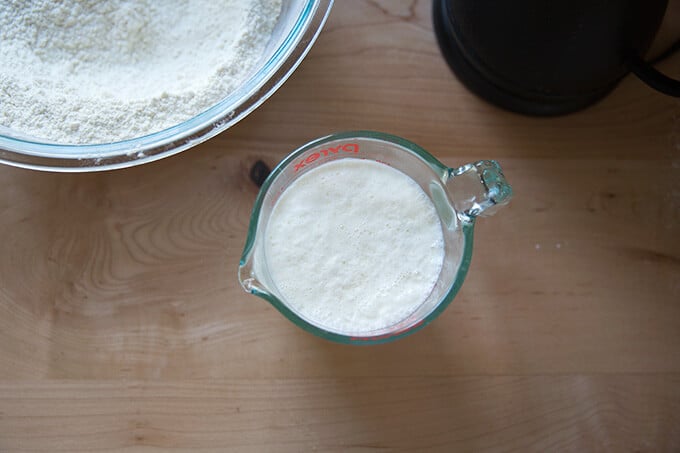 Add the buttermilk-water mixture along with 4 tablespoons melted butter to the bowl of dry ingredients.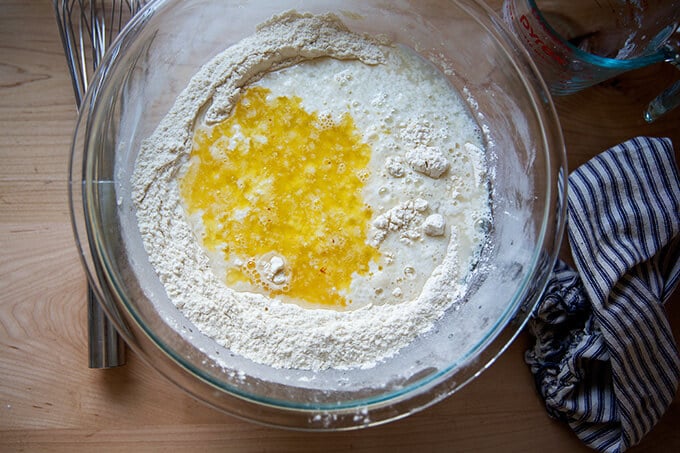 Mix to form a sticky dough ball.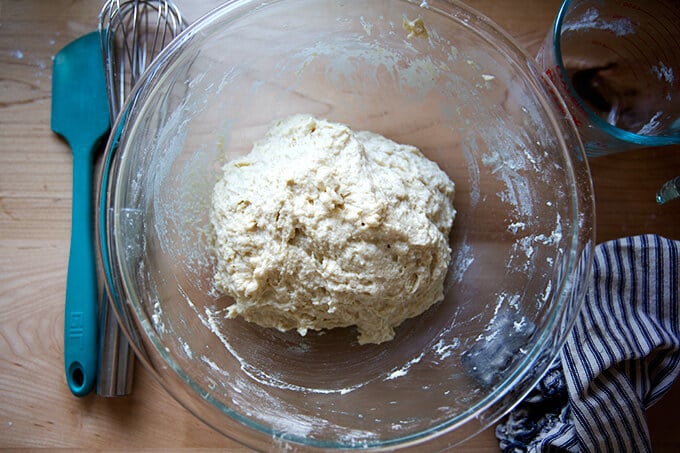 Let rise in a warm spot for 2 hours (see recipe notes for details). Love my Dot and Army cloth bowl cover.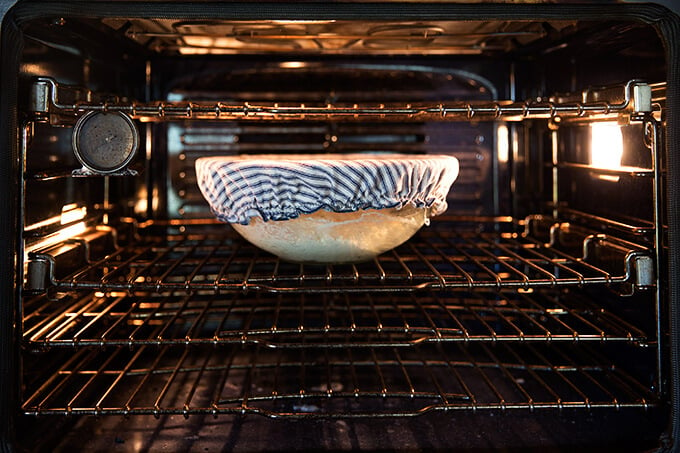 After 2 hours, the dough will look something like this: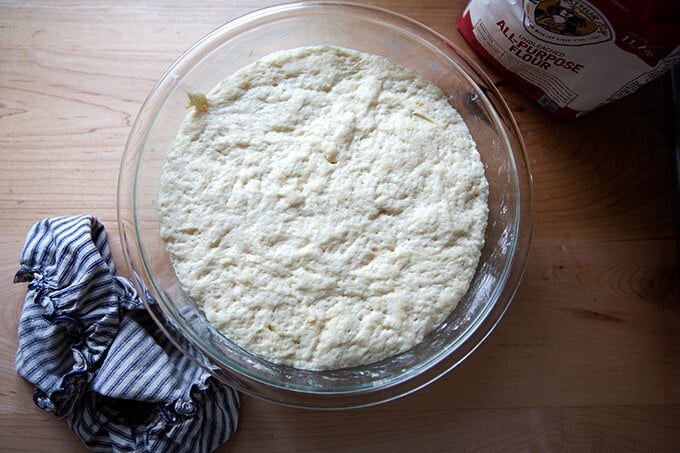 Turn it out onto a floured work surface. Divide the mass first into 4 equal portions, then each into 6 equal (roughly) portions to make 24 small pieces. (Video guidance here.) Shape each piece into a round and fit into a buttered 9×13-inch pan. (I love this 9×13-inch USA pan for so many things.)
If you have trouble shaping, try this simple technique: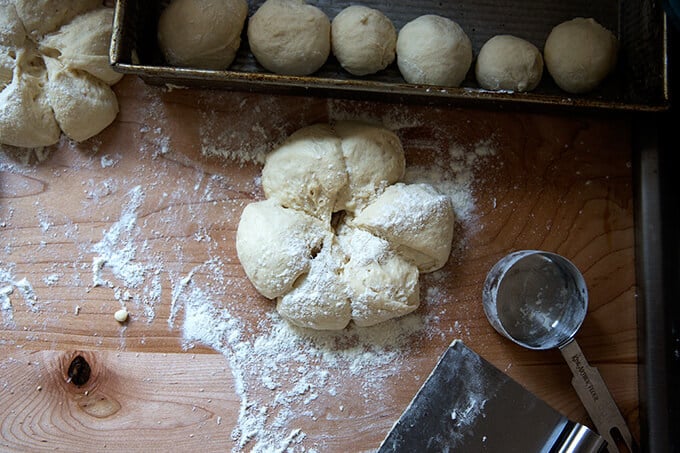 Cover and refrigerate overnight.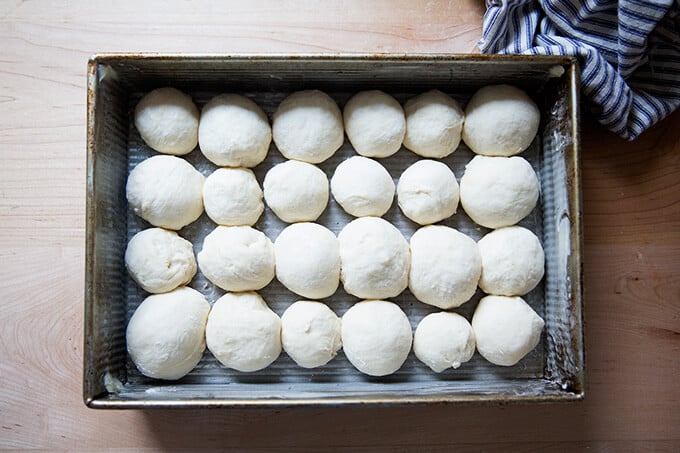 The following morning, let come to room temperature for 30-45 minutes, then bake at 375ºF for 25 minutes.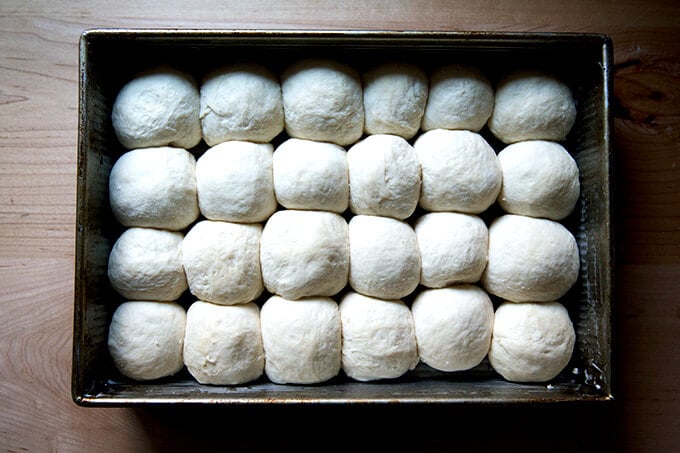 Out of the oven, brush the rolls with 2 tablespoons melted butter and sprinkle with sea salt.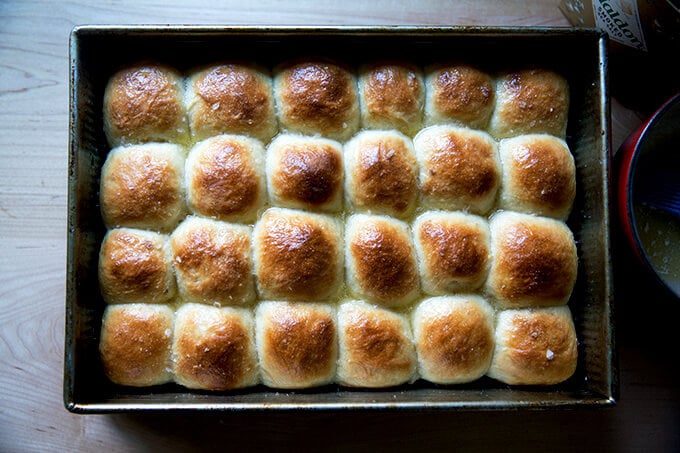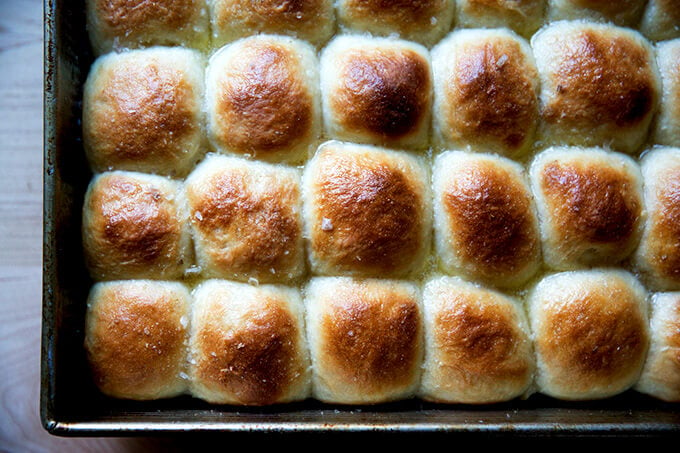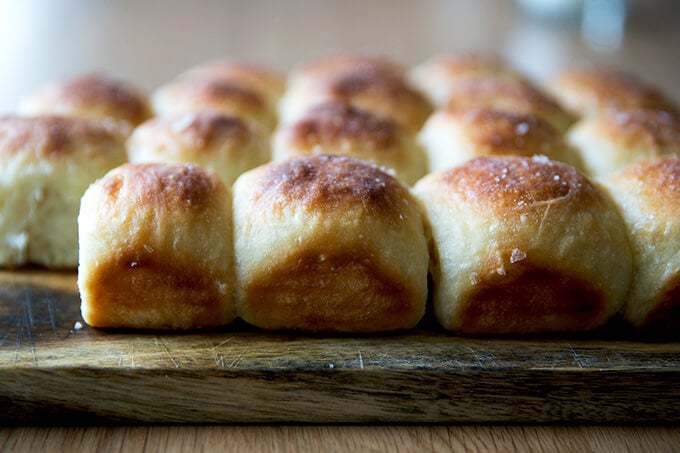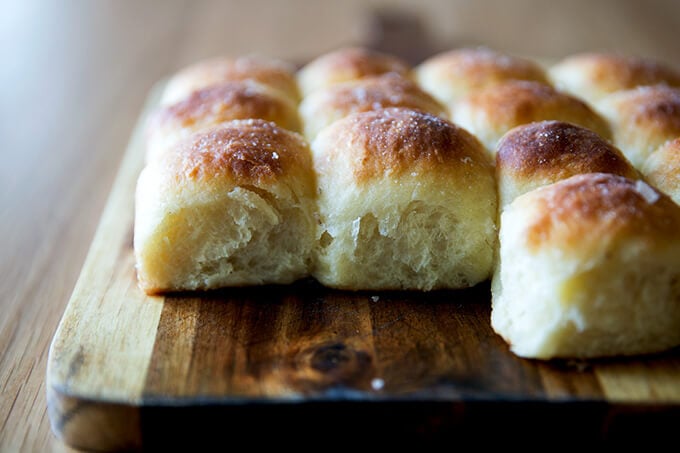 Serve immediately with softened butter.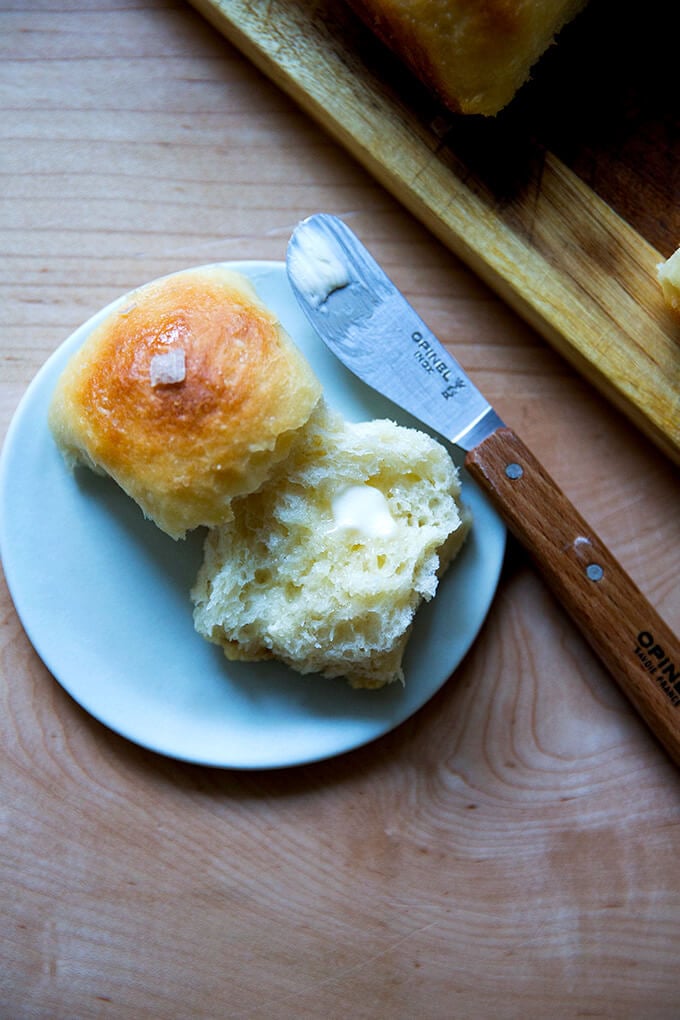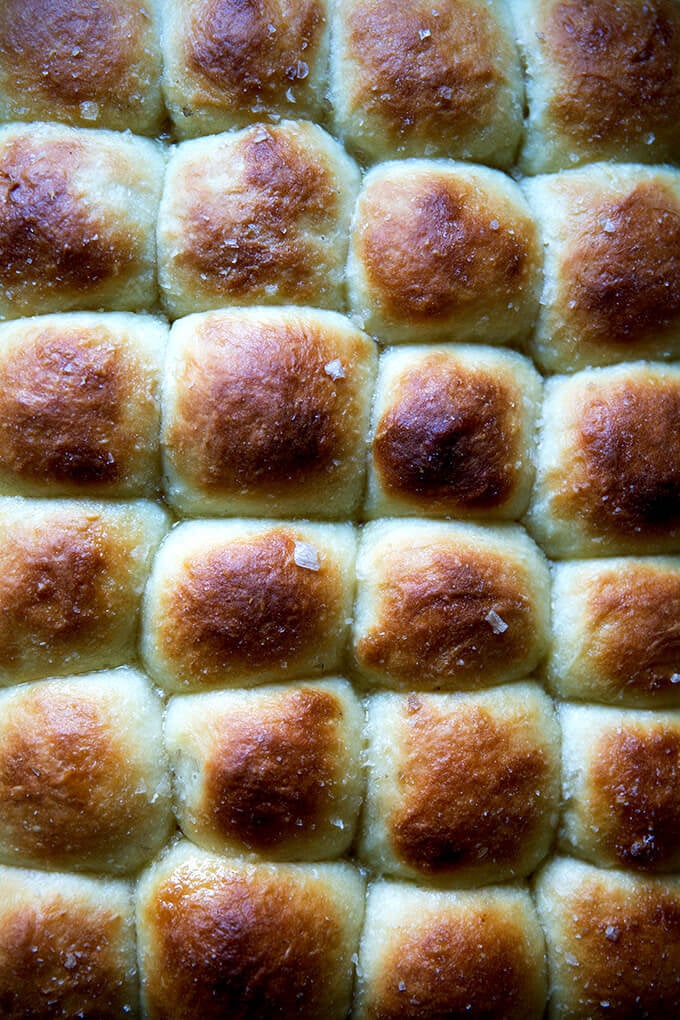 5 Secrets to Foolproof Bread Baking
See how easy bread baking can be in my free ecourse!
Print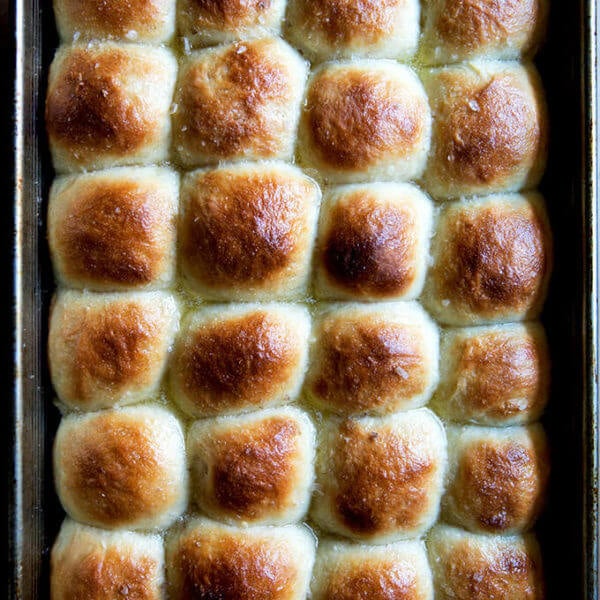 No-Knead Buttermilk Pull-Apart Rolls
---
Description
Adapted from Bread Toast Crumbs
Notes:
Salt: I now make these with 10 grams of kosher salt, which is about 3 teaspoons of Diamond Crystal brand, but which will vary from brand to brand. Use what you like. If you are sensitive to salt, stick with 2 teaspoons.
Warm place to rise: To create a warm place for your dough to rise, preheat your oven for 1 minute, then shut it off.
Other vessels: If you don't have a 9×13-inch pan, you can use two 8- or 9-inch round or square pans. I love this 9×13-inch USA pan.
Water: If you live in a humid environment, consider holding back 2 to 4 tablespoons of water (15 to 30 grams) — this dough is very wet and sticky, and while you can use as much flour as needed while shaping, you might save yourself some trouble by holding back some of the water from the start. 
Preparing the dough in advance: I have received questions about how many days the shaped rolls can stay in the fridge, and I recently experimented. I let the shaped rolls (with the pan wrapped in plastic wrap) sit in the fridge for 48 hours before baking them. While the texture was the same  — as feathery light as ever — I did not like the flavor, which tasted sour, but not in a pleasant way. So, unfortunately, I cannot recommend stashing these in the fridge for much more than 18 – 24 hours. 
---
4

 

cups

(512 g)

all-purpose or bread flour, plus more for shaping

2

to

3

 

teaspoons kosher salt (10 g), see notes above

2 tablespoons

(25 g)

sugar 

2 teaspoons

(8 g)

instant yeast

1

 

cup

(236 g)

boiling water, or less, see notes above

1

scant

cup

(236 g)

buttermilk

6 tablespoons

melted butter, divided

flaky sea salt
---
Instructions
In a large bowl, whisk together the flour salt, sugar, and instant yeast.

In a 2-cup liquid measure (or something similar), pour the boiling water over the buttermilk and let stand for 10 minutes. Give it a stir. The buttermilk will likely look curdled. This is okay.

Pour the buttermilk mixture and 4 tablespoons of the melted butter over the flour mixture. Stir until a sticky ball of dough forms. Cover the bowl with a tea towel, cloth bowl cover, or plastic wrap and set aside in a warm place to rise (see notes above) for 2 hours, or until doubled in bulk.

Grease a 9×13-inch baking dish. Flour a work surface and sprinkle flour lightly over the dough and around the edges. The dough will be very sticky, so use flour as needed. Gently coax the dough out of the bowl onto the floured work surface and shape into a rough ball (

video guidance here

) using flour as needed. Use a bench scraper to divide the ball into 4 equal portions. Shape each portion roughly into a ball, then use a bench scraper to divide each ball into 6 roughly even portions (about 45 grams each if you feel like measuring) to create 24 small pieces total.

Using as much flour as necessary, shape each piece roughly into a circle. It's okay if each piece is a little misshapen. Place the dough balls into the prepared pan, spacing them evenly apart.

At this point, you can cover the pan and refrigerate overnight. Otherwise, heat the oven to 375ºF. Let the dough rise, uncovered, for 25 to 35 minutes, or until the dough pieces have puffed to almost fill the pan. (Note: If you refrigerate overnight, remove the pan 30 to 45 minutes prior to baking.) 

Transfer the pan to the oven and bake for 20-25 minutes, or until golden brown. Note: If the rolls aren't beginning to brown after 10-15 minutes, turn the oven up to 400ºF. Remove pan from the oven and immediately brush the surfaces of the rolls with the remaining 2 tablespoons of melted butter. Sprinkle flaky salt over top to taste. Let the rolls cool in the pan for 5 minutes, then turn the pan out onto cooling racks and invert onto a plate or serving platter.

Serve warm with more butter on the side.
Prep Time:

3 hours

Cook Time:

25 minutes

Category:

Bread

Method:

Oven

Cuisine:

American
Keywords: buttermilk, rolls, pull-apart, yeast, Thanksgiving
This post may contain affiliate links. Please read my disclosure policy.