5 "Spicy" New Cookbooks: A Chat with Margaret Roach
This post may contain affiliate links. Please read my disclosure policy.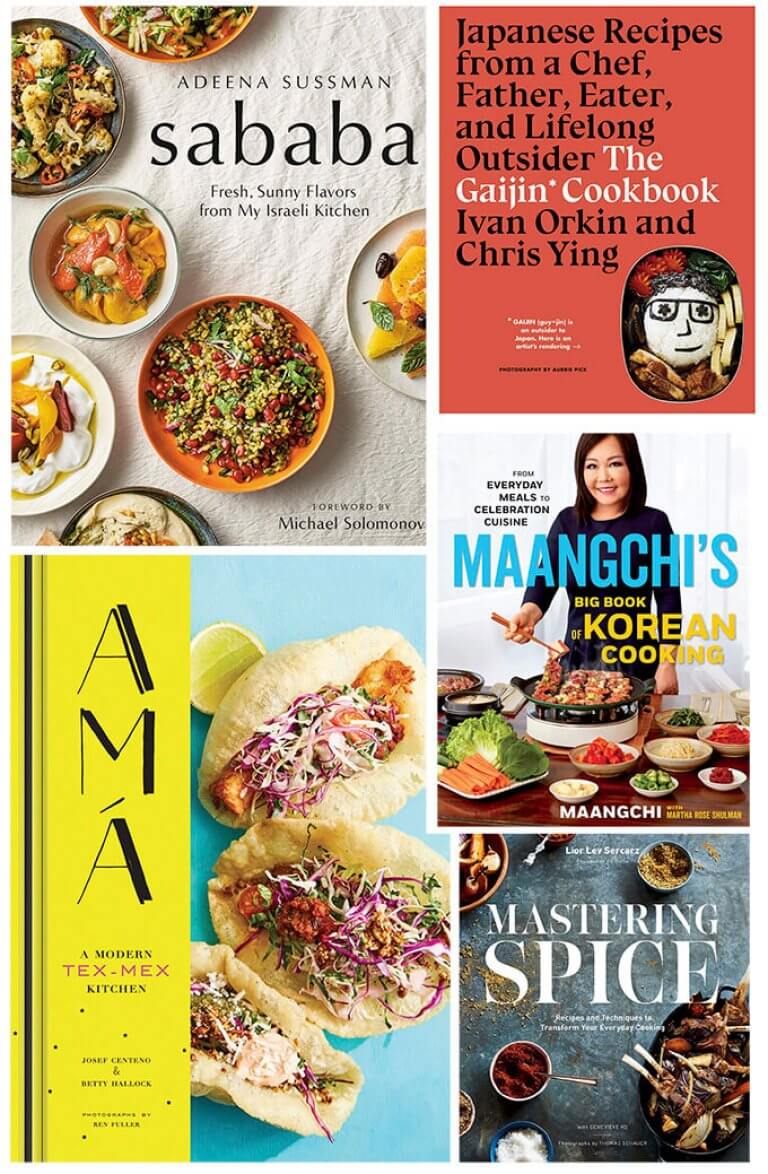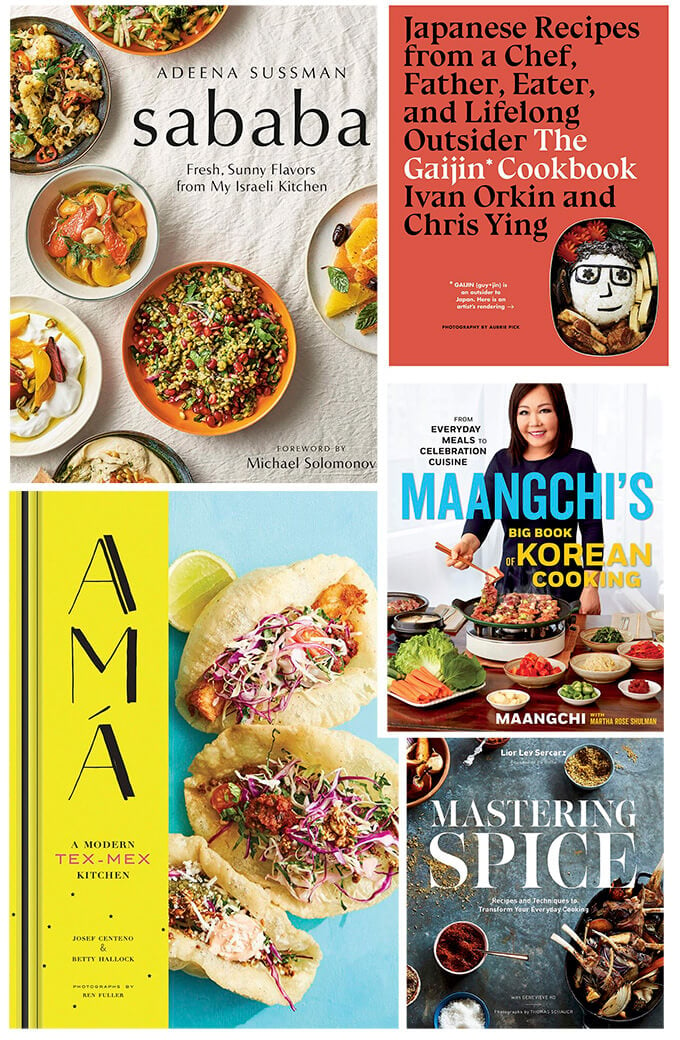 Earlier this fall, Margaret Roach and I spent some time cruising around the cookbook table at HGS Home Chef and noticed a theme: spice!
And so, for our annual cookbook chat, we've narrowed the focus to cookbooks whose recipes and resources will help spice things up in the kitchen. These are the five books we discuss (with the exception of Amá, due to time constraints):
Thanks to these new books, I've been enjoying: herby tahini sauce with harissa Brussels sprouts, stir-fried udon with cabbage, japchae with mushrooms and scallions, roasted vegetables with fennel and sumac, and tahini blondies with sesame seeds and cardamom.
But just as much as I am enjoying cooking from each of these cookbooks, I am enjoying reading them — the stories in each are captivating. I've reviewed each briefly below.
Listen to my chat with A Way to Garden's Margaret Roach here.
Also: There's a giveaway! I'm giving away a copy of Maangchi's Big Book of Korean Cooking. Margaret's giving away a copy of Mastering Spice. Details below.
UPDATE: Winner is Nancy Schwartz. I have emailed you. 
PS: Margaret Roach's Garden is Magical
PPS: Soup's On! A Chat with Margaret Roach

Maangchi's Big Book of Korean Cooking
If you are familiar with Maangchi, you've likely watched one of her YouTube videos. But in the intro to Maangchi's Big Book of Korean Cooking, Maangchi writes that while videos are great for demonstrating technique, they don't show the larger picture of how recipes fit together to make up a cuisine.
But MBBKC does. It feels encyclopedic, a comprehensive guide to Korean cooking from how to shop and stock a pantry to the recipes themselves, which extend from banchan (small side dishes) to street food to one-bowl meals.
There is even a chapter dedicated to the vegan recipes she learned from a group of nuns while visiting a Buddhist temple in the mountains.
Maangchi is funny, and I love what she says about plating: she's not into serving a tiny amount of food on a small plate, preferring instead to plate "mountain" style, in which everything is heaped into a large, gently sloping mound, which she says reflects her culture's most important value: generosity.
I made her recipe for japchae, a dish made with translucent sweet potato starch noodles, lots of vegetables, and meat if you wish. Get the recipe: Vegetarian Japchae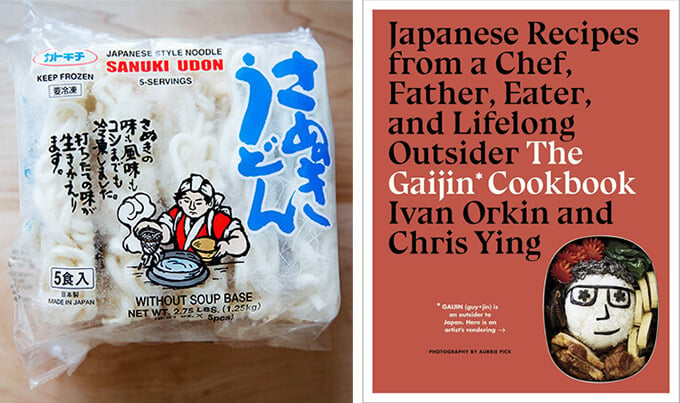 The Gaijin Cookbook
The word "gaijin" means foreigner or outsider but implies "intruder."
In the intro to The Gaijin Cookbook, written by Ivan Orkin and Chris Ying, Ivan writes: "Even though I've lived in Japan for the better part of three decades, speak Japanese fluently, have opened two successful ramen shops in Tokyo, and am raising three half-Japanese kids, I'm still a gaijin. I can't help it, just like I can't help being head over heels in love with Japan."
Ivan loves both the culture and the food of Japan, and with The Gaijin Cookbook, he hopes to dispel the idea that all Japanese food is "precious and high flying stuff."
He thinks in general Japanese food gets treated with an over-the-top reverence, but notes that "a Japanese life encompasses the same range of situations as an American one. There are busy weeknights and weekends when you feel ambitious, picky kids, special occasions, dreary winters, sweltering summers, picnics, potlucks, parties, and hangovers. And there's food for every occasion."
The Gaijin Cookbook is not a manual for making perfect sushi or a comprehensive guide to Japanese food. The recipes extend from mostly simple to more elaborate (homemade dumplings or dan dan noodles or temaki (hand rolls)) but the section I'm loving the most is the chapter about Teishokuya, which Ivan relates to an American diner: cheap, everyday Japanese food in its purest form.
Thanks to the book, I bought a big bag of frozen udon noodles, pictured above, and they are SO nice to have on hand as fresh udon noodles can be difficult to find. I made the stir fried udon with cabbage and loved it, and what I'm loving about the book is that if you have soy sauce, mirin, miso, and sake on hand, you can make so many of the recipes.
Final thought: Throughout the book, Ivan reflects on what he's learned from the Japanese culture as a whole, such as: care for others, not getting in other's way, reading the air. I love these little reflections and stories — it's such a great read.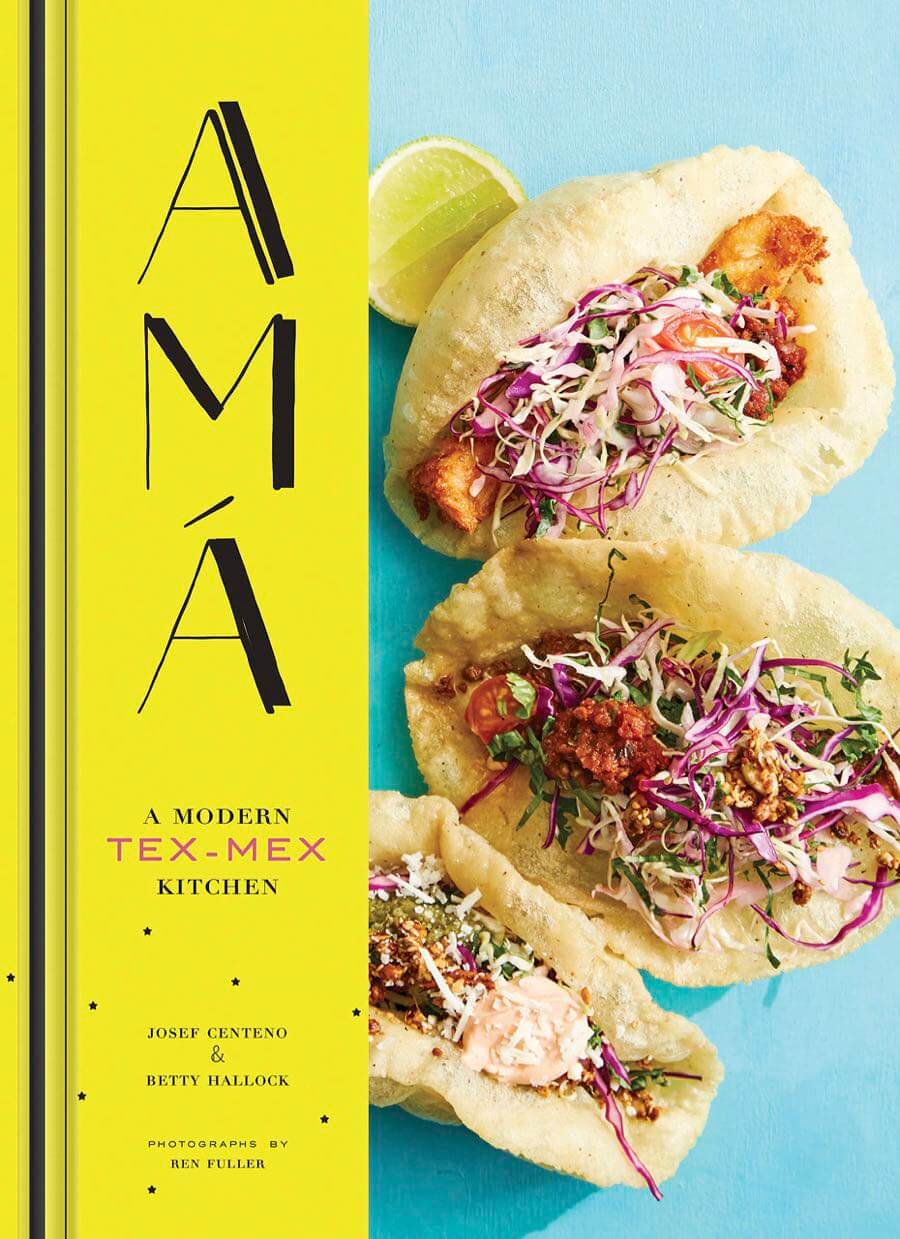 Amá: A Modern Tex-Mex Kitchen
Amá tells the story of Los Angeles chef, Josef Centeno, who grew up in San Antonio, Texas, but wanted to get away. In the intro he writes he once "turned his back" on Tex-Mex cuisine.
With aspirations to be a chef, a young Josef moves away from home, heading first to NYC and eventually to cities all over the country cooking French, Japanese, and Spanish cuisines in Michelin 3-star kitchens.
But when he finds himself thinking about Tex-Mex, the cuisine of his childhood, he returns to San Antonio. And after he eats all the tacos and queso he can, he discovers this is not the food he's after either.
He's searching, he realizes, for the food of his family, of his Amá (his grandmother), of a Tex-Mex cuisine the modern, commercialized version has bastardized.
Josef describes the food he grew up with as "simple cooking that [isn't] authentically Mexican but not the melted-cheese-topped stuff people usually talk about when describing Tex-Mex."
Contrary to what many people think, Tex-Mex can be very vegetable forward — the vegetable dishes are not limited to salsa and guacamole — and the influences can be diverse. Tex-Mex, moreover, doesn't have to be super fatty; it can rely on spices to add flavor, not the deep fryer or heaps of queso and sour cream.
And like any cuisine, Tex-Mex, evolves and adapts.
I have not cooked any of the recipes yet but I'm feeling inspired by the many fresh, bright flavors. On my to-do list: pick up a ton of dried chilies along with Mexican oregano to make the Amá spice mix, a blend that finds its way into many of the recipes.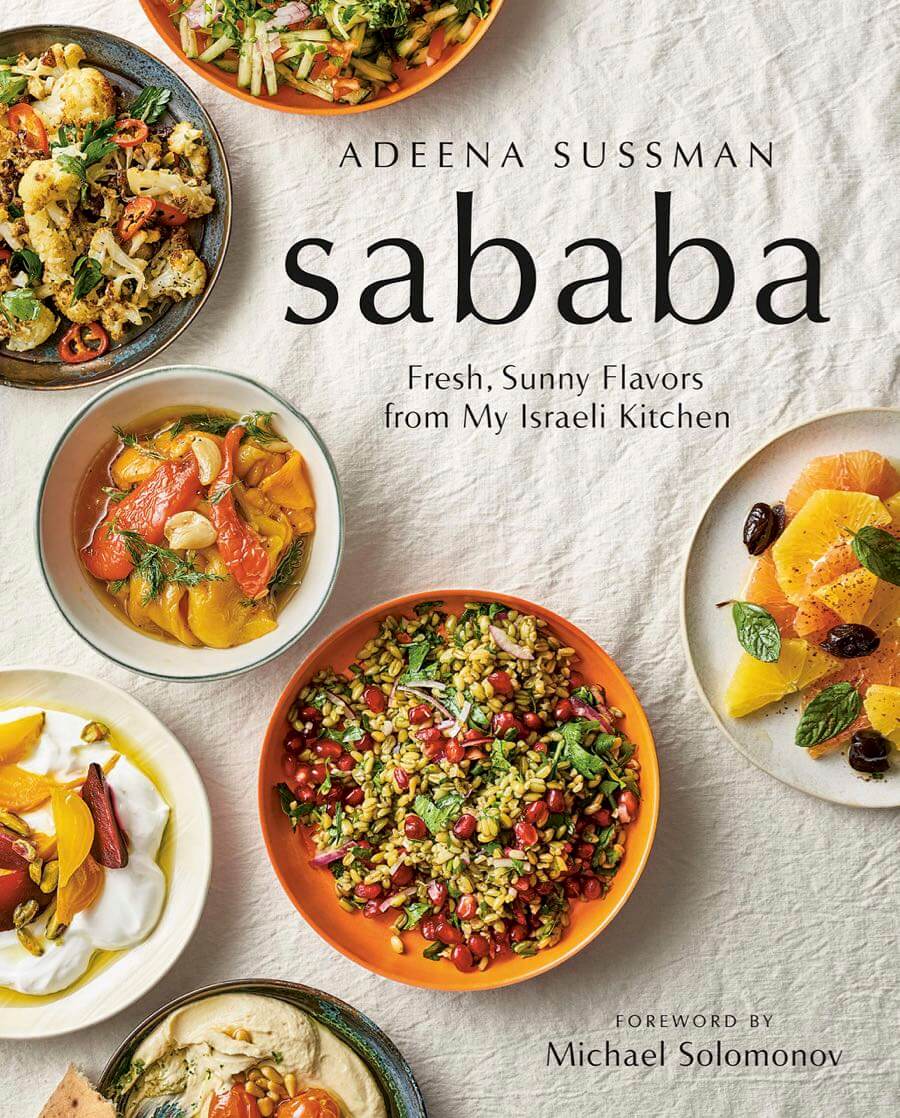 Sababa
"Sababa" means "everything is cool" or "it's all good," and as you flip through Adeena Sussman's Sababa, this is the feeling you get — from her morning ritual visiting a local market, the Shuk HaCarmel, a place she describes as her "constant companion," to her trips to world-renowned restaurants serving the best hummus and falafel, Adeena gives you a real glimpse into her dreamy Tel Aviv kitchen.
And with Sababa, she makes all of this food accessible to the home cook. In addition to providing resources for where to buy pantry staples, she gives recipes for homemade versions or alternatives if you can't buy or make either. For instance, if you can't find pomegranate molasses, you can make your own in 45 minutes with a bottle of pomegranate juice and honey. And if you can't find dried Persian limes, you can use lime zest and fresh lime juice.
I made her basic tahini sauce recipe, which is delicious, and I made one of the variants by puréeing it with a ton of parsley and cilantro. I topped this herby purée with one of her suggested garnishes, harissa Brussels sprouts, which also were delicious. The combination as a whole with the many variations is something I foresee re-visiting often.
Sababa is not a comprehensive guide to Israeli food, but rather a window into how Adeena cooks right now. She uses a lot of fresh produce, a lot of acidity, and a lot of herbs, spices, and toasted nuts — I love this style of cooking.
Mastering Spice
Mastering Spice is much more than a book about blending spices and learning about which spices go with which foods: it's about cooking techniques that incorporate spice, and it's about building off these basic techniques to transform everyday cooking.
Lior writes: "Rather than swap methods for roasting vegetables or simmering beans, I simply switch the seasonings. This is a great way to learn how to cook: mastering basic techniques makes it easier to master new seasonings."
For example, a creamy carrot soup can be flavored with smoked paprika and cumin or basil and oregano or turmeric and lime. This same creamy carrot soup, incidentally, can be used to sauce pasta, a dish Lior garnishes with poppy seeds, which looks/sounds divine.
Mastering Spice is not a vegetarian cookbook, but there is a focus on non-meat dishes, because that's mostly how Lior cooks these days.
I'm inspired by his use of spice in unexpected ways. For instant, he uses curry spices in dessert and cinnamon on meat. He writes: "No one spice or blend belongs to one culture or place: ras-el-hanout tastes amazing in a strawberry salad."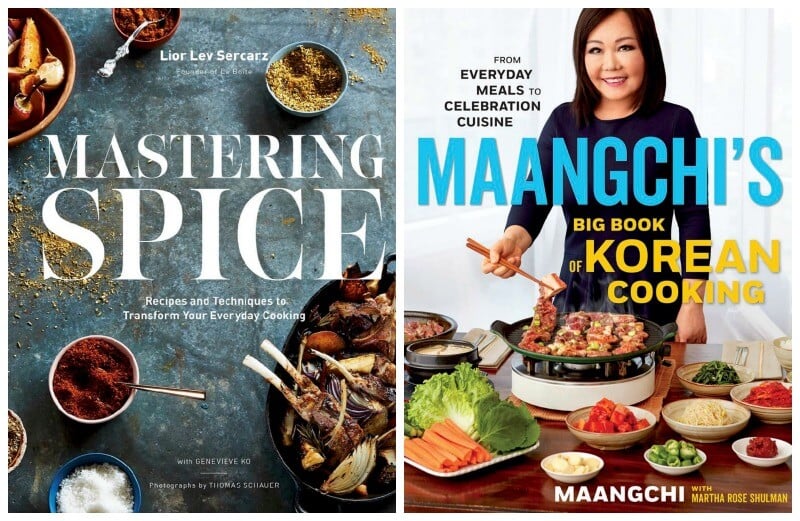 This post may contain affiliate links. Please read my disclosure policy.