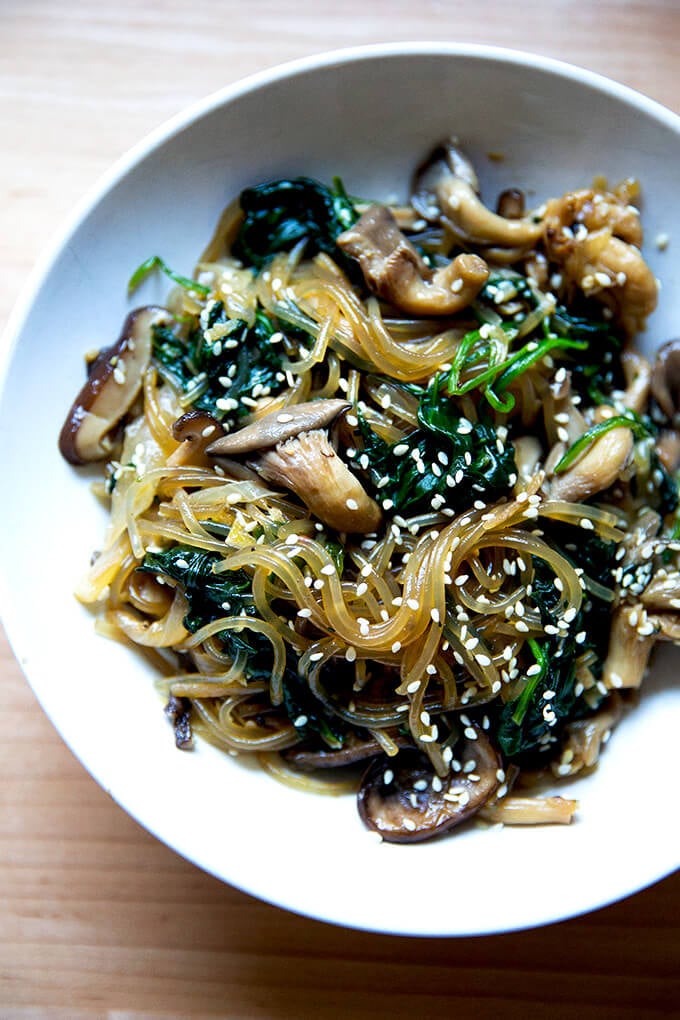 If you love Korean food, you no doubt know japchae, the dish made with those glassy, translucent noodles, tangled with lots of vegetables, mushrooms, and meat. Along with kimchi and bulgogi, it's one of the most well-known Korean dishes, one I look forward to anytime I find myself in a Korean restaurant.
Until about a month ago, I never would have considered making japchae at home. It seemed too exotic, an endeavor that would require a trip to the Asian market, only to potentially return with the wrong ingredients (or the right ones, only to mess it up anyway).
What I've learned recently, however, thanks to Maangchi's Big Book of Korean Cooking, is that there's nothing exotic about japchae's makeup: it's noodles + veg & meat + sauce. I did have to make a trip to the Asian market for the noodles, but I had all of the other seasonings on hand: soy sauce, sesame oil, brown sugar, garlic, and sesame seeds.
And guess what? Making Japchae, Maangchi's way at least, is incredibly easy.
Maangchi's Japchae
As noted above, to make japchae, the only ingredient you'll need to seek out are the dangmyeon noodles, which are made from sweet potato starch (making them gluten-free). Your local Asian market likely will carry them, or you can order them online.
Some recipes call for boiling dangmyeon, but here, you'll simply soak them in cold water for 40 minutes, during which time, you'll prep everything else.
Typically, Japchae is made stir-fry style. Maangchi herself previously called for stir-frying, both in her first book and on her YouTube channel.
But in her new book, she simplifies the process, employing a completely different method — it's almost like an un-stir fry. Rather than sauté the vegetables one by one in an uncovered hot pan, she layers everything into a cold pan: first the onions, carrots, mushrooms, and scallions, then the spinach, then the noodles, and finally the sauce.
Once the layering is complete, she covers the pan, and sets it on the stovetop over medium-high heat. Ten minutes later, she uncovers the pot, sprinkles in some sesame seeds and sesame oil, gives it a stir, and calls it done!
It's incredibly easy, and incredibly tasty, and whether you know the dish or not, I think you'll love it.
PS: You can read more about Maanghi's latest cookbook and four others over here, where I'm giving away a copy of it as part of my annual cookbook chat with Margaret Roach.
Here's the play-by-play: Find yourself some dangmyeon (sweet potato starch noodles). Your local Asian market should carry them.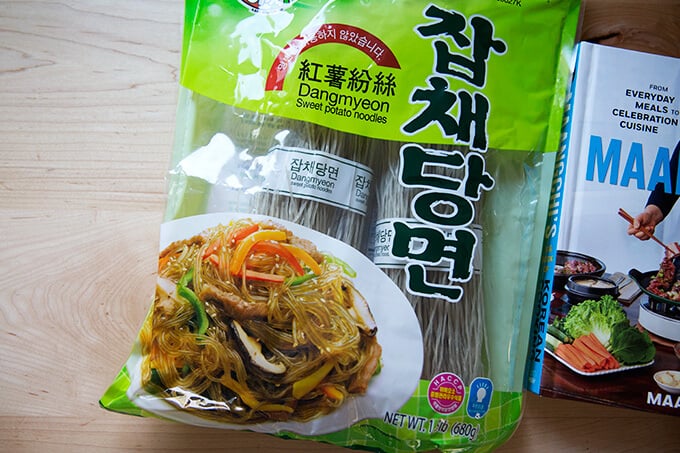 Soak the noodles in cold water for 40 minutes.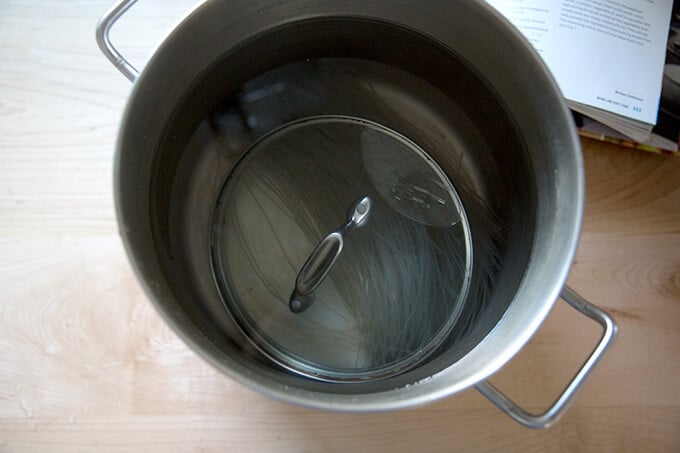 Slice up some mushrooms, garlic, and onions; slice scallions into 2-inch lengths: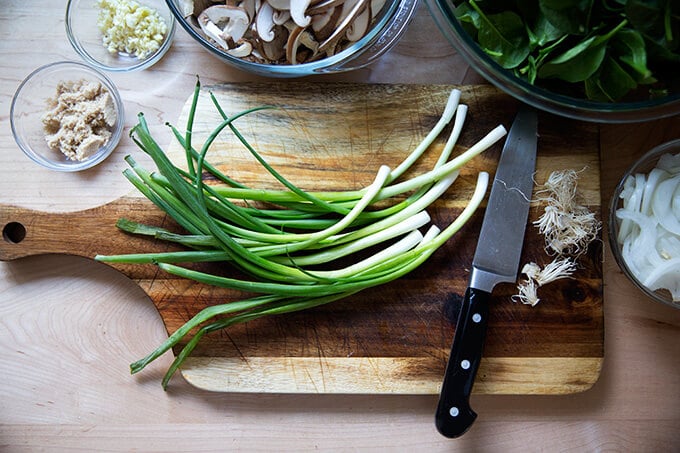 Thinly slice carrots: You can do this with a mandoline (left) or knife (right).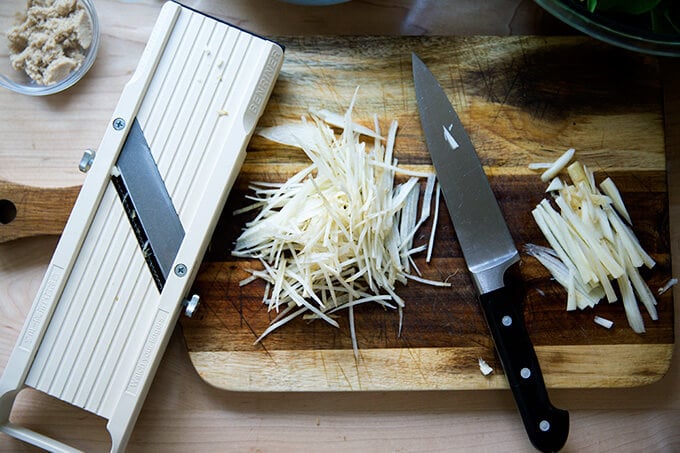 Stir together a simple sauce: soy sauce, garlic, brown sugar, and pepper: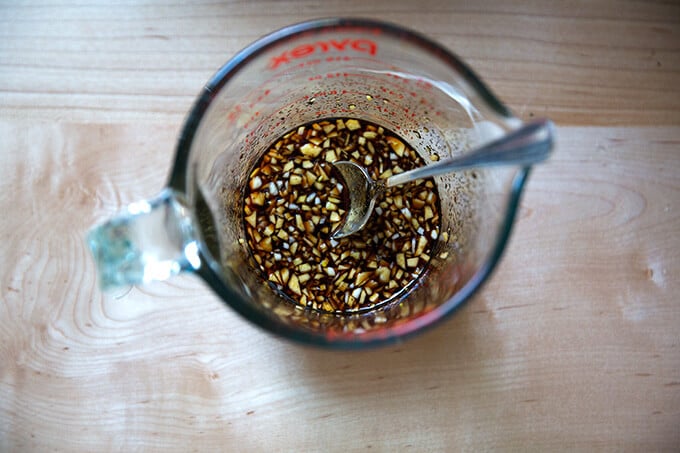 Place the mushrooms, scallions, onions, and carrots in a wide, heavy-bottomed pot: I love my 5-qt Le Creuset braiser for this.

Toss vegetables with 1/4 cup oil and 1/4 cup water: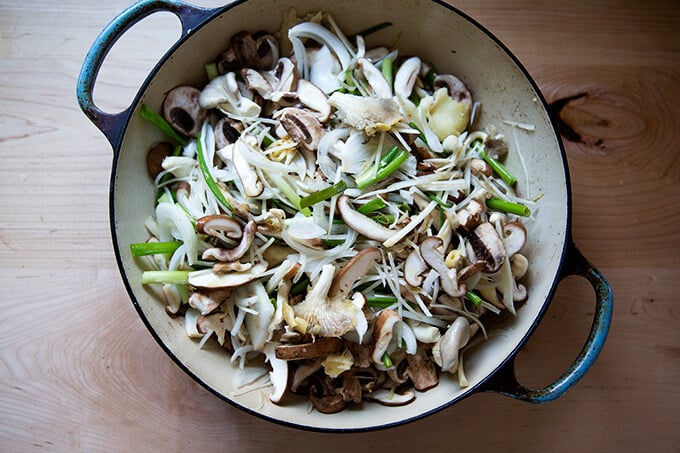 Top with a half pound of spinach: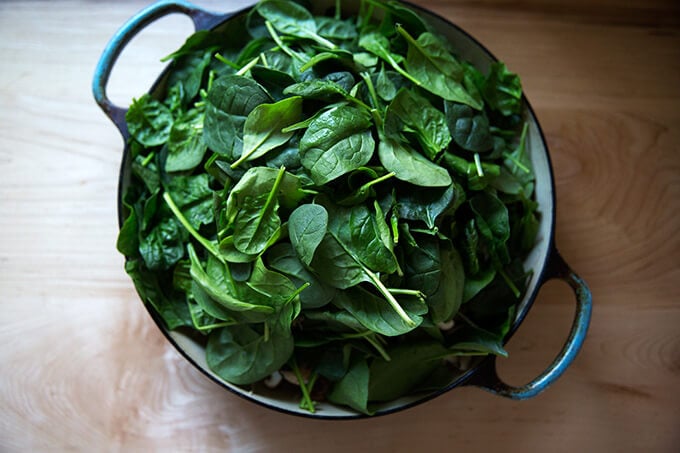 Cut the soaked, drained sweet potato noodles into 6-inch (roughly) lengths: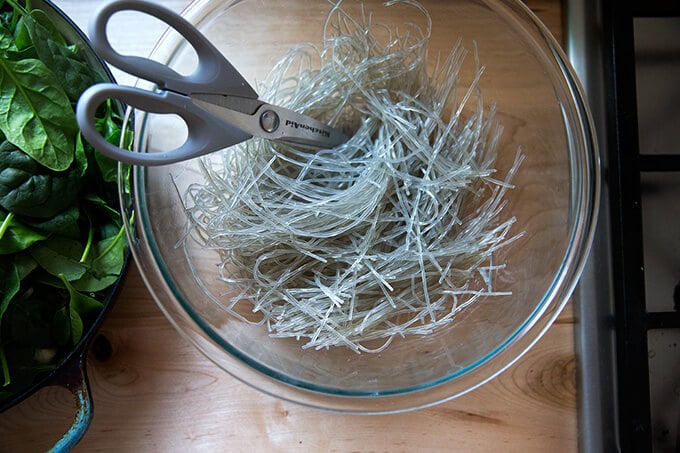 Place on top of spinach and drizzle sauce over top: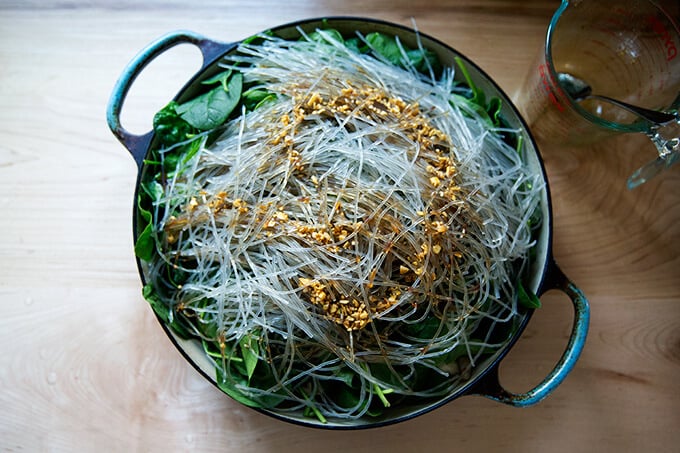 Place pan on the stovetop, cover, and cook over medium-high heat for 10 minutes: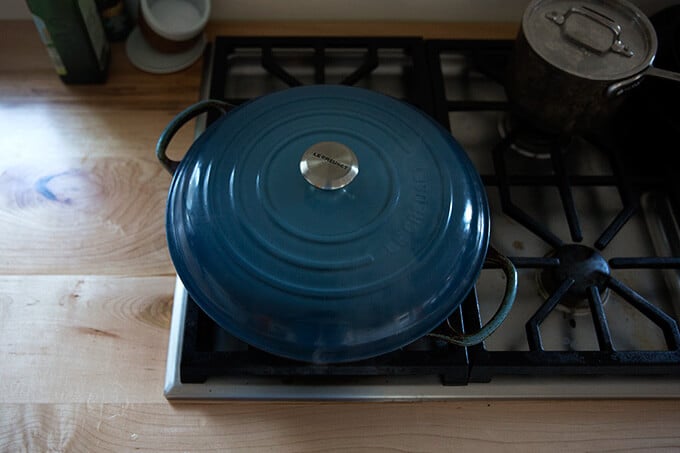 Open the lid, and give it a stir: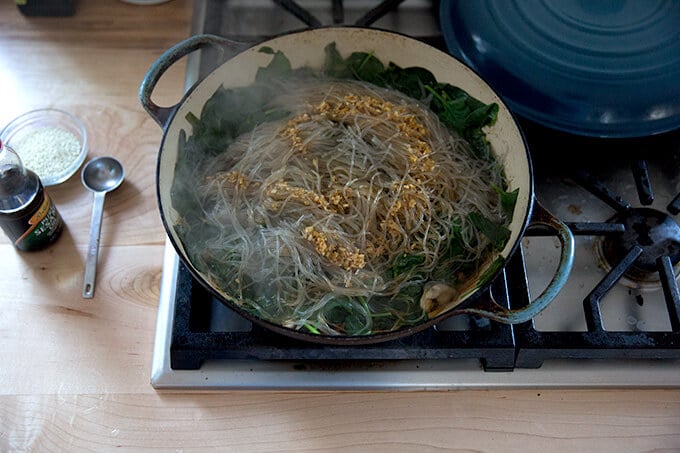 Add sesame seeds and sesame oil: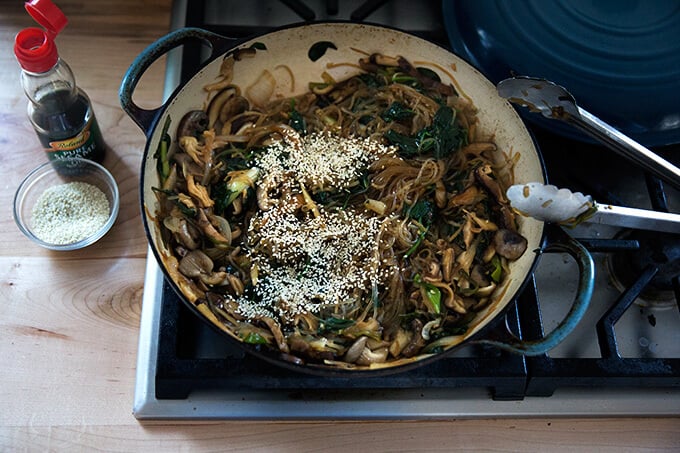 Toss!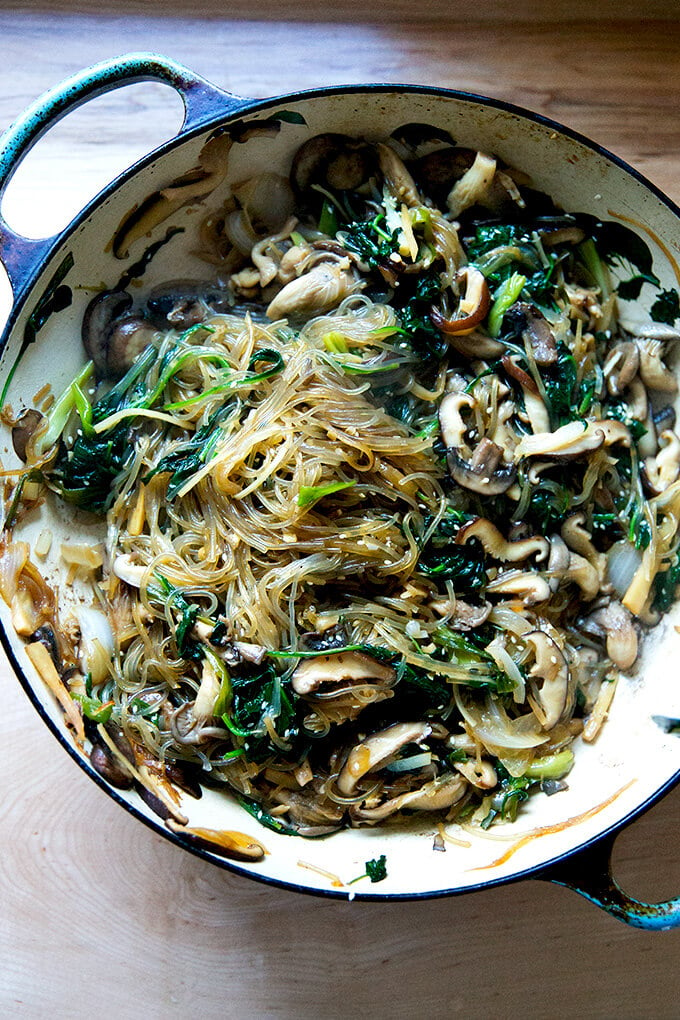 Serve!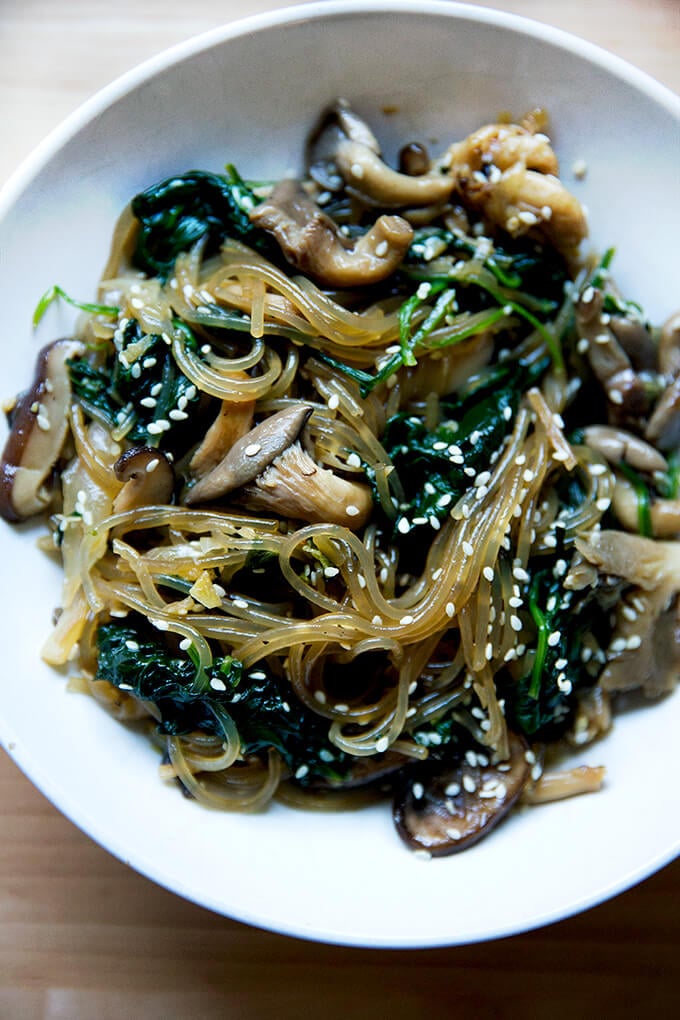 Maangchi's Big Book of Korean Cooking: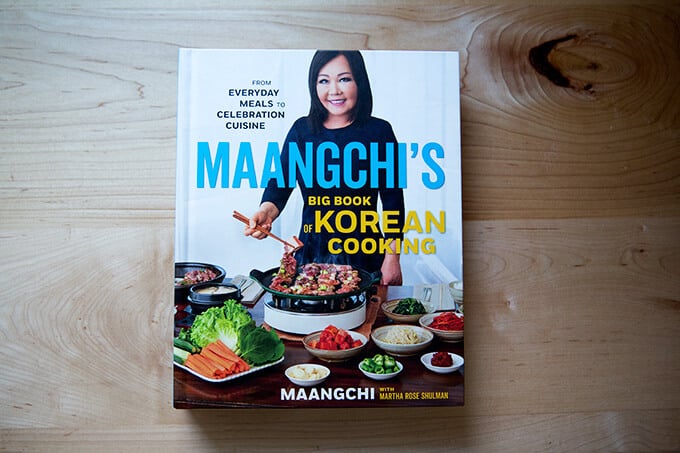 Print
Vegetarian Japchae (Korean Glass Noodles)
---
Author:

Aexandra Stafford

Prep Time:

40 minutes

Cook Time:

10 minutes

Total Time:

50 minutes

Yield:

Serves 4
Description
Japchae is a Korean dish made from dangmyeon noodles (sweet potato starch noodles) which are also known as "glass noodles" for their translucent appearance.
The recipe below is a vegetarian (vegan actually) version of the recipe in Maangchi's Big Book of Korean Cooking. I've not only omitted the meat, but also the wood-ear mushrooms, because Maangchi listed them as optional. Know that you can adapt this recipe in countless ways: with meat or without, with mushrooms or without, with any number of vegetables you like.
The only hard-to-find ingredient here is the dangmyeon. I found a very reasonably priced large bag at the Asian market in Albany, and I would imagine most Asian grocery stores would carrying them. You can also order online: Dangmyeon (Sweet Potato Starch) Noodles.
I have
Carrots: I like to use my mandoline for this, but a knife works just as well.
Mushrooms:  A mix of mushrooms is nice: shiitake, oyster, maitake, enoki, crimini.
---
Ingredients
8 ounces

sweet potato starch noodles (dangmyeon), see notes above

2 tablespoons

brown sugar

1/4 cup

soy sauce

3

–

5

cloves garlic minced
fresh cracked pepper to taste

12

–

16

ounces mushrooms, thinly sliced, see notes above

1

large onion, sliced

1

to

2

large carrots, peeled and thinly sliced, see notes above

4

to

6

scallions cut into

2.5

-inch pieces

1/4 cup

olive oil
kosher salt to taste

8 ounces

baby spinach

1 tablespoon

sesame seeds

1 tablespoon

sesame oil
hot sauce, such as Sriracha, if you wish
---
Instructions
Place the noodles in a large bowl (I use a large pot) and cover with cold water. You may need to weigh the noodles down with a lid. Let stand for 40 minutes.
Make the sauce: In a small bowl, stir together the brown sugar, soy sauce, garlic, and pepper.
Assemble the japchae: In a large, wide heavy pot or sauté pan (I use my 5-qt Le Creuset braiser for this), combine the mushrooms, onion, carrot, and scallions. Season with a good pinch of kosher salt. Add the olive oil and 1/4 cup water, and toss with your hands to combine. Pile the spinach on top.
Drain the noodles and, using scissors, cut them into 5- to 6-inch lengths. Place the noodles over the spinach. Give the sauce a stir and drizzle evenly over top.
Cover the pan and set it on the stovetop. Turn heat to medium-high and cook for 10 minutes. Uncover and give everything a stir.
Finish the dish: Add the sesame seeds and sesame oil and stir to combine. Serve immediately with hot sauce on the side if you wish.
---
Category:

Dinner

Method:

Stovetop

Cuisine:

Korean
Keywords: vegetarian, japchae, Maangchi, vegan, dangmyeon, noodles, mushrooms, scallions