Broiled Broccoli with Spicy, Sesame-Scallion Sizzle
This post may contain affiliate links. Please read my disclosure policy.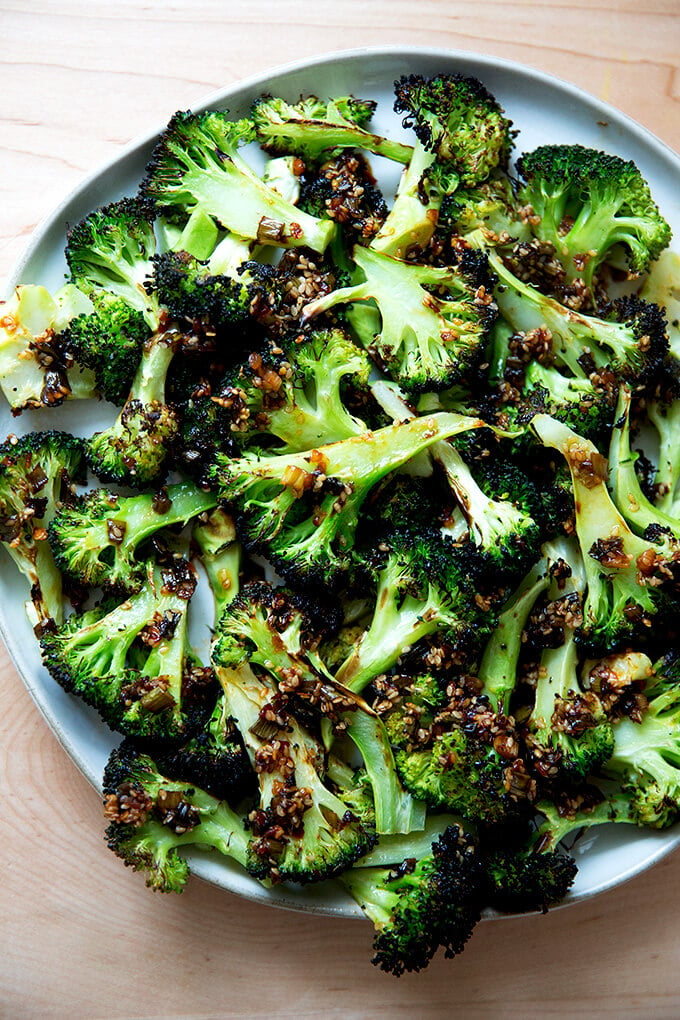 Last summer, this spicy green bean recipe opened my eyes to the wonderful world of blistered string beans, reminding me, too, that harnessing the power of a few heavy-hitting ingredients — capers, garlic, crushed red pepper flakes — can pay off big: super-flavorful vegetables in no time.
It also reminded me of maybe the most neglected tool in my kitchen: my broiler!
In the winter, I get in such a routine of roasting sheet pan after sheet pan of vegetables for what seems like forever. But in a fraction of the time, the broiler can do similar work. The flavor of broiled vegetables is not the same as roasted — i.e., they don't taste caramelized — but broiled vegetables are cooked nonetheless and, in some instances, cooked better.
Take for instance broccoli. What I love about a broiled broccoli spear is that its florets char, while its stems remain vibrant, brilliant green in hue with a nice al dente texture, a feat achieved in 5 to 6 minutes total.
Seasoned merely with olive oil and salt, this broccoli is delicious on its own straight from the broiler, but upon being hit with a sauce, an infusion really, made from both coconut and sesame oil, soy sauce, sesame seeds, scallions, and chili paste (Sambal Oelek or Sriracha), it becomes truly irresistible.
As with the green beans, I could eat this whole platter of broccoli alone, but when I feel like sharing, I'll tuck them aside this warm tofu with spicy sesame scallion sauce (see below) or this broiled ginger-soy salmon, or I'll heap them onto a scoop of this Instant Pot brown rice, crack a poached egg over top, and call dinner done.
PS: Roasted broccoli is also delicious. As is pan-seared.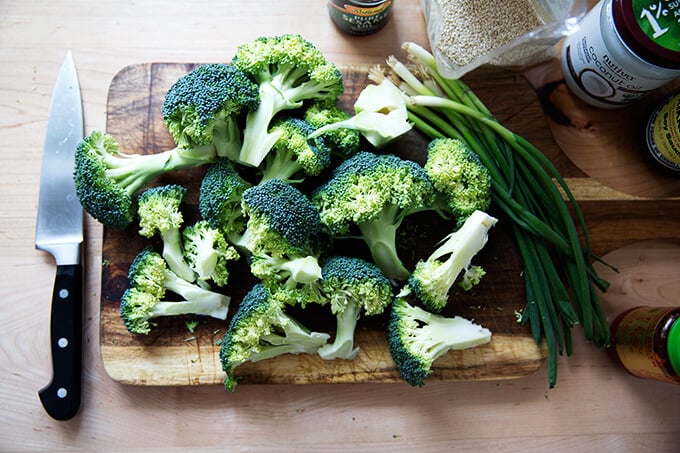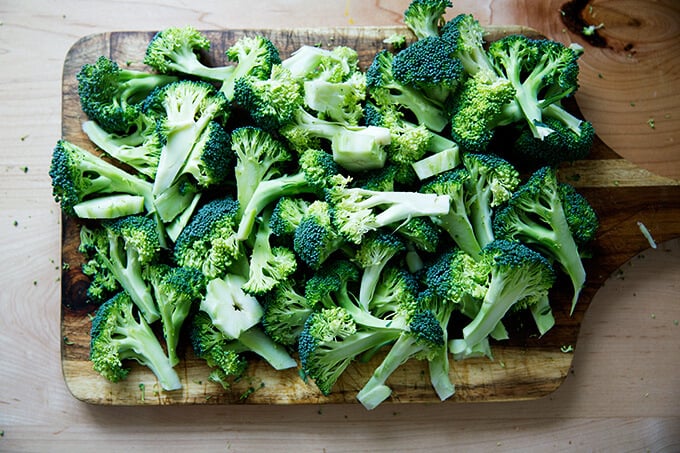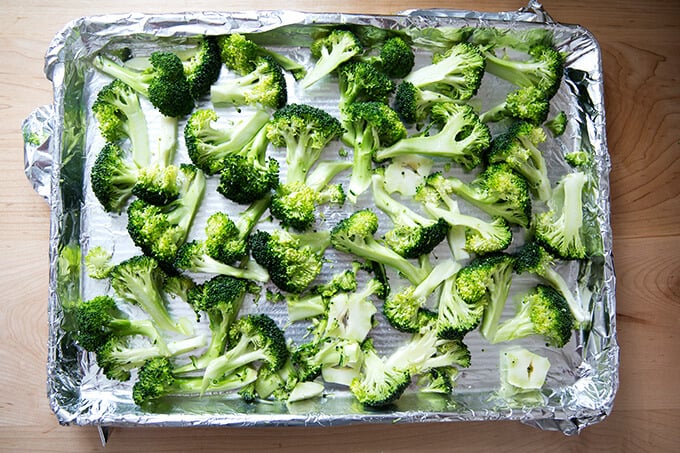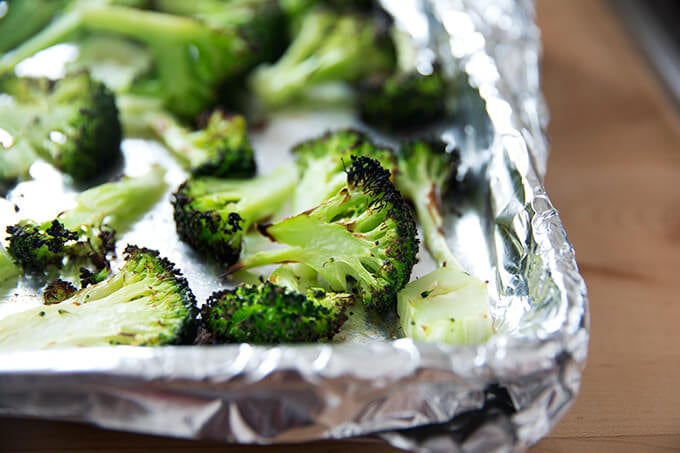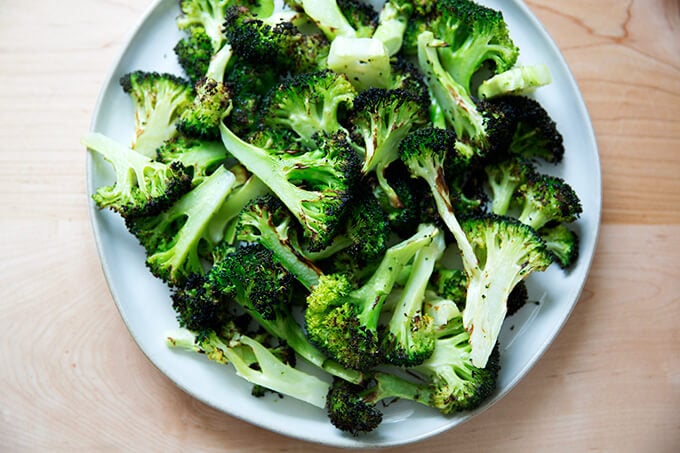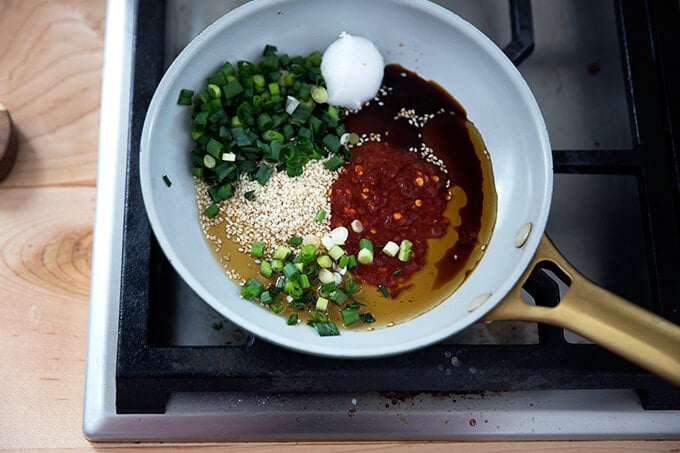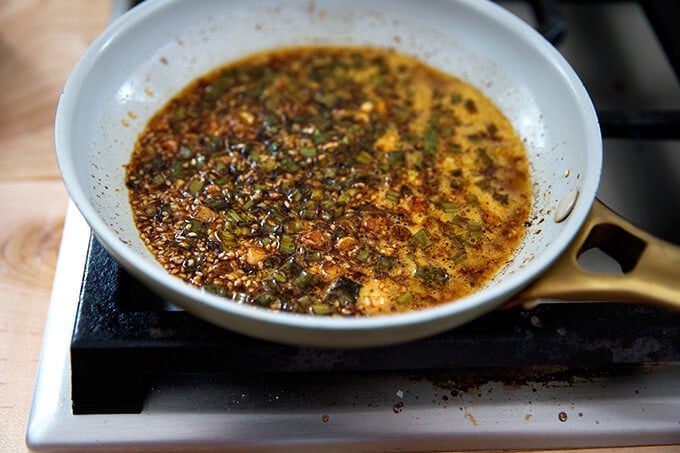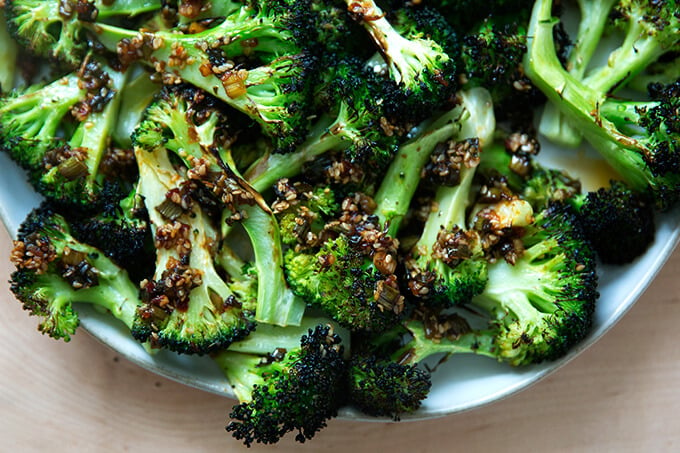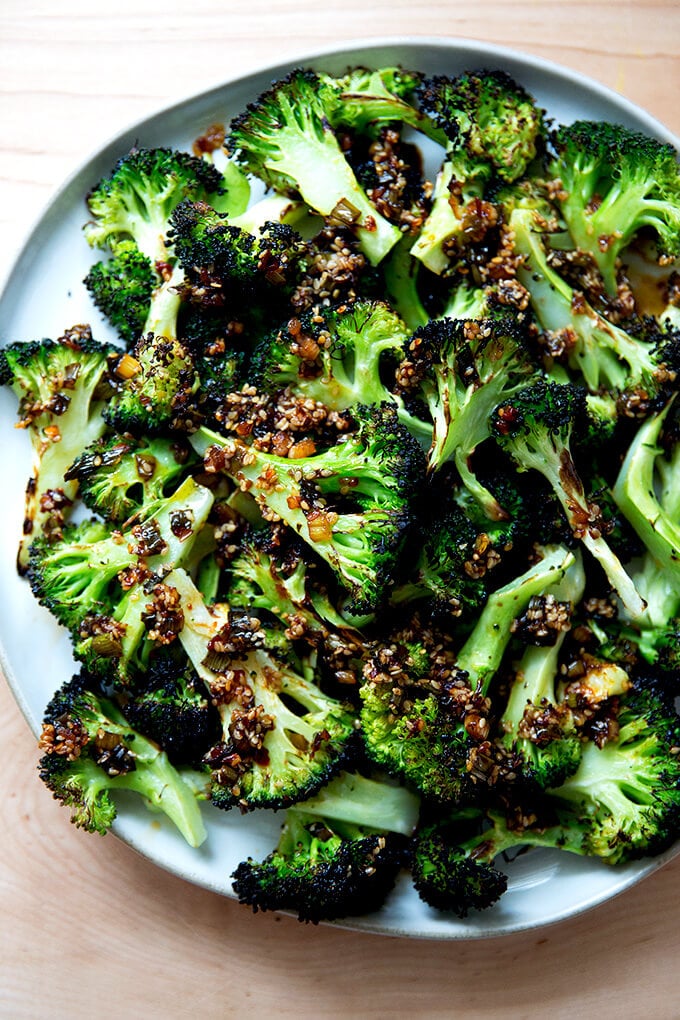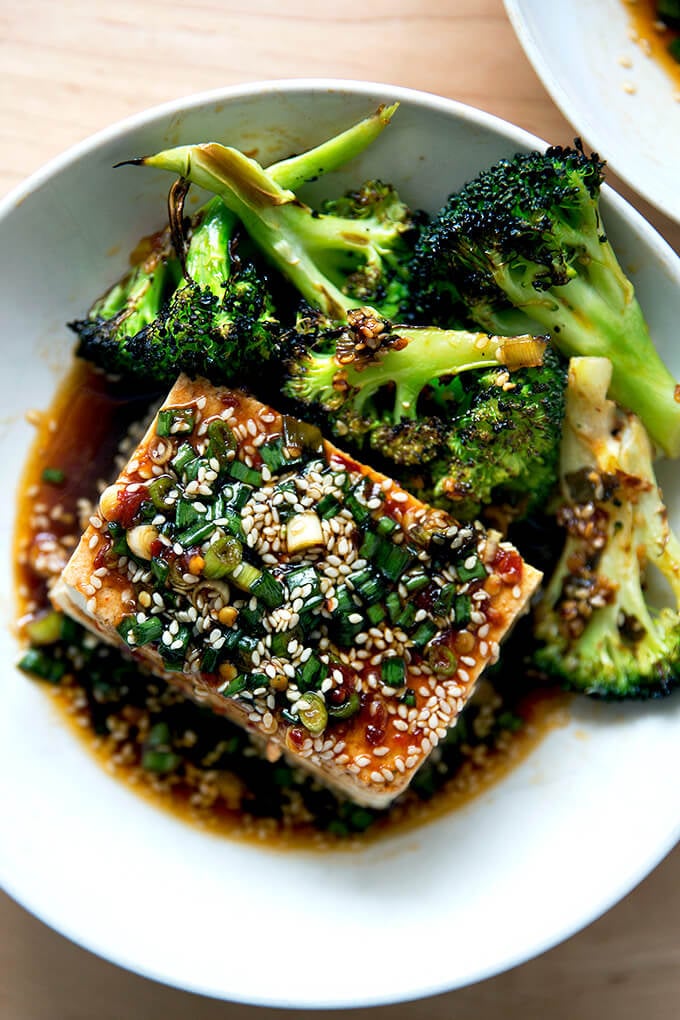 Print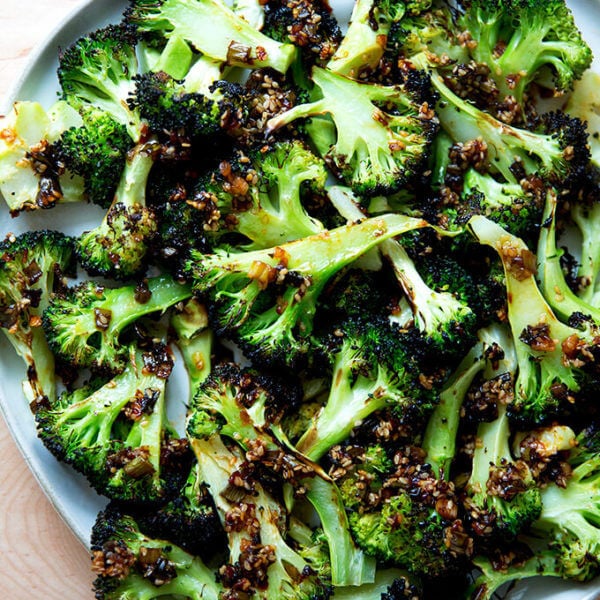 Broiled Broccoli with Spicy, Sesame-Scallion Sizzle
---
---
For the sizzle:
1 tablespoon

sesame oil

1 tablespoon

coconut oil

1 tablespoon

sambal oelek or Sriracha

1 tablespoon

soy sauce

1 tablespoon

sesame seeds

4

scallions, thinly sliced
For the broccoli:
1.25

lbs (roughly) broccoli

1 tablespoon

neutral oil, such as grapeseed or canola
kosher salt
flaky sea salt, such as Maldon, for finishing, optional
---
Instructions
Heat the broiler to high for at least 15 minutes. Line a rimmed sheet pan with aluminum foil.
In a small skillet, place the sesame oil, coconut oil, sambal oelek or Sriracha, soy sauce, sesame seeds, and scallions. Turn the heat to low and let the oils slowly infuse.
Meanwhile, prepare the broccoli: cut the head into spears; then cut larger spears into half or quarters.
Toss the broccoli on the prepared sheet pan with the tablespoon of neutral oil and a generous pinch of kosher salt. Taste a small spear of broccoli raw — it should taste nicely seasoned. Transfer pan to broiler and cook 2 minutes. Check. If the broccoli isn't beginning to char, return it for another minute. Check again. If the spears are charring, remove the pan from the oven, and flip each spear over; then return pan to the broiler for another 2 minutes. Check again. Remove pan from the oven when the broccoli is charred to your liking, about 5-7 minutes total. (Note: When my broiler has preheated sufficiently, my broccoli consistently cooks to my liking in 5 minutes with a flip after 3 minutes. Every oven is different, however, so be vigilant!)
Transfer broccoli to a serving platter.
Meanwhile, the oils in the skillet should be gently shimmering and the sesame seeds and scallions should be beginning to frizzle. Turn the heat up to medium or high and keep a close watch. As soon as you see the oil bubbling more rapidly, remove the pan from the burner and pour the oil over the broccoli.
Gently toss. Taste. Season with sea salt if desired — if your broccoli was nicely seasoned before going under the broiler, you might not need any additional salt. Serve immediately.
Prep Time:

15 minutes

Cook Time:

8 minutes

Category:

Side Dish

Method:

Broiler

Cuisine:

Asian
Keywords: broiled, broccoli, sambal, oelek, sesame, oil, seeds, scallions, soy sauce
This post may contain affiliate links. Please read my disclosure policy.