Sautéed Endive & Radicchio with Chile Oil
This post may contain affiliate links. Please read my disclosure policy.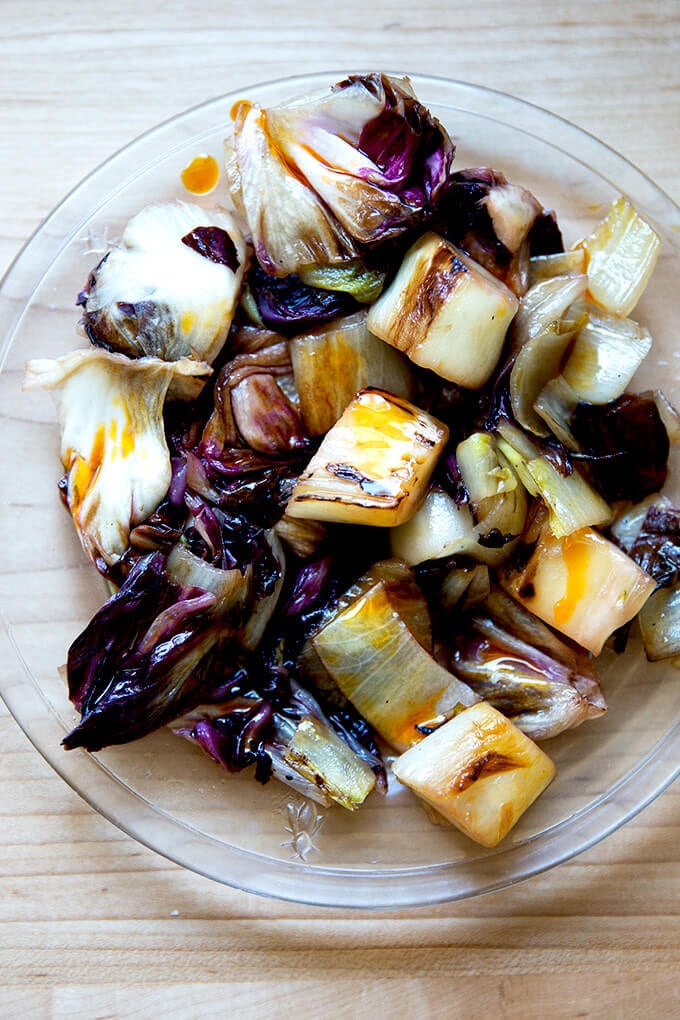 Last April, I discovered a recipe for sautéed chicories in Food and Wine. It calls for quickly sautéing Belgian endive and radicchio in olive oil with garlic, then dressing the barely wilted greens with vinegar and, if you wish, a drizzle of chile oil.
It's a classic combination for good reason: it works. The bitterness of the chicories softens under the heat of the pan and is further tempered by the sweet-sharp balsamic vinegar; the subtle kick from the chile oil adds another dimension and balance of flavor.
Its deliciousness should be no surprise, but still, I found myself taken by this dish, by its simplicity. I love the contrast of textures, how the radicchio melts while the endive remains crisp, caramelizing ever so slightly at the edges.
I also love how quickly it comes together. The prep is minimal — cutting chicories feels like a walk in the park after months of hacking away at roots — as is the cook time: the roughly chopped endive and radicchio sauté in batches for no more than a minute at a time.
Last year, this sauté entered my life at no better time, when spring and all of its gems feel like a myth, when the markets, in upstate New York at least, mostly still reflect a January landscape. This year, I'm introducing it into the rotation earlier.
I hope you find it as bright and refreshing as I, a most welcomed addition to the winter vegetable repertoire.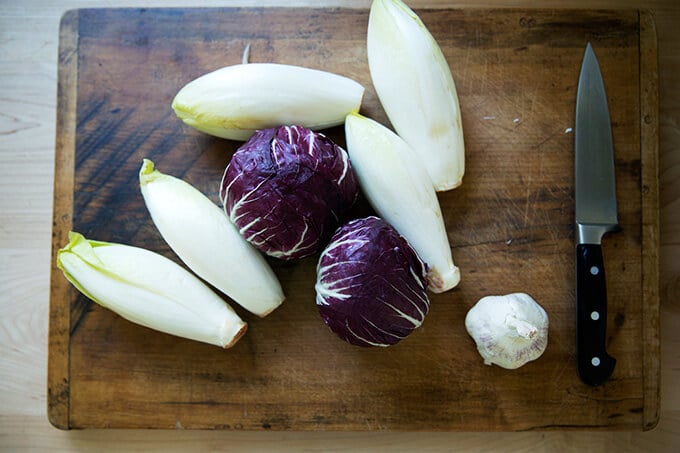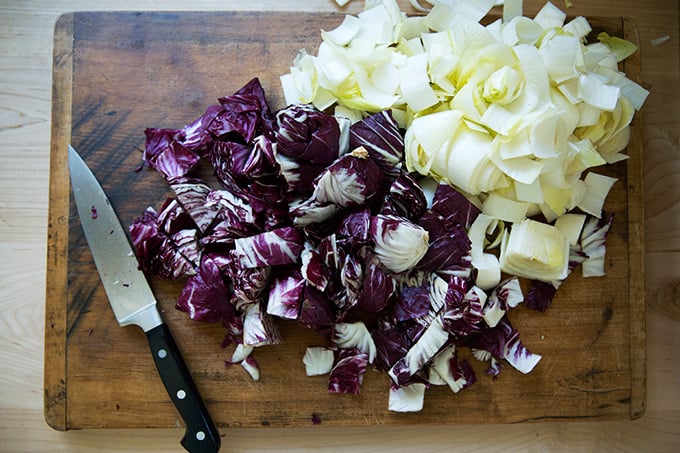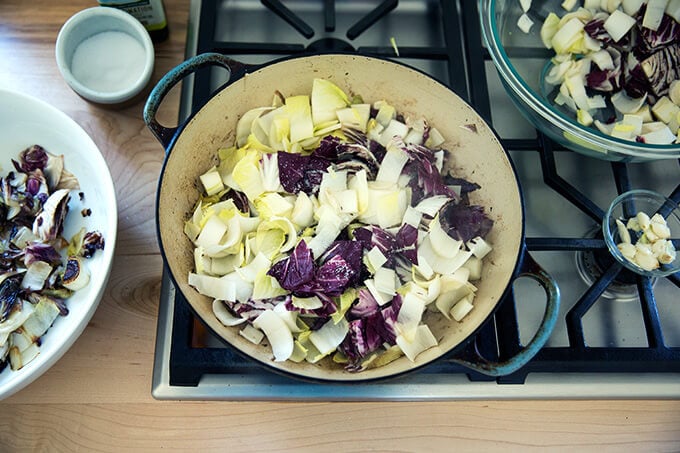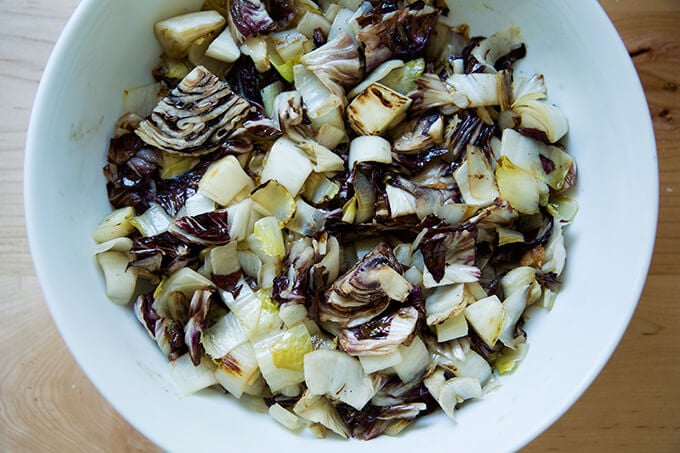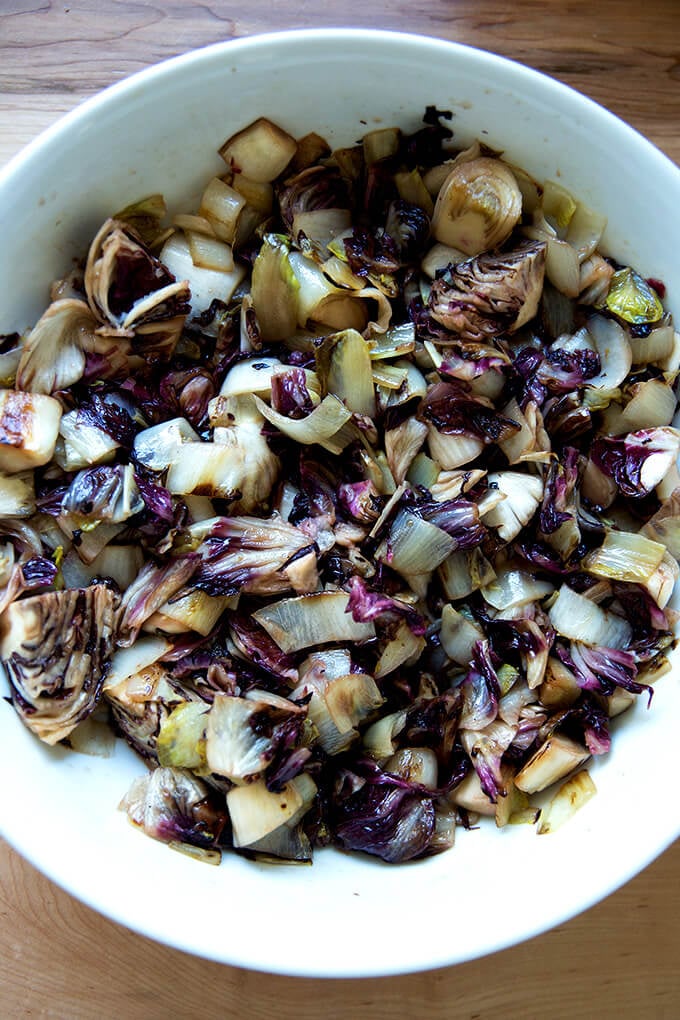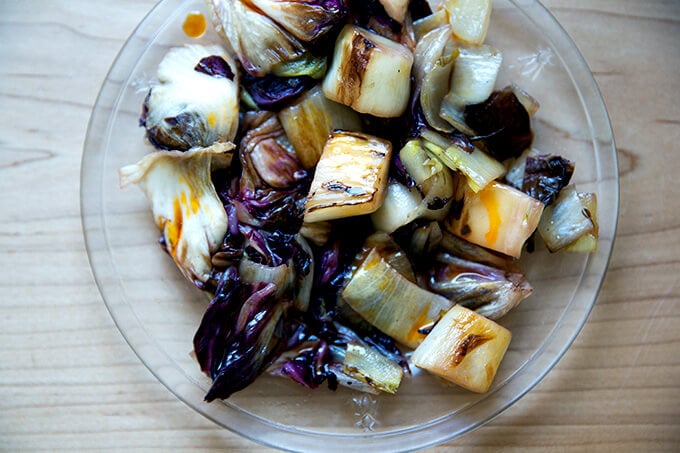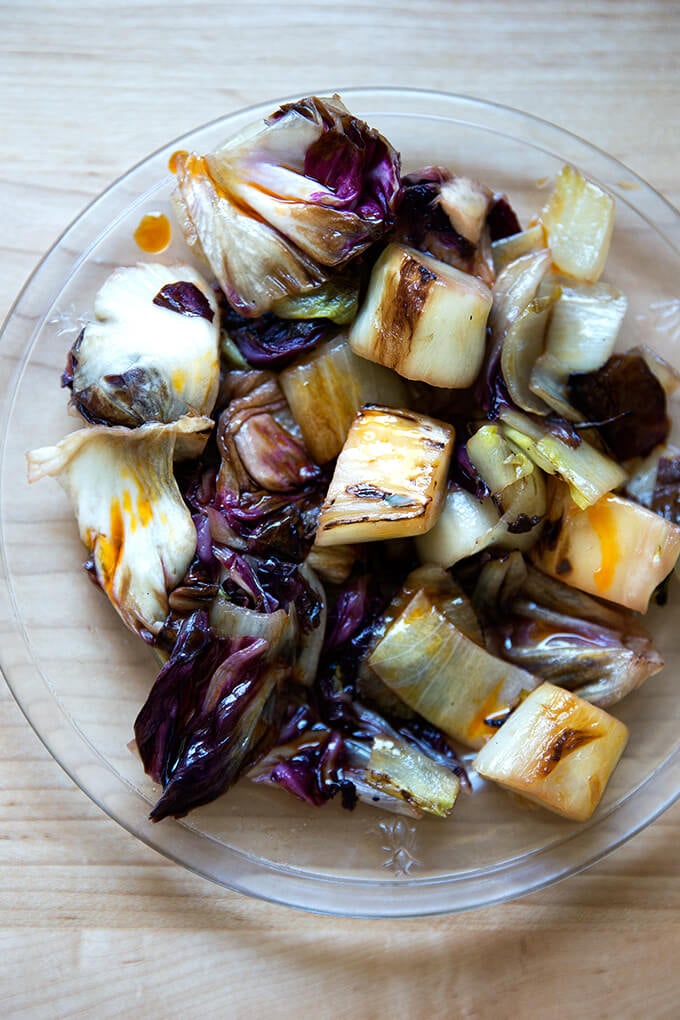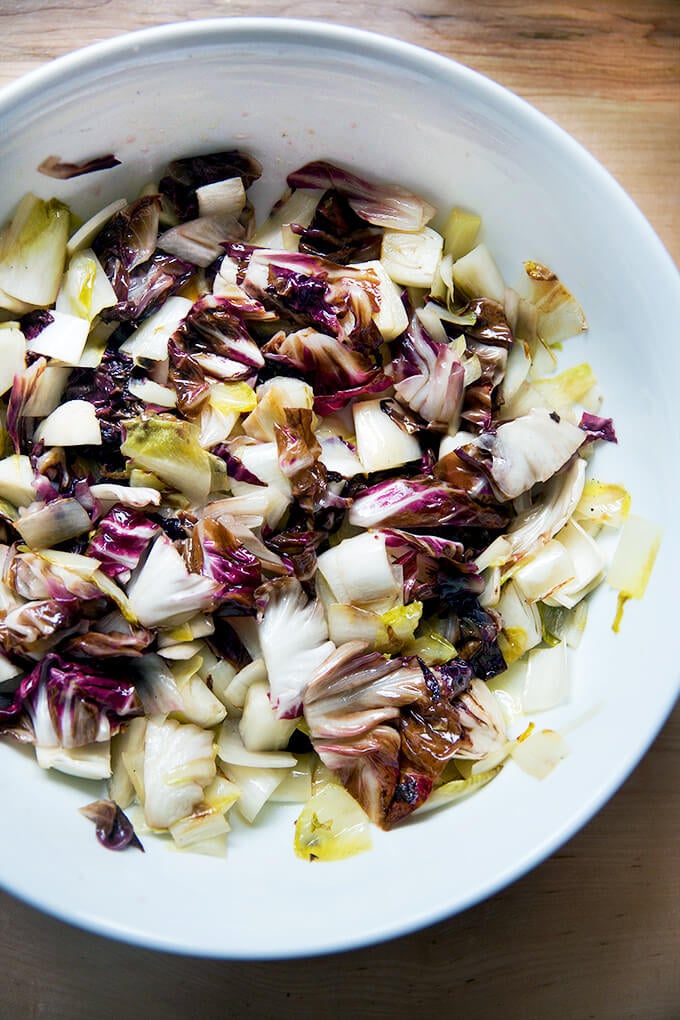 Print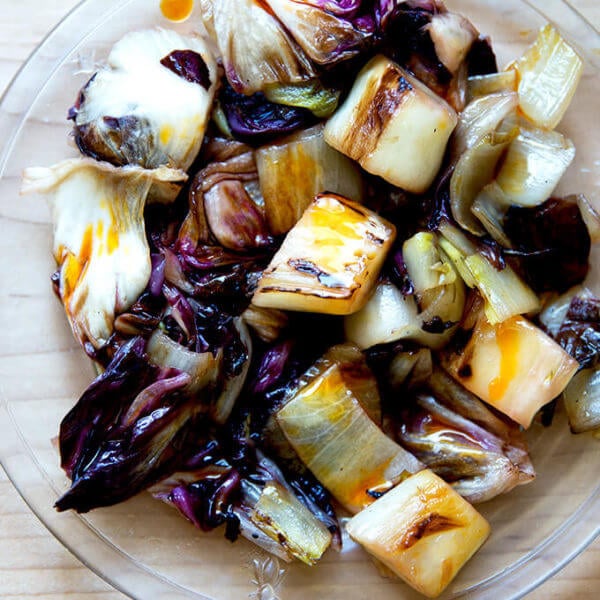 Sautéed Endive and Radicchio with Chile Oil
---
Description
Adapted from Food & Wine 
Notes:
I'm essentially doing 3 times the recipe here, but keeping the seasonings/method mostly the same. 

Chicories: Use what you like, such as a mix of radicchio, Belgian endive, escarole, and frisée.
Chile oil: If you can't find chile oil at a store, you can order it online — I love this one from Temecula Olive Oil Co: Picante Pepper Olive Oil. Food and Wine provides a homemade version here: Homemade Chile Oil. 
---
3 to 4 tablespoons extra-virgin olive oil

3 lbs pound mixed chicories, see notes above, roughly chopped

3 garlic cloves, smashed, divided


kosher salt to taste

2 tablespoon white balsamic vinegar, plus more to taste

flaky sea salt, such as Maldon, for finishing (optional)

chile oil, see notes above, to taste (optional)

 
---
Instructions
Heat a generous tablespoon of olive oil in a large skillet over medium-high. Add one smashed clove of garlic, one-third of the chicories, and a good pinch of salt. Cook, undisturbed, for 30 seconds. Then, using tongs, toss the greens quickly for another 10 to 20 seconds; then immediately transfer to a large serving bowl. Note: The chicories don't have to be uniformly cooked, i.e. it's OK if some of the greens are more wilted than others. The contrast in textures is nice. 
Repeat 2 more times, adding more olive oil, garlic, chicories and salt to the pan in the same manner.
Gently toss chicories with the 2 tablespoons of vinegar. Taste. Add sea salt and more vinegar to taste. Note: I always add more of both until it tastes sharp enough and nicely seasoned. Drizzle with chile oil to taste, or pass it on the side — passing on the side is a good option if anyone is sensitive to heat. Serve immediately or at room temperature.
Prep Time:

10 minutes

Cook Time:

5 minutes

Category:

Side Dish

Method:

Stovetop

Cuisine:

Italian
Keywords: sautéed, chicories, endive, radicchio, chile oil, bitter, greens, vinegar, Italian
This post may contain affiliate links. Please read my disclosure policy.