Endive, Citrus & Avocado Salad
This post may contain affiliate links. Please read my disclosure policy.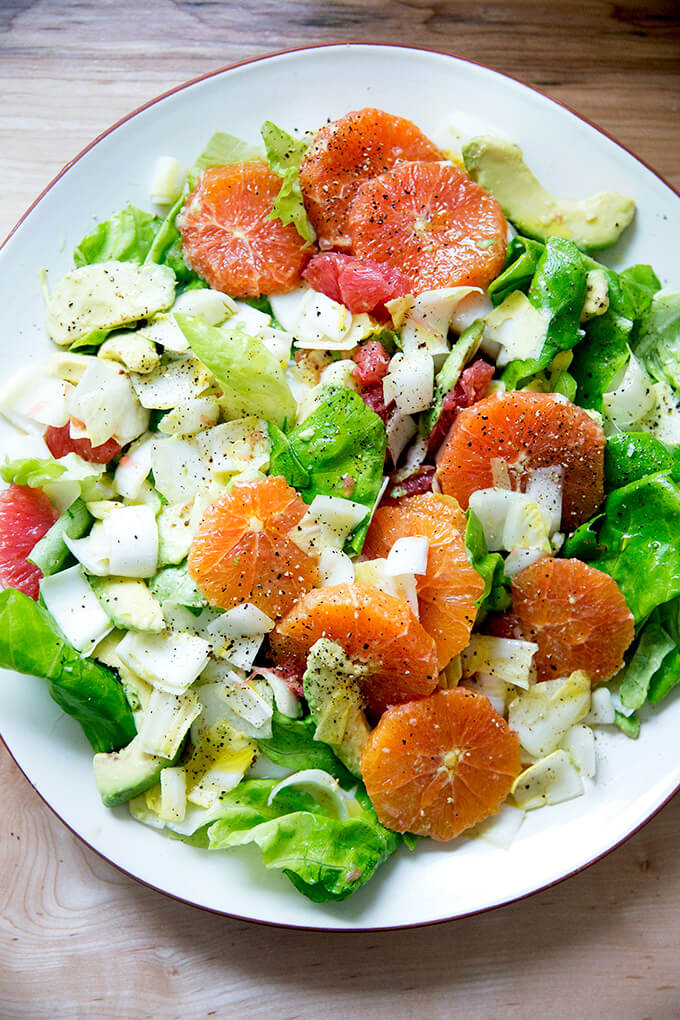 Here's another classic combination that works so well: endive + avocado + citrus. Flavorwise, it's bitter + sweet + tart. Texturewise, it's crisp + creamy + cool. All of the elements play so nicely together.
This is the kind of salad you don't need a recipe for, as the seasonings are minimal: olive oil, vinegar, fresh citrus juice, salt, and pepper. But I do think it's worth sharing a few tips:
Use a variety of citrus. Pick oranges and grapefruits that will give you a mix of colors and levels of sweetness. Cara Cara oranges, for instance, are on the sweet side, so pairing them with a tart grapefruit is a good idea. Cara Cara's are particularly beautiful, too, so if you can find them, I highly recommend, but all of the citrus we've been getting up here has been great, so use what is good from your markets/what you can find.
Cut the citrus in a variety of shapes. Mostly for visual appear but also for the eating experience, it's nice to cut the citrus in different shapes: I like cutting the oranges into rounds and the grapefruit into segments.
Use your hands to toss. Orange segments and avocado slices are delicate. When you toss and plate with your hands, you can better preserve their integrity.
Serve with a knife and fork. As some of the orange slices are on the large side here, it's nice to serve this salad with a knife and fork.
This is the kind of salad I feel I could eat every night: so refreshing and light, but completely satisfying, too.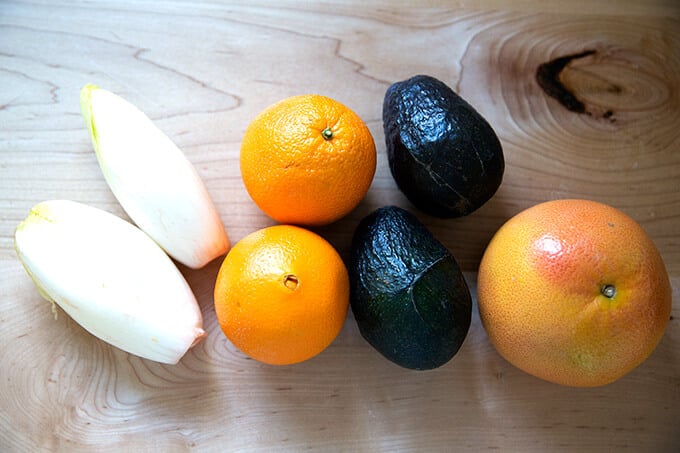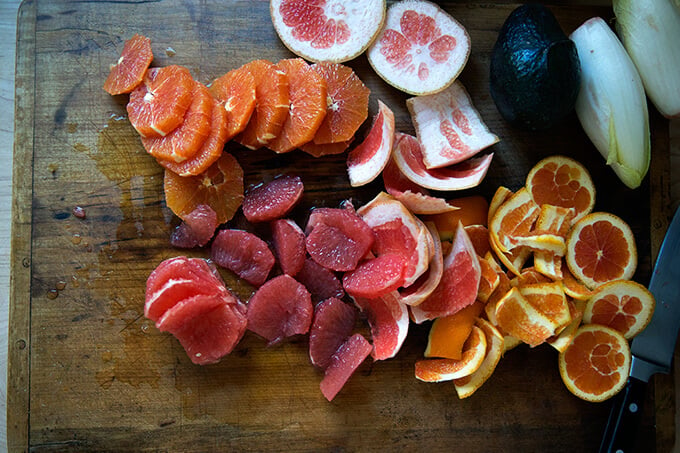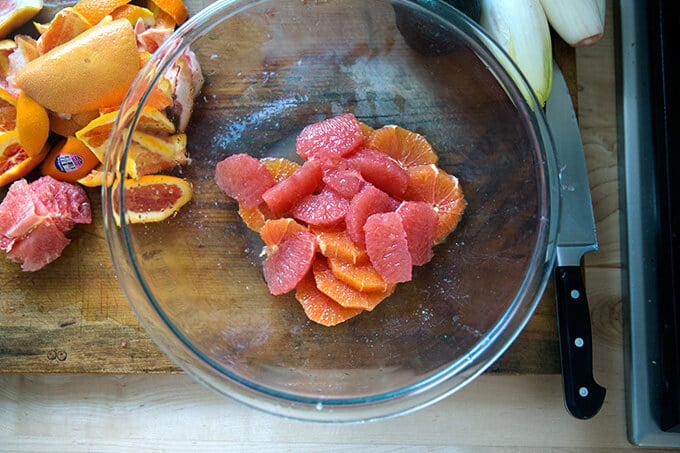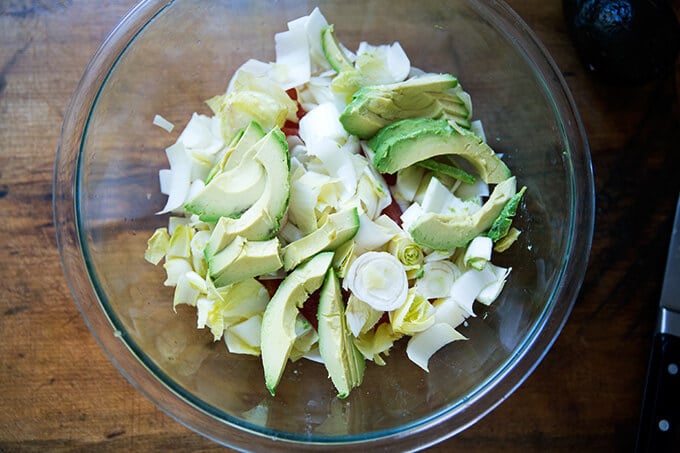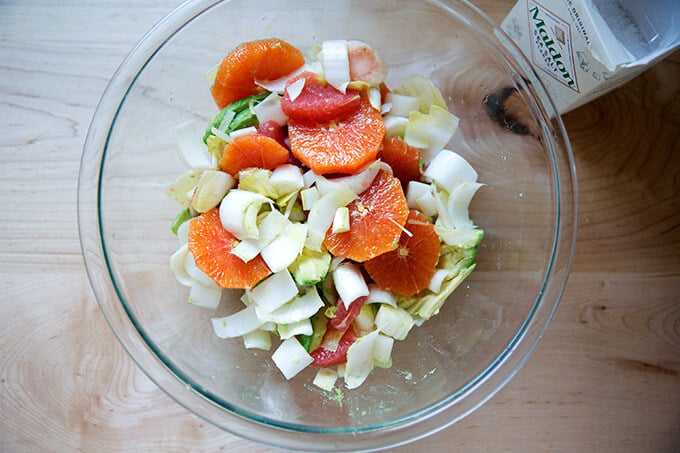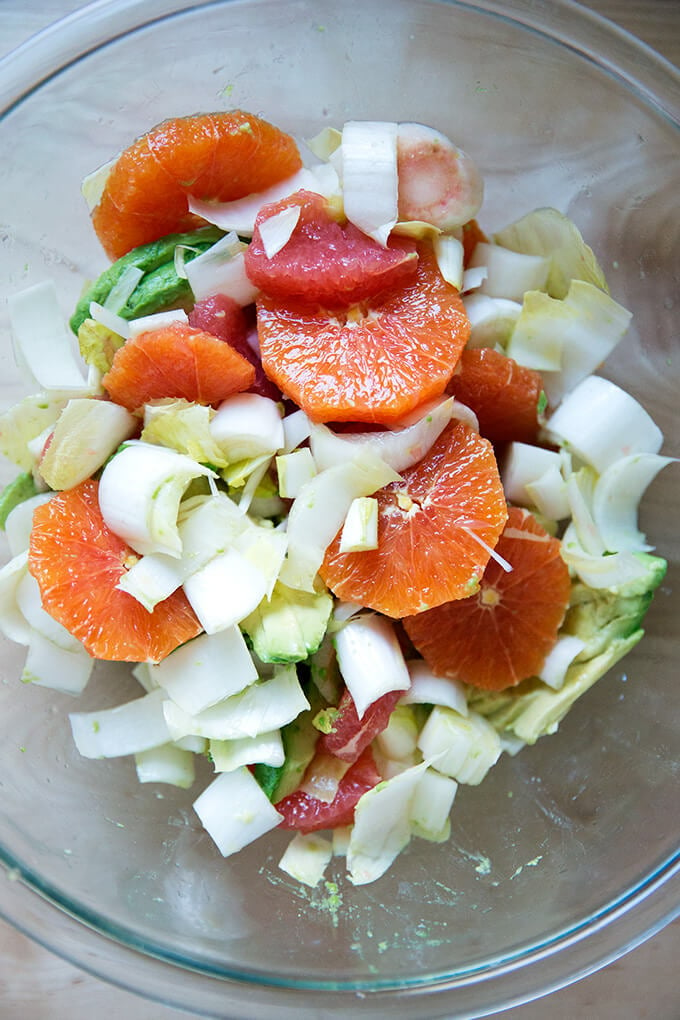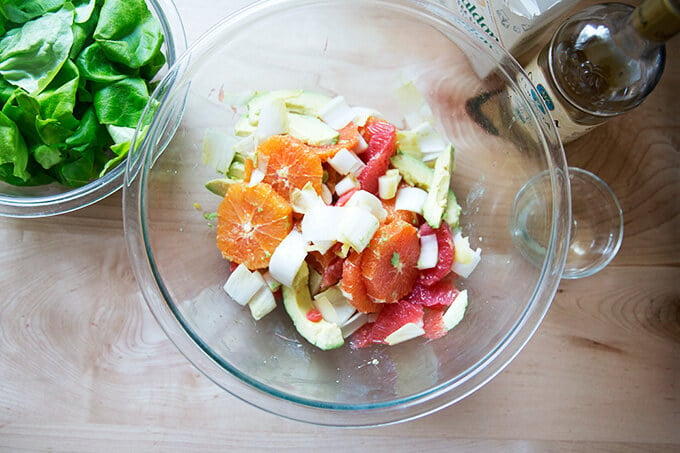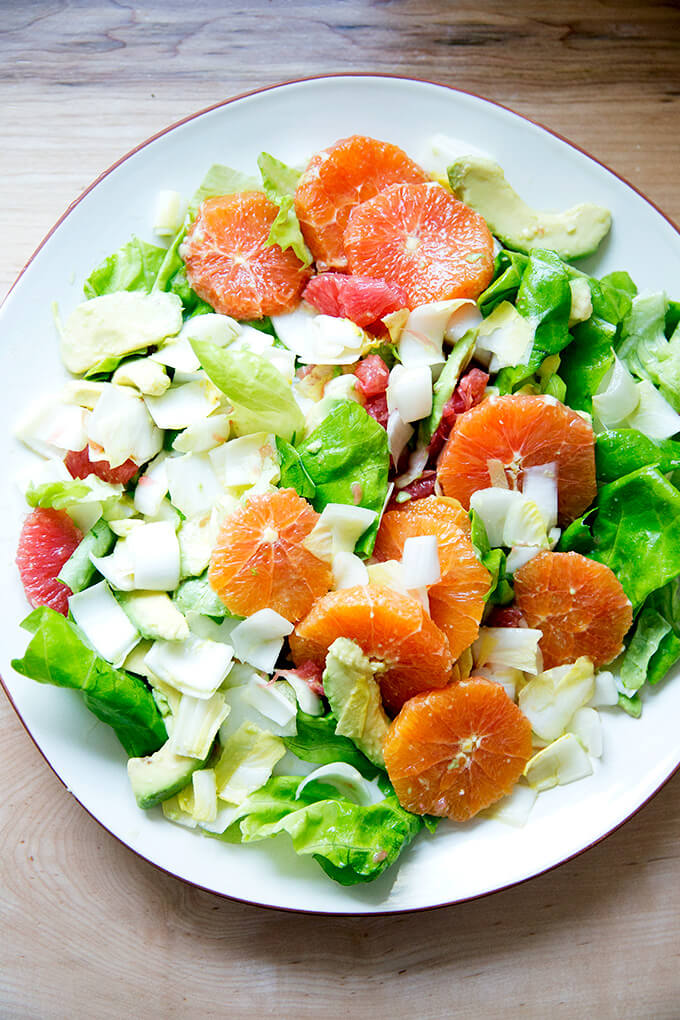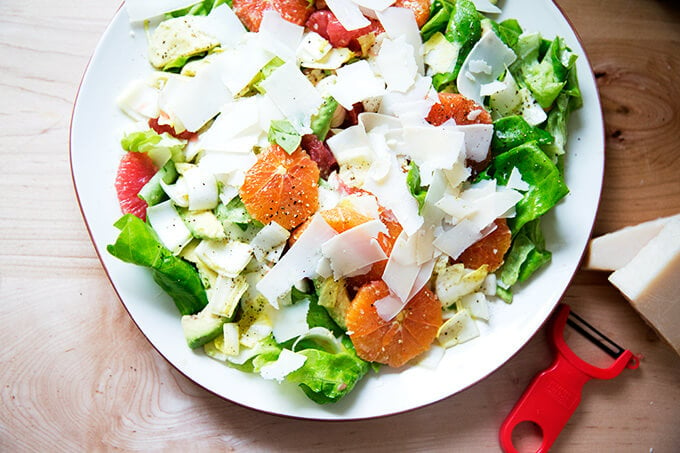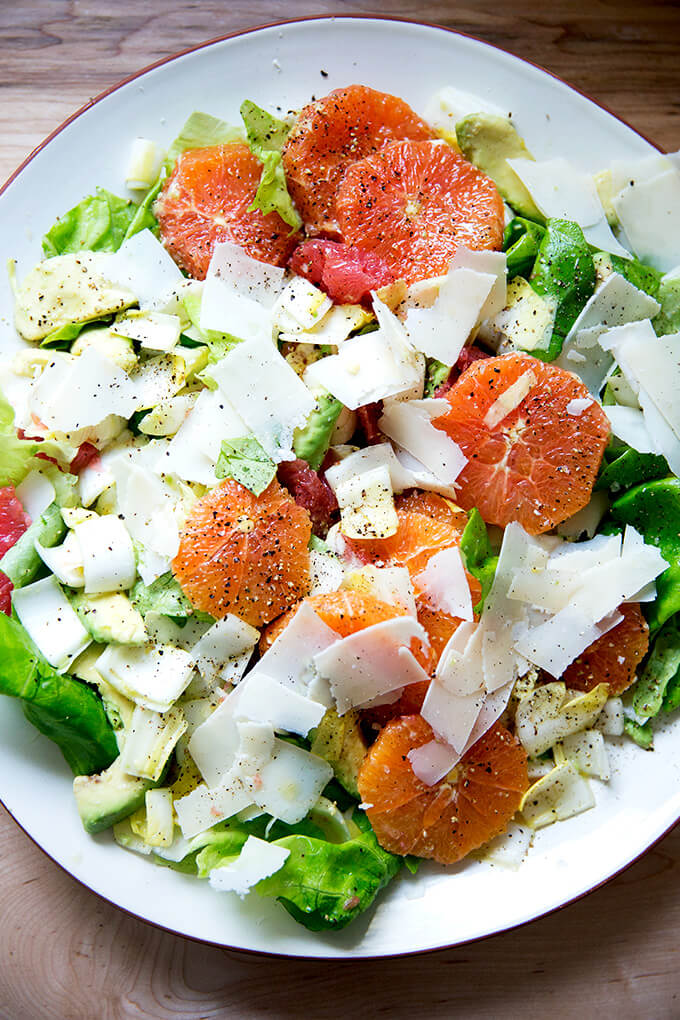 Print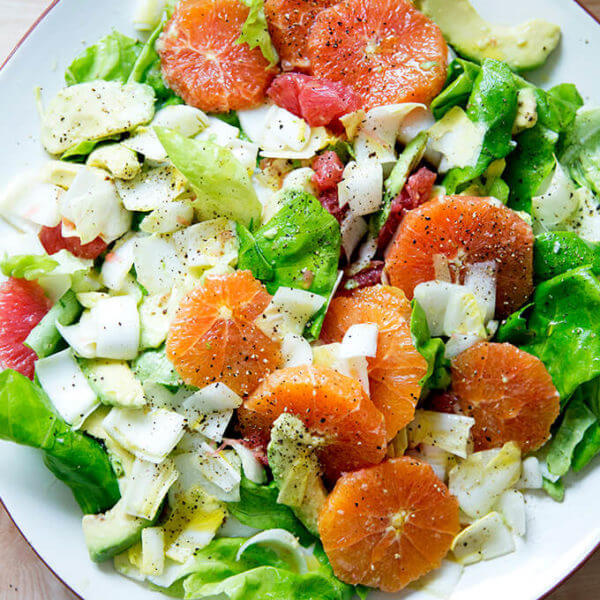 Endive, Citrus & Avocado Salad
---
2

oranges, Cara Cara are nice if you can find them

1

grapefruit

1

avocado

2

Belgian endive
flaky sea salt, such as Maldon, or other salt

1 tablespoon

white balsamic vinegar (or other)

1

head Boston or Bibb lettuce, leaves roughly chopped or torn
extra-virgin olive oil to taste
freshly cracked black pepper to taste
Parmigiano Reggiano, to taste
---
Instructions
Slice off the end of each orange. Squeeze the juice from each end into a large bowl. Working with one orange at a time, stand it on its flat end. Use your knife to slice down around the orange to remove the skin. Hug the flesh as you slice—it's better to lose some flesh in the rind than to have pith clinging to the flesh. Squeeze the rinds into the large bowl. Turn the orange on its side and slice down crosswise to create 1/2-inch thick slices. Repeat with remaining orange. Place orange slices in the bowl with the squeezed juice.
Peel the grapefruit in the same fashion, but instead of slicing it into rounds, remove each segment by running a knife along the white membrane holding each segment in place. Drop each segment into the bowl with the oranges and juice. Once the segments have all been released, squeeze what's left of the grapefruit over top.
Slice each endive in half through its core; then cut crosswise to create 1-inch wide pieces. Place the endive in the bowl with the citrus.
Halve the avocado, remove the pit, cut the flesh into slices, then add to the bowl with the citrus. Season with sea salt and the 1 tablespoon of white balsamic vinegar. Toss gently with your hands. Add the Boston lettuce and toss gently again with your hands.
Transfer the salad, again using your hands, to a large serving platter. (Note: Using your hands is important because it's such a delicate salad. You want to preserve the integrity of each of the components as much as possible, so a gentle toss is critical.) Season all over lightly with sea salt and pepper to taste. Drizzle all over with olive oil to taste. Shave Parmigiano Reggiano over top using a vegetable peeler. Crack more pepper over top if you wish. 
Serve with a knife and fork. 
Prep Time:

25 minutes

Category:

Salad

Method:

Toss

Cuisine:

American, Italian, French
Keywords: Belgian, endive, citrus, grapefruit, Cara Cara, oranges, avocado, Boston lettuce
This post may contain affiliate links. Please read my disclosure policy.