Simple Pickled Crudité
This post may contain affiliate links. Please read my disclosure policy.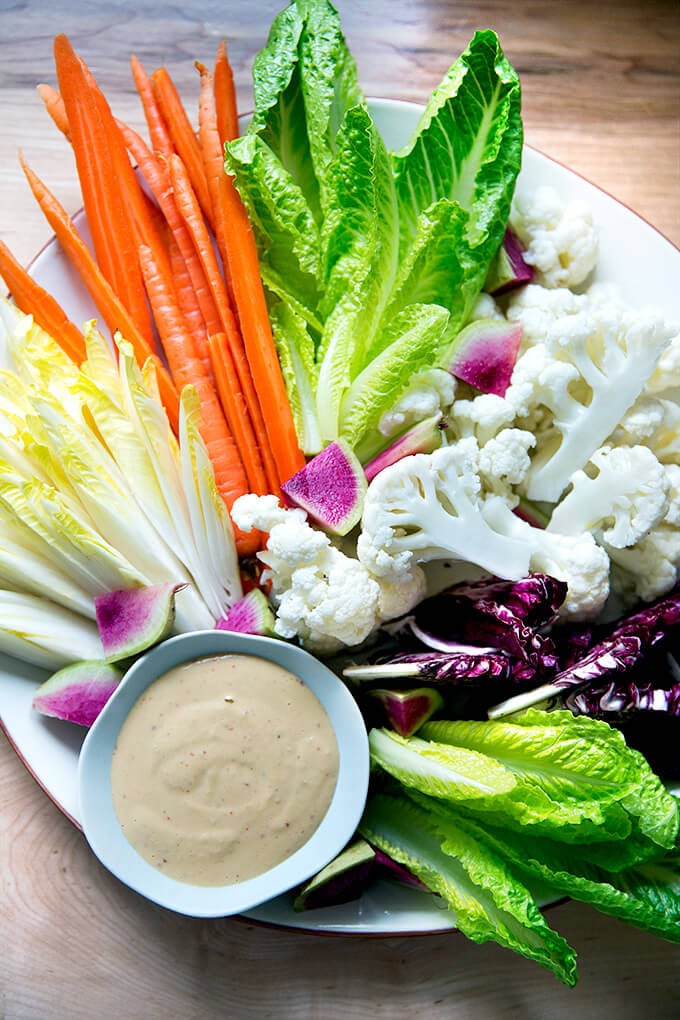 If you're wondering how you might up your crudité game, here's a thought: pickle some of the vegetables. For very minimal effort, pickling transforms vegetables from simply being raw to being raw with a bite and a brightness. It softens them ever so slightly, too, rendering them less snappy in texture, but still crisp and fresh.
This time of year, I particularly love pickled carrots and cauliflower, but radishes, turnips, and fennel are good options, too. In combination with un-pickled spears of endive, sturdy Romaine lettuce leaves, wedges of radicchio (or Treviso if you can find it), your crudité platter will never be so delicious or look more inviting.
Simple Refrigerator Pickles How-To:
You can scale this recipe up as needed — I often make 4x or 6x the recipe — and if you wish to add other seasonings such as garlic or pepper flakes, go for it … more and more I can't be bothered 🙂
Bring to a simmer: 1 cup each vinegar and water with 2 teaspoons each salt and sugar.
Pack vegetables into clean, glass jars.
Pour pickling liquid over top. A funnel helps with this. Let cool to room temperature.
Refrigerate for at least 12 hours (though longer is better) before serving.
Pickled vegetables are delicious on their own — so nice to have on hand when you need a little snack — but especially good with some sort of dip. This *almost* ranch dip made with Greek yogurt has become a favorite, but I have another cashew-based one to share soon (stay tuned).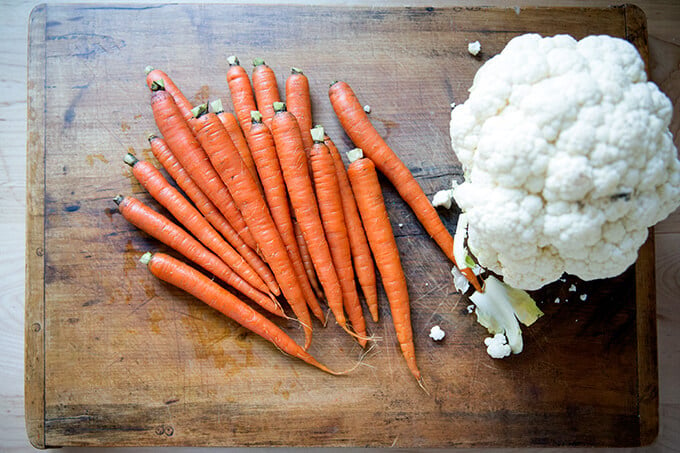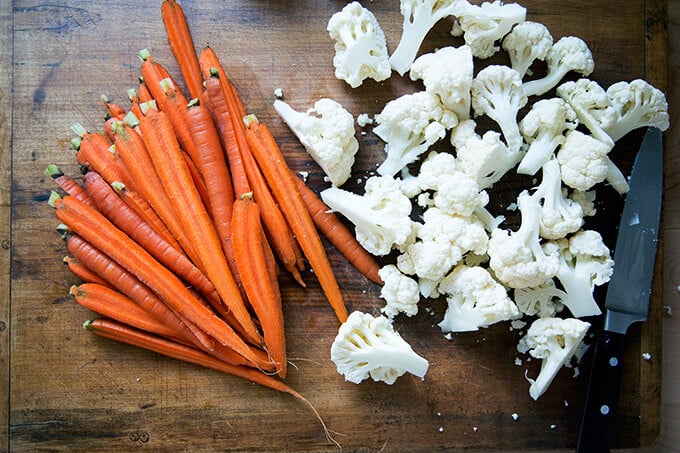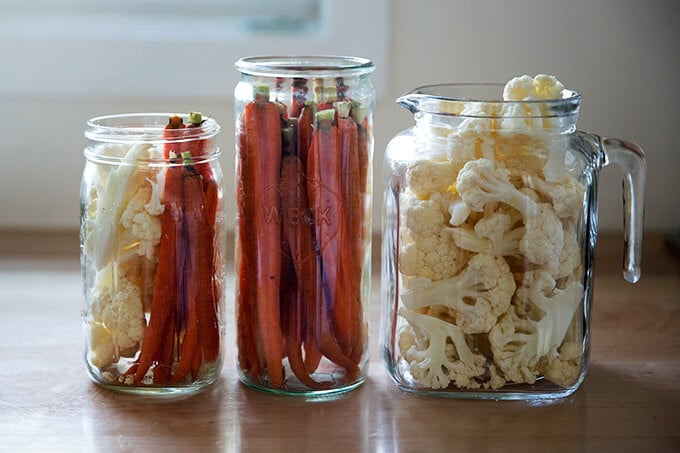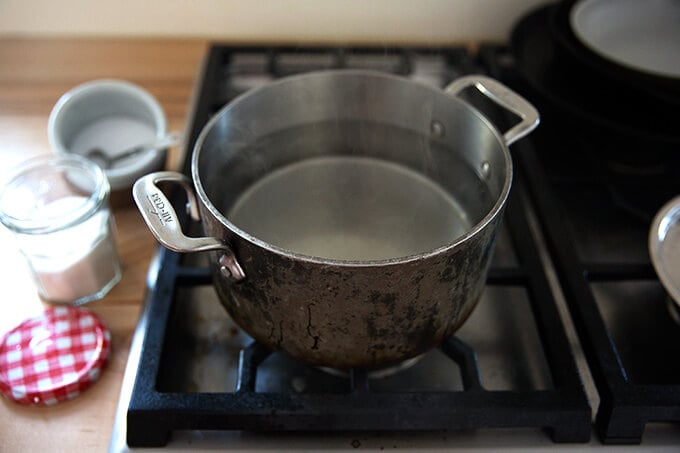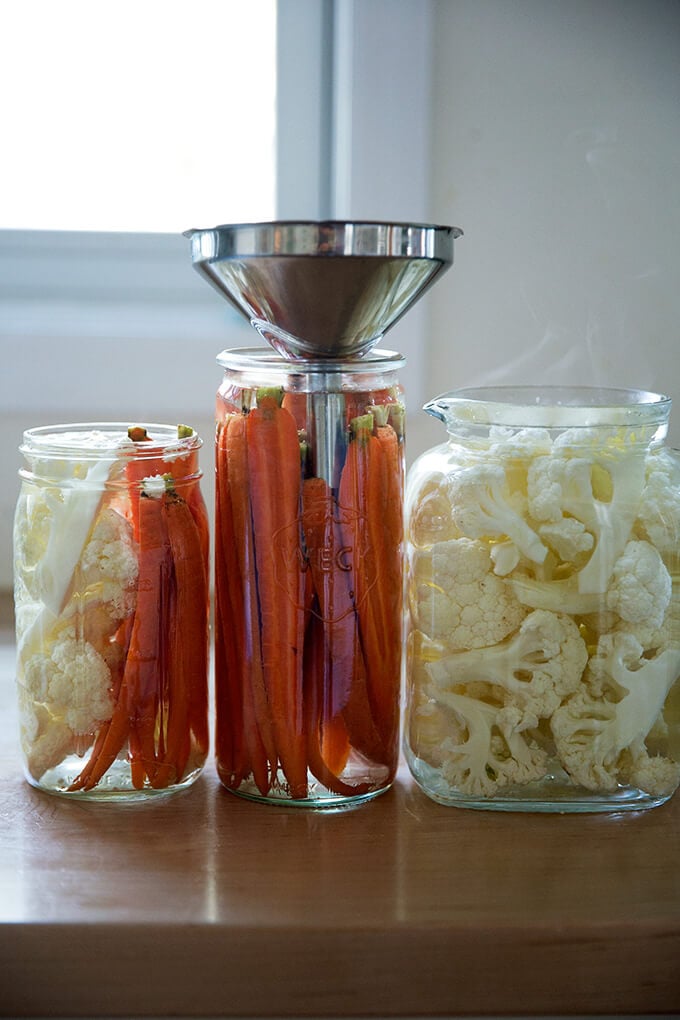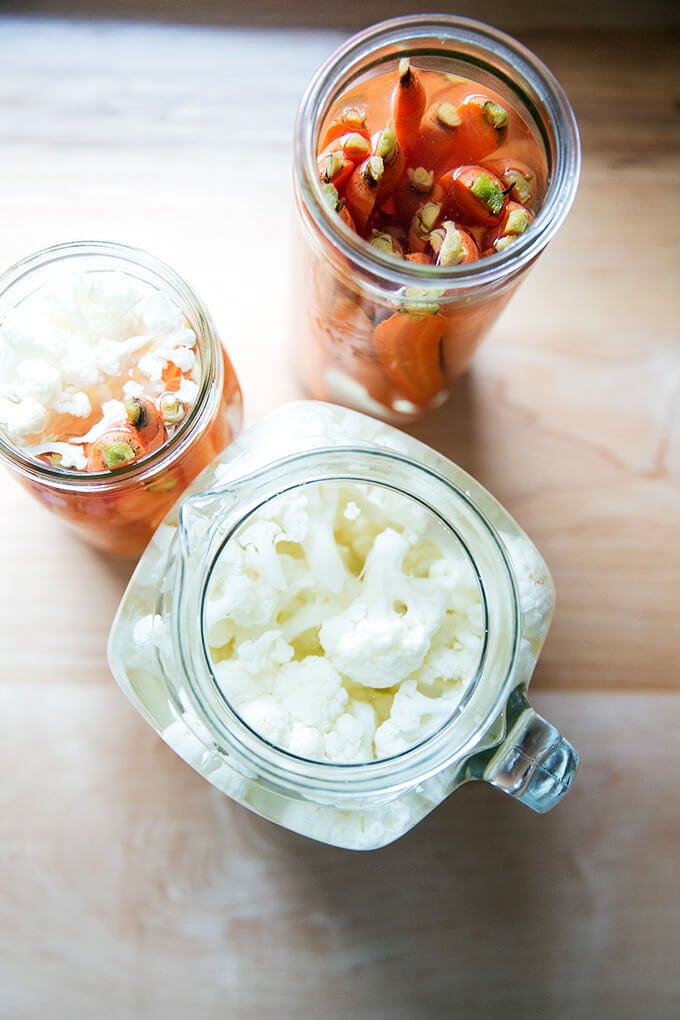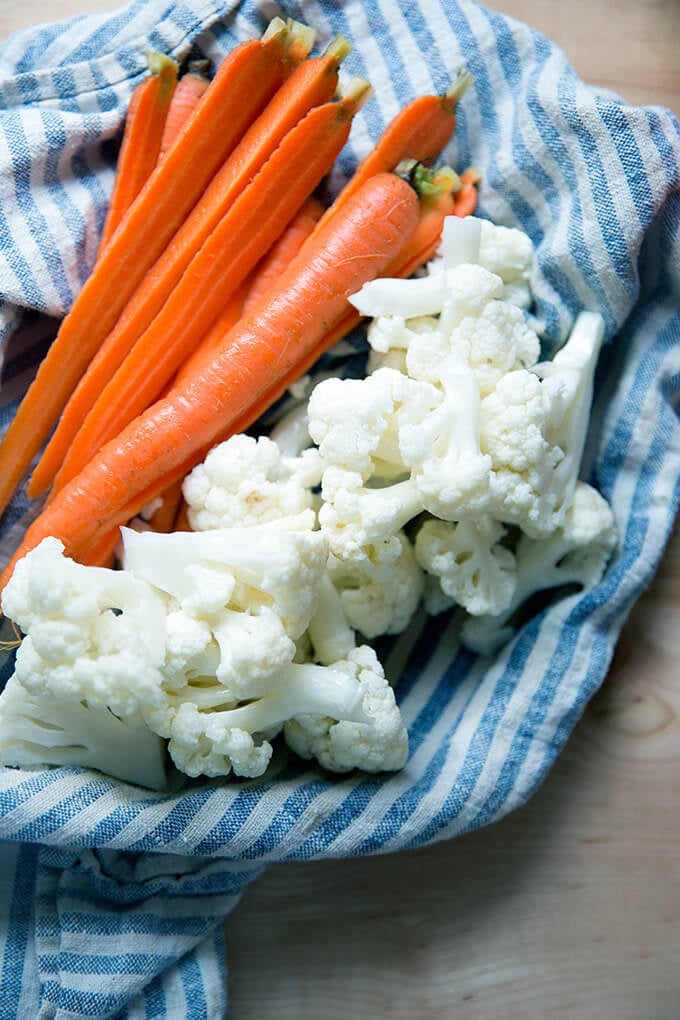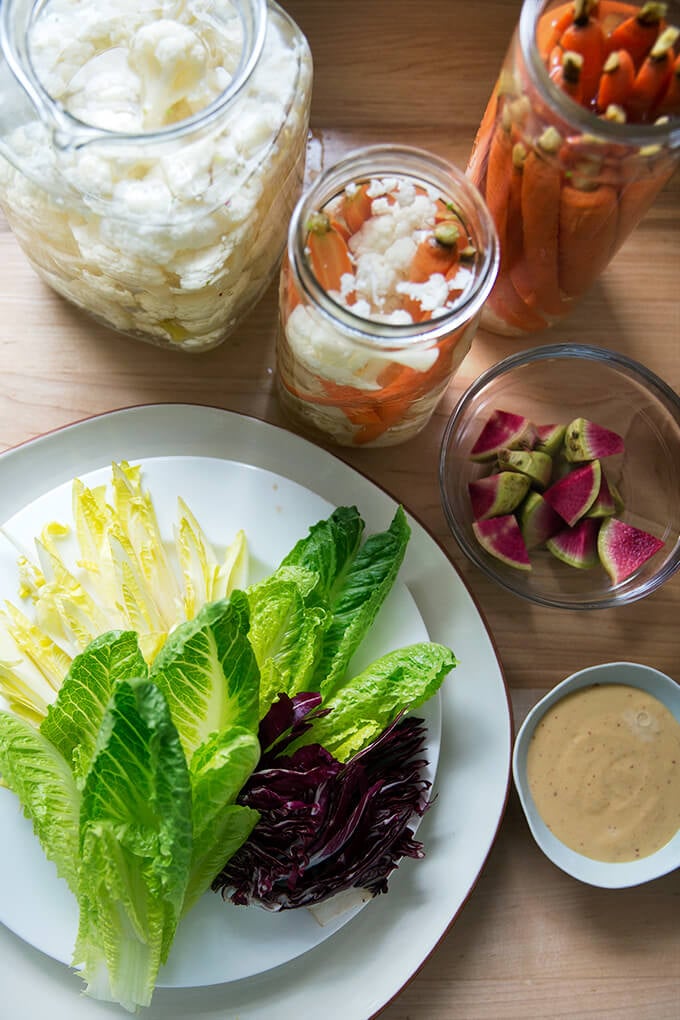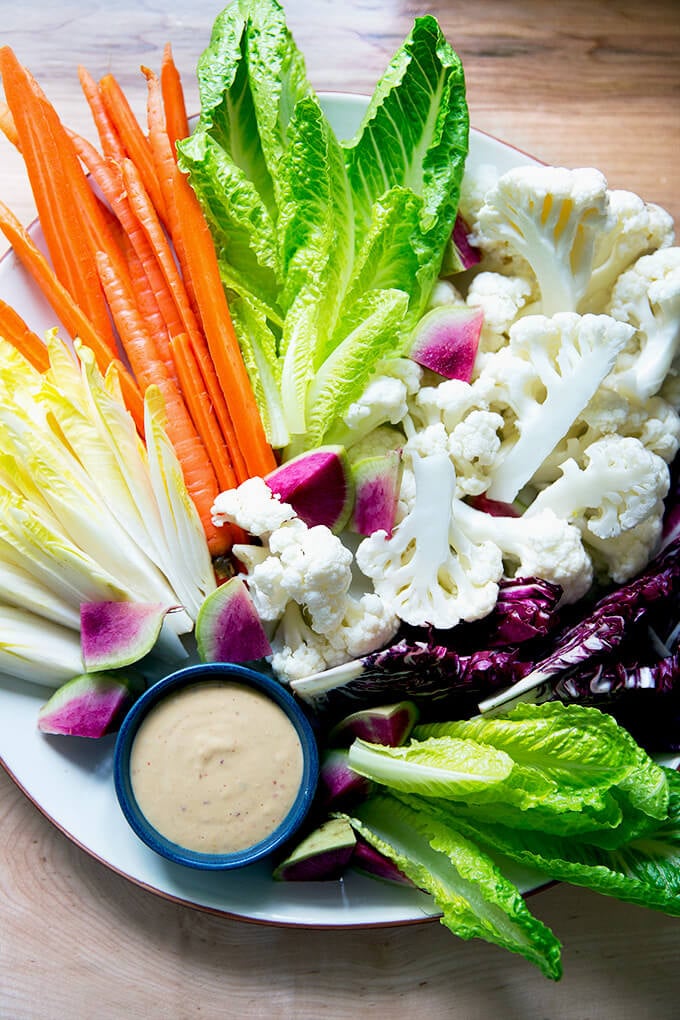 Print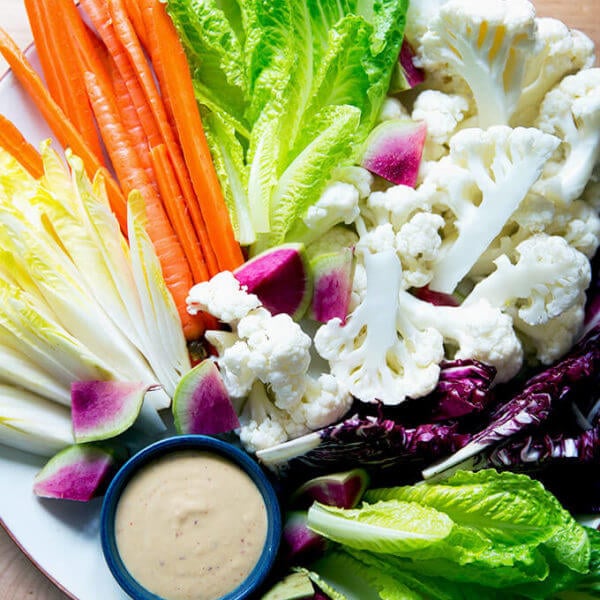 Simple Pickled Crudité
---
Description
This is a simple formula adapted from David Lebovitz's pickled radish recipe.  It can be scaled as needed and used to pickle many a vegetable: peppers, onions, fennel, cauliflower, broccoli, shallots, turnips, kohlrabi … you name it.
Notes:
Most recently, I pickled 1.5 lbs carrots and 1 large head cauliflower. For this amount of vegetables, I did 6x the recipe, which comes out to be: 6 cups each water and vinegar, and 1/4 cup each salt and sugar.
Look for slender carrots if possible: halving them lengthwise before pickling makes for a nice presentation.
I like to cut cauliflower into large-ish florets, also for presentation purposes. 
---
1 cup

water

1 cup

vinegar (white, apple cider, white balsamic, champagne—any white vinegar)

2 teaspoons

kosher salt

2 teaspoons

sugar

4 cups

(roughly) thinly sliced or roughly chopped vegetables: onions, carrots, turnips, radishes, peppers, fennel, shallots, cauliflower etc.
---
Instructions
In a large non-reactive saucepan, bring the water, vinegar, salt, and sugar to a boil, until the sugar and salt are dissolved. (See notes above for scaling this recipe up.)
Meanwhile, place the sliced vegetables in glass jars.
Pour the brine over top. Let cool to room temperature, then refrigerate. Store for weeks in the fridge if not longer.
Prep Time:

10 minutes

Cook Time:

5 minutes

Category:

Pickle

Method:

Refrigerator

Cuisine:

American
Keywords: simple, quick, refrigerator, pickles
This post may contain affiliate links. Please read my disclosure policy.