Simplest Slow Cooker Chickpeas
This post may contain affiliate links. Please read my disclosure policy.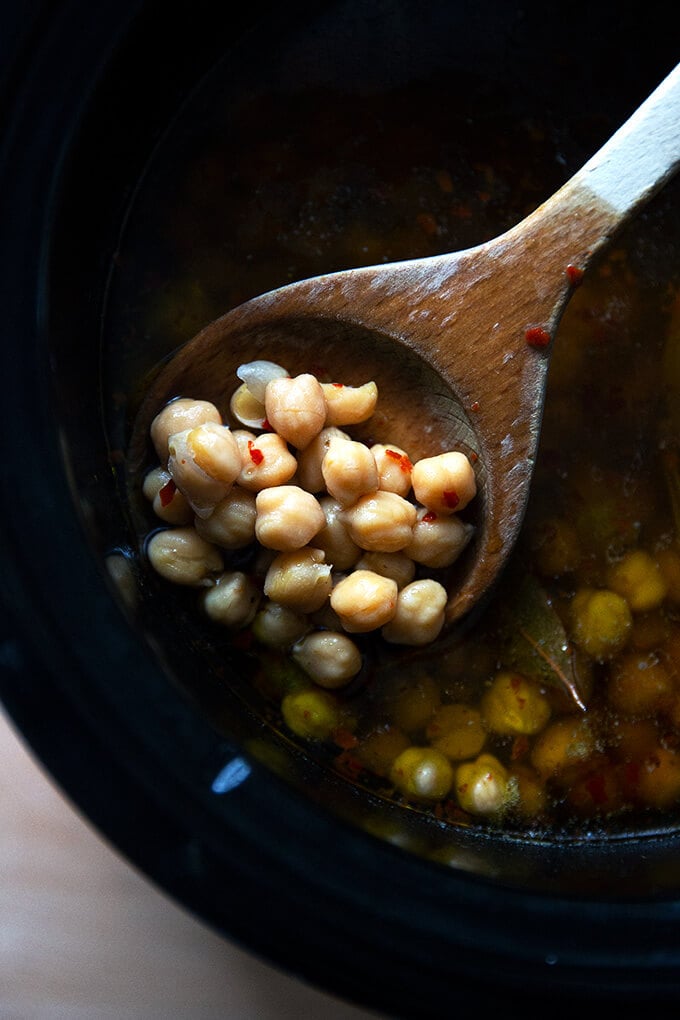 Like many, I am feeling drawn to cooking beans right now. They're cheap. They're in the pantry. They're good. Also, it's still chilly up here, so beans would likely be on the cooking agenda anyway.
As you might know, I'm a fan of brining beans overnight and cooking them stovetop, a method I love for two reasons:
The beans, thanks to the brine, cook up beautifully: creamy, intact, and cooked through with tender skins. (Scientific explanation here.)
The overnight soak (in salted water or not) allows for a relatively quick (less than 1 hour) cooking process.
But my recent slow-cooker black bean experiment reminded me of the virtues of the slow-cooker: how nice it is …
… "to set it and forget it".
… to not have to fiddle with the temperature dial to ensure the water simmers just right.
… to not have to worry about foamy overflows and the messy aftermath.
… to fill the house with cooking-all-day smells.
These slow-cooker chickpeas follow the same process as the black beans, and you can employ the technique with any bean or legume, keeping in mind the timing will vary from bean to bean. My dried chickpeas (various brands) have consistently been cooking in 8 to 10 hours on high, but it's important to start checking at the 3 to 4 hour mark to ensure your beans don't turn to mush. (Moreover, slow cookers vary in their strength/power.)
I could eat these chickpeas straight from the pot. The broth tastes slightly vegetal thanks to the onion and bay leaf, and it's a little spicy, too, thanks to crushed red pepper flakes. But there's a richness to it, too, lent by the chickpeas themselves, their "aquafaba". (More about aquafaba here.) All beans create aquafaba upon being cooked, but chickpeas', I think, is the most flavorful and the most robust.
Recently, I dumped the entire pot of slow cooker chickpeas into a pot of sautéed onions and escarole and let it simmer away with a rind of parmesan. But I've got another batch simmering away, with a few of my favorite chickpea recipes in mind: 10 Recipes to Make with Chickpeas Right Now.
Thinking of you, Friends. Hope you are well 💕💕💕
PS: If you're having trouble finding dried chickpeas, Nuts.com is a great source.
PPS: Slow Cooker Gigante (or other white) Beans
Here's the play-by-play: Gather your ingredients: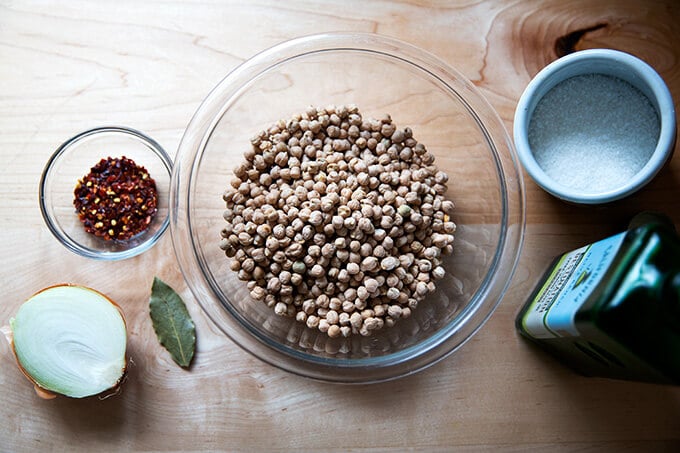 Add everything into the slow cooker: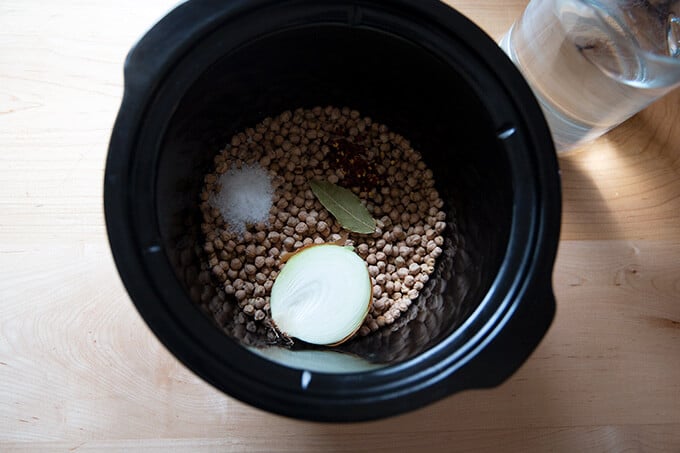 Cover with 8 cups of water and set the crock pot on high. Cook until the chickpeas are cooked through — times will vary depending on the age of your beans.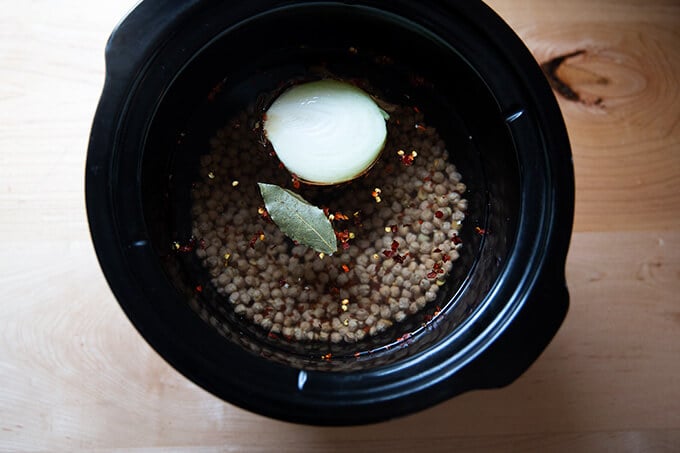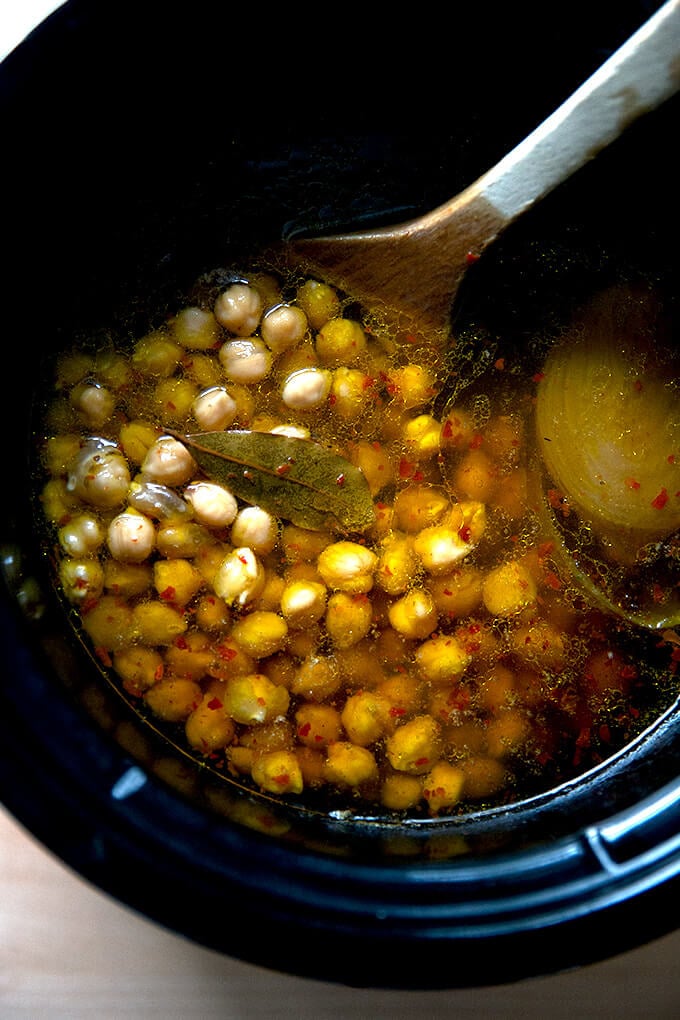 Store in quart containers. These deli quart containers (BPA-free) are great for this purpose. Freeze for up to 3 months. Store in fridge for up to a week.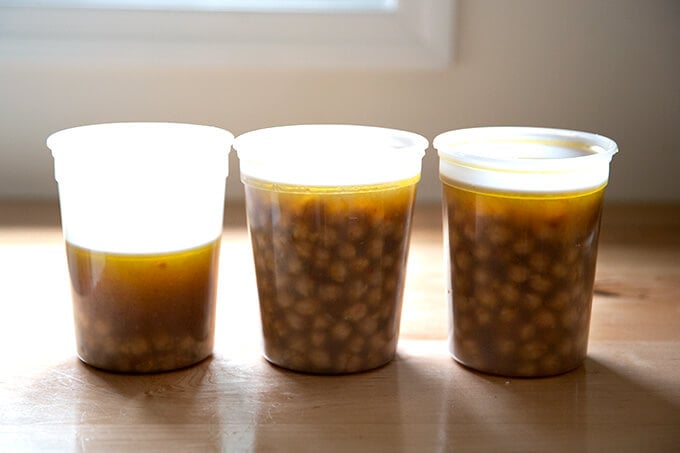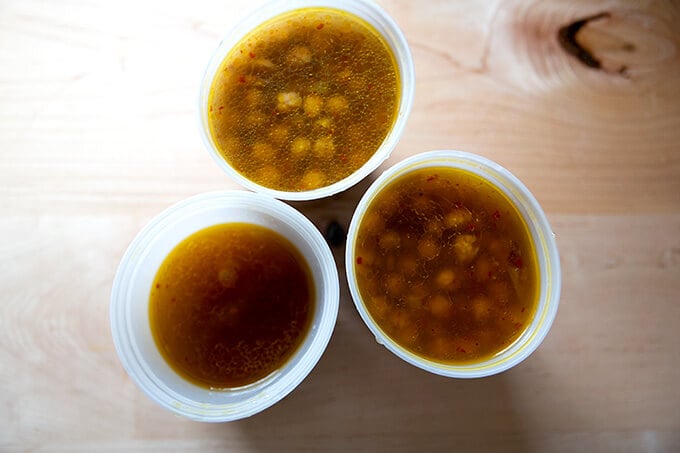 Print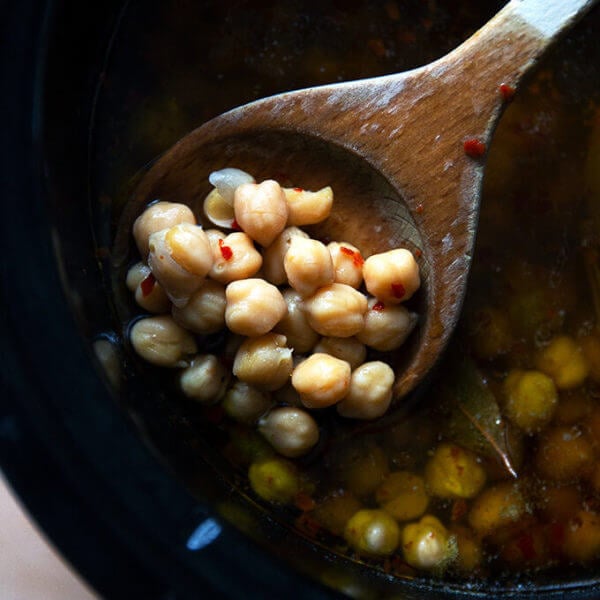 Simplest Slow Cooker Chickpeas
---
Description
Notes:
Plan ahead: If you start these early in the morning (7 or 8 am), they likely will be ready by dinner time, but all beans cook at different rates, and if your beans are old, they may take as long as 10 hours to cook. If you want to speed the process up, soak the beans in cold water over night. 
Pepper flakes: if you like a little bit of spice, add the the chili flakes; if you don't, omit or use less. 1 teaspoon will not make for especially spicy beans, but there will be a nice kick.
---
1

lb. dried chickpeas no need to soak

1

half of a small onion, halved through the core to keep it intact, no need to peel

1

bay leaf

2 teaspoons

kosher salt, plus more to taste

1 teaspoon

crushed red pepper flakes, optional

1/4 cup

olive oil
---
Instructions
Place all of the ingredients into a slow cooker. Cover with 8 cups of water. Cover pot. Cook on high heat for 8 to 10 hours or until the beans are done. Note: All beans cook at a different rates. Start checking at the 4-hour mark. They likely won't be done, but if your beans are especially fresh, they might be done.
Once the beans are cooked, taste for salt. Add more salt to taste (or, better, wait to add salt to taste till later, when  you use the chickpeas in whatever dish you are using.) Note: The beans develop more flavor as they cool in their cooking liquid, which will continue to season them. 
Store the beans in their cooking liquid. I love these deli quart containers for this purpose. I freeze the beans in their cooking liquid in these quart containers as well. Freeze for up to 3 months. Store in the fridge for up to a week.
Prep Time:

5 minutes

Cook Time:

8-10 hours

Category:

Beans, Legumes

Method:

Slow Cooker

Cuisine:

American
Keywords: chickpeas, beans, garbanzo, slow cooker, crockpot, dried, simple, easy
This post may contain affiliate links. Please read my disclosure policy.