Charred Broccoli Chopped Salad with Spicy Cashew Dressing
This post may contain affiliate links. Please read my disclosure policy.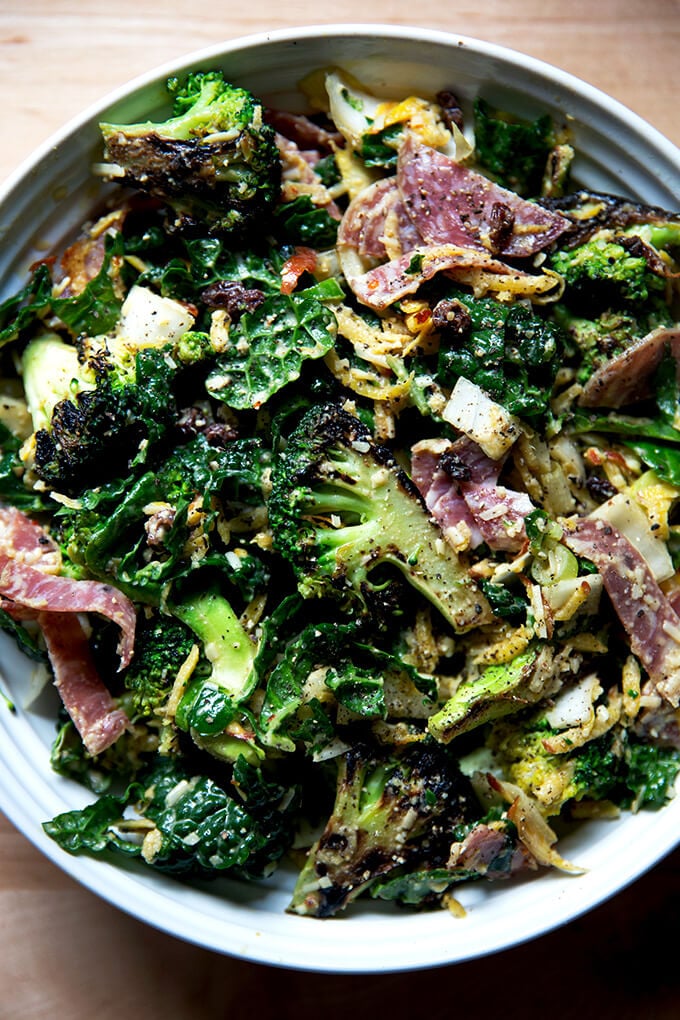 At the end of January, I spotted a dressing recipe in Bon Appetit that intrigued me. It was cashew-based, but unlike many cashew-based dressings, which require soaking raw cashews in water for a couple of hours, this one called for roasted cashews and no soak.
Why, you might be wondering, would one include cashews in a dressing in the first place? Well, because cashews lend a creaminess and richness to dressings, precluding the need for dairy or eggs. For these reasons, cashew-based sauces are particularly popular with vegans. Gena Hamshaw of The Full Helping, describes "cashew cream" as a "secret weapon vegan ingredient" she wishes she "could share with every person who's nervous about giving up dairy."
Bon Appetit's recipe was in fact inspired by the vegan Caesar dressings served at NYC's Lalito and Scarr's Pizza, but BA takes the dressing a different direction, adding honey and fish sauce, both of which push it out of vegan territory.
I made the dressing immediately and was surprised by how quickly it came together. All of the ingredients — cashews, rice vinegar, honey, oil, fish sauce, crushed red pepper flakes, and garlic — get thrown into a food processor at once. While it's whirling, you stream in water, and depending on how much you add, you can use the resulting emulsion as either a dip or dressing.
When I first made it, I used it as a dip for crudité, and I found it completely irresistible. The small amount of fish sauce gives it a funk, evoking Caesar, but the flavor is more complex: there's spice from the hefty amount of crushed red pepper flakes, a sharpness from the high ratio of rice vinegar to oil, and a bit of bite from a clove of garlic. The cashews make it silky smooth.
I've since been thinning the dressing with more water and using it as a dressing for chopped dinner salads. This is my favorite combination:
Charred Broccoli Chopped Salad
You can use this spicy cashew dressing on any vegetables you like, just keep in mind this is a bold, assertive dressing, too powerful, I think, for delicate, buttery lettuces or other tender produce. I have been using what has looked good at my store.
These have been the constants:
Tuscan kale or Romaine
Endive
Scallions
Raw, unpeeled, golden beets, shredded in the food processor
Broccoli, pan-charred or broiled
Currants, soaked in vinegar à la Zuni Cafe
Optional add-ins:
Salami or Soppressata, thinly sliced. I like the Applegate brand.
Grated or cubed cheese
Olive oil-toasted bread crumbs
Poached eggs or soft-boiled eggs for serving
Note: This really can be a choose-your-own-adventure salad. There should be some sort of sturdy green such as kale or Romaine. The inclusion of a chicory such as Belgian endive or radicchio provides a welcomed contrast of texture and subtle bitterness. I love raw, grated golden beets, but carrots or turnips would work well, too. Cauliflower could replace the broccoli, etc. Cooked chickpeas would be a wonderful addition.
I hope you find this chopped salad as irresistible as I. The best part? It holds up beautifully, so I can always count on this being dinner (for my husband and me … this is not one for the kiddos) as well as lunch the next day.
Here's the play-by-play: Make the dressing: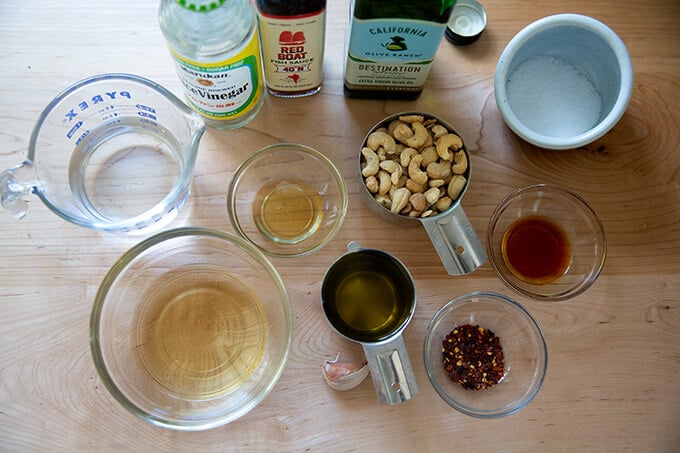 Blend cashews, garlic, honey, rice vinegar, fish sauce, crushed red pepper flakes, and olive oil in a food processor or blender. While it's whirling, stream in water.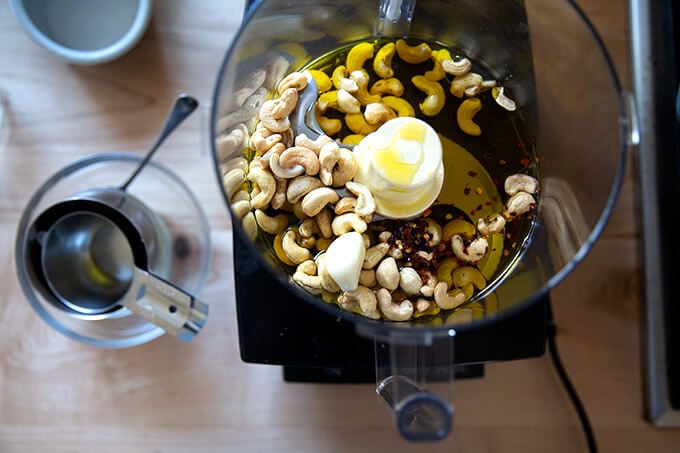 Purée until smooth. Taste. Adjust with salt to taste.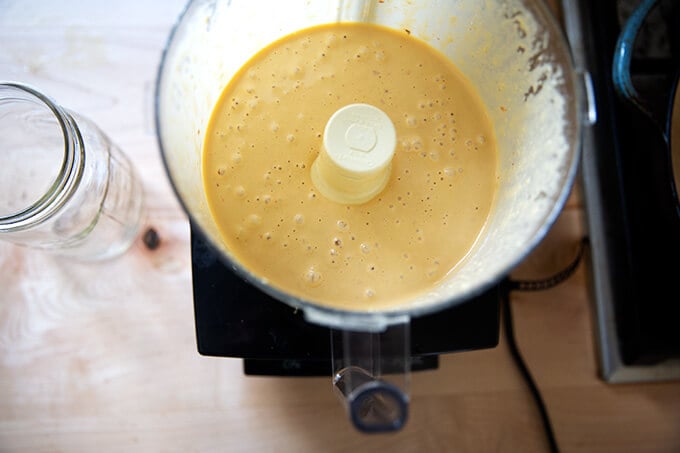 The below recipe yields over 2 cups, and it is so nice to have on hand.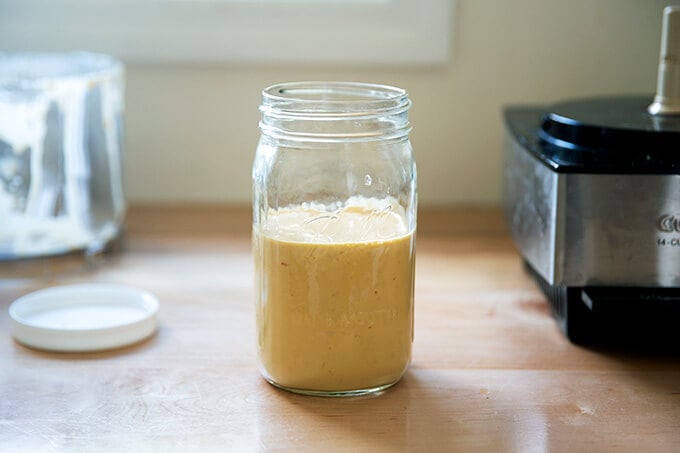 Gather your vegetables…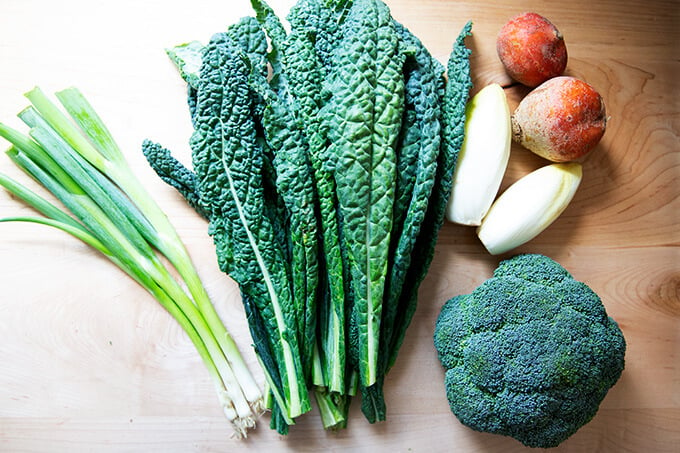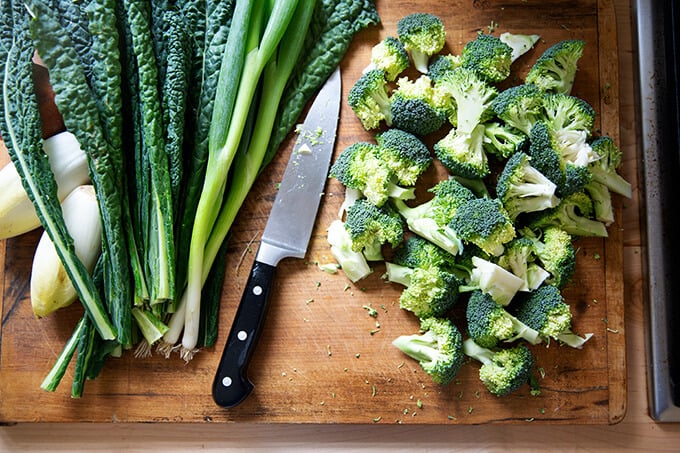 I love charred broccoli. You can do this under the broiler, too. The key is to get some nice browning, while keeping the broccoli firm. Update: The recipe is now written to reflect the broiler method … so much easier than the stovetop.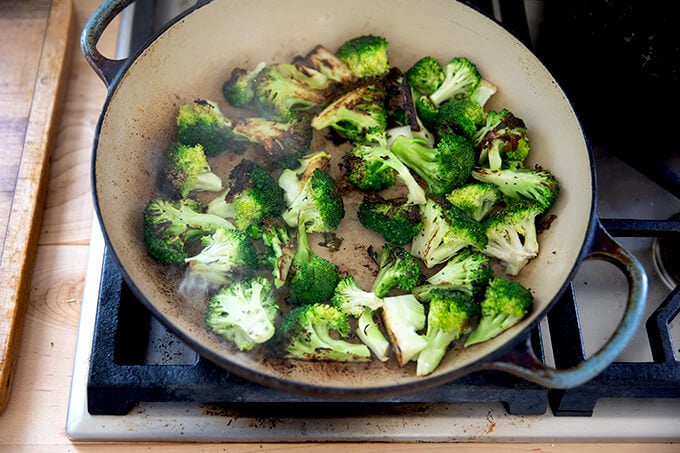 Chop up some kale,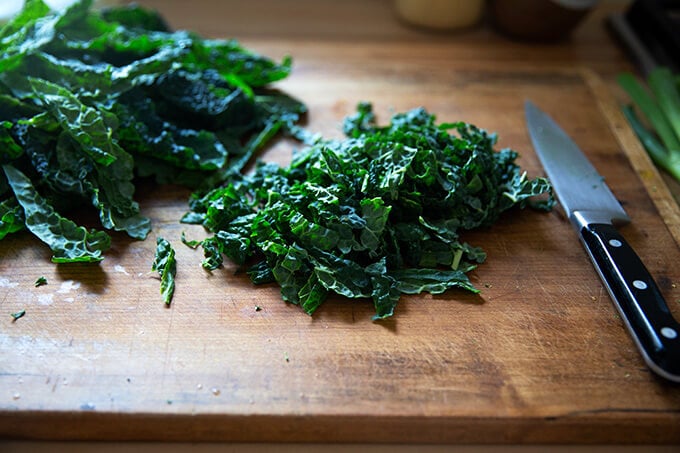 scallions,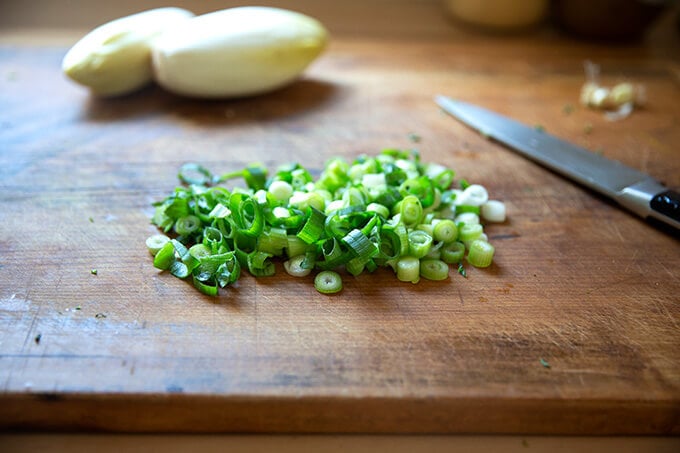 and endive.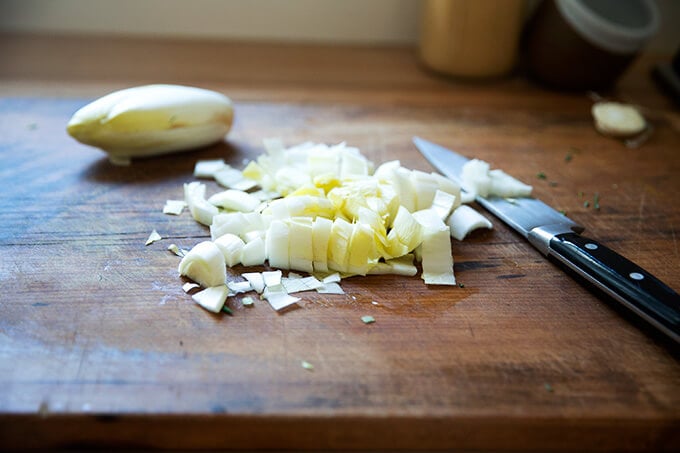 Shred some raw, golden beets in the food processor, if you wish.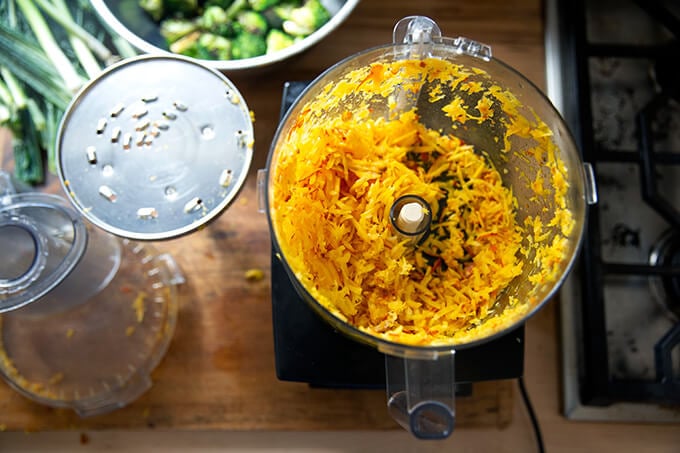 Combine them all in your largest bowl with vinegar-soaked currants.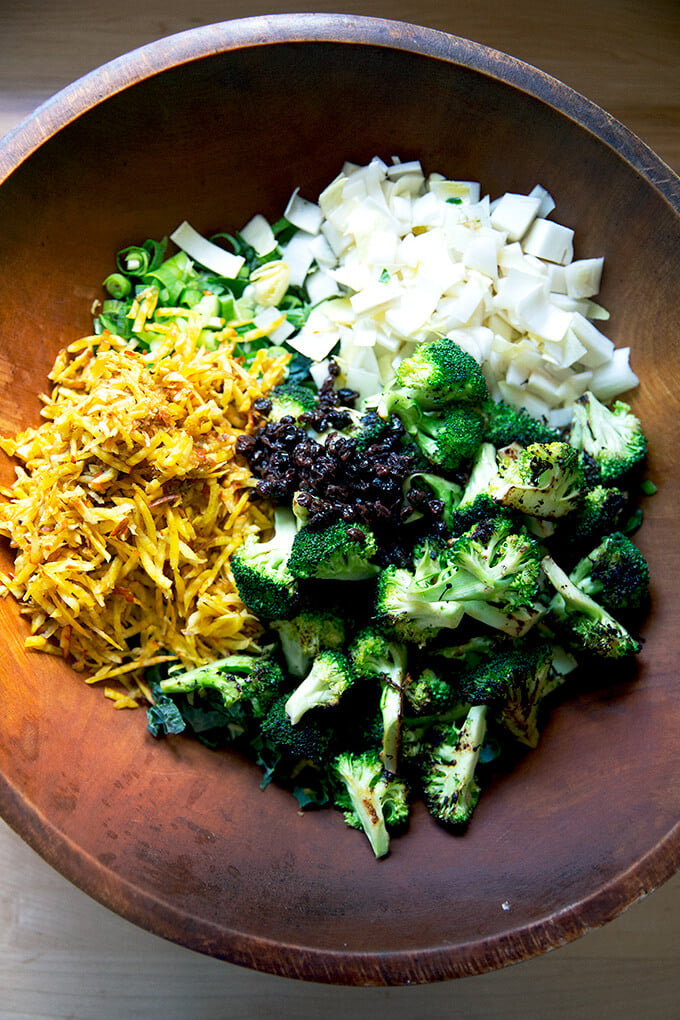 Optional add-ins: chopped salami or soppressata, grated parmesan or other cubed or grated cheese.
Add them to the bowl of vegetables and …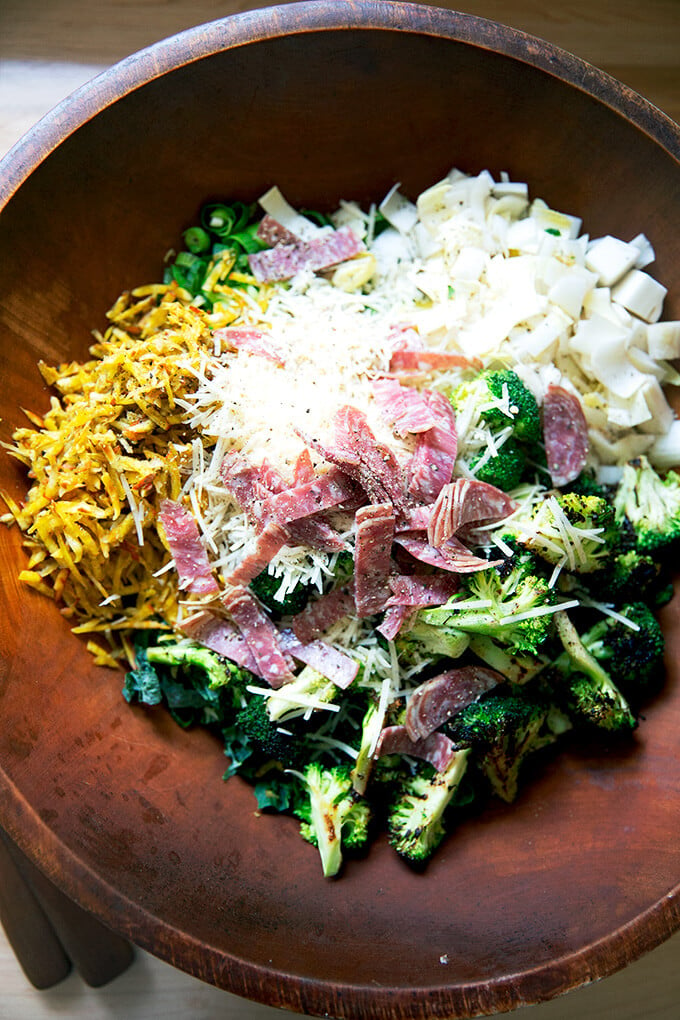 … toss with the spicy cashew dressing.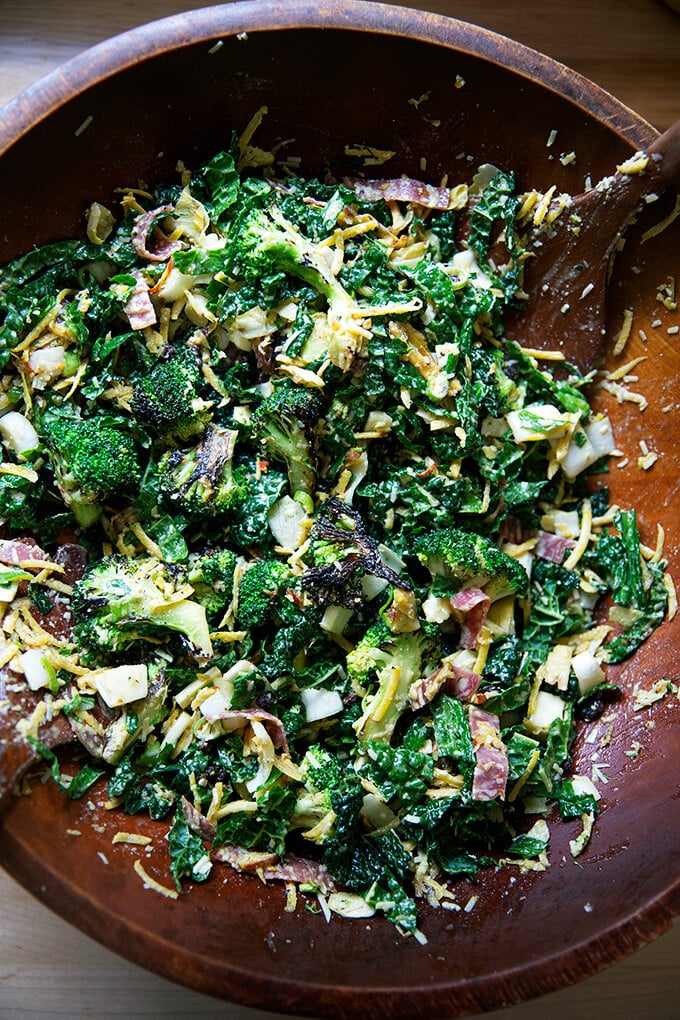 Serve on its own or …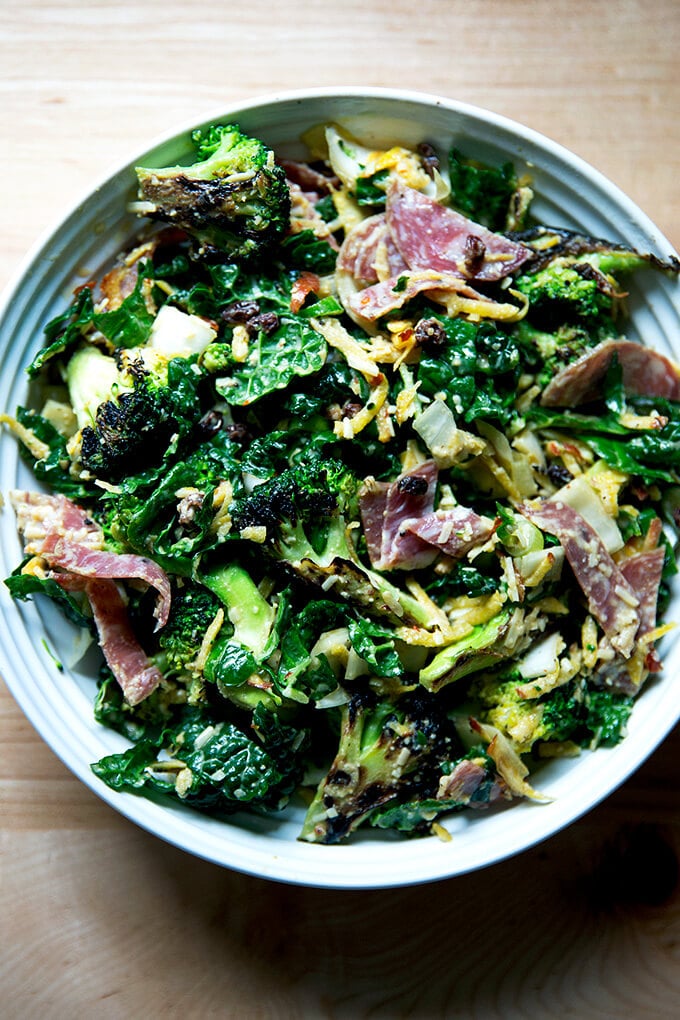 …with a hunk of bread.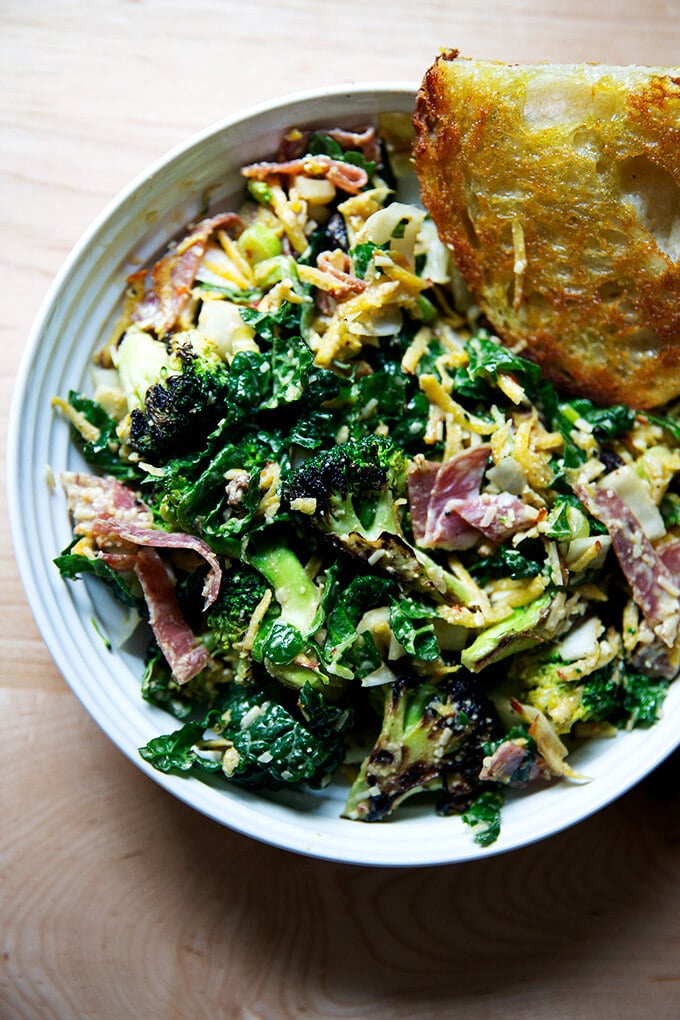 To use the dressing as a dip, cut back on the water.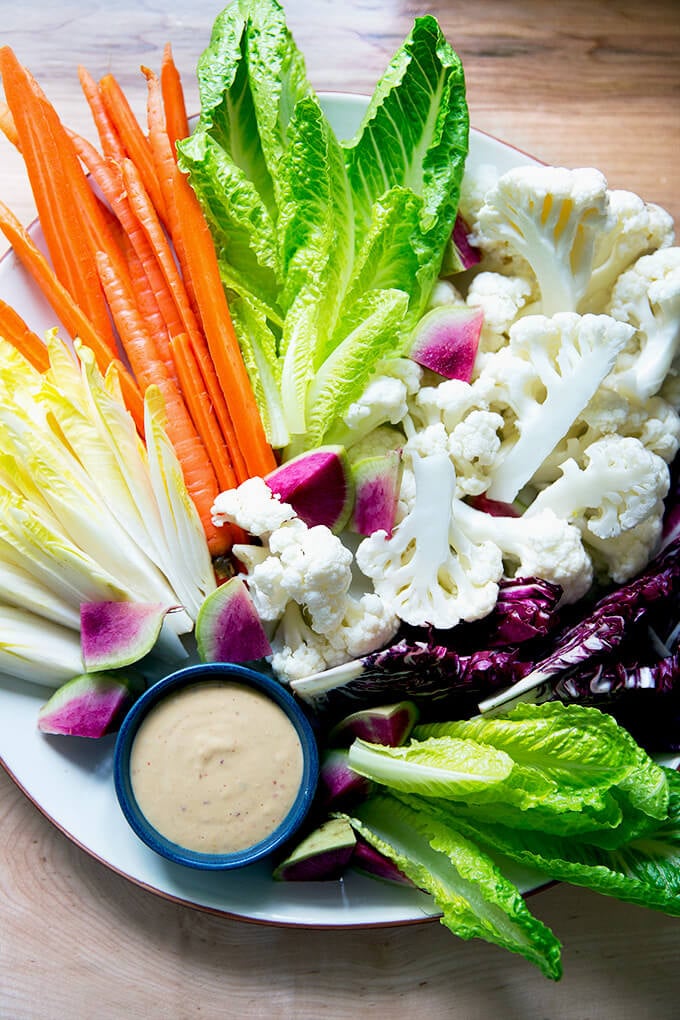 Print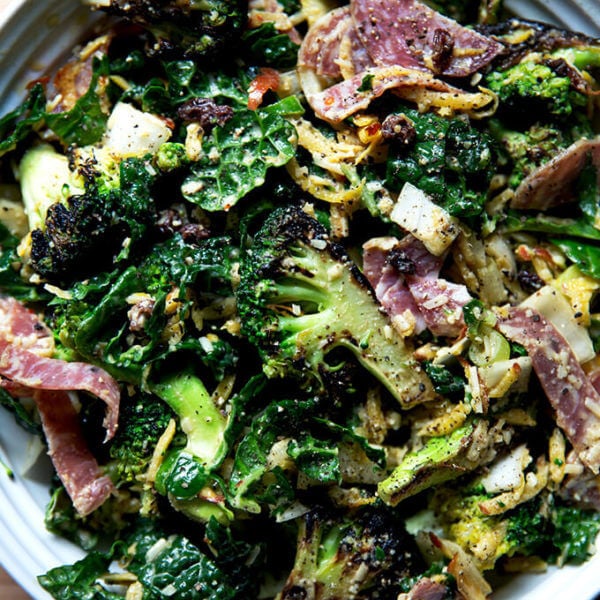 Charred Broccoli Chopped Salad with Spicy Cashew Dressing
---
Description
Dressing adapted from this recipe in Bon Appetit. The below recipe will yield a little over 2 cups of dressing. Recipe can be halved, but consider making the full amount as it is so nice having a vat of dressing on hand. It will keep for weeks in the fridge. 
Notes:
Cashews: I have a hard time finding roasted salted cashews, which the original recipe calls for, so I generally use roasted unsalted cashews, but I've also had success using a combination of raw and roasted cashews. Salt will need to be adjusted to taste depending on what kind of cashews you are using. 
Oil: Original recipe calls for vegetable oil, so feel free to use a neutral oil if you wish. I don't find the flavor of olive oil too overpowering here, so I use it. 
Crushed red pepper flakes: 1 teaspoon will not make this overwhelmingly spicy. Use 1.5 teaspoons if you like a kick. 
To make the dressing vegan: Use sugar or maple syrup in place of the honey; omit the fish sauce. If you aren't using the fish sauce, use 1 teaspoon kosher salt, then add more salt to taste. I often add 1.5 teaspoons kosher salt total. 
Vegetables: Use the recipe as a guide. Romaine can replace kale; radicchio can replace the endive; carrots can replace the beets; etc. 
Beets: Raw beets are delicious. Don't shred them too far in advance or they'll oxidize and turn an unpleasant color. 
---
Please read notes above before making.
For the dressing: 
1 cup

cashews

1/2 cup

olive oil

1/3 cup

unseasoned rice vinegar

1

–

1.5

teaspoons crushed red pepper flakes

1.5 teaspoons

fish sauce, optional, see notes

1.5 teaspoons

honey or maple syrup

1

garlic clove

Kosher salt to taste
For the salad: 
1/4 cup

dried currants, such as Zante

2

to

4

tablespoons white balsamic vinegar
 8 oz kale, stems removed, leaves thinly sliced

2

heads endive, quartered, and cut crosswise into

1/2

– inch slices

2

scallions, thinly sliced

2

yellow beets, unpeeled, grated with the shredder attachment of the food processor, see notes above

1

head broccoli (

12

–

16

oz), sliced into florets

2 oz

. soppresatta or salami, optional, thinly sliced, I like the Applegate brand
grated parmesan or other cheese,
fresh cracked pepper to taste
flaky sea salt, such as Maldon, to taste
---
Instructions
Make the dressing: Place the cashews, oil, vinegar, red pepper flakes, fish sauce (if using), honey or maple syrup, garlic, a pinch of salt, and 2/3 cup water in a food processor or blender for 60 to 90 seconds or until completely smooth. (If making this with the intention of using it as a dip, start with 1/2 cup water.) Blend until smooth. Taste. Adjust flavor to taste with more salt or vinegar. (Note: when I omit the fish sauce, I use 1 to 1.5 teaspoons kosher salt). Stream in more water if the dressing is too thin. Dressing should be

creamy, smooth, and pourable.

Make the salad:

Heat the broiler to high for at least 15 minutes. Line a rimmed sheet pan with aluminum foil.

Prepare the broccoli: cut the head into spears; then cut larger spears in half or into quarters.

Toss the broccoli on the prepared sheet pan with 1 tablespoon of neutral oil and a generous pinch of kosher salt. Taste a small spear of broccoli raw — it should taste nicely seasoned. Transfer pan to broiler and cook 2 minutes. Check. If the broccoli isn't beginning to char, return it for another minute. Check again. If the spears are charring, remove the pan from the oven, and flip each spear over; then return pan to the broiler for another 2 minutes. Check again. Remove pan from the oven when the broccoli is charred to your liking, about 5-7 minutes total.

Meanwhile: Place the currants in a small bowl. If you like a nice vinegary bite, cover them with 4 tablespoons vinegar; if you like a more subtle bite, cover them with 2 tablespoons vinegar. Set aside. 
In your largest bowl, place the kale, endive, scallions, and beets.
Add the sliced meat and grated or cubed cheese, if using. Add the reserved currants with their vinegar. Add the broccoli. Season with pepper to taste. 
Pour dressing to taste over top. Toss. Taste. Adjust with more dressing if necessary or season with sea salt and pepper to taste. 
*Note: This dressing thickens up considerably in the fridge overnight. When ready to use it again, scoop some into another bowl and whisk in some water to thin. Taste. Add more salt if necessary. 
Prep Time:

45 minutes

Cook Time:

8 minutes

Category:

Salad

Method:

Food processor, blender

Cuisine:

American
Keywords: cashew, dressing, spicy, dairy-free, chopped, salad, broccoli, salami, kale
This post may contain affiliate links. Please read my disclosure policy.