Raw Beet Dip with Greek Yogurt
This post may contain affiliate links. Please read my disclosure policy.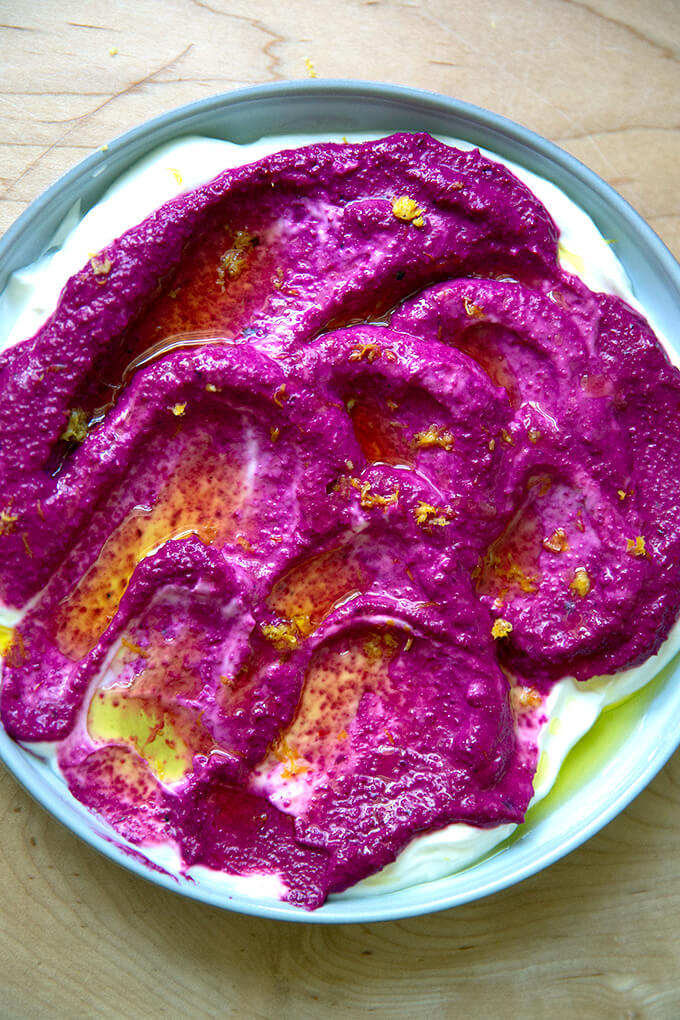 Discovering a vegetable you thought could only be eaten cooked can in fact be eaten raw is always a revelation.
Learning, for instance, I could shred raw beets in my food processor and toss them in a salad was as mind-blowing as discovering I could thinly slice Swiss chard and give it the kale salad treatment.
But these revelations are especially welcomed at the height of the summer, when turning on the oven becomes less appealing with each degree the temperature rises.
Last summer, one of you (thanks Peg!) sent me a link to this Tejal Rao recipe for a beet and walnut dip, which reminded me of this favorite beet-labneh dip from Washington D.C.'s Maydan, but whereas Maydan's recipe calls for roasted beets, Tejal's recipe calls for raw, uncooked beets. How. Nice.
For the past two weeks, the beets from our CSA have landed in Tejal's raw beet dip, and in addition to not cooking the beets, I haven't been peeling them either. I know: rebel.
Tejal got the recipe from the owners of Botanica, a vegetable-focused restaurant in Los Angeles. Its roots stem to muhammara, the Middle Eastern spread made from red peppers. It includes many classic raw dip flavorings — nuts, lemon, garlic, chile flakes, and olive oil — but it also includes pomegranate molasses, which offers both sweet and tart notes.
As recommended, I've been spreading it atop Greek yogurt (or labneh), drizzling over a healthy amount of olive oil, grating fresh lemon over top, and finishing it with a generous garnish of crushed, toasted almonds.
There is so much flavor going on in this dish I don't know where to begin. On the one hand it's very familiar: garlic, lemon, toasted nuts, and olive oil evoke many a dip from pesto to romesco. But the tangy pomegranate molasses in combination with the earthy beets pushes it into a category of its own. I find it irresistible.
It has proven not only to be a delicious and striking appetizer — the color, truly is spectacular — but also a nice accompaniment to so many of my current favorite dishes: falafel burgers, homemade pita, and smoky grilled chicken.
As suggested, I've been serving it with Persian cucumbers and pita, and in this lethargy-inducing heat wave, its bright, cooling flavors have been just the ticket. I hope it will be for you as well.
PS: Another favorite, easy food processor spread: Black Olive Tapenade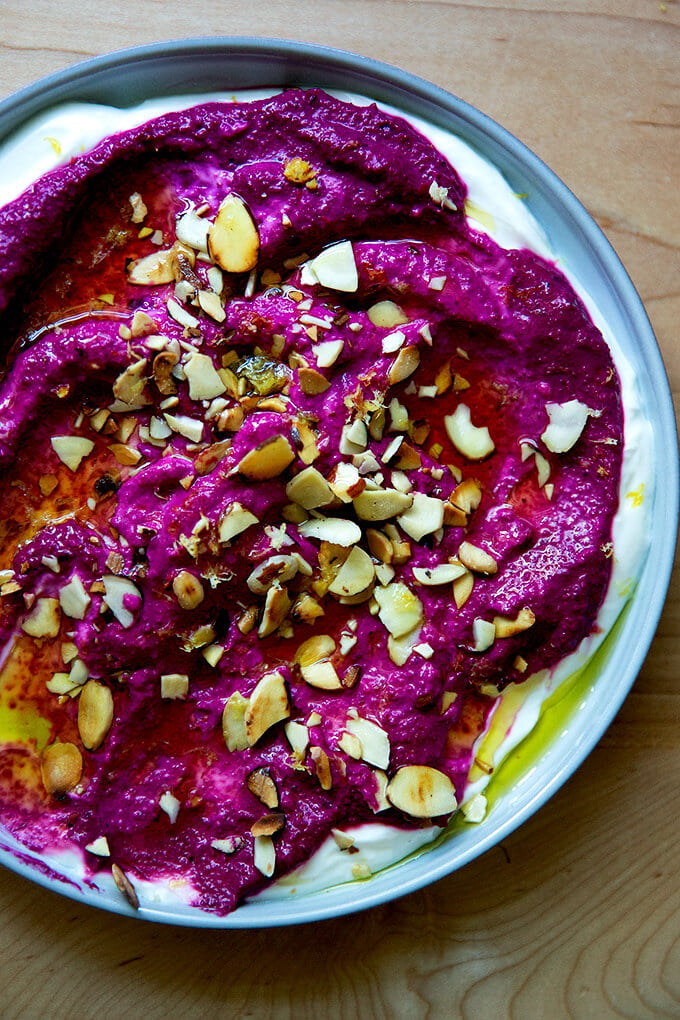 Here's the play-by-play: Gather your ingredients.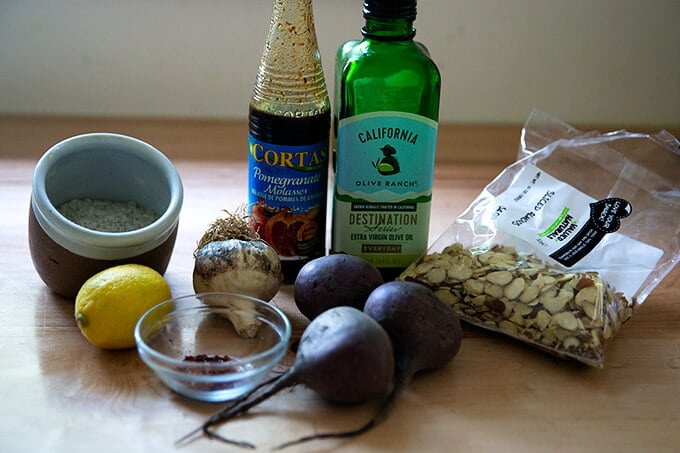 You'll need to toast the almonds, trim the ends of the beets and roughly chop them, and juice some lemons or limes.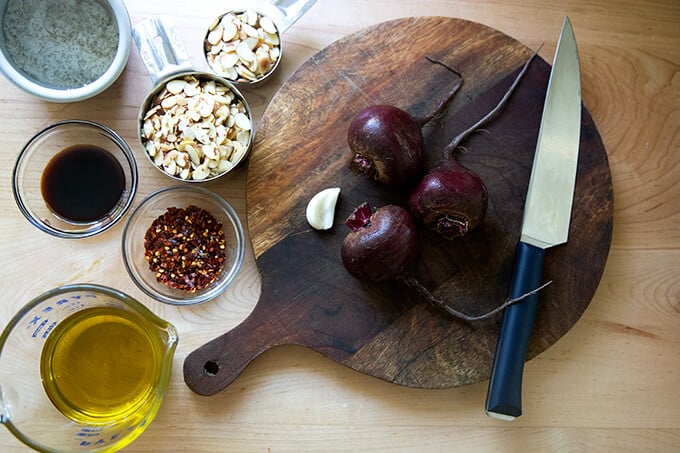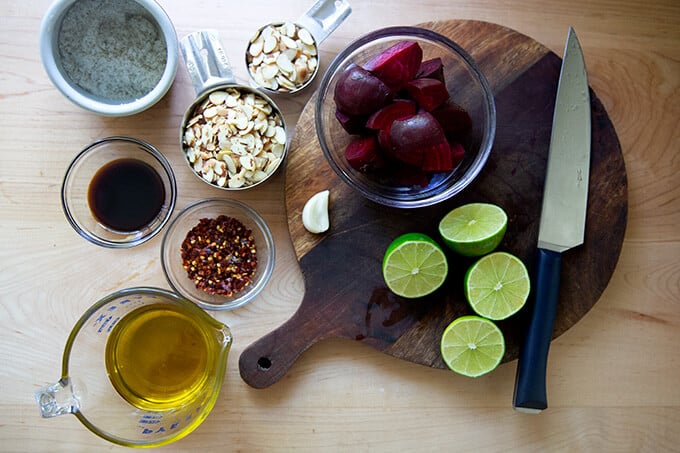 Place all of the ingredients with the exception of the olive oil into a food processor or blender, and purée until smooth. Stream in the olive oil and continue blending until smooth.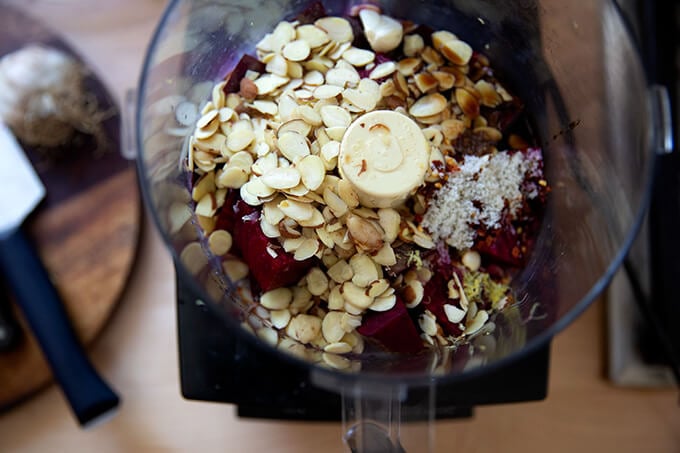 You likely won't get it completely smooth, but a bit of texture in the purée is nice.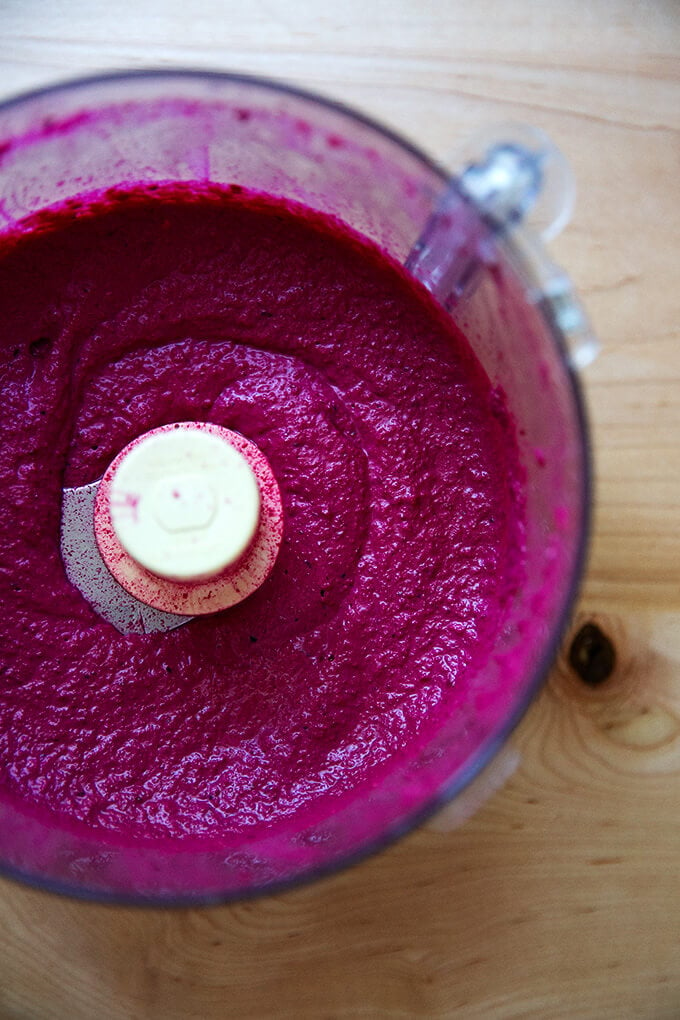 On the left: beet dip. On the right: Greek yogurt seasoned with a pinch of salt.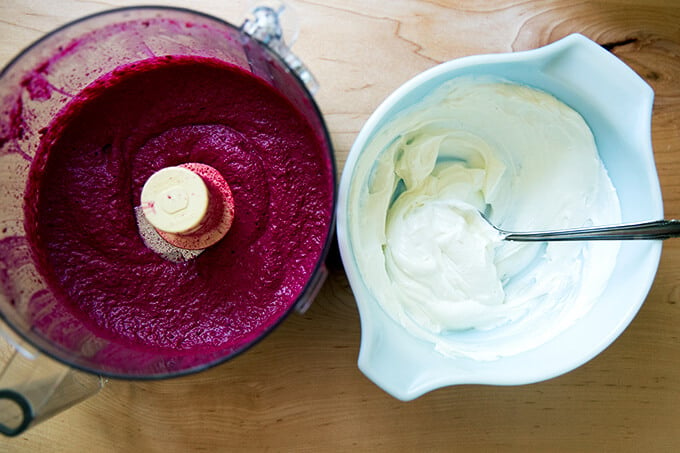 Spread the yogurt over a platter. Spread the beet dip on top. Drizzle olive oil over top. Shave lemon zest over top.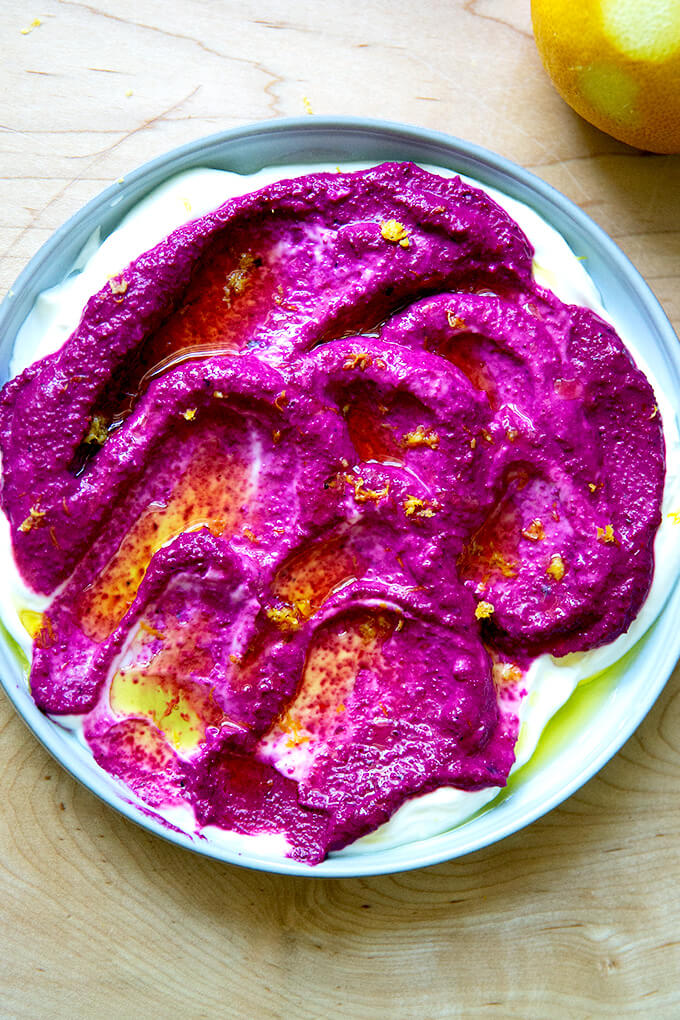 Top with more toasted almonds. Be generous — the crunch is so nice.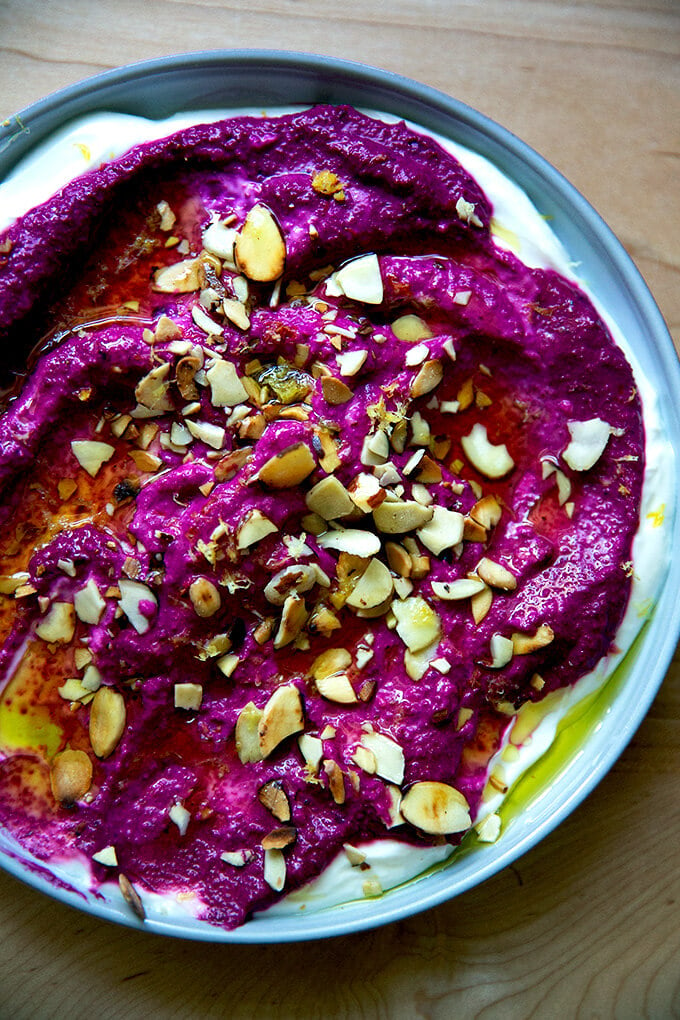 Print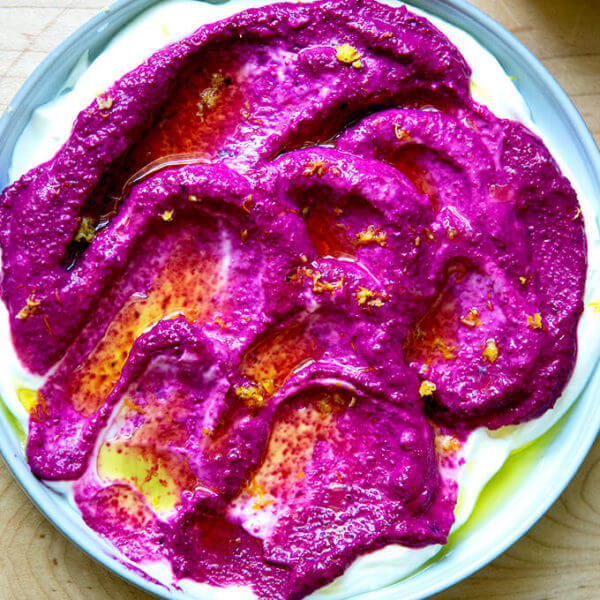 Raw Beet Dip with Greek Yogurt
---
Description
Adapted from this Tejal Rao recipe in The New York Times
A few changes I've made:
I don't peel the beets.
I use almonds in place of the walnuts, only because I always have almonds on hand.
I use Greek yogurt in place of labneh, again, only because I always have it on hand. 
Pomegranate Molasses: I like the Cortas brand. Many grocery stores now carry pomegranate molasses, but you may want to call ahead before to make a visit to be sure. If you live locally, Nora's in Albany carries the Cortas pomegranate molasses. 
Almonds or other nuts: I've been toasting 1.25 cups sliced almonds in a large dry skillet over medium to low heat until the nuts are evenly golden. 1 cup goes into the dip; 1/4 cup is used for garnish. You may want to toast more if you love almonds. 
Greek Yogurt: I love the Fage 5% Greek yogurt. I season it with 1/4 to 1/2 teaspoon kosher salt and beat it with a spoon to lighten its texture a bit before spreading it over the platter.
Lemon: If you don't want to waste the zest of the lemon you are juicing, zest it before juicing it, and set it aside. I prefer zesting the lemon right over the tip — I just find it easier — but I understand wanting to zest the lemon before juicing it for conservation purposes. 
---
1/2

lb. beets (2-3 small-is or

1

–

2

medium), ends trimmed, roughly chopped

1

 cup almonds (sliced or whole), toasted in a dry skillet (see notes above), plus extra for garnish

3

to

4

tablespoons fresh squeezed lemon or lime juice, plus zest for garnishing, see notes above

1 tablespoon

pomegranate molasses, plus more to taste, see notes above

1

 teaspoon crushed red pepper flakes, plus more to taste

1

 garlic clove, peeled

1

 teaspoon kosher salt, plus more to taste

½

 cup extra-virgin olive oil, plus more for garnish

Freshly ground black pepper

1

 cup labneh or Greek yogurt, for serving, see notes above
Torn pita, for serving

3

 Persian cucumbers, quartered, for serving
---
Instructions
Put the beets, toasted almonds, 3 tablespoons lemon juice, pomegranate molasses, chile flakes, garlic, and salt into a food processor or blender. Purée on high until beets and nuts are finely chopped. Scrape down the sides, and blend again, until the mixture is very smooth—you may have to repeat this stopping and scraping process several times to get the mixture as smooth as possible.

 

Add the olive oil — I like to add this in a steady stream via the tiny hole of the food pusher insert — and blend again, scraping down the sides, until mixture forms a mostly smooth purée. Taste, and adjust the seasoning with salt, pepper, additional lemon juice, and pomegranate molasses, if desired. (I've consistently been using 1/4 cup fresh lemon or lime juice and adding a pinch more salt to taste.)

Spoon labneh or Greek yogurt (seasoned if desired, see note above) into a bowl, smoothing it with the back of a spoon. (Note: You do not have to spread all of the yogurt and all of the dip onto a platter at once — I've been assembling small plates of this; then stashing the remainder in the fridge.) Spread the beet dip over top, smoothing again with the back of a spoon. Top with a generous drizzle of olive oil. Zest a lemon over top. Sprinkle with chopped or crushed toasted almonds; top with reserved lemon zest. Serve with pita and cucumbers for dipping. 
Extra dip can be store in the fridge for as long as a week. 
Prep Time:

20 minutes

Category:

Appetizer

Method:

Food Processor

Cuisine:

Middle Eastern
Keywords: beets, raw, dip, food processor, pomegranate molasses
This post may contain affiliate links. Please read my disclosure policy.