Quick, Fresh Tomato-Basil Sauce
This post may contain affiliate links. Please read my disclosure policy.
This is the tomato sauce I make most often. It has a clean, bright flavor thanks to fresh tomatoes and basil, and it comes together in no time. 🍅🍅🍅🍅🍅🍅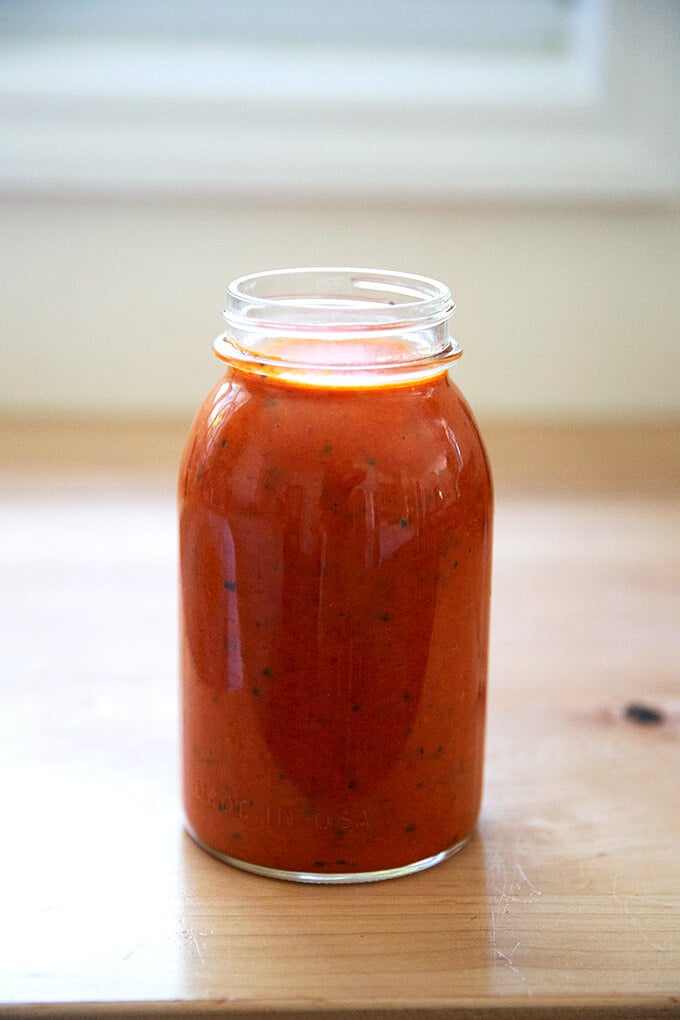 Every time I make this fresh tomato-basil sauce, I am astounded by not only its flavor, but also the ease in which it materializes.
It comes from the Tra Vigne cookbook by Michael Chiarello, who learned the recipe from Jacques Pépin, who uses the sauce to poach fish roulades and to dress stuffed chicken legs — oh Jacques!
I have yet to use it for either of those purposes, but it is the tomato sauce I find myself making most often in the summer for favorites like eggplant parmesan and this summer squash gratin or for simply dressing angel hair pasta for my children.
At first glance, this tomato sauce recipe might look quite similar to others you've made. But the makeup and method are actually quite different. Let's explore:
For one, in addition to fresh tomatoes, this sauce calls for red bell peppers, which not only lend a sweetness to the sauce but also give it a nice body.
Second, unlike many tomato sauce recipes that call for sweating onions or garlic first, this one calls for neither.
Third, many tomato sauce recipes call for peeling the tomatoes first. Not this one!
Fourth: water. Here the roughly chopped tomatoes and peppers start stovetop with a cup of water and simmer for about 25 minutes or until nearly all of the water evaporates and the tomatoes and bell peppers reduce into a sweet, summery concentrate.
Finally, fat is added at the end. When the sauce is done, you add butter or olive oil along with basil; then purée it until smooth.
Interesting, right? I have shared this recipe in the past, but thought it deserved a refresher. Hope you love it as much as I do.
PS: Quick Sautéed Cherry Tomato Sauce
Quick, Tomato-Basil Sauce How-To
Here's the play-by-play:
Gather your tomatoes and bell peppers: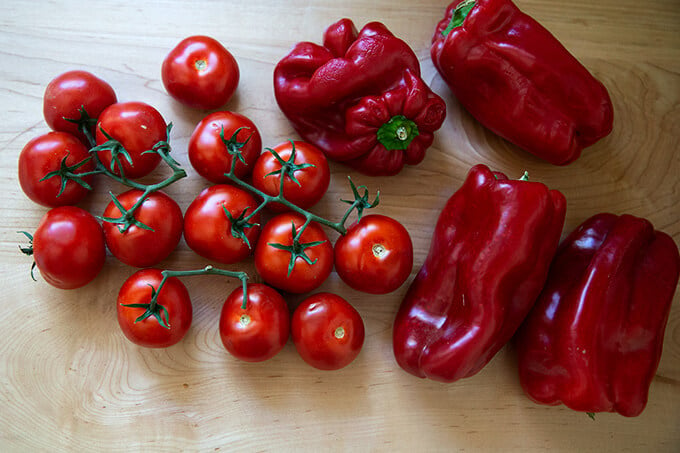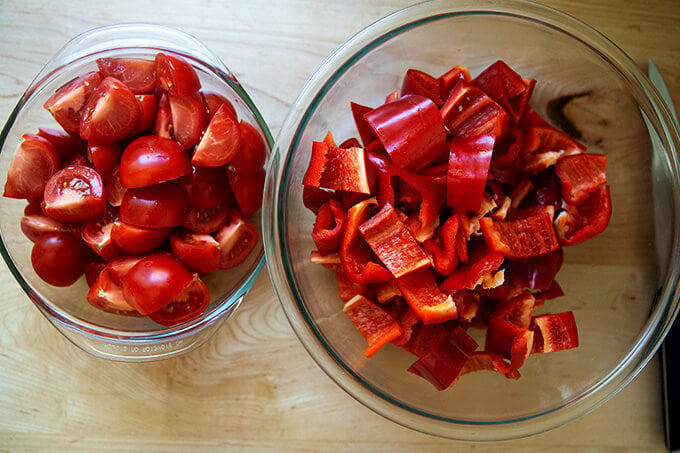 Add to a large pot with 1 cup of water and a teaspoon of salt.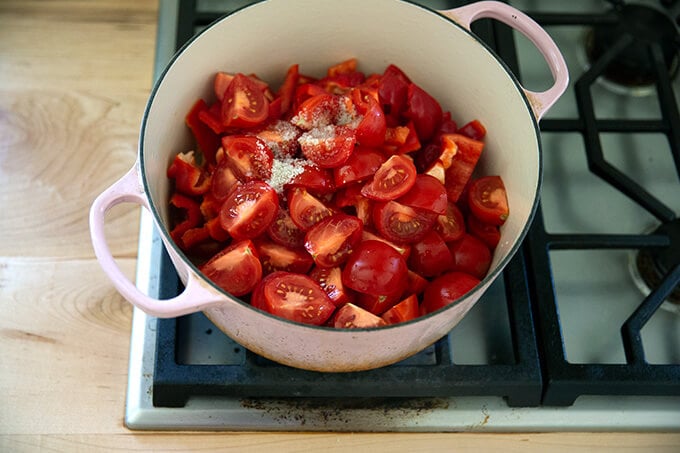 Simmer for 25 minutes; then add butter or olive oil and basil.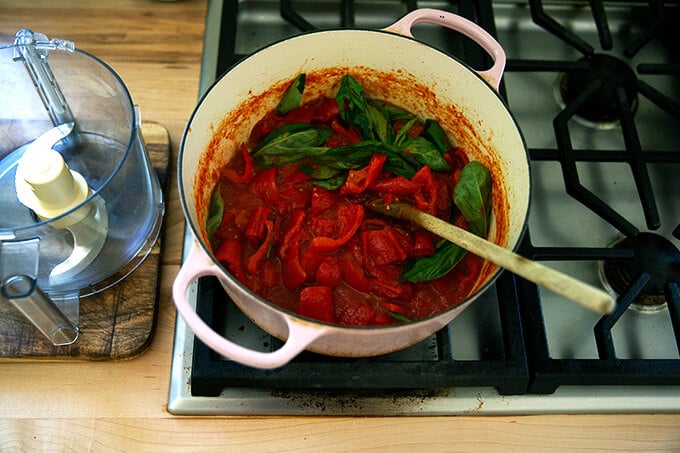 Transfer to a food processor or blender – let cool first if using a blender.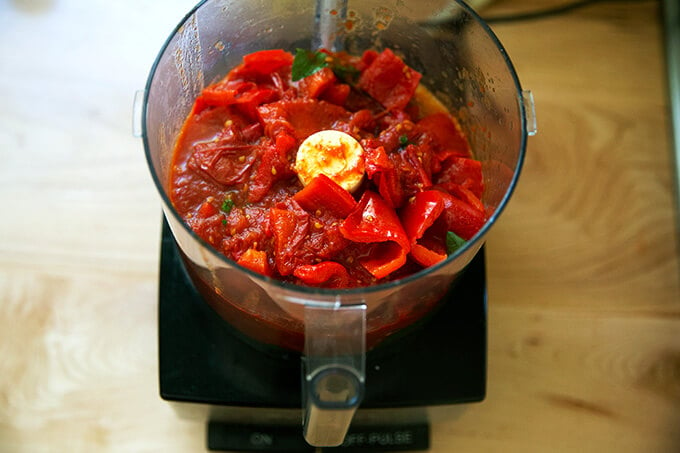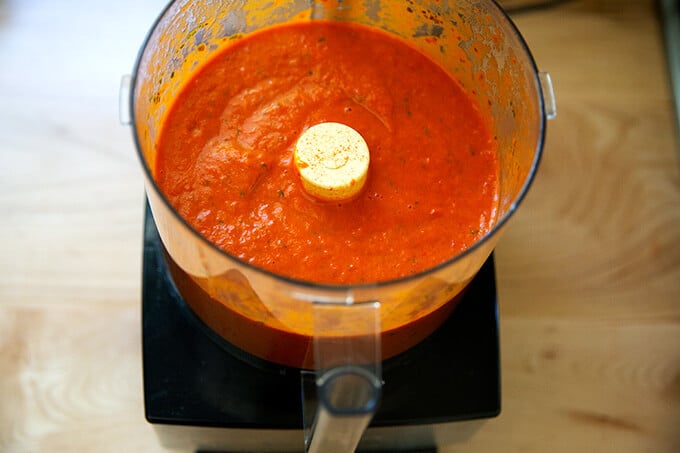 Transfer to storage vessels and keep in the refrigerator for up to 1 week or in the freezer for 3 months.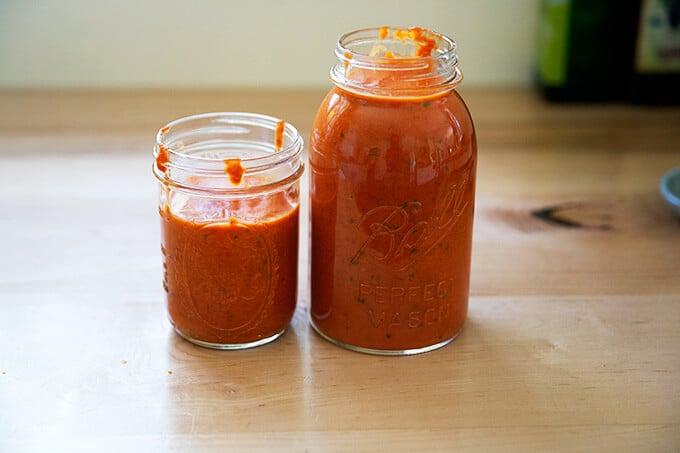 Print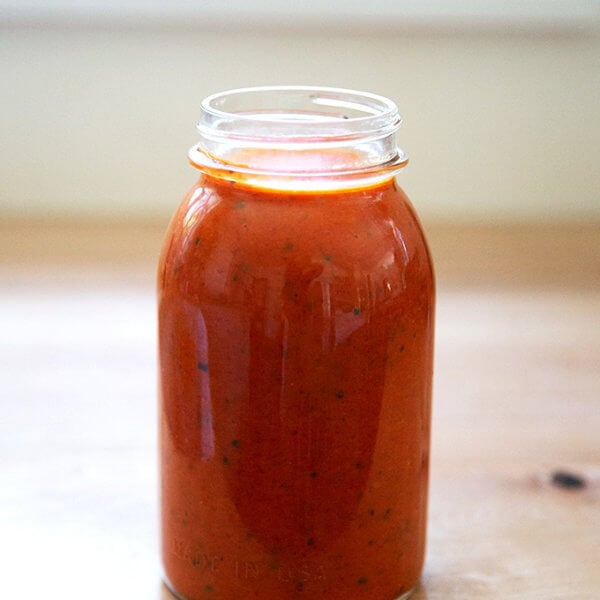 Quick, Fresh Tomato-Basil Sauce
---
Description
From Michael Chiarello's Tra Vigne. Original recipe credited to Jacques Pépin. 
A few notes:
Crushed red pepper flakes would be really nice here. I omit because of the children.
Original recipe calls for a mix of butter and olive oil at the end — use what you prefer. 
My dear friend Linda adds heavy cream to it, which I have yet to try, but which I have no doubt is completely delicious.  
---
2

lbs. tomatoes, roughly chopped

4

red bell peppers, stemmed, seeded, and roughly chopped
kosher salt

4 tablespoons

butter

1/3

to

1/2

cup, lightly packed, fresh basil leaves
---
Instructions
Place tomatoes and peppers in a large saucepan or pot. Pour in 1 cup water and turn heat to high. Season with 1 teaspoon kosher salt. Bring to a simmer, then turn heat down to medium high. After about 5 minutes, the tomatoes and peppers will begin releasing their juices, and the whole mixture should be bubbling. Adjust the heat to ensure the mixture stays at a constant bubble — medium to medium-high should do it. Stir every five minutes or so to make sure the tomatoes and peppers are not sticking to the bottom of the pan. Cook for about 20 more minutes.
You'll know when it's time to turn off the heat when the tomatoes and peppers are tender and nearly all of the liquid has evaporated and the tomatoes and peppers are beginning to stick to pot — when you drag a wooden spoon or spatula across the bottom of the pot, the parted pathway between the sauce should be visible briefly (see video for clarification). Note: times will vary depending on the variety/juiciness of the tomatoes you are using. Do rely on the visual cue more than the time to determe when the sauce is done. 
Add the basil and butter to the pot, give it a stir, then transfer the contents of the pot to a food processor or blender. Blend until smooth — be sure to let the mixture cool first if using a blender. Taste. Adjust seasoning with more salt to taste — I often add another teaspoon of kosher salt, but start with a 1/2 teaspoon and add more to taste. Add freshly cracked black pepper to taste, too, if you wish. Store in the fridge for up to a week. Or freeze for up to 3 months.  
Prep Time:

15 minutes

Cook Time:

25 minutes

Category:

Sauce

Method:

Stovetop

Cuisine:

Italian, American
Keywords: quick, tomato, basil, sauce, fresh, peppers
This post may contain affiliate links. Please read my disclosure policy.