Peach-Frangipane Galette
This post may contain affiliate links. Please read my disclosure policy.
This is my favorite dessert: peach-frangipane galette. Here I share my recipe for foolproof all-butter pastry dough, which comes together in no time. There is video guidance for both the pastry and the galette assembly 🍑🍑🍑🍑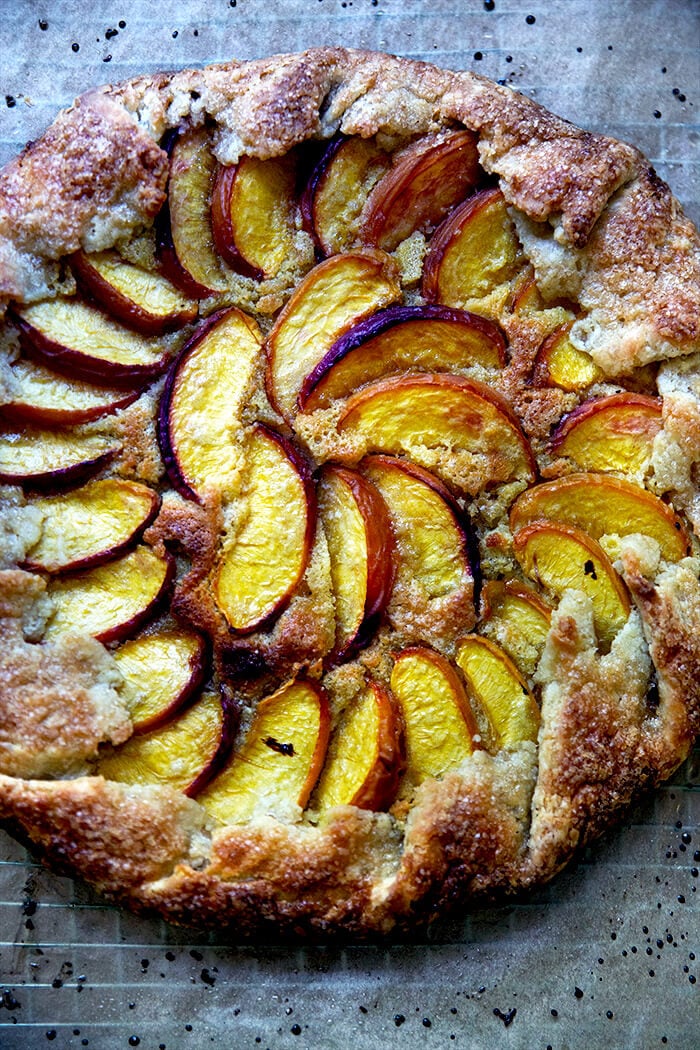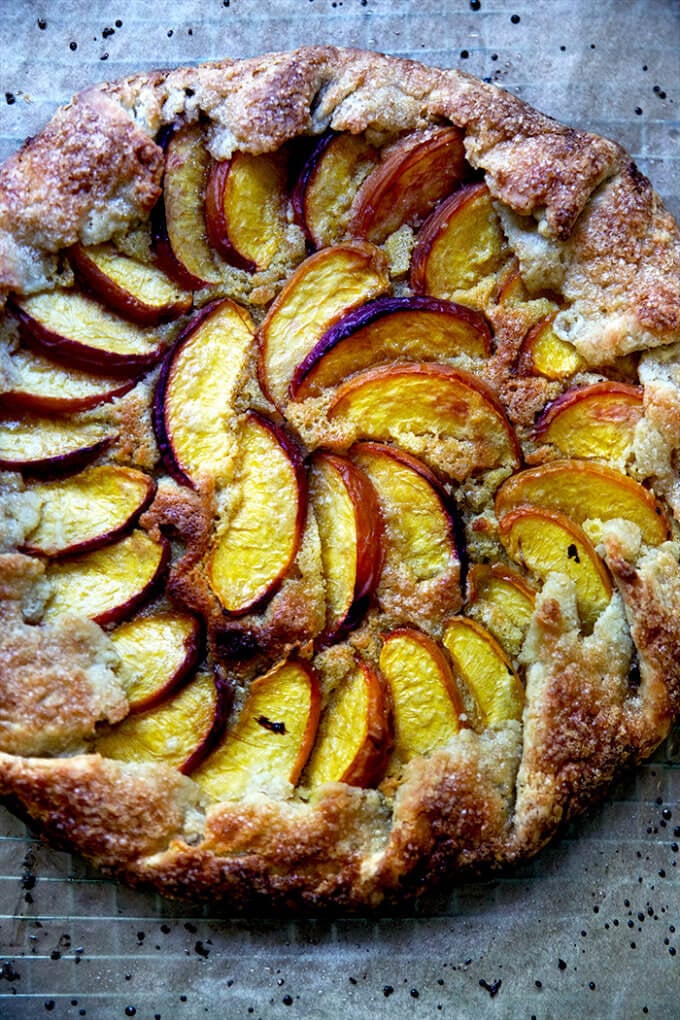 Every time I take a bite of David Lebovitz's peach-frangipane galette, I feel I have been transported to a French pâtisserie.
Truly: the crust is so incredibly flaky, and when it envelops layers of creamy, almond frangipane and sweet, juicy stone fruit, the result is, well, simplement magnifique! (Oui?)
From rhubarb-orange to apple-bourbon to peach-vanilla, as pictured here, the possible flavor combinations are endless as are the shaping techniques: see slab galette (ideal for a crowd).
At this point I've posted five variations of this recipe, and the reason I can't refrain from posting another is because every time I make it, I am blown away by not only its flavor but also the ease in which it comes together.
Ease. Yes, ease. For many people, achieving flaky, tender pie dough has been a lifelong struggle, a task they'd rather outsource to Pillsbury.
If you can relate, listen up. Many years ago I learned a simple technique from a French woman, Caroline Cazaumayou. I've shared the story before, so I'll briefly sum up her method: Caroline makes her pastry in the food processor, pulsing the dough as minimally as possible, then uses a tea towel to shape the dough into a perfect round.
This tea towel trick achieves two things:
A tender crust, because the crumbly dough ensures it has not been over worked.
A perfectly round shape, the ideal starting point for many a pie and/or tart.
I've made a new video of the entire galette-making process, which is embedded above. I have included zero photos of the process below, because I think video is a better teacher when it comes to pastry.
Peach Frangipane Galette How-To
Make the foolproof pastry dough and store briefly in the fridge.
Without washing the food processor, make the frangipane.
Roll out the dough, and transfer to a sheet pan.
Spread the frangipane over the dough, leaving a 2-inch boarder. Top with the fruit.
Fold the exposed dough over the layer of fruit and frangipane.
Brush with melted butter, sprinkle with sugar.
Bake for 35 minutes or until evenly golden.
Let cool briefly; then enjoy your rustically elegant, shatteringly flaky masterpiece.
With mise-en-place, the whole galette can be assembled and in your oven in about 15 minutes. What is not to love?
Print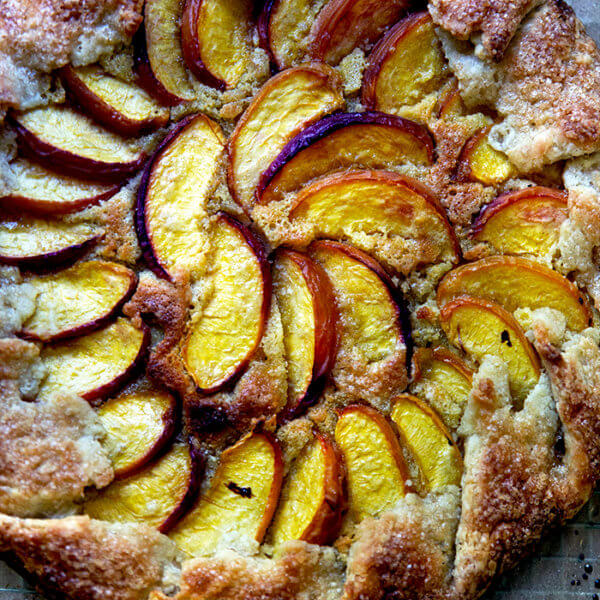 Peach-Frangipane Galette
---
Description
Adapted from David Lebovitz's recipe from Fine Cooking. 
---
For the tart dough:
1 1/4 cups

(160g) all-purpose flour

1 tablespoon

(14 g) sugar

1/4 teaspoon

kosher salt

8 tablespoons

(114g) cold, cubed butter, salted or unsalted

1/4 cup

+

1 tablespoon

(71 g) ice water
For the frangipane:
1/2 cup

(54 g) almond flour

2 tablespoons

(28 g) sugar

pinch salt

2 tablespoons

(30 g) butter at room temperature

1

 egg (small if possible)

2 teaspoons

 vanilla, rum, brandy or bourbon
For assembly:
2

peaches, sliced thinly (1/4-inch or smaller)

2 tablespoons

 melted butter

1

 to 2 tablespoons sugar, turbinado is nice

vanilla ice cream for serving
---
Instructions
Heat the oven to 400ºF and place a rack in the center of the oven. In the bowl of a food processor, pulse the flour, sugar and salt together. Add the cold, cubed butter to the food processor. Pulse 10 times at 1-second intervals until the butter is the size of peas. Add the ice water and pulse again 10 times at 1-second intervals until the mixture is crumbly but holds together when pinched. (See video for reference)

Lay a clean tea towel on a work surface. Dump the crumbly dough mixture into the center. Grab the four corners of the towel together and twist to create a beggar's purse, pressing the dough into a round. Use your hands to pack and pat the disk together. Transfer to fridge.

Don't wash the food processor! Combine almond flour, sugar, salt, butter, egg, and vanilla or alcohol in the dirty bowl of the food processor. Purée until smooth.

On a lightly floured work surface, roll out the dough into a 12- to 14-inch round. Use as much flour as needed to prevent the dough from sticking, and every few rolls, flip the dough over. Transfer dough to a parchment- or Silpat-lined sheetpan. Spoon the frangipane into the center leaving a 2-inch border. Arrange the peach slices in concentric circles starting at the outer edge of the frangipane. Fold the exposed edge of dough towards the center to make a rustic enclosure. Brush the edge of the dough with melted butter. Drizzle the remainder over the exposed peaches. Sprinkle the sugar evenly over the top.

Bake for 35 minutes or until golden. Remove pan from the oven and let rest on cooling rack for 5 to 10 minutes or until Silpat or paper is cool enough to handle. Grab the edges of the paper or Silpat and slide to a cooling rack to cool further or to a cutting board to serve. Cut into wedges. Serve on its own or with vanilla ice cream.
Prep Time:

20 minutes

Cook Time:

35 minutes

Category:

Dessert

Method:

Food Processor, Oven

Cuisine:

French
Keywords: foolproof, pastry, butter, food processor, frangipane, peaches
This post may contain affiliate links. Please read my disclosure policy.