How To Dry Brine and Roast A Turkey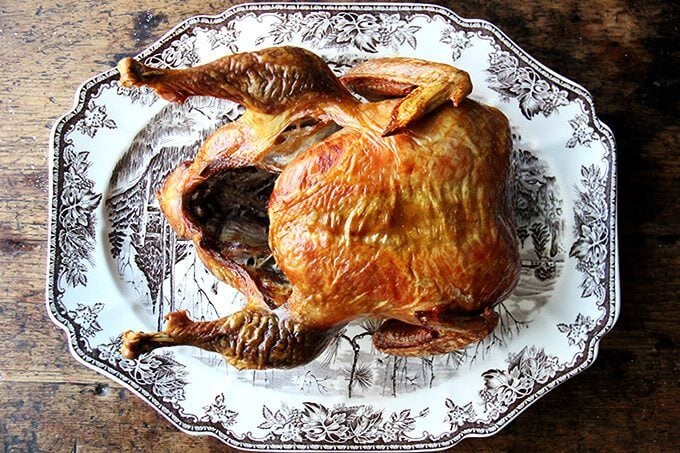 I confess: every year, when it comes time to deal with the bird, I feel I'm winging it.
The simple method I used last year, however, my notes have reminded me was a success. I bought the turkey from Butcher Box (photo below), thawed it in the fridge for a few days, then dry brined it with salt alone — 1 teaspoon of kosher salt per pound — for 48 hours in one of those giant plastic turkey bags.
On Thanksgiving morning, I patted the turkey dry, set it on a rack in a roasting pan, brushed it with butter, seasoned it all over with salt (lightly), and pepper; then transferred the pan to the oven and roasted it till it looked done, a little over 2 hours.
My notes have also reminded me that the power went off while the bird was in the oven! Such an adventure! There is a recipe below for dry brining and roasting a turkey.
Print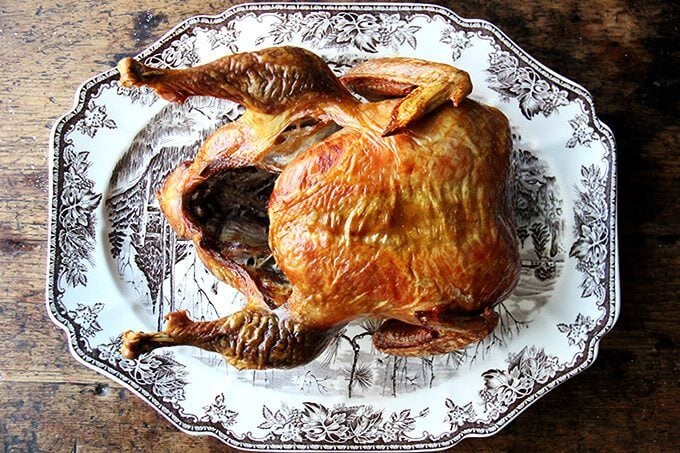 How to Dry-Brine and Roast a Turkey
---
Description
For this recipe, you'll need:
a turkey bag (for brining)
a roasting pan with a rack
a thermometer — can't recommend investing in a good instant-read thermometer enough
---
For the brine: 
kosher salt, I prefer Diamond Crystal
turkey bag

12

–

14

lb. turkey
For roasting: 
Roasting pan with a rack
salt and pepper

1

stick (8 tablespoons) butter

1 cup

white wine, plus more as needed
For finishing:
---
Instructions
Calculate how much salt you need: for a 12-lb. bird you'll need about a quarter cup of salt. Place the turkey into the large plastic bag. Sprinkle the salt evenly all over the bird, rubbing it into the skin and sprinkling it into the cavity as well. Tie the bag, and transfer to the fridge for 24-48 hours.
When you are ready to roast, remove the turkey from the bag and set it on a rack in a roasting pan. Pat dry. Let sit at room temperature for 1 to 2 hours before roasting. 
Heat the oven to 450ºF. Calculate how many hours your bird should roast: a good rule of thumb is 12 minutes per pound, so for a 12-lb. bird that's about 2 hours and 25 minutes. 
Melt the butter and brush it evenly over the bird. Season lightly with salt and pepper to taste. 
Transfer pan to the oven and roast for 30 minutes. Open the oven, pour the 1 cup of wine along with 1 cup of water into the roasting pan, and close the oven.

Lower the oven temperature to 350ºF.

Continue roasting until the bird is done. In my experience, dry-brined birds cook more quickly, so I would start checking as soon as an hour and a half later, especially if your bird is 12 lbs. It may need another 30 minutes or even longer, but best to check early. An instant-read thermometer (or other) should register 160ºF. 
Transfer turkey to a board to rest. If there is liquid in the bottom of the turkey pan, pour it into a quart container or 4-cup liquid measure. Allow the fat to rise to the surface. If there is no liquid, pour some white wine into the pan and use a wooden pan to scrape up the drippings. Transfer them to a bowl. 
To finish: bring the make-ahead gravy to a very gentle simmer. Skim the fat off the turkey drippings and reserve for another use or discard. If you wish, fortify the make-ahead gravy with the fresh drippings to taste: Simply add as much of the drippings as you wish to the make-ahead gravy to taste. 
Once the turkey has rested for 30 to 60 minutes, carve it. Serve gravy alongside the turkey.  
Prep Time:

48 hours

Cook Time:

3 to 4 hours

Category:

Dinner

Method:

Oven

Cuisine:

American
Keywords: dry brine, turkey, simple, roasted
Bye for now! Good luck! Gobble Gobble!
This post may contain affiliate links. Please read my disclosure policy.