10 Quick & Easy Broccoli Salads
This post may contain affiliate links. Please read my disclosure policy.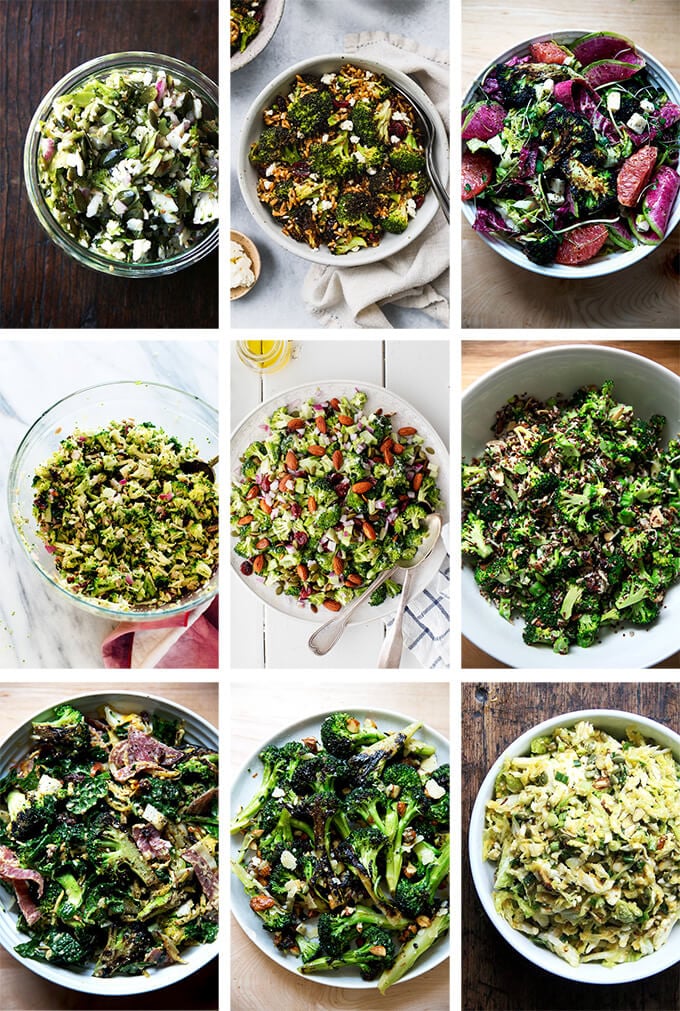 Last month, while reminiscing about grocery shopping and specifically about a broccoli salad from a favorite market in Minnesota, I found myself scouring Pinterest for broccoli salad recipes.
A few caught my eye, namely one from The Modern Proper, for its likeness to the Byerly's salad I so adore. And a few others did as well: one speckled with farro and feta from Walder Wellness; another with cheddar and sunflower seeds from Cookie & Kate; and another with tamari-roasted almonds from Love and Lemons.
I've rounded up all of my favorite broccoli salads recipes from my archives as well as the recipes mentioned above. Find them below. Let me know in the comments if you have a favorite broccoli salad recipe… can't have too many. 🥦🥦🥦🥦🥦
This chopped salad is dressed in an addictive, spicy cashew dressing that comes together in no time: all of the ingredients — cashews, rice vinegar, honey, oil, fish sauce, crushed red pepper flakes, and garlic — get thrown into a food processor at once. While it's whirling, you stream in water, and depending on how much you add, you can use the resulting emulsion as either a dip or dressing.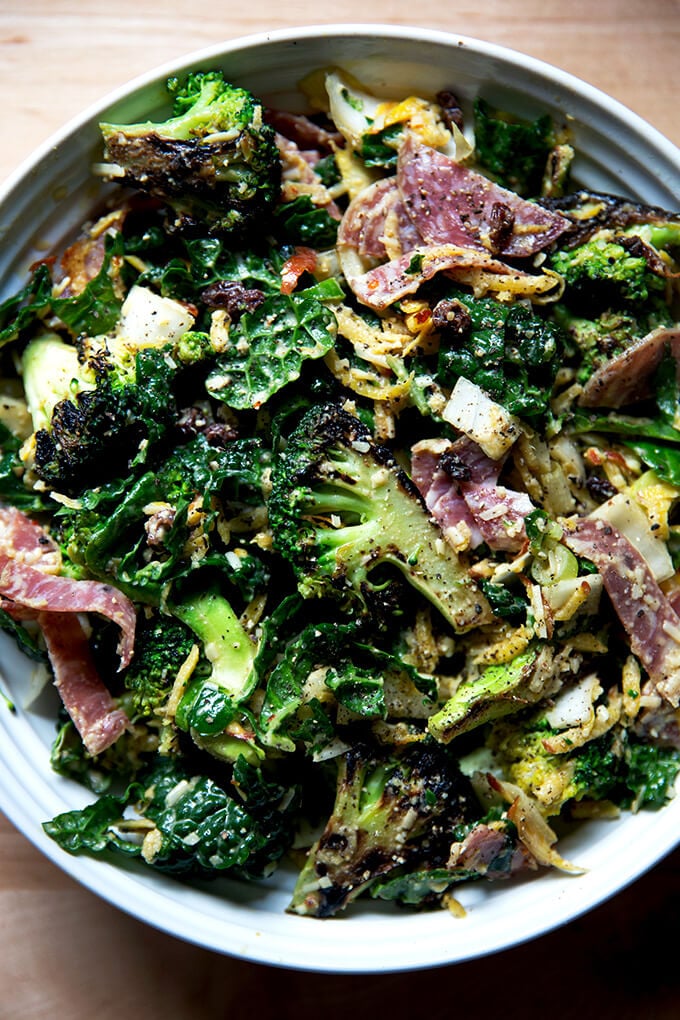 In this Carla Lalli Music recipe, halved broccoli heads sear stovetop for five minutes on one side and one to two on the other. The result is firm stalks with tender, charred florets. When you first taste this salad, you may find it sturdier than you are used to. But as you continue to eat it, which I suggest you do with a fork and knife, I think you'll find the texture surprisingly nice, a refreshing change from fork-tender broccoli.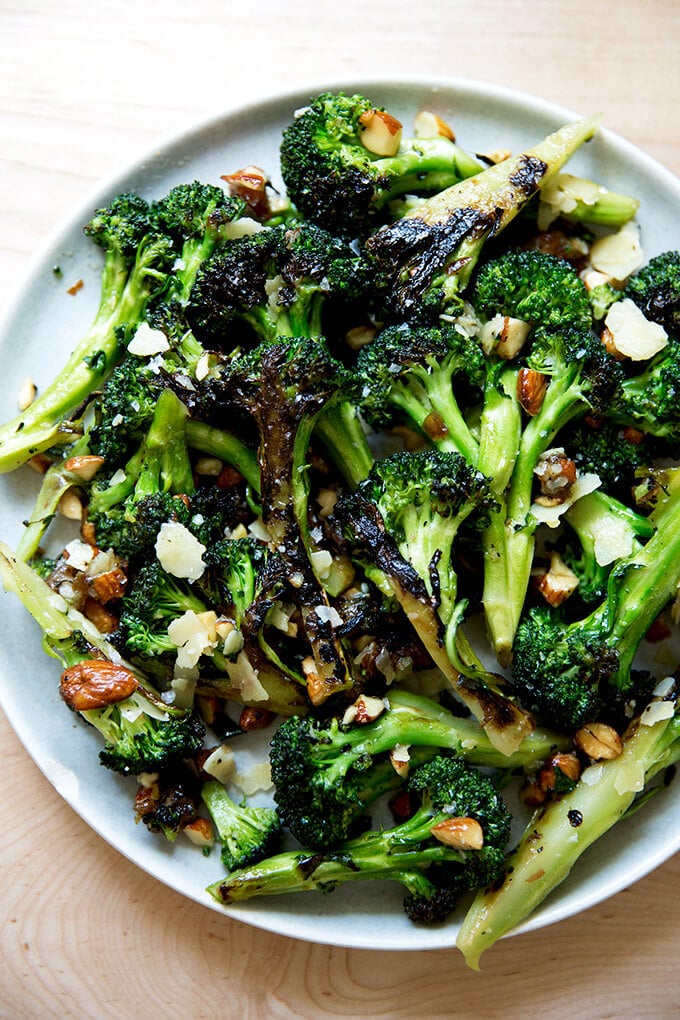 I make this tahini salad dressing in huge batches because it is so tasty and keeps well for weeks: it's got a nutty, earthy flavor as well as great acidity and heat, too. This dressing is inspired by the cashew dressing noted above, but this one is vegan.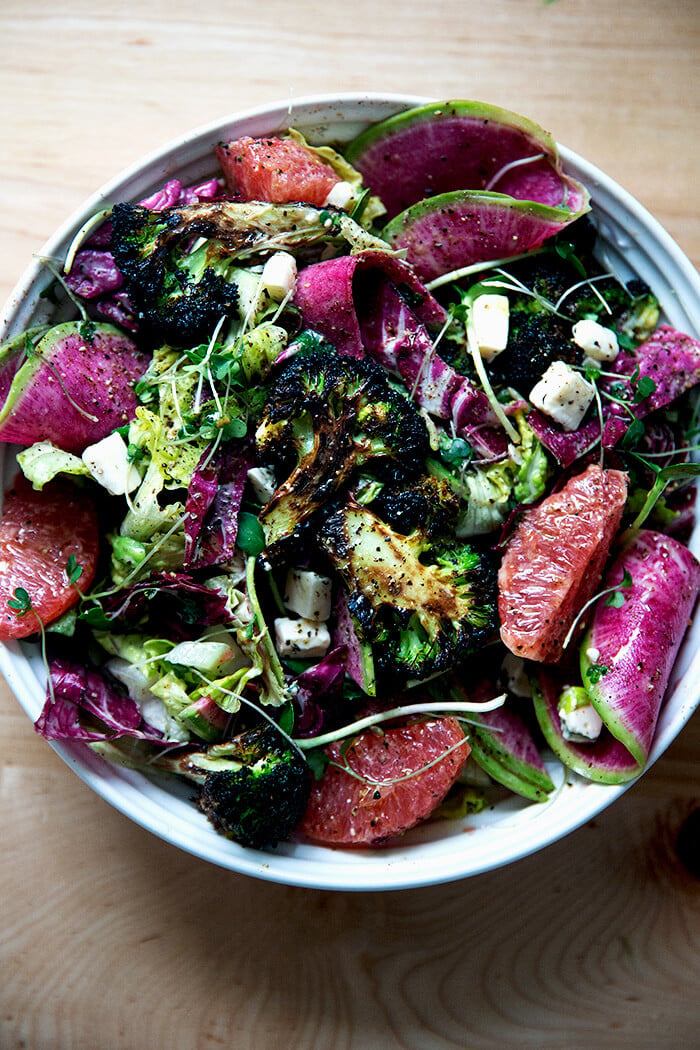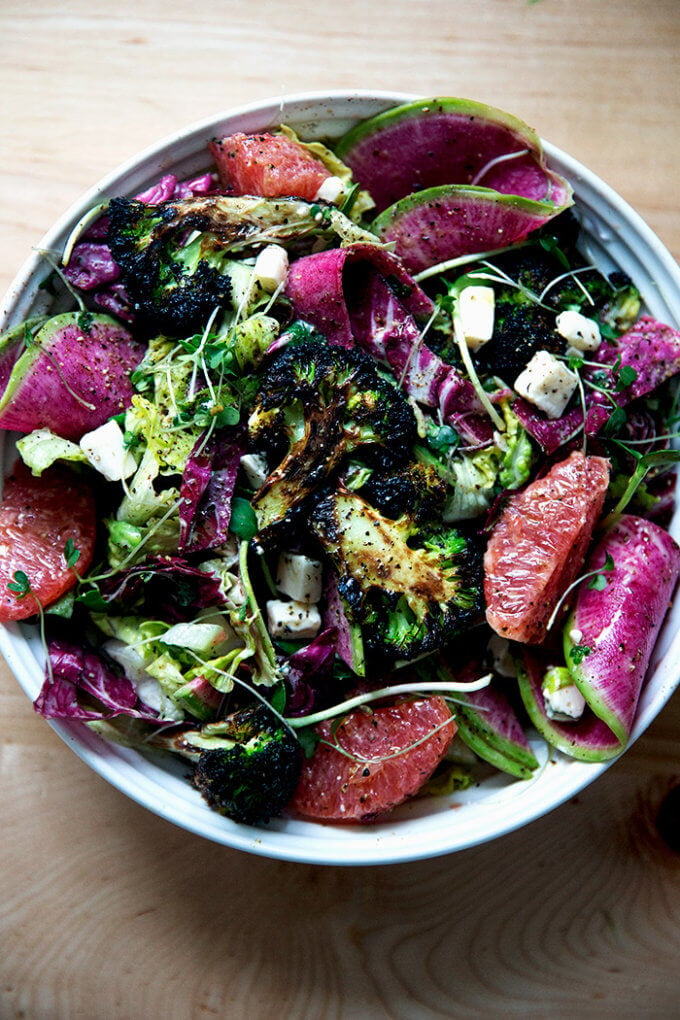 This salad is inspired by one made at Pizza Buono, a favorite local spot. It's raw. It's vegan. It's gluten- and nut-free. And it happens to be delicious. Who would suspect that raw, shaved broccoli and cauliflower would pair so nicely with sesame seeds and pepitas? I add a little heat (jalapeño and red pepper flakes), sliced scallions, red onion, and a little dried fruit (dates) for a touch of sweetness. This recipe yields an enormous salad, more than enough for one dinner and lunch the following two days.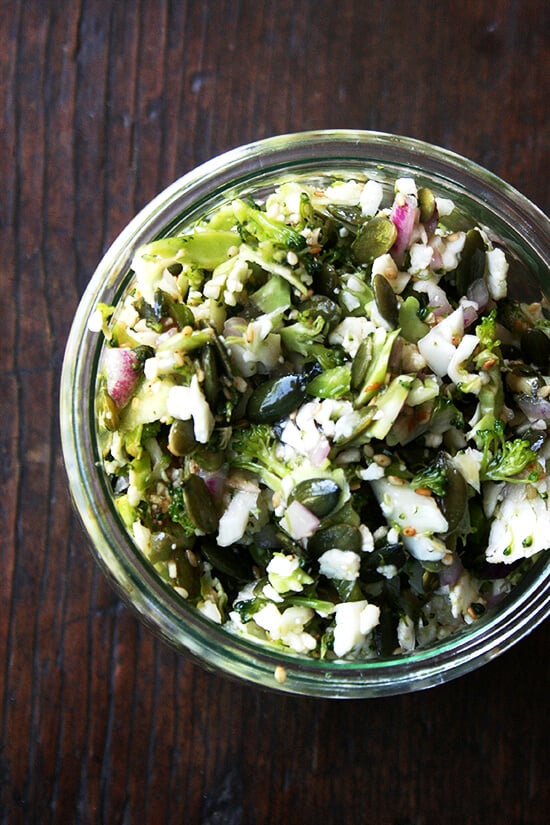 This recipe employs a cabbage-salting technique I learned from The Slanted Door cookbook. It's a simple process: Place cabbage in a large bowl, sprinkle with a small handful of salt, and massage it into the cabbage. Let stand for 15 minutes, then rinse in cold water.
Salting the cabbage draws out some of its moisture, which allows it to better soak up the dressing. It also softens the shreds, which makes it easier to eat. This slaw contains scallions, toasted almonds, and pumpkin seeds, and it's dressed in a very light, miso-carrot dressing. You can use shredded broccoli or cauliflower in this salad.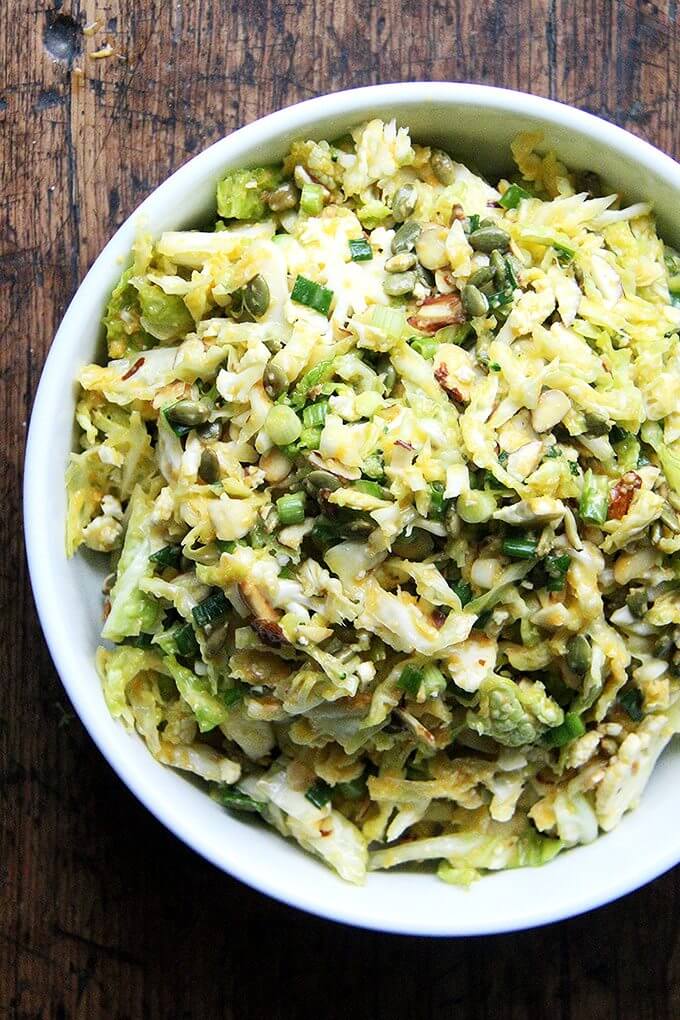 This is my latest, favorite creation: quickly blanched broccoli — florets + stems — dressed in my favorite coleslaw dressing, a mix of buttermilk, sour cream, vinegar, salt and sugar. The addition of quinoa bulks it up, and lots of toasted nuts, seeds, and dried fruit give it the loveliest crunch.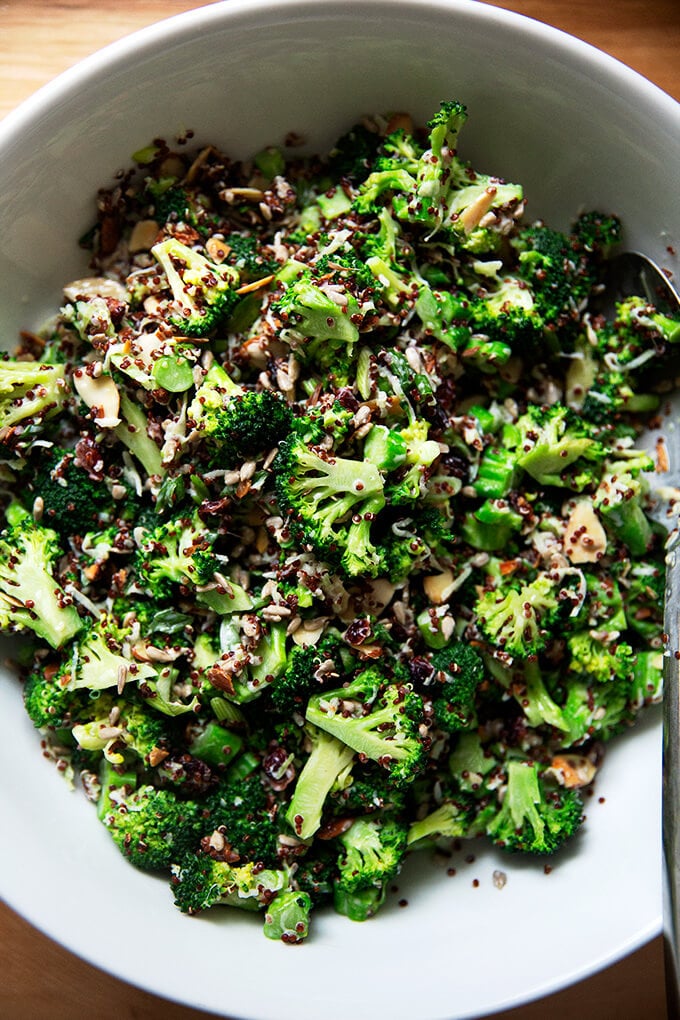 This roasted broccoli salad is dressed with a simple oregano and red wine vinaigrette, and it's mixed with farro, dried cranberries, and crumbled feta — looks and sounds so good!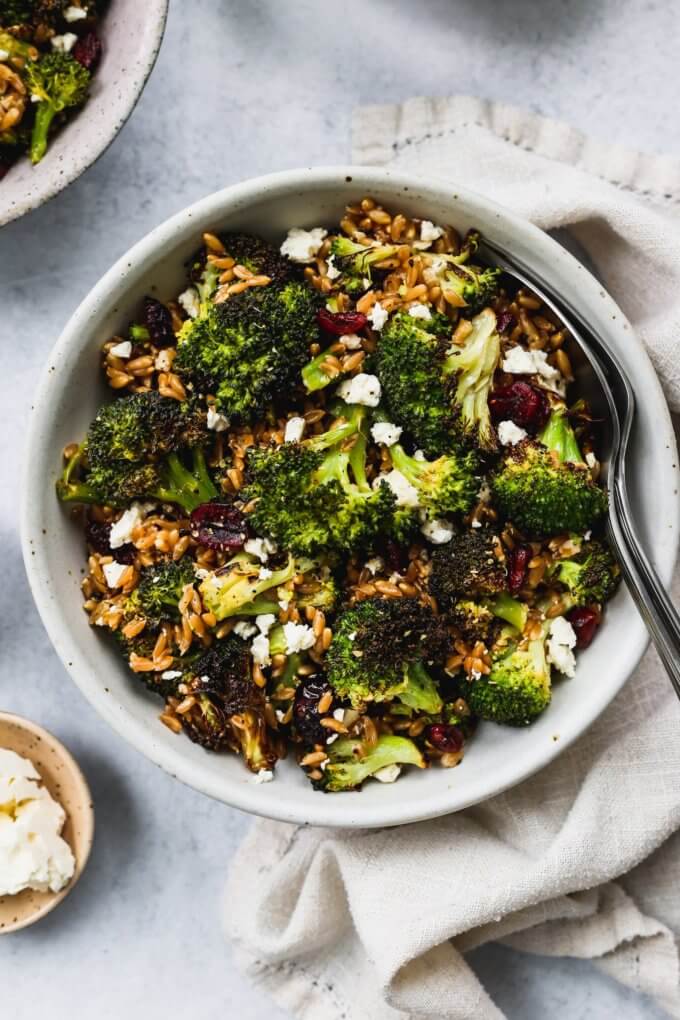 In this Love & Lemons salad, broccoli florets are marinated in a creamy, mustardy dressing along with dried cranberries and tamari-roasted almonds. It's a great packable and portable picnic salad, well suited for make-ahead lunches as well.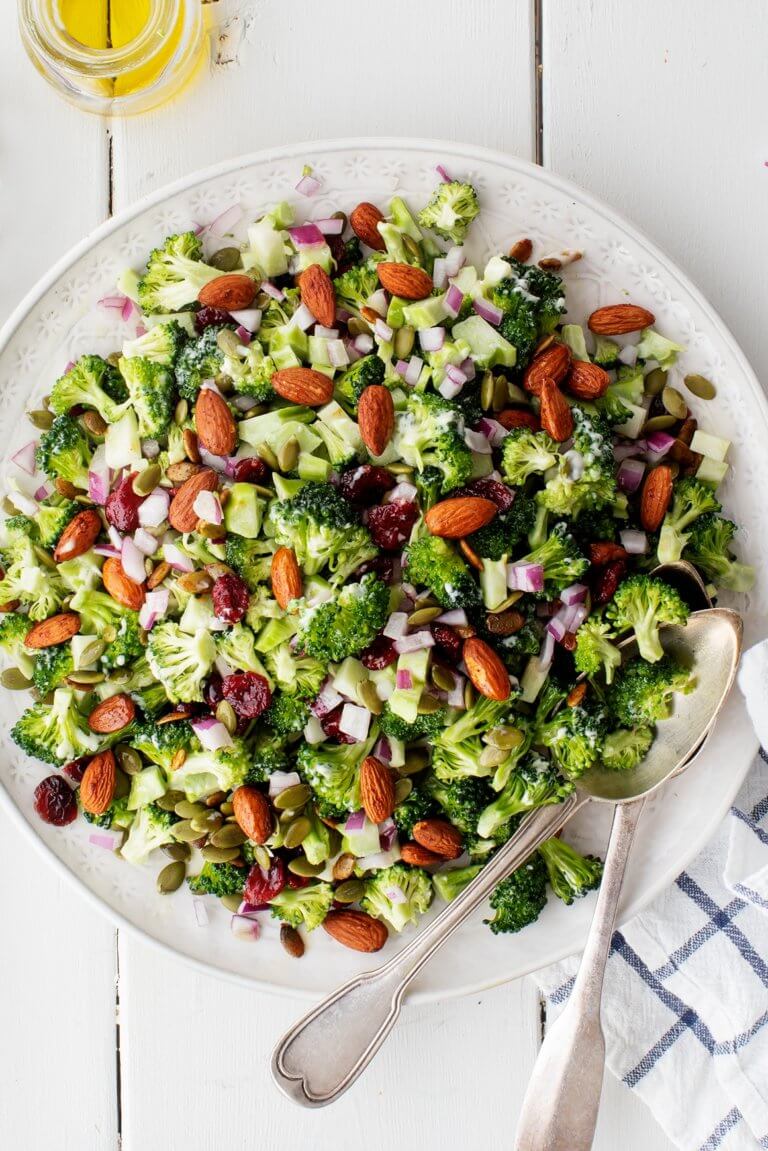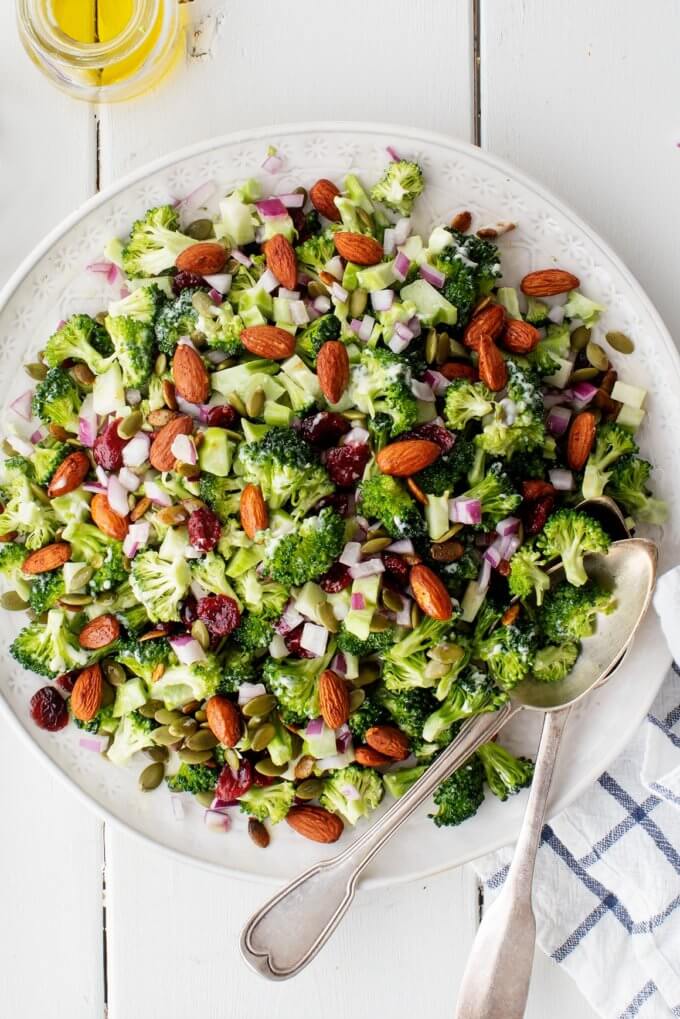 In this Cookie + Kate broccoli salad, raw, chopped broccoli is dressed in a honey-mustard vinaigrette, then mixed with toasted sunflower seeds, dried cranberries, and cheddar cheese.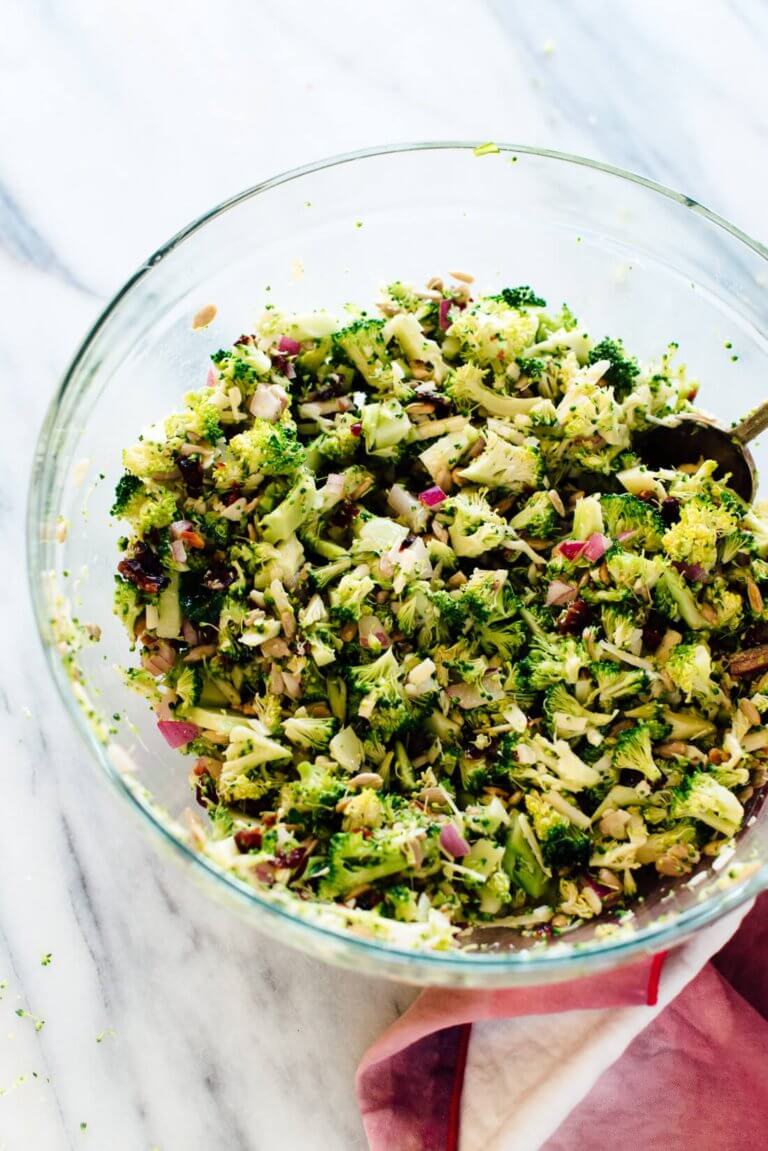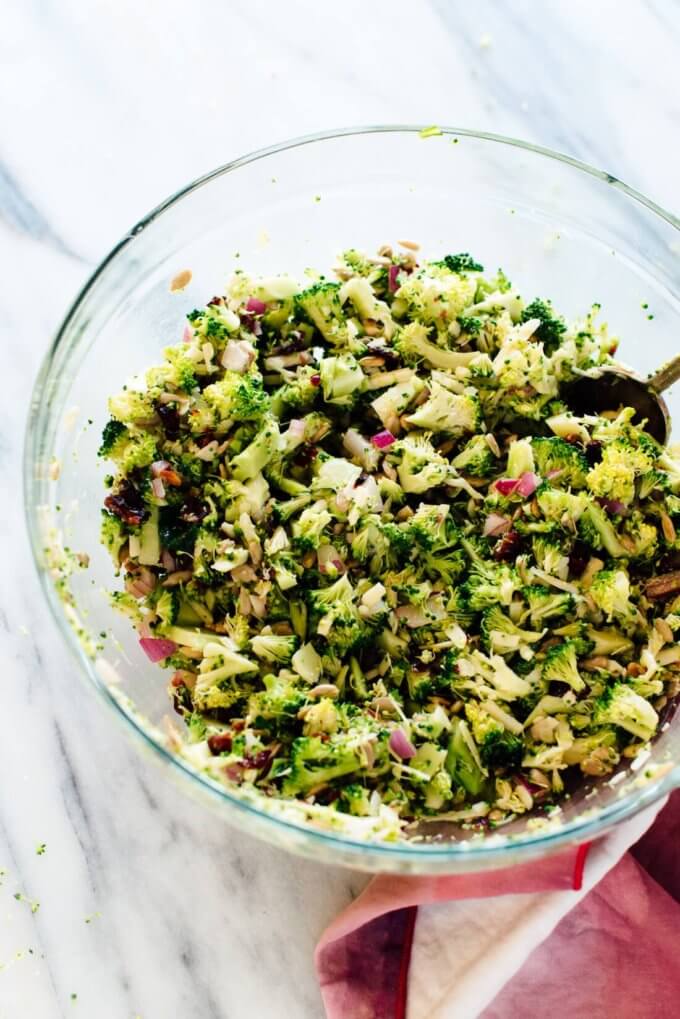 This cold broccoli salad is studded with crisp bacon, diced red onion and chewy raisins, then tossed in a creamy homemade dressing. As noted above, it reminds me so much of the Byerly's salad.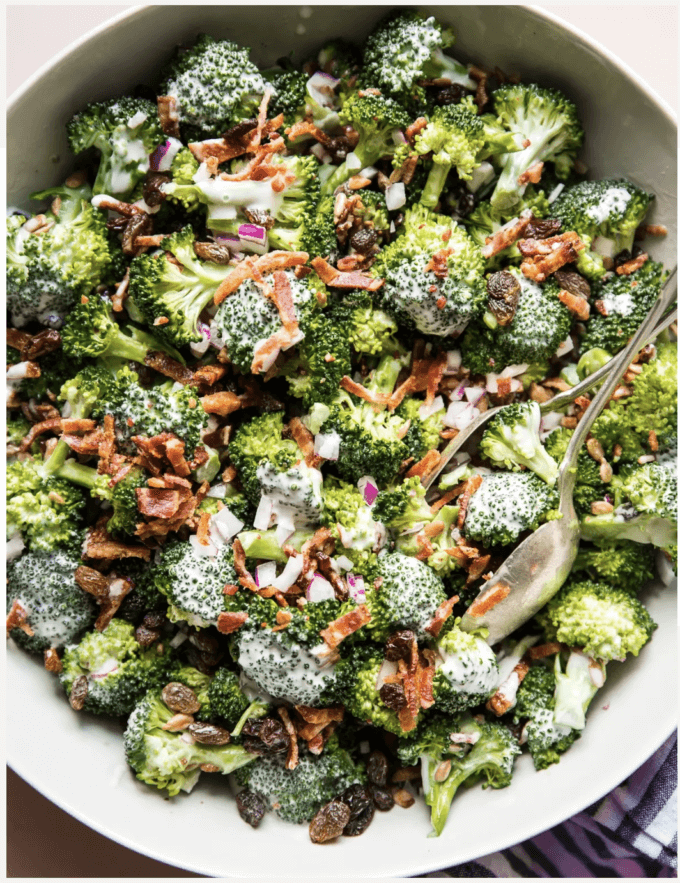 Print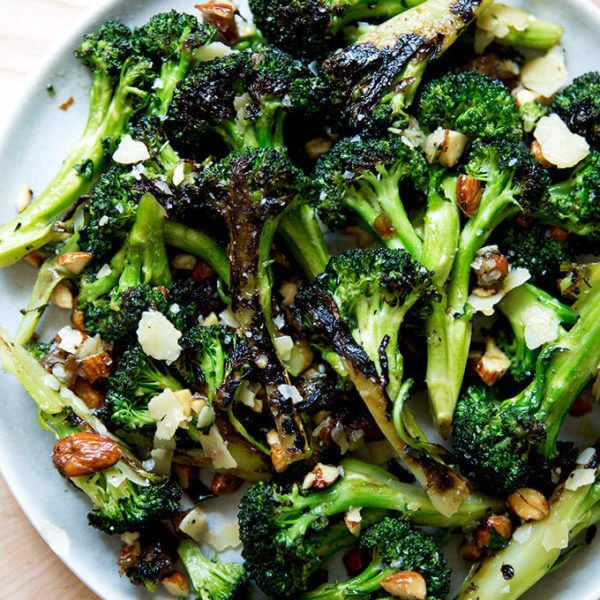 10 Quick & Easy Broccoli Salads: Charred Broccoli Salad
---
Total Time:

22 minutes

Yield:

Serves 4

Diet:

Vegetarian
Description
Adapted from Carla Lalli Music's Where Cooking Begins
Notes: 
As noted in the post above, the broccoli in this salad is pan-seared, which allows the edges to get charred while keeping the stalks/bodies firm. I think you should make the recipe once as directed — the texture may be firmer than you are used to, but I think you'll find it really nice and refreshing as you eat it. If you find it too firm, next time, sear the broccoli for a longer amount of time on the second side.
I find small heads of broccoli work best for this salad.
This is a salad that can be tailored to your liking. Depending on the size of your dates, you may only need 4 or 5. You may find that the honey is unnecessary given the dates provide a nice sweetness. (I always add the honey.)
If you can't find Marcona almonds, regular almonds are fine — I've been using roasted, salted almonds. Other cheeses could work in place of the cheddar, though the cheddar is really nice.
---
2

to

3

small broccoli heads, 1.25-1.5 lbs.
extra-virgin olive oil
kosher salt
freshly ground pepper

1 tablespoon

vinegar, such as apple cider or white balsamic, plus more to taste

1 teaspoon

honey or maple syrup, plus more to taste
nice flaky sea salt, such as Maldon, for finishing

5

to

6

Medjool dates, pitted and roughly chopped

1/2 cup

salted Marcona (or other) almonds, roughly chopped

2 ounces

aged or sharp cheddar, shaved with a vegetable peeler
---
Instructions
Trim woody ends from broccoli stalks, then cut heads away from stems. Peel stems and halve lengthwise. Cut broccoli heads in half through the crown to create two lobes (don't separate into florets).
Heat a large skillet over medium-high heat. Add 2-3 teaspoons oil to pan. Place broccoli in skillet cut side down. Season all over with salt and pepper to taste. Cook undisturbed for about 5 minutes or until the undersides are well browned but broccoli is still crunchy — a cake tester should meet firm resistance when inserted into thickest part of stem.
Turn heads over onto floret size for a minute, just to lightly brown rounded sides, then transfer to a cutting board.
When cool enough to handle, cut broccoli heads and stems into 1/4-inch (or slightly larger) slices and transfer to a large serving bowl. Add the vinegar, 1 tablespoon olive oil and the honey. Season generously with sea salt. Toss. Taste. Adjust seasoning with more olive oil, vinegar, and salt to taste — I've consistently been adding at least another tablespoon each of oil and vinegar. And I find the broccoli can really handle the sea salt, so don't be shy — salt till it tastes good.
Add the almonds and dates and toss again. Add the cheddar and toss one final time. Serve immediately or let stand for hours before serving. This salad gets even better as it sits — the dates, almonds, and cheddar soak up the dressing, while the broccoli remains firm (while also absorbing the flavors of the dressing). This is a salad to be eaten with a knife and fork.
Prep Time:

15 minutes

Cook Time:

7 minutes

Category:

Salad

Method:

Stovetop
Keywords: broccoli, dates, charred, salad, cheddar, almonds
This post may contain affiliate links. Please read my disclosure policy.