Split Pea and Ham (or not!) Soup
This post may contain affiliate links. Please read my disclosure policy.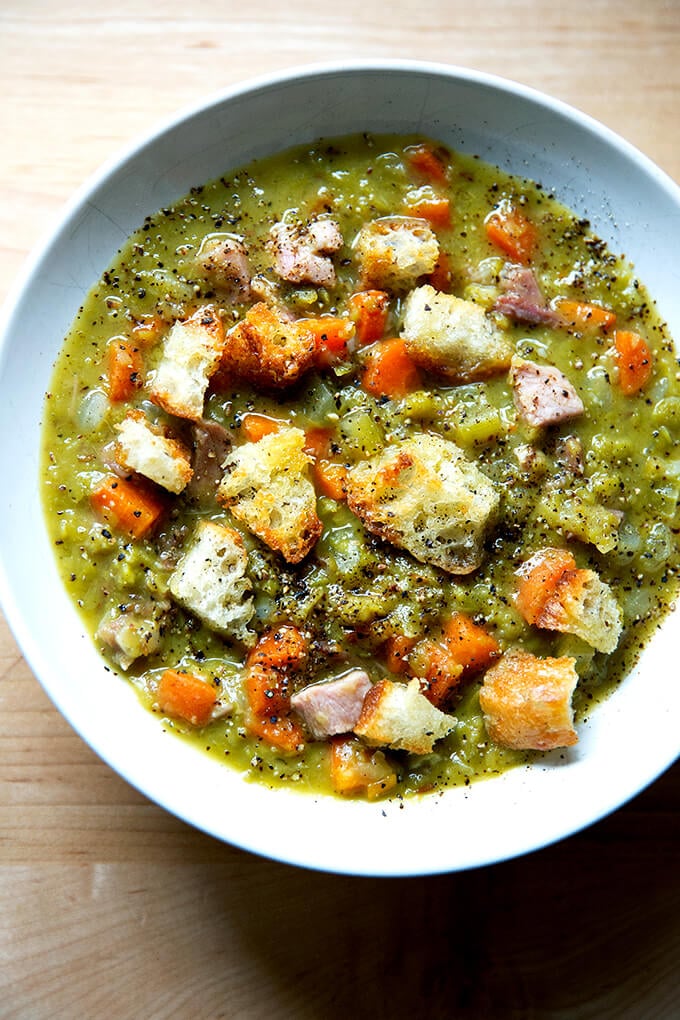 My mother emailed this split pea soup recipe to my siblings and me in December 2011. She wrote: "Hello Children. Here is a quick and easy recipe that I haven't made for years. Very filling and cheap to make. Does not need stock. xo"
Over the years, more often than not, I've made this soup as instructed, without a ham bone and with water alone (as opposed to stock). Every time I make it, I am amazed by the result, by how such basic ingredients — carrots, onions, celery, split peas — can simmer into something so tasty.
I am also always amazed, as my mother noted: by how incredibly FILLING this soup is. Split peas, like lentils, seem to expand in the tummy slowly, all at once leaving you completely full — sometimes uncomfortably so — for hours.
As much as I love the vegetarian version of this soup, it is particularly delicious when made with a leftover holiday ham bone. Whether you use a ham bone or not, the process is still the same: sweat carrots, onions, and celery with a pinch of cumin; add split peas, water, and a bay leaf; simmer until the split peas break down completely, thickening the broth into a stewy, hearty mass.
Many split pea soups call for puréeing, but not this one. Here, the split peas mostly dissolve forming a coarse foundation with specks of carrots and ham bobbing throughout. I like serving it with toasty olive oil croutons, which provide more texture and crunch. Lots of pepper is a must.
A few notes follow:
To Soak Green Split Peas or Not
I have been using Bob's Red Mill green split peas, which do not require soaking and which have consistently been cooking fully in about 45 minutes.
Most split peas (like lentils) do not require soaking, but if you are unsure or if you have had trouble in the past with your split peas not softening in a timely manner, I would soak them to ensure they don't take hours to cook. This soup simmers for about 45 minutes, long enough for the split peas to break down completely, but not so long that all of the vegetables turn to complete mush.
To soak, simply cover the split peas with water by at least an inch, and let soak for at least 4 hours but preferably overnight.
Whether you soak or not, split peas should be rinsed, simply to remove dust or dirt. You can also soak them in water to pick them over for stones, but the chances of finding one are slim.
What If I Don't Have a Ham Bone?
No problem. Simply leave it out. Because the ham bone and any meat clinging to it will impart the soup with both flavor and salt, you'll need to season the soup more generously with salt. You also could use vegetable stock in place of the water, though it's truly delicious when made with water alone.
Alternatively, if you didn't make a ham, but want that same smokiness, you can buy a ham hock or two from most supermarkets.
How to Make Split Pea and Ham Soup
Gather your ingredients: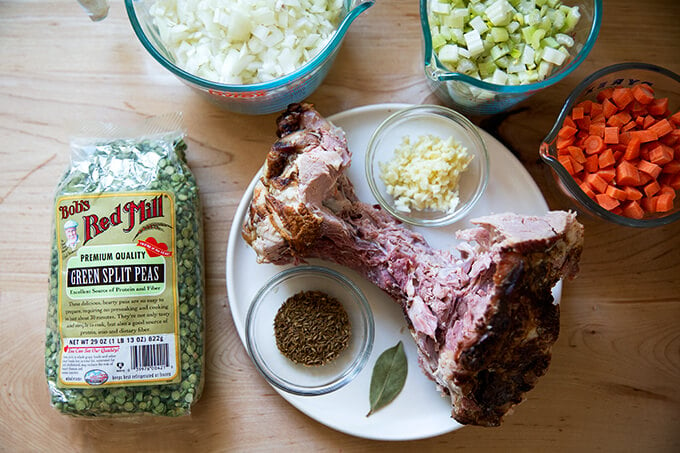 Start by heating olive oil, onions, carrots, celery, and cumin seeds or ground cumin in a large pot: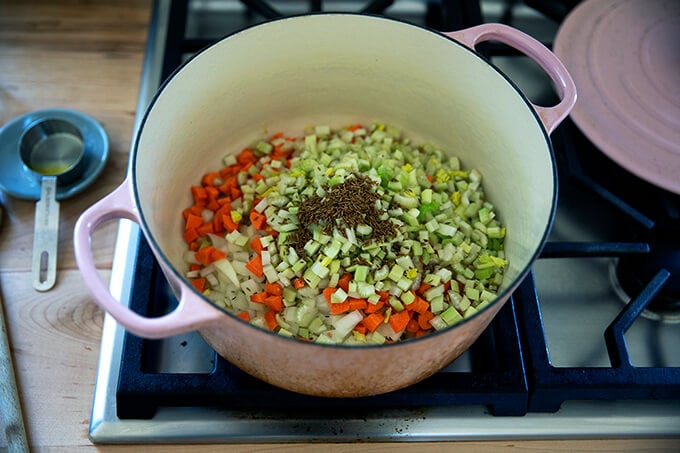 Cook covered over low heat for 15-20 minutes: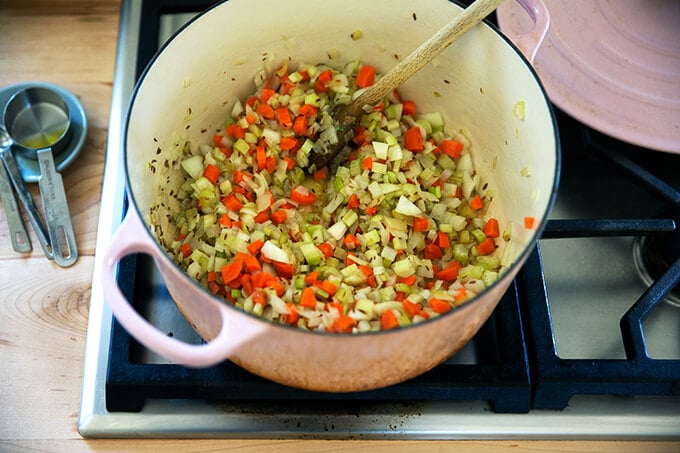 Uncover the pot and add minced garlic.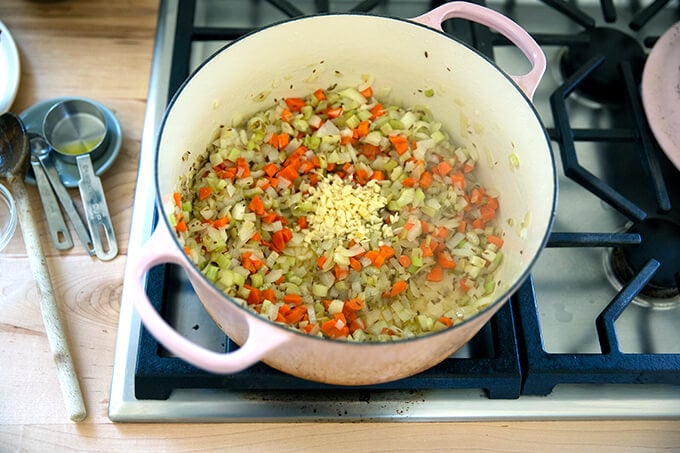 Add a ham bone (if using) and a bay leaf.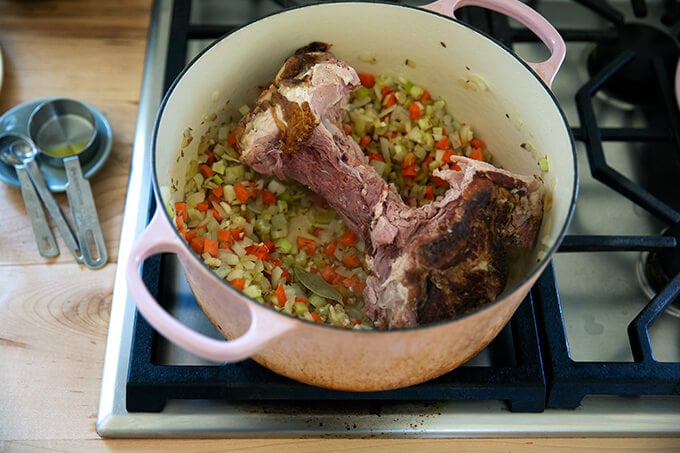 Rinse and drain your split peas. (Incidentally, one of you recommended this Inomata Japanese Rice Washing Bowl, and I use it ALL the time. Love it. Thank you.)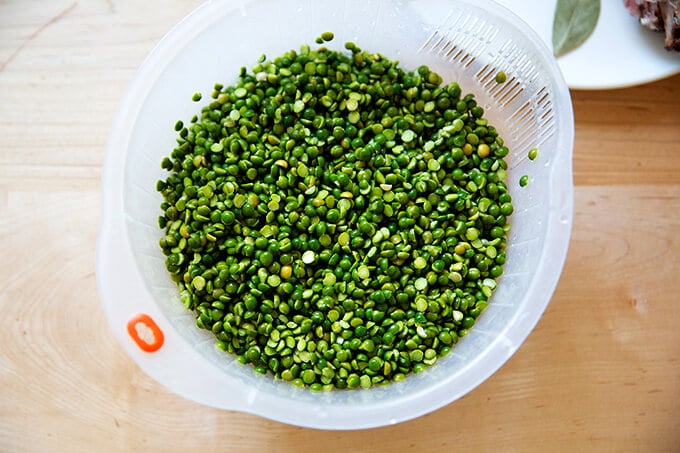 Add the drained split peas to the pot.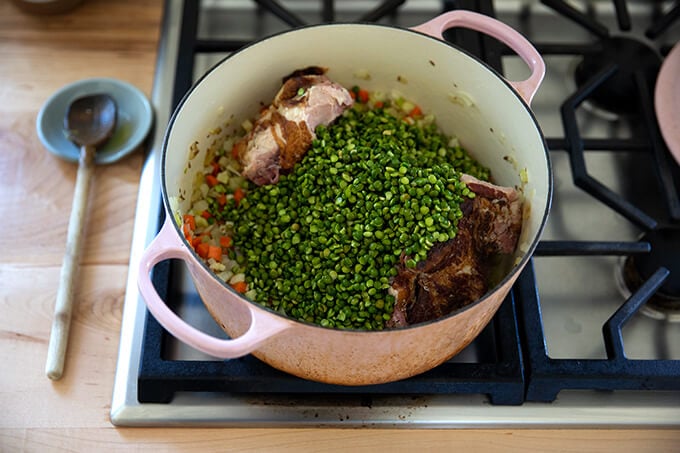 Cover with water, 8 to 10 cups.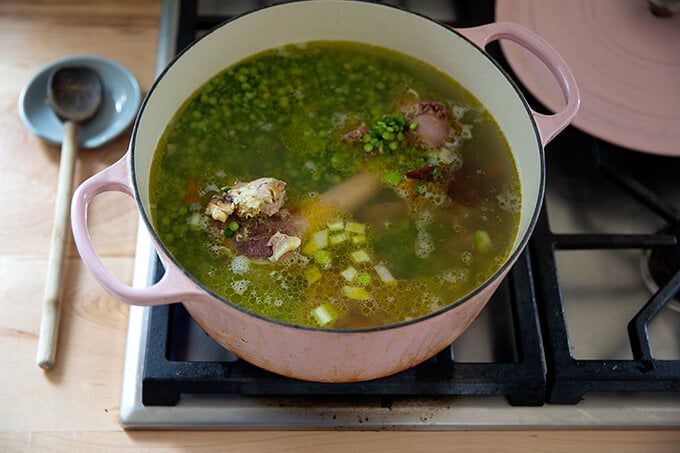 Simmer for about 45 minutes or until the split peas are completely cooked and have broken down.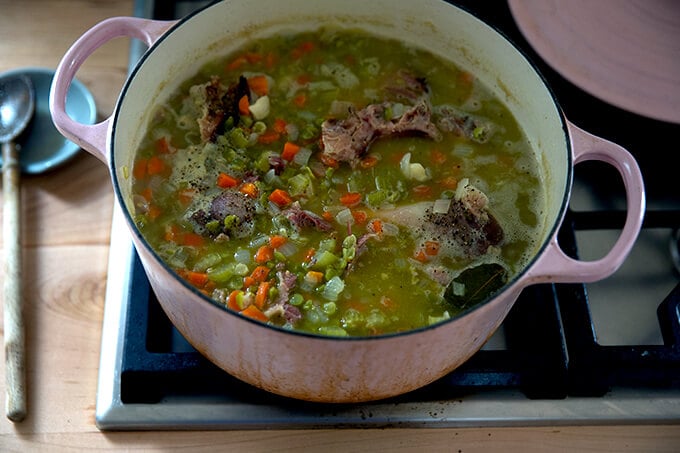 Remove the bone and any large hunks of meat.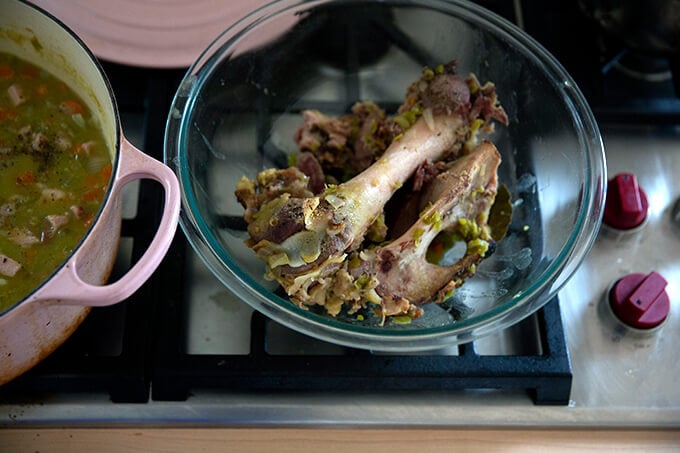 Chop up the meat, and add it back to the pot.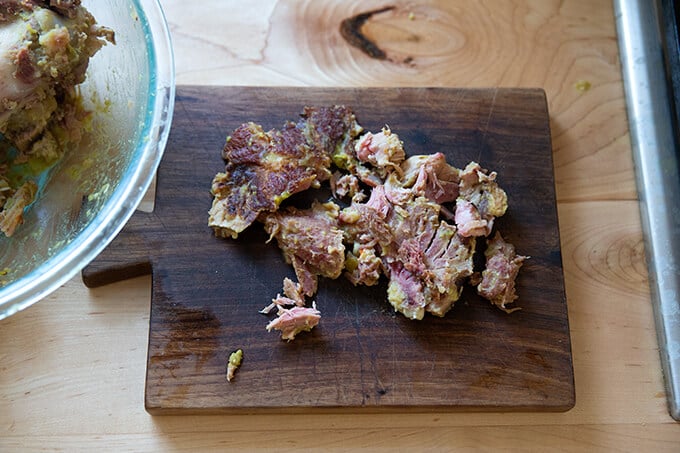 Season with pepper to taste. I love this one very peppery.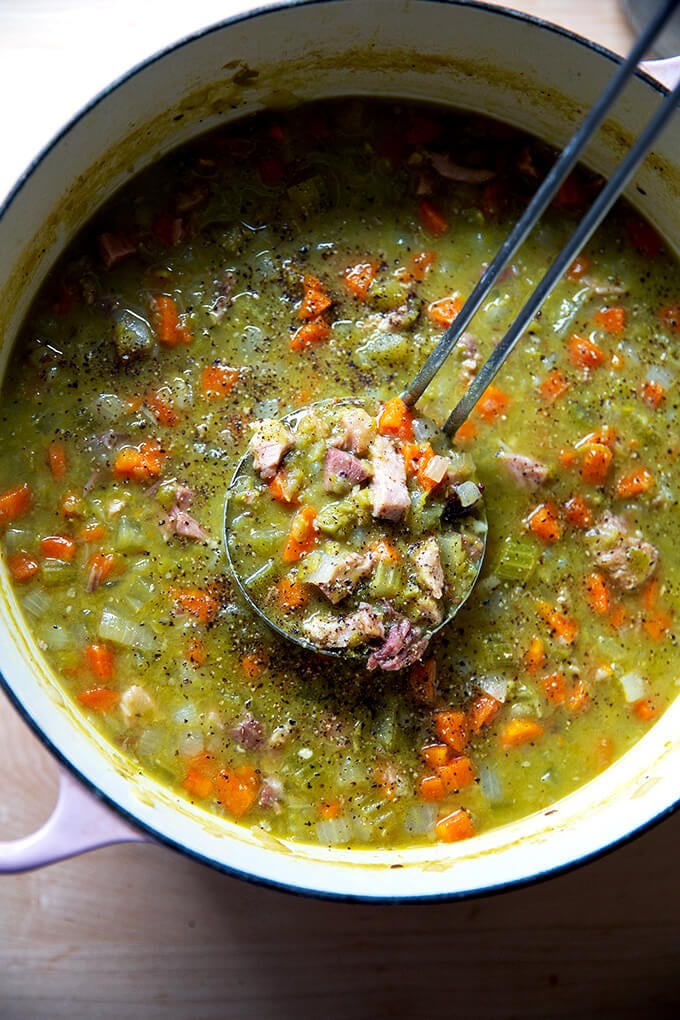 Top with Croutons!
Cube up some old bread. This is stale focaccia.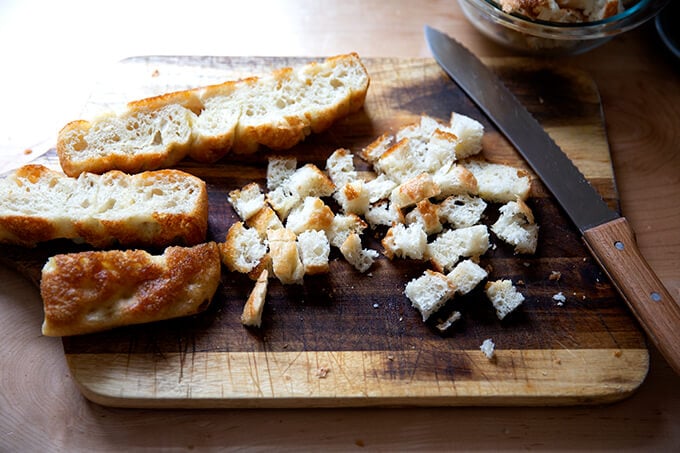 Toss it with olive oil, season with salt, and transfer it to a sheet pan. A good rule of thumb: use 1/4 cup olive oil for 3/4 lb. bread.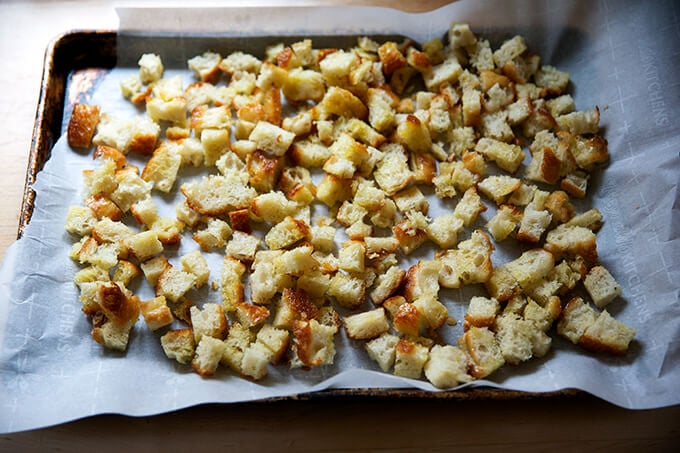 Transfer to a 425ºF oven for 10-15 minutes or until golden to your liking.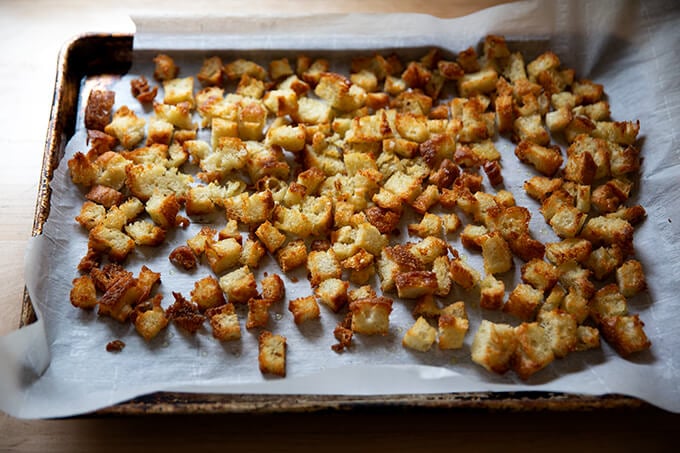 These croutons are irresistible on their own…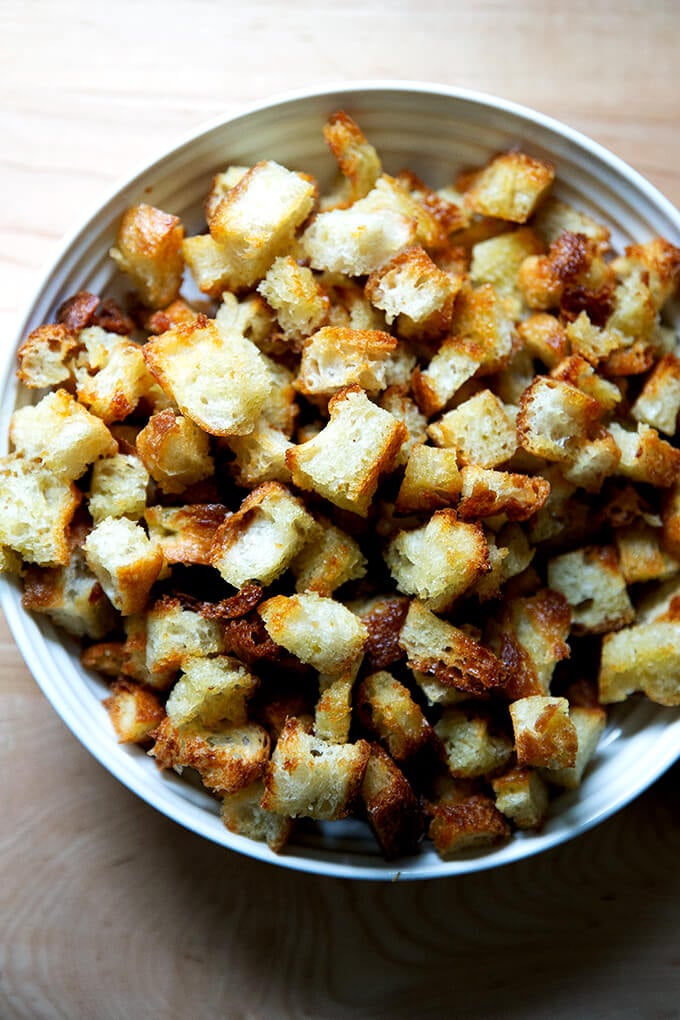 … but especially delicious dunked into soup.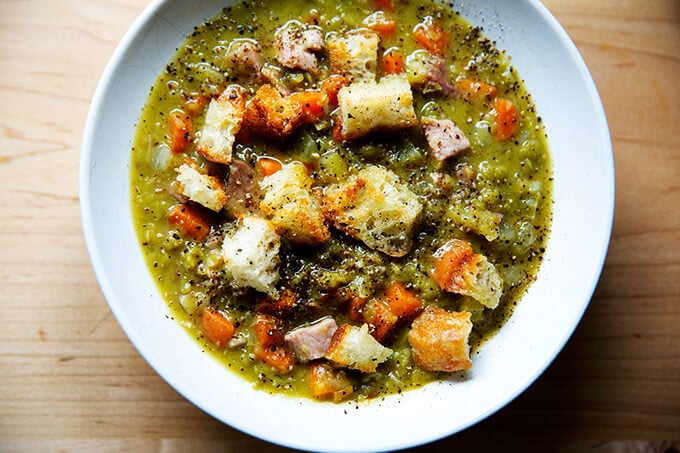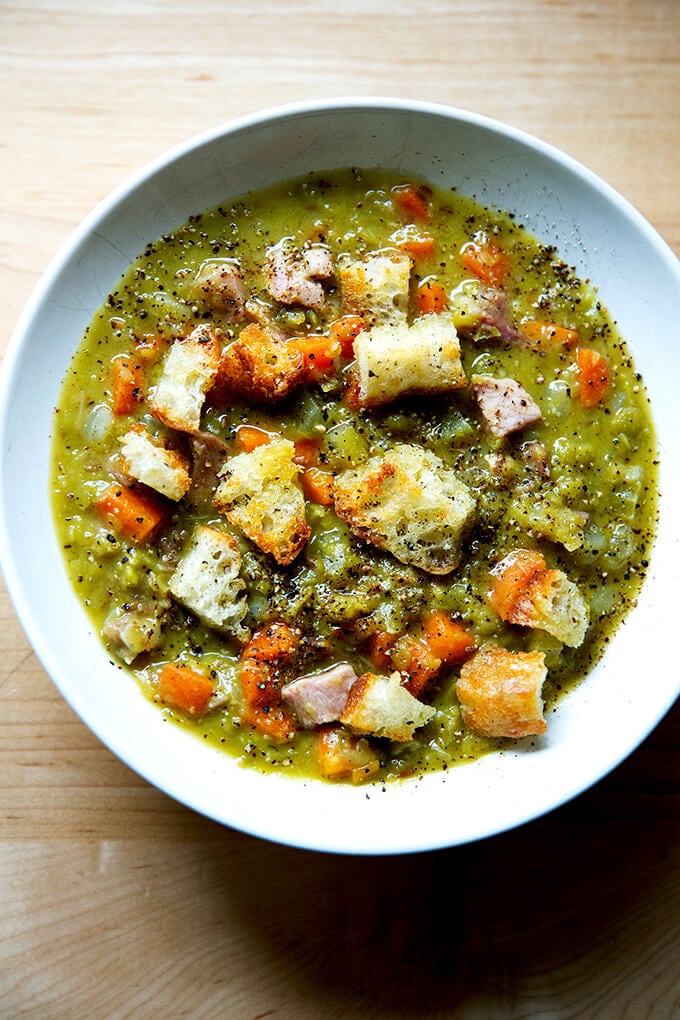 Print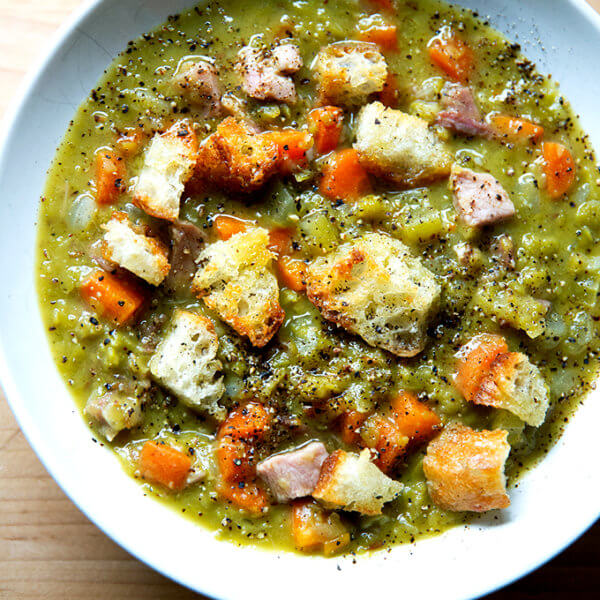 Split Pea and Ham (or not!) Soup
---
Description
This is a very basic recipe for split pea and ham soup. My mother sent me the recipe years ago, and in her version, there is no ham, so this easily can be made vegetarian. To do so, simply omit the ham bone and the diced ham, and be more generous with the salt. Water works just fine, but if you prefer using vegetable broth, that will work, too. 
Green Split Peas: Some green split peas may require soaking to allow them to cook in a timely manner. I have been using the Bob's Red Mill brand, which require no soaking, and they cook fully in about 45 minutes of simmering. Check the instructions on whatever bag you are using — most split peas do not require soaking — but some might, anywhere from 4 to 6 hours to overnight. 
To freeze: Transfer soup to quart containers and freeze for up to 3 months. 
---
1/4 cup

olive oil

4 cups

diced onions, from 2 medium to large

1.5

to

2

cups diced carrots

1

to

1.5

cups diced celery

1 tablespoon

cumin seeds or

2 teaspoons

ground cumin
kosher salt to taste

1

to

2

cloves garlic, minced

1

ham bone, if you have it, or

1

ham hock, see notes above if making without

1

bay leaf

1

lb. split peas (about

2

heaping cups), rinsed, see notes above

8

to

10

cups water, plus more as needed

1

bay leaf
fresh cracked pepper to taste

2 cups

diced ham, optional
---
Instructions
In a large pot, heat the oil over high heat. When it shimmers, add the onions, carrots, celery, and cumin seeds or ground cumin. Season with a pinch of kosher salt. Give it a stir. Turn heat to low. Cover and cook for 15 to 20 minutes or until vegetables have lost their firmness and have softened a bit.
If you haven't rinsed your split peas, do that now. Let drain in a sieve.
Uncover the pot, add the garlic, and cook for about a minute. Add the ham bone, bay leaf, and split peas. Add 8 cups of water. Season with a pinch of salt. Bring to a boil; then lower heat so that everything is just simmering. Check the soup at 30 minutes and give it a stir. You likely will need to add more water. I consistently add at least 2 more cups of water. Season generously (if you wish) with pepper.
Cook for at least 15 minutes more (roughly 45 minutes total, though depending on your split peas, it may take more or less time). Taste. It's done when the split peas have totally broken down. Add salt to taste. (Note: Depending on your ham bone, you will need to add more or less salt, so taste the soup, and add salt as needed to ensure it is seasoned to your liking.)
Remove the ham bone. Retrieve any large hunks of meat that may have fallen into the soup off the ham bone. Remove any pieces of meat clinging to the ham bone. Dice up the ham and add it back to the soup. If it wasn't a particularly meaty ham bone, you may want to add more diced ham to the soup — it's totally up to your tastes and preferences — it's delicious without ham; it's delicious with ham.  Once the ham has been added, give it a stir, and one final taste. Season with salt and pepper to taste.
To make croutons: Dice up 3/4 pound bread (roughly). Place in a bowl. Toss with about 1/4 cup olive oil and season with salt to taste. Toast in the oven at 425ºF for 10-15 minutes or until golden to your liking. 
Serve soup topped with croutons or with bread on the side. See notes above for freezing. 
Prep Time:

25 minutes

Cook Time:

45 minutes

Category:

Soup

Method:

Stovetop

Cuisine:

American
Keywords: split pea, ham, soup, ham bone, cumin
This post may contain affiliate links. Please read my disclosure policy.