Baked Feta with Cherry Tomatoes
This post may contain affiliate links. Please read my disclosure policy.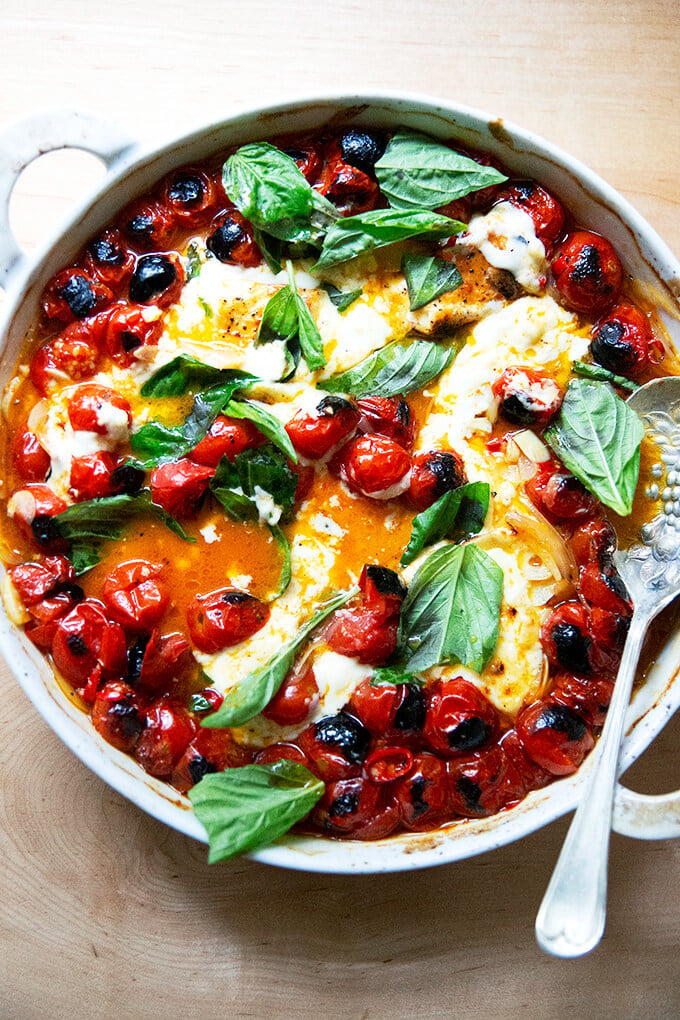 Last Sunday evening, I had planned to make Yotam Ottolenghi's hot charred cherry tomatoes with cold yogurt. The recipe had been popping up everywhere, from the LA Times and various newsletters and blogs to actual real humans recounting their new favorite recipe.
But when I realized I didn't have half the called-for spices and only half the called-for yogurt, I turned to another popular recipe: baked feta pasta. Maybe you've heard of it?
No? Well, it's a recipe, I've learned, that's been on the web since 2018, but only gained traction earlier this year thanks to a few TikTokers (is that what they're called?) with large audiences. In short, you bake a block of feta cheese with cherry tomatoes and olive oil; then, when everything is all melty and blistered, you throw pasta into the pan and toss everything together.
I never got around to making the dish when it was traversing the web in January and February, and I still haven't made it in its entirety — instead of tossing the baked cheese and tomatoes with pasta, I've been plopping the dish on the table and serving warm focaccia on the side.
It is, as you might imagine, incredibly delicious. Given its viral reception, this shouldn't have been a surprise, but it was — I think I tend to approach viral recipes with skepticism because they feel more gimmicky than good.
But, Friends! This is really good. Maddeningly good! Have you made it? Did you know Finland nearly ran out of feta due to the recipe's popularity? It's true!
When I made the dish last Sunday, I served it aside chicken souvlaki, and while I usually can't imagine serving chicken souvlaki without tzatziki, this dip subbed in just fine. I had a hard time not eating every bite of chicken with a spoonful of the feta dip and an even harder time refraining from just. one. more. piece. of. tomato-feta-sopped bread.
Friends, I almost didn't post this recipe because, well, I sort of feel like it's very old news at this point. But I'm taking the risk and hoping the viral TikTok recipe maybe escaped your radar or maybe didn't move you to make it when you learned about it.
If you are still getting good cherry tomatoes — we are up here — let this be the last tomato recipe you make this season. You won't be disappointed.
How To Make Baked Feta with Cherry Tomatoes:
Gather your ingredients: cherry tomatoes, feta, and, if you wish, garlic, shallots, and chilies.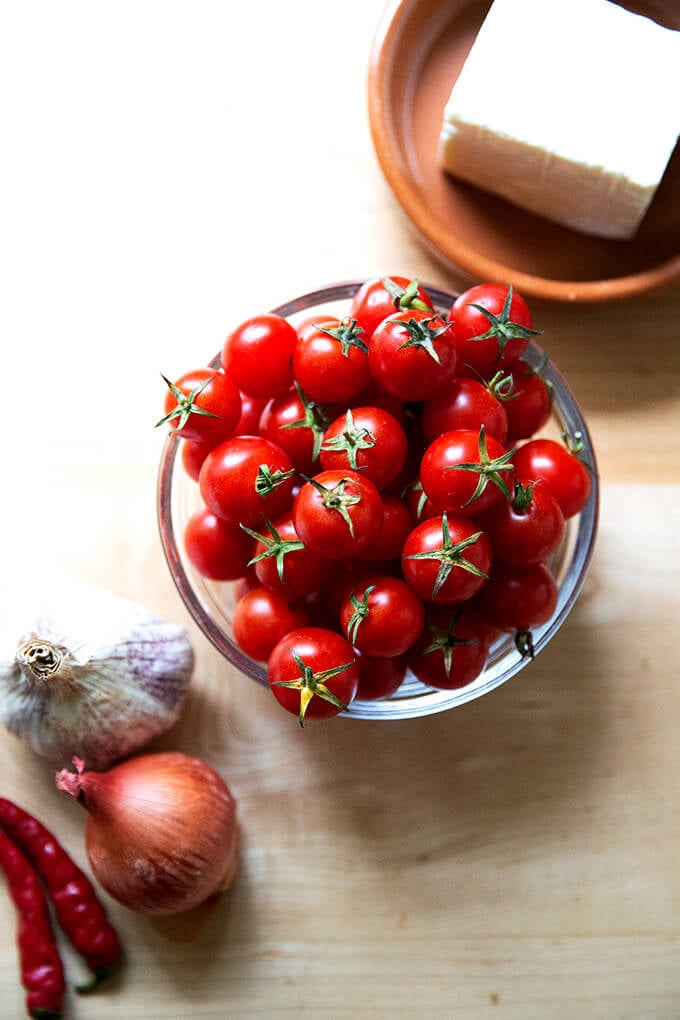 Slice four cloves of garlic thinly. Slice two chilies thinly. Alternatively, use a pinch of crushed red pepper flakes.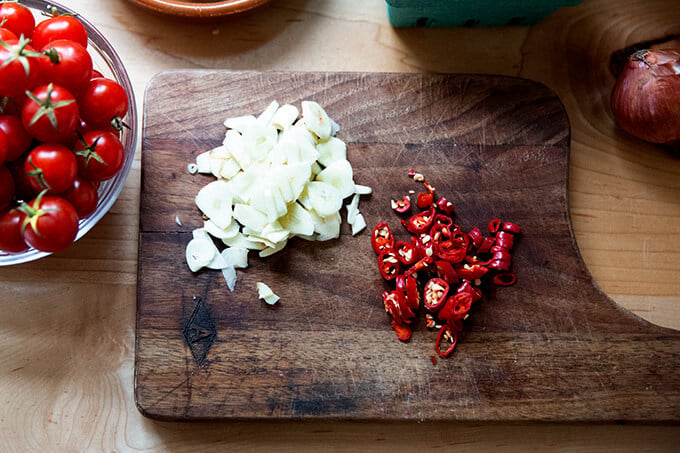 Slice the shallot thinly.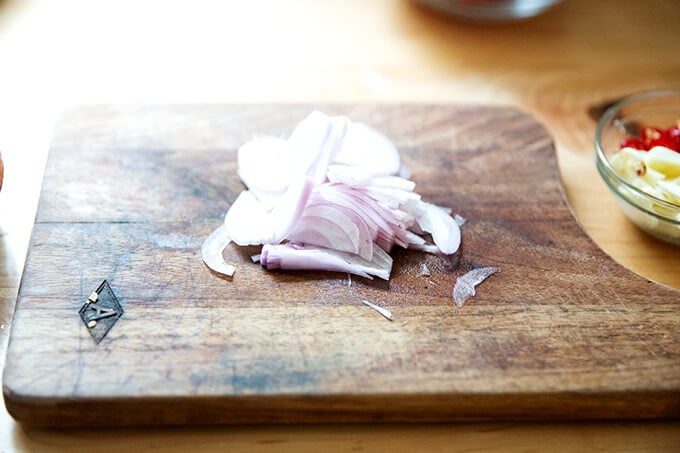 Pour 2 tablespoons olive oil into a baking dish. Top with the tomatoes, shallots, garlic, and a pinch of salt and pepper. Toss to coat.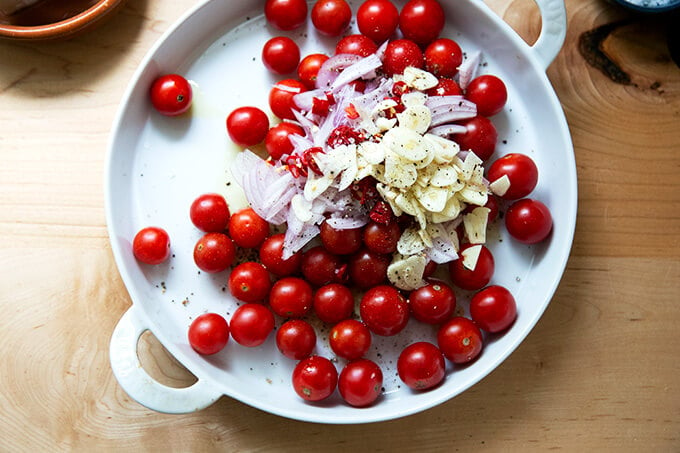 Add the feta. Drizzle 2 more tablespoons of olive oil over top, and crack more pepper to taste over top as well.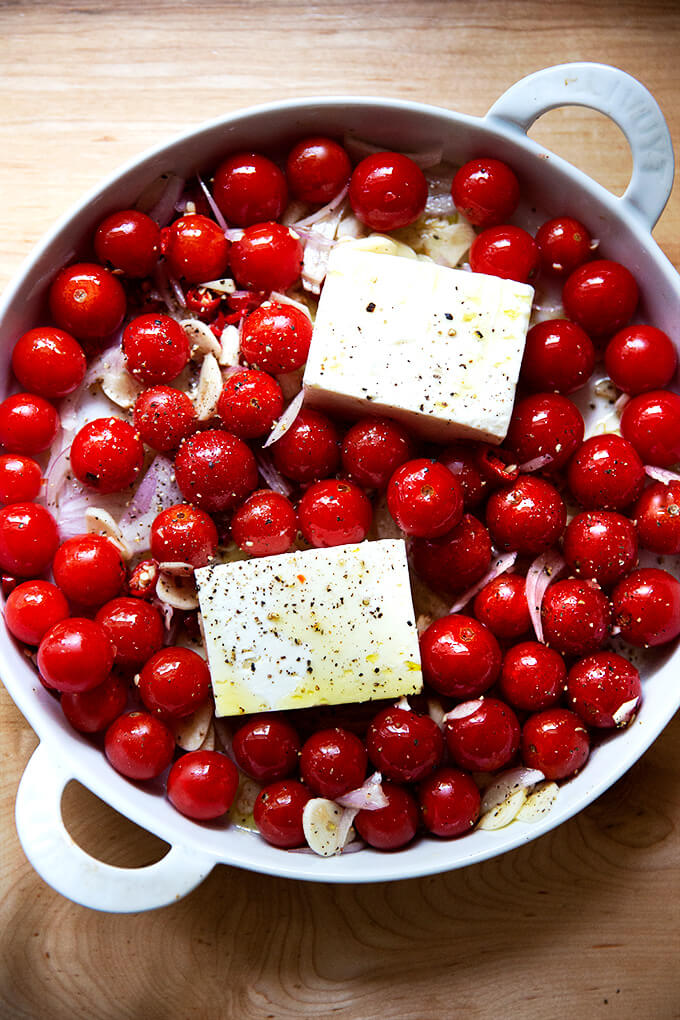 Bake at 400ºF for 20 minutes…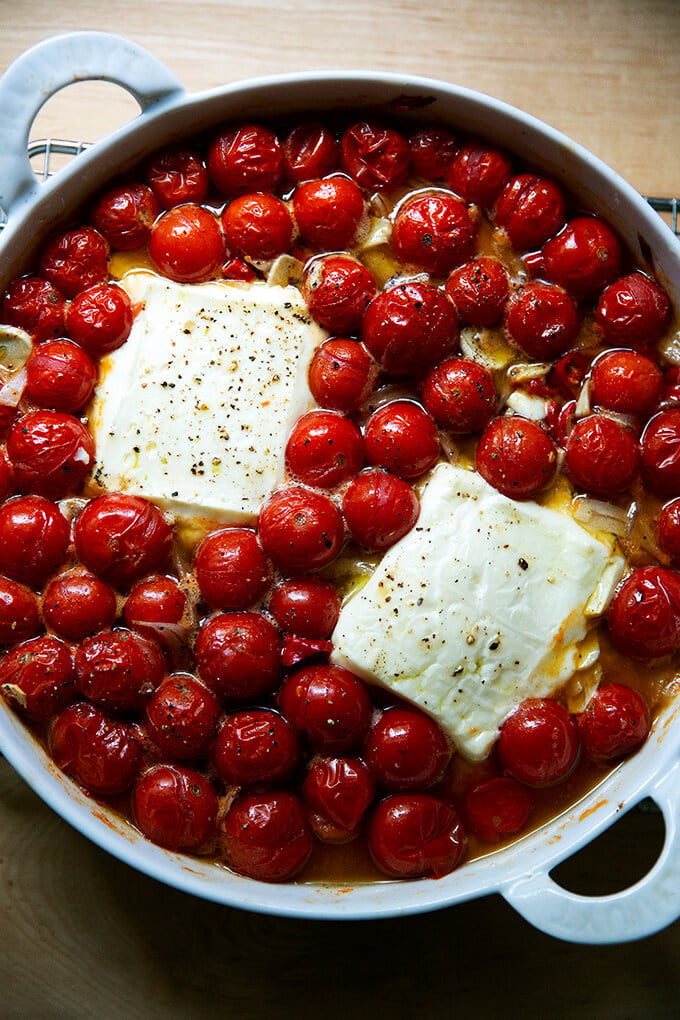 … then transfer to the broil for 5 minutes.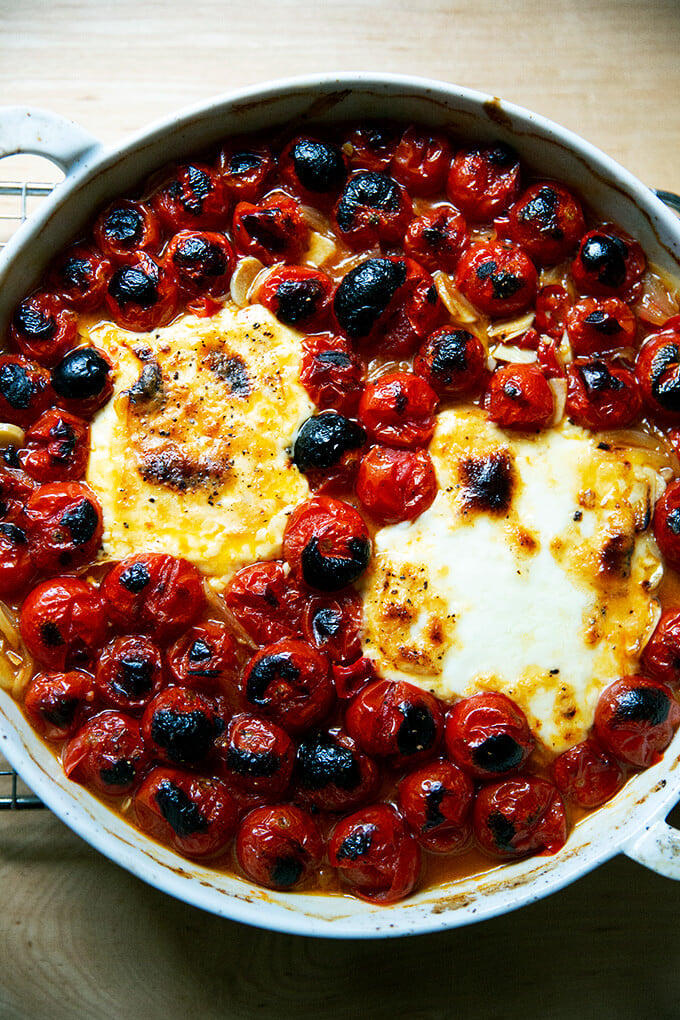 Add a handful of basil: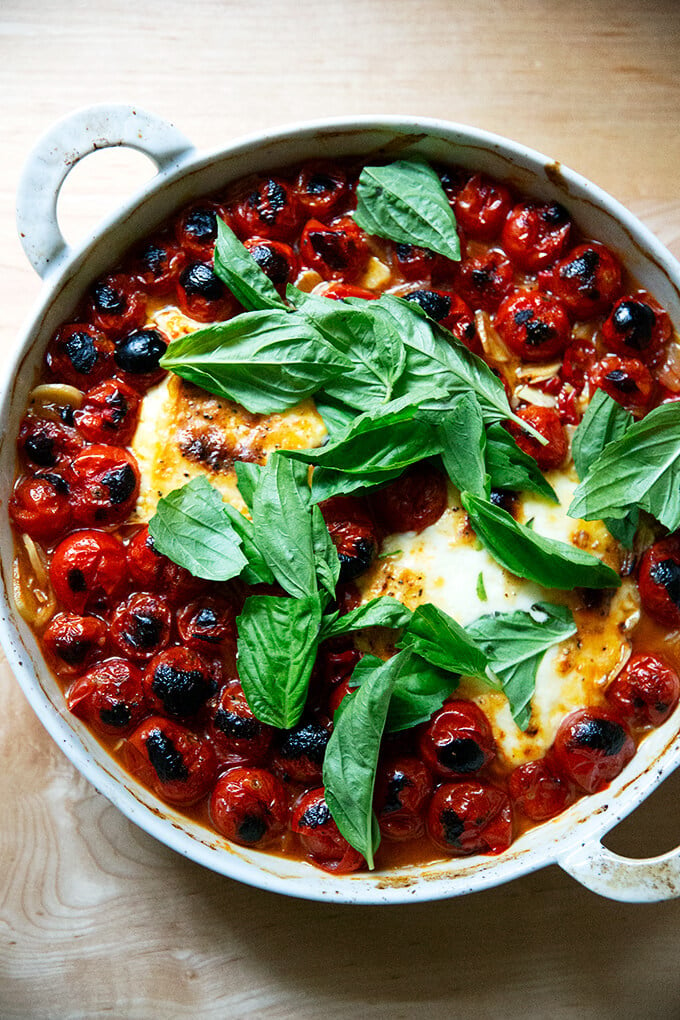 Stir to combine.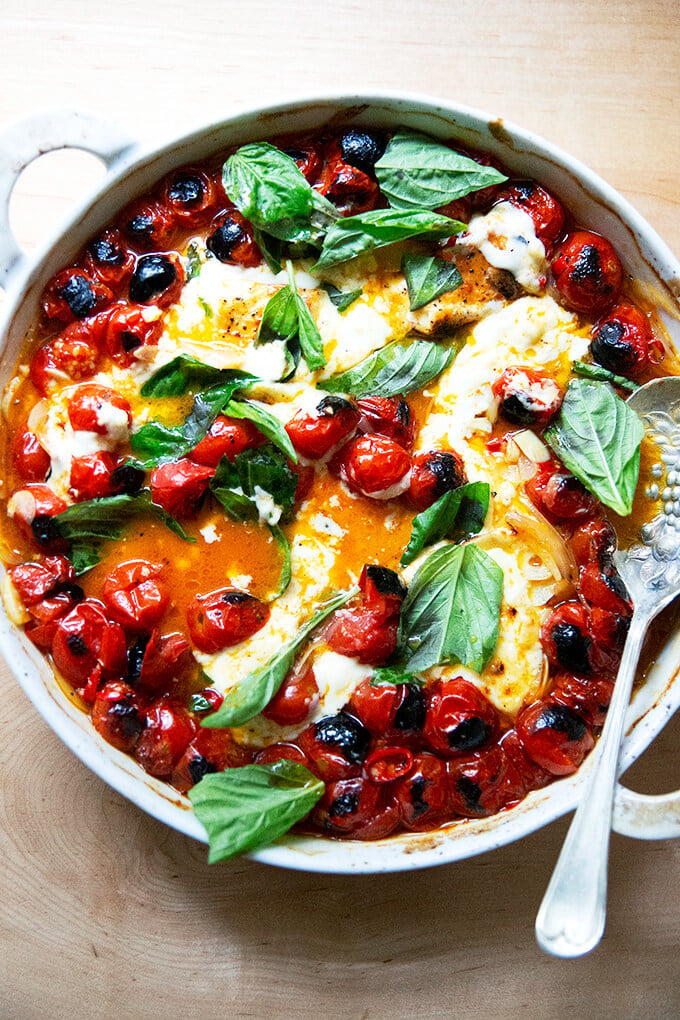 Serve with warm bread: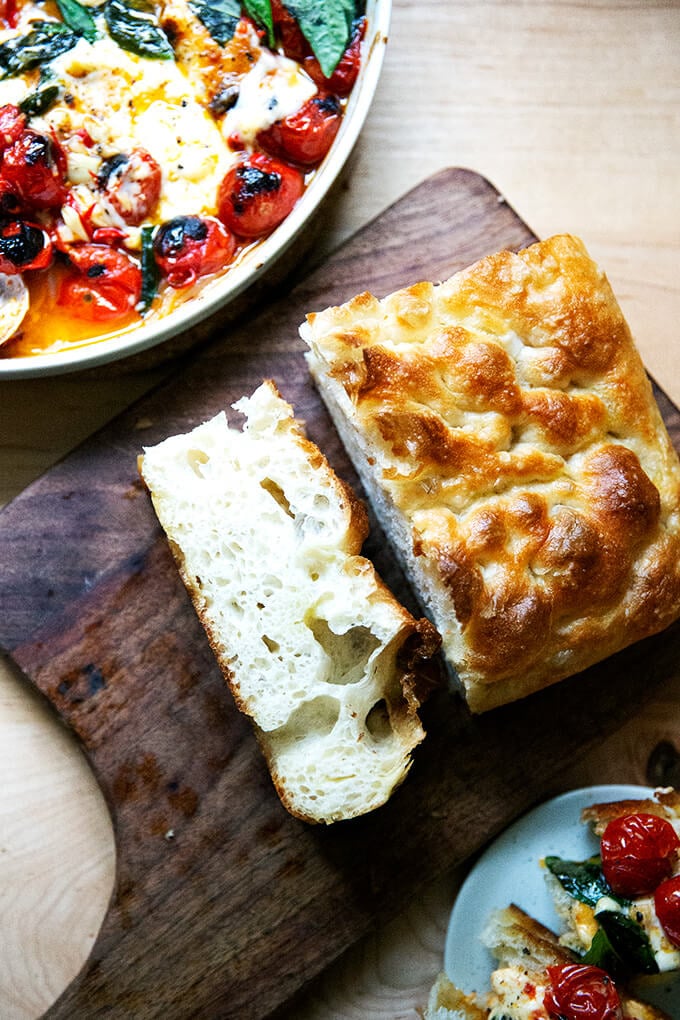 This is heaven, truly.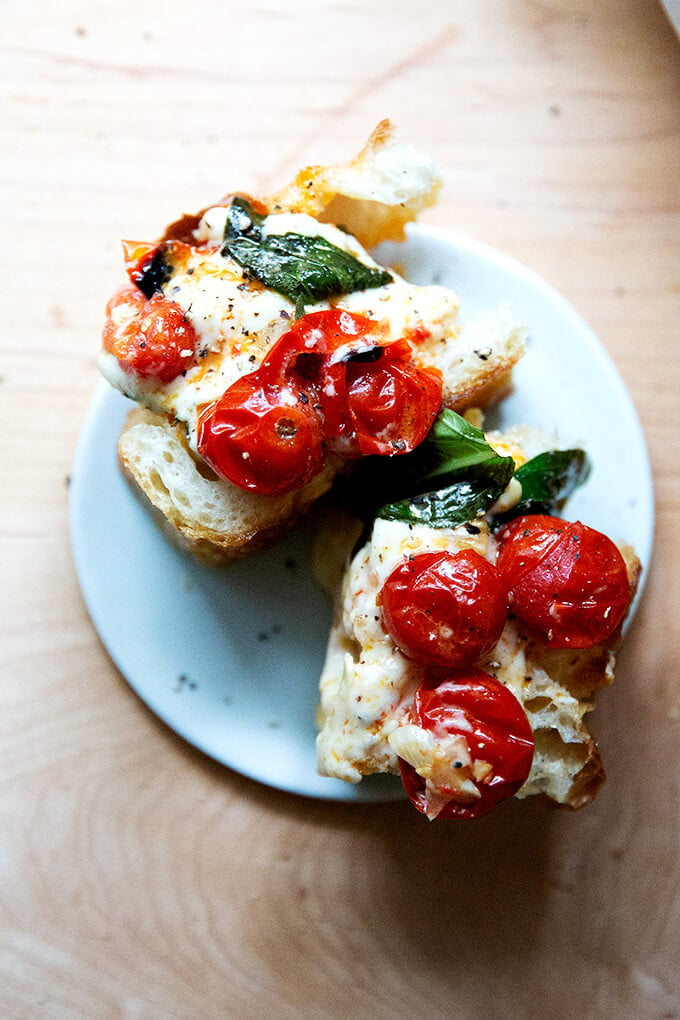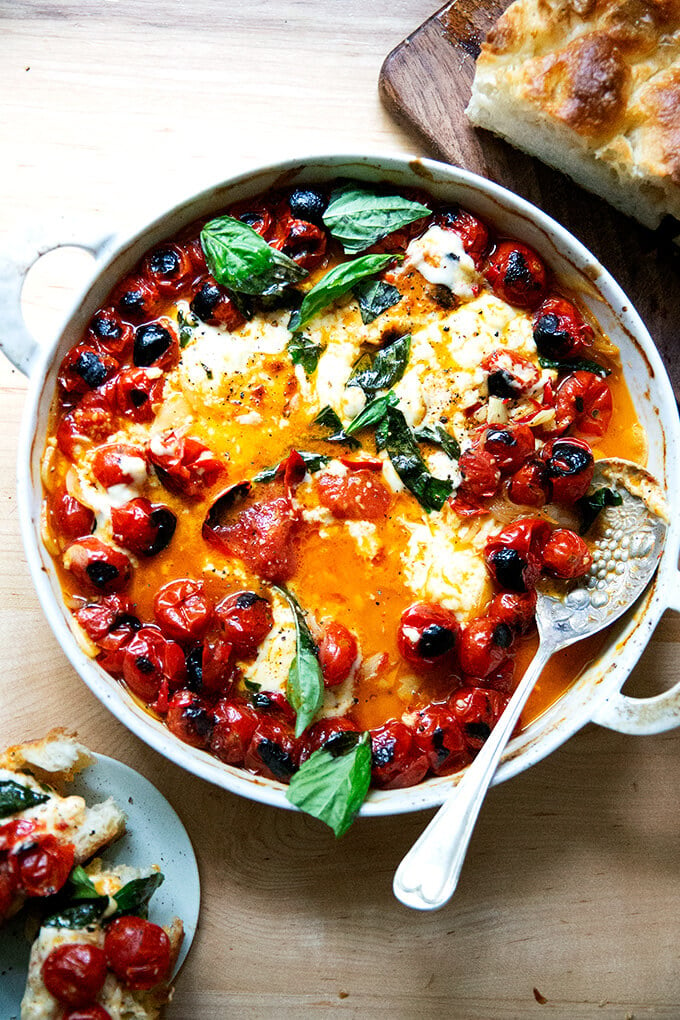 Incidentally, I've been making this focaccia a lot because it's so darn simple. With this latest batch, I mixed the dough, stuck it in the fridge, then proceeded with the recipe 3 days later! I was worried the dough might have over-fermented, but it didn't. Look how happy she looks: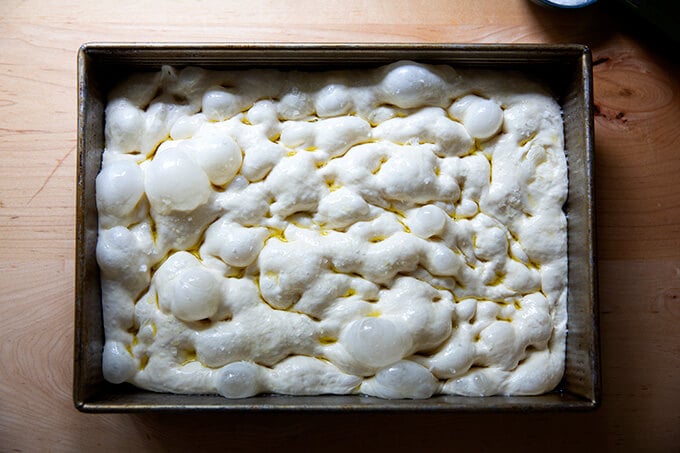 Finally, local friends, this Maplebrook Farm feta is so good. They sell it at the Niskayuna Co-op and other local markets.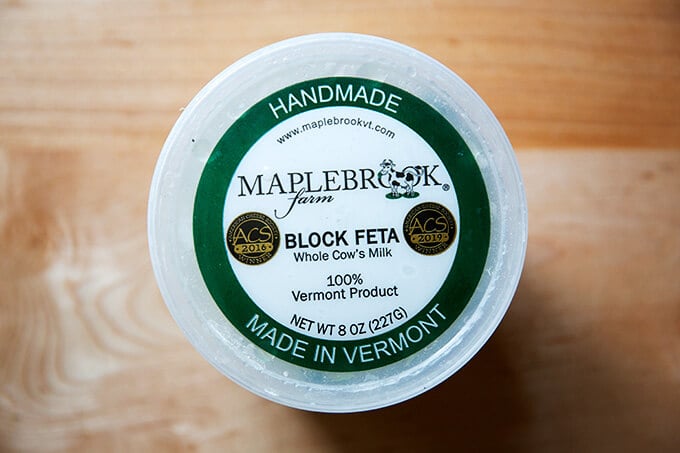 Here's another fun thing you can do with the baked feta and tomatoes: toss it with baked spaghetti squash: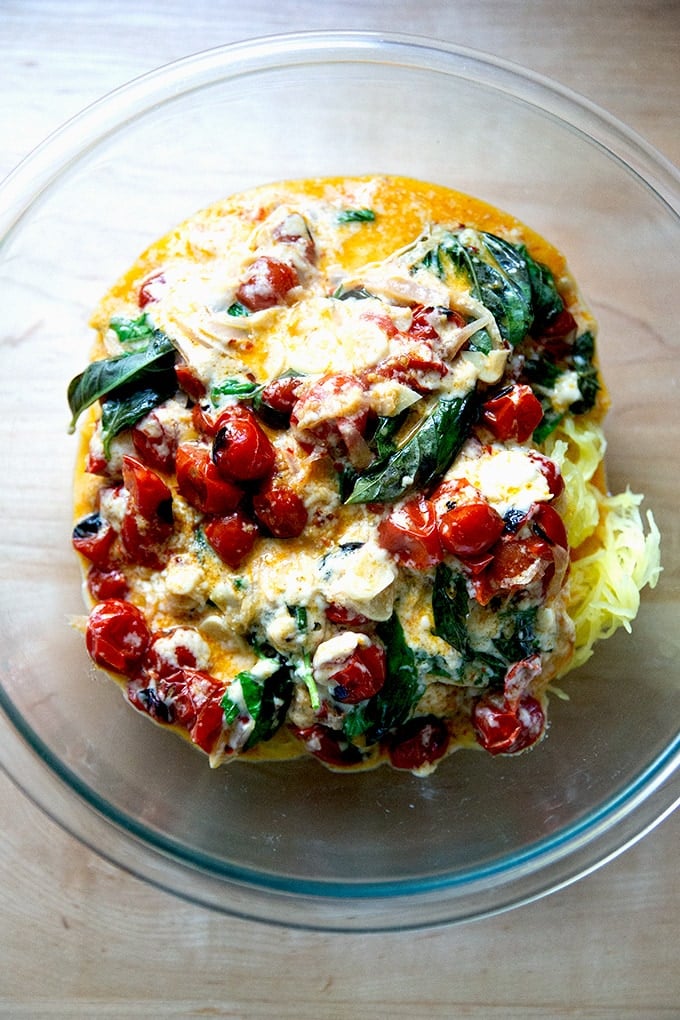 She's not the prettiest, but she sure is tasty.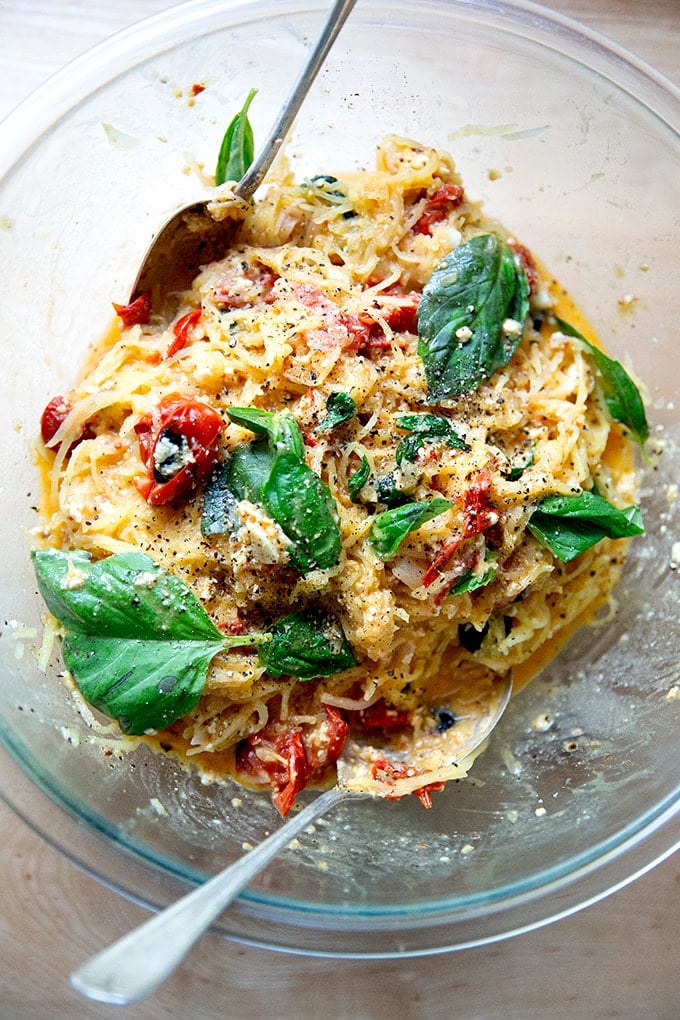 Print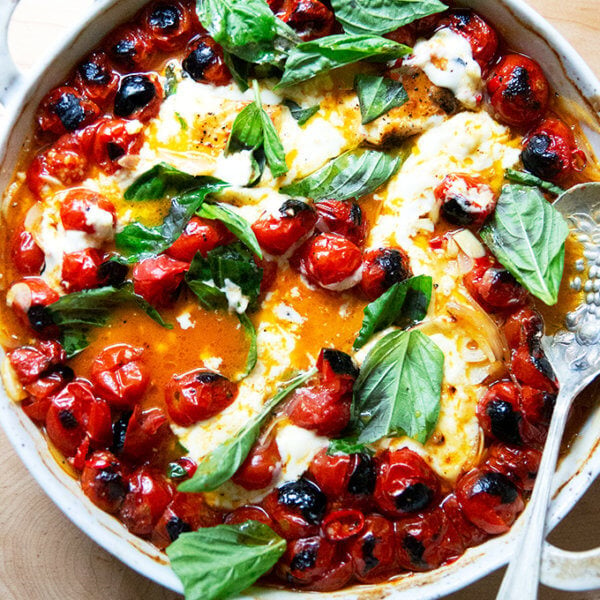 Baked Feta with Cherry Tomatoes
---
Description
Adapted from Liemessa's viral hit recipe for baked feta pasta. 
Notes:
Local friends, if you can get your hands on Maplebrook Farm feta, it's a real treat. They sell it at the Niskayuna Co-op. 
If you want to turn this into the viral pasta recipe, use 4 more tablespoons oil (I cut the amount of oil in half) and boil a pound of pasta. Save the pasta cooking liquid. Toss the cooked pasta with the finished roasted tomato-feta mixture. Thin with pasta cooking liquid if necessary. 
If you want to toss this with spaghetti squash, keep the proportions the same, and toss with the roasted strands of one spaghetti squash: halve the squash crosswise, scoop out the seeds, season with salt and pepper, then roast cut-side down on a parchment-lined baking sheet for 45 minutes at 350ºF. Let cool for 10 minutes before removing the squash from the skin. 
---
4 tablespoons

olive oil, divided

1

lb. (450 to 500 g) cherry tomatoes

4

cloves garlic thinly sliced

1

small shallot, optional, thinly sliced

1

to

2

small hot chilies, optional, thinly sliced or a pinch of crushed red pepper flakes
flaky sea salt
fresh cracked black pepper

7 ounce

(

200 grams

) block of feta, see notes above, cut into two slabs
handful of fresh basil
bread for serving, I've been making this focaccia a lot recently
---
Instructions
Heat oven to 400ºF.  Place one rack in the middle of the oven. Place one rack at the very top, close to the broiler.
Pour 2 tablespoons of the olive oil into an 8- or 9-inch baking dish (or something similar). Add the tomatoes, garlic, shallots, and chilies. Sprinkle with a pinch of sea salt and pepper to taste. Toss to coat. Add the feta. Drizzle with the remaining 2 tablespoons of olive oil. Crack more pepper over top to taste.
Transfer pan to your oven's middle rack for 20 minutes. After the 20 minutes, transfer the pan to the top rack, and switch to your oven's broiler setting. Broil on high for 5 minutes (or more or less), keeping a close watch the entire time. While the tomatoes broil, heat up some bread — I've been doing this in the toaster oven but you probably could get away with putting the bread on the very bottom rack of your oven while the tomatoes broil.
When the tomatoes are blistered to your liking, remove the pan from the heat. Toss in a handful of basil and stir gently to combine. Serve with slices of warm bread.
Prep Time:

5 minutes

Cook Time:

25 minutes

Category:

Appetizer

Method:

Oven

Cuisine:

American
Keywords: feta, cherry tomatoes, olive oil, basil
This post may contain affiliate links. Please read my disclosure policy.