Brown Butter (+Bourbon) Snickerdoodles
This post may contain affiliate links. Please read my disclosure policy.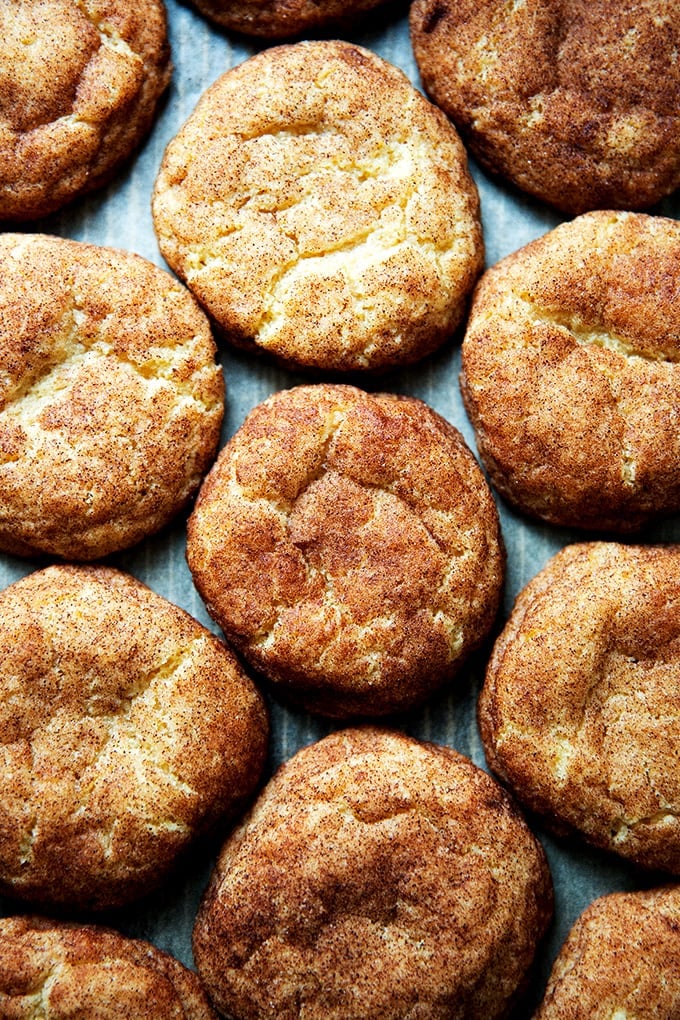 Jesse Szewczyk, a food writer and cookbook author, has a new book out: Cookies: The New Classics. It's a collection of 100 cookie recipes, each familiar at its core, but boldly reinvented. Think: Campari shortbread, spiced honey rum balls, preserved lemon crinkles, chocolate-tahini bars, and these brown butter (+ bourbon!) snickerdoodles.
I have never met a snickerdoodle I didn't like, but these are especially endearing: the browned butter gives them a nuttiness, a trait absent in traditional snickerdoodles, and the splash of Bourbon enhances the caramelly brown sugar and vanilla notes — not unlike how the presence of coffee in chocolatey baked goods will heighten the chocolate flavor without imparting a hint of coffee.
What's more, because you brown the butter, you don't have to soften it, and because brown butter is a liquid fat, you don't have to bust out your stand mixer to make the dough! Win win. After you brown the butter, this essentially is a one-bowl job.
I should note, the original recipe calls for using a stand mixer, so if you prefer to use a mixer, go for it. I made the recipe both ways — mixed by hand and mixed in my stand mixer — and I didn't notice a difference in texture or flavor. I also made the recipe once without the bourbon, using a tablespoon of vanilla in its place, and the cookies were still delicious, as equally nutty and toasty thanks to that magical brown butter.
My kids gobble these up, and I have no doubt Santa will appreciate your brown-buttered, bourbon-spiked take on this Christmas classic, too.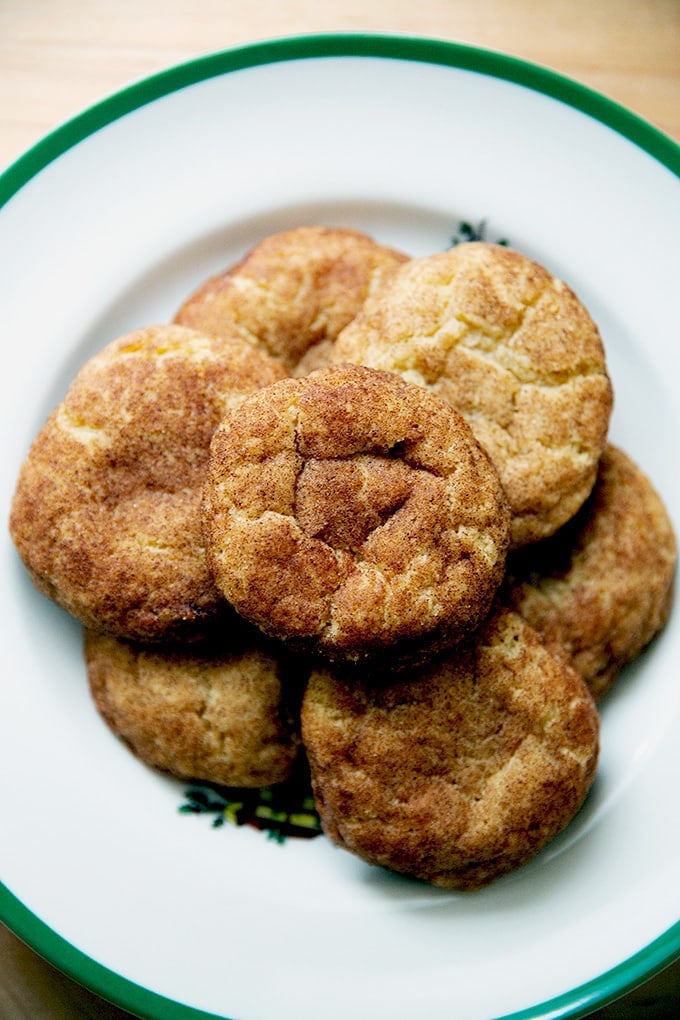 Jesse Szewczyk's Cookies: The New Classics — it's a beauty!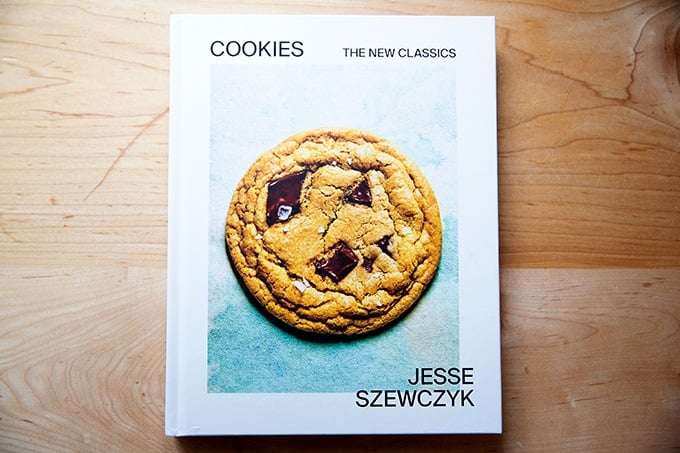 ---
How to Make Brown Butter Snickerdoodles, Step by Step
Gather your ingredients: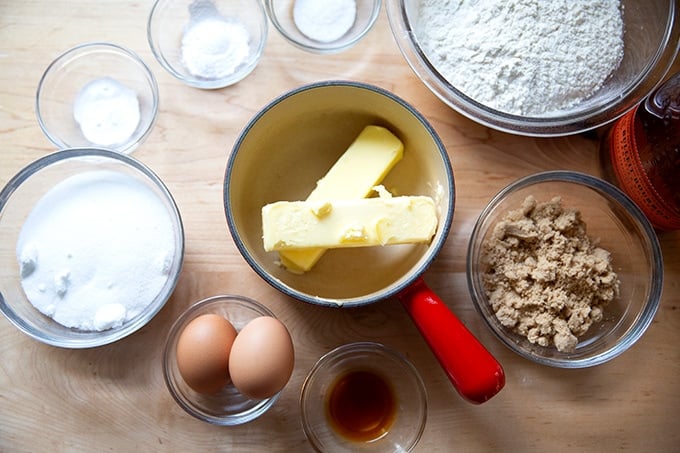 The first step is to brown the butter: Place two sticks of butter in a saucepan and begin melting it over medium heat.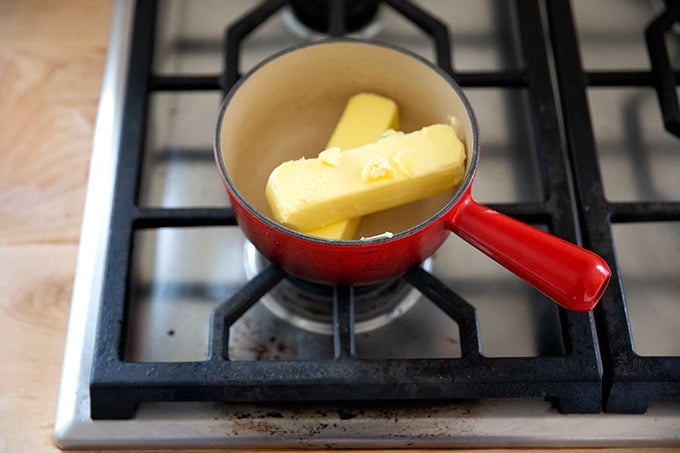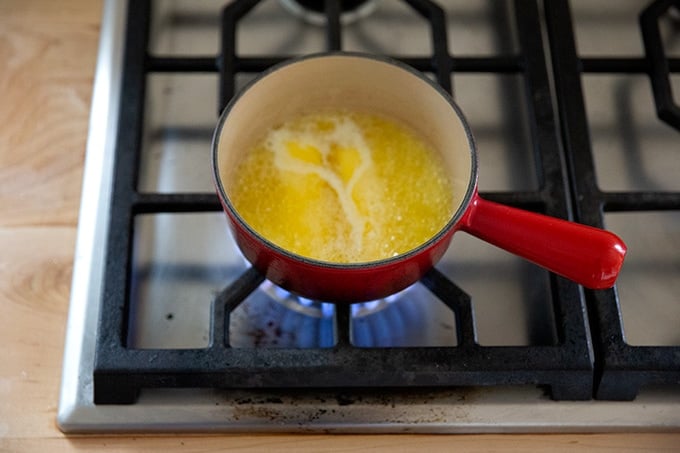 Watch it closely! This takes just about 3 to 4 minutes total, and during that time, the butter will bubble up, and the bubbles will transform from big to small. When the hue of the butter darkens slightly, remove it from the heat and transfer it immediately to a heatproof bowl.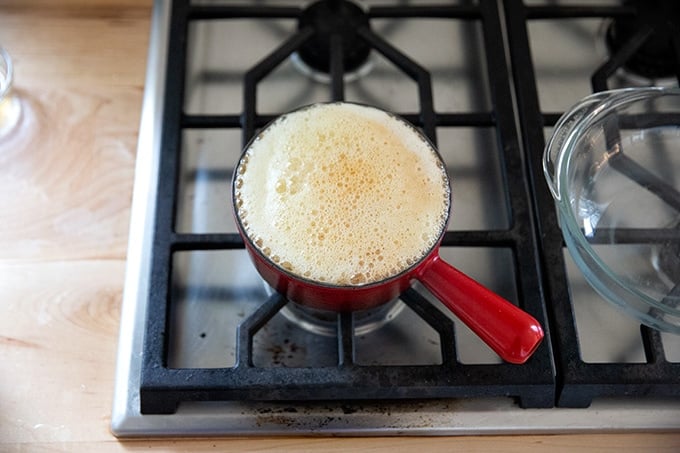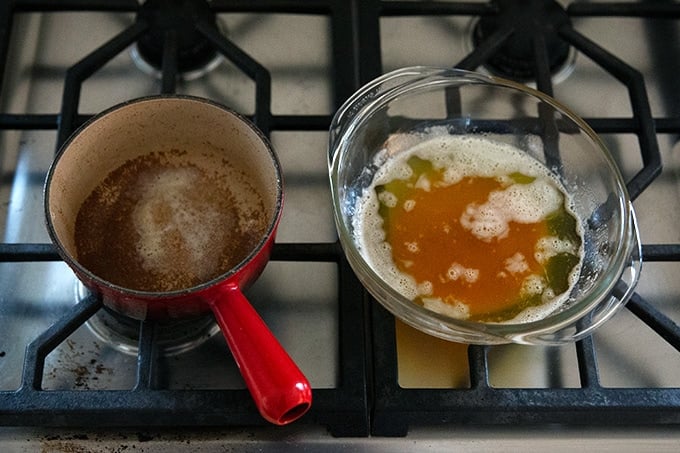 The brown butter needs to cool for 20 minutes. While it cools, whisk together the dry ingredients.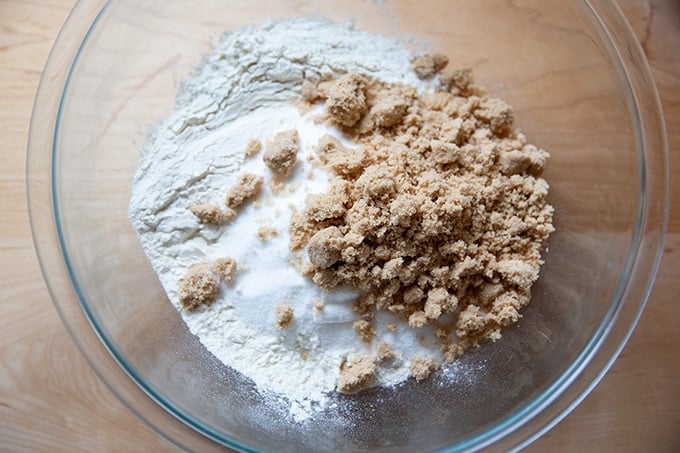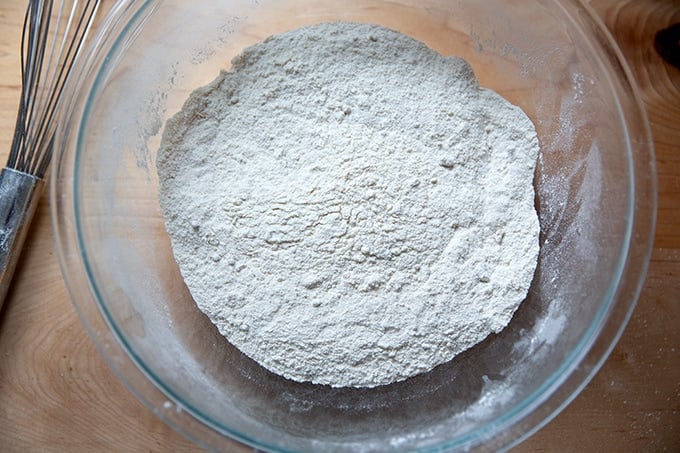 Then add the cooled butter, the whisked eggs, the vanilla, and the bourbon, if using.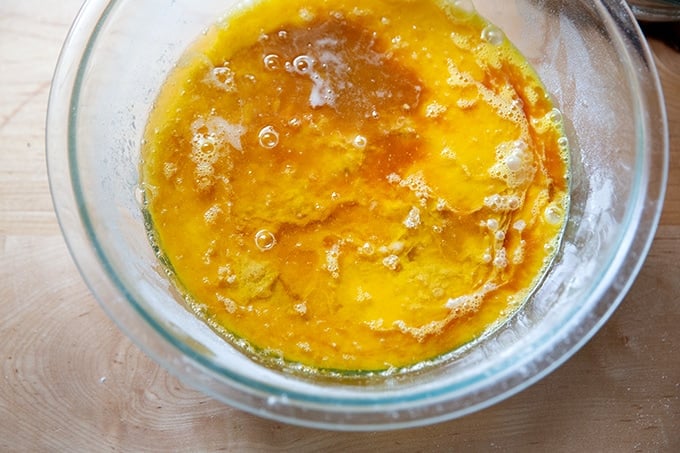 Mix until you have a cohesive dough ball.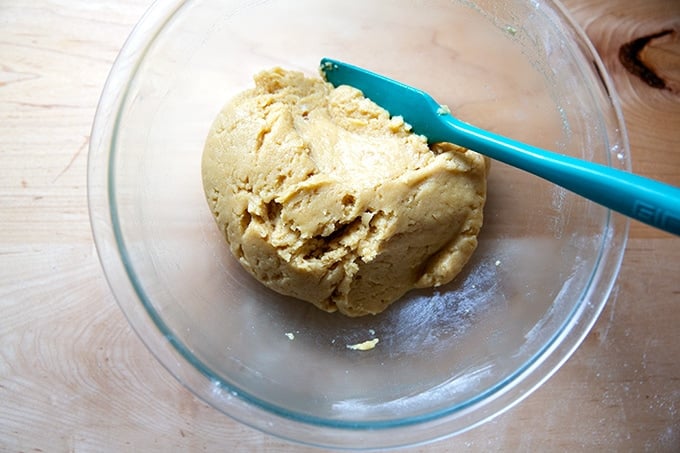 Divide the dough into 2 tablespoon or 50-gram portions.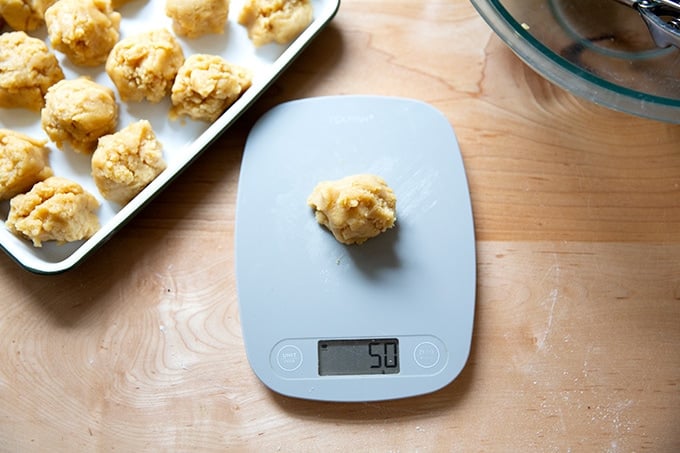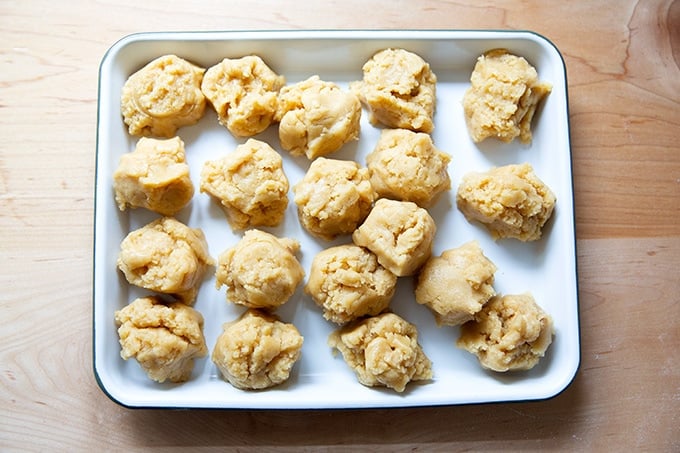 Roll each portion into a ball, dip into a bowl of cinnamon and sugar; then transfer to a plate or tray.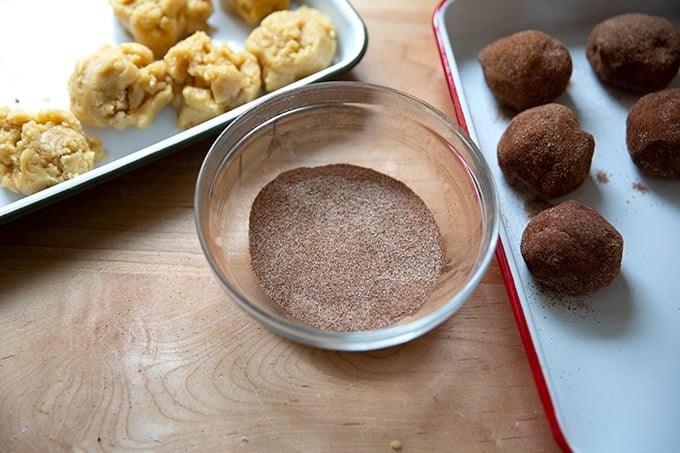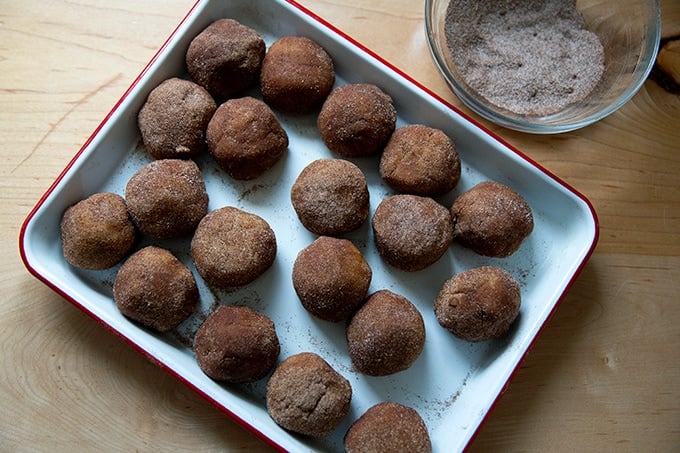 Bake 8 balls at a time.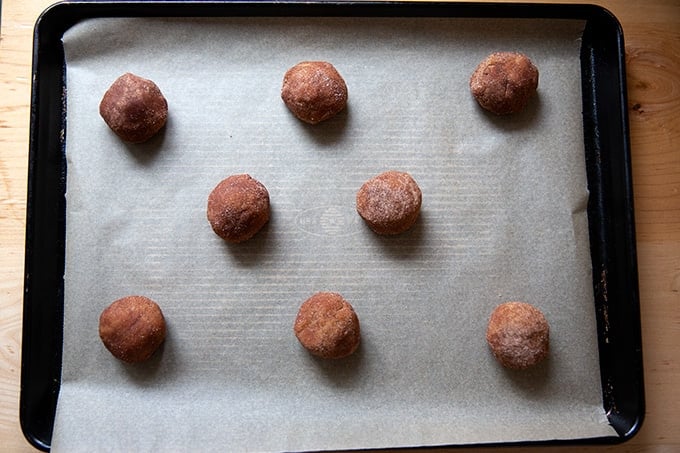 The balls will puff up as they bake…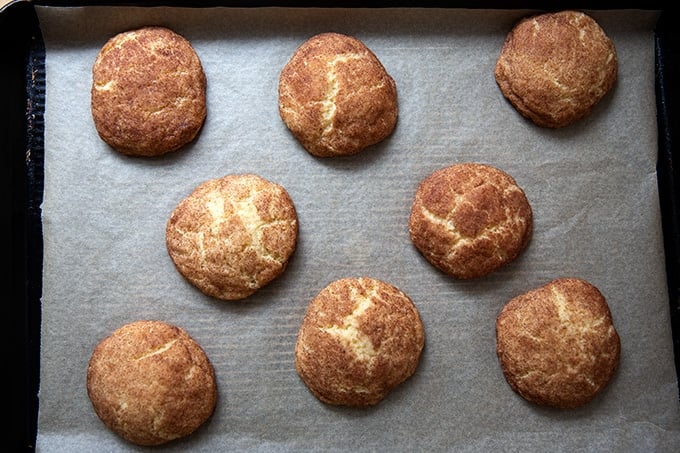 … then collapse as they cool.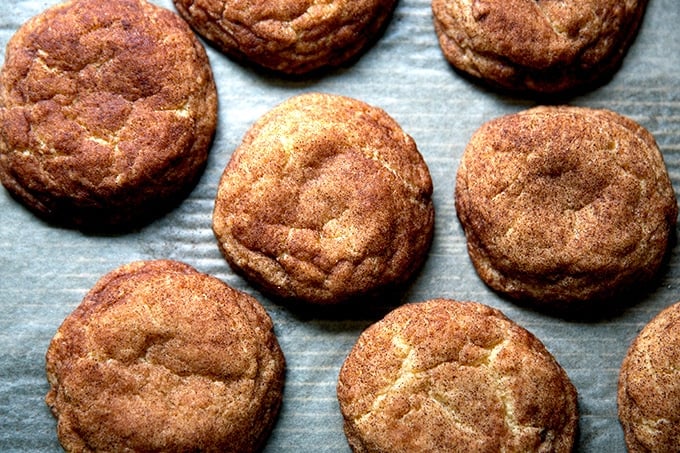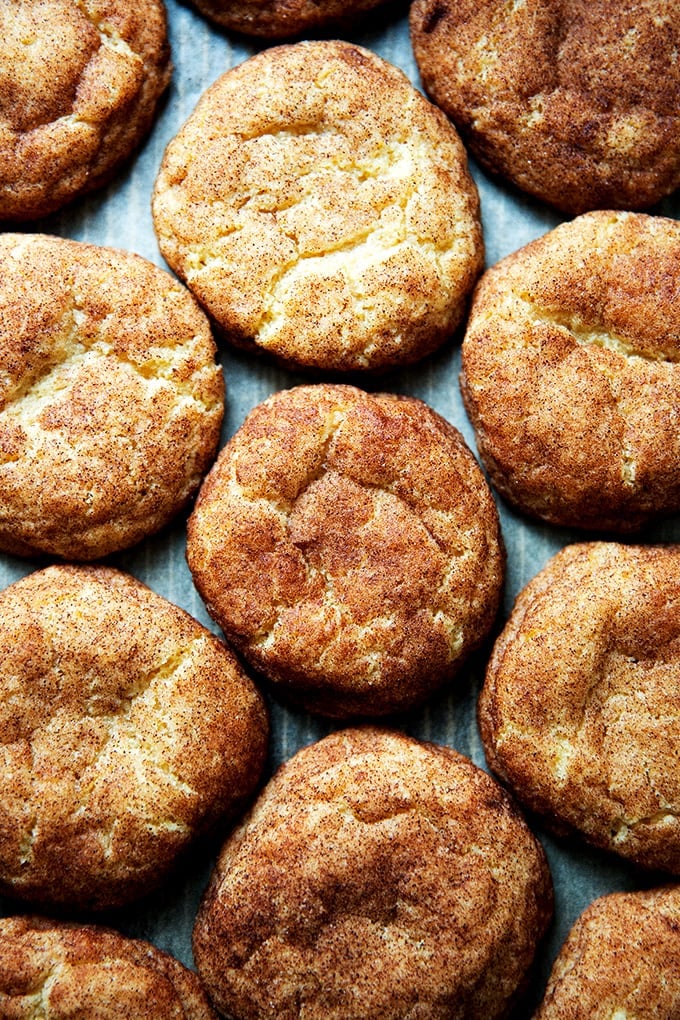 They are truly irresistible.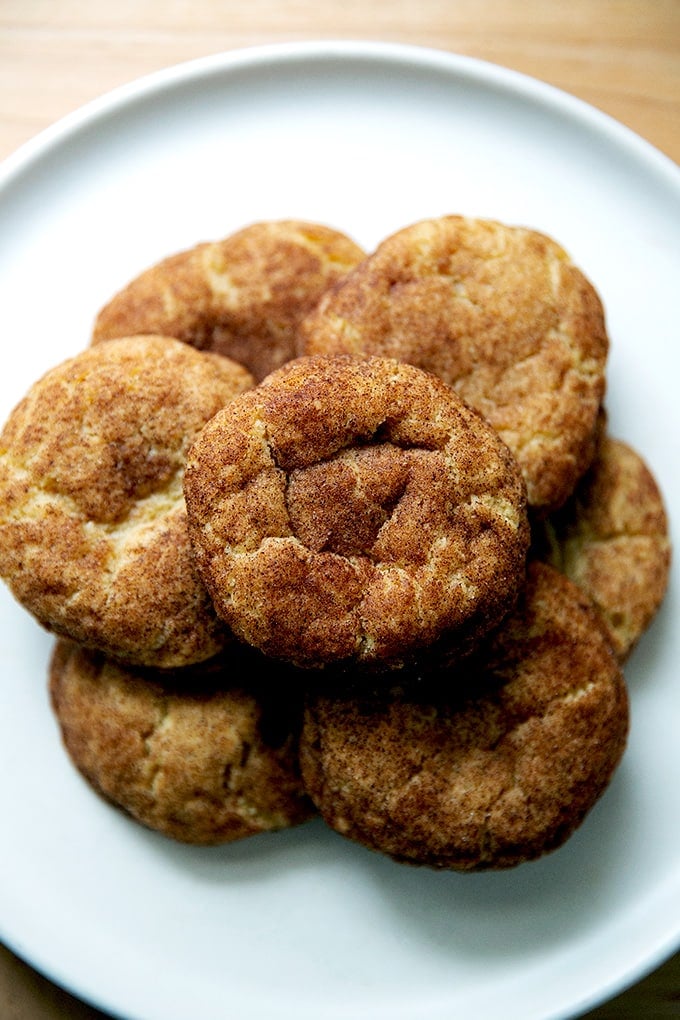 Print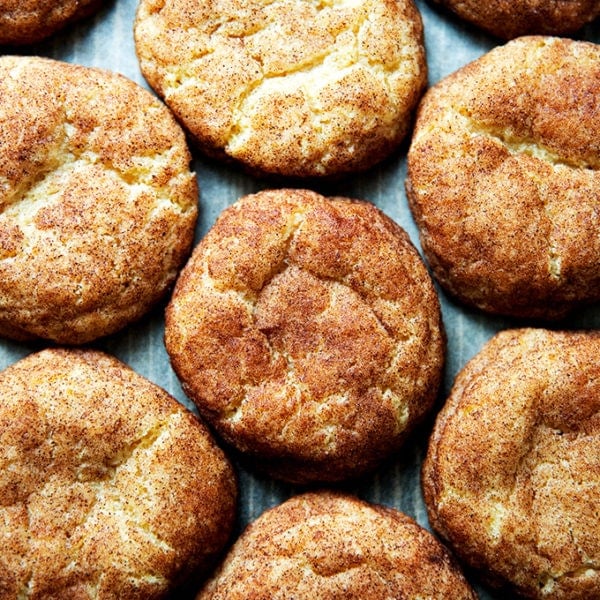 Brown Butter (+Bourbon) Snickerdoodles
---
Description
These brown butter snickerdoodles are sugar-crusted, soft and chewy, and scented with toasty notes of brown sugar, bourbon, and vanilla. The bourbon absolutely can be omitted — I've made them without it — and the cookies are still divine.
As with all baking, for best results use a scale to measure the ingredients.
Adapted from Jesse Szewczyk's Cookies: The New Classics
Jesse's notes:
Any whiskey or dark, spiced rum can be used in place of the bourbon.
The dough can be made ahead and stored in the fridge several days before baking. If too firm to scoop, let it sit at room temperature for 15 minutes. (I like to portion the softened dough; then stash the dough balls in the fridge.)
The cookies will keep in an airtight container for up to 1 week.
---
16 tablespoons

(

226 g

) unsalted butter

2.5 cups

(

320 g

) all-purpose flour

2 teaspoons

(

10 g

) cream of tartar

1 teaspoon

(

6 g

) baking soda

1 teaspoon

(

4 g

) kosher salt

1.25 cups

(

250 g

) granulated sugar, divided

0.5 cup

(

100 g

) brown sugar

2

eggs, beaten

2 tablespoons

(

30

ml) bourbon, optional, see notes

1 teaspoon

(

5

ml) vanilla extract

1 tablespoon

(

10 g

) cinnamon
---
Instructions
In a small saucepan over medium heat, melt the butter. Continue cooking, until the butter foams and then darkens in color slightly and is very fragrant, 3 to 4 minutes. Transfer the butter immediately to a heatproof bowl, and let it cool at room temperature for 20 minutes.
Heat the oven to 350ºF. Line a sheet pan with parchment paper. As the butter is cooling, combine the flour, cream of tartar, baking soda, salt, 1 cup (200 g) of the sugar, and the brown sugar in a large bowl.
Add the cooled brown butter, the beaten eggs, the vanilla, and bourbon. Stir with a spatula until you have a cohesive dough.
In a small bowl, combine the remaining 1/4 cup (50 g) sugar and the cinnamon.
Using a medium 1.75-inch (#40) scoop (which is about 2 tablespoons) portion the dough into balls. Note: I use a digital scale and portion the dough into 50 gram balls — not necessary, but I love knowing the balls all weigh the same and so in turn will bake the same. 
Roll the dough balls in the cinnamon and sugar and transfer 8 to the prepared sheet pan. (NOTE: Some commenters have had trouble with the cookies spreading. If you are worried about spreading, consider chilling the portioned dough balls for 1 to 3 hours or even longer before baking. I often portion cookie dough balls, transfer them to an airtight container, and chill for 24 hours.) Bake for 8 to 11 minutes — dough balls will puff up and they will look not completely cooked, but you should remove them anyway — they'll collapse and continue to cook as they cool. I do find that overcooking snickerdoodles renders them more light and cake-like and less chewy. Remove the pan from the oven. Let the cookies cool slightly on the baking sheets; then transfer to a wire rack to cool completely.
Repeat with the other dough balls or transfer them to an airtight container and store in the fridge for up to one week.
Prep Time:

20 minutes

Cook Time:

10 minutes

Category:

Cookies

Method:

Oven

Cuisine:

American
Keywords: snickerdoodles, brown butter, Christmas
This post may contain affiliate links. Please read my disclosure policy.