Christmas Menu 2021
Friends, have you ordered your ham? On Tuesday I received a somewhat frantic text from my lovely neighbor asking if it was risky to order a ham with a scheduled delivery date between 12/22 and 12/24 if she was planning to cook it ON Christmas Eve?
Risk it! I wrote. And then I immediately ordered the ham I had also forgotten to order. Phew, thank goodness for neighbors.
Friends, I just jumped on the Dakin Farms website, and it's not too late to order a ham for Christmas — the delivery window is still 12/22 and 12/24. I can't say enough good things about Dakin Farms hams, and I cannot say enough good things about the ham-cooking process. There's none of that anticipatory mental baggage that arrives with the turkey: How do I brine this thing again? How do I cook it? Will it be good this year?
With a ham, there's no brining and there's really no cooking — it's already cooked! And if you buy a good ham, it's going to be good. And if you serve it with my grandmother's mustard sauce on the side, well, it just doesn't get much better than that.
I've included all of my favorite Christmas Eve, Morning, and Dinner recipes below. This post is very similar to last year's but I've added a few 2021 favorites including this simple baked ham recipe, these creamy (no cream) buttermilk mashed potatoes, this sweet potato casserole, and this tangerine spritz — perhaps the easiest, most festive cocktail one could make. The below recipes are organized as follows:
PS: If you are entertaining and need some idea for appetizers and other nibbles, this post might be helpful.
PPS: If you're looking for Christmas Cookie ideas, check out this post.
---
Christmas Eve
To me, nothing is more Christmas Eve-y than mussels, a meal my mother often served for the occasion. Of course, there's no better companion for mussels than good bread. My mother's peasant bread is an excellent choice as is this simple sourdough boule. These oven fries are something the whole family loves, and they're a great match for mussels as well.
A simple salad dressed in a citrus-shallot vinaigrette makes it a meal.
If mussels aren't your thing, I can't say enough about this lasagna, which has been in the rotation a lot in recent weeks:
Butternut Squash Lasagna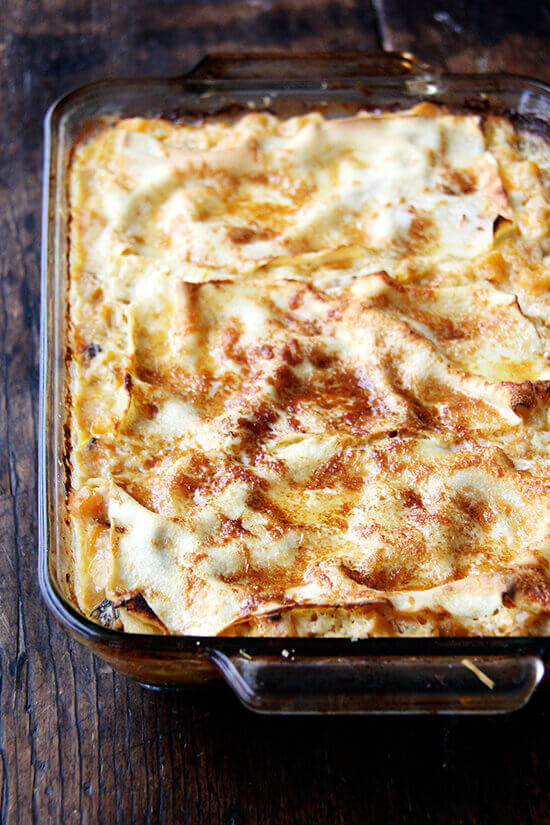 One snowy Thanksgiving in Vermont, this butternut squash lasagna, brought to the feast by a vegetarian friend of my aunt's, stole the show. The recipe comes from Gourmet magazine, and it's something guaranteed to please both carnivores and vegetarians alike.
As with the mussels, a simple salad dressed in a citrus-shallot vinaigrette is the perfect accompaniment.
---
Glogg
Christmas is not Christmas, at least when I'm with my parents, without Glogg. This is my stepfather's specialty, something the whole family looks forward to as soon as the holiday season approaches.
"Glogg," if you are unfamiliar, derives from a Scandinavian word meaning "to glow" or "to warm," which is just what this hot beverage is meant to do: warm you up, get you glowing. Coming from a land where the sun shines seldom in a long winter season, glogg is meant to work immediately, which is exactly what it does.
In a sort of two-pronged attack, glogg enters the system: as vapors swirl off the hot liquid up into the nose making their way to the brain, the liquid itself — a mixture of red wine, port, and brandy — pours through the bloodstream. This is potent stuff, bone-warming, rosy-cheek inducing, party-starting stuff. It's impossible not to belt out the Christmas carols with a glass of glogg in hand.
We love serving glogg as a pre-dinner drink sitting by the fire with a few snacks — cheese, crackers, nuts — on hand.
---
Tangerine Spritz
This tangerine spritz recipe, from David Lebovitz's Drinking French, calls for three ingredients: tangerines (or clementines), sparkling wine, and Campari. It's like a spritz meets mimosa — and I think it's a perfect winter holiday cocktail: so pretty! so festive! so citrusy! yay!
---
Breakfast (Sweet)
Brioche Cinnamon Buns
Prep these buns on Christmas Eve. Rise to frosted brioche bliss. And to very happy humans.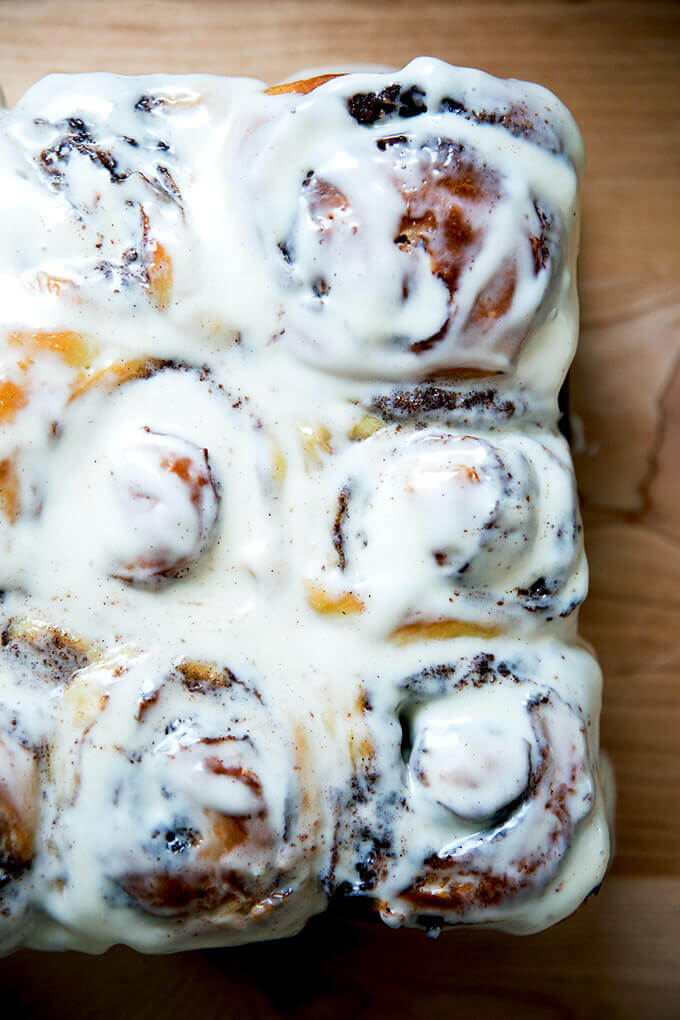 Two cranberry-studded favorites:
Each of these can be prepped ahead as well. The unbaked scones can be stashed in the fridge (or freezer) the night before baking; the batter for the cranberry buttermilk breakfast cake can also be stashed in the fridge.
Overnight French Toast
This is the easiest French toast you will ever make, and I believe it's one of the best, too. It's crisp on the exterior and custardy on the interior. It emerges from the oven piping hot, ready for syrup, fruit, powdered sugar, or all three.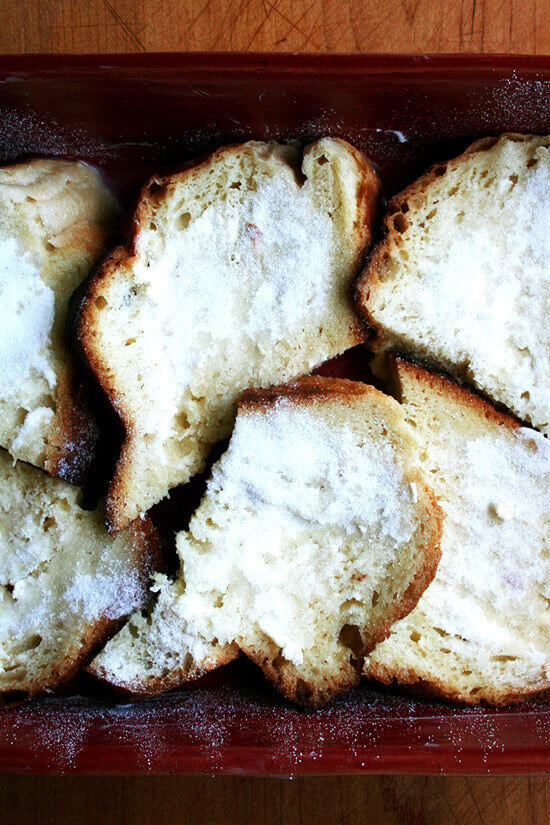 ---
Breakfast (Savory)
---
Dinner
I am 95% convinced I love ham because of the sauce: my grandmother's mustard sauce. Friends, it's so good.
---
Salads
This time of year, I love this variation of my favorite shallot vinaigrette: citrus-shallot vinaigrette. In this version, the shallots soak in both vinegar and fresh-squeezed orange juice, the addition of which makes the dressing a little fresher, a little brighter, and a little lighter. It's so nice this time of year.
I've been using it to dress very simple salads: Boston lettuce tossed with endive, arugula, or whatever looks good at my grocery store. If you're looking for a heartier salad, here are a few more ideas:
---
Soup
---
Potatoes
Classic Sweet Potato Casserole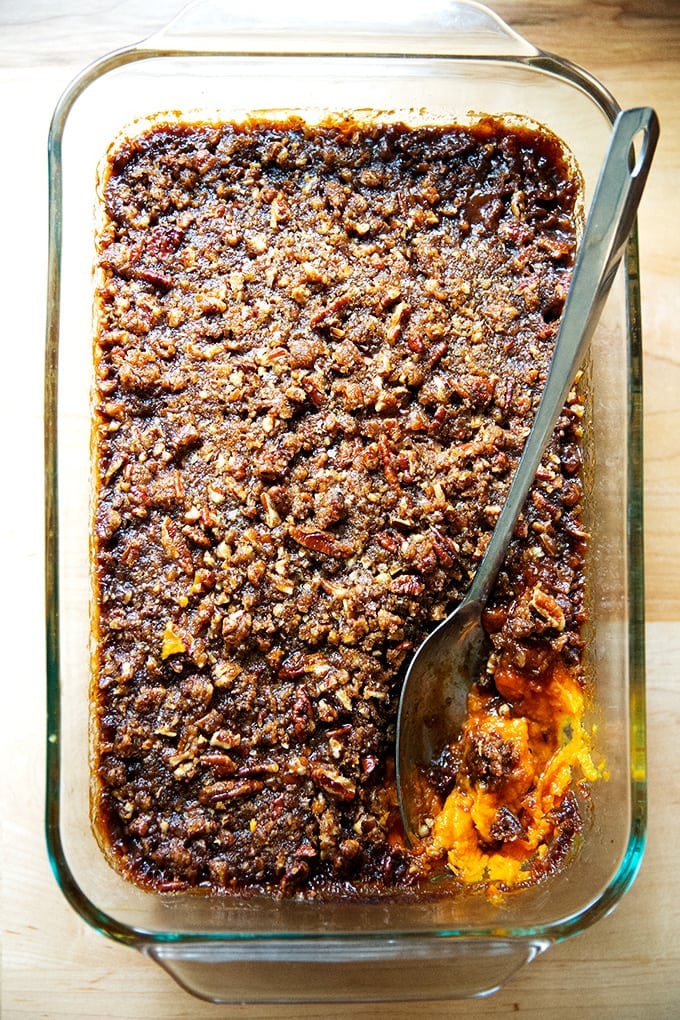 This sweet potato casserole is an old family recipe, one I brought back for this past Thanksgiving, where it was wildly well received.
---
Dessert
---
Bread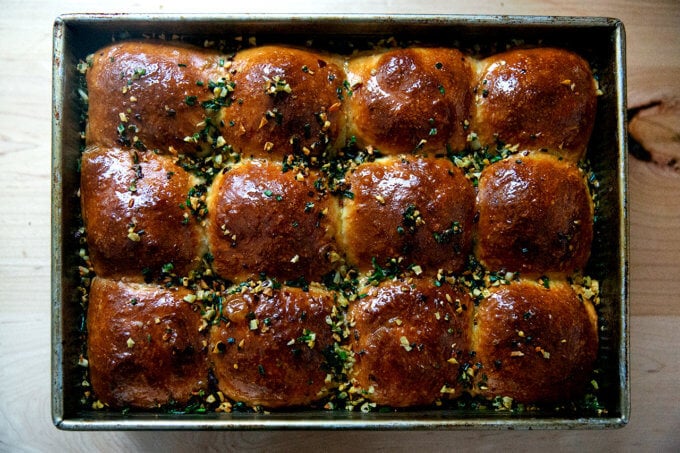 These brioche dinner rolls are the same as these brioche hamburger buns but here they are made in pull-apart form and, out of the oven, they are brushed with an herby, garlicky butter. If you portion the dough into 12 balls, as pictured above, the buns will be quite large, but they're perfect for leftover ham sandwiches … decisions decisions.
This post may contain affiliate links. Please read my disclosure policy.