15+ Warming Soups for Winter
This post may contain affiliate links. Please read my disclosure policy.
This time of year, all I want to eat all day long is soup and bread. No joke, this morning I had a mug of Vermont cheddar cheese soup and a slice of ciabatta for breakfast. That same meal will likely be lunch and dinner today, and I am not the slightest worried I will lose interest in the combination.
When this cheesy pot runs dry, next up will be my favorite lentil soup, followed by this pantry tomato soup, a family favorite. I've rounded up all of my favorite soups for winter below along with a few of my favorite breads to eat alongside. And if you've yet to make a bread bowl this season, I think it's time 🎉🎉🎉 Find guidance below.
Happy Souping, Friends.

This post is organized as follows:
---
The Soups
---
Two Stocks
Using good, flavorful stock will ensure you produce a good, flavorful soup. For many years, I used homemade chicken stock exclusively, but more and more, I find vegetable stock to be just as effective, and in a pinch, I'll simply use water. Here are the two stock recipes I use most often:
---
Bread for Soup
Below you will find recipes for a few of my favorite "soup" breads: ciabatta, focaccia, and peasant bread. And if you love the peasant bread, you will love transforming it into a bread bowl. Pictured below is one of the peasant bread loaves, innards removed and drizzled with olive oil, the cavity filled with spinach-artichoke dip. For soup, leave the cavity empty and toast the croutons and the bowl together for roughly 10 minutes at 450ºF. Fill the bowl with soup out of the oven.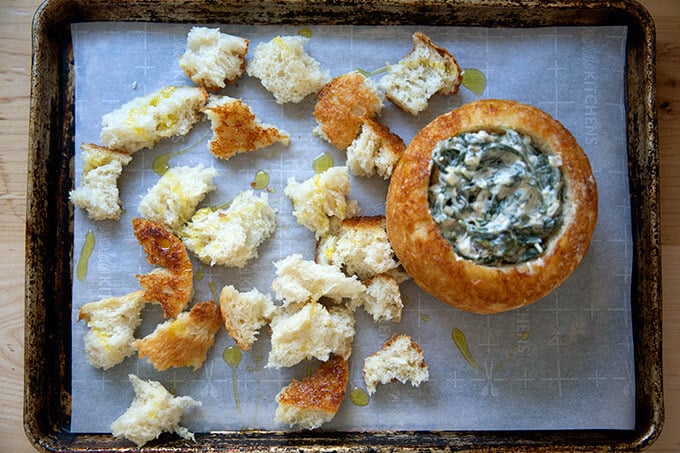 Print
This post may contain affiliate links. Please read my disclosure policy.