Easter Menu: Ham, Mustard Sauce, Best Carrot Cake and More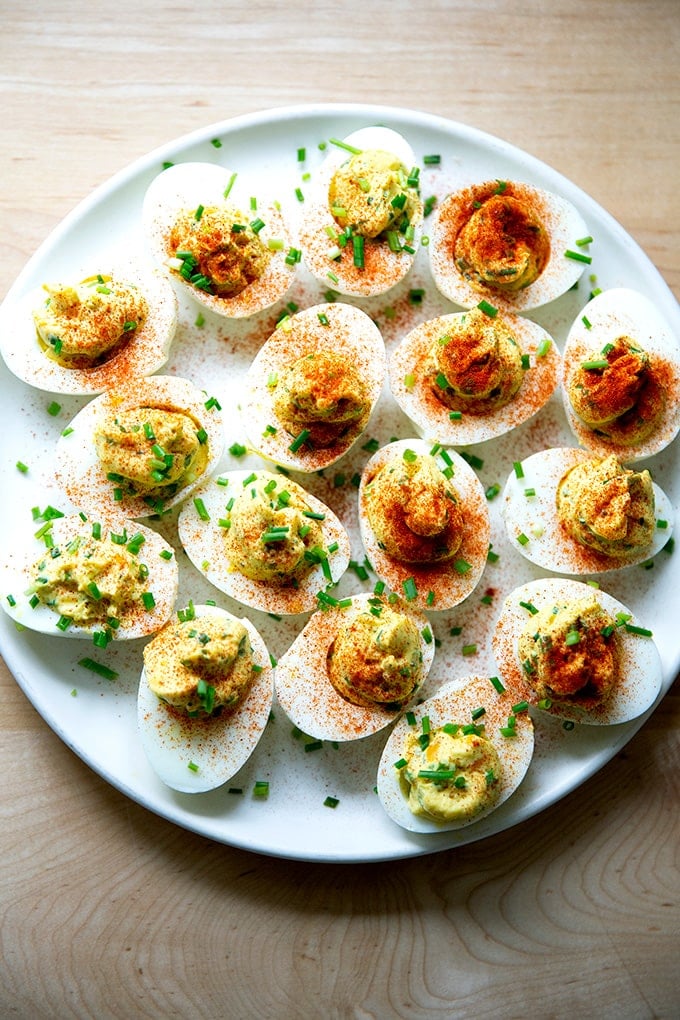 Below you will find my favorite Easter recipes, from baked ham with mustard sauce to rack of lamb with tzatziki to scalloped potatoes and punch to buttermilk pull-apart rolls and hot cross buns. This post is organized as follows:
---
Hot Cross Buns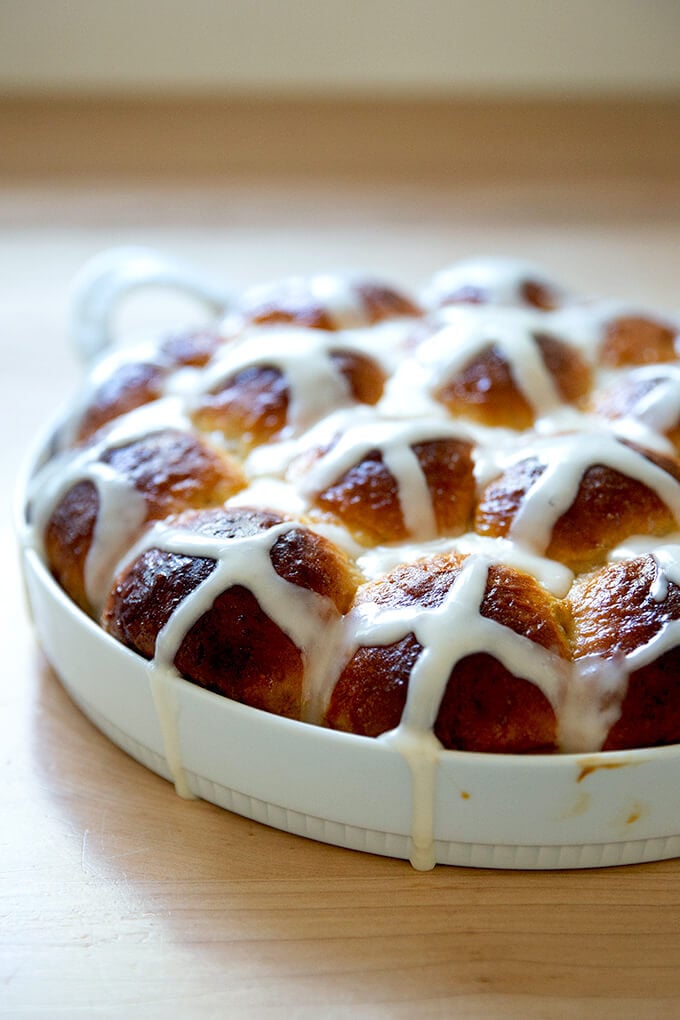 Made with a mix of brown sugar and white and a dash of nutmeg, these Hot Cross Buns are perfectly sweet and subtly spiced. Halved and spread with butter, they are so, so delicious. Easy too: Assemble the pan of buns the night before and stick it in the fridge. On Good Friday morning, simply pop the pan in the oven.
---
Easy-Peel Hard-Cooked Eggs
If you're dyeing eggs for Easter and are dreading the post-holiday peeling process, dread no more! Here are two easy-to-peel egg-cooking methods: stovetop and Instant Pot. In both, the eggs are steamed, which makes the shells slip right off. While I love my instant pot, more and more I favor the stovetop steaming method, which I use in this deviled eggs recipe and this egg salad sandwich.
---
Easter Brunch Punch
If you've never made a "house" punch, I highly recommend it, and I highly recommend this one: Philadelphia Fish House Punch, a mix of brandy, cognac, rum, fresh lemon juice, and simple syrup.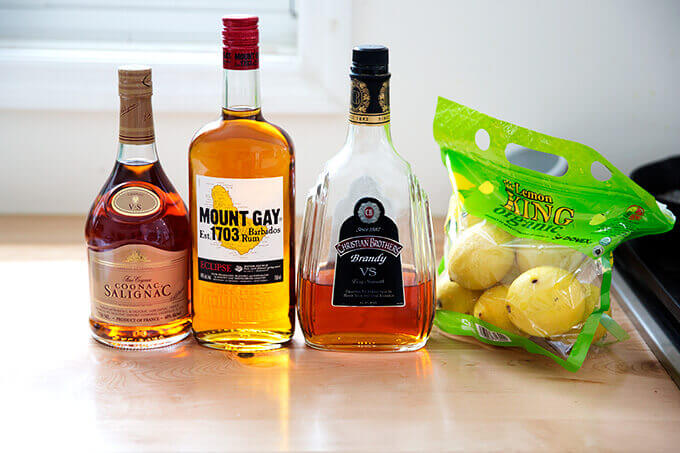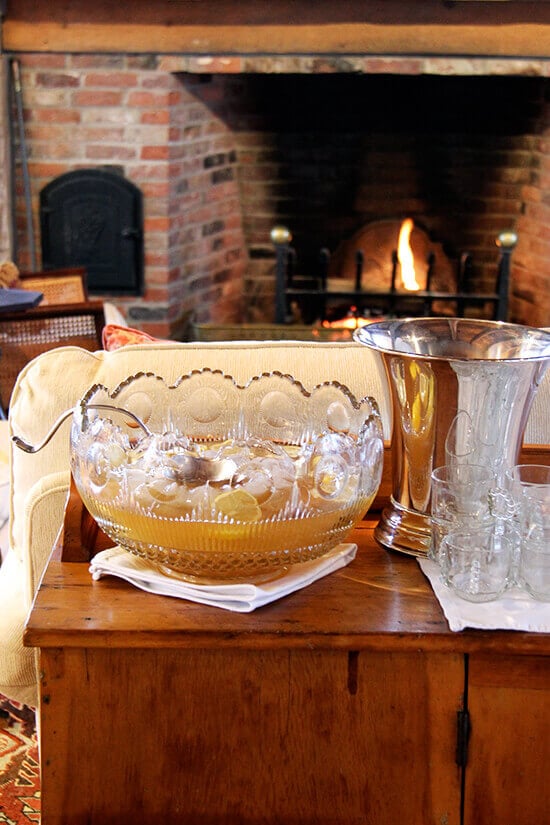 ---
Brunch (Sweet)
Brioche Cinnamon Buns
Prep these buns on Easter Eve. Rise to frosted brioche bliss … (and to very happy humans).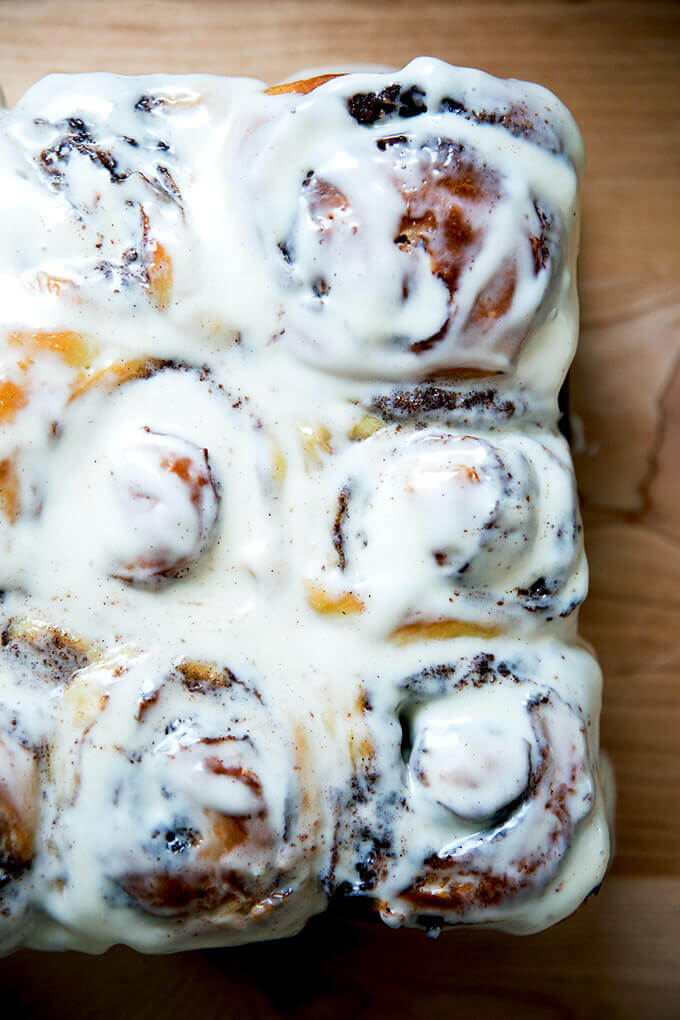 Buttermilk Blueberry Breakfast Cake
Ten years after posting this recipe, buttermilk blueberry breakfast cake continues to be one of the most popular recipes on the site: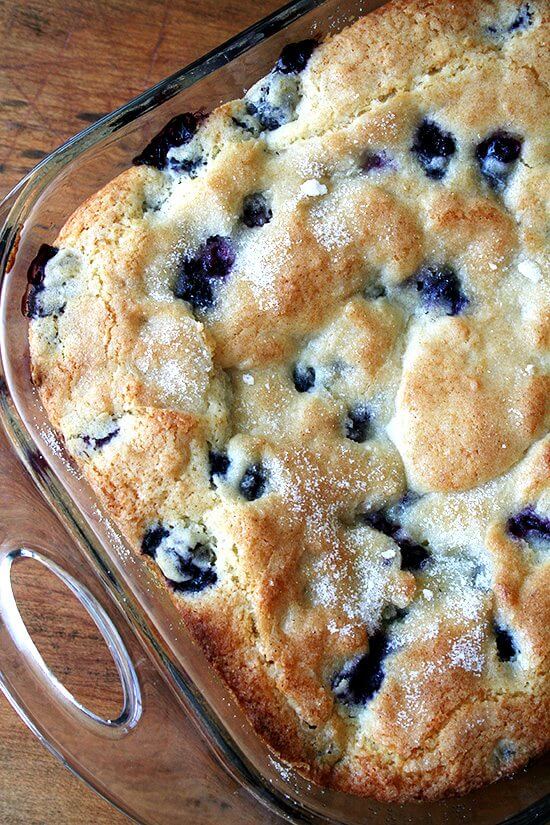 Overnight French Toast
This is the easiest French toast you will ever make, and I believe it's one of the best, too. It's crisp on the exterior and custardy on the interior. It emerges from the oven piping hot, ready for syrup, fruit, powdered sugar, or all three. Recently I made it with homemade brioche, and it was exceptional.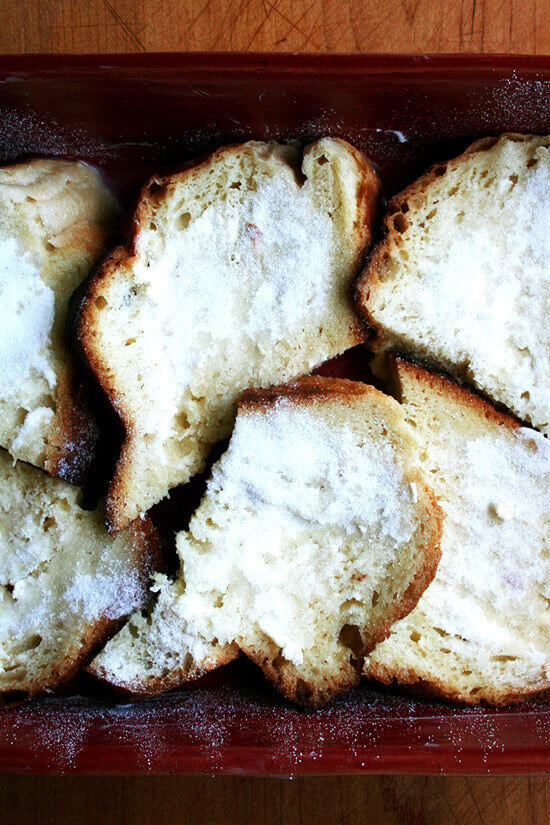 Blueberry Scones, Blueberry Muffins
Baked Steel Cut Oatmeal, Oatmeal Muffins
---
Brunch (Savory)
---
Dinner
If you've ever toiled over a roast turkey — from the brining to the basting to the carving — a baked ham feels like a complete dream. For one, there's no marinating or brining. Second, you can't overcook it, because it's already cooked! You're simply heating it through. Find all of my baked ham tips here.
We'll be baking a brown sugar glazed ham this year and serving it aside my grandmother's mustard sauce (the best). If you make a ham, be sure to save the bone and make this split pea and ham soup with it afterward.
Split Pea and Ham Soup made with the ham bone and leftover ham: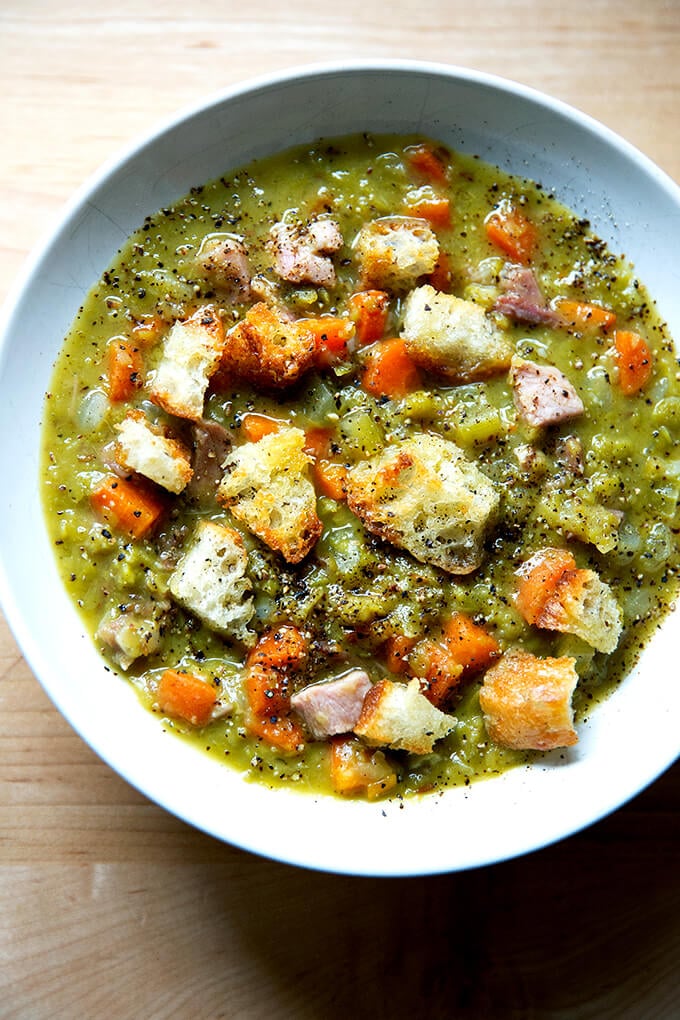 If you're making lamb, here are two nice condiments:
---
Alice Waters's Potato Gratin (Scalloped Potatoes)
As with Thanksgiving and Christmas, Easter dinner isn't Easter dinner without Alice Waters's potato gratin. It's a dish my mother has served at nearly every big holiday gathering for as long as I can remember. It often steals the show no matter what it's beside, turkey, ham, lamb, or otherwise.
---
Salads & Sides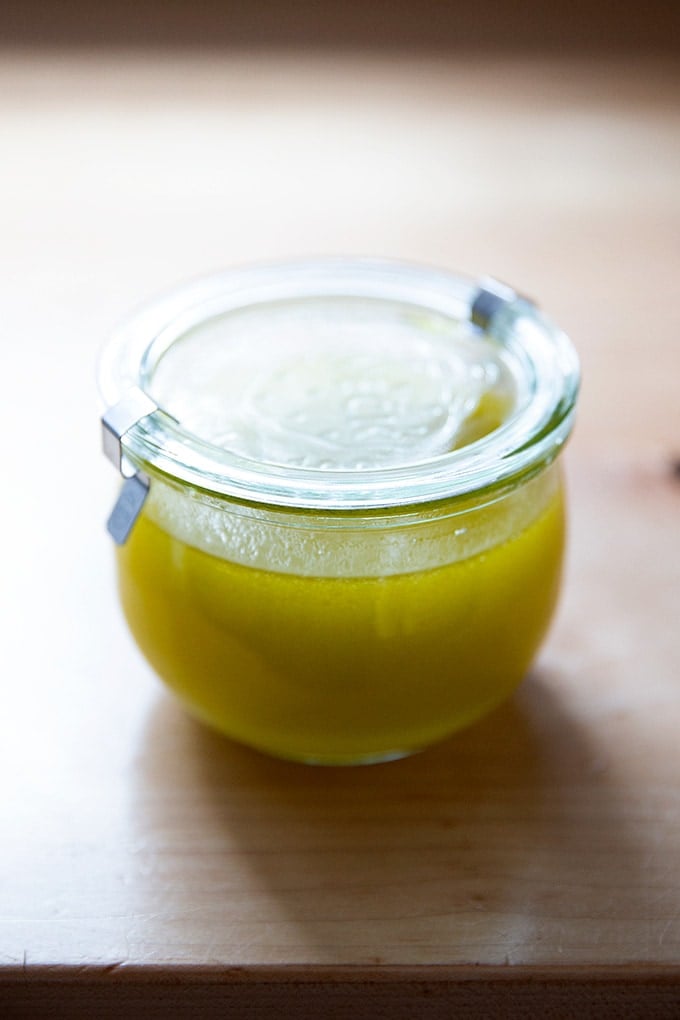 With so many rich foods on the Easter table, a simple green salad on the side is nice. I've been loving this lemon vinaigrette, which is light and bright, and which I've been using to dress simple salads composed of tender spring greens, shaved carrots and radishes, feta, and walnuts.
If you're looking for a heartier salad or vegetable side dish, here are a few more ideas:
---
Dessert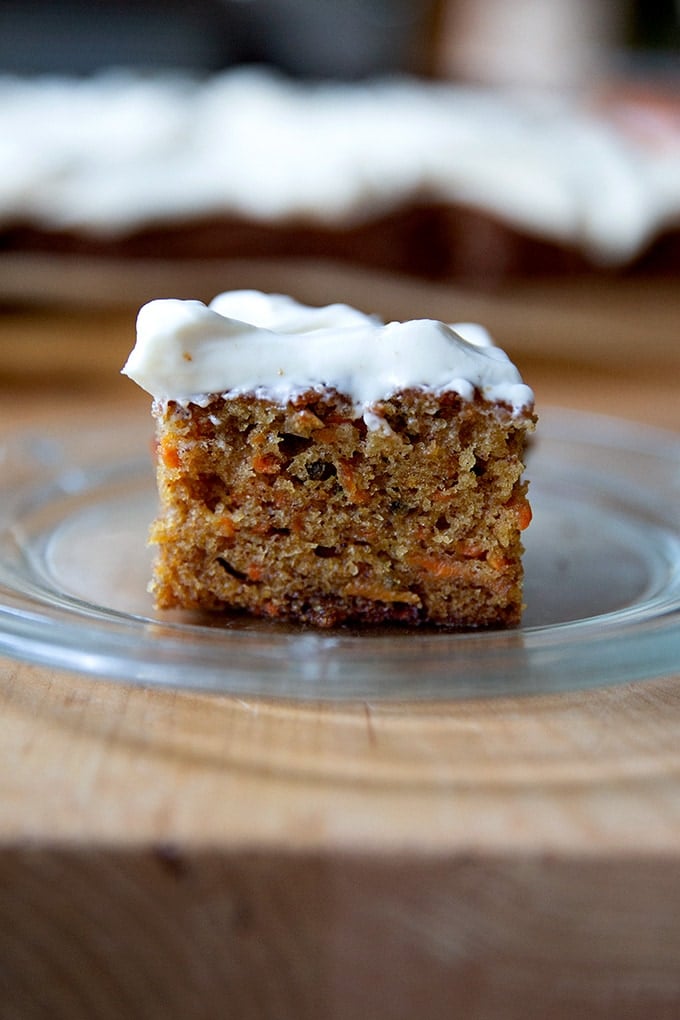 The Ultimate Carrot Cake
I recently revisited an old carrot cake recipe, which I have long loved but which has gotten lost in the archives. I added weight measurements, simplified the mixing process, baked it in a 9×13-inch pan (as opposed to two 8-inch pans), and I frosted it with my favorite whipped cream-cream cheese frosting, which I use in this one-bowl birthday cake recipe. This carrot cake was just as delicious as I remember, and the family devoured it. Highly recommend!
---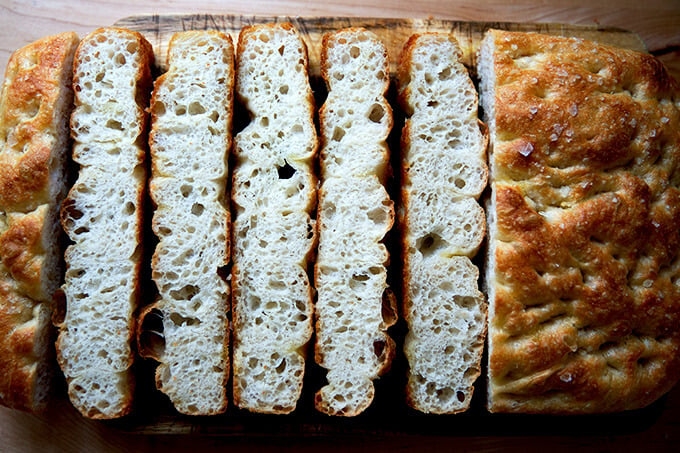 Bread
Though I am partial to rolls on the holiday table, it's hard to beat this overnight, refrigerator focaccia in terms of effort-to-reward ratio. It's truly so easy and so delicious.
But if you're up for making rolls, both of the recipes below are no-knead, and each dough can be made ahead of time and stashed in the fridge until you are ready to bake. At Christmas last year, I made the buttermilk pull-apart rolls slightly larger — I divided the dough into 20 portions as opposed to 24 — and the larger size was perfect for leftover ham sandwiches.
Find a few more ideas below and here → Favorite Bread Recipes
On the left: No-knead Buttermilk Pull-Apart Rolls: slightly sweet, soft and squishy, these pull-apart rolls resemble Parker House rolls in both taste and texture. On the Right: No-Knead Thyme Dinner Rolls: buttery and crisp on the exterior and soft and tender on the interior.
Print
This post may contain affiliate links. Please read my disclosure policy.