Smooth & Creamy 5-Ingredient Homemade Hummus
This post may contain affiliate links. Please read my disclosure policy.
Made with only 5 ingredients — lemon juice, tahini, salt, chickpeas, and ice water — this smooth and creamy hummus comes together in 5 minutes and will make you swear off store-bought for good. No need to peel the chickpeas here: grab a can, drain them, and start blending!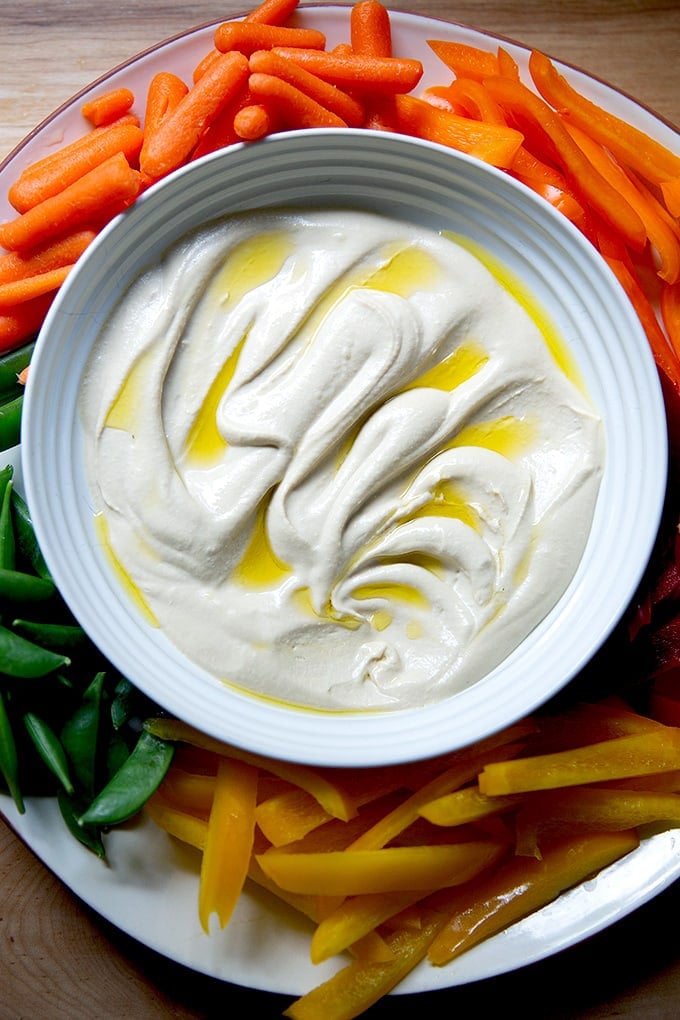 This is how I get my children to eat vegetables daily: every day around 4 o'clock pm, I set out a platter of raw vegetables, often some combination of sliced bell peppers, baby carrots (yes, the smooth-edged pellets sold in the wet bag), snap peas, cherry tomatoes, and spears of salted cucumbers. The selection will vary seasonally, but those are the mainstays.
I don't announce to the family the vegetables have arrived, I simply set out the veggies with a bowl of hummus on the side, and before long, the children gravitate toward the table and start munching.
I learned this "trick" from my friend Vicki, who pointed out a twofold benefit: 1. If your kid is picky (or likes control), this allows the kid to choose what he or she likes. And 2. If you don't get around to making a vegetable for dinner, whatever vegetables remain on the platter stay on the table for dinner.
For me, it's removed a lot of the stress of making dinner, because I know vegetables are already on the table.
For years, I served the vegetables with Sabra hummus, which everyone in my family loves. Then I discovered Hope hummus, which everyone loved even more. And then the pandemic arrived and finding tubs of our favorite hummus became a chore.
Several months ago, when all I could find was a tub of roasted red pepper hummus, which the children turned their noses at, I decided to make my own. And while I can't say "I'll never buy hummus again," homemade hummus has just about ruined storebought for me.
I've been using the recipe from Michael Solomonov's Israeli Soul. Michael's recipe has a higher ratio of tahini to chickpeas than many others I've seen, and his method is interesting, too: it calls for making a tehina sauce first, a purée of tahini, fresh lemon juice, garlic, cumin, salt, and ice water. Then you add the chickpeas and purée until the mixture is emulsified and smooth.
I have found I like my hummus a little more lemony than suggested in the recipe and without any cumin, but you, as always, should adapt this recipe to your tastes with more or less lemon, garlic, and spices.
How to Make Exceptionally Creamy Hummus
In the notes preceding the hummus recipe, Michael writes: "When we cook chickpeas for hummus from scratch, we deliberately overcook them until they turn to mush. This is the secret to ultra-creamy hummus (that, and a $15,000 food processor)."
But in the recipe, he calls for using canned chickpeas noting "canned chickpeas in a home food processor will never make hummus quite as smooth as what we make at Dizengoff, but it will taste every bit as delicious."
Using my food processor, the result with either canned or from-scratch cooked chickpeas is just as Michael describes: creamy and delicious though not completely silky smooth.
But can I tell you what will make exceptionally smooth hummus? A Vitamix. I hate that such a pricey gadget is what works, but it does (see the photo comparisons below). The truth is that I prefer the experience of making the hummus in the food processor more than in the Vitamix — it's easier to stream water through the narrow chute of a food processor than the gaping hole of the Vitamix lid, and it's easier to clean, too: I find removing whatever I've puréed in a Vitamix to be a complete pain.
But for creamy dreamy hummus, it's worth it. I hope you'll agree.
How to Make Hummus, Step by Step
You need 1.5 cups cooked chickpeas. This is my favorite method for cooking chickpeas: simple slow cooker chickpeas. If you don't have a crockpot, you can use the stovetop or Instant Pot. Or simply drain and rinse one 15-ounce can. Canned truly work just fine here.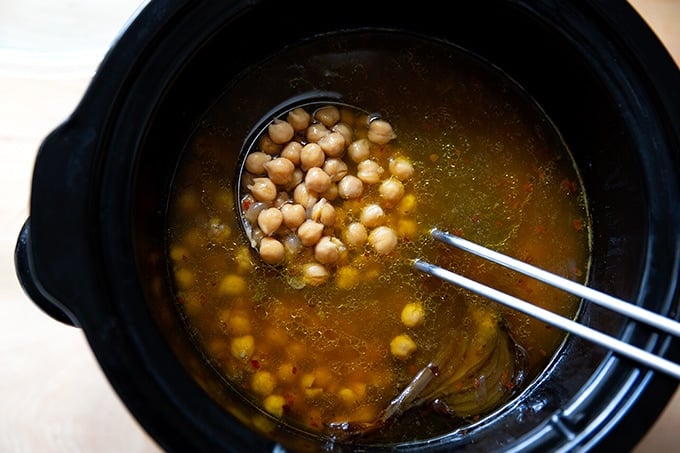 Gather your ingredients: tahini, cooked chickpeas, lemon juice, salt, and ice water. The original recipe calls for garlic and cumin, but I always omit them now. See the recipe notes if you would like to add them.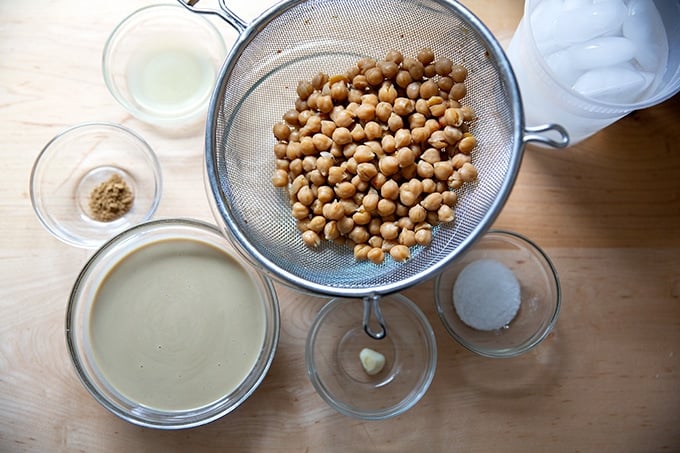 You'll need a food processor or a blender or, ideally, a Vitamix for this recipe. A Vitamix makes for an especially smooth and creamy hummus. Starts by blending the tahini, salt, lemon juice, and cumin (if using) until…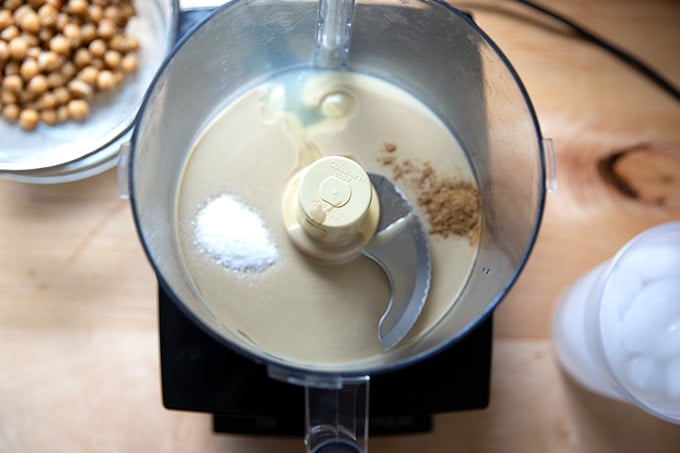 … the mixture resembles peanut butter.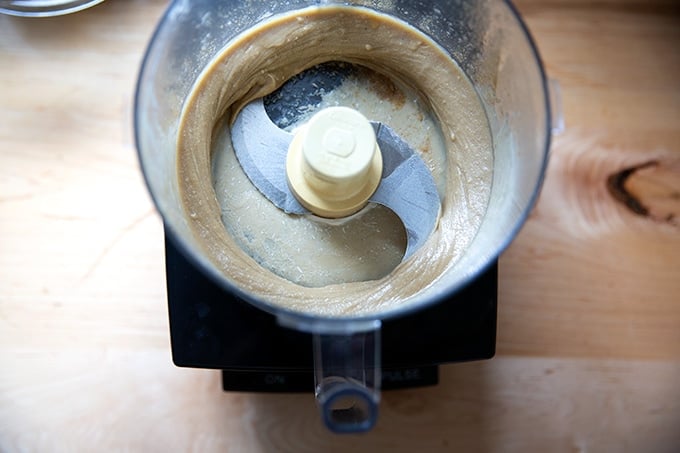 Then, stream in the ice water, and blend until the sauce is emulsified, thick, and creamy.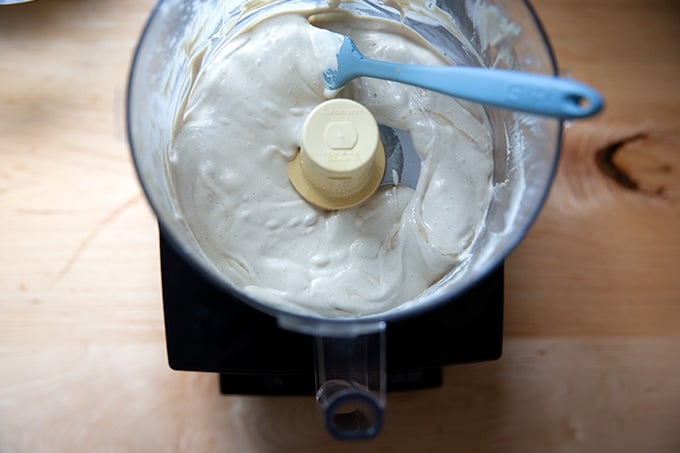 Add the chickpeas and purée again, scraping down the sides once or twice, until…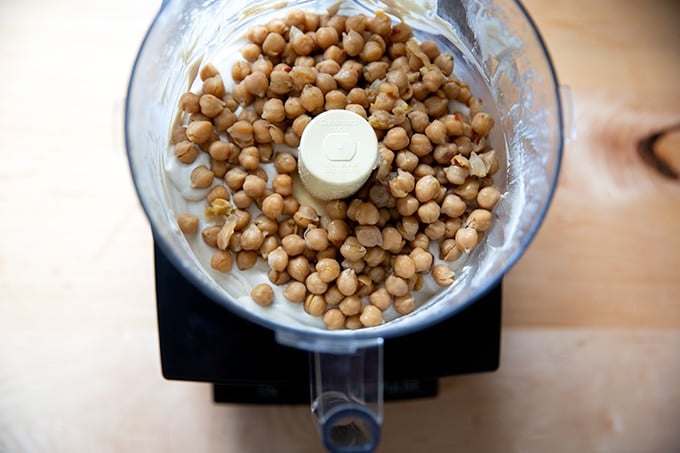 … the texture is smooth and creamy. Taste. Add more salt and lemon to taste.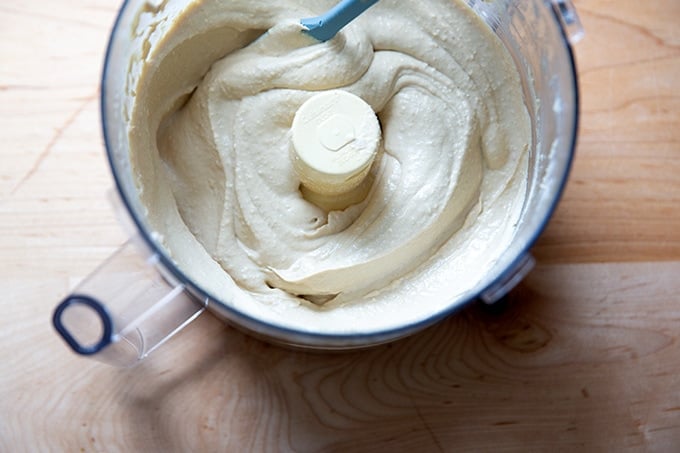 This recipe will yield 3 cups of hummus and will keep in the fridge for 2 weeks.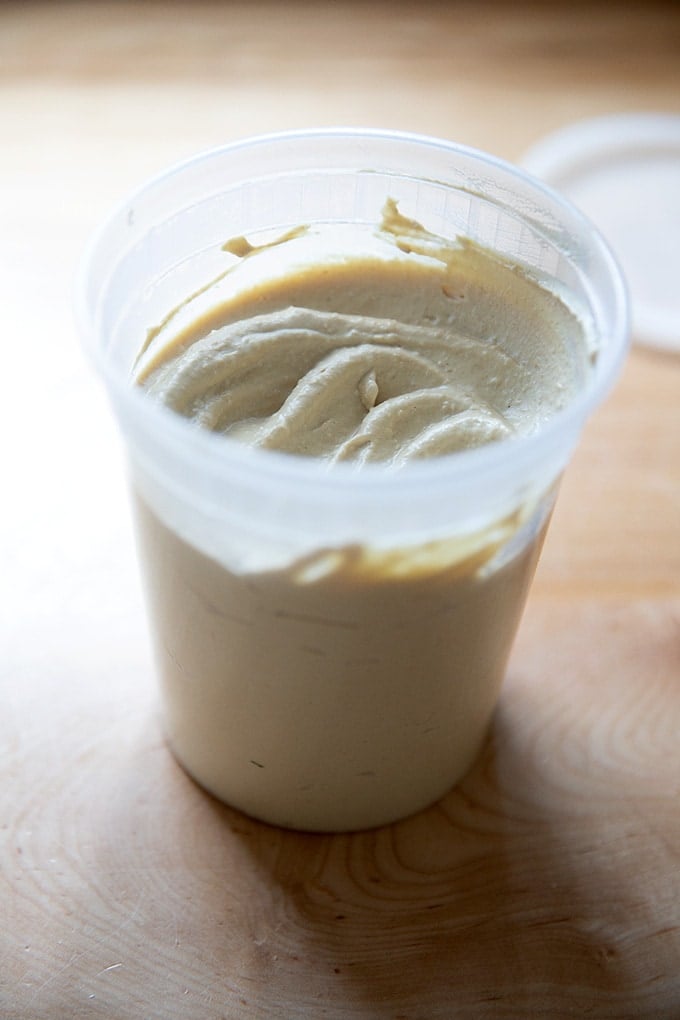 This is the batch made in the Vitamix: can you see how creamy it is?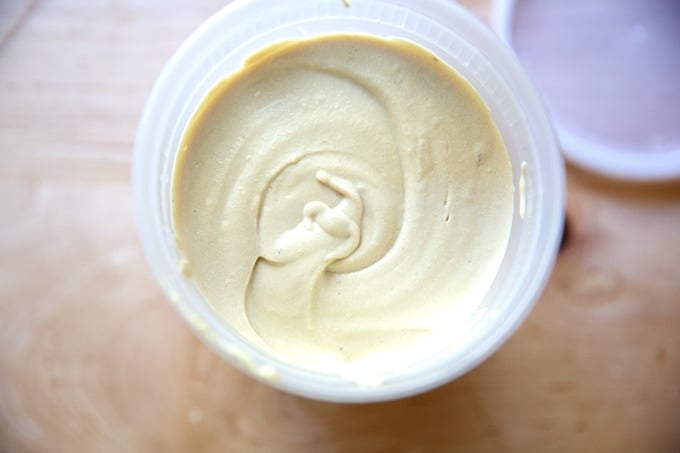 Food Processor batch: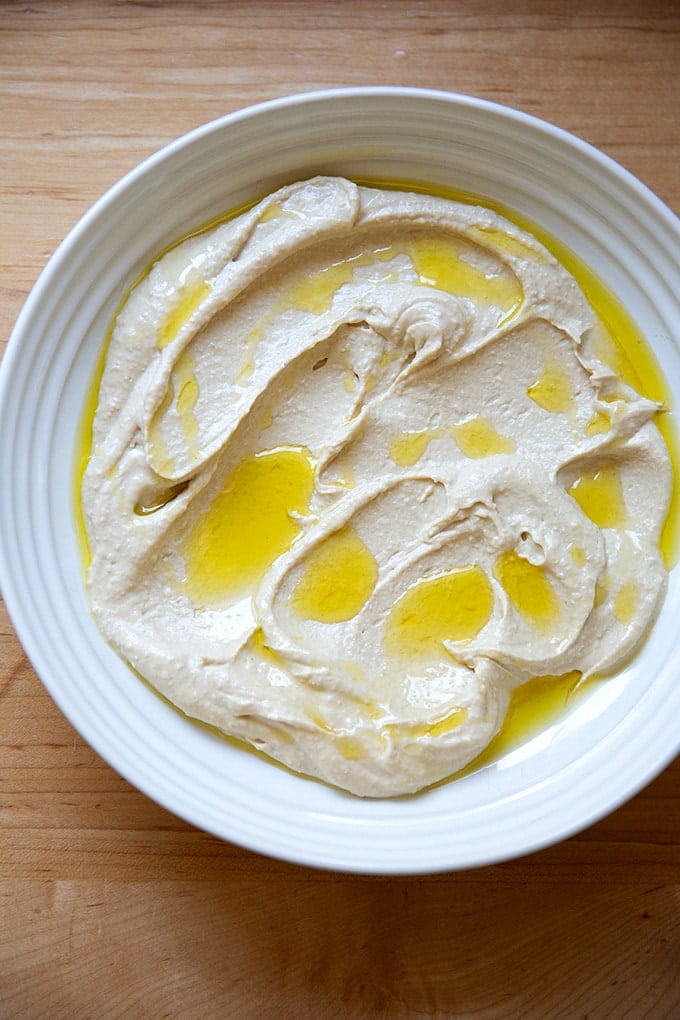 Vitamix batch: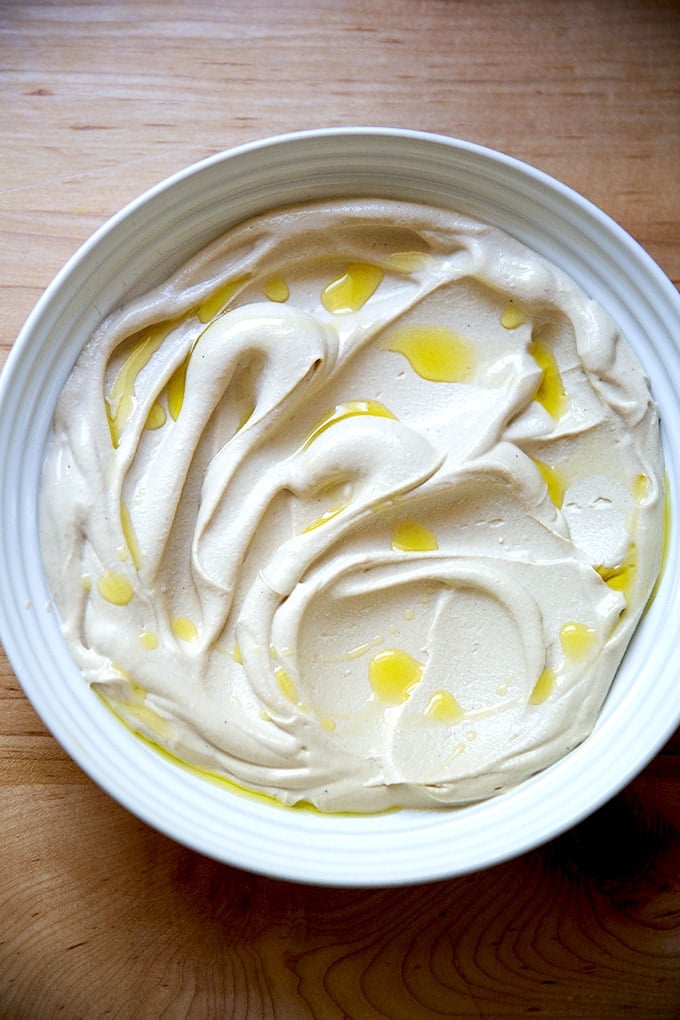 Optional: crispy chickpeas garnish: crisp 1/2 cup cooked chickpeas in 3 tablespoons of olive oil until golden; remove with a slotted spoon; then add some spices.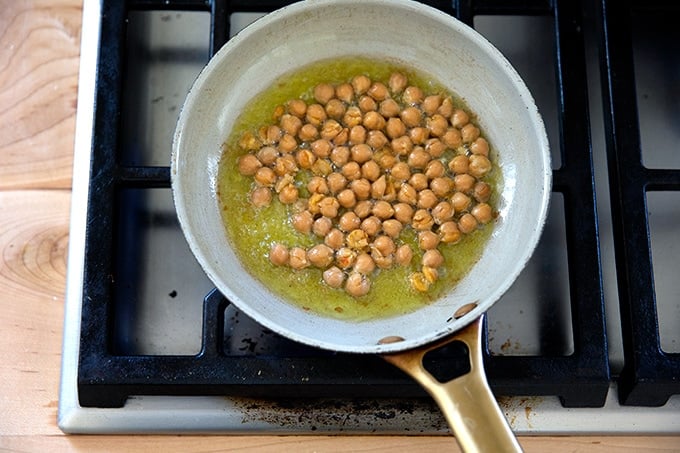 My kids don't give a hoot about crispy chickpeas, but if you are serving the hummus to adults, the chickpeas are a pretty and tasty garnish.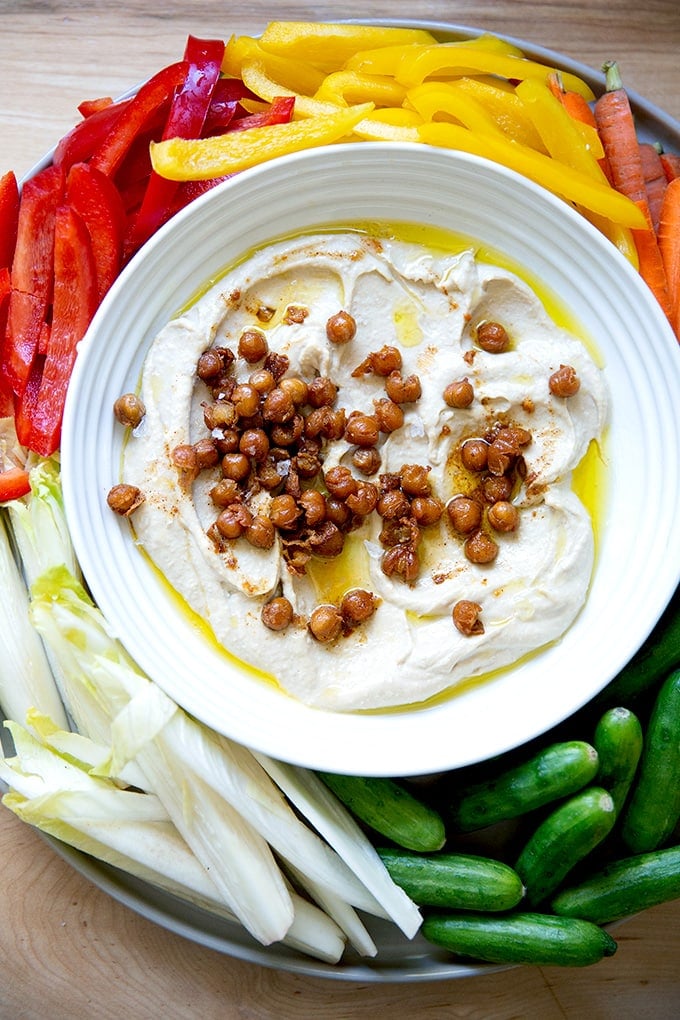 Another fun garnish: Calabrian chili paste + toasted pine nuts.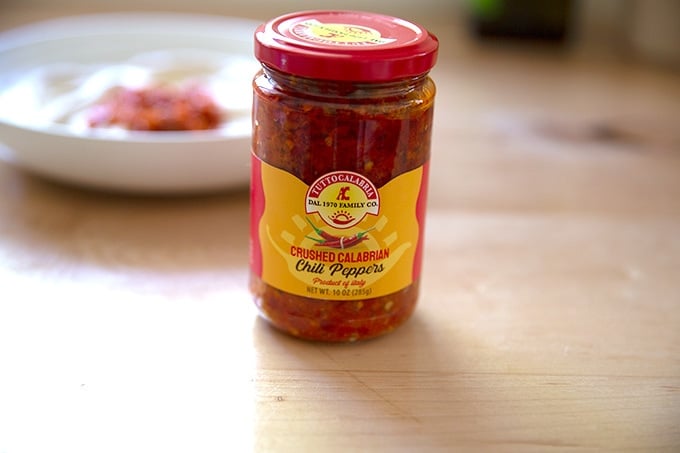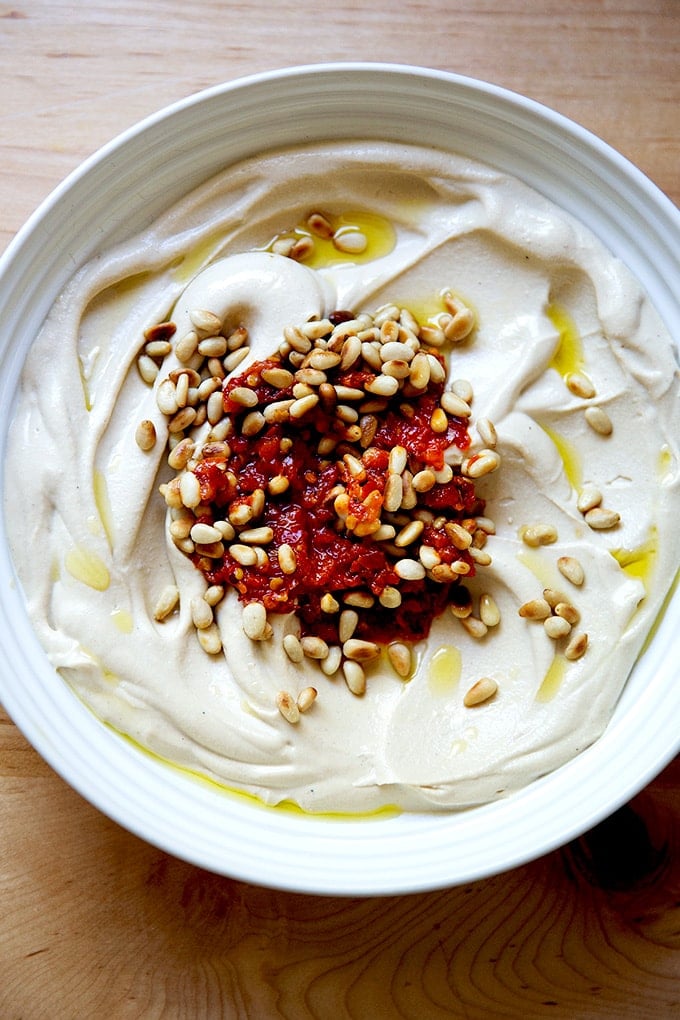 Print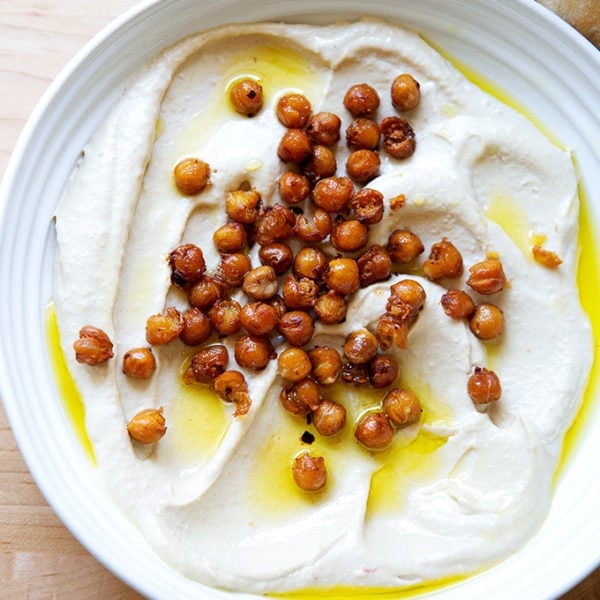 Smooth and Creamy 5-Ingredient Homemade Hummus
---
Description
Adapted from Israeli Soul. This is a half recipe from the one in the book with a few small changes. 
Notes: 
As noted in the post above, if you have a Vitamix, now is the time to break it out — it makes for an especially creamy hummus. If you don't, a food processor works very well, too. 
The original recipe calls for a tiny amount of garlic and some cumin, too. If you would like to add these ingredients, go for it: 1/4 clove of garlic or more to taste, and 1/2 teaspoon cumin.
I have made this with a variety of tahini, and it always works out. 
I have made this with both cooked-from-scratch (often this recipe or this one) and canned chickpeas. Don't be afraid to use the can — it works beautifully. 
---
2 tablespoons

fresh lemon juice, plus more to taste (I always start with

3 tablespoons

now)

1 cup

(

227 g

) well-stirred tahini

1

–

1.5

teaspoons (

4

to

6

g) kosher salt 

3/4 cup

(

178 g

) ice water

1.5 cups

(

295 g

) cooked chickpeas or one 15-oz can chickpeas, drained and rinsed
flaky sea salt to taste
Optional garnish:
3 tablespoons

olive oil

1/2 cup

cooked chickpeas, dried very well

3/4 teaspoon

spices such as cayenne, smoked paprika, or cumin, etc. 
---
Instructions
Make the hummus: Place the lemon juice, tahini, and salt (start with 1 teaspoon salt if you are sensitive),  in a food processor or blender. Process until the mixture looks like peanut butter, about 1 minute. (Note: I find the key with the Vitamix is to start at the lowest speed and stay there until the mixture really comes together — otherwise the blades will spin too quickly and the motor will start overheating.)
Stream in the ice water with the motor running. Process the mixture, stopping to scrape the sides of the container once, until it is smooth and creamy and lightens to the color of dry sand. 
Add the chickpeas and process, scraping the sides again as needed, until the chickpeas are completely blended and the hummus is smooth and uniform in color.
Taste. Adjust with sea salt to taste. Add more lemon if you wish. Note: If the texture of the hummus is loose, this is OK because it will continue to thicken as it cools and sets in the fridge. The hummus will keep in the fridge for at least one week. 
To make the crispy chickpeas: Heat the 3 tablespoons of olive oil with the chickpeas in a small skillet over medium heat. When the chickpeas begin sizzling and taking on some color,  remove them from the skillet with a slotted spoon, transfer to a bowl, toss with the spices, and sea salt to taste. 
Prep Time:

15 minutes

Category:

Appetizer

Method:

Blender, Food Processor

Cuisine:

Middle Eastern
Keywords: tahini, lemon, chickpeas, hummus
This post may contain affiliate links. Please read my disclosure policy.