Thanksgiving Menu 2022: Pull-Apart Rolls, Classic Stuffing, Cheesy Potato Gratin, Red Wine Cranberry Sauce, Pie, Make-Ahead Gravy, and More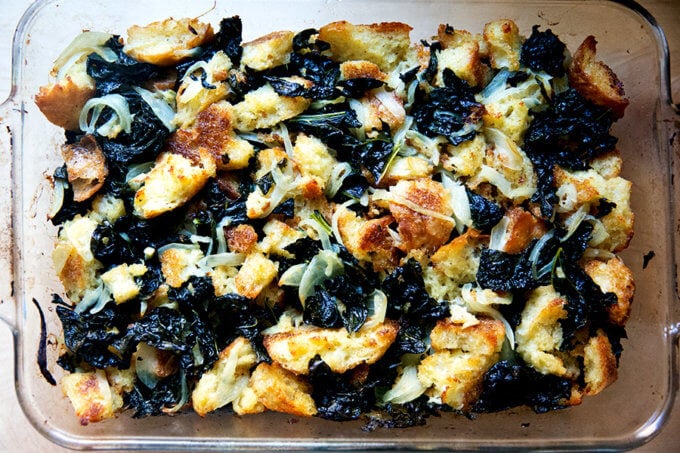 Earlier this week while strolling through the grocery store, a display case spanning the aisle stopped me in my tracks:
It was lined with boxes of Bell's Seasoning, the sight of which normally makes my heart sing, but which on this particular day filled me with panic: Thanksgiving, it struck me, was two weeks away. Less than two weeks away.
This happens every year — this gigantic holiday arrives out of nowhere — and the acknowledgment of its nearing always fills me with a bit of anxiety: so much to do, so little time!
And so I set to work drafting my timeline and grocery list, the act of which put me at ease, transforming my worry into excitement: I've mentioned this before, but I genuinely love making Thanksgiving dinner, which in recent years has been (and will be again) at my sister's house.
Nothing makes me happier than waking at dawn to bake off the pies, sipping coffee while the house is still quiet, clearing out the fridge of all the parbaked dishes, assembling others from scratch, seeing the punch bowl bob with lemon slices and a slowly melting ice ring, and, if time permits, taking a stroll with my sister while the turkey bronzes away in her tiny, perfect oven.
I hope the feast, in whatever capacity you celebrate, fills you with similar joy. Readers, I am grateful for you — for your thoughtful notes and suggestions, for your questions and comments, for your support and encouragement. Thank you. I'm wishing you all health and happiness as we head into the holiday season.
Below you will find all of my favorite recipes for Thanksgiving. There are printable timelines at the very bottom. Good luck. Gobble Gobble.
PS: 25+ Thanksgiving Side Dishes
---
Philadelphia Fish House Punch
If you've never made a "house" punch, I highly recommend it, and I highly recommend this one: Philadelphia Fish House Punch, a mix of brandy, cognac, rum, fresh lemon juice, and simple syrup.
Since discovering this recipe eight years ago, there has not been a Thanksgiving, New Year's Eve, or Easter for which I have not made it. Its reception, without fail, is wild, and for this, I look forward to making it more than just about anything during the holiday season.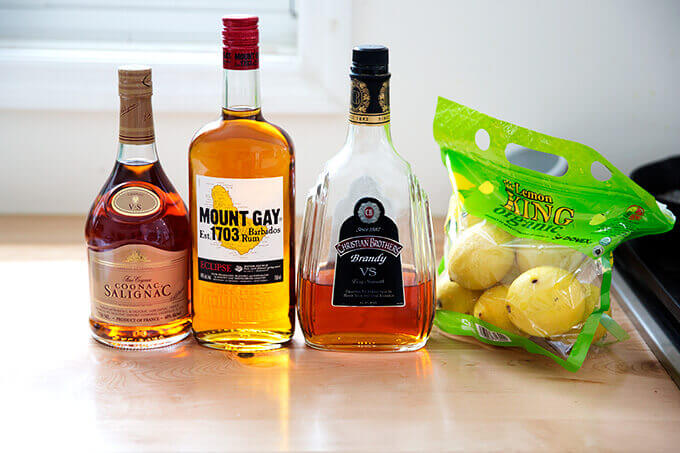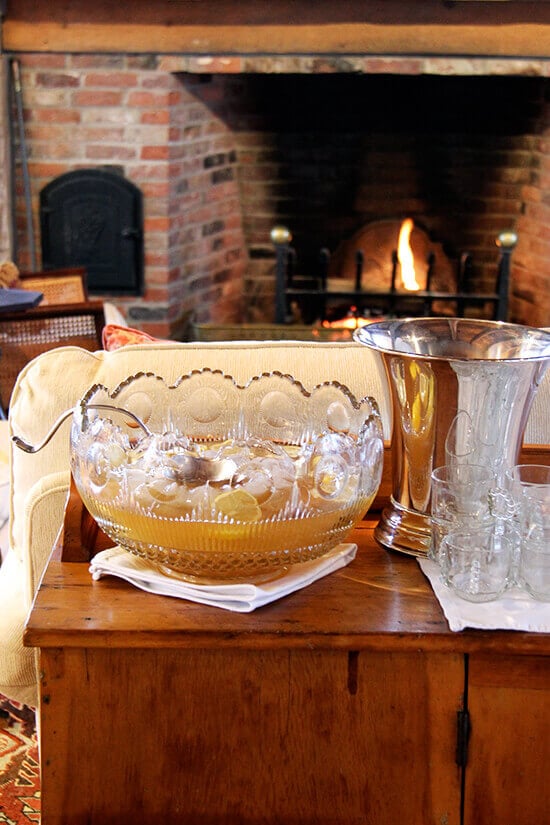 Dust off your punch bowl! Freeze your ice ring! And start juicing those lemons!
This recipe calls for 1.5 cups of freshly squeezed lemon juice. Lemons can be juiced several days in advance; stash the juice in the fridge till Thanksgiving Day. Be sure to make your ice ring at least a day in advance.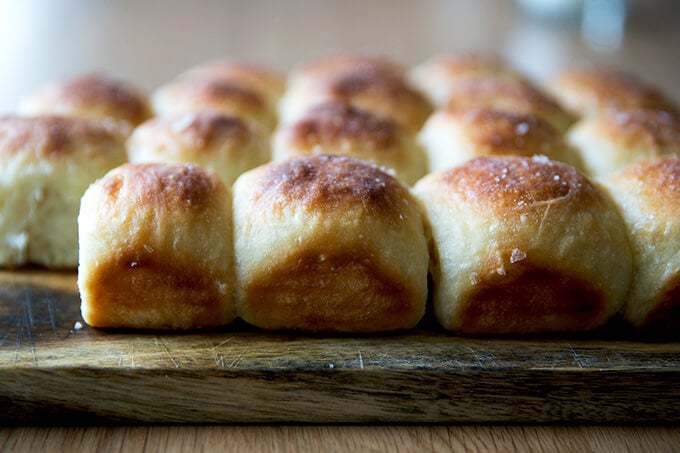 ---
Holiday Bread
While any bread is welcome at the holiday table, there is something particularly festive about a roll, especially for Thanksgiving. Both of the recipes below are no-knead, and each dough can be made ahead of time and stashed in the fridge until you are ready to bake. Video guidance is provided for each of these recipes.
On the left: No-knead Buttermilk Pull-Apart Rolls: slightly sweet, soft and squishy, these pull-apart rolls resemble Parker House rolls in both taste and texture. On the Right: No-Knead Thyme Dinner Rolls: buttery and crisp on the exterior and soft and tender on the interior. I love the flavor thyme imparts, but rosemary or sage or a combination of the three would be nice here. You can also omit the herbs entirely.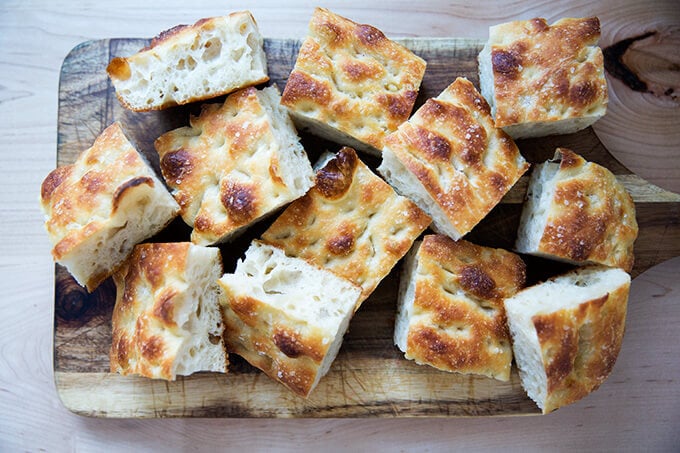 If making rolls is a page-turner for you, you could make a batch of this no-fuss focaccia. The beauty of this recipe is that it's best made the day before and tucked in the fridge — on Thanksgiving morning, you would just let it rise at room temperature for 3 to 4 hours. You can bake it when the turkey is out of the oven.
---
Favorite Stuffing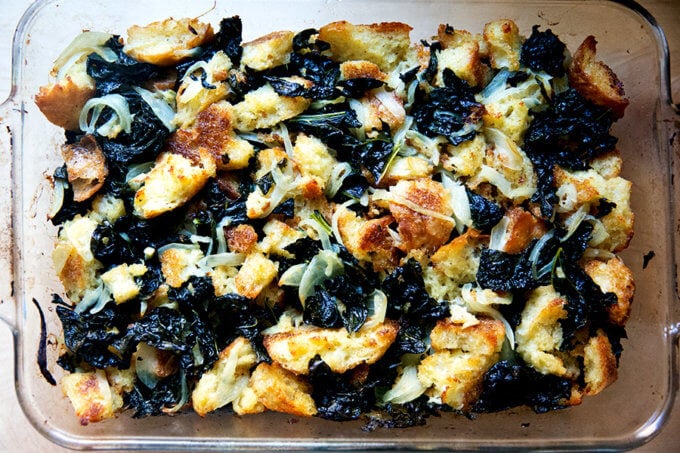 This kale and caramelized onion stuffing is a variation of the one in my cookbook, Bread Toast Crumbs. After 45 minutes in the oven, it emerges with a crisp golden exterior and a creamy center, flavorful enough to eat on its own, but welcoming to many a relish, sauce, gravy, or anything else the Thanksgiving plate has to offer.
Know you can customize the seasonings and add-ins to your liking. Also: you can make it ahead and freeze it. See instructions in the post for how to freeze it.
I love the kale and caramelized onion version, but if you're looking for a very classic stuffing, made with onions and celery, seasoned with Bell's Seasoning, find that here: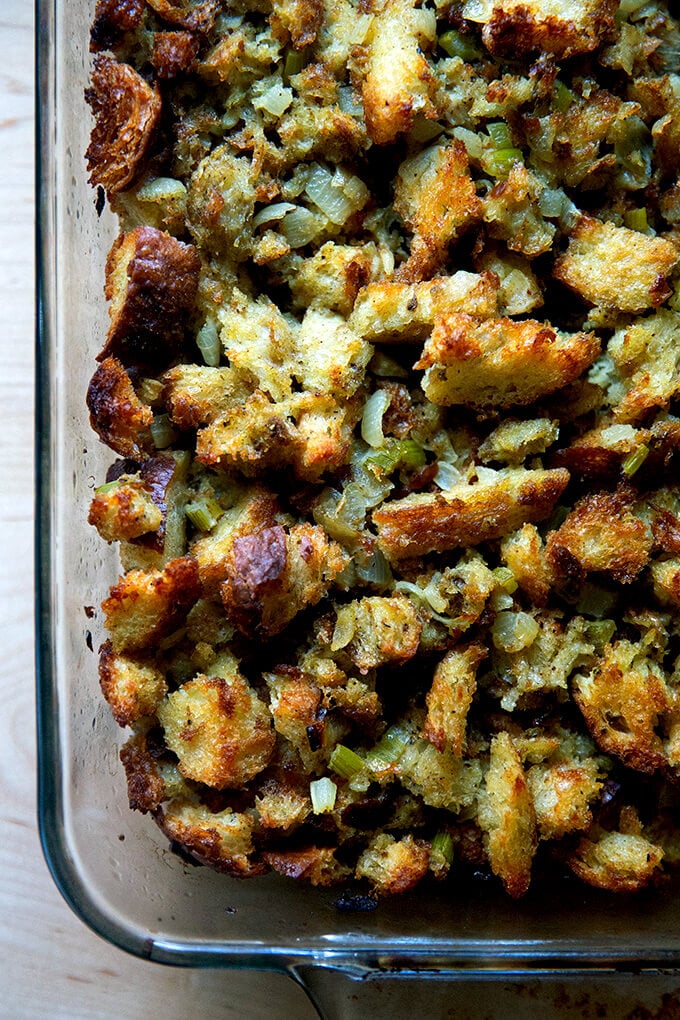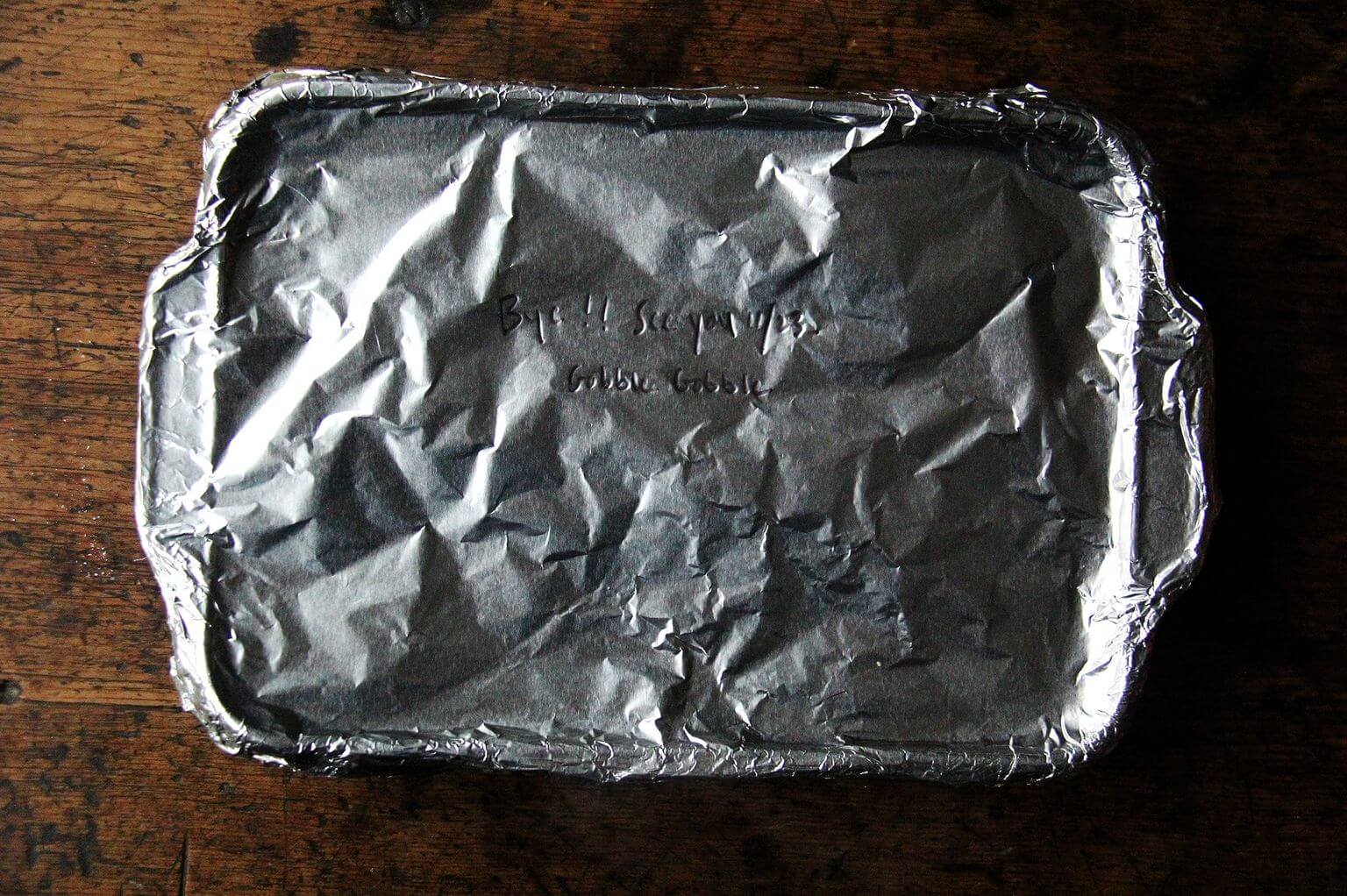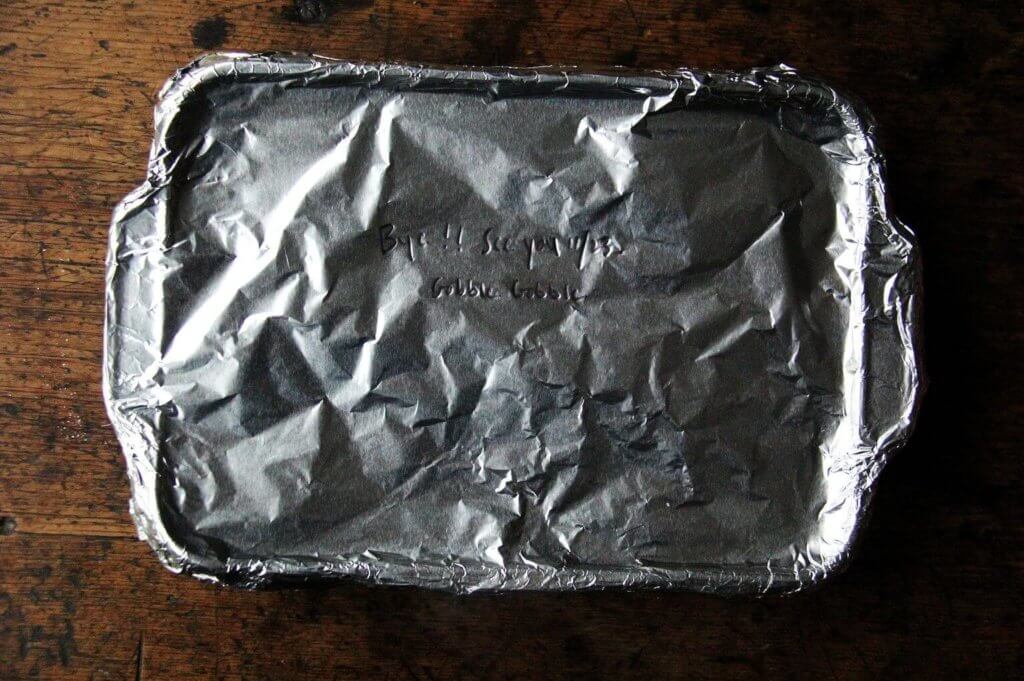 ---
Potato Gratin Two Ways
Alice Waters's potato gratin is a dish my mother has served at nearly every big holiday gathering for as long as I can remember. It often steals the show no matter what it's beside, turkey or otherwise.
It comes from Chez Panisse Vegetables, which offers a number of enticing combinations — potato with turnips or celery root or leeks or sweet potato — but we always use potatoes exclusively and keep the seasonings simple too: salt, pepper, thyme, and just a dash of freshly grated nutmeg. Submerged in a mixture of equal parts heavy cream and chicken stock, topped with a mixture of Gruyère and parmesan cheeses, these potatoes emerge irresistibly crispy on top and creamy underneath.
This year I'm going to welcome a second potato dish to the Thanksgiving table: this cheesy hasselback potato gratin, a recipe I've been eyeing for about a year now, one that did not disappoint when I gave it a spin last weekend.
---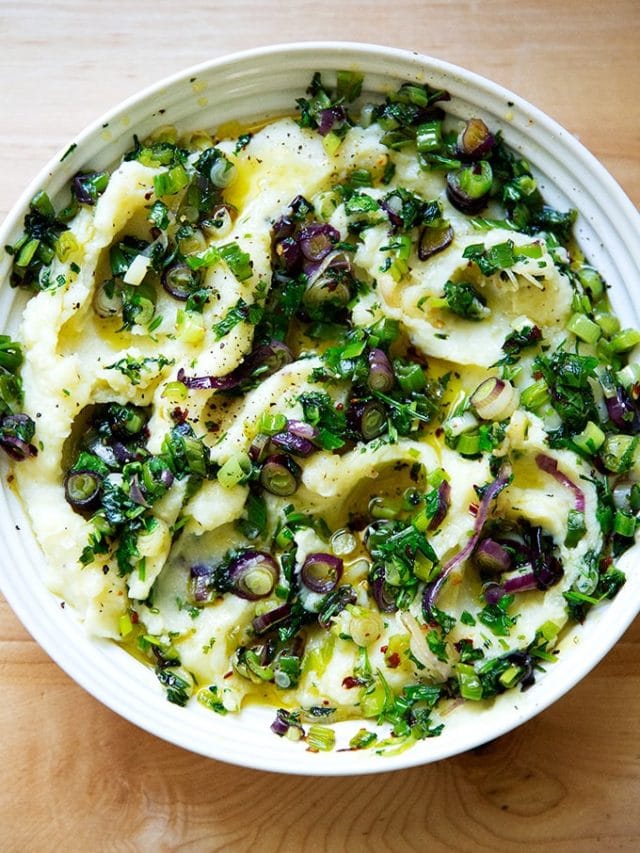 Mashed Potatoes
If you are unfamiliar with Sally Schneider's mashed potato recipe, let me tell you a little bit about it. True to many of Sally's recipes, this one calls for very few enrichments, relying on big flavor ingredients and techniques instead.
In this recipe she uses buttermilk because it has a natural creaminess yet is far lower in fat than milk or cream. She also uses some of the reserved potato-cooking liquid to thin the mash as needed. And finally, only after the potatoes have absorbed the liquid, Sally adds a single tablespoon of butter. By adding the butter at the end, she says, "the butter stays on the surface of the potatoes, its flavor readily discernible, imparting a truly rich finish."
Every time I make these potatoes I am astonished there is no cream and very little butter — they taste far richer than they actually are.
In this buttermilk mashed potato recipe, you'll find a few variations, including roasted garlic, which I love, and also spicy-scallion, which is my favorite: not only are these potatoes visually very appealing, they're also just so darn tasty, creamy and tangy thanks to the buttermilk, and bright and spicy thanks to the herb-and-chili infused olive oil.
---
4 Holiday Sauces
All of the sauces below can be made in advance. Bring cranberry sauces and mustard sauce to room temperature several hours before serving, and bring the gravy to a gentle simmer before serving.
Cranberry Sauces
On the left: Sally Schneider's Red Wine Cranberry Sauce (an old favorite, also delicious when made with Port). On the right: No-Cook Cranberry Relish (sweet, tart, orange-scented, and delicious).
Gravy & Mustard Sauce
On the left: Simple, Make-Ahead Gravy. What is especially nice about having gravy made before the bird is even roasted is the mental assurance that as soon as the bird is done, you can (after it rests) serve it without too much of a last-minute scramble. On the right: My Grandmother's Mustard Sauce: We rarely make a ham for Thanksgiving, but if we do, we make my grandmother's mustard sauce, affectionately known as the ham sauce!
---
Simple Salad
I love a simple green salad on Thanksgiving. Here are three favorite salad dressings, all of which keep for weeks in the fridge.
---
Other Sides
If you like the idea of a heartier side dish or if you've been enlisted to bring a side dish to your Thanksgiving gathering, there are four ideas and here are 25 More Thanksgiving Side Dishes.
---
Thanksgiving Desserts
Foolproof, Food Processor Pie Dough
One of the best ways you can get a jump start on your Thanksgiving preparations is to make your pie dough in advance. The recipe in the video above and in the recipe here, which includes instructions on how to parbake your pie dough yields two rounds. If you want to double it, I recommend measuring all of the ingredients and making two consecutive batches (no need to clean the food processor in between) as opposed to trying to make a double batch all at once. I use this recipe for all of my pies, tarts, galettes, etc.
Every Thanksgiving I make Ronnie Hollingsworth's Most Excellent Squash Pie, which comes from Kristin Kimball's, The Dirty Life, in which she writes: "Pumpkin shmumpkin, winter squash has more flavor and better texture."
I couldn't agree more. I also always make David Lebovitz's no corn syrup bourbon pecan pie and some sort of apple tart, either this apple frangipane galette or this French apple tart. Sister Pie's salted maple pie has become a recent favorite.
---
Vegetarian Thanksgiving? Butternut Squash Lasagna, Two ways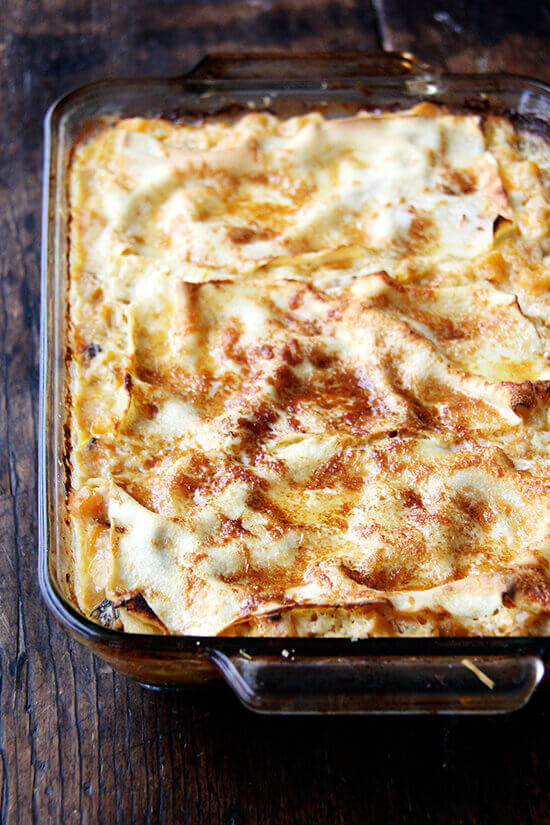 One snowy Thanksgiving in Vermont, this butternut squash lasagna, brought to the feast by a vegetarian friend of my aunt's, stole the show. This is the kind of dish you will want to make all winter long, one you'll want stashed in your freezer, ready to take to a friend in need, the crowd-pleasing recipe you'll turn to for your next holiday party, one proven to please both carnivores and vegetarians alike.
This other butternut squash lasagna with greens and mushrooms, which employs the butternut squash sage sauce used in this recipe, is a recent creation. How does this one compare to the beloved one described above? Well, it's just different, a little lighter, more vegetal, but just as delicious in its own way.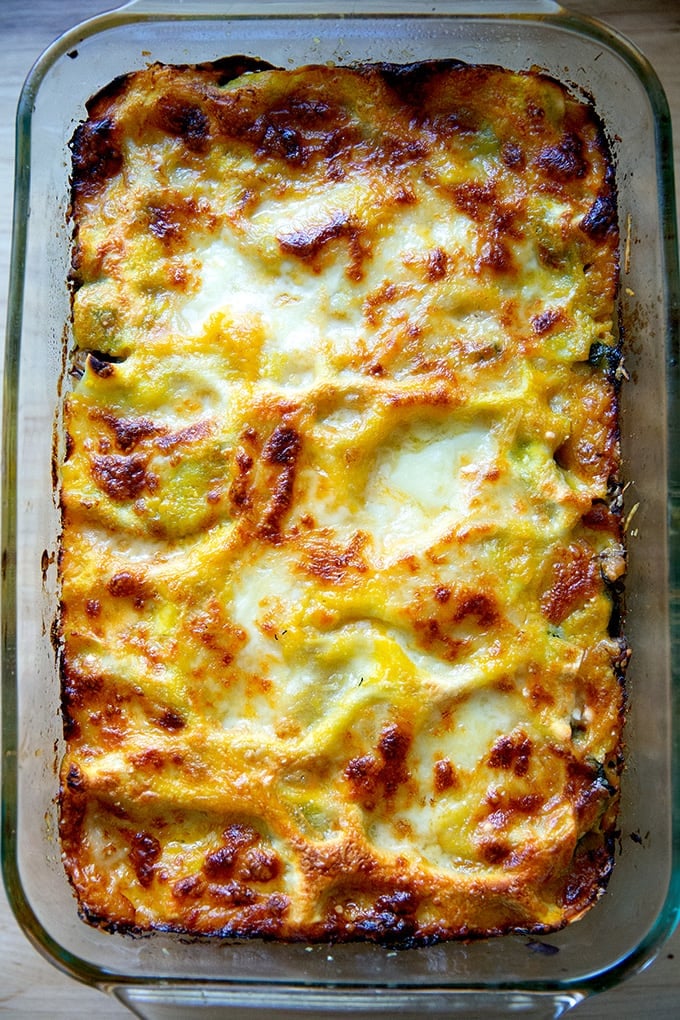 .
---
And last but not least… the turkey!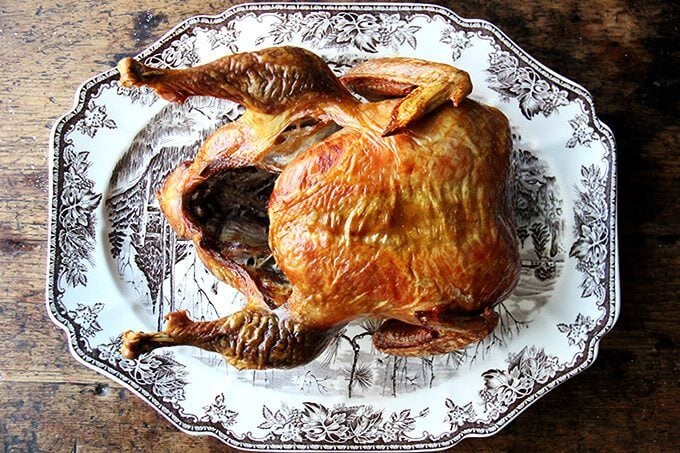 Here is the simple method I use for dry-brining a turkey: I use salt alone (as opposed to salt and sugar) and I use 1 teaspoon of kosher salt per pound. Rub the turkey all over with the salt, place it in a giant plastic turkey bag, and transfer it to the fridge for 48 hours.
On Thanksgiving morning, pat the turkey dry, set it on a rack in a roasting pan, brush it with melted butter, season all over with salt (lightly), and pepper; then transfer the pan to the oven and roast it till it looks done, which will vary depending on the size of your bird.
If you're not feeling turkey, you could make a ham! Don't forget the ham sauce.
---
Countdown to Thanksgiving Schedule
Below is a relatively detailed Countdown to Thanksgiving timeline. If you'd prefer to create your own, here it is in a Google Doc — you can create a copy of it, which you can edit/add notes to. There are printable timelines below as well.
Sunday:
Make a double-batch of peasant bread (4 loaves, 2 of which will go into a double batch of stuffing).
Make your dressing of choice:
Monday:
Make a double batch of stuffing through the step at which you cover the pan with foil; freeze each pan.
Tuesday:
Wednesday:
Thursday:
Rise early and bake off the 4 pies.
Bring the turkey to room temperature, and prepare it for roasting.
Prepare the salad — toss it at the last minute.
Finish baking the potatoes. If you made mashed potatoes, you can re-warm them using a double boiler or in a crock pot or Instant pot on the warm setting.
Assemble the punch.
Bake the stuffing.
Roast the turkey.
Bake the rolls — while the turkey rests and is carved, there should be plenty of time to bake off the rolls, which means they'll be piping hot when you gather around the table.
---
The below printable timelines mostly reflect the above schedule. Print your copies here: Timeline | Chart. Add your own notes and to-do's. Good luck! Gobble Gobble.
---
Printable Timeline
(Click on the images below to print.)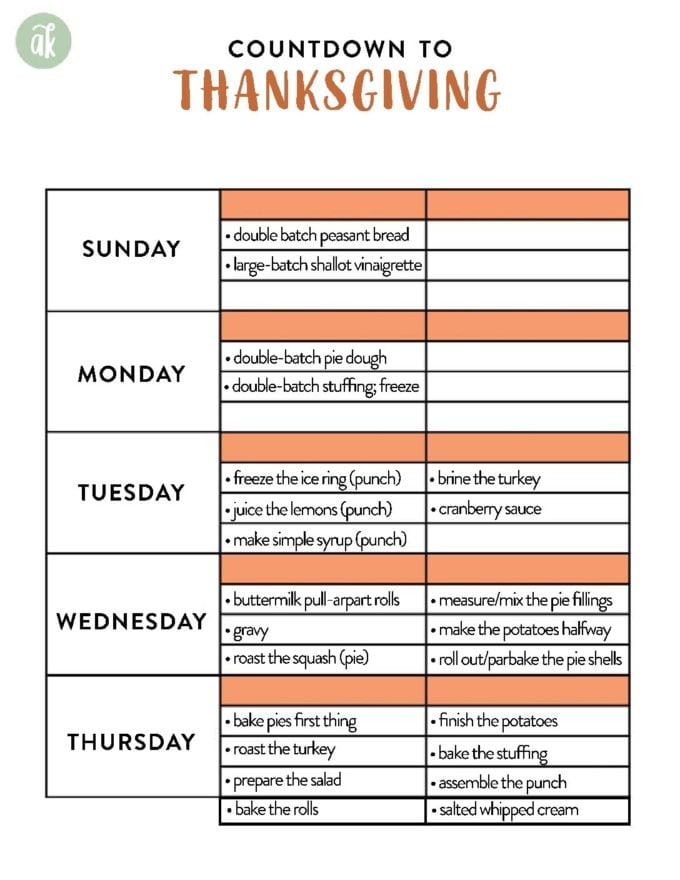 ---
Print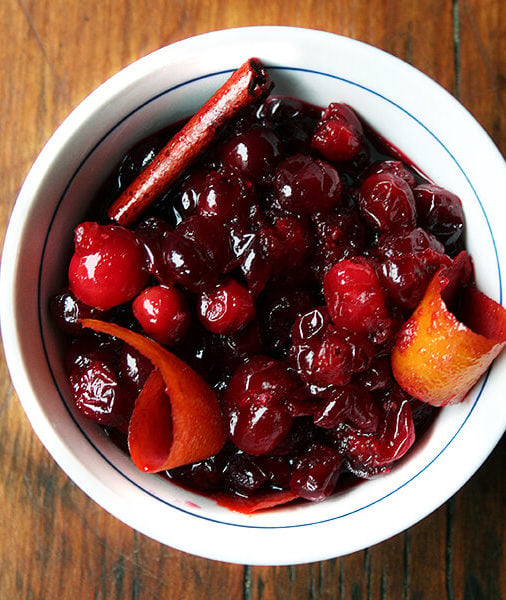 Thanksgiving Menu 2022: Red Wine Cranberry Sauce
---
Description
Adapted from Sally Schneider's A New Way to Cook
I almost always use Tawny Port these days in place of red wine because I always have a bottle of it open. Use what you like. I absolutely love this sauce — I don't know why I make it only twice a year. It's great with roasted squash and other vegetables, turkey, of course, but also roast chicken and other meats — it's just a great, spiced, sweet-tart condiment to have on hand this time of year. 
---
2/3 cup

sugar

3/4 cup

dry red wine or Port (an inexpensive Tawny Port)

1/2

cinnamon stick (

1 1/2

inches)

1

package fresh or frozen cranberries (about

12 oz

.)

1 tablespoon

slivered tangerine, clementine or orange zest, or more to taste
---
Instructions
In a saucepan over moderate heat, combine the sugar, red wine and cinnamon stick; bring to a boil. Reduce the heat and simmer for about 4 minutes, stirring occasionally, until the sugar is dissolved and the wine is reduced slightly. Add the cranberries and zest. Simmer for 10 minutes, or until the cranberries are soft and the sauce has thickened. Serve at room temperature or chilled.
Prep Time:

5 minutes

Cook Time:

15 minutes

Category:

Sauce

Method:

Stovetop

Cuisine:

American
Keywords: red, wine, cranberry, sauce, orange, cinnamon
Bye for now! Good luck! Gobble Gobble!
This post may contain affiliate links. Please read my disclosure policy.