Cauliflower Couscous Salad with Almonds, Herbs, and Cherries
This post may contain affiliate links. Please read my disclosure policy.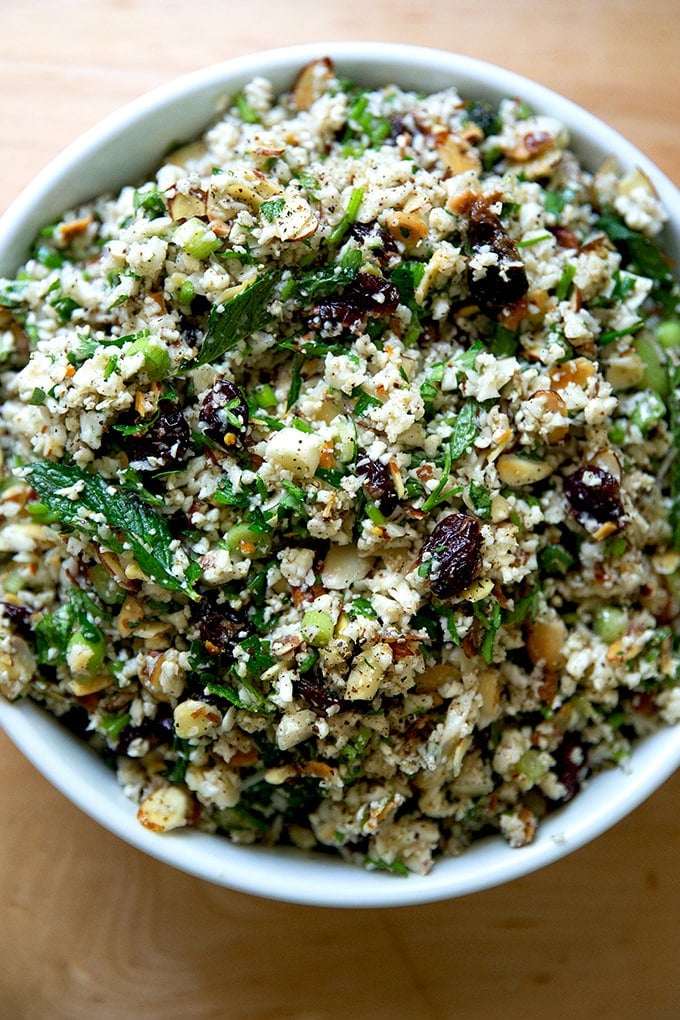 Until about a week ago, I had never made cauliflower "couscous" or "rice". To be frank, when I first heard about using cauliflower in this way — as in, crumbling it into rubble to use in place of more traditional starches — I dismissed it as a weird substitute championed by the low-carb community, not unlike their use of spaghetti squash for noodles.
If I'm not avoiding gluten, why bother?
But a few weeks ago, after posting Joshua McFadden's asparagus salad recipe from Six Seasons on my Instagram feed, someone messaged me asking if I had ever made his cauliflower couscous with almonds, cherries, and sumac. "Page 186," she wrote. "It's over the top delicious."
Over the years, I have made many many recipes from Six Seasons, and I still have many flagged to make. But the cauliflower couscous was not one of them. Clearly I had breezed passed it due to my bias for grain-based starches.
It was time to give it a go. Friends! Oh my word. My thinking has been so misguided. I made the salad that evening to bring to a small gathering, where it was very well received, and I've made it several times since.
The cauliflower "couscous" retains its firm texture so nicely, even after a day in the fridge, and the herbs and seasonings, a mix of mint, parsley, scallions, sumac, and chile flakes, evoke tabbouleh, though the addition of almonds and dried cherries bring it a slightly different direction.
This recipe is shockingly easy to make, and would be wonderful to bring to a potluck due to its allergen-friendly makeup — it's both gluten-free and vegan — and it would be a great salad to make ahead for the week. One note: If you like this idea, leave the mint out till the last minute — it does not hold up well.
As the season goes on, I can imagine bulking this salad up with finely sliced snap peas or radishes, throwing in fresh fava beans or edamame, or making a more traditional tabbouleh with cucumbers and tomatoes. Can't wait to see where you take this one, too.
How to Make Cauliflower Couscous Salad, Step by Step
Gather your ingredients: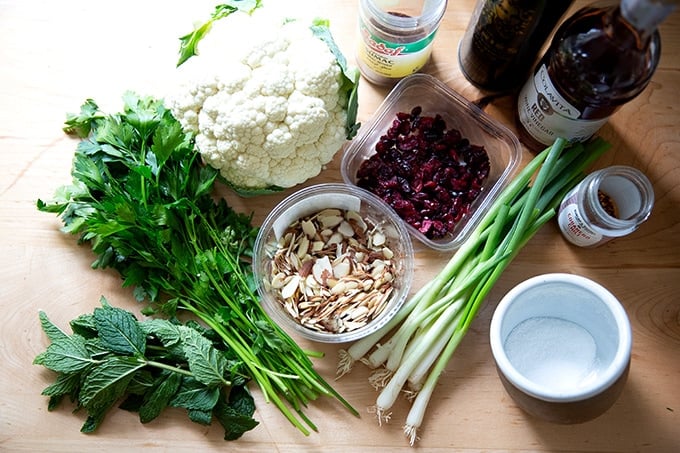 I found dried cherries at Trader Joe's. If you can't find them, use dried cranberries.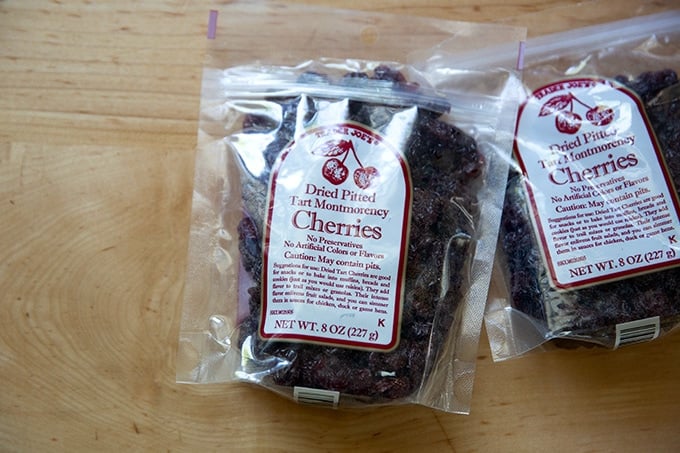 Soak the dried cherries in the vinegar for 30 minutes.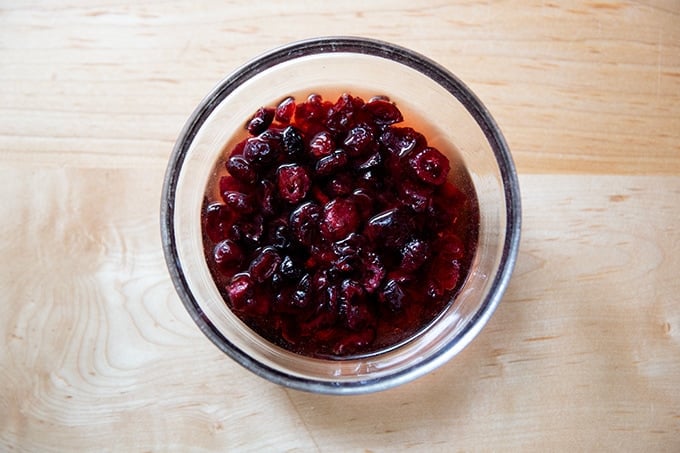 Meanwhile, toast 1 cup of almonds slowly on the stovetop.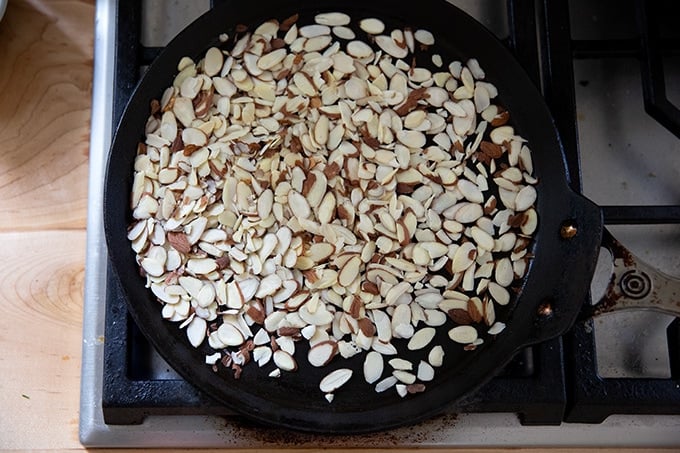 Break or chop your head of cauliflower into florets.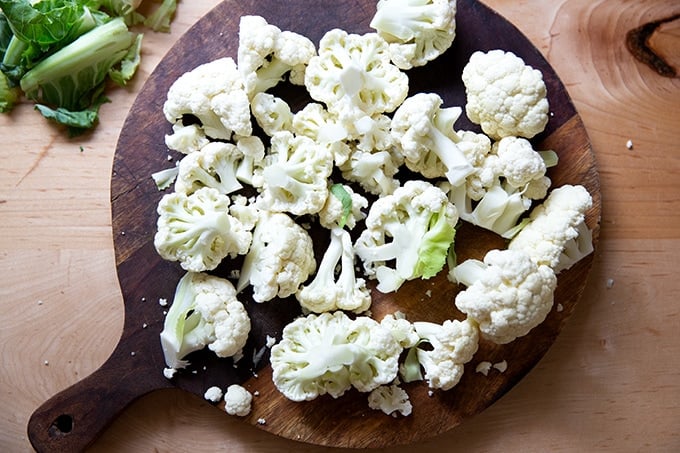 Then pulse in two batches in the food processor until you have fine pieces.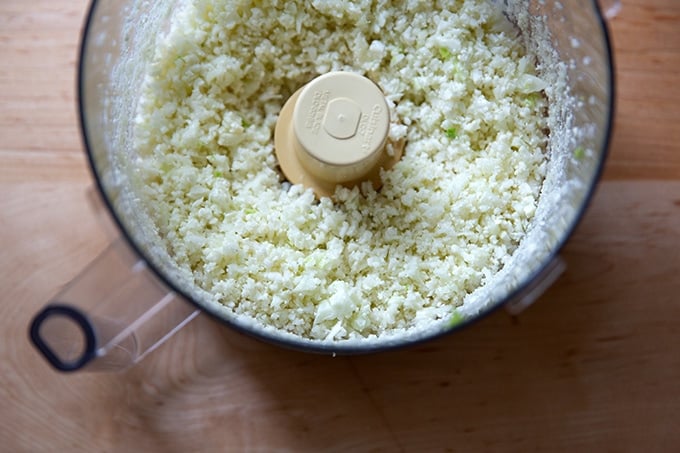 Transfer the cauliflower "couscous" to a large bowl.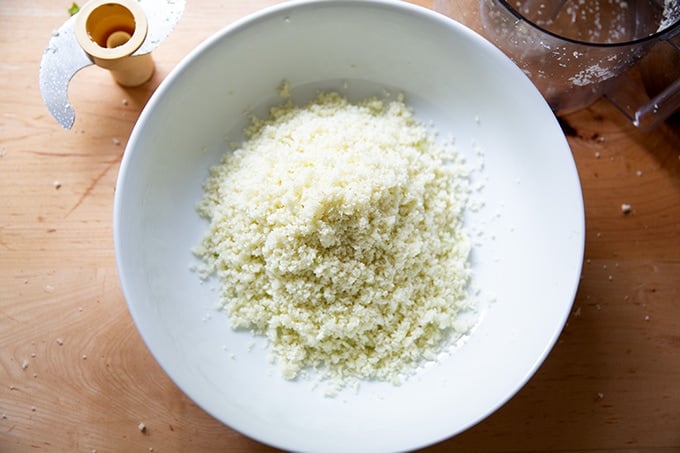 Then add your herbs and spices. Note: Do follow the mixing process outlined in the instructions, which calls for adding the herbs and almonds last, after you've seasoned and dressed the salad.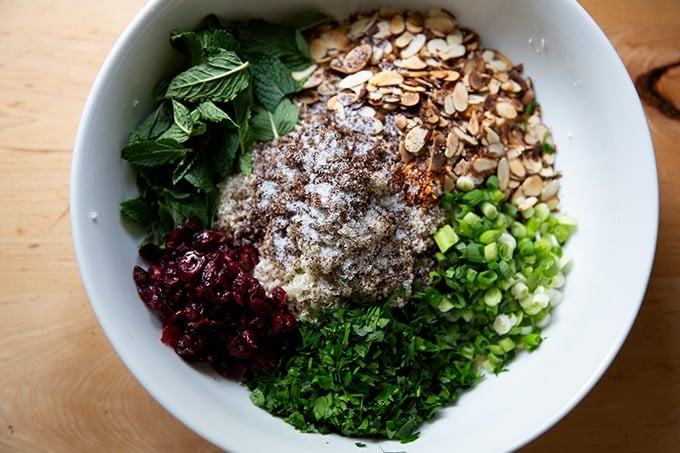 Mix to combine.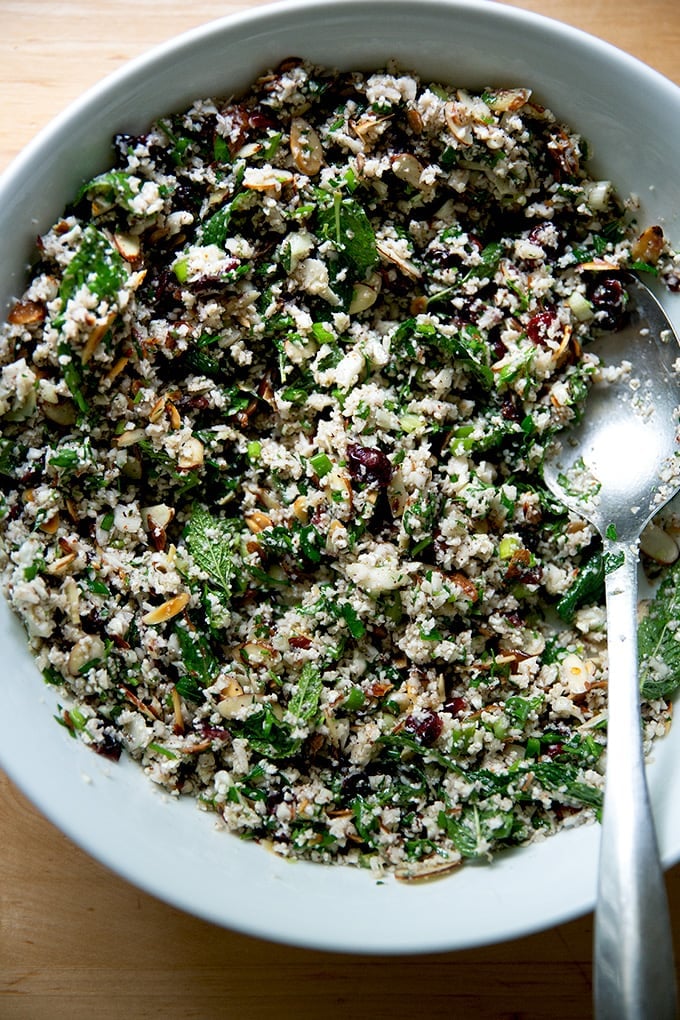 Serve immediately. Note: this salad keeps well, but if you want to make it in advance, leave out the mint. The mint turns black in the fridge and develops an unpleasant taste. If you wanted to bring it to a party, you could add the mint just before serving.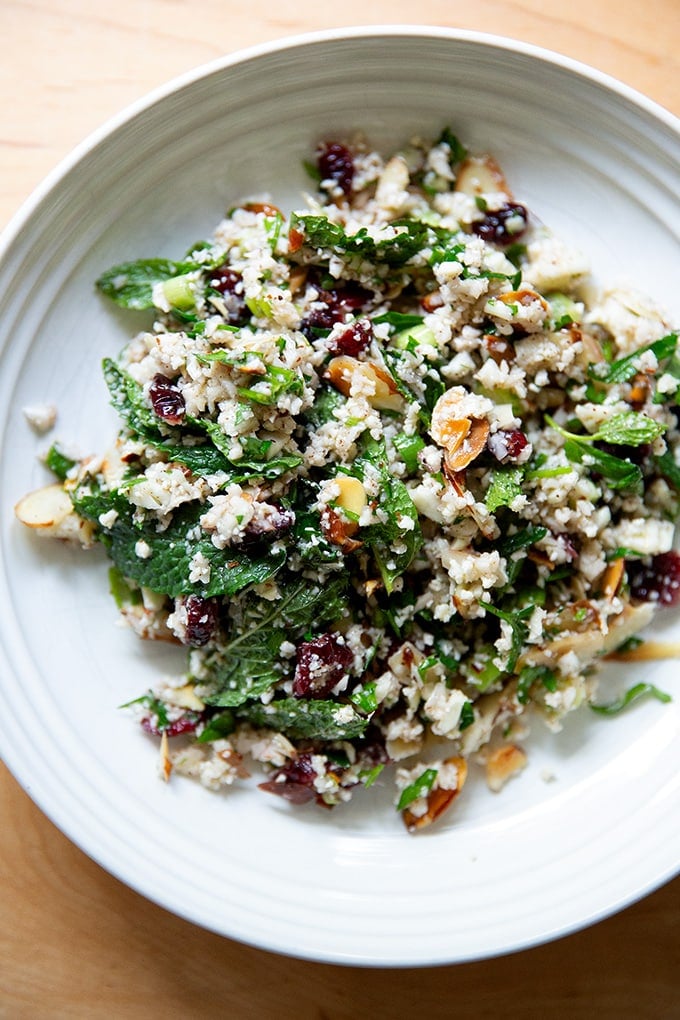 Print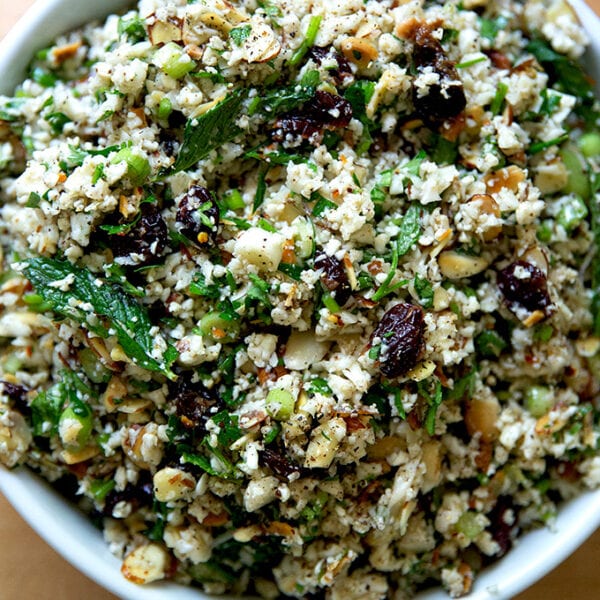 Cauliflower Couscous Salad with Almonds, Herbs, and Cherries
---
Description
Adapted from Joshua McFadden's Six Seasons
Notes:
I have taken a few tiny shortcuts namely: I don't soak the scallions in ice water for 20 minutes, and I don't chop the almonds — I use sliced instead of whole, and I leave them sliced after they're toasted. 
Vinegar: I have made this with a variety of vinegars including, all red wine vinegar, all white balsamic vinegar, and a mix of vinegars: sherry and white balsamic. I think my favorite version was when I used the mix of vinegars. Just know that any vinegar is fine, but depending on which you use, the salad will have varying degrees of bite. 
---
3 ounces

(1/2  to

3/4 cup

) dried tart cherries or dried cranberries

1/3 cup

red wine vinegar or other, see note

1 cup

sliced almonds

1

head of cauliflower or romanesco (about

1

to

1.25

lbs)
Kosher salt and freshly cracked pepper to taste

2 teaspoons

sumac

1/2 teaspoon

dried chile flakes

4

to

6

scallions, thinly sliced

1/4 cup

extra-virgin olive oil

1/2

to

1

cup rough chopped parsley

1/2 cup

small, fresh mint leaves
---
Instructions
Put the dried cherries and vinegar in a small bowl and leave to plump for at least 30 minutes.
Place the almonds in a large skillet over low heat. I like to toast the almonds very slowly while I'm assembling the salad. If necessary, I'll crank up the heat at the end to give them more color. 
If the cauliflower still has outer leaves and they look fresh, chop them. (Note: I've yet to use the cauliflower greens in my salad. If you do use them, let me know how it goes!) Break or chop the cauliflower into small florets or pieces. Pulse the cauliflower in the food processor in two batches until you have small pieces: the goal is to create dry, crumbly cauliflower bits that resemble couscous.
Transfer the cauliflower to a large bowl. Season with 2 teaspoons kosher salt (I'm using Diamond Crystal; use less if you're using Morton) and pepper to taste. Add the sumac, dried chile flakes, the scallions, and the cherries with their soaking vinegar. Toss to mix well
Taste and adjust the salt, chile flakes, and vinegar until the cauliflower is highly seasoned and well balanced. Finally, add the olive oil, almonds, parsley, and mint and toss well. (Note: If you want to make this in advance for a party or for meal prep, leave out the mint. You can add it just before serving.) Taste again and adjust to taste with more seasons, oil or vinegar. Serve cool or at room temperature.
Prep Time:

30 minutes

Category:

Salad

Method:

Food processor

Cuisine:

American
Keywords: cauliflower, sumac, almonds, dried cherries, mint, parsley
This post may contain affiliate links. Please read my disclosure policy.