Quince Jam
This post may contain affiliate links. Please read my disclosure policy.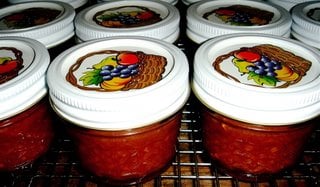 I have to admit that I am currently experiencing a minor quince fixation. It seems as though every time I pass by Anastasio's Produce (9th & Christian) I cannot refrain from purchasing a half dozen or so of these knobby and somewhat irregularly-shaped fruits for the purposes of experimentation. I feel the culinary potential for quince is unrealized, though, I've thus far really only discovered three uses for them: in the forms of paste and jam; and piled in a bowl as an unusual yet elegant seasonal centerpiece. Moreover, quinces cannot even be eaten raw–their flesh is rock hard and tastes incredibly tart when uncooked. I can thus only speculate on my recent attraction: perhaps I'm addicted to the refreshing citrusy aroma that fills my apartment when I leave a bowl undisturbed on my kitchen table for a few days; or perhaps I enjoy witnessing the dramatic color transformation from pale yellow to bright red which takes place after many hours of cooking; or perhaps subconsciously I feel compelled to pay homage to the Greek ancestry we share by incorporating quince into my diet. Whatever the reason, I can say with certainty that I simply enjoy the taste of quince, especially in the form of jam. This jam is of course delicious spread on toast with a little butter, but also makes a nice substitute for raspberry jam as the filling in Linzer cookies. Enjoy!
Print
Quince Jam
---
Total Time:

4 hours 50 minutes

Yield:

40 4-oz jars
16

quinces

1

lemon, halved

1

bottle or about 3 1/4 cups white wine (I used an $

8

bottle of Riesling)

4 cups

sugar

1

vanilla bean
---
Instructions
Wash quinces and remove any stickers, fuzz or leaves. Cut straight down around the core to remove the flesh, then cut into big chunks and discard the core. Place quince pieces in a large heavy-bottomed pot and cover with 12 cups of water and the lemon. Gently simmer until the pieces are knife tender, about 1½ hours.
Strain the quince, reserving the cooking liquid, and discard the lemon. Pass the flesh through the fine disk of a food mill and combine with the reserved cooking liquid in the same large heavy-bottomed pot. Add the bottle of white wine and 4 cups of sugar. Split the vanilla bean, scrape out the seeds, and place both the pod and seeds into the pot. Bring mixture to a simmer and let cook for 2-3 more hours until the mixture has reduced by a few inches and color has changed to a deep red hue. 
The jam is now ready to be canned. I followed the canning instructions on this website: www.homecanning.com. It is quite a laborious process, but ultimately worth the effort: I now have 40 little jars of jam to give as gifts for the upcoming holidays. 
Prep Time:

20 minutes

Cook Time:

4 hours 30 minutes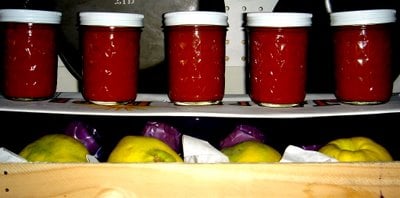 This post may contain affiliate links. Please read my disclosure policy.